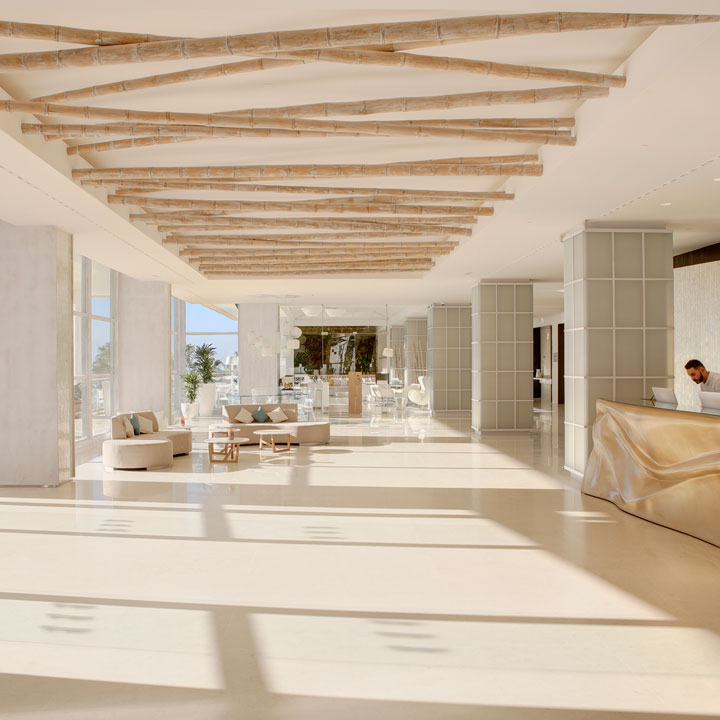 AMÀRE MARBELLA
.
Eva Venstermans
I would Recommend this hotel to everyone! It's the Third time we came here and it's still very very Good!!!! The breakfast is super!!!!! We come back next year!
.
Abendessen nicht abwechslungsreich,tendiere eher zu Buffet sonst sehr zufrieden.
.
Natacha De Vos
We love Amare! See you next year for the 5th time! We are your biggest fan!😃🤩🥰
.
Thomas
Nous sommes venus plusieurs fois dans votre hotel pour sa situation mais surtout pour le buffet du soir que vous aviez supprimé cette année!! La carte du midi est très semblable à celle du soir!! Une chose nous a choqué:le prix du verre de vin, meme en Belgique nous n'avons de tel prix!! A la plage les lits sont tellement proches qu'on doit les escaler! Nous espérons que vous réfléchirez à nos critiques qui ne se veulent pas négatives Bien à vous Gisèle Thomas Gilbert Lodomez Chambres 811 808 du 20 au 29/5/2023
.
Paul
Best hotel in Marbella
.
Corinne
Das Hotel gefällt mir immer noch gut , ABER : - über das Abendessen bei HP sollte nachgedacht werden . Sehr schade dass es kein Buffet mehr ist Verwirrend dass man sich von der Karte Speisen aussucht . Die Portionen sollten angepasst werden Top dass immer auf Allergien und Unverträglichkeiten geachtet wird . Die Qualität von den Speisen ist sehr gut . - Reservieren der Liegen , auch da wäre ein Umdenken nötig. - Sauna : unbedingt Erklärungen geben wie die Sauna und das Dampfbad richtig zu benutzen sind Personal war sehr freundlich , doch ich hatte manchmal das Gefühl dass sie unterbesetzt waren
.
CASIER
I would have liked the chocolate chip cookies for breakfast, otherwise everything was perfect 🙂
.
Jurgen
A very nice luxury hotel. Located close to the city center and the beach. The breakfast service is well organized. Thoughtful staff in all departments.
.
HERSCOVITCH
NOTHING TO ADD THE AMARE HOTEL IS FANTASTIC
.
DD
I have already stayed several times at this hotel. Nice atmosphere, friendly staff, delicious breakfast,.... However, this year I was very disappointed in the service at the pool. For example: Reserving sunbeds (by putting towels on them) was not possible before which was very positive, now it is not considered. From morning to evening seats with towel without anyone lying on them. Also the lifeguard at the pool is on smartphone all day and may not have seen an emergency. In short besides the pool area a TOP hotel!
.
dubois
Sun, beach, culture, quality of life and the kindness Of Spanish People
.
Claudia and Pascal
Our stay was absolutely perfect. Wonderful staff and services. The food is amazing. Amare Beach Marbella is definitely our favourite place to enjoy life. Thank you!
.
ROBERT KOTEK
I REALLY ENJOYED MY STAY AT THE AMARE IN MARBELLA. THE ONLY HARDSHIP WAS HAVING TO WAIT ENDLESSLY FOR THE ELEVATOR AND ONCE INSIDE TO SHARE THE SPACE,MORE OFTEN THAN NOT ,WITH MORONS-MAYBE LIKE MYSELF AS WELL-
.
brabanders
we had a very nice holiday together with our friends from belgium we went to see the iron man in puerto banus played some golf enjoyed the sun, the pool and the poolbar
.
Vansina Myriam
Super hotel. Lekker eten en drinken. Porties in restaurant zijn overdadig, maar heel lekker. Mooie kamers en heel vriendelijk personeel !
.
Michel DRUART
Although I.m not fond of the pop art elements in the stiling and decoration of the hotel, the setting and the comfortable accomodation is great. Kudos for the sunbeds! Wonderfull breafast. Diner menu too fusion for me. Very unstable and unreliable wifi. But the worst item is de continuous and much to loud music, making it hard to do some reading. And the dj's chasing us from the rooftop bar and the beach.
.
L Raemaekers
After already 6 stays, we come back next year!!
.
Patrick Vandewalle
It's everytime a plesure to end our road trip in Andalucia in the Amare beach hotel.
.
Mozimann R. & Perrin M.
Sehr schönes Hotel und sehr gut gelegen. Personal sehr hilfsbereit und freundlich. Super Frühstucksbuffet. Leider kein Abendbuffet mehr, sondern nur à la Carte. Hat uns sehr gefehlt!!
.
François Duval
Musique trop bruyante surtout au dîner Nous regrettons le service du dîner en buffet, salle du dîner peu conviviale. système de prise de commande du repas trop compliqué pour le personnel menu inchangé pendant les 11 jours du séjour et mal présenté pour un choix clair et rapide même poisson du jour pendant 8 jours!!!! Petit déjeuner parfait
.
Thanks for the nice stay we had in your hotel , we 'd like to come back with our adult daughters end of june / begin july Kind regards Annick Brandt
.
Sophie
The Amàre Beach Hotel is in a perfect location. In front of the sea, right on the kilometer long promenade, near by the Old City Center and near by the Bus stops. One inconvenience for me, was the cold ventilation in the morning at breakfast.
.
Delvaux
Extrêmement déçus nous ne reviendrons pas dans cet hôtel voir mes commentaires sur trip advisor
.
Joel Simon
The hotel is very good but the few small points of criticism are: the wi-fi was very unstable and partially not working at all. The breakfast restaurant opens at 07:30, not a minute earlier, for golfers who still have to travel to a golf course half an hour earlier would be nice. The music at the beach was too loud for my liking. The prices for drinks/meals are quite high. The rooms without a balcony are noisy, you can hear the noise from the street.
.
Patricia
Hotel magnifique Situation idéale Personnel charmant et professionnel Buffet déjeuner top Seul bémol le bruit et la musique assez forte..trop forte, omniprésente du matin au soir ..même à la plage et à la piscine.
.
Très bon séjour. Nous aimons faire du vélo et ce n est pas très pratique à Marbella. La ville devrait développer une infrastructure pour les vélos avec des circuits bien signalés. Bien à vous
.
Hollanders Francis
Excellent stay
.
bruno capron
wij vonden uw hotel qua inrichting schitterend, de keuken op de beach was aangenaam ,de keuken in het avondrestaurant kan verbeteren, de harde muziek op de beach was soms storend de service was wel in orde,waaraan we ook veel aandacht aan hechten gezien onze job ook in dezelfde lijn is alvast bedankt voor het aangename verblijf ,we komen zeker terug
.
Scholtes Nico Guillaume
Bei Halbpension mangelt es an Auswahl von Speisen, Getraenke wie wasser(Zimmer) Cocktails am Pool/Beach/Barzu teuer. Fenster zum BalkonTerrasse nicht schalldicht genug, muessten mit doppel/dreifach Glas erneuert werden. Bett ok, Kissen mangelhaft bis schlecht, Lage gut, das Personal ist super freundlich es hat mich gefreut. Rezeption und Fruehstueckbuffet War das Personal super freundlich und zuvor kommend. Danke fuer den Service und Goodbye.S
.
beget Ves
The music is every where we comme. I Wish some site without music, for instance on the right side of the Beach.
.
Roger
Very nice experience Wish come back)))
.
Decroos - Zeyen
The staff was very friendly, polite and helpful, my congratulations ! Nevertheless, some points that could be better : - The air freshener in the corridor was not refreshing, it took my breath away. Better just open windows more often. - The fact that there was no paper menu available. Not only inconvenient for older customers, but also for the staff themselves I noticed. Moreover, during our stay there was a problem with the hotel's server so you had no WIFI most of the time. - The music that was so loud you could hardly concentrate on your reading. However, I was satisfied with our stay at your hotel. I would return immediately and I will recommend it to other people.
.
Thank you for the upgrade at the reception and the niece room everything was perfect just as before
.
Chantal Fregonese
Bonjour . Super séjour , dommage que peu de votre personnel ne parle français . Chanta
.
Zaki Ouahbé
No services Reception impolite and not professional
.
Gaillet Frédéric
Unfortunately the spa was out of functiun. Our stay was great, people are nice and professional. Food is good, room 502 is a very good one. Thanks for this great stay
.
huber
Attention mettre le tarif dans le mini bar Espace SPA ferme
.
Mediouni
Un petit manque d'organisation et surtout trop de personnel qui bouge partout et souvent, sauf votre respect, brasse de l'air.
.
Marc Demeyer
Best hotel price/quality
.
Very nice hotel , friendly personnel and topservice !
.
Filippone Patricia
Très bon hôtel, dejeuner excellent., personnel aux petits soins. Cadre magnifique.
.
N
Very early, there is a lot of noise in the corridors from talking and vacuuming and also from poorly insulated rooms. This makes it difficult to sleep in...
.
Ilham sbiti
L'hôtel est idéalement situé, très agréable, chambre spacieuse avec vue idyllique, j'ai apprécié mon séjour
.
Carine and Franky
We don't have received a welcome drink. Eating in the restaurant in the evening can better. So a beautiful view.
.
delemer
Thanks a lot , i enjoy my stay exept the noise of the other people during the night , i was in the 9th floor , i think it is people from the bar You could write something about this in the corridor and in the lift
.
Nicolas Martin
Overall experience was good, however, I would like to raise the following remarks: - Restaurant gets rushy in the morning when hotel is full - Parking exit procedure is horrible, and weakly/partially explained by receptionists, making the first exit a real nightmare - Parking elevator was down. Maintenance of parking elevator took several days, too much in my opinion - Room 314 shower glass has a big leak that made water flow on the floor, the maid had to sponge it everyday, but nobody fixes that - Due to a business group staying at hotel, bar service was unaccessible to other hotel clients, which is not very cool and fair for them - The little sweets available in the public spaces is a vey good idea!
.
Not enough elevators for the number of guests in the hotel. Long waiting times during 'busy' hours. No WIFI connection in the room for 3 days!
.
Y. Szmir
This was our second visit to the hotel and we were very pleased, especially with the quality of service throughout the hotel. We have 3 negative points: there is music, sometimes too loud, everywhere in the hotel, the lifts are very slow and the price of the rooms has increased very (too) much in 3 years
.
Brougmans
Het hotel beantwoordt aan onze verwachtingen. De locatie is schitterend, de kamer is mooi, maar beetje te krap. De minpunten: we hebben een "adults only" hotel gekozen omdat we naar rust streefden, maar de constante, onophoudelijke (en te luide) muziek de hele dag is zeer storend. De eerste twee dagen vonden we het nog fijn, maar daarna werd het te overheersend. Te luid, te monotoon. Ik hoopte rust aan het zwembad te vinden, maar steeds die muziek..... De kamer wordt dagelijks "onderhouden", maar het was zeer oppervlakkig uitgevoerd. Niet netjes. In de SPA werd ik heel koud behandeld. De jonge vrouw bij receptie in SPA deed koud en afstandelijk, en liet mij zonder uitleg alles zelf uitzoeken. Ik voelde mij niet welkom. Daarom heb ik mijn tweede uur in de SPA zelfs niet gebruikt. De mooiste herinnering is de man die ons buiten het hotel verwelkomde, onze bagage naar de kamer bracht en wie we elke dag bij de ingang ontmoetten. Altijd was hij even vriendelijk, attent en charmant. Een aanwinst voor het hotel.
.
marc roelandt
Zeker voor herhaling vatbaar
.
Catherine Benattar
The swiming pool is to cold !It was impossible to use it! The hôtel is beautiful and the staff is very good.
.
DATCHARY ISABELLE
We love very much this hotel ! Can't wait to go back ! But sure we will go at the fuerte too !
.
Michel Uyttendaele
Good hotel. We come here every year. The food in the beach restaurant was not like all the years before
.
Mozimann R. & Perrin M.
Wir waren im Okt. 2021 und jetzt im Okt. 2022 zu Gast im Hotel Amare und haben uns sehr wohl gefühlt. Das Personal ist sehr hilfsbereit und gut geschult. Die Lage am Meer ist ideal und die Proximität zur Altstadt ist ein grosser Vorteil. Beste Grüsse an das ganze Team.
.
Myriam
Not fresh juice in the 'morning all the other times well. Service on the beach we must weigt a long time!..
.
Jean-pierre
Two remarks, no nespresso in the restaurant, and the staff at the beach was no as good as the 2 years before
.
Joke
It was an overall fine experience. Very friendly staff!
.
Moerman Laurenzo
Sad that the coffee are changed by the breakfast, before we drink nespresso and now the coffee is bad . Thats a reason for us to not come back. We start the day with a good coffee. And we miss also drinking water at the room.
.
Paul
Excellent hotel and restaurant, very kind equipe, musical arrangement was amazing
.
VDV
Prachtig hotel,personeel top,heerlijk ontbijt. 2persoonsbed met 1matras en donsdeken was niet stabiel.wij hadden apparte matrassen en donsdeken verwacht in die prijs categorie. Ook wel jammer dat de bepaalde andere hotelgasten luidruchtig waren. Los van dit alles,een mooie vakantie gehad.
.
Biagioni-Hornemann
With pleasure we came back this year for the 3rd time (via Luxair Tours). The position of the hotel is ideal, close to the center, beautiful view and very kind staff. However, we regret that, all 3 times, the music at the pool is terrible, which means that having that electronic techno-beat all the time is horrible! We don't mind for a while, but please not all the time ! Idem at the beach ..... and we asked each year if the volume could be reduced, but apparently this is impossible (???) And in Spain you've got such nice music, couldn't you mix a little bit the choice? With something relaxing ?
.
Esser-Schroeder Denise et Nico
Waren 3 mal in ihrem Hotel und 1 mal in Ibiza war immer gut
.
It feel like coming home every time.
.
Rosana
Muy buena ubicación, excelente atención
.
J
Alles im allem war das Hotel gut. Das meiste Personal war sehr freundlich. In der Bar oben, haben wir nur sehr lange auf eine Bedienung gewartet. Uns wurde an der Rezeption nur erklärt wo das Frühstück ist. Auf nachfrage hin, wo denn das Abendessen ist, war die Frau an der Rezeption nicht freundlich. Jede andere Person aus der Rezeption war aber nett, so wie der Rest des ganzen Teams. Die Animation am Pool hat leider gefehlt, es wurde nur an einem Tag eine Bademodekollektion vorgestellt und an einem anderen Tag war eine Tänzerin da, beides war aber sehr kurz und die Gäste wurden nicht mit einbezogen. Da ich meinen Geburtstag in Marbella gefeiert habe, hat das Hotel mir beim Frühstück etwas gegeben und am Abend eine Sektasche. Leider trinke ich keinen Sekt, aber die Geste war sehr nett und ich habe mich darüber gefreut. Alles war sehr sauber und ich würde das Hotel weiter empfehlen. Danke für alles!
.
Agnès Martin
Amazing hotel with everything you could want for and extremely friendly/helpful staff.
.
Krekelbergh vincent
We like the atmosphere at the hotel and will definitely return in the future
.
Imbert
Pas d animations le soir
.
Célina Nait Saada
We really enjoyed our trip, the staff is super nice and the hotel too!
.
Rutten
Quiero poner una nota para Jesús el encargado del restaurante del desayuno y por la noche cena,nos atendió muy muy bien quedamos encantados
.
Kathleen Dekens
Schitterend hotel en zijn faciliteiten. Één minpuntje, de geurhinder in de kamer. Meermaals doorgegeven, waarschijnlijk structureel probleem van de afloop.
.
Roche nathalie
mi hotel favorito me encanta el lugar la decoración el ambiente todo el personal es realmente super agradable hemos estado viniendo por varios años y volveremos el año que viene
.
Salim Abdul Reda
Good Hotel, Nice personality and evrything is very good
.
Benguigui Lucien
Je suis extrêmement déçu par le bruit lié à la musique boum boum toute la journée le pire était autour de la piscine Je trouve désolant de ne pas tenir compte des générations existantes autour de la piscine et que la musique ne soit choisie que pour les très jeunes générations Si je ne reviens pas dans cet hôtel ce ne sera qu'a cause de ce problème
.
Bruno Medaerts
👍👍 voor de derde keer top!
.
Germanus M
Top hotel : Zijn er nu voor de derde keer geweest en ook 1 keer in de Fuerte Dus dat zegt genoeg denk ik .
.
Carine
Het was al de vierde keer! Een echte aanrader!
.
Suchdev Jacqueline
I was happy to choose this hotel for the confort size of the room facing the sea. Also near the old town The staff very efficient . very clean.
.
Vannieuwenhuyze Georges
Very goed
.
Laurent
Fabelhaftes Frühstück, schönes Zimmer, hoteleigener Beachclub
.
De muziek stond soms te luid en de ganse dag dezelfde soort muziek en dit iedere dag, de ganse dag van die"boenke-boenke.." muziek. Deze muziek hoorde meer bij het strand dan aan het zwembad, er waren wel meer mensen die klaagden en meer gevarieerder muziek verlangden.. Aan het zwembad geen vuilnisbakken. De liften werkten ook niet zo vlug. De rest was pico bello in orde? Groeten
.
ABRIET
Très bon accueil par me semble-t-il Luis, qui parle très bien le français et qui m'a bien expliqué l'ensemble des choses à savoir. Très bon restaurant avec beaucoup de choix. Personnel très aimable, au restaurant, au service de plage et à l'accueil. Je reviendrai avec plaisir!
.
We come since many years to Amare to enjoy the quiet and rest staying at an "Adult Only Hotel". The kindness of the personnel was lik always perfect. But this year it wasn' quiet..... Too much noise, yelling etc at the pool and the private beach. Some guests didn't mind about the quiet that Amare offers. Probably the last time that we came.....
.
My wife was in 2018 at the hotel with half pension service. In 2018 the diner was only "a la carte" and was verry very good. In 2022 the diner was a mix between buffet and a la carte . The quality of the diner was much better in 2018
.
Miriam
Staff was either very friendly or unfriendly. We arrived at 10, checked in, room would be ready at 12. We come back at 13:30 and they say we are to early. We did get another room which was ready but reception guy was very unfriendly about us misunderstanding the hour, although we heard exactly 12 o clock. Beach personal is super friendly though. The rooms are very dated. For a price of 400 euro's per night i want a normal walkin shower, not a bad to get into. There were holes in the curtains which blocks the light so at sunrise the room is litten. 16 eur for a bike? Think hospitality guys if you ask such prices for your rooms…
.
Hemeryck
We had a very good hotel.The problem is that we arrived the monday moning and had only our room and luggage at 4 pm. And the last day we had to leave the hotel in de morning at 6 am. The music at the swimming pool was bad and to loud. The problem was at the swiming pool that we both could only leave our please four half an hour , after you take our towels away. And I had a handicap so that the best place for me was nearby the intance to the swimming pool. Then we had to stay the hole day at the same place for not to loose this place. We could not go walking, visite the town etc...Jou had to make an exception for the handicap! But the rest was very, very wel.
.
Olivia Sgobba Crestan
Mejor hotel en Marbella y el personal maravilloso Diego el socorrista el alma del hotel y Jesús el camarero son muy importante !!! A parte de eso un 10 El hotel esta perfecto a todos niveles !!! Venimos hace 4 veranos y vamos a seguir con vosotros Amàre Marbella !!!
.
Hermans
Hotel is mooi en vrij modern. Kamers aangenaam, niet groot maar mooi. Ontvangst aan de receptie zeer vriendelijk en dit bleef zo door de rest van het personeel gedurende ons verblijf. Bij het ontbijt was alles wat je maar wou aanwezig. Zeer uitgebreid.
.
Deblaere Paul
Negatief :Prijs van de dranken aan het strand is buiten proportie hoog !! -------------- De muziek aan zwembad is overal veel te luid en altijd van s' morgens tot s'avonds altijd dezelfde; en dit elke dag van de week !!!
.
Yvonne
Sehr zufrieden bis auf 3 Punkte In der ganzen Hotelanlage gab es zu viel und zu laute Musik Bademantel gab es nur auf Anfrage Keine Slippers
.
Jacques FABRE
Il est regrettable que nous puissions pas faire de commentaire en français !! mais dans l'ensemble nous sommes très satisfait de votre hôtel.
.
Sylvan
Key points to improve : More Quality of the food of the breakfast. Lack of conviviality at the evening around the bar of the ground floor. Need a collective atmosphere. Service at the beach a bit inconsistent. Everything else was perfect.
.
Vicky Kermans
Overall a good hotel. Some places like swimming pool and breakfast too crowded. Breakfast was very extensive but the quality of the food was not high end. Very friendly staff.
.
JeanFrancois Van Wichelen
.
Alles war gut bis auf den Kaffe in den Maschinen morgens die sind nicht einwandfrei gegangen und in meinem Zimmer 411 war im Spiegel was geschrieben wenn er angelaufen war nach dem Duschen der war nicht bis ganz oben geputzt worden .Service am Pool und Strand top .
.
Erwin Gevers
Some little minus: - Lack of storage space in room - No door in badroom and ligth pass trough in room when light on in badroom - Always the same kind of little tastefull instrumental lounge music is ennoying. No spaces without music.
.
Sandra Calloch
The hotel is AMAZING! I love coming!! If I can say, I didn't like very much the evening service of the restaurant. For the price of the staying at the hotel, I do not like the idea of buffet. Being a new and stranger client, they didn't take too much attention to people, last summer. The only time I went for dinner. Sorry about that, but in France, we are served at table at a basic hotel. But the buffet breakfast is AMAZING! I hope the evening dinner will be better next summer, because I intend to come back and celebrate with my friends for my 30th birthday! One more thing, greetings to Diego who is always taking time and caring about clients!
.
Marie-Anne en Dirk
Fantastisch hotel: zeer vriendelijk personeel, uitmuntend ontbijtbuffet, alles goed georganiseerd en gestructureerd. Heel goed gelegen, dicht bij oud centrum met veel restaurants en winkeltjes. Echt een hotel waar je volledig tot rust komt en waar je zeker terug wil komen.
.
Montamat
Leider viel zu viel Musik (am Strand und auf dem Balkon! Auch zu viel Straßenlärm auf dem Balkon! Der rest war ok. Leider wir haben diese "Lärmbelastung " nicht geschätzt
.
Luc Vekeman
The organisation in the restaurant (evenings) is disappointingly miserable. A decent restaurant/kitchen manager is highly recommended.
.
Rudi_Pascale Moens
Once more we would thank the management for their friendly and good staff. As already informed before ; a white robe around the Amare beach ( like it was before ) is preferable to indicate it is private ; to avoid that people from outside use the shower , external massage disturbs , commercial people come even inside Thank you an very best regards! Rudi - Pascale Moens / Vanhoecke
.
Ronny Impens
Nous avons payé pour une chambre oh la la the one. Nous n'étions pas du tout content du service que nous recevions au "lounge". Toujours il y avait quelque chose qui manquait. P.E. pas de café parce que l'eau dans la machine était vide, une bouteille de cava par service, le vin blanc était trop vieux dans les petites bouteilles et plus buvable, et surtout la nouriture manquait. Tout les 2 à 3 heures il y avait un service de noutiture dont les sandwiches étaient pris après 10 minutes.
.
stefaan
Mejor, Llegamos a su hotel por séptima vez. Lástima que el aire acondicionado no funcionó lo suficiente en la habitación, el café nespresso ya no está presente en el desayuno. Y el ruido de los camiones grandes era muy molesto cuando estabas en la playa. Tuvimos menos sentimiento esta vez y probablemente ya no reservemos a ciegas. Mvg stefaan Dekempe (lo traducimos a través de google)
.
Veronique M
What a strange name in this reservation ? it should be Veronique Mestdagh ? Happy with our stay very friendly staff, prices way to high. We were annoyed by the pool by very loud British/ Irish guest which you do not expect at such a high standard hotel. We book adult only to rest and then loud adults, we did not like. Poor menuchoice, again very expensive meals.
.
Arnaud
We booked over €16 000 in rooms and the friendliness of the reception was inadequate. Apart from that our room had quite a few issues, including a badly closable window door, a broken closet, and a broken sink. Also, the entrance to the bathroom was way too small. We've been coming to Amare Marbella for over 5 years but I won't be coming back with a service like this one.
.
LUPPENS
Très bon séjour passé dans votre hôtel (le temps n'était pas bon malheureusement). Nous avons trouvé gênant le DJ à la piscine car c'est en général un endroit calme où on peut se reposer et lire. Pourquoi ne pas vous limiter à la plage et de cette façon laisser choisir aux hôtes le calme ou la tranquillité ? Services super !! Propreté super également, personnel extraordinairement gentil et serviable. Si les prix nous le permettent, nous reviendront (sommes des clients Club de Amigos gold, venant de l'hôtel Fuerte). Merci à tous
.
Moreau Landeau
We were unlucky because the weather was not right, we regret not being able to fully enjoy our vacation.
.
David L
Staff was very helpful and courteous, made our stay quite pleasant. Room a bit small but did not have negative affect on our visit
.
The wifi wasn't working All the time and thebb vr parking tickets that we received didn t open the garage All the time. In this World WiFi must work perfect
.
Laurent
Bonjour, nous avons beaucoup aimé l emplacement de l hotel, la gentillesse de tout le personnel, la propreté, la verdure autour de l hotel, les repas. Mais nous n avons pas apprécié l absence de salon de repos et de lecture : la musique présente dans tous les lieux est fatiguante alors que l on vient aussi pour destresser, se reposer. On ne peut avoir le silence que dans sa chambre...Dommage aussi la musique au beach bar, on ne peut pas entendre la mer. Et pourquoi jamais de musique classique ? dommage. Nous avons regretté aussi le malentendu sur la reservation par mail de la chambre (nous souhaitions une keep the secret) et le malentendu avec la réception pour la livraison à l hôtel d un vêtement par un magasin (on ne m a pas appelée comme je l avais demandé). Mais le personnel reste malgré tout très aimable et souriant. Nous aurions aimé prendre le welcome drink au rooftop qui, en hiver, est relativement peu frequenté. Dommage d accéder à la salle de sport par l'extérieur sous la pluie. Mais le plus grand regret reste la musique omniprésente dans l hôtel, l absence de lieu face à la mer, pour lire en silence, méditer et se reposer. Le prix de la nuitée nous semble un peu trop élevé en rapport du qualité/prix. L hôtel est sinon impeccable, lumineux, très bien placé. Merci au personnel pour son accueil.
.
Brigitte Walkowiak
C'est un endroit où il fait bon vivre🤩
.
herman & co
we had a lovely stay @ Amare hotel !! Thank you all !
.
Nous avons trouvé fort dommage qu'il n'y ait pas des endroits fumeurs à la plage, piscine et sur le roof top ! Sinon, c'était parfait
.
Heel vriendelijk en behulpzaam personeel! Een hotel om tot rust te komen Fijne ligging, direct aan de wandelboulvard
.
Impe Didier
Zwembad verwarmd in november zou nog beter zijn !
.
Reckinger Francois Isabelle Bock
.
catherine Gaudry
Excellent séjour
.
Het is een super hotel , veilig , goede service vriendelijk personeel , uitgebreid ontbijt
.
Viki H
incroyable hôtel avec des prestations de qualité +++ un buffet petit déjeuner succulent et diversifié ++ je recommande vivement de prendre le forfait demi pension car les propositions de menus des repas le soir sont incroyablement bons et diversifiés. le spa est top : juste il manque quelques transats supplémentaires mais c'est peut être en cause de la période covid? mais hammam fonctionne super bien toujours chaud avec vapeur pas besoin d'attendre comme dans la plupart des autres spa dans les hôtels et le sauna est à 90 degrés non stop. jacuzzi chaud pas eu l'occasion de faire la piscine à jets. les soins en institut sont top également. c'est un endroit que je recommande vivement et j'y retournerai sans hésitations. je suis très difficile pour les hôtels et je peux vite être déçue mais c'est la première fois que je trouve un hôtel avec un tel service! par comparaison, je suis allée dans une chaine d'hôtels international très connue début de mon séjour à Higueron hôtel 4* aussi. j'ai payé environ le même prix même plus cher mais je n'ai pas eu la même qualité de service que pour cet hôtel Amare beach club de Marbella. Je ne peux donc que conseiller de réserver cet hôtel. Vous ne serez pas déçu.
.
Lateur Luc
Prima hotel. Een paar minpuntjes: Wachttijden aan het ontbijt zijn soms lang, niet leuk. WiFi kan casten naar tv niet aan... te traag.
.
Claude_Nath
Very very good 🙂 we appreciated our stay at the Hotel Amare Beach.
.
Mozimann R. & Perrin M.
Hervorragend! Neues Hotel, freundliches Personal, gute Küche und sehr schöne Lage direkt an der Strandpromenade. Wir haben uns hier sehr wohl gefühlt.
.
Jean-pierre Geubbelmans
Clean hotel, perfect location and vertelt friendly staff
.
Rochtus-Joossen
very nice hotel , a pity you have to queue up for breakfast, to have a towel, beach restaurant ..... tip : restaurant at the swimming pool : open up and surf lunch on the terrace
.
Bernard Cazenave de la Roche
We booked an Ohlala The One room with sea view. Though the room is nog really big it was great and practical with a super view from a nice terrace to the sea. The extra "the one" was a nice addition to our stay. Staff in general was friendly and helpfull. In general it was a great experience and we will certainly return to the hotel. Maybe just two small remarks. I thought not everyone behind the reception was friendly (at arrival it was perfect) and also we ate almost everyday at the beachbar and twice we made a reservation for 13.30h sitting at the edge near the beach but twice it was put at 14.30h and another table. Was no problem to still have lunch at 13.30h but the last day (Saturday 2/10) they put us inside but finally after a small complaint the manager? put as a nice table and gave us super service. Will recoment the hotel to everyone both service, stay and location.
.
Mermuys Marie Paule
Diner is horribly bad, shower floor dangerous when wet, safe much too low in the room, not enough hangers, no door where the cloths are hanging
.
De Vos Natacha
Fantastic hotel with more than friendly crew. Top!!!!
.
Nancy
Excellent hotel. Fantastic service overall. Perfect location next to sea and old town Marbella. We would have preferred more sunbeds at the pool and Beach as there are too few considering the amount of guests at the hotel. The system with reservations for sunbeds is very efficient however. We've had a marvellous time! Loved it.
.
JOMINET
Le seul problème est l'attente pour accès petit déjeuner et accès piscine/plage
.
Cromecast is not working properly( I got never connected to my own room, always to another). Two people came to help me ( thank you José and Jesus) but couldn't solve the problem. Info at the reception concerning transfer to airport is not correct ( e.g. no reservations necessary, there are taxis in front of the hotel, say you come from Amare and transfer price is 70 Euro). The driver did not know that, he said he drives by the meter, but he agreed to stop the meter at 70 Euro. Normally it would have been over 85 Euro. So, a better info or agreement with taxi drivers for transfer to airport is needed. Like in every hotel, sunbeds are a problem. Long rows before the counter already at 8h30, not a nice way to start the day. Some people saw their towels removed after 30' (I agree totally, allowing people to reserve sunbeds must be avoid)) but others stayed "occupied" (only towels) untill 4 pm ( I mentionned it, but there came no reaction). Anyway, we had a very pleasant stay ( for the second time) at Amare. Staff is doing a great job and we will certainly come back !
.
Sabine Clarys
Lovely hotel and the staff is very kind . Breakfast top, beachresto top.
.
F&G
We had a lovely stay, we had bed and breakfast rate. Breakfast is really great, yet we hated that we sometimes needed to queu in the morning to get in. Clean rooms, beach bar and rooftop bar are nice.
.
Tack Philippe
too few elevators, elevators too small and too slow, one was more than a week out of service, very embarrassing in a building of 11 levels
.
Pinket Riet en Christel.
Very satisfied With The hotel in all Points. Thans You very much.
.
sandy
good hotel Un peu déçu par le petit déjeuner les viennoiseries n'étaient pas très bonnes.
.
Farhi Jean Michel
Very nice. We will come back if we came back to Marbella Special Thanks and congratulations to FLOR at the reception. Very good professional. Best regards
.
Sandy
Best hôtel in Marbella ! Beautiful ! People from the staff are really nice and pro ! The rooms are really modern and really clean , the breakfast is perfect with a big choice of stuffs . The pool is really cool , everything is perfect 👍🏼
.
Moyaert
very clean - good restaurant
.
Tonyi Puls and family
The poolside is not secured and everybody can enter it without a badge. We whitnessed a vagabond stepping into the jacuzi and washing himself. It is only after we alarmed the personal at the poolside that the person was removed by threathening to call the police. And again two persons passing by where trying to enter the jacuzi but were spotted by the personel and chased away. Another problem is the lack of beds at the poolside. I was told by the poolside personel that it was not done to reserve a bed just by putting a towel on it. Unfortunately, when I arrived at the poolside, all beds where "taken" ... by towels and nobody was sitting on them. This problem was spoken by all the hotel guests I met at the poolside.
.
Sarah, Dublin
We went away to celebrate my sister's birthday and were due to go last year. There was no problem amending our dates to this year. The reception staff were great and upgraded our room at short notice. .The food, room and pool sides were excellent and we would love to return again in the future. Well done Amare!!
.
Allard
Estancia agradable, pero punto débil para obtener las camas de playa falta un sistema de reserva hay que levantarse muy temprano para tener un lugar et de más hay que hacer cola si no imposible ! Es una lástima !
.
Ignacio
We liked this hotel and the service. We will certainly go back there
.
Heymans
Vert God hotel /stay already 6 time
.
Andrea Bogaert
We really enjoyed our stay!😎👌🏼 The staff was super nice and they really did their best to disinfect everything with the Covid. We loved the beach bar, the pool,.... I really recommend this hotel when you are in Marbella😎
.
Van Den Broeck Guy
Ones Amàra, always Amàra
.
Karin Frantz
Es ist das 3. Mal dass ich in diesem Hotel bin und es ist einfach fabelhaft. Animation und Tagesanimation habe ich nicht so toll bewertet da es ja, ausser Yoga an 2 Tagen, keine Animation gibt. Ist auch gut so ist ja kein Clubhotel.
.
Sven
Amara Marbella proofed to be an exceptional environment. The trendy design and diverse facilities, the cleaniness, combined with the friendly staff made us an awfull holiday atmosphere. Thank you Amare !
.
laetitia et camille
notre séjour était parfait sur tous les points, le personnel, les prestations, le cadre, la nourriture, tout était réuni, nous avons passé un séjour magnifique. la qualité des matériaux, jusqu'au fragrances dans chaque zone de l'hotel, nous étions au paradis des senteurs et des saveurs la vue du rooftop est incroyable, le spot est magnifique Nous remercions tout le personnel de l'hotel pour leur sourire, leur discrétion et leur disponibilité à toute heure. Un immense merci
.
Shah Jayesh
Had a very bad experience while showering because water comes suddenly very warm. We had 7 rooms booked as a group and 2 of us had a same issue. Our skin was almost burnt
.
Vanhoecke pascale
The only remark we have is that at the Bach the wooden paths should be renewed and the surrounding from the private beach by a robe like it was 2 years ago is also preferable
.
Kit
L'hôtel donne sur une belle plage de sable. Il faut juste traverser la promenade côtière, qui est piétonne. La vieille ville est à 5 minutes à pied. Ma chambre était grande et tranquille, très propre. Une belle piscine avec assez de chaises longues, un énorme buffet matin et soir et un personnel sympa...
.
Darko
Best hotel in Marbella.
.
Vancappel Christophe
Very good and satisfying but somedays the music is a bit to loud at the beach. Lunch is very good.
.
Michel
Service at the beach was not like before. Maybe not enough waiters?
.
Bessad
Amazing hôtel, beautiful place, the breakfast was very good
.
DATCHARY ISABELLEY
It's a very good place well situated !! Everytging is perfect
.
Luc Simon Paris
Nice stay, Gabriel is great at the desk
.
Dugene
Amare est un hôtel qui mérite largement une étoile supplémentaire, de part sa décoration recherchée, la qualité de on accueil par le personnel, le confort de la literie, la proximité du centre ville et de la plage ainsi que sa beauté. Je recommande a tous mes amis et famille de venir. Amare c'est une expérience unique, tout y est parfait du petit déjeuner en passant par le dîner avec des mets de Qualité et une étoile pour son restaurant. Je reviendrai et ne me lasserai jamais de venir dans mon hôtel préféré 😊😉
.
ZAFER
Hotel agréable, vue sur mer magnifique, service impeccable. Le diner Buffet n'est pas à la hauteur d'un hôtel 5 étoiles. La piscine est agréable, et le coté plage privée est parfait. Le restaurant de la plage est propre, bien décoré dans un environnement propice à la détente. On y mange bien!
.
christine graf
beautiful hotel, but for us a bit to unpersonal. When you enter the lobby, we say good morning, the staff at reception don't even lift theirs heads from there computers.... The Bell boy was the most friendly and helpfull person in the hotel!
.
TARTAS
Bel hôtel à un tarif relativement abordable hors saison. Tout le personnel est très sympathique. Les chambres sont très confortables, le parking sous l'hôtel est appréciable malgré son prix élevé.
.
The hotel is top! Very clean Breakfast is excellent The hotel gives you immediately a vacation feeling
.
Norma Negrete
Second visit in over a year. The spa again let us down, sauna door problem. Hamman not working at all like in March 2018.
.
ackermans
nous avons passer un tres bon sejour bien manger bien calme dans la chambre bonne literie beau mobilier , vraiment a refaire .merci
.
Overall very satisfied. A couple areas for improvement/attention: - sound isolation between rooms could be better - strange there is no system in bathroom to extract moist air and odors
.
Deblon Pierre
J'étais passé trois ans auparavant et je peux dire qu'il y a eu encore des petites améliorations sur l'accueil et le service. Vraiment un établissement à nos attentes. On reviendra
.
Remarque: With the booking you get a few advantages like bottle of cava in the room (never recieved), late check out (payed 40 euro for 3 hours).
.
Anne Catherine Lorent
The only one negative point, it's the style of the music in the hallways, in the restaurant, at the swimming pool. For the rest, Amare Hôtel it's a little paradise.. Thank you Clo at the reception for her very good french. All the staff is friendly, very professional and smiling. We return with pleasure.
.
JP
Outstanding hotel, top crew, great breakfast, super friendly ! Very near to the old and new town. Some things could not be rated because we did not attend (ex. evening activities, spa..). The only small remark : very difficult to keep your head out of the sun and the rest of your body in the sun, due to low flexibility with sunbeds en in particularly the umbrellas.
.
Well organized, professional hotel team Friendly, helpful team. Top price/quality . Perfect breakfast, but a bit too crowdy. You need to watch out not to bumpinto
.
Sylvie Schmit
It was now our third stay in your hotel and I have to admit, that this was not reflected when we arrived at the reception. Questions, like : »is this your first time in Marbella? » show me the the employees did not do their homework an recognized us being a valuable customer. It s not the way I like to be receptionned, the little Extra was missing. I think these small things make the difference.... there are certainly also other hotels in Marbella aren't there? Sylvie Schmit
.
Tolles schönes modernes Hotel... Aber wir hatten nur mit Frühstück, wegen den vielen schönen Terrassen und Restaurants die in Marbella sind. Die Musik am Strand, war uns zu laut,,,aber es sind viele junge Leute da, die lieben das. Der Preis für die Zimmer finden wir überteuert, weil die seitliechen Zimmer haben ja keinen so schönen Ausblick und immer Lärm von der Strasse,,,, Man mus schon Zimmer vorne auf der Ecke bekommen, weil die Frontzimmer können ja nur ganz reiche Leute siech leisten 😔😔😣😣 Denke ja hoffentlich dass das nicht die Absiecht vom Hotel ist,,,,,,,nur höheres Publikum zu bekomen.. Aber unsere Ferien waren trotzdem sehr schön
.
Wir können uns nicht beklagen, im Gegenteil. Alles in Allem hatten wir einen tollen Aufenthalt. Ein grosses Lob gilt dem sehr freundlichen und zuvorkommenden Personal. Was uns nicht gefiel, ist dass es gestattet war im Pool zu trinken und zu essen. Wir sahen, dass verschiedene Gruppen im Pool Champagner zu sich nahmen ( welches ihnen serviert worden ist ) und andere im Whirpool tranken und Essen zu sich nahmen. Das fanden wir nicht hygienisch. Uns störte auch ( manchmal ) dass die Musik im Poolbereich zu laut war und ebenso man die Musik noch spätabends , wahrnahm. Es gab irgendwie so eine Dauermusik Berieselung. Das nervte uns schon. Wir waren auch nicht nur an der Costa del Sol um Sonne und Strand zu geniessen , sondern wollten auch die Gegend erkunden, was wir auch taten. In unseren Augen könnten die Sicherheitsmassnahmen auch verbessert werden. Jedermann hatte Zutritt zum Hotel und kontrolliert wurde auch nicht. Der Poolbereich war für jedermann zugängig und nachts kann man ungestört über die kleine Mauer ins Hotelgelände eindringen. Ansonsten , wie gesagt ! Wir waren sehr zufrieden ! Sehr ! Vielen Dank 🙂
.
Fortes Ana
j'ai voyager seule et je me suis sentie très à l'aise dans votre hôtel .Personnel agréable surtout au Pool. Le Buffet du restaurant était aussi très bon et frais. Les chambres cosy, sauf les personnes qui faisaient du bruits en arrivant tard dans la nuit...très irrespectueux.
.
Alfons Peeters
Y lyke iT veruit good
.
Géraldine Pécréaux
Ce séjour était sublime merci beaucoup pour vos sourires et votre accueil
.
stef
good . breakfast in the morning : to many people , to crowdy , long waiting row
.
abdel
I was really very happy to spend my holidays at the amare beach marbella hotel. Everything was perfect: adults only hotel, welcome and informations at the reception, hotel location at the edge of the promenade and near the old town, parking, private beach, immaculate room, everything at breakfast, buffet dinner very well. Hotel to recommend without hesitation.
.
Truyens
The hotel,rooms,pool area and beach area are really good. Dinner could be better ,a small choice in fish and meat dishes.
.
Guido Spescha
- Sehr nette, kompetente und hilfreiche Unterstützung an der Rezeption (Xenia, Sylvia)! - Die Musik am Strand war jeweils viel zu laut! - Die Zimmerzuteilung (durch TUI?) war nicht optimal. Das Zimmer war sehr schön, aber unser Wunsch war, nicht nahe bei der Strasse. Uns wurde Zimmer 223 zugeteilt. Zusammefassend waren wir sehr zufrieden und wir werden gerne wieder kommen !
.
Dewulf danny
Room 727 , small vo 2 persons
.
alfons peeters
for my the best :so y come back on 27 augustus 2019 room was 512 hope again ym back in augustus yes best regarts
.
All was perfect exept température of the swimmingpool. Very very too cold!!!!
.
Van Looy dirk
Prachtig hotel met schitterende ligging en heel vriendelijke service
.
We had a good stay. The staff is very friendly. Especially yasmin, always serving us with a smile. We come back again!
.
Hans De Grande
Superb 4* Hotel in Marbella with 5* service. Excellent food & accomodation. Super friendly personnel. Very beautyfull loacation at the beach. Thank you very much for a unforgettable week. We are definitively going back.
.
Everything was super. It is unfortunate the jacuzzi didn't work. And after the rain, when the sun did come out, the beds by the swimming pool were wet and weren't cleaned/dried.
.
Thomas
We had a nice week in Marbella. The quality of your hotel has contributed to this. We will particularly remember the extraordinary quality of the breakfast buffet. A small negative rating for the poor soundproofing of the terrace window from our room (325). And a remark neither positive nor negative: I don't understand anything about your towels replacement rules! They have been replaced every day and I don't complain about it. But if I asked not to change them you would win the cleaning, nature would save a little bit of drinking water but what would I win?
.
Gustave
The music was terrible. Repetitive and sad. Very unpleasant to us. The rest was OK.
.
Patrick and Arlette
I could only take one reason to indicate our stay at the hotel.We had several reasons bit I could only point one. Thanks for the hospitality and our pleasant stay. You are all TOP !!! 10/10 Yours sincerely Patrick and Arlette Vandewalle - Debou
.
Ann C.
Ik kwam al voor de derde keer in dit hotel. Het is uitstekend gelegen aan het strand en dichtbij de oude stad van Marbella. Het ontbijt is zeer uitgebreid en verzorgd. De kamers zijn ruim en verzorgd met alle voorzieningen en een ruim terras. Op de kamer hoor je geen lawaai van andere gasten. Al een paar keer over de middag iets gegeten in de beachbar en daar is het eten niet lekker. Het ziet er mooi en lekker uit, maar de smaken zitten niet goed. Entertainment overdag is in juni goed , maar in oktober en november niks meegemaakt van entertainment.