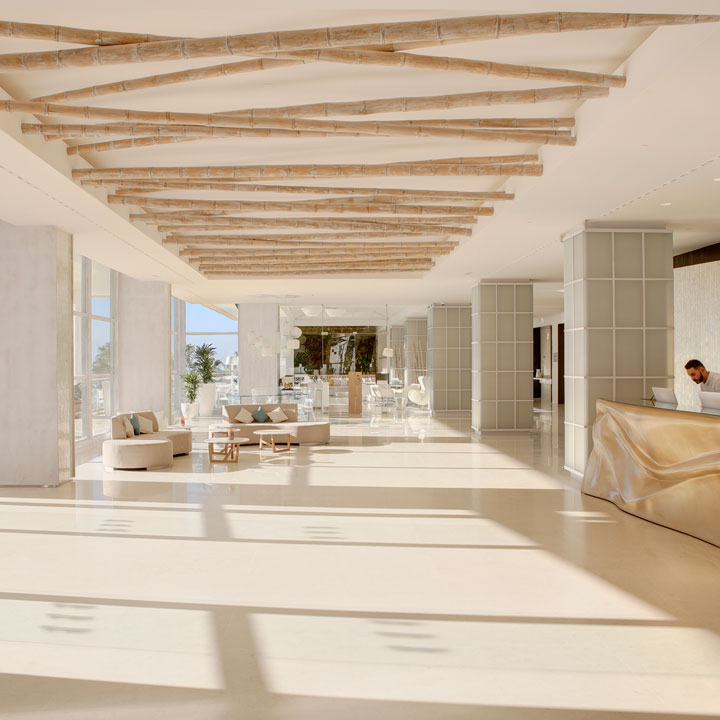 AMÀRE MARBELLA
.
ZAFER
Hotel agréable, vue sur mer magnifique, service impeccable. Le diner Buffet n'est pas à la hauteur d'un hôtel 5 étoiles. La piscine est agréable, et le coté plage privée est parfait. Le restaurant de la plage est propre, bien décoré dans un environnement propice à la détente. On y mange bien!
.
christine graf
beautiful hotel, but for us a bit to unpersonal. When you enter the lobby, we say good morning, the staff at reception don't even lift theirs heads from there computers.... The Bell boy was the most friendly and helpfull person in the hotel!
.
TARTAS
Bel hôtel à un tarif relativement abordable hors saison. Tout le personnel est très sympathique. Les chambres sont très confortables, le parking sous l'hôtel est appréciable malgré son prix élevé.
.
The hotel is top! Very clean Breakfast is excellent The hotel gives you immediately a vacation feeling
.
Norma Negrete
Second visit in over a year. The spa again let us down, sauna door problem. Hamman not working at all like in March 2018.
.
ackermans
nous avons passer un tres bon sejour bien manger bien calme dans la chambre bonne literie beau mobilier , vraiment a refaire .merci
.
Overall very satisfied. A couple areas for improvement/attention: - sound isolation between rooms could be better - strange there is no system in bathroom to extract moist air and odors
.
Deblon Pierre
J'étais passé trois ans auparavant et je peux dire qu'il y a eu encore des petites améliorations sur l'accueil et le service. Vraiment un établissement à nos attentes. On reviendra
.
Remarque: With the booking you get a few advantages like bottle of cava in the room (never recieved), late check out (payed 40 euro for 3 hours).
.
Anne Catherine Lorent
The only one negative point, it's the style of the music in the hallways, in the restaurant, at the swimming pool. For the rest, Amare Hôtel it's a little paradise.. Thank you Clo at the reception for her very good french. All the staff is friendly, very professional and smiling. We return with pleasure.
.
JP
Outstanding hotel, top crew, great breakfast, super friendly ! Very near to the old and new town. Some things could not be rated because we did not attend (ex. evening activities, spa..). The only small remark : very difficult to keep your head out of the sun and the rest of your body in the sun, due to low flexibility with sunbeds en in particularly the umbrellas.
.
Well organized, professional hotel team Friendly, helpful team. Top price/quality . Perfect breakfast, but a bit too crowdy. You need to watch out not to bumpinto
.
Sylvie Schmit
It was now our third stay in your hotel and I have to admit, that this was not reflected when we arrived at the reception. Questions, like : »is this your first time in Marbella? » show me the the employees did not do their homework an recognized us being a valuable customer. It s not the way I like to be receptionned, the little Extra was missing. I think these small things make the difference.... there are certainly also other hotels in Marbella aren't there? Sylvie Schmit
.
Tolles schönes modernes Hotel... Aber wir hatten nur mit Frühstück, wegen den vielen schönen Terrassen und Restaurants die in Marbella sind. Die Musik am Strand, war uns zu laut,,,aber es sind viele junge Leute da, die lieben das. Der Preis für die Zimmer finden wir überteuert, weil die seitliechen Zimmer haben ja keinen so schönen Ausblick und immer Lärm von der Strasse,,,, Man mus schon Zimmer vorne auf der Ecke bekommen, weil die Frontzimmer können ja nur ganz reiche Leute siech leisten 😔😔😣😣 Denke ja hoffentlich dass das nicht die Absiecht vom Hotel ist,,,,,,,nur höheres Publikum zu bekomen.. Aber unsere Ferien waren trotzdem sehr schön
.
Wir können uns nicht beklagen, im Gegenteil. Alles in Allem hatten wir einen tollen Aufenthalt. Ein grosses Lob gilt dem sehr freundlichen und zuvorkommenden Personal. Was uns nicht gefiel, ist dass es gestattet war im Pool zu trinken und zu essen. Wir sahen, dass verschiedene Gruppen im Pool Champagner zu sich nahmen ( welches ihnen serviert worden ist ) und andere im Whirpool tranken und Essen zu sich nahmen. Das fanden wir nicht hygienisch. Uns störte auch ( manchmal ) dass die Musik im Poolbereich zu laut war und ebenso man die Musik noch spätabends , wahrnahm. Es gab irgendwie so eine Dauermusik Berieselung. Das nervte uns schon. Wir waren auch nicht nur an der Costa del Sol um Sonne und Strand zu geniessen , sondern wollten auch die Gegend erkunden, was wir auch taten. In unseren Augen könnten die Sicherheitsmassnahmen auch verbessert werden. Jedermann hatte Zutritt zum Hotel und kontrolliert wurde auch nicht. Der Poolbereich war für jedermann zugängig und nachts kann man ungestört über die kleine Mauer ins Hotelgelände eindringen. Ansonsten , wie gesagt ! Wir waren sehr zufrieden ! Sehr ! Vielen Dank :-)
.
Fortes Ana
j'ai voyager seule et je me suis sentie très à l'aise dans votre hôtel .Personnel agréable surtout au Pool. Le Buffet du restaurant était aussi très bon et frais. Les chambres cosy, sauf les personnes qui faisaient du bruits en arrivant tard dans la nuit...très irrespectueux.
.
Alfons Peeters
Y lyke iT veruit good
.
Géraldine Pécréaux
Ce séjour était sublime merci beaucoup pour vos sourires et votre accueil
.
stef
good . breakfast in the morning : to many people , to crowdy , long waiting row
.
abdel
I was really very happy to spend my holidays at the amare beach marbella hotel. Everything was perfect: adults only hotel, welcome and informations at the reception, hotel location at the edge of the promenade and near the old town, parking, private beach, immaculate room, everything at breakfast, buffet dinner very well. Hotel to recommend without hesitation.
.
Truyens
The hotel,rooms,pool area and beach area are really good. Dinner could be better ,a small choice in fish and meat dishes.
.
Guido Spescha
- Sehr nette, kompetente und hilfreiche Unterstützung an der Rezeption (Xenia, Sylvia)! - Die Musik am Strand war jeweils viel zu laut! - Die Zimmerzuteilung (durch TUI?) war nicht optimal. Das Zimmer war sehr schön, aber unser Wunsch war, nicht nahe bei der Strasse. Uns wurde Zimmer 223 zugeteilt. Zusammefassend waren wir sehr zufrieden und wir werden gerne wieder kommen !
.
Dewulf danny
Room 727 , small vo 2 persons
.
alfons peeters
for my the best :so y come back on 27 augustus 2019 room was 512 hope again ym back in augustus yes best regarts
.
All was perfect exept température of the swimmingpool. Very very too cold!!!!
.
Van Looy dirk
Prachtig hotel met schitterende ligging en heel vriendelijke service
.
We had a good stay. The staff is very friendly. Especially yasmin, always serving us with a smile. We come back again!
.
Hans De Grande
Superb 4* Hotel in Marbella with 5* service. Excellent food & accomodation. Super friendly personnel. Very beautyfull loacation at the beach. Thank you very much for a unforgettable week. We are definitively going back.
.
ameylaerts@hotmail.com
The bar was a little bit to cold.
.
Everything was super. It is unfortunate the jacuzzi didn't work. And after the rain, when the sun did come out, the beds by the swimming pool were wet and weren't cleaned/dried.
.
Thomas
We had a nice week in Marbella. The quality of your hotel has contributed to this. We will particularly remember the extraordinary quality of the breakfast buffet. A small negative rating for the poor soundproofing of the terrace window from our room (325). And a remark neither positive nor negative: I don't understand anything about your towels replacement rules! They have been replaced every day and I don't complain about it. But if I asked not to change them you would win the cleaning, nature would save a little bit of drinking water but what would I win?
.
Gustave
The music was terrible. Repetitive and sad. Very unpleasant to us. The rest was OK.
.
Patrick and Arlette
I could only take one reason to indicate our stay at the hotel.We had several reasons bit I could only point one. Thanks for the hospitality and our pleasant stay. You are all TOP !!! 10/10 Yours sincerely Patrick and Arlette Vandewalle - Debou
.
Ann C.
Ik kwam al voor de derde keer in dit hotel. Het is uitstekend gelegen aan het strand en dichtbij de oude stad van Marbella. Het ontbijt is zeer uitgebreid en verzorgd. De kamers zijn ruim en verzorgd met alle voorzieningen en een ruim terras. Op de kamer hoor je geen lawaai van andere gasten. Al een paar keer over de middag iets gegeten in de beachbar en daar is het eten niet lekker. Het ziet er mooi en lekker uit, maar de smaken zitten niet goed. Entertainment overdag is in juni goed , maar in oktober en november niks meegemaakt van entertainment.