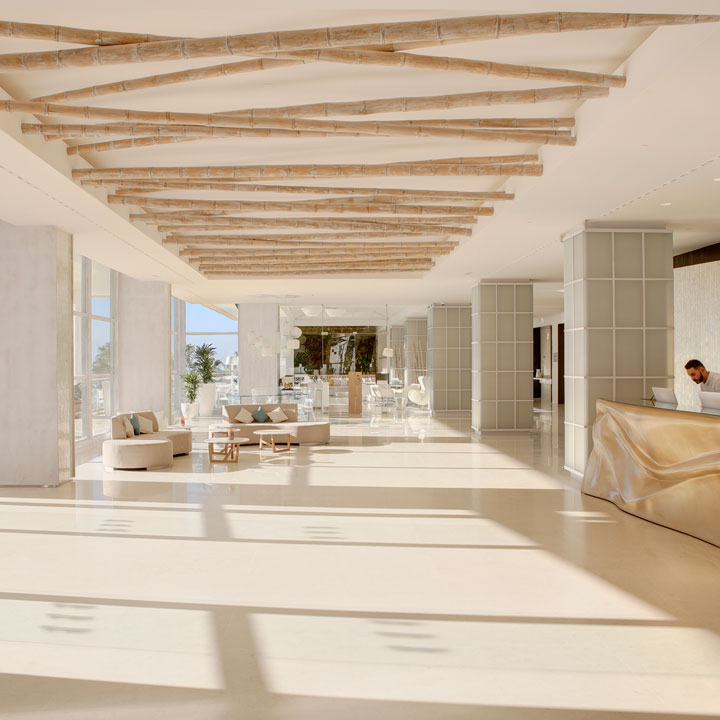 AMÀRE MARBELLA
.
Patrick Joseph Burke
The Amare was excellent and we will return
.
Sharon Dujon
Loved the hotel. Could not fault. The only thing that was disappointing was that the hotel shut on our last day so we could not use the hotel, or get any food or drink for the hotel pool bar or beach bar
.
Rachel
This resort experience was extraordinary start to finish. From the beautiful hotel and art installations, to the stunning room and views, to the extraordinary service, to the perfect beach and outdoor lounging areas. WE will absolutely return. 5/5
.
Jonathan Petersson
Smoking on the balconies should be banned as this makes it smell in others rooms.
.
Klaus
Super Lage, freundliches Personal, tolles Frühstück, superbequeme Sunbeds am Pool und am Strand, die den Namen Sunbed wirklich verdient haben. Die Altstadt ist in wenigen Fußminuten erreichbar. Das Hotel liegt direkt an der Strandpromenede, die durch ganz Marbella führt. Nur vom Zimmer haben wir uns etwas mehr versprochen. Es war zwar groß, aber die Einrichtung war doch eher zweckmäßig. Keine Gemütlichkeit, keine Bilder an der Wand, keinerlei Deko-Gegenstände, das Bodenlaminat wirkt billig. Aber immerhin tolle, große Betten! Der TV musste nach Einschalten jedesmal umständlich auf Antennenempfang umgestellt werden, was bei einer spanischen Menüsprache nicht ganz selbsterklärend ist. Außerdem war der Straßenlärm deutlich zu hören, da die Balkontür beim Schließen oben nicht vollständig abdichtete. Es blieb immer ein kleiner Spalt frei, durch den der Lärm drang (Zimmer 525). Die Wassertemperatur im Pool war zu niedrig, um sich darin wirklich aufzuhalten. Es wäre wünschenswert, dass er beheizt würde. Die Bedienungselemente des Außen-Whirlpools funktionierten nicht einwandfrei. Die Tiefgarage ist chaotisch. Es kommt zu Stau und Rückfahrmanövern, wenn ein Fahrzeug hinausfahren möchte und gleichzeitig ein anderes Fahrzeug reinfahren möchte. Der Kontrollpunkt für die Ausfahrt sowie die Schranke müsste nach oben verlegt werden. Besser nicht auf den Plätzen 1 und 2 parken, dort ist man mitten im Chaos. Die Autovermietung Enterprise führt ihre Fahrzeugübergabe in der Halteverbotszone (an der Straßenecke) vor dem Hotel durch. Dadurch wird die Durchfahrtsstraße sehr eng. Unser Mietfahrzeug, welches wir anfänglich auf der linken Straßenseite geparkt hatten, wurde durch ein vorbeifahrendes Fahrzeug beschädigt. Der Fahrer flüchtete. So etwas braucht niemand im Urlaub.
.
Very impressive hotel with excellent staff, service and cleanliness.
.
Carmel Norton Haugh
Had a wonderful week in Amare and will be returning next year. Good food, good service at this 4 star hotel,ball delivered with a smile. Great team at Amare. Well done to all.
.
Hotel is top class. Staff were fabulous.Good value for money. Best location in Marbella.
.
Dennis McGannon
Hi what lets the hotel down is the music played in the pool area. It's terrible noise pollution. Other than that it was a great stay. I must say one member of staff stood out, this was Christina in the restaurant, she is exceptional, very friendly , helpful and kind.
.
Yamuna Ale
We enjoyed our 4 nights stay very much. The location, facilities, buffet items, staffs were all fantastic. We had to wait 30 mins for the check in as the room was not ready but we got the free drinks each in the bar so we didn't mind.
.
Ein Hotel, wo man sich einfach wohlfühlt.
.
Robert R.
Nach einigen Aufenthalten im Hotel Fuerte waren wir dieses Mal im Hotel Amare . Das Hotel ist einfach grandios in jeder Hinsicht : das Frühstücksbuffet lässt keine Wünsche offen , unser Dolce Vita Zimmer war sehr gross und gut ausgestattet , die Sauberkeit tadelos.. Das Personal ist freundlich und hilfsbereit , man merkt dass ein gutes kollegiales Arbeitsklima herrscht ! Wir freuen uns bereits auf unseren nächsten Aufenthalt in diesem tollen Hotel! Muchas gracias !!!
.
We celebrated our 50 wedding anniversary With our two daughters and son Really enjoyed our stay .Ambrose Collins
.
Richard J Leonard
The staff were wonderful and always in good form. Thought beach facilities were excellent.
.
Dr Ana Spitzmesser
Had a lovely room but the grim decor, gray and beige, was much too sober. Needs some splash of color, flowers even if faux, or some colorful painting to liven it up. It is Andalucia and the Mediterranean after all. Otherwise everything was tops.
.
Leanne
Amazing hotel with wonderful location
.
Rachel Costello
Amazing experience from start to finish. We had the most wonderful stay at the Amare Marbella and thank all the hardworking staff for their friendliness and fantastic service. We will be back!
.
Angela Bolton
Fabulous Hotel in a lovely location well recommended !
.
Bart Nivelles
My wife came now for the 5th time and breakfast is very good but seems always the same. Maybe a point to work around. Further perfect for us.
.
Excellent experience really enjoyed our stay
.
Andrew Rudge
The pool background music was terrible
.
Dave Hardie
Great hotel, lovely location, friendly and helpful staff would recommend
.
All staff we met were polite, friendly and seemed happy in their work which makes the guests also feel valued. Cleanliness everywhere and quality of food were also of a good standard. Our only negative comment concerns the furniture in the room. The chez -long ( lounger) is too low and uncomfortable and to watch TV one occupant must lie on a bed. It would be better to have 2 proper chairs inside the room so that both occupants can sit in a normal comfortable position.
.
Rick Kern
The hotel is very nice, elevators work nicely and don't take long, there are three. There is a separate one to the Spa and the garage. Location is prime and the beach club is also very nice. The ONE lounge is a nice area to have a drink if you book the room like we did. The roof top bar closed at midnight on a Saturday night, in my opinion too early for weekend. The entire staff is super friendly and make sure that your requests are take care of. For the price of the room, and given the same circumstances other years at other hotels, when booking for a birthday celebration it would have been nice if the hotel had gifted us with a drink in the room or some fruit platter, but they didn't. Overall I would stay there again, thank you.
.
Anne
We love staying in the Amare and Room 705 was great
.
Pauline Moran
Loved hotel and staff were wonderful.Major complaint was the non stop music particularly at the pool and beach the choice of which was not appropriate to an adult hotel. Lying by the beach it would have been wonderful to hear the waves rather than teenage type disco . It was truly dreadful and it alone would prevent us from revisiting. Pity because otherwise we loved the hotel and as stated found the staff so pleasant and helpful.
.
Olwyn Owens
Very enjoyable stay at the hotel. Loved everything about it. Except the loud techno music at the beach during the day. Lucky beds were available at furthest point away.
.
Andy watson
Great hotel Great staff Breakfast very good Very clean DJ sets not required - save the cost. Cut down on packaging for tea bags.
.
Patricia Moore
We enjoyed a lovely relaxing break. Irina on front desk very helpful
.
Wonderful location and staff. Highly spirit of service from all staff that I encountered. A service attitude that was natural and mad me feel cared for. Congrats to being able creating such lovely spot.
.
Thomas
Your breakfast buffet was more than top!! Also the service and friendliness of your staff is a real joy! On your homepage it would help to mention that you have a garage in the same building. I had to call from abroad your reception to find out!
.
Caroline
An exceptional hotel in a beautiful location being by the beach side and so close to the Old Town Marbella.. The staff in all areas were amazing, pool side staff particularly. Our room was very spacious and the view from our balcony was stunning especially the sun rise and sun set. We will definitely come again and recommend to our family and friends.
.
Peter Mowat
A great hotel on the beach with staff dancing attendance at all times Even though it was November and the hotel was full not a lot of entertainment on Would certainly recommend it
.
Marcel Schlaepfer
- overall good service and clean surounding. - bad coffee quality at breakfast - elevator to the garage did not work - I asked Nathan from the reception, that I need a bike for 10 minutes (to a shop and back) He mentioned that I have to pay €12 - I informed again, that I only need it for max. 10 min. He was not very pleasant and I went for a walk. He could have been much more friendlier ... and in relation that the elevator didnt work, it would have been easy to make me this favor.
.
K.Gunner
Beautiful hotel, pool area and beach.. All staff were very friendly and professional. We will definitely be returning next year.
.
Erika
Gorgeous Hotel for feeling good, highly recommended!
.
Dave Normington
Staff are great. Friendly and helpful. The hotel is well situated for everything we need and is great calue for money. Will definitely stay at the Amarè again. Thanks for a great stay.
.
David Ogden
Another wonderful stay. Great hotel and we will come back again. Wi-Fi in the room did not work for the first four days of our visit which was disappointing.
.
Caroline
Amazing hotel! Exceptional Breakfast. Loved the complimentary Yoga on the beach (Highlight of my trip) and the spa circuit. I'll definitely be back 🙂
.
Valerie Dixon
This was our second stay with you and we found the breakfast was not as good as last year. Pastries in particular were disappointing, not as fresh as they should be.
.
Gerald Crotty
We had a wonderful time in the Amare excellent friendly staff and clean hotel breakfast top class. One small crib the rooftop bar measures were skimpy we had 2 gin and tonics and the amount of gin poured was very small.
.
Nicole Louis
Tout est parfait sauf l'animation durant la soirée.
.
Patrick Ryan
There is not much more you can do except keep the price the same for next year
.
Nigel
7th time here never fails it's got it all and best service location and quality
.
G Diver
All excellent except the music played in the hotel and pool and beach as well as on the TV in the room was extremely annoying and irritating. It did not keep with the relaxation of the rest of the hotel. It was a very young persons type of music. Very wrong and poor choice. Relaxing or a choice that was suitable to all age groups would have been much better . It was so bad and grated on my head that it would cause me not to book again
.
David Kurley
As usual, our experience at the Amare was excellent. Rooms, food & staff all as good as ever. The breakfast experience was the highlight of the day. The range of food really couldn't be bettered and always of the highest quality, especially the omelettes. Even when I had to cut my stay short and return home, the reception staff were so understanding and helpful. Thanks to everyone at the hotel, you're a credit to the Amare. We'll be back again next year!
.
Mr John Elliott
We enjoyed our stay at the hotel and thought The One Room was an excellent place However the incessant background music which was no more than a constant boom boom boom from 7am until 11pm was awful we couldn't even sit on our balcony to read because of the Constant beat of the background music as you cannot even identify the actual song just the throbbing beat of the base. It was not relaxing at all whereas we have stayed in hotels where the music is very relaxing to listen to with no boom boom boom in the background. So I am afraid this somewhat spoilt our stay at your otherwise lovely hotel.
.
Staff were excellent & extremely friendly. The breakfast was fantastic every morning. Reception staff were also excellent. We didn't eat in restaurant as we wanted to explore. We ate at beach bar & service was excellent too. Loved our stay & would seriously consider returning for my 50 th next year if we get a good price.
.
Edel
Beautiful hotel with super friendly staff and amazing breakfast, so central and very comfortable we had a fabulous stay
.
Alison Barker
We always enjoy our stays at Amare. The staff are helpful and attentive. We would like to give particular praise to Jesus the Porter who went the extra mile to help us. Receptionist Catherine who arranged for a scooter battery that had been left behind to be taken in a taxi to Malaga airport and Jesus the Breakfast Manager who is always pleased to greet us and does his best to seat us where we want to sit, he is always friendly and approachable. It is difficult to mention staff by name as all that we come into contact are friendly and helpful
.
Valerie Doyle
We've just come back from an amazing 4 days at this excellent stay at Amara Hotel, we went to celebrate our 40th Wedding Anniversary. We can not thank the staff enough for the service they provided, especially Catherine and Gabriel on the reception. They are the dream team and couldn't do enough for us, even chose a top class restaurant for us to celebrate our special day. We will be back to enjoy the fantastic hotel again. Thank you. xx
.
Tshepo
One of the best hotels I've visited. Everything was exceptional and the value add of things like the grab and go room, entertainment, courtesy call from customer services are just some of the things I appreciated. Excellent
.
Lidia
My stay was very nice. I only regret that the pool is not warmed (24 degrees is much too cold) and the wifi was not powerful enough to download videos. I have appreciate the kindness of staff, the room, the location of the hotel, the service at pool and beach, the meals on the terrace.
.
Elizabeth
Everything great with staff, room etc. loved that we could leave bags etc after checkout. Loved water cooler on -2. (Water in room would be nice) . Breakfast quality and staff great. Only negative for me and friends was continuous beating music everywhere outside and even on welcome page of room tv. No quiet area by pool to read or relax. Quite a few of your guests a little older and the constant 'throbbing beat' no matter where you went became an irritant . We do realise it's the vibe and knew when we booked as we are repeat guests, . But just SOME area without the ' beat 'would be nice. 🤗 Expected it at beach but no escape..
.
Mary Brennan
Very enjoyable stay. Will definitely return. Very friendly helpful staff.
.
Sybille Vercoutere
Nous avons passé un merveilleux séjour . L'hôtel est très bien placé , l'accueil est chaleureux et le personnel est au petits soins. Le petit déjeuner et la restauration sont délicieux, la qualité des produits , la présentation juste top ! Nous avons quelques soins au Spa et c'était fantastique. Sans hésitation on reviendra !
.
Jan and Adelheid
Again, a fantastic stay at your hotel. 2 small points of attention for us : The coffee in the restaurant ( machine) and lounge is not good. Freshly brewed would be a plus. Club the amigos forgot already twice to count our nights. So I have to be very attentive But they are always very helpful to solve it!
.
I just love Amare Beach Hotel, I visit your Hotel twice a year because of lovely staff, great location and lovely food..
.
Simon
A short weekend break and we loved the outdoor pool and beach club. Staff and service was good. Food in beach club was very good We will be back !
.
Sylvia
Second visit - last one 3 years ago. I found the shower over bath was difficult to climb in and out and being in my late 70s was extremely concerned that I could easily slip as the bottom of bath had a smooth finish not textured and without grab rails. Last time I was there I had a walk-in shower which I am used to at home. Also it was extremely strange that the soap container was outside by the basin and just hair shampoo & conditioner over bath for use in shower. I thought it was very odd to have to transport soap for shower use across bathroom.
.
Hans Jørgen Svartvasmo
We keep returning to Amare, because we find it a perfect escape from the everyday life, and we are never disappointed. In fact, we experience that our holiday experience is getting even better every time we stay there.
.
Claire Howard
Excellent as always, can't wait to return!
.
Michael Gilmore
We made our booking at the last moment, on the recommendation of friends who have stayed there regularly and therefore perhaps did not get the best price, but,?it was worth it!
.
Dermot Eagney
Always a special experience to stay at Amare Marbella
.
Kevin Will
Good over all , disappointed that even having been ask and me confirming it was anniversary there was no acknowledgement at all ! Would say bath shower needs a handle to support getting out ! Trying to find out what was complementary in mini bar area was difficult! Would expect more than one tea bag and milk in roof ! Still enjoyed the stay just small things took shine off slightly!
.
Gillian Miles
The most immaculate well run hotel I have been to. Nothing was too much trouble for all the staff who were very well dressed and always smiling. The rooms were fantastic and cleaned so well every day. The daytime entertainment was fantastic, food amazing whether you sat in the beach restaurant or had snacks on your sunbed. The entire place had a fantastic vibe. Will definitely return. Thank you.
.
Lorraine Rego
Would highly recommend outstanding customer service staff very friendly and professional amazing hotel on the beach will definitely return when back.in Marbella loved it. Thank you .
.
Julie Gowens
Our second trip to this hotel. We have also been to the hotel in Ibiza too. We absolutely love both hotels. The standard is impeccable, cannot fault a thing. My husband golfed and I had the most relaxing time ever sunbathing by the sea. The food was outstanding and the staff all so friendly. The rooms are gorgeous and of an extremely high standard. I would 100% recommend this hotel.
.
Steve Harrison
Another amazing stay,
.
Patricia farivarz
Excellent service Well run hotel with professional staff. With one exception …. The wait to get service at the beach club was too long & a little unfriendly tbh
.
Janet
Coming to the hotel with my disabled husband we appreciate the help given to us by all the staff. The disabled room is good but the reclining chair should be removed as it is unnecessary and takes up too much space. If I have one criticism it is the continuous music. I feel it starts too early in the morning. I don't think it should start before 8am and my husband finds it his only constant irritation. If I was to be picky I would say that I don't find the chairs downstairs in the lounge area where you get towels are not very comfortable but that is just for me personally. Overall our experience at the hotel is obvious from the fact that we have been coming continuously since 2018 and hope to be able to return next year.
.
JOHN P HUGHES
The Amare is an excellent hotel with 5 * standards in ALL departments Would highly recommend to friends and business colleagues..
.
Murdoch
We had a very relaxing holiday and we will definitely return.
.
C.M. Verdiesen
We had a perfect stay, from the beginning till the end, Amare made our stay unforgettable. If I have to mention one downpoint, please turn the music near the pool on half the volume, reading and listening to own music (earpods) was not possible. That was better at the beach.
.
Brian G Brown Thanks
Overall v good I strongly object to charges for car parking applying to hotel residents. I stay often at the Don Carlos in El virus and they do not charge for residents using the car park. The car park is pokey and unsuitable for larger cars. The restaurant could do with a better dinner menu. The breakfast is excellent
.
Peter Catterson
It was fun
.
margaret mary Treacy
I have stayed at the hotel before each time i have stayed i experience continuous improvement .
.
Marilyn Lewis
Great hotel we have been coming back for years BUT the music on the beach and by the pool and in the lounge area spoiled our experience Friends visiting would not stay here too noisy Please change this Chesney Lewis
.
Gabby
Amazing stay. Will definitely stay here again.
.
Derek
Beautiful hotel in great location,very close to bars restaurants town.The breakfast was the best I have had in 4* hotels would definitely return.
.
Michaelmollaghan
Music on top floor way to loud/ wouldn't go back for a drink at night
.
Mary Fitzgerald
Fantastic hotel, receptionists & guest managers extremely helpful & very informative.. brilliant location on the busy promenade, near several tspas bars restaurants & beautiful Orange Square. Taxis readily available & beach area spotless.. would like pool to be heated off season & jacuzzi void he warmer but both are well maintained. Sun beds & loungers are very comfortable & pure luxury. Love this hotel have been visiting for over 20 years
.
I booked a 50 min sports massage. The massage was a not a sports massage. Nor was it 50 minutes. I was early , i was received a few minutes late and massage was ended early. In addition the massage had no pressure. Not good at all!
.
Caroline
Amare is a great hotel, one of the best I have stayed in, it ticked all the boxes.
.
David Howson
All the hard work to provide an enjoyable experience ruined by boom-boom music everywhere all the time. Get up early in the morning and go on to the balcony to see the sun rise and listen to the sea :: boom-boom music ! Go to the roof-top bar for a late night drink, chat and maybe piano music : loud boom- boom music !
.
Helen Van Pelt
Hotel and especially the staff are exceptional. The room was well appointed with a wonderful design aesthetic and very clean. We had a spectacular ocean view with a fabulous balcony. The huge overriding problem with this hotel is the constantly throbbing, LOUD disco music. This was ridiculous for a hotel of this caliber. We never had a break during breakfast, lunch or dinner and even on the beach. We retreated to our room to use the balcony and even there could not get away from the incessant pulsing heartbeat of disco. Another reason we will not return to this hotel chain is the overwhelming use of fragrance in the lobby and hallways. Thank god they do not spray the rooms. We used their expensive laundry service and each of our items, including lingerie was stapled with a laundry tag. Don't get me wrong. This is an excellent hotel and the staff is very service oriented and professional but we would not return.
.
Pat O'Farrell
I thought everything was perfect except the music by the pool , and most inappropriate for relaxation. In fact , it was just awful ,
.
Ras G
I visited this hotel since their sister hotel down the street (where the experience was fantastic) is under renovation, and they share the same management. The staff is polite and the facilities look great, but that's where the similarities end. The heavy bass music is relentless- it's at the pool, the beach, at reception non-stop. I was in a 'The One' room on the top floor, and couldn't even escape the bass music there, since the rooftop bar blasts it. Also, for the price point that this hotel charges, I was shocked that the construction is so poor, the walls were so thin that I could always hear my neighbor. Regarding food, the breakfast choices are quite underwhelming, mostly cold cuts, cheese, fruit, cereal and an egg station, hardly any warm dishes. Also the breakfast staff are efficient to seat you, but after that you're on your own. If I wanted more of anything i.e. extra tea, extra cutlery, it felt like a huge struggle to gain their attention and I usually just got it from their counter myself. Same experience at the beach, service took ages. I'm honestly unsure what they're charging such high prices for, it absolutely did not feel worth it to me.
.
Mr William Manning
The music was played so loud and choice was terrible had to leave hotel ever day just couldn't stand it will never come back again it's a pity we have been coming to both your hotels in Marbella for many years
.
Simon Brown
Very good overall… Wi-Fi was poor & could be improved otherwise an enjoyable stay…
.
Christina
This hotel is stunning and perfect location. Food excellent and the staff very very professional and friendly. The only drawback is music from 7am until 11 am everywhere in the hotel and outside by the pool and restaurants. Not unpleasant music just repetitive and never stops. We had a sea view and so relaxing and enjoyable.
.
Gill Watson
My daughter and I had 3 lovely nights in this beautiful hotel. The staff were friendly and helpful . This is our 2nd visit and hope to return again.
.
Pierre Damico
J'avais la chambre 806: 1- La musique beaucoup trop forte à la piscine. L'âge moyen des clients, cette musique une musique de discothèque en plein jour n'était pas appréciée des clients de la piscine. Plusieurs personnes se sont plaint au gardien-sauveteur. 2- le sauveteur était très occupé avec son cellulaire pour bien faire son travail. Il y avait régulièrement des personnes qui n'étaient pas clients à l'hôtel qui venaient se baigner à l'hôtel. 3- La cafetière dans la chambre était indigne d'un hôtel comme Amare. Il devrait avoir une cafetière Nespresso dans la chambre avec des capsules et du lait. 4- il y a un grave problème d'ascenseur à l'hôtel. Seulement 3 ascenseurs pour la grosseur de l'hôtel, c'est insuffisant.
.
Michel Dumoulin
For me, the best hôtel of Marbella...
.
Andrew
Overall, this is a fantastic hotel that is spotless. Further, apart from losing our bags for about half an hour, the service was very good. However, I personally didn't find it that relaxing as it is a busy "city hotel" that happens to be by the sea. The location is lovely but in my opinion for the money you can find hotels that are more relaxing with better views etc. In this part of the world.
.
David and Sally Verrecchia
.
Very comfortable & easy environment. Food in the "One" Lounge could be better & it runs out fast at lunchtime on the couple of occasions I availed of it.
.
Odd Petter
We love the hotel. Been there many times. And we will be back next year, hopefully 🙂
.
Andrew Wiltshire
Excellent stay we will be back in 2023
.
Stewart Franks
Outstanding as usual, looking forward to our next trip to the Amare
.
Mary gannon
Thanks, all lovely except the music too loud
.
David Scorah
All good - just found the lead lady on reception to be stroppy and a little rude - we are not the only guests who felt the same. Almost a though we were a problem, and we only were checking in! Did not want to bother with us! Shame as all else was excellent - especially the breakfast team and the breakfasts!!
.
Valerie haverbeke
Very good hotel
.
Sharon Hall
Was very frustrating to see people still reserve sunbeds by the pool early. Staff do not enforce your "no reserving of sunbeds " policy. And sun beds so close together.
.
Todd Gibbons
Loved our stay as always. We will return again
.
Absolutely wonderful, thank you xx
.
Tony Haire
Music horrendous. Bass background could be heard on our balcony all day to spoil that experience.
.
Brilliant hotel with fantastic friendly, kind and enthusiastic staff who work tirelessly to ensure we had a fabulous holiday Thank you
.
Janet Horwood
We previously stayed at El Fuerte but being closed we opted for the Amare Beach. It's a fantastic well run hotel. Professional smiling staff. Uniforms for the staff immaculate and trendy. Breakfast buffet was very good. Room even with side sea view was lovely. Shame the hotel isn't open for New Year. Only negative is that the beach is a bit crammed in and the pool area at this time of year get affected by trees, but so enjoyed our stay.
.
John Read
Amazing hotel. Only 2 little issues……. The loud music every morning at 7am from breakfast was unnecessary!!!! The same loud music around the pool was mind numbing. €16 a night parking is a little steep !
.
Mary Jo
Super hotel, breakfast was fab, loved my room and sea view and staff were friendly and very good
.
G Potter
My only complaint would be the breakfast we found some of the food just warm especially the scrambled eggs Also the baked beans some mornings were just warm. Coffee and tea service very slow. Machine coffee was just warm.
.
I would return alone to this hotel because it was so safe and staff friendly. It was excellent. The only thing to annoy me was ai booked by phone saying I could not use the lift due to being locked into one years ago and I was told my price for apt but when I got to hotel reception I was it was another 158 Euro to be on first floor but I paid it. This was only lack of communication probably on my part as well. I had not budgeted for an extra 158 having decided to only take cash and leave my cards at home! It was one of best hotels I ever stayed in and I will return.
.
Wendy
I was with two friends and we all enjoyed our stay very much at the Amare apart from the thumping music which was played 24/7. The hotel position is perfectly placed for restaurants and shops and the reception staff were all so kind, friendly and helpful.
.
Susan Segal
Lovely hotel, staff etc great, but my friends and I could not stand the music, all the time, therefore will not come again, or could we recommend.
.
Rebecca
A lovely hotel. The only negative aspect was the continuous, relentless music which was in every public area including the pool area. There was no escape from the sound of the beat of the music even on my 5th floor balcony. Is it really necessary to inflict this on every one of your guests. Some of us like a little peace to read a book and enjoy the sun.
.
Alan Price
We were very pleased with the hotel's services, standards and staff. The only negative was that when we went to use our free spa ticket we were at first told the spa was full, which clearly was not the case and also when we did get in we found the water in the jacuzzi and pool considerably colder than we are used to.
.
GDB
Excellent staff interactions booking and within all services we experienced in the hotel. Facilities and room were very clean and well attended. One opportunity for improvement - the food selection in 'The One' was not consistently as good as it has been on our previous visits.
.
Colin Richards
Overall very good. My main complaint concerns the rooftop bar, where the music in such a confined space was far too loud! The performers should be based outside! Also, the lifts seem to be out of sync! It could take an inordinate amount of time to go up from a middle floor! The best option was to go down , then up!
.
Janet Cropper
A very enjoyable holiday at an excellenthotel. One improvement could be the music in all public areas which was very monotonous and not appropriate for the age group of the clientèle. Ice machines would be a good improvement as would the addition of a fridge in the room instead of a mini bar.
.
Vincent and Patricia O'Reilly
beautiful hotel very friendly staff lovely rooms very comfortable would highly recommend it definetly will be back. one critisim teapots could be a bit bigger so you wouldnt have to keep calling waiter for more water.
.
Avril and Martin Levy
We had requested an accessible room but were given a room on 9th floor next to rooftop bar. E were concerned about noise but were reassured. However the next night rowdy people in corridor banging our door. I suggested a notice at the bar exit to remind to leave quietly as people sleeping might be a good idea! On day three we were moved to room 105. For me there was a bad damp/sewer smell in room but we needed the assisted room. The bathroom leaves much to be desired. Very depressing after being in a make it happen room! No Molten brown toiletries or robes which we had gotten used to! The music was so difficult. I don't understand any holiday hotel playing loud booming music starting at 730am!! I phoned reception but was told it was Hotel policy! I have been round the world and I appreciate we are older people but never experienced music so loud so early! Most hotels cater for all ages! We have been to Hotel three times now. No chairs in pool area were suitable for my husband so we had to sit on balcony a lot! However staff were wonderful and smiling and very obliging. Especially sweet Jesus at the door! Softer music please! Especially having spent last night at home reading the reviews and so many people mentioned this! Wish I had read them before I came! PS. We did get a refund on the room rate but that was not what we Wanted! An accessible room on a higher grade would be more acceptable!
.
Simon W.
We have stayed at the Amare Marbella quite a few times it's a wonderful hotel with friendly and welcoming staff. The buffet style breakfast is superb a great start to any day. For me one minor thing that might need addressing is the saving of sun-beds in the early mornings. Amare do have a sign stating that there should not be any saving of sun-beds but in practice this is ignored. As said this is such a minor complaint for what is a beautiful hotel. Many thanks
.
Leanne Hall
It was for a group of girls to enjoy my 50th birthday. Was absolutely perfect
.
Anne Harrington
Excellent stay. Great hotel
.
Amanda Simpson
Amazing place - love it!
.
julie jelf
Great staff very welcoming beautiful hotel with good location and facilities
.
Fantastic break in top notch hotel, breakfast was fabulous, all staff very friendly and approachable - great location.
.
Bernard Vermeulen
one point of interest : to less wardrobe possibilities in the room !!!
.
Sarah Morris
We enjoyed our stay from start to finish, very friendly and helpful staff. We would and have recommended this hotel and will definitely be returning. Our only small criticism is the music that plays in the ground floor lobby area through the night, it can be heard in the first floor rooms directly above and could do with being turned down or off through the early hours until the morning.
.
Rooms quite small and not much storage area but the pool area and beach access are amazing as is the Roof Top Bar.
.
Caroline Young
Time away together with a group of friends - we have been coming to you for 6+ years and love the hotel - it is perfect for us - see you next year!
.
Peter Hurley
We were by the pool and did not like the music being switched on a 7am and being as loud as it was all day. The shower in our room was great, but due to a lack of ventilation, black mould is building. We did though very much enjoy our stay and will return. The above 2x comments are genuinely made to assist.
.
Aisling Duignan
Fabulous Hotel great location great food friendly helpful staff looking forward to the next time
.
Sue Wood
We had a fabulous stay at this wonderful hotel. All the staff were very attentive. Bar staff were great fun. Will definitely be back next year
.
Burton Philippe
It's the 3rd time in your hotel. So we are mainly satisfied and we love it! What can be improved ? * our wifi was lost 2 days before leaving * we found the coffee less good than the other Times : changes? Ph Burton
.
Jane Nicholson
We were extremely impressed with our Amare experience. Everything about the hotel was excellent! But the principal reason for its excellence was the staff. We didn't meet any member of staff, whatever their role, who didn't smile, say hello, or take time to make sure that we were having the best possible experience at the hotel. They were exemplary! And I would like to thank them all for their courtesy, kindness, consideration and smiles. Thank you!
.
Terence Doherty
Was disappointed with the cleanliness of the hotel rooms. Could be better. Also on the walkway from the pool area to the beach club you would need to maintain it.
.
Anders Cajanus
Everything around the hotel premises was fresh, clean and the staff very friendly. One improvement from your IT would be to send all e-mail info in English as well for us guests outside Spain.
.
Kieran Holland
Well done all. And your reception people were great.
.
We loved staying at the Amare! Here are the few things that can be improved: The coffee in the room: we would appreciate a Nespresso in stead of the instant coffee. The coffee at breakfast: in a hotel of this standing, it should be normal to order espresso's , cappucino's etc. Not from a machine, but freshly made. The bacon at breakfast was not baked long enough, absolutely not crispy. ( I looked every day, and we stayed 4 days....) The other guests were joking about it. Overall breakfast buffet was great!
.
Noel
We had an outstanding experience staying with Amare last week. Check in was swift, our room was beautiful and clean, breakfast was our highlight every day. The food was 5 stars and the staff were all extremely polite. In particular the gentleman at the door of the hotel who greeted us warmly every time we passed by him. We will definitely return. In fact we hope to book again for next year as soon as possible.
.
Andrea Daley
Loved most things about the hotel, however couldn't find a quiet zone anywhere, loud music at beach club pool and inside the hotel was quite intrusive if just wanted to relax and read a book.
.
Derek Weir
Great hotel been many times from 2017 Just felt the food , breakfast and lunch quality was not as usual top quality in 2022
.
Cynthia Sarkissian
We're coming again very soon
.
Wonderful attention by staff as always .Breakfast varied and very high quality.. would like some juice /smoothie options. Beach restaurant food excellent and staff wonderful. Little disappointed with the clientele since first coming to Amare 6 years ago. Have been 10 or 12 times and have noticed a significant increase in groups which seem to take over and can be very loud and demanding … this is not enjoyable for couples trying to relax. Also let's down the overall vibe of the hotel as on my last 3 visits I have noticed glssses and beer bottles in corridors and by lifts .. and floor 9 or 8 on which I usually stay very loud late at nighttime when groups are drinking or hanging out late. Just wanted to make my observations known to hotel management . This review is not for public forum. Thank you as always to wonderful staff.
.
carolyn stella gouldby
The bar man Patricio and his manager were amazing... really made our evening
.
I really enjoyed my stay, beautiful hotel, with great vibes. I was in room 097 sharing with my friend. We both loved our room but I have one criticism. There was no mirror over vanity table in bedroom. While my friend was showering in the see through shower the only mirrors available was the tall mirror opposite the shower or the mirror over sink which would mean my friend had no privacy while showering. As there was no mirror over vanity area, I had to do my make up on the balcony with my own small mirror from my own makeup eye palette!!! Otherwise the room was gorgeous, staff were fabulous. We had a wonderful stay.
.
Jill
Slightly overpriced compared to other hotels stayed in. Quality of bathroom towels very poor, not luxury at all. Pool towels were better. Hello g
.
Elsie J
I loved your hotel. Staff is wonderful. I especially love the refillable water bottle stations. Thank you! Only complaint is that the hot tub/spa is not hot! We went to the Spa and that jacuzzi is not hot either. Please heat your pools and jacuzzis!!!!!
.
Liam Woods
Really nice hotel. Everything and everyone were excellent with the following exceptions. 1/. Too much emphasis on music and no consideration given to people that might enjoy a quiet area in the vicinity of the beach or pool or who might like to use their own AirPods. No escape from the constant beat of the hotel music. 2/. The food provided at the beach and at the pool was very poor quality and value.
.
Gillian
My third visit to your lovely hotel which lived up to expectations. I have always booked an 'Oo La La The One ' room because I love the sea view aspect and the extra comfort and luxury it offers. The One Lounge is a special bonus. I enjoy both the pool area and beach area and love the atmosphere. A special mention to all the staff - so friendly, helpful and attentive.. I tend to go for a wander in the evenings and eat out so I am unable to comment on the restaurant other than breakfast and The Lounge snacks, both of which are very good. Thank you for a lovely holiday.
.
The hotel is fantastic, staff wonderful. That's why we've made many visits. And we will return again soon. One issue that I think you should address is the loud night club music that goes boom boom boom all day in the hotel. I realise that I'm almost 70 years old but I love good music. If you wish to play music, please let it be good music, classical or pop, not the rubbish that was so intrusive that it annoyed not just me but a number of other guests to whom I spoke. We'll see you soon. Regards Aidan Connor
.
Amy
Overall, a lovely hotel. Our room was huge and had gorgeous views of the beach and town. An outstanding hotel in the charming seaside Marbella. The service, rooms, dining, etc were prefect. The staff were friendly and helpful. My only disappointment was that the pool and jacuzzi were not heated. I was looking forward to swimming, but despite the air temperature being pleasantly warm, the pool was way too cold for a comfortable swim. The jacuzzi was barely, if at all heated.
.
Eileen
Very happy with our stay, staff everywhere friendly, helpful and competent. Selection of white wine in lounge could be better but overall a very enjoyable stay.
.
After 5 visits still a great hotel with high standards
.
Donna Chalk
The hotel was perfect with modern decor, a huge, clean room and staff were all very pleasant and helpful. The breakfasts were delicious with a huge selection. We will definitely return.
.
raf van rooy
One thing is not good ! The coffee at the breakfast from the coffeemachines is a disaster ! Slow making off, litle bit of coffee in the cup and an awfull taste ! Please back to the Nespresso !!!! For al the rest: tophotel !
.
Lesley
This was one of the best hotels we have stayed in for some years. We would definitely recommend it and will return some day
.
Gianni Roelans
Best, We have been visiting the hotel for many years. What struck us is that the coffee at breakfast has changed... the machines don't work well and the coffee is really not tasty... too bad, last year's Nespresso was much better.
.
We had a wonderful stay at the Amara sadly no evening entertainment. Will certainly be back
.
Diane Kilby
Fantastic stay in your lovely hotel. Rooms were very stylish with all amenities. Pool area was lovely and the private beach was stunning. Breakfast had every option imaginable and the buffet was beautiful. The roof top bar is such a fantastic place to meet friends and watch the sunset. Thank you I loved it will definitely be back.
.
MINET Daniel
Le service du The Lounge est insuffisant.
.
Iris Vance
We were very pleased with hotel staff in all areas. We really enjoyed our stay. Hotel was lovely. We have stayed here some times before. We were there to celebrate a special birthday for myself usually in el Fuerte get a treat for this in room but this time only balloon. I did request room 406 which I love and did get which made my stay. Marina on reception knew us and was very kind and helpful to us. Tell her thank you for this. I have already made two bookings for 2023 and hope can get same room for both. Many thanks to all for helping us to enjoy our stay and our first time back from pandamic. Was great to see many faces still in hotel. Kind regards
.
The only thing that we didn't like was the incessant loud music which seemed to start at 7:30am. Also having hotel/pool bar music on at the same time as your beach club (playing different music too highly annoying and much too loud). And we are not elderly btw and love music!
.
Sabina
Beautiful hotel great location within a short walk to the old town and great for people that want to walk off their lunch. Perhaps a bin or two round the pool. Perhaps I'm getting old ( and I am) my only complaint would be the cafe de mar type music played all day and I found the pool beds very close to each other however that's probably as it's such a busy hotel so space is at a premium. Will most definitely be back we have booked for early April. Lovely staff and food delish. Thank you all
.
Margaret
Overall really good but I paid over 4000 too expensive for 4 days
.
Carmel Coghlan
Beautiful hotel with a superb location . Staff very friendly and helpful. Had a wonderful stay here . Would highly recommend .
.
Charles Hunter
Only problem we had is that on our last night we were woken by a terrible altercation in the room next door (219) and were unable to get back to sleep. I can only assume the room was terribly damaged - it wasn't the fault of the hotel or staff but was pretty awful to hear.
.
Fabulous hotel, the staff were all very friendly and helpful, we had a lovely time and have already recommended it to friends
.
Carol Bell
We had a fabulous time at the Amare. Cleanliness was exceptional, breakfast amazing. The beach club entertainment was excellent. The staff were so friendly and made us very welcome in all areas of the hotel. We will certainly be back. Thank you 😃
.
Almost everything perfect. Reception and breakfast room staff excellent. Room cleanliness and cleaning perfect I did not appreciate the persistent booming music from morning until early evening. It was too loud Also the only staff I had issues - the staff at the pool area dispensing towels. Appreciate you need a system but other guests flouted requests and put towels out around 8 am and left them for 2/3 hours without occupying. We stuck to the rules and your staff were generally impolite imposing them and we had to answer uncomfortable questions when we went to the lounge for lunch for 30 mins MAX allowed otherwise they threatened to remove our towels !! Also the lounge was poorly stocked and we only used it once every day and on 2 occasions had to apply to reception for more supplies ! The quality of the sandwiches was poor One member of your staff worth noting as EXCELLENT is CHRYSTINA who was in breakfast area and sometimes restocking the lounge Overall we enjoyed the stay
.
Cara Johnson
Standard room very poor quality ended up upgrading to ooh la la. No turn down service , fan in room was faulty kept coming on and off when asked to get help switching it off was told to sleep with the door open. Very little help from reception with booking taxi had to ask 3 times. I think as a single traveler to pay that much money for a room it's just not worth it. My friends got turn down each evening while I didn't. Very odd
.
Michelle Frlls
Another enjoyable stay at this hotel
.
Selma
Excellent hospitality. Staff going the extra mile to help specially in moments of emergency need. Attentive, welcoming, great guests as well. We will definitely be back
.
Clive Woodward
The Hotel was generally good, however the lack of quieter zones where you could escape the constant background music/beat was irritating. Many guests had the same opinion. At times Amare felt like an 18-30 venue when the demographic was a much higher average age.
.
Kieran
Excellent as always. Quality of food and drink in The One Club has slipped a little since last visit.
.
Beautiful resort - enjoyed it very much. My only feedback would be that there be more options on the menu, expecially the poolside lounge and the Bellevue rooftop bar
.
Tricia Kinsella
Faboulas time Thank you But especially Javier at reception helpful beyond expectations With all of our 18 ladies group and as we saw with other people also Thank you Javier Special thanks also, to the happy always smiling Cristina Our restaurant waitress Like Javier professional and excellent at her profession Hope you have a great holiday Cristina Well deserved Will highly recommend your hotel and staff Especially these two Thank you Amare Patricia Kinsella And Ann Callan
.
Maeve O Mahony
We really enjoyed our stay at Amare. The breakfast was beautiful, especially the fresh eggs & pastries! One night a drunken man followed us to our room, we rang reception & they sent someone straight away to deal with the situation. We were really impressed with this & will definitely recommend the hotel to our friends as the perfect girls trip. The service at the pool/beach club was great also. We loved the space in our room & how clean it was. The shower was amazing!
.
Beverley Packwood
We return time and time again as as soon as we walk through the doors we feel soothed and relaxed.
.
Deirdre McManus-Dalton
Very regular visitor to Amare Beach Marbella just enjoyed our 5th trip and already booked for next year.
.
Jan Bevan
My fifth stay here. I love it Breakfasts are lovely but I always find the buffet goods not quite hot enoigh
.
Les Coates
Excellent hotel in great location with fantastic service.
.
Jane Hewitt
Great attention to detail. Lovely touch at breakfast for one of the girls birthday and balloons in the bedroom making the day extra special.
.
Joseph Watson
Excellent hotel with first class service. Food was lovely too. Would absolutely stay here again.
.
john schippers
In the evening there where no activities at all, nobody in the bar or pool. Only some people till 00.30 at the rooftopbar that closed at 1.00.
.
Amare was fabulous:) However the music at the pool was too loud & too repetitive, heavy drum-bass beat & got irritating after a while. Other guests also mentioned this when we spoke with them. Perhaps more relaxing variety that cover a more general age group . Thank you 🙂
.
Nuala houlihan
Shower was leaking in the room and our booking was bssed on 6 ppl and one persons dad passed away and no reduction in cost.
.
Jenny
The hotel is beautiful, food was amazing and the staff are fantastic. We came for my friends hen do to relax and go out for evening meals and look around the area. Would 100% recommend to anyone wanting an adult only staycation 🥰
.
Les Howard
Excellent hotel staff overall very good great location
.
Lorraine Blackshields
We had a wonderful stay and although the prices for food and beverages were very over priced for Spain, i will come again and just maybe eat or drink down on the promenade. In saying that the hotel Sangria was the best I ever tasted and the staff serving by the pool were excellent.
.
Keiron Armstrong
A very pleasant hotel overall ,
.
Jenny parkington
Amare Hotel did not disappoint as my 4th time in 6 years ,my son who accompanied me also was happy with my choice of hotel , thankyou
.
elaine taaffe
absolutely fantastic holiday, cleanliness, customer service, food drinks everything was amazing
.
Helen Wigmore
Absolutely loved staying in this hotel. We were celebrating my daughters 30th birthday from last year and the hotel made it perfect. Staff are all so help and friendly. We will definitely be back
.
Wendy
This was my 4th visit to Amare and I loved it as usual however I did think the music around the pool was a bit too loud and beach club vibe where before it was very chill out lounge music which is much better. I think that sort of music is more fitting for a hotel in Puerto Banus and would be disappointed if Amare lost its identity and became another one of those hotels. I feel the Uniqueness of Amare is what stands it out from the other hotels and it should not lose that.
.
Anna
Price/quality is not very good!
.
Ashley Foster
We absolutely love it at the Amare Marbella and come every year. Our only comment would be to not let people reserve sun beds and then go to breakfast but we love our September stay every year
.
Yvette
Fabulous hotel that we have enjoyed staying at for many years. The customer service, breakfast choices and stylish/clean bedrooms and hotel decor are always excellent. Sadly, the awful "club" style music played everywhere in the hotel now, from the breakfast terrace, all through the hotel and down to the beach, would prevent us from visiting again (along with other guests we spoke to last week). Hopefully, the hotel will take note and revert to the previous subtle/tasteful background music.
.
Catherine & Bernard Troy
We were very impressed by the hotel, & lovely helpful staff, just what we needed to relax and enjoy our time out from a busy work schedule.
.
Terry Swor
We are touring Spain and Portugal and found Amare to be head and shoulders above the other places we have stayed. The setting, facility, and commitment to guest needs were evident and embraced by all of their staff.
.
Christina S
Fabulous stay as always, very friendly staff and comfortable hotel. Lovely location, love the beach club. Very pleased with my stay here. Thanks
.
Ken Borland
Hi.....just a few issues from Room 804... No light near bed.....so difficult to go to bathroom if required during the night.. No Toilet Brush in Bathroom... Ken
.
Jane plackett
Hi the only reason I rated a 4 is we had to change rooms as our air conditioning unit wasn't working, the room we moved too whilst the same grade was smaller and the view was restricted by the plants. The problem was dealt with swiftly but I'd have liked the exact same room or one that was better., as it was hassle having to repack and then unpack
.
Colin Cook
We are never disappointed, the staff are always smiling and helpful even when under pressure. Reception are so helpful as nothing seems to phase them.
.
Pat Salmon
Beautiful hotel, professional and friendly staff, breakfast was amazing, we dined once in the Restuarant which was lovely the choice was great. Only two things as elderly people we observed which would be a great help to others ….. If we could have Printed menus we struggled with the mobile phone bar code? Also the Sun beds around the pool are very close therefore movement of sun umbrellas proved difficult to move And somebody to help move them. However it did not spoil our stay we just loved it!!!! And will certainly be back. Thank you for an amazing stay
.
Tony McHenry
Continuous thumping of music from morning 'till night very annoying
.
Constant boom of music from 7 30am not necessary. Very expensive inflated prices in poolside bar.
.
Allan Marples
Very nice hotel with pleasant, attentive well dressed staff and first class facilities. Look forward to returning with a special mention to Diego on reception for extra special service.
.
Paul
Hi, The service was great with excellent breakfast. However the quality of the food at your beachrestaurant is under min requirements for such a hotel. Other urgent points of improvement: - stability of wifi - pool water very cold during Greetz
.
Angela Schell
I have been to Amare Marbella many times , and always enjoy my time there. I would like to comment on Gabriele on reception who is always polite and friendly . Also Jesus who is at the door, such a friendly person to greet all guests, always with a smile, We look forward to returning in April 2023
.
Ron
The Amare team are wonderful. The hotel is the friendliest I've stayed at. The service was superb as was the food. I'll be booking again next September 2023.
.
Bella
amazing hotel wonderful friendly staff very helpful thank you ! x
.
Loved the decor and would visit again if get a good deal for a longer stay. Breakfast was great!
.
J O'Brien
We have been coming to Amare twice yearly since 2015 and found this year that: Wifi very poor for 2022. Beach service very slow. Beach food below par ( cold ) Smoking in public open areas needs to be prohibited. 9th floor Bar too noisy with non-residents.
.
Ann S
Had a lovely visit! Enjoyed pool, beach, food and environment!
.
Ken McManus
This was my 7th trip to the Amare and again like in previous years was very enjoyable. The breakfast and rooftop bar remain highlights, as does the friendly staff in every station of the hotel. Two gripes... the quality of the WiFi was noticeably poorer than in previous stays. I ended up disconnecting completely and just using my mobile network. I'm not sure if there has been a change in provider but it is a much poorer experience than I was expecting. Secondly, I would've thought that given my customer loyalty (staying 4 to 5 nights for the last 7 or 8 years) I'd have qualified fro Gold Amigo status and thus a free room upgrade... But when I asked about that it seems the calculation on accumulated nights stayed is way off the mark... That is something that really should be sorted out for guests who return year after year to feel valued.
.
Ruth Murphy
My Bag was stolen from the sunbed, while I must accept some responsibilty for leaving it unattended, I assumed it was safe in your hotel. there was no notice up that I should watch my belonging or to warn me that it was dangerous to leave bags unattended. Does that mean that you cannot go swimming as you would have to leave your bad unattended. On the day the manage was not very sympatetic and said it was my responsibility
.
Paul Kenny
The same piped music after day 3 would wreck your head
.
John ELLIOT
Excellent hotel. The staff are amazing nothing is a problem to them. The beach bar and entertainment is brilliant especially the guitarist
.
Julie Hawkins
We have stayed many times with many more to come. We love the Amare Beach and looking forward to checking out the new hotel in 2023 See you in 2023
.
Simon
Very nice hotel, staff extremely helpful when sorting out a lost bag from flight. Would be better if restaurant opened earlier for breakfast - golfers often have an early start!
.
Patrick Deforche
Only 1 remraket : too unreliable WiFi. For the rest everything was perfect
.
D Ward
Such a lovely hotel luxurious facilities and impeccable service and friendly staff, comfy sun beds and great atmosphere at beach club with great DJ sets in afternoons
.
Valerie
Very nice hotel, breakfast was excellent, nice beachclub with great live music, friendly staff; enjoyed it a lot! Certainly coming back to the hotel if I get a nice offer.
.
Jacqueline Selby
I've been before and must say the hotel is run perfectly we enjoyed our stay very much
.
Ana Torres
The hotel was very clean and the service in every department was excellent. Nothing too much trouble and all the staff were very friendly. The breakfast is delicious and great choice. Perfect!
.
myke
Travelled alone and I found e'one so friendly. Decided to do half board , excellent and value for money..despite my room being quite small and basic it perfectly served my needs. I would highly recommend this hotel for its location being a short walk to the old town (where you'll find little quirky shops with street cafes), it's right by the beach, for it's hospitality , good food and cleanliness.
.
Lara
My second stay here and the whole stay was excellent. The hotel is in a perfect location for restaurants and evening entertainment. The pool area is lovely and all of the staff are very friendly and professional. We will definitely return.
.
Elizabeth
my second visit to Amare room 093 had the most uncomfortable noisy bed we could not sleep had to ask to be moved after 1st night wifi was not working at all for first 24 hours otherwise very happy with the rooms in general (moved to 103 and 503) staff very helpful and hardworking especially in club lounge and breakfast food excellent in lounge will definitely return
.
Jo
Amazing hotel. great for a much needed break with friends
.
Duncan Rogerson
Great hotel. Fantastic breakfast. Wi-Fi poor.
.
Arvid Ubostad
We had a wonderful stay at Amare! The staff were all very happy to accomodate us to make it a spesial occation.. Thank you!
.
Emma Deeks
I felt that the entertainment was less "inclusive" than previous years (especially the saxophonist). The "vibe" was older than in previous years - My friends and I would prefer a younger overall clientele. The coffee at breakfast needs to be better! Otherwise excellent.
.
Mary Margaret Daly
It's my fourth time back to your hotel,the ambience is superb,staff are always smiling and helpful. The music at the beach needs the volume to come down somewhat. I have booked for 14 days for September 2023
.
ROY CHARLES ALEXANDER EWEN
Everything excellent apart from minor comments wifi went down for 2 days music to loud around the pool no evening entertainment
.
Arkadiy Sapozhnikov
Hotel is Great, stuff is very friendly and helpful . Food was excellent. The problem that we had was- WiFi. It was Very slow the first week and then it didnot work for 2,5 days. when I asked Manager- why Internet company cannot send specialist to fix it- the answer was-because tomorrow is Saturday and they are not coming on Saturday and Sunday, I was shocked. This is 4 stars hotel with 500 customers and n ot having internet in 21st century is emergency. the hotel stuff tried their best to help us in this situation and we appreciate a lot
.
Nina linderman
We really enjoyed the hotel and will be coming back
.
Sasha Bates
Amare beach Marbella hotel is a fabulous, luxury hotel, this was my second stay here and I will most definitely be going back. All the facilities are excellent, entertainment excellent, food is delicious, all of the staff were lovely, the location is excellent as you have the old town very close by, puerto Romano atleast 5/10 minutes in a taxi, puerto banus, 20 minutes in a taxi. Or the catarmaran very close by which takes you to puerto banus. I cannot speak highly enough of this hotel! My only, only negative was that the Wi-Fi was down for 4 days but that was out of the hotels control, that is the reason I gave Wi-Fi a lower score!
.
Helen McsharryHayes
Excellent beautiful space fab decor all staff very professional and happy enjoying their work very relaxing environment will definitely return
.
Jo Burke
We really enjoyed our stay. Breakfast was excellent. A big thank you to the young man that was at reception and helped us with the bicycles, he was very helpful. Only areas for improvement would be air conditioning in the gym to be working and the spa the water was cold. Ie jacuzzi The beach restaurant was busy so perhaps more staff there as had to wait along time to be served. Otherwise fantastic trip.
.
Janice Gilpin, & Elaine Brown
Excellent overall but reservations did not acknowledge my email sent before my arrival letting them know I was celebrating my 70th birthday.
.
Willard Nichols
We love "The One", though the lounge should be open until 11:00 PM. Also, the hydro circuit in the spa is a treat. All hotel staff were helpful in every way.
.
Keith Percival
All the staff, reception, cleaners, restaurant staff were all friendly and helpful. However, there were several times when the staff appeared to be badly trained. For example: we asked how many times Amigos Platinum members could use the spa. Reception said once PER HOLIDAY but the spa staff said one PER DAY. We asked about bus services to Gibraltar. One person in reception printed off a set of timetables that showed the first bus was 08.30am. Later, another reception staff looked on a web site and said it could be 09.30. Actually the first bus is 09.30! (as we found out at the bus station). We asked how early the restaurant opened since we were going to Gibraltar. At reception we were told 08.00 but at the restaurant we were told 07.30. The two menus for the beach restaurant do not show that one is open at a different time to the other. We talked to two other guests who were also Amigos Platinum and they had been told a completely different set of benefits to ours. All these issues are poor staff training, NOT necessarily the fault of the staff. The constant music is DREADFUL! Lots of guests agreed with us about that. It was incessant and too loud and a heavy persistent beat. I like to listen to my own music sometimes but, even on our balcony, it interfered. There was no quiet are in the hotel to sit and read a book. Finally, when we came to check out, I was asked by reception, if I had had anything from the minibar in our room. I definitely said NO. Looking at the bill when I got home, I have been charged 17.50 Euros for "mini bar". We took only the one bottle of "free" water. What bottle at 17.50 was I charged for and did the maids have to replace? We love Marbella and have been to El Fuerte about 8 times. Would we come back to the Amare? We're not very sure about that.
.
Esther Lattmann
Das Wifi funktionierte nicht und das war gar nicht gut. So musste ich jeweils Roaming-Gebühren bezahlen.
.
Daniel Euston
Our visit was very enjoyable and the all around service was very good !! The music on the beach was often too loud making it difficult for people to relax ! But generally we enjoyed our break and will look forward to coming back in the future
.
Mags Gallagher
We had a lovely stay at the Amare. The hotel is very clean and the staff are extremely helpful and friendly. Our room was spotless with towels changed daily and the room cleaned daily. The pool area and the beach club are fab with plenty of space and no problem getting sun beds. Overall, we loved it there and will definitely be returning.
.
Geoff Foden
We were refugees from the Fuerte. We liked the staff who mostly tried to be helpful. Especial recommendation for the call order chefs. Hotel is perhaps too big for available land. Sun beds too close together. Appalling sound system which reproduces only the drum beat and has no discernable top notes. This plays loudly around all sun beds. You cannot get away from it. Suggest you specify an upper age limit for guests in the same way as no children. Clearly, we were a bit too old. Most of the stay, Wi-Fi was broken. Lack of Wi-Fi was appalling in this modern age. Most people need Wi-Fi to keep in touch with business or home. The club benefit was poor compared to the Fuerte. No reserved sunbathing area, no complimentary drinks by the pool. Wonder what the new "Select" offering from the Fuerte will be?
.
SB
Had a girls few days away and the Amare was the most amazing hotel to do this. We had a fabulous few days and made loads of memories. We will definitely be back in the future.
.
Loved the hotel. This is our third time here. Only negative experience was when we used the shower facilities for our late check out. We had to drag our suitcases down to the gym area (after being told we could use the spa) only to find a staircase we couldn't carry our cases down to, so had to leave our case unattended by the pool, only to find no towels and only one shower for 4 of us to use. Apart from that the rest of the stay was great
.
Patrick and Agnes O Flynn.
We look forward to going back to Amare every year, we have no complaints, everything was excellent as usual. Thank you.
.
Gavin
Wifi was down for 3 days which was totally unacceptable and created huge inconvenience to me as I had work and meetings I could not attend to. Very disappointing for a hotel of your standard
.
carol Imrie
A wonderful place to stay , ideal spot .
.
David B
Even on the 8th floor in an Oh La La room, and despite double glazing, booming bass hotel music from the ground floor continues until late and starts early. This can be irritating. It was disappointing that the w-fi was not operational for 3 days and even more surprising that there was no back up for it in the Hotel. The Amare Club lounge is very good, and the breakfast, staff service and room quality continue at a very high standard over the several times we have stayed here.
.
emma chappell
The wifi did not work for 4 out of the 7 days we were there. The bathroom smelt strongly of sewage/drains every day
.
Stephen Bodkin
We did not use the spa and beauty service and no activities were on during the day or evening during our stay so cannot rate these. However I would highly recommend the hotel over all. However the WiFi was down for almost 4 out of the 5 days of our stay which was extremely disappointing.
.
Jessica
Tolles Hotel!!! Insbesondere die Mitarbeiter machen es aus. Die Zimmer- insb. Bäder könnten etwas renoviert werden. Negativer Punkt- die Preise! Wein und Cocktails sind teuerer als im Puerto Banus oder Ibiza … das sollte so nicht sein!Fahrräder mit eigener Werbung sollten auch deutlich günstiger für Gäste sein.
.
Sylvia Lowry
Loved every minute. Unfortunately the WiFi wasn't working the whole time we were there. For our next visit you may have to give us an extra treat/voucher/discount Thank u
.
Julia Alexandra Williams
The hotel itself is beautiful and beautifully maintained. The rooms are smart, bright and clean. The facilities are top notch. The staff are attentive and helpful to a point but there is no HEART in the place. Staff run around at breakfast seating us, clearing plates and wiping tables like a well oiled machine but if I wanted more of anything i.e. coffee, extra cutlery/cups, nobody was paying attention to ME as the customer. I had to constantly get up to find these things myself. The staff need to speak to the customers, not just each other. I understand that the aim is to create a young vibe but most of the people who stayed during my week (5-12 Sept) were between 40 and 70 and complained about the piped music. We all agreed we LOVE music but not the constant IBIZA type, mundane, heavy base noise that was relentless. It went off for 30 seconds around pool at one point and people cheered! We do now place a lot of emphasis on the visual and I can't fault that. I love art and interior design. But don't forget that a building is just a building without people and for a building to be beautiful, it has to have a soul.
.
Jack
We enjoyed our stay overall and would stay again. Our room was spacious and cleaned by Ana who was very friendly. I gave the WIFI a low score because it didn't actually work. Lots of guests including myself spoke with reception staff, they knew there was a problem and apparently had an engineer working on it (it wasn't fixed when we left) We also thought the music was quite loud on the beach when trying to relax on the sun loungers. It actually woke us up at 7am one morning. We could hear it from our room, I think the staff turn it on as soon as they arrive. We did however enjoy the live music which is a nice touch in the afternoon for an hour.
.
Jeanette Byrne
This was my 4th time staying at the Amare and I've always enjoyed it. But the only thing that I had an issue with was the music, everywhere…I love music and I'm relatively young but I would seriously recommend having some quiet areas in the hotel…there was music everywhere and sometimes people just like to relax in quietness. That type of music is not to everyones liking. Gorgeous hotel but we'll be looking for something different next year. I would also like to mention one of your staff, Jesus, (hopefully only the one Jesus working there!). Jesus came to the assistance of my friend who slipped outside the hotel the morning we arrived. He was so very helpful. She hurt her knee and he was so helpful in assisting in first aid. He was just friendly and thoughtful. Also helped us sort a taxi for the way back to the airport. My friend and I noted that he was the ideal person to work in hospitality!
.
The staff were excellent. I had a small Problem with my room and they couldn't be more accommodating. From the moment we arrived to checkout every member of staff were hospitable and welcoming. I will be back 😊
.
Jo Povey
Amazing stay, every minute was lovely. I'll definitely be back
.
I have been there twice, And both times we have been given the smaller rooms. A bit disappointing as my friends got lovely bigger rooms.Also the wooden walk way to the sunbeds at the beach were missing a few panels which are a bit dangerous and could cause a fell.
.
Rachel
Overall the hotel was fantastic. The only moan I have is that the food is not always hot! The hot plates are inadequate and even the a la carte menu meals come out warm not piping hot!
.
Julie Duggan
A beautiful hotel which we are sure to return to. The staff were so efficient and very friendly. Myself and my three friends had a wonderful stay. Thank you xx
.
Christina
Excellent hotel, we return every year, the staff and the service are superb.
.
Alex jeeves
The staff in kitchen were very friendly the number is due to the level of choice as a non fish eater amd afood was not very hot at breakfast. The wifi was down for 3 days . Whilst room was clean and cleaning staff were lovely aa was the spa the bar on top of the room kept me aqakw every night . Given the amount we paid I do not feel we got the level we should have.
.
Carl Richards
Everything first class except the annoying music; feel starting before 7am is a bit too much.
.
Malcolm McCaughey
Excellent as usual
.
Loved this hotel! It checks all the boxes. Definitely will come back.It should allow dogs is my only complaint.
.
Roger Philcox
Sun beds too close to each other on beach,Use wider area to give more space and provide a area free of music during the the day for those who want to rest
.
David Norman
Nice hotel , great location. Staff very friendly. Excellent rooms extremely clean
.
Jennifer Noble
Just returned from my third visit and it was as usual fabulous . I will be back.
.
Fiona Ireland
Seriously can't fault this hotel in any way. Outstanding staff, beautiful rooms, fabulous facilities, incredible food.
.
Jason Parfitt
Great location very clean and friendly staff and breakfast was fantastic overall experience was good
.
Laura
I really enjoyed my stay at Amare Marbella, however a few aspects I thought fell a bit short or a great experience. 1. The air con in my room 098, was a bit loud as there was a rattle. The air con in my second room 811 was much better. 2. The chrome cast in my room 098 worked on day 1 but didn't after that no matter what I did, both 1 and 2 were not reported by me as I wasn't too bothered by them. 3. On my last day, I had a late flight and needed to use the shower after check out. I was advised to use the showers opposite the gym, the shower was freezing cold for the first 5 mins then normal. After that the room was too hot to dry my hair plus someone else was waiting to use the shower so I moved out to the sink to dry my hair. The room had no air con and was too hot to dry my hair. I had to change my clothes after attempting to dry my hair as I was so hot after it and ideally needed another shower. Most hotels I have been to offer a day room facility to shower and change in which has air con and the necessary facilities to leave for the airport feeling refreshed. I was also advised there would be clean towels in the shower room but I had to use a pool towel. I thought this was an extremely poor service offered by the hotel. After staying c.9 nights at the hotel I would have expected a better option for showering so I could leave refreshed after my stay but I only felt annoyed and angry, as I felt once my money had been handed over that the hotel was happy for me to go. I complained to reception about the shower facilities after and only got a sorry and they would tell maintenance about the shower, my name or details were not requested
.
Lisa Wynne
Please note that we didn't feel the one lounge was as well serviced as it has been on previous stays.
.
Lisa Harrop
Always love staying at the Amare hotel. Great vibe with a beach club feeling close to the beautiful old town of Marbella. The service is excellent and the food and the beach restaurant is fantastic. My only negative comment is around the breakfast food, whilst the selection is fantastic unfortunately the hot food that is kept warm is not very hot and is more like warm which isn't that nice, but other than that I would highly recommend and will come back.
.
Kenny jones.( Liverpool)
Excellent hotel, breakfast is superb great choices, pool area kept clean & tidy ,comfy beds , waiter service excellent,would highly recommend this hotel for a adults only break
.
EAGLE LENNIE
Very nice hotel I will come and stay again lovely hotel and staff trained very well.
.
Lady M
A fantastic trip thank you! Just one request please put more vegetarian options on your menu
.
Just a few things to improve the experience. Bath robes in the room. Better facilities on day of check out eg. Somewhere to open your case to get changed and get dressed for homeward journey, without dragging your case down a flight of stairs and queuing for one shower. These small things would not stop me staying again as overall I had a fantastic stay.
.
Christen
My daughter and I had a glorious few days celebrating or big birthdays. The brilliant facilities and welcoming atmosphere were everything we'd hoped for and more. I'd also like to highlight how impressed I was with many aspects of the design and layout which appeared to take into account the needs of people with reduced mobility.
.
Tamara
Good hotel for a fair price. Friendly staff and a beautiful location.
.
Steph Chen
Amare was just wonderful from start to finish. Throughly enjoyed our stay! The staff are absolutely excellent all round. We loved the beach club. Cannot wait to visit again! Thank you!
.
Sun beds much too close together
.
Mr dean crozier
Hi Amare This was our 7th year at the Amare and so looking forward to our next trip in 2023 Overall always satisfied with the experience at the Amare they always make you feel welcome and very polite one thing for me that let it down slightly was the price increase as to what I have paid previously but overall could not fault the hotel once again
.
Laura
Wir würden jederzeit wieder Urlaub in der Amàre Hotelgruppe buchen.
.
Miroslav Bačík
My holiday in Amare Beach Hotel Marbella exceeded all my expectations. Pleasant music, great service, excellent hotel facilities and The One concept made my vacation unforgettable. I booked my next stay at the Amare Beach Hotel on the day of my arrival home in the Czech Republic.
.
Fantastic holiday hotel
.
Stacy Sherman
Originally I booked with a friend. I learned that she snored too loud so I had to book a 2nd room somewhat last minute. Her room was gorgeous and quiet with a terrace on the water side. For the same price I had a tiny room on the side that faced the street. It was very noisy all night. For $350 /night I would have expected a room where I could get a decent night of sleep. My room was a huge disappointment for that kind of money
.
Karen Forrest
The staff make this hotel special a beautiful hotel
.
CLARE
Excellent hotel with great staff. But a few points. Disappointed with room this year, previously have booked basic room rate but have had more spacious room with balcony. I have stayed 3 times and food/drinks seemed much more expensive this year.
.
Very mean amount of wine when buying by the glass. So we went out to dinner. Sheets might have been changed more often especially in very hot weather But overall not bad !
.
philip surtees
came to relax and you delivered , thank you .
.
John Brodie
Second visit this year…absolutely love the hotel….. If I had one tiny criticism it would be to change the music around the pool daily….it seemed to be the same playlist for 10 days consecutively…
.
Fiona
From when we arrived nothing was a problem. Staff were extremely helpful advising us when asked.
.
Ted
Love the staff. It's makes the hotel. Everything was great besides the dinner buffet was not great. The breakfast buffet was amazing. The hotel staff was amazing. The hotel should go out every morning and clear any excess plastic and garbage from the sea. It's little but that's more than what's being done now.
.
No toilet brushes in rooms or common bathrooms is very strange and a requirement. Under some of the sun loungers by the pool there was rubbish and debris on most days. Under loungers needs swept properly and all rubbish/dead leaves cleared away. As a 4 star hotel i think the in room products (shower gel, hand gel etc) could be a better quality. They are nice in the common rooms, but basic/poor in the rooms. We received a complimentary bottle of rose wine, which was a nice thought, but was poor quality and not drinkable. The staff showing us to the loungers informed us of the requirement not to leave the lounger for longer than 30 mins. This is understandable but I did feel the manner the girls had was not of a particularly friendly or pleasant manner. I think their customer service could be much nicer, more pleasant and welcoming. I even saw 1 member of staff throw a couple off the loungers because they had taken 2 free beds themselves and another member of public said he had reserved them, but he hadn't, they had been free. I think the level of customer service across the hotel needs improving with exception of reception staff who were all lovely.
.
The hotel was fine, accommodation was adequate but I didn't understand why it was so expensive for average accommodation. The walls were so thin we were next to a real party room next door so didn't sleep at all during our stay. The pool area is very small with every inch surrounding taken up by sun beds. The beach was easy access and fine but not the kind of beach we like to visit but this isn't the hotel's fault, we should have researched the area more to understand this is not really a golden sand beach. It was very close to the port so the smell wasn't great. Food to be fair was outstanding and very reasonable. The only thing we did really enjoy was the food. We tried not to spend too much of the day at the hotel or beach as it just wasn't the experience we were looking for. The room was simple, clean and had air conditioning. The hotel communal areas have obviously been updated recently but the rooms seemed very outdated in style, they've had a facelift but the bathrooms were like walking back in time to the 1990's. the smell of oud pumping out all over the hotel was very overpowering.
.
Jessica Rothwell
Beautiful few days. Couldn't have asked for more. Nothing was too much for any of the staff and we were always greeted with a smile
.
Rachel lynch
We stayed for 4 nights on our honeymoon earlier this month booked last minute. Definitely would recommend and will definitely be back in the near future.
.
Phyllis Lawlor
Went for big family holiday everyone loved it would go again
.
Paul Fasulo
Fantastico!!!
.
Michael Lloyd
Excellent hotel with extremely helpful and friendly staff
.
Clare
Excellent stay. Travelled with my 20 year old daughter and 80 year old mother and my sister and we all loved it. We hope to definitely return. Staff were very friendly and welcoming in all areas. Many thanks xx
.
Jose JHasenohr
We were transferred from the closed sister hotel Furte Marbella which had a completely different vibe unfortunately the need/wants of these clients were not considered. My review of this hotel comes with very mixed feelings. The staff overall were hard working and friendly, Ana our cleaning lady was excellent and kept our 3 rooms to a high standard of cleanliness, reception staff were helpful and informative. Breakfast was plentiful and full of choice for all, we had lunch a few times on the beach and at the poolside bar quality of produce very good but came at a price. The real bone of contention was the PERMANENT drone of loud music from breakfast until we went up for dinner there was no escape, one morning as a party of 6 we could not hear each other at 8.10am around the breakfast table it was so loud, when we asked if it could be turned down a little we were told it was not possible as it was piped !!!!! This does not give you a relaxing staff to the day. I did raise the subject of the music levels twice and on both occasions was just responded with a nervous laugh We had a good time we made sure of that but our experience could have been enhanced with a couple of quite hours around the pool
.
Loved the property, location and the food. Customer service needs attention though.
.
Michelle
Fabulous hotel great service will definitely return
.
Peter Huybrechts
For us the hotel was super in all the ways. Only the bed good be a little bit better. its 5 star hotel thank you so mutch Greetings Peter
.
The stay was amazing, the only thing I would criticize is the dinner buffet. As a vegetarian, I felt like there was too little of a choice for me. The pasta sauces were the same every day and not as good as I would expect when going out. Also, I do not regard having vegetables grilled by your cook as a real meal. The choices on the card had some vegetarian options, but the Italian meals did not really taste nice. I would have appreciated some real vegetarian meals, like wraps (e.g. with falafel), ratatouille, pasta with changing and more tasty sauces (e.g. vegetable sauce / vegetarian bolognese etc.), sushi with vegetarian options, stroganoff etc.
.
ANDREW DUTTON
As visitors to AMÀRE beach club for many years, we explained when we booked many months ago which room area (406 / 506 etc) we'd like. The booking agent emailed the front desk at the hotel to advise them. I phoned the front desk a week before our arrival & was told our preference was noted. It was very disappointing therefore to find on arrival we were allocated 315. The clerk moved us 24 hours later to room 506; it would have been a better start to our holiday it our preference had been acted upon on arrival. And then my wife broke her leg, falling down your wooden steps to the AMÀRE beach beds … not a holiday we wish to remember.
.
Kate Wynne
Amazing stay as always, can't wait to come back again. Everything being QR code based was a bit cumbersome however, I would worry about recommending to my mother for example. Paper menus etc should be freely available also. My only feedback. Excellent other than that.
.
michelle HART
Can not fault anything from arrival to departure
.
Val
The hotel is fabulous, has a great atmosphere, smells devine and is scrupulously clean. The views are amazing from your sun lounger to the roof top bar. The staff are wonderful, so friendly and polite - definitely the nicest staff i have met in any hotel . The food from the restaurant to the beach bar was gorgeous. We only had a 3 night stay here to celebrate birthdays and we were sorry we didn't book a longer one ..loved the hotel ..definitely will be back next year for a few visits !
.
Gemma
We had a great holiday and the hotel is fabulous. The only room for improvement would be the drinks/food service around the pool and beach area as most of the time we had to press the buzzer multiple times for someone to come and waited over 20 minutes to place an order. Once we ordered the food and drinks came quickly though.
.
One of the Best hotel in Marbella ✅✅
.
Marilyn Borlase
We loved the Amare beach hotel. It's my second visit and this time I bought my daughter. It's immaculately stylish with breakfast to die for. Live music was unforgettable.
.
Sarah
Hotel is great, all staff friendly and polite. Room clean and a good size. Access to The One area was a bonus with our room and we did make good use of it for snacks and drinks, there is a really good choice of drinks including branded spirits, and tasty savoury and sweet snacks, a suggestion may be to have sun umbrellas on The One terrace area , if it is busy inside during the day the sun is straight on that terrace and there is no shade which makes it very hot! The only negative would be evening entertainment and lack off atmosphere which we found disappointing, we saw a couple of singers on the roof top bar but they didn't seem to sing for very long!? And apart from the beach restaurant which again had nothing happening on the night we ate there, there is nothing happening, I'm guessing alot of the guests venture out at night so this makes the hotel very quiet in the evening which is a shame, but apart from that we couldn't fault the hotel. Its in a great location, 5/10 minute walk to the old town which is beautiful and great for people watching!! Also taxi's park outside the hotel which we used a few times to go to puerto Banus which is a fantastic place for dinner and to see all the fab cars!! The hotel has people of all ages staying there so it's definitely not just for the younger ones ! We had a great time.
.
Hello, It was our first time on Coste del Sol. Generally, our stay was pleaseant. We had, however, two bad experiences... Once, with massage on the beach. My wife booked 30 min. At the scheduled time, on the beach, the masseeur was undeniable...She was sent ,several time, between beach and inside center of spa, searchig the masseur...She booked 30 min, recieved 21 min, payed 30 min. We tooked all the meals at your location (we booked half board and , at lunch, we ate on beach restaurant). We preferred to eat ,especially, fish ! (poor offer for a place at the sea) In a day, we ordered a whole fish ( it was sibas ). After an expectation of 40 min, the waiter informed us that "sorry, no more sibas""...It was, at least, funny! Near the sea and at those prices, "" no more sibas"". I m talking about the whole fish, no pieces of fish.Probablly, you shoud consider to offer for tourists the possibility to reserve, in advance, the fish for lunch...)) But, I repeat, generally, our stay in your hotel was pleasant ! Thank you!
.
Fero
It was a nice experience and perfect relaxed holiday.
.
Jessica curd
I felt the welcome and help with bags was not good no welcome drink was given no help with bags to the room. Then leaving no help with bags taxi etc I have never experienced this before as I always stay in good hotels. I did not start the holiday with a feel of being looked after.
.
Bill & Emma Wood
The quality of the whole experience was fantastic. Drinks, food and customer service was 100% A few weeks ago we were in Malta at the Hilton St Julian and the drinks were measured at 2 cl !!!! The Spanish way of pouring at your table does make a great difference. Only problem we had was the room air conditioning didn't come on one evening. We called reception and a chap appeared and looked at the blank screen and said maintenance would check in the morning. Reception did then offer us another room, but not practical at 2am. Turned out, the problem was that the balcony door was not properly closed. If the person had checked when he visited the room, it would have been easily fixed.. Maybe more training, or notices in rooms, would fix this situation for the future residents. We did however get a lovely plate of fresh fruit next day for our inconvenience, most appreciated.
.
IAN MATHIESON
lovely Hotel well Done
.
Amazing time I highly recommend a visit staff are amazing and go out of their way to make you're stay pleasurable
.
Hotel security and staffs lack professionalism. Threatening of guest with police for there in adequacy.
.
Jo
Excellent stay. You are a guest not a visitor!! Excellent job!!
.
Roslyn griner
My only recommendation is that even basic rooms need coffee makers. I stayed in Barcelona and had a Nespresso machine. Instant coffee is unacceptable for a 5 star hote.
.
We have been quite a number of times to the hotel. This time we felt that the hotel was more tired than on previous occasions. Our bedroom was certainly more tired. There was an outbreak of ants in it. The 'one' lounge at times was understaffed for the very high number of people that were visiting it in peak season. In the first few days the food and glasses often ran out when we entered. The music in the hotel was outstanding and has steadily improved over the years. There were not enough nice treats in the breakfast for example the jam was very cheap.
.
Jdag
I love the hotel, the facilities, the room and the location of the hotel. The only negative I identified during my stay was breakfast. Although COVID has decreased, the buffet should be more covered (protected) from people walking around and coughing on the food. Also, food was being touched and placed back in the plates by other guests. Perhaps, someone from the hotel should be serving the items from the buffet and prevent contamination of the food and make it more hygienic.
.
Patrick de Bruijne
a very fine hotel with great staff and hospitality. Very clean rooms and great services at the pool and beachclub. We had a great vacation superb breakfast buffet with fresh oj, fresh eggs etc etc
.
Jem
Perfect for a girls long weekend. Even the sunbeds around the pool, you can't put your towel on early and reserve, this stops people from reserving a bed and not being there all morning. So much better.
.
Dirk Janssens
very good hotel, friendly staff, would 100 per cent come back next year, but hesitating because the new rule that airco has to be on minimun 27°.
.
Tony Puls
Very bad standard rooms. Airco doesn't work properly. The temperature of the shower varies from warm to hot and back. WiFi is appoaling . As a member of the Club de Amigos I normally have an upgrade, but not this time. I had to pay lots of money for the upgrade. It was my fifth stay in the hotel with my family but my last . Nunca mas . Very disappointed..
.
Kim Chaston
Beautiful hotel amazing staff will definitely come back 😀
.
Stavros Steides
We had a fantastic stay, thank you. Only criticisms Music could be changed, it kept repeating over and over. There was issues with the wifi slowing up. It took a long time to get served by the pool or the beach bar. Maybe, this was because of a staff shortage.
.
Lisa H
Excellent hotel in a lovely location. Pool area and beach were great, free towels and service was very. All staff were kind and considerate. Room was classed as side sea view yet we had a full view, room was clean and cleaned daily with fresh towels. Breakfast was fantastic.
.
Paul
Excellent hotel but could be better. WiFi By the pool is poor and evening entertainment could be better downstairs.
.
Nicolaas Koning
Good afternoon everyone, we spent a wonderful time in your Hotel. the rooms, the facilities the staff, it was great. we would like to visit again.
.
Nicola Brophy
Quite honestly one of the best hotels I have ever stayed in. The hotel itself was immaculate, the breakfast had so much choice and was amazing and the rooms were very clean. I would highly recommend.
.
Martin Reichel
Amare Beach Hotel is top notch in every respect. Outstanding rooms, restaurants, service, pool/beach. I have traveled the globe and this is a hotel of the highest caliber. I do hope to return again.
.
ronald baptiste
very nice
.
Colchester lady
Friendly helpful staff - nothing was too much trouble. Lovely ambience and great pool service. Comfortable seating areas round pool. Fab breakfast.Great bike hire service. Only downside was TV in room which kept returning to Home Screen mid program!
.
Denise G
Amazing hotel! The hotel and all the staff were amazing, from the moment we arrived until 5 days later when we checked out. Really friendly staff who were so helpful. The food in the hotel was amazing, the freshest food for breakfast, lunch and dinner regardless of what area of the hotel you ate in . Woukd highly recommend.
.
Deirdre
Really impressed by all your staff especially those at the reception area and the man in charge of the bag storage area.
.
Ben Shakespeare
Nice hotel, clean, good location facilities, beach bar/pool bar service was a little slow at times.
.
Brenda Creedon
Fantastic hotel with amazing service. Quality food and drinks served to a very high standard. Would definitely recommend your hotel to our family and friends. Thank you for amazing stay
.
Anne Quinn
Second visit with a group of friends and it was as amazing as the first. The hotel public areas, rooms & outdoor areas are all kept immaculate & the service from staff is fantastic! We will definitely return!
.
Annie
I really enjoyed our stay for my birthday and in preparation for our wedding. One recommendation I would have is to have a nespresso machine in the bedrooms. This is such a small addition but would have a wonderful impact. Also loved the rooftop bar.
.
Aisling Sproul
Excellent
.
Fiona Pirie
This was our 3rd time staying and we love everything about the hotel. The location, service, room, food, decor, amenities, entertainment and the staff are all excellent. The hotel has thought of everything. We had a fantastic stay and can't wait to come back next year! Thank you
.
Christoph
Insgesamt sehr gut. Die Musik wurde mir zeitweilig allerdings zu viel. Es ist meiner Meinung nach nicht nötig, 24/7 mit Musik berieselt zu werden. Es ist auch nicht nötig, dass JEDESMAL das TV eingeschaltet wird, wenn ich mein Zimmer betrete. Das ist etwas zu viel.
.
Deborah Street
The car park exit method is crazy not clearly communicated that the car had to be in a specific spot for the barrier to lift. Causing confusion, delays and queues of cars trying to get out with no room to manoeuvre into the exit spot. The car park attendant was unhelpful. Also, the table tags for service were not all working which meant we had to wait for long periods and try to get the attention of the waiter service
.
D
Excellent overall. The only thing I would change is the very loud music all day long at the beach. It is not relaxing with the noise. Otherwise, staff very friendly and nice. Great hotel.
.
Fantastic stay. (Music at beach club a little to loud in the afternoon …)
.
Diane Lovegrove
Great hotel everyone was really friendly service was perfect the attention to detail is spot on Food and refreshment were great Was a perfect few days away with my daughter x
.
Ghazal Abazaid
I would highly recommend this Hotel from the cleanliness of the hotel, the pool and the rooms. The staff are so professional and very helpful. The room service was super fast, the food was good but not super great. Although I have one comment regarding the beach it's not clean and prepared for the swim. But I would definitely come back again as I really had a good time!
.
Thank you for the very nice greetings with cava and chocolate for our wedding anniversary. Highly appreciated!
.
Tracy kerrigan
I have stayed at the Amare many times and will continue to do so it is superb From the location to the staff and facilities it's everything you could want in a special place I love it and will always be back Thanks to everyone at the Amàre for always looking after me so well
.
Mihaly Mihó
Fantastic location, super beach bar&kitchen! Beautiful Hotel, kind staff. Very clean rooms.
.
Ursula Neuscheler
Outstanding
.
Leider war der Strand nicht schön. So schwer ins Wasser zu gehen wegen Steine !!! Ich müßte ein Paar Wasserschuhe kaufen.
.
Carol and Peter May
Absolutely love the Amare… an adult only paradise! We Will keep going back as standards are always so high. The staff in particular are super helpful with any enquiry/ problem/ question. Highly recommend
.
Noel
We are long time guests at Amare & Fuerte having enjoyed your hotels for 26 years. Getting back this year after COVID was like coming home. Thank you Amare, will see you again soon.
.
Meinir Williams
Booking system not good. Lack of communication during booking process and difficult to contact hotel directly.
.
Andrew Aldis
5th visit to Amare Beach Hotel and it gets better everytime!
.
Joan Gilsenan
Excellent all round; a little expensive but we booked last minute; however the extras were good. We never had to contact reception - which is an excellent sign. Towels and turndown in bedroom excellent.
.
We had a very pleasant stay...only the kindness at the reception needs to be improved.
.
mr john mcdonald
hotel very good staff excellent but the most annoying thing was the 30 minutes you could leave your sunbed for as this was not enough time to go to breakfast and i do realise to be fair to other guests time limit should be set but 1 hour would be a realistic time
.
Joe Miller
Great hotel in a good location, lots of friendly helpful staff.
.
Karen clelland
Fabulous hotel very clean and staff are amazing good location to promenade and restaurants all within walking distance
.
Carol Dixon
We booked via Jet2 It was unclear we did not have a balcony so had to upgrade The room originally allocated very poor option and would be surprised if many people realised with the standard room had no balcony I think these need removing from or alert It caused quite a bit of stress at checking Had to go to 3 rooms as group of female friends the glass bathrooms not really appropriate Reception staff nice though
.
Tolle Lage vom Hotel, super liebes Personal. Die musikalische Dauerbeschallung in extremer Lautstärke am Strand war zu viel. Die Snacks an der Beach-Bar sind preislich maßlos überzogen.
.
Chris Stark
Overall we enjoyed our time at the hotel and we love the music on the beach along with the location of the hotel. The only negative that we can think of is that the shower leaked onto the floor. The floor mat was not large enough to keep the floor dry so it became slippery.
.
Jamie nardone
Best hotel I have ever been to
.
Treasa Morgan
Fantastic hotel...chilled out atmosphere with excellent attention to detail. Loved the beach club area and the live music...all while relaxing on my lounger. We did not want to leave!
.
Sarah keane
The only negative we could find is the "sun bed "situation in the mornings . The hotel has an excellent pool policy which would work very effectively if people were not allowed to reserve pool beds prior to 9am when the pool staff start work....there is a perfectly good system in place and people should be made to adhere strictly to the pool policy so that everyone has an enjoyable experience while at the hotel.People should not be allowed to reserve pool beds prior to 9am. I hope this can be rectified asap otherwise we had a wonderful experience while staying in the Amare Marbella
.
Pool was a bit cold at times
.
David
Brilliant couple of days stay. Everything exceeded our expectations. Will definitely be back
.
Pearl OKeefe
The reception was the worst for me personally we upgraded our room just wasn't great for the price we paid not overly impressed
.
Lisa
Lovely modern hotel with very clean rooms. Comfortable sunbeds and staff at reception and by the pool were really good. Service at the Spa could be improved.
.
Losing the sun mid afternoon isn't ideal but can't be helped. Beds were great but always fine really early which really took the shine off - felt over subscribed
.
Dionne Chance
Loved our few nights stay. Highly recommend
.
Melanie
Loved the hotel beach entertainment dj with live instrumental great each day sunbeds so comfy and loads of umbrellas everyone very helpful and polite would definitely return
.
Mckenzie
Just returned from a lovely stay at the hotel. Staff were excellent. Very helpful and always smiling. Nothing was ever to much for them. One little point is the towel situation! You are supposed to get your towels at 9am but some guests were keeping theirs from the day before and putting them down on the beds at 8am! We chose the beach which was always quite and beds were not a problem but if you wanted a good space by the pool I thought this was a little bit unfair. Also you could only keep your beds if you had lunch at the hotel where they gave you a sign saying gone to lunch to keep your beds. If not they would take away the towels. If you're going to do this then don't allow people to have their towels and reserve beds early. One rule stick to it. As I said, very small point and it really didn't make a difference as we where on the beach. Would definitely return. Loved it!
.
Suzanne Scanlon
We booked the amare marbella after going to the Amare Ibiza last year. Our stay at the Amare beach in Marbella was just amazing. The hotel spotless, the staff so very helpful and friendly and the fantastic facilities from the pool to the food and the bar areas. We loved our trip so much we have booked again for next June and bringing our daughter with us who was very jealous she was not invited along this time lol. Roll on June 2023
.
Lindsey Brett
A fantastic hotel with lovely staff. This was my third visit to the Amare Marbella & I will defiantly return again. It is a relaxing space with lovely scents throughout. The buffet breakfast has everything you need & more. Very good quality. It was great to once again be there for the festival of light which is a fantastic night & very good value. All of the staff are pleasant & make the service fun, especially down at the beach club. It was nice to have the live music on the beach on a more regular basis.
.
John Bowden
Our overall experience was very good . The staff were very friendly and helpful particularly at reception. The location is excellent being so close to the old town of Marbella. Would definitely stay there again.
.
A beautiful hotel, very well situated.Personnel very friendly, helpful, polite.Maybe,for a few of the personnel please try to learn a bit of English.But the price I paid for my stay way too expensive.And for a 4 star hotel you also expect a certain type of guests…instead I found a lot of English people from the worst type:men covered with tattoos/badly dressed(going for supper to the restaurant in slippers and tee-shirt!), women walking around in the lobby of the hotel in bikini strings, wearing nothing else…I am wondering with which kind of worst English tour-operator the hotel is working with!
.
Mohamed Fahmy
The Hotel management and staff couldn't have made our experience better. Everything exceeded our expectations. From Hospitality, professionalism to the smallest details, interior and vibe.
.
Amy
Great stay - better than some 5 star hotels in the area. Fantastic restaurants and service. Wouldn't hesitate to recommend and will be returning. Thank you.
.
Melvyn Franses
A very professionally run property excellent and well trained staff all working together for smooth running. The rooms are bright and airy with everything working as it should. The beach area is very cramped and would benefit from allowing more space. Personally I could have done without the persistent thumping music.
.
N O Connor
Amazing hotel. Sorry if we were too lovely i hope we didn't ruin it for anyone
.
Jennifer rowley
10 of my girlfriends went for my hen do, we had the best 4 nights at the hotel and beach. You could not ask for a better hotel, the beach was amazing and every day you had different entertainment during the day. You have to book this hotel x
.
DC
Hotel Amare is a beautiful hotel. The service is impeccable and you feel like you are in dream land. I would highly recommend this hotel and I will definitely be returning in the future!
.
Lesley Dalton
Nice hotel, very difficult to get sunbeds if hotel full, very unhelpful as we had a late flight and would not let us keep our room or pay for another for a couple of hours so we weren't just sitting around for 7 hours, even though there were actually 12 sunbeds empty that day, food and drink on beach were not great, served 2 days on trot corked wine, breakfast was great though, beach full of seaweed and needed to be made a bit nicer
.
Generally had a good stay. I don't think charging parking fees which is owned by the hotel is justified especially when the room charges are €550 per night.
.
Sarah Avern
We had a fabulous weekend - the hotel was stylish and yet the customer service was second to none. The breakfast was the best buffet selection we've ever seen and the cocktails in the bars were delicious. We will definitely be back !
.
Bernard Conn
I accompanied my family for relaxing holiday. Your hotel is not suitable for people.over the age of 45. The pool is tiny, the pool area is far too small for the number of residents. The sun beds are inches apart and there is a battle for them every morning. The thumping disco beat goes on all day there is no peace it is hell. This is only suitable for people who are stone deaf or under 25 with the mental age of 5 or who like to get drunk so they don't notice anything My room had no cupboards or drawers so my belongs were stacked on a tiny shelf The good parts were friendly efficient staff and cleanliness. Also a good position in Marbella with access to the town and promenade I will never return or recommend your hotel to anybody
.
Tricia Hamilton
Beautiful location, friendly, helpful staff. The music at the pool was rather disruptive….peace and quiet would have been better.
.
Gorika Ahuja
Loved the hotel beyond words! The food was exceptional, please complement the chefs on our behalf. Thank you for a lovely stay! Would visit again soon.
.
Nice 4* hotel - no entertainment when we were there. Lovely roof top bar with great views and sun till it sets. Unfortunately the hotel is in the shade from early evening and the beach area in front isn't the best - it's nicer just further up nearer Amares sister hotel Fuerye.
.
Jennifer
The hotel is nice enough but I believe I smelled the septic system every time I entered my room. I had to keep the slider open to bear the odor. The breakfast buffet could be higher quality. The coffee was terrible and many of the hot items were mediocre. The club music playing incessantly by the pool was tiresome too.
.
Tina Wilson
We have stayed at this hotel many times and it gets better and better, thoroughly enjoyed our stay once again our room Oh La La was brilliant and for the first time we went half board, the food and service we received from Elvis was impeccable, we shall definitely be returning next year. Thank you once again for an amazing holiday.
.
JH
Beautiful hotel amazing service and friendliness .Very clean and staff cannot do enough to help .Amazing breakfast . Only complaint was one inadequate member of staff on night duty who should not be working there as he is quite rude but everyone else is professional and cannot do enough for you .
.
Tori Gunputrao
Nothing more to say then love Amare 100% 4th visit and still no faults ❤️ The service, cleanliness and standards are exceptional, credit to all the team at the hotel, we are planning on taking a trip to the Ibiza hotel late September as love the hotel so much, thank you xx
.
Alyn Brewis
Great as usual!
.
Mrs Jane Snowden
Lovely decor, clean and staff very friendly. The constant bass on music system was for the younger generation! Almost dance music all day!! Certainly not for the over 60s, and lack of sun beds! Only 30mins to go and get a paper or lose your place!!!
.
Joanne Pledger
I just love this hotel there's nothing I don't like about it apart from the tea at breakfast! The rooms are fab, the food and drinks are great, staff are lovely a very nice place to relax and have a great holiday right on the beach but within an easy stroll to Old town which I also love!
.
Niamh Duggan
Amazing as always. Thank you again for a beautiful stay. Until next time x
.
Colin Cook
We are regular visitors and we enjoy the experience, staff are always welcoming, helpful and most importantly always smiling. Flor in reception was extremely helpful. Can't wait to get back in september
.
Joanne Cowell
Fantastic hotel very modern and the staff were very friendly
.
Carol
We have been staying at Amare Marbella for many years & our only complaint is that for a hotel of this quality there are frequently not enough sun beds! Each year we make this comment & also that the half hour time slot for lunch & having to leave a sign on the sun bed saying you have gone for lunch is a farce. Otherwise we cannot fault the Amare & have enjoyed every stay there
.
Dorothy Irene Place
I have to say I returned to the lovely Hotel for luxury stay to rest and recuperate after a busy few months. Unfortunately our holiday was ruined, because professional thieves infiltrated the breakfast area with intent to Rob client's Unfortunately we were the victims at the time. This caused us and still is causing so much distress spoiling our holiday. Sadly the hotel has not dealt with our terrible loss of personal effects...I really feel they have responsibility to ensure this can't happen in their premises to paying guests. So because of this we will not be returning again . Dorothy Place Peter Flowers
.
Siobhan Purcell
Thank you for another lovely stay in the Amare! The Amare is a great hotel. It is perfectly located; the staff are friendly, courteous and efficient; the food in both the beach and breakfast restaurants is superb as is the service; the decor is calm and serene. We did unfortunately have an issue with the air-conditioning. On one night, we had none at all. During the second half of our stay, it went off for a time each morning around 5 am. There can be an unreasonable wait time for lifts. This is understandable at busy times but access to stairs was tedious and clearly not a desired option on the hotel's part. Signage for fire exits was not clear. On one day we were told there were no beds available on the beach, while there were four beds 'reserved', with rolled up towels, unused and empty! A row ensued between two members of staff when we eventually claimed two with the permission of a male staff member. It was very unprofessional and uncomfortable to witness. In any case, there should be enough beds to accommodate guests. I am not complaining but hope my comments will guide. We look forward to returning to the Amare. Many thanks, Siobhan.
.
Bruce St Leger
The hotel was lovely and I would recommend others to visit and my scores above reflect this. Reception staff were outstanding. I was disappointed with the Amare lounge. It is just in the wrong location, is not very inviting and there is no atmosphere - we paid a lot extra to have this included and hardly used it as we didnt enjoy the experience of it. The worst experience though was the beach lounger service. Waited ages to be served then waited ages for the drinks once we had been served. You also cannot order from the bar to help the staff at busy times which was very frustrating. You need more staff to offer this service at the busier times. Otherwise the beach experience was good but this really let it down.
.
Erika
Hello Overall we had a lovely time at your hotel. Two points that would have made it even better though - the first was the service in the roof bar, the person who served us was incredibly rude/abrupt so we didn't go back. The second was there was only one male and one female shower we could use on our last day as we couldn't get a late checkout. There was a large queue and actually made our last day quite a stressful experience. Hope this feedback is helpful. Many thanks Erika
.
Gemma
Many thanks for a great stay and i have to say Cristina who served us many times was an outstanding staff member. Always smiling and nothing was too much trouble
.
Naomi tuckwell
Overall we had a fabulous stay. Cristina is particular who served us around the pool, at breakfast and in The One lounge was amazing! She was so attentive. My only slight negative is the sun bed policing. I completely agree with keeping track of sun beds that aren't in use as it's extremely frustrating when people reserve them and don't use them however only being allowed to be away from your bed for 30 minutes is a little extreme. We were even in the pool and the beds were marked down as not there. We never felt like we could fully relax incase our stuff was removed. We also paid extra and had access to The One lounge as we had The One room, and we wasn't even allowed to go and have lunch in there for more than 30 minutes. Making people have lunch at the beach club only to be able to have the 'gone for lunch' sign in the sun is totally unfair. I feel this whole process could be tweaked a little and it work for everyone.
.
David Rowland
Top class hotel in perfect location. Great vibe by day. Breakfast is a delight with great customer service and attention at all times. Thoroughly recommend the Amare for a 5 star experience.
.
Lisa
The hotel is lovely inside and out. Overall the service is excellent. The only area that lets the hotel down is the lack of staff at the beach bar. Having the buzzer is a great idea, but not when it's ignored. When the buzzer was pushed more than once as it was assumed it hadn't worked, we were 'told off' by staff. There needs to be more than one person behind the bar making drinks. When asking staff for service, they were fairly rude and uncooperative - probably because they were receiving so many complaints. This wasn't all the staff, a few were helpful and sympathetic to the problem. Waiting more than 30 minutes for a drink and on many occasions, isn't acceptable. The rooftop bar, the service was excellent. Great breakfast selection. Good food at the beach bar. The entertainment was very good. Reception extremely helpful. The balcony in the bedroom was quite dusty. Drawer space limited. No mini bar tariff. We did enjoy our stay and felt comfortable in the hotel. Thank you
.
Eileen & Gareth Jones
We loved the hotel but was very disappointed with the standard of the food, meat generally tough to eat, the cakes were poor nearly always the same every night. Cereals not to our taste prefer cornflakes and porridge also do not like hot milk on cereals makes them very soggy. Prefer vegetables to be cooked not just put on the griddle. Also had to queue for seating at breakfast time why couldn't we just pick our own seats. Not happy being blown around in the open air. Also some evenings it was quite cold but we were not allowed to eat inside, surely this should be judgment issue according to the weather not hotel policy.
.
Roger Philcox
Sun beds too close. Had to walk 20 metres to walk to get from front of be to the rear ! Constant music was too loud and there was nowhere quiet to sit by poo/ beach to be quiet to read or sleep
.
Style over substance
Ultimately the customer service was very low and not all personnel engaged with me and for an exclusive property I would expect nothing less ! If it's a party hotel fine but there was no party ! Excellent location . Small pool Service in the restaurant was very good at breakfast and dinner.
.
Agnes Buckley
We love everything about the hotel and have recommended Hotel to our friends but was very disappointed to only be able to leave your bed on beach for half hour. As my husband has been ill and needed to go to room for medication and when we came back which was maybe 1 hour our beds were gone.
.
Everything perfect other than the time it takes to be served on the rooftop bar, walked out twice after waiting over 15 mins . Otherwise no fault
.
Louise Doyle
Loved it so much I have booked to return in 3 weeks
.
Ronnie
Disappointed with the 30 minute pool rule. Took advantage of The One package but felt as though we were continually rushed to get back to our sunbed before the towels were taken away. On holiday lunch and drinks breaks should be relaxing not taxing. Overall liked the hotel.
.
John Haymes
First rate service and facilities . Great location . Only drawback is the obsession with teckno music … not at all pleasant to listen to on the beach and completely spoils any enjoyment of the rooftop terrace bar area at night. At least provide some variety ? Thanks
.
Fabulous hotel ⭐️⭐️⭐️⭐️⭐️
.
Debbie
Had a fantastic stay at the Amare Marbella - we felt completely relaxed, loved the ambience of the hotel, all the staff were lovely and welcoming.
.
Mrs. J. Evans
We were so disappointed by the fact that the seaweed was left the whole time at the edge of the sea!! Other resorts usually clear it even on a daily basis so one can swim in the sea! The hotel beach seemed to be the only one in such a disgusting mess. That left the lovely outdoor pool which was us heated and cold and rarely used by anyone. Everyone said it was so cold.Why ? Hardly anyone in the pool because of the temperature . This is far from 5*. very disappointing. Lovely staff and most attractive inside the building. However on a summer holiday it is the outside and facilities such as sea and pool that surely are so important. Mrs. J. Evans.
.
Hetty Van kasteren - kemps
What we don't like this time we stayed at your hotel is that in that early in the morning the towels where lay down at the beds by the swimming pole en the see. So that when we came back from waking all the beds where full. How irritated.
.
Anthony Hutchings
we had an excellent stay pre pandemic this time the bar service was slow at times and the music poolside was not as relaxing as before. on one day there were no sun beds available poolside or on the beach and this was very unsatisfactory otherwise the staff are excellent efficient and friendly
.
Alles goed behalve de koffie. Was veel beter.
.
David Kanareck
I have rarely met such efficiency and friendliness from hotel staff at every level. The hotel is perfectly located and the level of comfort and cleanliness is first class.I have been travelling more than 50 years on both business and holidays - mainly in S.E.Asia, and I would rate your hotel with the best of them.
.
disastrous beach !!!!a shame ! tiny swimming pool. great breakfast excellent staff in all sectors
.
Karina Mcaleavey
Overall a fantastic stay. Disappointing that there is not enough sun beds and two days of our stay we had to find a beach club and pay extra as there was none left after our breakfast. Would recommend though.
.
Clare
This was our second stay at the Amàre Beach Hotel and we were once again not disappointed. The hotel decor is beautiful and contemporary and public areas are very spacious. The hotel is immaculately clean and smells wonderful. The staff are extremely helpful and friendly and can't do enough for you, this truly is a holiday where you don't need to lift a finger, from having freshly squeezed orange juice poured for you at breakfast, having your oversized beach towel set up on the sunbed of your choice, to the buzzer next to your sunbed which you ring when you want a drink…. the service is just spot on. Anyone looking for a quality adult only hotel in Marbella, you can't go wrong with the Amàre Beach Hotel, we will most definitely be back.
.
Leon
Brilliant hotel, Pool and Beach. The only very small issue is that it is about 15mins away in taxi from Puerto Banus
.
Kkk
My low rates on 3 counts was because I didn't use those facilities…I had a lovely time thank you
.
Rajesh Passi
Over priced hotel even charged for water in the room and no coffee in the room, bar prices ridiculous , at times felt like hell with all the stag and hen parties around
.
Monique
Good hotel, unfortunately in the evening nothing to do. We missed some live music in the evening @the beach and the rooftop was closed or very full of drunk English people. Breakfast was very good. Shower is switching from temperature, extremely hot (watch out!) or cold. Price is overrated we had better hotels for this price in the Cariben. We think it's wel one of the better hotels in marbella. But a lot of 60+ people. It looked good, sunbeds also nice and staff is very friendly. We had a good time but it was better if there was a show or band in the evening.
.
Richard Kennedy
This is a well located hotel. However the bfood offered at dinner ws very repetitive with little choice at the mea counter in the evening. Indeed the meat appeared to be mainly cheaper cuts, though the fish was excellent. The piped music was plyed too loudly through the speakers and was monotonously repeated every evening. Surely you could find some decent Spanish and / or latin music to play rather than the dirge that is the current play list
.
Kerry Champion
Amazing hotel, quality food and alcohol choices. Lovey staff. Perfect location - will visit again
.
Rachael Booth
The only complaint is about the quality of the sangaria it was very expensive for the quality of the wine used and no fruit as a result very unpleasant and we had to leave it.
.
Dean
Overall a great hotel which we've stayed at many times. Unfortunately we did have a few issues with the air conditioning in our room - first not getting cold enough (would not cool the room below 22 degrees) and then leaking all over the room. It was eventually resolved but no compensation was offered. The Wi-Fi is also as bad as it was 3 years ago when we last stayed. It frequently drops out and streaming video services to the TV via Chromecast is impossible as a result as video just continually buffers. The spa hydrotherapy area also needs refurbishing - the ceiling is damp with numerous areas peeling.
.
This is our 3rd trip to Amare Marbella, and we enjoyed very much. A few things have changed since the last visit. It is a little inconvenient having to go outside to go to breakfast, the inside door is preferable. The spa needs to have better facilities eg, shampoo, conditioner, extra towels. We were unable to take advantage of our amigos late checkout which would have made a better last day due to our late flight. The bar could be open slightly later, we couldn't get a drink downstairs at 11.50 so they sent us upstairs and we waited 20 mins before leaving. However we love the hotel, the beach club, the beach restaurant, the art and we have thoroughly enjoyed our break. We will be back! Thanks very much! Also my name is Anne Dredge, I am the lead booker for this group, I was in 625 and my friend Mandy was in the other room 922 so please update your records. Thanks 😊
.
Susan Marino
Beautiful hotel. We ended our two week vacation in Spain there for only 2 days. Wish I had more time. Loved the hotel. Hope to return one day.
.
S. Hayes
We had a wonderful week at Amàre Beach Hotel, it provided more facilities than we required, of those we used they were first class. We would definitely consider staying here again and explore more of the local area. The position of the hotel was at the end of the busy area which suited us very well. Thank you for a perfect holiday.
.
Amanda Foster-Wall
Had a great stay at the hotel. Overall experience was first class. Looking forward to returning.
.
Naets Jacques
super staff ....quality of the food is very poor
.
Diana Steele
Thoroughly enjoyed my stay. It all went too quickly! I would be interested in any good offers.
.
Christopher
This was another very very pleasant experience again and will return again when possible. Staff were amazing!!!
.
Sarah Norma Chambers.
We had a great holiday everything was very professional the staff were very friendly &are every need was taken care of I will definitely be back many thanks congratulations on a well run hotel. S
.
One of the best hotels I've been to. The staff are extremely professional, helpful and pleasant. The hotel amenities are great, the breakfast selection covers all options. The beach/pool area is very clean and relaxing. I will definitely be back and will continue to recommend the Amare to family and friends
.
I have stayed quite a few times in the Amare marbella and the standards have definitely slipped. The breakfast was always great and still is, however the lunch we had wasn't good. The prices on the drinks menu went up €3 over night. The rooms are still beautifully maintained and kept spotlessly clean . a special mention to Jesus, the porter/ doorman who was just lovely in every way. I still had a enjoyable time and I will return but maybe just not eat lunch!
.
Very nice hotel beach not so good
.
Bernadette McGrath
We had always been guests in the El Fuerte Marbella but we were very impressed with Amare and look forward to returning in September
.
Lynda
Great but not enough sun beds
.
Stephen Devins
Excellent