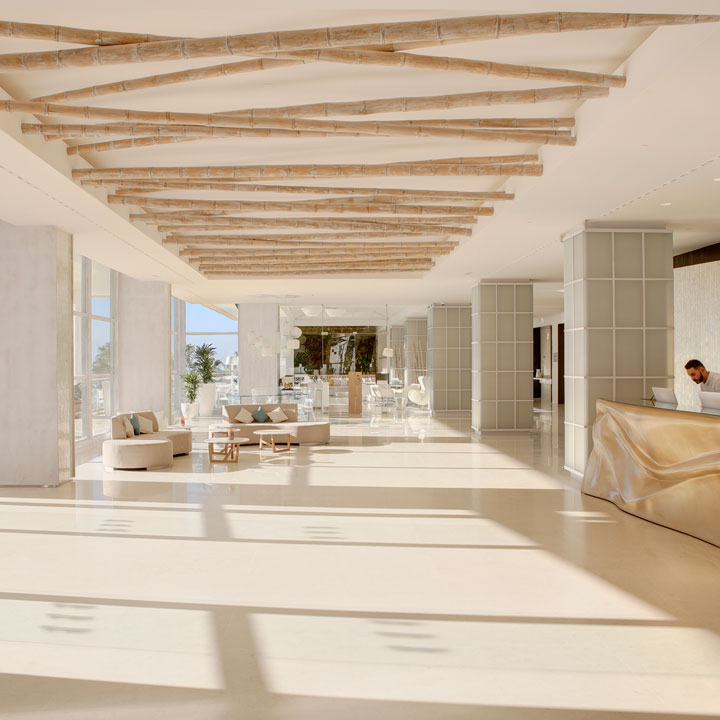 AMÀRE MARBELLA
.
Kelly Bryant Cunningham
Thank you for making our holiday special & will certainly return
.
Excellent hotel, wonderful food. Only issue was our room was at front of hotel which is right on street. Noisy at night and early morning with traffic. The hotel did give me ear plugs which helped
.
Zita Jane Biglin
Overall an excellent stay at the hotel . The disappointment being the close proximity of beach and pool sun loungers. The beach being dirty and what looked to be an effluent dump into the sea only a few meters away.
.
Andrea
Excellent facilities and a wonderful location. Loved everything about this place.
.
Donal McCarthy
High quality hotel with very high level of cleaning standards and attention to detail throughout the property. Friendly accommodating staff.
.
Michele
Bathroom towels could be more luxurious and the hair dryers in the rooms are not very good
.
Darren Gates
We stayed here for a few days last week and had a lovely time. The hotel is set in a perfect location for the beach and old town. We had a lovely sea view room on the eighth floor at the front of the hotel. Great views but at night it was very noisy, with the scraping of chairs and music from the rooftop bar immediately above until around 1.30 am. We were half board and thought the restaurant was good however more than a few nights and we think you'd get pretty bored with the menu. Pillows on the beds also are very hard. You get used to the but should be softer. We were excited to be eating on the seafront beach restaurant on our last evening, however this did not live up to our expectations as the Service was very slow.
.
Claire
Great stay as always but on this occasion beach service was extremely slow (over an hour to get a drink) think probably under staffed?
.
J Daniels
Hotel excellent in all departments except the evening meal menu. not to our taste. what we ordered,was not what we expected. I rated the Hotel 10 out of 10 except for the The Breakfast menu was EXCELLENT.. I did have a very good 12 days holiday at your hotel, thank you and i will be back. John & Margaret Daniels. PS The breakfast choice was excellent
.
Sara Chatterley
Overall this hotel is by far my favourite hotel I have ever visited for many reasons!! We travelled here for our wedding in May and wanted to book somewhere special for our stay and Amare was everything and more! So many amazing things to mention but firstly I think the team make this hotel...partocularly as we had such bad unexpected weather in late May the team were doing everything they could running round making sure everyone was okay so although it was pouring down with rain the team always made sure we had a drink in hand with a smile on their faces and that makes a HUGE difference and particularly with us when we were very stressed about the wedding! The team at Amare particularly the bar service team and the pool and beach club and the guest services team are PHENOMENAL!!!!!! We were always looked after and although the team were super busy they never let you know that they were always there to help! We also walked into our room one evening to balloons and a lovely note for our wedding from the guest services team in particular a young lady who unfortunately I didn't catch her name but she remembered the date of our werdding from our first conversation and she also helped us with a tour the year before to select our suitable room and she had a big impact in us choosing to stay at this hotel, The food, the beach club, the rooftop bar, the service, the view from the rooms is absolute perfection!!!! How I worded it is that you get everything you pay for and this hotel experience really is a slice of heaven!!!! Also want to shout out the team on the bar service in the rooftop bar again I didn't catch names but there is a guy that works there with a lovely big smile he is amazing and a girl with long curly hair she is amazing and super friendly!! I also want to shout out all of the breakfast service team they are amazing and super on it in particular the main man that runs it! Special shout out to the lady that helped us up to our room when we arrived again sorry no name but she has brown wavy hair....she dropped our bags in our room and straight away noticed that the small wardrobe would not be big enough for our stay with our wedding attire...so within 5minutes she had sorted us another room with a double wardrobe and more space which made a HUGE difference in that I could keep my wedding dress a secret until the big day!! Overall ABSOLUTELY love this place and I have nothing but amazing things to say about this hotel and the team.....they helped us to make a super stressful situation with our wedding and the weather a much better experience and we both can't wait to come back!!
.
Professional, friendly and excellent customer service from cleaning and front reception staff.
.
Beach bar was understaffed and service took too long
.
Sharon G
Great hotel! We have stayed in the Amare Beach hotel in Marbella and also the Amare Beach hotel in Ibiza several times. Great hotels and fabulous situation on the beach. We'll be back👍
.
Valerie
2nd time in Amare Marbella and enjoyed it again very much. Like the atmosphere in the hotel, the kindness of the staff, the good music, the beach bar and the breakfast. We will be back! 😉
.
David
We didn't like the new dinner arrangement. The restaurant in the basement is dark and lacks atmosphere. Also the TVs on the walls are distracting. Your towels are getting old and need replacing.
.
Beverley Packwood
A consistently great experience. Lovely hotel with lovely people working there. We will return later in the year. Thank you
.
Deirdre Barron
Excellent hotel. I would highly recommend.
.
Joseph Mc Evoy.
The staff were very friendly. No atmosphere in the Bar at night. There was more staff than customers at the Bar. The sunbed system at the pool leaves a lot to be desired. I observed your pool staff bringing a lady to a sunbed close to us and putting out her towel for her. Then 15 minutes later a couple arrived and told her she was on their sunbed and the embarassed l(per a staff member) is totally unacceptable The sardine system of fixed location of sunbeds was not acceptable either. On settling our account at Reception we noticed that 1 of the receipts didnt relate to us and wasn't signed by us. However this was rectified straight away. 2 days before our departure we booked an airport transfer at Reception for 9.30am. The transfer never arrived so 15 minutes later we went to the taxi rank.
.
James Buckley
Food & service in your restaurant needs attention
.
Eduardo & Lori Bertran
We had a wonderful stay despite a cloudy weather. The hotel is very much recomendable. Than you.
.
Niall McDonagh
Very enjoyable apart from the weather
.
Andrew Bennett
Fantastic hotel, 1st class service from the moment we stepped into reception until the moment we left.
.
Christine Lester
My friends and I really enjoyed our stay at Amare but we only had one complaint and that was the background music being played inside and around the pool area. It was mostly a constant booming sound and totally UNRELAXING. It was the same inside - we noticed several people moving tables that were situated under a speaker from above. Think this point should be given some serious consideration for choice of BACKGROUND music.
.
Fif
Enjoyed my trip back to Amare - appreciate the focus on environ and recycle .- beach clean ups need to be supported - appalling litter in the sea As a coeliac I was well catered for , however - a point for improvement - The tech system for ordering at the pool / beach / bar does not add efficiencies and needs to be improved -v frustrating and hard to watch staff getting verbal abuse when they could not respond to all the requests of a hybrid approach - bells plus people asking for help Bar pricing was high Loved the blue shark haribo jellies and art aligned with the 90s funk vibes . KR FB
.
This was our second visit to the Amare. We really enjoyed our stay. Excellent hotel, very high standards. A few small negative comments: the service in the Amare beach restaurant was very poor. The reception staff when we were checking out were not really interested in hearing any feedback on our stay. Nevertheless a great hotel, we look forward to returning.
.
Leonard HARPER
The staff were amazing in all areas. They were professional, friendly, and helpful. The hotel was immaculate and clean throughout. Food was of an excellent standard. The only thing we didn't like was the incessant "club" music with its never varying 4/4 beat pounding out over the ground floor. Overall though, we had a great stay.
.
Being in the older age group we were not impressed by the Amare music, otherwise we were very happy with the hotel.
.
Julie N
This is my favourite hotel ever and hopefully I'll visit at least yearly for the rest of my life ❤️
.
JH
As always a lovely stay.
.
Deirdre Cussen
It's my third stay in the Amare Beach Hotel and I love it. It is not too big; has a great location; & great beach access. The fact there are no children is also a bonus. Thank you all for a wonderful experience.
.
Iris Vance
Another great stay in hotel. Thank you for giving us room we requested was very happy with this. Staff in all areas very pleasant and helpful. Looking forward to next return. Thank you to all
.
Phil
Club Amigo doesn't work until next visit. Stayed 6 nights but not allowed 1pm check out. Beach bar excellent unless even slight rain then has to close. Staff quality excellent.
.
Steph
Lovely hotel, expensive in the beach restaurant & not satisfied with the room location when we booked last year asking all to be together as a group booking. Friendly helpful staff.
.
The hotel was good but I would prefer El Fuerte where I usually stay
.
Raleigh Wilson
This hotel and all of the staff members exceeded all of our expectations. What a great place with wonderful people. Thanks for a great stay.
.
Irish tourist
Disappointed that I was encouraged to check in on line & I wasted a lot of time trying to do this without success.& then when I phone customer service I was informed the on line check in was not available at this hotel. Please remove this option from your web page as I am sure I am not the only client that was frustrated by this & wasted my time trying to do it.
.
Martyn
Trip with group. Everyone had the same problem with the shower leaking water onto the bathroom floor (design issue). Breakfast was very good the the flow in the restaurant is a bit chaotic. Other than that everything else was very good, staff friendly and helpful. Would come back next time in the city of Marbella.
.
Claire Caunce
Amazing hotel and the staff were so accommodating
.
Mark Brudenell
First class
.
Brian Clarke
Our third holiday at Amare. We were disappointed this time that the restaurant location for evening meals had changed and offered a poor selection of meals, which apparently offered the same menu every day. We were other guests also complained. We spoke to Reception Manager who agreed on a refund for our half board booking. We then dined out in other Marbella restaurants for the remainder of our holiday.
.
Linda E
The entire staff was stupendous with the sole exception of restaurant lack of understanding gluten-free .The kitchen refused to make simple substitutions such as switching out regular bread for gluten-free bread on a Cuban sandwich and would not offer an explanation as to why substitutions couldn't be made. There were only three items on the menu we could/wanted to eat. Breakfast was the opposite, with an abundance of gluten-free choices, it was fabulous. My husband was greeted with a smile and Happy Birthday and presented with a cake at breakfast and a card and balloons later in the room. Such a sweet surprise, thank you! The only reason we would hesitate to return would be the bed. Memory foam and microfibre sheets are a wicked combination that make sleeping uncomfortable to impossible because of the heat build-up. Microfibre is horrible for the planet, as well, since it releases particles in the wash that enter the water supply. We did not sleep well, unfortunately. Overall, it was a lovely stay in a perfect location. I commend the staff for their resilience in dealing with a wide variety of guests, some of whom were rude and unbearable. Housekeeping staff are superstars! Our room was impeccable! We had a memorable stay and have very positive impressions of the experience. Thank you and please reconsider the bed/sheets configuration.
.
Christina Mulchrone
Amazing hotel very clean & modern, plus is the beach bar connected to the hotel always sun beds available, beautiful bright rooms. Staff very helpful & polite always can't do enough for you. We didn't realise not all rooms don't have balcony so would say always make sure you book a room that does, otherwise little bit claustrophobic. Would definitely return & recommend in future. Thank you.
.
Caroline Murphy
Excellent hotel! Enjoyed every moment and already planning another trip there! Thank you very much! Thanks, Caroline
.
Robert Mellon
Once again superb customer service from the AMÀRE staff and management as we have been visiting the El Fuerte group of hotels for several years with Miramar Spa now the AMÀRE being the first and also El Fuerte too which is now under a full 5 star refurbishment and hopefully get an opportunity soon to stay there too
.
Kevin Philot
Super hotel that we will definitely visit again
.
Hamish Innes
Cannot compliment the Amare hotel enough. Everything was top notch. Hotel staff very friendly and helpful in every different area… Management and staff have a real pride in making their hotel a great place to visit….would definitely recommend to others.
.
Tommy and Eleanor Brennan
Fantastic stay in your wonderful hotel. From the moment we arrived we were treated with amazing hospitality. The hotel staff were so pleasant, obliging and helpful. Our room had stunning views over the ocean. The hotel has stunning facilities including a beach club, gym and spa. Buffet breakfast was delicious. The location is perfect so close to Marbella old town and beachside. Car parking is available under the hotel. This hotel is a 5 star quality hotel and we could not recommend it highly enough.
.
Mr P. Broers
Lovely clean modern hotel. Very helpful, friendly and obliging staff. Food in restaurant was excellent but felt like there should have been more staff on the busiest nights. Would book again.
.
Stayed here for 4 nights for a birthday celebration. Beautiful hotel, extremely clean, great helpful staff. Location, on the beach, lovely restaurant and loungers, quality of food , amazing. Close to the old town, a few minutes walk. Breakfast, plentiful and great quality. Couldn't fault anything, would definitely return and recommend.
.
Thank you it was lovely. Regards Derek
.
Frank
The attention to detail was evident from arrival. Reception was informative and accomadated our early arrival. The room was fantastic with a stunning balcony view. The staff at breakfast were aware of my birthday celebrations and had a table reserved. When we returned to our room it had a nice message of congratulations on the mirror and a tasteful balloon arrangement. These little things made our stay personal and memorable.
.
Fiona Cullen
my only recommendation is to turn the music down or play less dance music .. the clientele of the hotel would suggest to me a more relaxing music overall .. also the service at bar restaurant could be a bit better . apart from that an excellent stay thank you and i will definitely be back