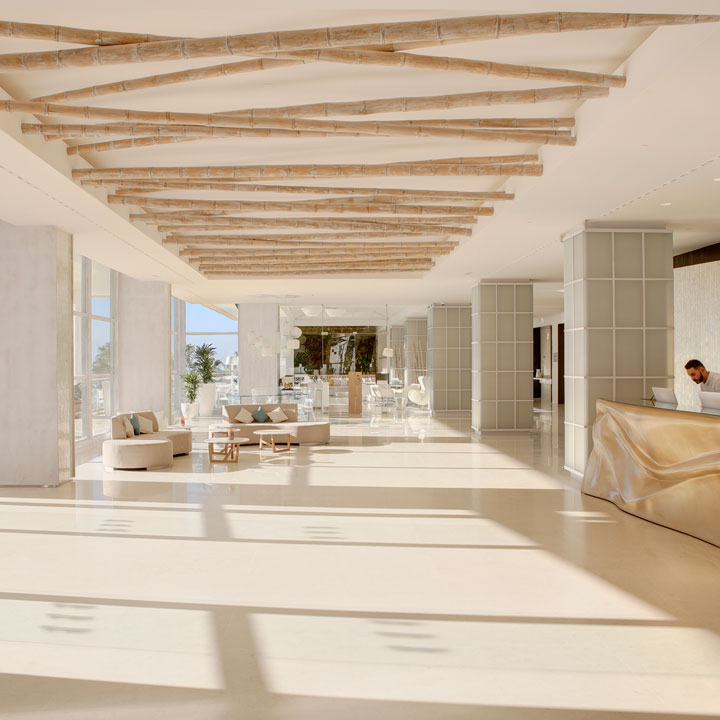 AMÀRE MARBELLA
.
kroon
had a great stay, the staff were all very friendly
.
A. Goud
The overall experience was very good , but we were disappointed About the given rooms. We are frequent repeaters and paid extra for the " make it happen" rooms, but we were given rooms 916 and 909. Room 916 is Room 909 was very disappointing due to the heavy noice of the ventilating units. The reception immediately recognised the issue ( a well known problem) and transferred us to another room. The problem was solved but we were disappointed that they tried to put us in the bad room
.
Baard Muhlbradt
Music on beach terrible
.
Liz O'Kane
I enjoyed my stay at Amare very much and I thought the staff everywhere were FANTASTIC! However, I found the music at the beach club to be very loud and not as relaxing as I would have hoped. My only complaint is that the shower door in my room (206) is not sealed properly and so the water leaks onto the bathroom floor which could be very dangerous. I met two Swiss ladies who had the same complaint and said their bathroom floor was very, very wet. I would say this is a fault with the bathroom design/shower doors. Finally, I always prefer a bath and I don;t understand why they are removed from almost every hotel! Otherwise, the food, staff and hotel was extremely nice. THANKS!
.
Gerry Carron
Great location. Air conditioning did not work and the following morning the Siemens Control Module in the bedroom was replaced by maintenance. The bed was very poor in that it was 2 x single beds joined together which left a large gap in the middle. In the afternoon, our visit to the Beach Club for a snack and a drink was seriously impaired by the volume of the "rap" music being played the DG.........the lady playing the violin was very pleasant. Also, the failure to remove all chewing gum from the ramp and entrance to the front door was off putting..............it can be done...............I worked in the NY Hilton for several years and all gum was removed from the car park, 53rd Street, 54th Street & under the canopy at Ave of Americas.
.
Christopher Pavlovski
Fantastic hotel and service. Definitely added to the already amazing experience of Marbella. Would 110% book again
.
Izzy kaleem
I felt as we had stayed here before in a few occasions amd in a premium room on all occasions before, we would be looked after . Instead the hotel was pretty much empty and they would only accept €20 to upgrade If it was my hotel and we were not full, I would give guests who have paid £240 a night for a room a free upgrade instead of trying to make an extra €20 at reception. Other than that all was lovely
.
Melinda McB
Parking was horrendous!! Expensive 18 euros a day Tiny parking space and could not maneuver as it is only one car at a time. Parking too tight I scraped my car
.
Jess
Second time staying here and I love everything about it. Service and hotel is amazing from check-in to check-out
.
Karl Triay
Absolutely great hotel, we love it there. Can't wait to go back for a longer stay in 4 weeks time!!! Thank you
.
Ahita Azarmi
Many thanks to your amiable personnel. Marina, Antonio, and Claudio were very efficient and helpful in advising us for nice places to visit and eat and also the Covid test. Our room was always impeccable and clean. We had a wonderful time at the Amare Beach Hotel and enjoyed the fantastic breakfast! Excellent personnel. Thank you all.
.
We enjoyed staying in your hotel!
.
Nice hotel I recommend it.
.
Johannes de Vet
We are sorry to say that a number of people showed a bad behavior at the swimming pool airea. They didn't follow the rules (smoking, no masks etc.) climbed on the elephant and so on. Furthermore they invited non residents at the swimming pool. It gave us an uncomfortable feeling. So we didn't enjoy being at the pool. Very unfortunately.
.
I Have stayed at Amare 6 times now and found this time it was a different atmosphere with young guys walking around reception with their tops off and very loud young groups, the reason we booked Amare was the fact it was a relaxing high quality adults only hotel but feel this has been lost unfortunately.
.
Chelsea Nkafu
Amazing hotel!
.
Lou Paskalis
I happily returned to the hotel after an initial stay four years ago and found everything just as good, if not a bit better, than I expected. Very pleased overall, in spite of having my beach bag stolen off my chair at the pool while we are lunch. Four areas of opportunity: 1) station a security guard near the jacuzzi to deter passers by from jumping the hedge and stealing off the chairs in front as happened in my case. 2) consider opening the lobby floor fuerte club lounge earlier than 11AM and stocking with bottled water. 3) consider opening the rooftop lounge earlier than 7PM, perhaps 4PM 4) bottled water in the room was inconsistent. Each room should receive two .333 cl bottles of water per stay. Again, we had a great stay and are eager to return to the Amáre bBeach hotel!
.
Michael A. Del Vecchio
Very nice and superbly professional service. Please send me offers.
.
Karen Dronsfield
I have been coming to your hotel for the last 5 years, every year has been a wonderful relaxing time.
.
Rosaleen Quinn
Excellent facilities. Staff very welcoming and friendly.
.
Marja Damen
The music on the beach about 15,30 was very loud
.
Brian Smith
Had an amazing stay fabulous hotel will return
.
Everything was good apart from the reception. This is the face of the hotel, however, the women who greeted us were very impolite and irritated, very slow and made a bad first impression... Also my friend tried to organise me a cake with a candle for my birthday and his attempts failed , as no one in the hotel could organise it and make a small surprise. So overall good, but small things can be improved! Breakfast is the best !
.
Tony Sadler
Excellent hotel with excellent staff, could not fault it.
.
Paul B
Very nice and also you feel very safe during this pandemics. Everything is been taking care of and the staff is very attentive to your needs. Safe location for a holiday. The private beach is lovely. We will come back to enjoy more of it. Many thanks to all the staff for a very relaxing holiday.
.
Gerry
Everything was great but you need to respond quicker to enquires, the day before arriving I could not contact you by phone it was always busy and the email query took 48 hours to respond
.
Paul Newman
I have a couple of unpleasant experiences at the hotel one where I nearly choked on a bone at the beach restaurant after ordering tacos There has been no follow up Whatsoever
.
Leanne Mariage
Overall an amazing experience. ⁰The main point of feedback was very slow service for drinks at the beach - there were not enough staff serving drinks in the afternoon. A special mention for Nathan on reception who was extremely friendly and helpful.
.
Anthony Prescott
Hi, Breakfast service was very good but the food was one of the worst I have had. I went for breakfast at 8.45 and the sausages, bacon and scrambled egg all tasted like they had been stood for a long time. Not nice at all. I would expect a lot better. Your staff at the hotel are all amazing and would like to say how much we enjoyed our time in the beach bar. We will be back but not for breakfast.
.
José Mª Bravo Decimavilla
Muy favorable con la amabilidad de todo el personal. Con nuestro agradecimiento.
.
Gerard Kane
Amazing hotel with an excellent bright interior style with nice use of contemporary art and a small but beautiful rooftop bar overlooking the water. Staff very friendly and attentive from the bar staff to the cleaners. It is in a great location with it own private beach club. ALL sunbeds are large balinese style making sunbathing a very relaxing and comfortable experience aided by the push button waiter service and the coolest music outside of Ibiza playing throughout the pool and the beachclub through Bose speakers at just the right non intrusive volume level. We were only bed and breakfast so I can only talk about the breakfast, the buffet may be smaller than other hotels I have stayed in but the food quality more than makes up for this usually I will like maybe 20% of what is available an stick with that for duration where as in this place I would have chosen about 70-80% of what was on offer. Also being a coffee lover I was more than happy with the Nespresso machines prividing my morning fix with a choice of 3 different strengths. I will definitely be returning to this hotel in the future.
.
Marcelle Witter
Wir waren das vierte Mal im Amare und dieses Mal wurde uns ein Zimmer mit Meersicht angeboten, leider war es sehr laut, da wir die Klimaanlage von nebenan hörten. "Altes" Zimmer mit seitlichem Meerblich ist eigentlich schöner. Da wir aber aufgrund des Corona Virus sowieso früher abgereist sind, war alles ein wenig anders, aber nochmals vielen Dank für die nette Betreuung. Wir wünschen Ihnen in diesen schweren Zeiten alles Gute. Freundliche Grüsse Marcelle Witter
.
Rochelle and Martyn Benson
Amare Beach hotel is such a wonderful hotel. The reception staff were so kind and helpful. Diego, Nathan and Gabrielle were so fabulous and helped us so much we are so grateful to them. Such lovely friendly helpful staff. Lourdes, Alejandra and all restraunt staff were very kind and helpful and all the restaurant staff making it easy to know which food was suitable for vegetarians. Kiki and all the bar staff were so helpful and we enjoyed the lovely Pina Colada cocktails and lager. The cleaners were wonderful. Thank you all so much. We look forward to visiting your beautiful clean luxurious hotel again as soon as we can.
.
Elaine McBurney
we had a fabulous time even though marbella was closed due to corona virus. Your staff went above and beyond to ensure we were looked after! Big shout out to yr waitress christina & alessandro...beautiful woman who looked after us well xx thank you and stay safe
.
If I'm going to be very fussy, the evening buffet could have been better but apart from that everything was absolutely wonderful. Great friendly, helpful and approachable staff. Wonderful breakfast and roof top bar was great with very good entertainment
.
Gordon
Fantastic stay Staff superb from reception to room maids. Only complaint, a/c in bedroom seemed to be non adjustable, bit uncomfortable at night Apart from that 10/10
.
Michael Plunkett OReilly
Friendly staff and great attention to detail. Hotel very clean and comfortable.
.
Ian Law
A very friendly, clean and enjoyable hotel in an excellent location
.
Jerome Alton
Volveremos!
.
Terry Lee
Fantastic service and experience, can't wait to return
.
only small problem was the hair dryer in room 409 which cut out from time to time
.
Iulia Cristea
I was disappointed that you have a buffet serving in your restaurant for dinner this is why I didn't try it but ,all the rest was absolutely amazing. Thank you!
.
a couple of members of staff had attitudes but overall good the breakfast choices were poor(no fish and by the sea)
.
Evelin Horovitz
Your hotel is amazing!! We loved every minute of our stay and will be back next November , for 25 days if we can get a good price on black Friday. We already have a booking.The staff is very attentive and helpful and very eager to do everything for your guests.Location is amazing, as right on the board walk and so close to the old city of Marbella and all other restaurants,shops and coffee shops. Also close to the central bus station ,so easy to go to other cities.Loved the breakfast and sitting on the terrace watching the sun rise.I used the gym three times a week.Our room was spacious, clean and we loved the balcony and the partial ocean view.Would for sure recommend your hotel to anyone who travels and for sure will return to your hotel.Loved the pool area and access to both street and beach entrances.Front desk staff very good and helpful.Gave us great advice on day trips and was ver helpful with everything.We don't bring , but loved the roof top terrace in any case, beautiful view. Had a wonderful stay!We have travelled the world and rarely encountered such good service all around! Thank you for making our vacation so memorable!
.
Eithan robinson Nov 11th 2k19
Thank you very much for our stay excellent service will defo be coming back , thanks to the whole team
.
Angela
I couldn't have wished to stay in a better hotel, it was truly amazing and I will definitely boo to stay here again.
.
Teresa Preston
Really enjoyed the hotel. Room was very Clean and the reception team great. Only thing to let hotel down was the spa. Although staff were friendly, the spa services did not all work and it was very cold in the pool area compared to other spas
.
Darren dent. Julie oliver
.
Hans baumann
Our second visit. One of our favorite places to go. The setting, the ambience. Everything is so relaxed. Only quibble would be the 1 hour access to the spa area and then in the spa the €3 charge for a tea or coffee.
.
Jason Thorley
Amazing hotel could not wish for more
.
Lord Barry Salter
After coming to stay the same time last year where there was some evening entertainment and "A"la carte, meals, in the restaurant downstairs - 02 It was great. It was a disappointment this time to find none at all apart from this Saturday, where you have to book tickets. As we are now back home, obviously we won't be able to attend. Although the hotel and staff are great, no live music and "A" la carte meals are a disappointment. We won't be telling people how good it was this year as it was a bit of a let down . When we find a good hotel, we normally go back year after year as we are loyal people, but this time it was just not the same. Regards Lord Barry Salter
.
Elaine Blom
We booked for four nights and enjoyed our stay and extended for another 4 nights. I wish I new about booking direct and the amare amigo membership.
.
Paul deverre
A lovely hotel , modern, clean bright. Staff were excellent , attentive and casual but polite. Breakfast had a large selection to suit all tastes. Car parking in the basement is very handy . Not so good is the TV which has an appalling brutish selection of just two news channels. A hotel of this Calibre really should have at least one English film channel 24 hrs a day and one other English speaking channel. I know we are not at the hotel to watch tv but if you were unwell etc there's nothing to watch . Also please give more than 2 teabags a day and some extra milks, the British drink tea morning and evening . We've already booked to return June 1st 2020 and have never done that before at any hotel. 10 mins walk to Marbella port on the front and 5 mins to the edge of the old town and Castillo, It cannot get any easier than that. Thanks for the great service we received
.
Marie N
One of the best, most beautiful hotels I have stayed in (and I stay in a lot of places around the world!). Location is amazing, staff are so incredibly professional, loved the waiter service at poolside & beachside, love the rooms (not sure about the shower privacy though).... thoroughly enjoyed our stay at the Amàre Beach Hotel. Top scores from a fussy reviewer!
.
Lucy
Loved this hotel. Location was great. On the beach, not far from the old town of Mar bella. Definitely hope to return.
.
A great stay as always. The service at the beach in terms of drinks was a little slower than previous stays. Otherwise the service was excellent
.
L Pinnell
Second visit and we will come again. Still one of the nicest hotels. Fabulous hotel, rooms etc. The majority of your staff are wonderful. The beach restaurant on our first day is up there in the worst service for big expense ever. So slow! We watched the staff standing chatting, couldn't get there attention - we became invisible for 10 -15 minutes. We order 4 bottles of wine before one was available (each one individually checked). We had lunch out for the rest of our stay. That said Jorge sun bed service was fabulous. Once he had our room number he used our names to introduce himself, he was quick, helpful and we watched him smile and put up with being called, waved at, tapped to get his attention- despite the buttons! Great man on the team... eyes open and service with a smile!! Thank you. We do like your hotel we just feel some of your MANY waiting staff need a refresher in customer service and this would make ALL the difference in the world. Keep up the great work.
.
Joy H
Excellent, cannot fault anything, first class
.
Gilly S
Absolutely loved the hotel. The Reception staff were outstanding - a very warm welcome and so friendly and helpful. The best Front Desk team I have ever experienced! Our room was spotless with a very comfy bed. Our only moan would be service at breakfast. Whilst the choice and quality of food was outstanding, there were too few staff on duty, so dirty plates were not taken away and on several occasions I had to take it to the counter myself. A small gripe but it stood out as everything else was perfect.
.
Steve Hales
Great value quality hotel.
.
Mat
We really appreciate the hotel. The breakfast was excellent but we were not impressed with the other meals for lunch and super. Overall we really have a good time.
.
Louise
Wonderful qwerky hotel where nothing is too much trouble. This hotel has even cracked dealing with the busy time at the breakfast buffet. Excellent value for money. Will be going again.
.
Colin McClelland
Overall an excellent hotel experience, but - two things: very good breakfast buffet but not-so-good table service, as in having to go and search for clean knives and forks ourselves and waiting a long time before the table was cleared before the next course; and secondly, a less-than-impressive checkout experience. We asked if our checkout time could be extended because we had a late flight out of Malaga, but were told that our room was already booked for the next guests and the latest we could be allowed was one hour extra. Shortly afterwards, my wife went online and tried to book the room we had just vacated. The hotel's website said the room was available. How come? We weren't even asked would we be prepared to pay for a later check-out time (we would) or offered alternative facilities, like a room where we might shower before going to the airport. We have experienced much better front desks at other hotels around the world. Remember - the departing guest carries with them the last thing they experienced when leaving a hotel. If it's a bad or even mediocre experience, then they won't come back.
.
Mr & Mrs Wilson
We Love the Amare Beach Hotel, we have been twice now and will be returning again It is a very relaxing place to stay in a fantastic location with great food and good facilities
.
Rachel Morley
Thank you for amazing holiday at the Amare Marbella it was excellent. We stayed in the Ooh Lala room with bar access it was superbl. All the hotel it spotless food is lovely and so clean. We will definitely return and recommend to our family and friends till next time. Thanks again.
.
Colin Freedman
As usual, great hotel and good value I was slightly disappointed with my personal room allocation as I had had made several requests to reservations and these had been ignored However we will be returning next year
.
James & Bernadette O'Donnell
excellent - we enjoyed our stay and not for the first time as we have stayed many times. Just one suggestion from us - the shower floor is slippery and could be dangerous to us older people. We would suggest a non slip floor. We always enjoy our stay.
.
Chesney Lewis
Great hotel
.
Celine Prior
Have being going to hotel for the last 14 years with my Mum for a weeks relaxation member of club amigos great to see some familiar faces from the time we started going! Just love the hotel and the wonderful service your staff provide particularly in the restaurant & exclusive lounge.
.
Sandra
Our 4 th visit and it was a pleasure as always.
.
Steve Madden
Fantastic location, friendly staff and superb dining. Overall a great experience which I would like to repeat.
.
John Gregson
It was our second stay at the Amare, and once again we had a fantastic stay. The hotel is so modern with excellent art work and a clean fresh appearance. The reception offer an excellent service which is faultless. The rooms are comfortable and kept to a high standard of cleanliness by the maid service. Breakfast, bar and restaurant also offer a great food and drink service. There was very little to fault overall, but maybe the hotel should revise it's room prices for out of season stays as they are quite high in comparison to other hotels close by. And the queue for the breakfast service also needs revising to be more organised. Thankyou!
.
David and Sally Verrecchia
.
Jana Pelant
Very good hotel no children lovely room amd very super O LA LA rooms with good services,,good entertainment.,near Old Marbella,very helpfull reception
.
Siobhan Keane
Excellent holiday as always. Thank you
.
We love everything about the Amare Hotel especially the beautiful breakfast every morning... rooms facilities so comfortable so looking forward to return visit
.
Gerard Higgins
This is our 5th trip to your hotel!!...we love the location and the general chill out ambience. Please ensure that you log my details and ensure best rates and accommodation next time!! Best wishes and continued success Gerard.
.
Elaine McCarthy
This hotel makes you relax which was the reason for my holiday. I loved the room, everything was spotless, staff were lovely. I especially loved the big sunloungers on the beach, they were all lined up beside each other but it still felt you had your space and privacy. One thing I could criticise is the fact smokers were allowed to smoke at breakfast on the outside patio. I am not a smoker and hate the smell of it especially when eating so I had to ensure I wasnt near a smoker every morning. Other than that great location, easy to get to and I had a wonderful four days with my husband there and planning to go back with eight friends!!
.
Chris O'Brien
An immaculate hotel with a funky cool vibe!!
.
I have stayed at the hotel on several occasions and rate the hotel and service from staff very highly.
.
Aimee
Having just returned from our 4 night stay in the beautiful Amàre Beach Hotel Marbella, we have returned home feeling refreshed, relaxed and rejuvenated. Both myself and my partner have thoroughly enjoyed our stay, and enjoyed every single moment. We felt extremely welcomed and although paying slightly more than we would normally we feel the hotel was worth every penny. The location is fantastic, just where we wanted to be on the beach front, a stunning room with lovely side view of the sea from our keep the secret room. The hotel is very modern and loved the art work too, the pool area is lovely and the service is equally as great. The beach club is in a stunning setting and the food is delicious, as are the cocktails! The breakfast was fabulous, so much choice my partner was extremely pleased. We shall return! Best summer holiday we've had! Thank you very much for having us Amàre!
.
Howard Levine
Excellent experience. One constructive comment was limited food choice in lobby lounge
.
Janet K
Staff are all exceptional and very helpful. Hotel perfectly situated on the paseo. Only criticisms are Sometimes the constant music gets monotonous by the pool All the outdoor seating is very low to the ground
.
Rebecca Upton
Excellent experience, great staff and hotel. You should be so very proud. If you gave customers the option to upgrade to the one experience it would be even better. We will be back!
.
Denise
I love the Amare beach hotel Staff great especially Sylvia who goes out of her way to help. Have been here several times and hope to be back several more times. Breakfast fab. Spotless clean. A choice of pillows. The cleaning staff for bedrooms are A1. Its home from home for me now...Love everything about it.
.
Nora Mc Cann
I have stayed in your hotel now around 15 times or more I been with my husband and son a few times but with my sister and friends every Oct for nearly 15 years it is my favourite place in the world and when I am.in your hotel.i am.at my happiness we love if and all.the staff are fab friendly kind so much manners the breakfast is just the best I live it so.much that please God if I am in good health I like to.come for years to come I sent a lot of my friends to.it already and my other friend is going out in June the 25th because I tell all.my friends in Ireland that I love it and my sister feels the same she books it a lot if the time for the girls in October the girls that clean the bedroom and so good at there job very friendly and spotless clean they make a great job of people rooms well done to them and all the staff are great and the food is lovely some of the staff are with u a long time and that is good to see and Sylvia is such a lovely lady we hope everything going well.we be back next Oct and maybe may
.
Joanne Foley
Fabulous stay at hotel amare .
.
Janice whalley
We had an excellent stay thank you very much
.
Clodagh Dunphy
Beauty hotel, amazing setting. Everything was exceptional. My only small criticism is that the bar service was very slow at times and difficult to get a drink.
.
MM London
A fantastic stay ... very clean and well presented hotel. Service at breakfast was excellent.. The beach bar could have done with more staff as service was courteous but slow. Would recommend
.
Michelle
Myself and my husband had the most amazing time at Amare marbella. I was celebrating my birthday and felt so special. The staff wished me a happy birthday at breakfast, and they was also balloons and a card and sweets placed in our room that day. So thoughtful! The food, the service, the staff, the cleanliness were all outstanding.
.
L Rothwell
Lovely hotel in great location but gripes for us were too small a footprint and therefore felt very cramped in both at breakfast and around pool & on beach. Also quality of food at breakfast felt was very poor for a hotel of this standard. Loved the rooftop bar. Service from bar around pool & on beach very slow (on some days didn't turn up at all!)!
.
Eugene & Catherine Costigan
Loved this hotel Next time would like room with sea view As we were over the restaurant and it was very noisy early morning. With music etc started about 6.30 am lots of voices
.
James Hunt
I've stayed at Amare 6 times now and the service seemed slower in the restaurant, also it would be nice if I was offered some kind of loyalty upgrade but that would not stop me from coming anyway.
.
SUE WILLIAMSON
EXCELLENT STAFF FROM FRONT DESK ...TO THE CLEANING STAFF, ALL VERY POLITE & SMILE. IF I HAD ONE SMALL ISSUE ...THE BEDS ARE A BIT HARD...... HAVE STAYED THERE ON NUMEROUS OCCASIONS AND WILL CONTINUE TO DO SO....
.
Eva Hutchinson
Great Hotel!!!
.
overall extremely satisfied just had one problem in that the keycard would not work on numerous occasions and had to keep returning to reception to get sorted on at least 4 occasions
.
NOL
I was dissapointed wih how the breakfast buffet was organised. A lot of queueing and he layout was not a good flow For a high grade property, you should have an option for food service to the table
.
Gareth
Excellent 3rd visit and all was great Well donec
.
Sarah Patterson
We have stayed before but didn't enjoy this stay as much. The room we had did not have a balcony and I don't remember that being detailed when we booked. The room was also very dark with very little light and felt like we were in a basement. The club amigos complimentary cava was replaced with wine which we didn't enjoy and left 2/3 of the bottle. Both my freinds and I could not get a late checkout again even though we were club amigos. There was no facilities for us to spend the last day at the beach and then shower and change. There was 1 shower cubicle by the pool! This made it difficult for 4 of us to get showered and changed and wash and dry our hair. The sun beds at the pool And beach club are very packed in and in fact on the second day we didn't stay at the hotel but paid for sunbeds on the beach. Overall the hotel is nice but we didn't enjoy our stay as much as last year and are unlikely to return .
.
Michael Mc Glynn
The shower inside the bath was in my opinion dangerous for a pensioner like myself for several reasons . For that reason we will not return.
.
Ciara McGowan
Great hotel. Breakfast queue very busy. Overall great time!
.
Jane Neilan
I feel the table service at the beach club was very ooor this year
.
Loved everything about the hotel and staff. Only one problem the music on the beach was too loud especially after 3. Next time I will stay in the Elfurte just because of the loud music.
.
Philip Wade
Breakfast is a nightmare, the bread is situated where guests are entering the breakfast area so in the way when busy. Queue for eggs and omelettes too long with guests having to break the queue to get to the rest of the breakfast, long wait and not enough staff at busy periods. I waited over 20 minutes for poached eggs, a lady stood by me for almost the same time waiting for more bacon etc. Crockery was not cleared from the table quickly enough, coffee ordered was cold by the time we returned with our breakfast. We have stayed at the Fuerte many times, look at how they operate at breakfast, very good, never had a problem there no matter how busy.
.
Phil Newton
Loved our second stay @The Amare - all staff extremely good - Sari was great around the beach - looked after us superbly well. Food very good, rooms spotless, service top class. Really like this place.
.
Room was lovely, buffet food was very poor. A liqueur in roof top bar would have been much more acceptable had coffee been available also. Music in Pool area too loud.
.
Cathal Egan
Magical hotel couldn't recommend it highly enough
.
Jamie
Without doubt my favourite hotel I've stayed in, 10/10 will be back soon!
.
The 9th Floor being the same floor as that of the Rooftop Bar is noisy in the evening/night. Specially by the elevator area. The reception staff during the check-in process did not point that out and should have done so, allowing us to make the choice at check in and not to find out a day later and then ask for a room change, etc.. Bottom line, poor choice in the design of the Hotel by placing the rooftop bar on the same floor with hotel rooms. Otherwise, Amare is a great hotel.
.
noelle looney
im a travel agent and i have to say this was one of the best hotels i have every stayed , i brought a group of friends and all loved it the service and hotel was just amazing . entertainment by day and the bars in the evening the service was amazing breakfast was great been serviced till 11. will be recommending this hotel .
.
John (London)
A well-designed modern hotel, close to the more interesting parts of Marbella. Most rooms have a sea view, and the hotel is effectively on the beachfront. The staff were most efficient and helpful, and the food of a high standard.
.
Melissa Carroll
Just to note that in room 812 there was water dripping from the balcony above onto our balcony. Also water was leaking out of shower on right corner onto the bathroom floor. The beach area was not as clean as we would have liked as rubbish left under and around beds was not cleaned away.
.
Claire Lewis
Third year running at this hotel. Very good as always we will return again perfect spot to meet our needs.
.
Philip Hayes
Our stay was fantastic and every one enjoyed our stay with you .We will be back .
.
Fabulous hotel with a great vibe will definitely return.
.
Rachel
Although we did enjoy our stay, it was spoilt by 1. Our stay was spoilt by the deafening disco when laying on the sunbeds - many people were complaining it was too noisy and left - on more than one day 2. For the amount of money paid, we feel you should replenish the two tiny bottles of drinking water which were only complimentary on arrival day 3. The bedroom and bedding were very comfortable. 4. There was a high standard of food in the dining hall, but there should be a second chef helping with the omelettes as every day there was a huge queue.
.
Was on holiday with a few friends. We availed of the ooh la la one experience.......absolutely amazing in a beautiful hotel.
.
Mrs Donna Blinkhorn
We come every year for the last 5 years and are looking to book again for next year. We live the ambience of the hotel, friendly staff and cleanliness. We were a little disappointed this year as we enjoy listening to the live music and saxophone player whilst laid on the beach but found this year it was lives inside by the pool area, we like being out in the sun too much to want to go and sit inside to listen to them.
.
We really enjoyed our stay. Thanks.
.
Trish
I really enjoyed my time here as I am a repeat visitor. However the music in all areas is too loud, I have had to bring earplugs to tone down the music volume both on the beach, at the pool & in the bar areas. All other aspects of the hotel are top class, but the volume just really takes from the experience.
.
B lenehan
Music too loud at beach as day went on - jacuzzi broke on sat evening so we didn't get our nice photo - the minimum 4 night stay was a waste as I go away every year at least twice but can only go for 3 nights at a time ...which is genuinely the only thing that might put me off rebooking ..I was with my 2 friends this time so it wasn't too bad but if I was with my husband I don't know if we could justify paying for 4 nights ....staff were great everyone we met ...thanks
.
Charlie
We will be back. :-)
.
Noel Hayes
Omg , what more can I say , we loved it so much , well done guys , excellent all round experience , first class , the staff are amazing , cant do enough for you , very well trained , room was gorgeous , everything was beautiful ,have been to marbella few times , actually lots of times and first time to stay in Amare , a wonderful experience , would 100% recommend to anyone to stay here , it is a little bit out of our price range and only did it this time for my birthday but would definitely save harder in the future to stay here , actually we have already priced up to stay in Amare Ibiza , we waiting on flight prices , we let you guys know about my birthday , the big 50 coming up hence the trip and a note and balloons left on bed when we arrived , amazing , we were thrilled , thank you guys so much , well done again to everyone , not just the management , everyone played a part in our experience there , hope to see you guys again real soon and continued success to the Amare in the future , Noel and Jeanette Hayes .
.
David Edwards
3rd time at this hotel. Never fails to impress. Staff very helpful. And service second to none. xx
.
Karin Delman
We stayed here 3 Years ago and liked the Amare Hotel very much. This year we brought our daughter along and we all stayed in the same room which was sufficiently spacious. The breakfast buffet is just wonderful. All the staff are friendly and helpful except for the manager at breakfast, he should have a little more training in social graces, as he was some what rude at times. However, we had a lovely time and we will certainly come back if possible next year, providing the rates are favourable. We were surprised that this year you were making a charge for using the bikes. Thank you The Delman family
.
N price
Fantastic service and quality of hotel . Helpful friendly staff , food and restaurant outstanding. Atmosphere and entertainment first class . Returning next September for another vacation .
.
Amelia Stokes
Reception extremely unhelpful and stuck up. For the amount of money paid i do not think this hotel was worth it.
.
Claire clancy
I only have one fault, on our last night my bag was taken at the bar. Luckily I was fast and was able to get it back from her This put a dampner on our experience. I was a bit disappointed that this wasnt acknowledged on check out.
.
Bachkad
Hôtel est vraiment propre parfait Le prix de hôtel est chère Le service top L'emplacement de l'hôtel est très bien
.
Angela Burnett
Exceeded expectations, staff excellent great customer service . Every detail was thought out with the customer in mind
.
Angela Woodward
I have just returned from my 7th visit here. Overall it was lovely but again, the music by the pool could've been more relaxing. It was just a droning best. We've complained numerous times over the years but they said all their hotels had the same!! Such a shame and we probably won't visit again now. It would've been better if there had been nightly entertainment. A token gesture was a singer once during our stay and that was daytime. It's very expensive to stay here and we would expect more entertainment. This yeR there were more groups of younger people and one English group in particular were very noisy around the pool. After a few hours we complained to the manager but no male spoke to them, just a waitress and WE were asked if we wanted to move away!!! Could it be because this group were buying lots of drinks at the hotel!!!! We felt a little let down this year, unfortunately.
.
Bobbie kenny
The room walls are too thin you can hear too much from next doors walls This resulted in us having to move rooms but this is the only criticism
.
O Carolan
We had a great 4 day stay here. The hotel is very impressive, kept really clean and majority of staff were really helpful. The breakfast was fantastic! There was so much choice and every taste was catered for. Our group had 2 birthdays during our stay and the hotel was very accommodating and generous with complimentary wine etc. We had lunch a few times, in the restaurant and by the pool and each time it was really lovely. The rooms are cool and clean and the view is amazing. The only slight negative is that the poolside bar service tended to be a bit slow and we could not order directly at the bar. Alot of the time the buzzers took a few attempts to work. Overall it was brilliant and we really enjoyed our stay. Would definitely stay again and would highly recommend to family and friends!!
.
Weekend break away with my husband, very relaxing, hotel was amazing and in a great location. Would definitely recommend.
.
Mairead Desmond
Excellent in every area. Cannot find fault with anyone or anything.
.
Ian Coles
The hotel was perfect with one exception ... the constant music playing around the pool all day meant we couldn't read or enjoy any peace. It would be a good idea to perhaps only start music playing in the afternoon. We left the hotel 2 days early because of this... otherwise everything was exceptional and amongst the best we have experienced anywhere in the world.
.
Hubert Morris
Have been going to hotel for the past few years and have been in Ibiza hotel. Property management is failing as items like parasols and sun beds are starting to look old. This should be taken care of and keep the outside as good as the inside. Thank you for a great stay again Regards Hubert Morris
.
Nessie Sharp
Really enjoyed our stay and loved the hotel. Two out of three mornings after sitting down for breakfast no one offered us coffee,tea or orange juice. With the juice we got up and helped ourselves, with the coffee,tea we had to ask someone to get it on the first morning and when we asked (politely) the waitress was a little sullen as if we should not of asked. The service on reception was fantastic.
.
Stephen Austin
It's our 6 visit and probably our last. Usually the welcome is very warm but not on this occasion. We also asked if any upgrades were available to the One and we were told no, but the customer next to us was then offered an upgrade. We had delays when ordering drinks and food and when the rooms were cleaned it looked very rushed most of the time. We are visiting Amare Ibiza next week hopefully this hotel is of the standard of Marbella last year and not this.
.
Ishmeil
Our experience was excellent. However a issue arose about the facility of gluten free food there were not many choices of dishes to choose from and the chefs were unclear of the importance of celiac disease which my partner suffers from,but they tried their best to accommodate her.
.
Anne Quinn
Overall I had an amazing stay and would highly recommend the hotel and the staff were extremely friendly. If I had to mention a negative it would be that I had booked a group of 13 (5 rooms) and we were all celebrating our 40ths. The hotel put balloons in 2 rooms but not others which was disappointing but not major. Also I felt we should have been told about evening entertainment....maybe a leaflet at check in with what is going on in the hotel that day or a notice board with activities would be helpful. Also bar service at rooftop bar was very slow. However the food was top quality and overall I really enjoyed the stay and will return to Amare Marbella.
.
andy irving
hotel was amazing, loved the One lounge only criticism is that on check out, there is no room available for getting showered and changed as we had a late flight and had to shower in the toilets by the gym... which werent the cleanest... the hairdryer in the ladies wasnt working so i had to sneak my fiancee ( we got engaged whilst at Amare Beach) into the mens toilets so she could shower and dry her hair in there... not ideal having spent £500 a night for the room over our 3 night stay... other than that, all good Andy Irving 07786074704 andyi999@hotmail.com
.
John Kent
The hotel and the service was first class and we enjoyed our time with you
.
Etienne Zammit
The room was fantastic and the hotel was well located. The water temperature at the spa was too low.
.
Jenni Magloire
An amazing stay celebrating my 50th birthday. Staff were very friendly and welcoming. Food was amazing especially the breakfast so much choice. I'd say the only negative was that the buzzer service by pool and beach could be slow at times but I appreciate it is busy season. Great hotel and even better 2nd time around hopefully we'll be back next year. Thanks for a great break.
.
Sabrina Searle
This was our second year staying at the hotel, the pool service was slow and food was not as good as last year however breakfast was still amazing and the hotel staff were very welcoming and friendly. The hotel could do with a refillable drinking water bottle option to reduce the amount of single use plastic.
.
Marie
Absolutely fantastic and beautiful place. Only 2 little complaints, went for a spa and others in there were being very loud and playing own music on phone and nothing was said to them. Also maintenance team came in and removed our wardrobe doors but without telling us so spoilt my partners birthday surprise because his stuff was hidden in my wardrobe. But they they did give us complimentary dinner and a wine of wine to say sorry.
.
Pauline Stewart
Excellent stay at this hotel, this was our 3rd time staying here and we were not dissapointed. The hotel is spotless clean and the staff are really welcoming. The only thing i would say is, i would like to see the restaurant on the beach doing alot more of a selection for lunch snacks, like plain toasties, sandwiches. But overall the best in Marbella
.
G Jones from Cardiff
Excellent in all aspects - this is our second stay. HOwever, compared to last year, the service around the poolside was much, much slower and seemd to be very confusing at times. Had to wait over 50 mins more than once to be served. Otherwise, lovely...keep on doing what you're doing.
.
Daniel Euston
Very enjoyable week excellent service in hotel . Beach club service inconsistent and pool bed rules also inconsistent ( people reserving beds early with towels but not occupying them ) and not being enforced. Room excellent
.
Nick Armstrong
First class hotel first class service we would not stay anywhere else
.
Mohammed. Abedrabbo
The pool food and beverage service is the worst ,,,
.
richard
amazing hotel , everything anyone could need and fabulous service
.
Kieran - Ireland
My only difficulty with the experience was the quality of the room for the rate that was paid. At over €400 per night, I expected a higher standard. As you will see from my other ratings, all other services well of a very high standard.
.
Anna
Excellent hotel. Staff extremely friendly and helpful. My son was injured by a rusty nail by the sea and the hotel paid for an appointment at a private hotel for him as well as bringing helium balloons to our room and a get well card. A very nice gesture.
.
Great hotel but shower leaked and beach area not cleared of small pieces of litter
.
Matt Salter
Nice clean modern hotel. Food was fantastic. Staff were very friendly. Only negative was the beach bed area needs a good clean. Cigarette butts, ice cream sticks and chewing gum litter the sand around and under the beds. You move one and it's terrifying.
.
Kyla
Beautiful hotel and great location . The only complaint we had was that the evening meal was the same each evening. Otherwise we were very happy
.
Finbarr Kenneally
Excellent.
.
We stayed to celebrate 60th Birthday. The hotel is short walk from restaurant. Would definitely come back
.
Jacqueline O'Shea
We were so pleased with our stay that we rebooked for October, I didn't receive an email yet regarding this booking. I feel my email may have been unclear with the people on reception, So I'm giving my booking reference which is FHC 202805 Booking no 1409 I think We booked from 16th October to 20th October 2019, you might be able to check this out & at your convenience send me back an email, My email addresses are, visagebeautysalonkerry@gmail.com or visagebeautysalon@eircom.net, Many Thanks, Jacqui O 'Shea,.
.
Jane
Excellent reception service. Nathan was very helpful. Lovely room, food excellent - will definitely be back.
.
Mandi Clarke
We have stayed here on many occasions but now worry that the hotel is trying too hard . I just do not want live music by the pool at 11.30 in the morning ! I want to relax and read a book not listening to someone on a piano etc.... leave the music for the roof top bar at night or on the beach please . I'm on holiday for some quiet time !
.
Nicola Quinn
I have come to your hotel for May years and also twice a year. I was disappointed ted in the service at the beach this year both for drinks and food. Service took very long and very often if asked for something like a straw or ice they would not bring it back.
.
Elvira Chianese
I can not stress how much me and my 88 year old mother enjoyed our stay at your wonderful hotel. For us your staff made our stay more enjoyable. I have stayed in many hotels around the world and your staff took care of us to the highest standard being kind helpful and very attentive at all times. They made us feel like queens which was very important to my mum as not sure how many holidays she will be able to go on. Breakfast was wonderful and run with such class and attentiveness thanks to Jesus and all staff. Hotel was in fantastic location and the entertainment was wonderful my mum enjoyed the party on Saturday for St Juan. Again there are no words to thank your staff special thanks to Jesus, Ima, Rosio, Abdul,Paula, Oliver. Thank you for making my mums stay the best.
.
Florence Leclerc-Dickler
.
A.W.Goud
We were verry happy with the overall experience, A beatifull hotel on a suprême location with friendly personnel The only comment we do have is related to the facilities provided to change clothes in case of a late flight home. The facilities are not up to the standard of the hotel
.
Frank Clark
This hotel needs to provide more entertainment in the Lounge Bar or Pool Area in the evening. It it did, we would have given the hotel the full 5 stars for everything. So nearly perfect experience but not quite.
.
Susan Ayers
The one thing that we were disappointed in was the fact that whilst relaxing around the pool and/or beach, the sound system was far too loud, especially around the pool. It was impossible to snooze whilst resting on the sunbeds with the constant boom of the bass during the day. On some occasions we had to move because the constant boom of the speakers gave us a headache. This music is ok at night but you should select the daytime music more carefully. Also the sunbeds were far too close together. The staff, breakfast/lunches were very good but I would point out to any friends who may ask my opinion about visiting the hotel, that they would get very little peace and quiet around the pool!
.
Tony Cueto
Yet again another faultless experience
.
Anne
This was our second stay at Amare Marbella, and we brought more friends with us this time. We all loved it. It was just as good as the previous time. If there was once problem I would say that more staff are needed at busy times in the breakfast area and around lunchtime on the beach club, as there was sometimes quite a wait. We would also like somewhere to dance a little later in the evening, as the roof top DJ finished around 11, I think for noise purposes maybe, but it would be good to have somewhere else to dance to music a little later on. All the staff are wonderful, and have a very friendly, warm and helpful attitude. We love this place, it's on the prefect location for the beach and the Old Town. We will be back!
.
Alexis Kerr-Haining
We spent a wonderful 4 days at Amare Marbella and couldn't have asked for more from arrival to departure. A beautiful room/view (525) The best and most extensive buffet breakfast we have ever experienced. Beautifully clean, well maintained and inviting pool and beach area. Excellent, efficient, helpful, polite and friendly staff throughout. Taxis ordered by reception in a matter of minutes. If I could offer one suggestion, it would be a better selection of cocktails (preferably frozen) on the pool and beach side menus. That was the one small thing I missed and which took us to other bars in the area. Additionally, the bathroom door in room 525 needs attention due to what appear to be water damage. Kind regards, Alexis Kerr-Haining & Joanne Martin.
.
Be
This is our 3rd trip to Amare and we highly recommend it - Perfect location for beach / bars and with the beautiful Old Town just a stones throw away it's an ideal getaway destination for friends / couples. We'll be back!
.
Susan French
Bar service is unorganized. Waited 45 minutes for a drink The area by the ocean All in all i loved the resort Thank you
.
Cordelia sutton
Excellent hotel staff so lovely will definitely return soon.
.
Alan
Breakfast service was chaotic when busy and staff were overwhelmed (e.g. no coffee served despite three requests). Limited outside space - sun beds at pool and beach were very tightly packed together. Difficult to escape loud music at pool or beach. Hotel staff were friendly and attentive (unless busy as above). Hotel is modern and well located for old town area. Rooftop bar is excellent
.
Caren
Absolutely stunning hotel! So glad a recommended this for my friends to celebrate their birthdays, although I was disappointed that the restaurant forgot to surprise them with a cake at breakfast as requested! Otherwise, a wonderful stay at a superb place.
.
Eileen Sweeney
Excellent hotel if you want a relaxing break. So close to Orange Square where you have a good choice of restaurant & shops.
.
Maria G Lopez
Excelente servicio con equipo de trabajo optimo Gracias a cada una de las personas que hicieron de nuestra estancia en el hotel unos dias inolvidables Volveremos muy pronto
.
Josephine Smith
Thoroughly enjoyable experience
.
Bill F
Great Place. Can't wait to return!!
.
Annmarie
Renovations are good having stayed in hotel when it was the Miramar. Didn't like new vibe to hotel it's now more suitable for hens and stags and this is the niche your catering for. I though our room was overpriced for the size or it. Yes we booked quite late but still not good value. Two bath towels per day is absolutely ridiculous especially at that price. Having to ring everyday for iron and ironing board because housekeeping kept taking it away if though we asked numerous times became a farce. Breakfast and lunch were fantastic you've got the food exactly right. I also cannot believe you do not have any safety deposit boxes anymore. We had a late flight and not knowing this I had brought some very expensive jewelry with me. So when we checked out you had nowhere for us to store it. We had to take it to the beach with us and both of us couldn't swim together for fear of it getting taken. We've traveled all over the world in all kinds of hotels and I've never stayed in one without a safety deposit box. I presume it's a cost cutting thing on your side to stop paying insurance premium. If I'd have know this I would have left everything at home.
.
William Rattray
Fantastic hotel and staff. This is my fourth year in a row at Amare, looking forward to number 5 soon. Thanks to all my friends in the team whom I've come to know over the years
.
Gary
Thank you for having us, we had a fantastic time. The rooms were superb, and was most helpful and cost effective to be able to add a 3rd bed to some of the rooms. The food at both breakfast and the beachside restaurant was excellent. The rooftop bar as the sun went down was amazing before heading out for dinner. We also really enjoyed being able to take the bikes along the boardwalk. I'm sure we will all return. Thanks again
.
Mrs Melanie iqbal
Lovely hotel- however, one point to make that all photos indicate that all rooms if they have a balcony then it is glass. However, we were in room 822. Although we were told this was an upgrade, we did not think that it was, as the balcony was solid white stone, with plants - not in keeping with the cool chic of the rest of the hotel. It was impossible to sit and relax, watching the the sea during the evening. As when seated we just had a view of a wall! Also not private as man in the adjoining room poked his head around one evening as we were chatting.
.
Jan de Vet
An amazone hotel with a fantastic location on the beach and on the boulevard and right in the center. It could not be better. The breakfast was phenomenal and super extensive. The view from the room was beautiful. We can recommend this hotel to anyone who loves luxury and comfort.
.
Aahleigh Jones
I absolutely loved my fee days stay and will be back someday soon .. all the staff were amazing .. really made my stay a total pleasure Thank you
.
Tracy Henson
The hotel is beautiful. We stayed in the Oh la la The One room which had a fabulous view. The balloons in our room on our anniversary was a special touch. The location is great and the breakfast service second to none. Thank you we will be back!
.
Ann Ingram
A little disappointed with the Hospitality Lounge as they were several times when the selection of food and drinks did not have everything available. Layout of the Junior Suite could be better as the chaise longue looks good but is not much of an asset to use! A couple of comfortable chairs with a table would be more practical. Shower and bathroom area is fantastic. Bed very comfortable.
.
This is the best hotel We have visited in many years of travel However the constant stream of music in the afternoons when we want to read ,relax or sleep is absolutely unbelievable For this reason alone I will not book again Thank you Michael
.
fiona short
we love your hotel and have been coming here for years. This year i found one of the ladies on reception to be quite rude and abrupt. This was surprising because they are usually so helpful and friendly. The room for three of us was very comfortable and clean, but did not have enough hooks for three people. Only two of us could hang our towels up which was annoying. Overall we had a lovely time though. Thank you
.
Annette Fisher
2nd time in 4 weeks that I have visited and as always the service is superb from reception to restaurant to waiting staff to cleaning staff, absolutely faultless and all amenities fantastic. My only negatives are as follows but please be aware that this would not stop me returning to my happy place. 1) first visit in May, we were given rooms with see through shower facilities. The curtain that could be used along one wall of it was see through so not at all suitable for girls. A simple black out curtain that could go round two walls would be better. Reception were able to move us thankfully, however rooms were not of same standard, ie no robes and slippers and no Molton brown toiletries however was all fine. 2) 2nd visit in June we arrived early on the Friday looking forward to chilling by the pool only to find there was a pool party and therefore weren't allowed to stay as it was full so had to use the beach. Although beach area is good we were a bit disappointed to not be at the poolside, although looking at the pool party it wasn't to our taste. Pink flamingoes, foam and pink and white wrapped round trees wasn't in keeping with the standards we expect from Amare Beach and in fact looked a bit cheap. The remnants of the foam continued to linger for a few days. Really think we should have been made aware of this event. 3) As I have mentioned in previous reviews, the bar prices are a bit expensive, specifically gin. To get a nice gin and tonic costs approximately €20 so this forces us to go elsewhere. As I said before though, none of these things mentioned would affect me coming back and I cannot wait to rebook. You should be very proud of your staff, I have never come close to the standard they follow and I have been to a few luxury hotels in Scotland, nothing at all compares, well done!! Annette Fisher x
.
Terry Hunt
Really liked the hotel and location, staff were very helpful, beach facilities were well organised, one criticism only, there are no room options with a bath, many of is us like this as well as the shower.
.
Christine
First time visit, loved the afternoon singers and the Pool Party made my holiday, all Staff were friendly and professional, loved everything about the Amare Beach Hotel
.
Kim Gilruth
Really enjoyed my stay would really recommend this hotel.
.
Joanne Lockwood
I really enjoyed my stay at this fabulous hotel. However I found the table service poor at breakfast ie. not being offered tea, coffee, juice on three occasions. Also on check in we were invited to book for the pink pool party as there were eight of us. We asked reception twice if it was booked. When we turned up to the party it wasn't. We found this a little disappointing as we were celebrating two birthdays. In the end your staff managed to find us four beds and we did enjoy our afternoon in the end. On the plus side the hotel is in a great location, its a lovely modern, very clean hotel. The beach restaurant food is fab and the service on the beach is great and I would return again!
.
JL
Amazing hotel. Beautiful room. In room speaker was a real bonus. Pool and beach club area superb, loved the live music throughout the day and sunbeds were so comfy. Breakfast was very good, good food and good views. Used the spa before checking out and the facilities were excellent. Staff super helpful and friendly. Me and my girlfriend have come home and told all our friends and family just how amazing this hotel is. Thanks for a great holiday :)
.
Brenda Mc caffrey
Thee most fabulous hotel
.
Jane plackett
Great hotel, relaxing and fun
.
Pamela
We were there for 6 nights on 1st night we realised our shower was leaking on bathroom floor and also toilet. Let reception know and it still was not fixed on our fifth day. Found reception quite slow in checking in process but were very informative. Amazing hotel other than that. Will return.
.
David and Sally verrecchia
Having stayed at The Amare beach on many occasions we can find no fault in any aspects of our stay . Staff are always helpful and efficient; the food at breakfast and at the beach club superb again as is the service. We look forward to many more holidays at the Amare . Also cleanliness throughout the hotel first class .
.
Elizabeth Kehily
Myself and my daughter had a lovely holiday in your hotel and we hope t return again in t future. Everything was superb .
.
P Whitley
Excellent hotel. Outstanding service with a smile. Stayed in what was probably one of the 4 best rooms in the hotel definitely "The One." Not a particular fan of buffet service in the restaurant that was hectic in the mornings so breakfast early as possible. The fresh cooked options in the morning and evenings were problematical due to volumes and standard of cooking was variable. Another significant plus was the complimentary private lounge available between 11.00am and 11.00pm. Overall highly recommend the hotel.
.
Susan ricou
The hotel.is beautiful but sadly the first night the restaurant food was not acceptable there were eight in our party four of our party had to return our food as it was raw after being cooked by your chief as it was chicken and pork.this was not acceptable also on one occasion we were charged twice for drinks when we told the waiter he was not pleased that we pointed this out but everything else was wonderful
.
Nicola
The hotel is amazing really fabulous, my only critism would be more variety with the fruit in the mornings. For example strawberries and blueberries would be nice also. It was alot of the same fruit.
.
Brian Mc Donagh
The lady Ane on reception was extremely pleasant and polite to speak with
.
Lisa Smith
Our second visit to this hotel. Exceptional customer service from all staff. Very clean hotel and grounds. Can't wait to go again
.
Another excellent trip. The last time we stayed there was a pool party which we really enjoyed. I did feel the daytime entertainment was a little lacking but that would not stop me going to the amare again.
.
Susan
An amazing hotel. The staff were just excellent- happy and pleasant and fun. Could not rate highly enough. Best chillax break I have had. Will be booking again. Safe to say my new favorite hotel.
.
Mike M
5 th trip to hotel. Overall quality remains excellent.
.
Zoe Garrod
Delightful stay
.
Alyson Green
Overall it was a very nice hotel. The only thing I would mention was that the cooked English breakfast was cold every morning. The hot plates didn't keep it hot enough. Staff were friendly and helpful.
.
Paula Meighan
There isn't anything bad that I could write about hotel. I will certainly be back again. Maybe DJ music at the beach could be a bit loud at times but nothing really to worry about thats just me getting old maybe Also maybe instead of paper cups for coffee etc at the pool area it could be served in a proper cup. First time I have ever experienced this in a four star hotel. Nothing worse than drinking out of a paper cup!!!
.
Arthur Fitzgerald
Fab Hotel & Staff, thanks for a great Holiday... Hope to visit again!!!
.
Kenneth welton
Very happy to come back beautiful hotel good service. Friendly staff. Great location
.
Nicknikki
The best hotel in the world...simple...))
.
Cecilia
Excellent hotel, friendly staff, the pool and the beach are awesome. The beauty of the room, the view and the smell of the halls are a delicious place to spend vacations. Food excellent.
.
Perfect once again many thanks
.
Richard Lewis
I only had 2 nights at the hotel for my 50thbirthday but I absolutely loved it.i hope to come back and stay again soon
.
Very Dissapointed
Sea facing room (expensive) with very poor toilet facilities. Fine if you want to watch and listen to your partner using the toilet. Advice is avoid these rooms at all costs if you want a pleasurable holiday.
.
Sandra Fogarty
As this has been our 7th visit since Amàre opened in 2015 you can take it that we really enjoy staying here- we find your staff extremely friendly , breakfast is amazing and we have stayed in some of the different rooms and found them all to be very clean and comfortable. We have recommended the hotel and had friends stay here over the years also - Hope to be back soon
.
Nora Norton
A great hotel for that extra luxury at an affordable price
.
Joan Walder
Excellent hotel with very well-trained, attentive staff. We were totally impressed!
.
Bernadette Hodgson
Amazing Amare!
.
Rosaleen Quinn
Excellent. Wonderful experience
.
David Barlow
We have stayed here several times and the hotel continues to maintain very high standards. The housekeeping, breakfast buffet,air conditioning, bed linen and very competent staff are all notable.
.
Sophie cry
Fabulous hotel, love the food but drinks are not worth the money. €14 euros for a gin and tonic is a bit excessive. Been here three years in a row and the prices on the drinks seem to be going up every-time we visit. Overall love this hotel and would highly recommend.
.
Karen Scott
Excellent & will return again
.
Hilary Harris
We thoroughly enjoyed our stay. Everything was good except the service at the pool and beach. It might be worth bring condiments with the food ( and by that I mean salt pepper ketchup etc) as by the time it arrived the food was cold. Otherwise we had a fun filled time. The live music was excellent. We will be back.
.
I returned to the Amare Beach Hotel this year as I was so impressed last year. Everyone of the Team were superb, very polite and helpful. I could see people were happy at their work and very evident in all aspects. To greet us last year, there was a bottle of something in our room however that didn't happen this year. Maybe because it was my second year, I won't cry but it really was an unexpected and lovely touch last year. Overall, I'm grateful and thankful for the experience of the Amare Beach Hotel. Would I go back again? Absolutely! without hesitation. Thank you to all the amazing staff because without you, it would be a whole different experience. Sandra
.
Everything was super but the breakfast was not too our liking. All very bland.
.
Vanda Le Gresley
Super hotel, great location, fabulous staff and can't wait to return!
.
Dennis Boughey
This was our second stay& we thoroughly enjoyed it. The staff were friendly & efficient. The one problem was our room 710 was not serviced until about 3 PM which caused us problems when we had to shower & go out early. We will be returning again next year if not before.
.
Aoife Hanrahan
Return visit to Amare and it never fails to deliver - Excellent hotel and staff and would happily recommend to my family and friends! Already looking forward to next years holiday.
.
Steve Wain
We found the service in the bar slow with only one person serving and would like to see more behind the bar
.
John Prendeville
The air con in my room did not work correctly. For two nights the temperature was 25c and I did not sleep well. We then had to move room which had working aircon. I'm not sure I would return again.
.
Wendy Salisbury
Really loved this hotel. From the moment you walk in, the light and airy reception is welcoming. Each communal floor has its own speciality: restaurant, pool level, boutique, beach club and we enjoyed them all. We didn't even get a chance to try the spa but I'm sure that's lovely as well. The staff were efficient and friendly. There was an issue on arrival with a double bed, although we had requested twin beds, but the night staff sorted it out. The breakfast is absolutely splendid - one could not ask for more and the live music round the pool is delightful. We had a private lunch party at the Beach Club and Maria in Events excelled herself and made it all wonderful. A 5* experience! Can't wait to go back!
.
Siobhan Brosnan
This was my third time staying at the Amare Marbella. We arrived at the hotel at 03.30am as our flight was delayed. Our room 907 was extremely hot. I left the AC on for 30 mins but the temp was still reading 23 degrees. I contacted reception and they sent s maintenance man who looked at the unit but said it could not be fixed until next day. The next day I was assured the AC was looked at but again that night the temp was constant at 23degrees despite leaving card in slot and AC on all day. Finally when I complained again we were allocated a cooler room 402 where the AC was in excellent working order. I really enjoyed my stay in the Amare but we had 2 nights of disrupted sleep due to the AC.
.
Stephen Patrick Collins
Fabulous hotel with excellent friendly staff and the beach area is not equalled anywhere in Marbella. My only gripe is the air conditioning in my room and that the TV only plays one Muzak track!
.
Julie Stephens
Beach/pool bar service can be very slow but other than that this hotel is perfect!
.
Hannah Lomozik
Wonderful holiday yet again. Very much enjoyed the extras in our hotel room! I could not fault our trip and can't wait to return again! Thank you 😊
.
This is my 5th stay in Amare. Hotel breakfast fantastic. Staff wonderful. Room lovely. Really nice way my Birthday was recognised - discreet but thoughtful - thank you. However on the negative side service this year on the beach was very poor. There was too few Staff, it often took 20 minutes to be served. Size of drinks (cava/wine) smaller than previous years - this came across as mean, price of drinks are expensive! Many people on beach also commented on the poor service. Staff did their best - Cristian and Doris were very nice to us. Thank you for everything else but beach service really needs to be improved. Also, there are no bathroom facilities on restaurant floor -1 which is annoying for elderly clients.
.
Catherine Branagan
Totally relaxing experience staff so good! One thing disappointing was I know exactly where I left my tom ford sunglasses in my bedroom and housekeeping said they were not there. These were a recent birthday present from my daughter, and iam disappointed they were not handed in. Aside from that all excellent ! 😎
.
Susan Cronin
As a recurring Customer I am always happy with the Amare. Was a little disappointed with the sea view from The room as I had flagged it was for a a50th birthday. After complaining we were offered a room change next day but had already unpacked. No other issues though and as always I enjoyed the stay immensely and will continue to return and bring other guests along
.
Tom Findlay
Could be improved especially regarding anything cooked on the premises Anything uncooked was fine Ie fruit cold meats salad bread fresh cooked eggs We had 1night at the buffet and didn't return went to gala night the food was woefull we left before finishing our meal or wine as the food had been so bad
.
Brian and Sue Baldock
Excellent and relaxing stay, all of your staff are wonderful and made our time with you most enjoyable, we will probably book to come again next Spring. If I have a criticism it is minor but when we were with you last year the Restaurant on -02 had entertainment most evenings, this we missed otherwise it was great.
.
Louise
I had a great time. The hotel was clean and the food was of great quality . The only downside was that there weren't enough sun beds for all guests and the beds were too close together. The bar service was quite slow although the staff were working very hard. The hotel just seemed very busy.
.
Polly Fishwick
What makes this hotel great are it's friendly and helpful staff. Always happy to help making guests feel very welcome. Why I didn't score higher is the sky bar - which had some amazing singers and dj's should open longer. And the restaurant should open more often the food was delicious. I will be back next year!
.
June Brown
Excellent hotel: everything runs smoothly, breakfast is gorgeous and the sun terrace around the pool and beach area lovely. Good restaurant on the beach and unfailingly smiley and helpful staff. Another lovely stay, thank you.
.
Bobby from Ireland
A perfect location for a quick short break. Staff and hotel were very hospitable and provided a lovely atmosphere where we could relax and enjoy a well earned break.
.
David Fine
I enjoyed my first trip to the Amare hotel Marbella it was very relaxing and the overall experience was excellent
.
Vince West
This is our fifth visit and glad to say that the standards have not fallen. Hopefully be back soon
.
Hilary
Really good quality hotel and perfect location
.
Jane Sharples
The jacuzzi is too cold
.
Geoffrey Barlow
Yet another wonderful stay at this gorgeous hotel We look forward to coming again Please keep up the good work
.
Audrey
This is our 4th year staying at the Amare Marbella for our wedding anniversary. This hotel is fabulous in every way. All the staff are so welcoming and friendly. The attention to detail is second to none. Total luxury. I have already reserved my trip for next April. Thank you Amare xx
.
Susan, Scotland
The Amare is one of the best hotels I've ever stayed in - anywhere in the world. And the best part is the people, so many helpful smiling people, including Ana the lovely lady who looked after my room. The room, restaurant, pool and beach are all spectacular, only complaint is more shade would be good at the very comfortable beach sun beds. Thank you Amare, I was planning my return within 4 hours of arrival! 👍
.
Sharon
The hotel was ideally situated for both the beach and town centre. The staff were amazingly pleasant and helpful. It was my birthday while we were there and it was a lovely thought to be wished happy birthday when speaking to any member of staff on that day. We really loved everything about the hotel and it would certainly be our first choice for a holiday in Marbella in the future. Thank you Amare
.
Douglas Carberry
Would love a heated swimming pool.
.
Mrs G Mercer
We stay at the amare regularly, unfortunately this time the service was appalling. On the beach you press for a drink and nobody came for over 45 minutes until we 'waved' to them. We paid for upgraded room and all as we could hear was the road and see trees.. not the sea. Room 225 Asked for a late check out and it was a no. Although on your website every room type was available. We found the staff un accommodating. The coffee machines at breakfast can not cope with the amount of guests and broke every 5 minutes . We had five Dolce Vita rooms and spent a lot of money but left thinking we may not return. This a shame as we have stayed at your hotel several times.
.
Kate evans
We have decided we will be back every year!!!!
.
Jacqueline Gomes
My 18 year old daughter and I had a fabulous few days at your hotel. We loved it and will definitely return. Thanks to all your staff for making it so special
.
Emma
The hotel is so wonderful in many ways and we were delighted with most of our stay. Excellent room, beautiful decor, super comfortable sun beds, very good breakfast , very friendly staff etc. Areas to improve upon: air con wasn't great in the room, needed more storage for clothes, dark and unpleasant courtesy room for late departure, difficult to get extra cutlery at breakfast, loud groups of people eg hens, DJ set on the beach destroyed any tranquility... We had a great stay but on reflexion it's not the best place for a restful, peaceful break, A beautiful hotel though and fantastic staff. Thank you.
.
Lucie Playford
Yet another wonderful stay at the Amare Hotel - our 2nd stay here and we just can't fault the place! Friendly staff, wonderful food, clean rooms and a prime position on the beach makes this place just perfect! We're already looking forward to coming back again next year!
.
Lee
Fantastic break again , loved every minute of it , great staff , great hotel , such a wonderful hotel
.
Elaine Martin
This is our second visit to Amare Marbella We had a fantastic stay with fantastic staff who always go the extra mile to ensure a quality experience We loved every minute from start to finish The hotel is stunning too with beautiful Art work Food is fantastic Will definitely be back hopefully next year
.
Aidan Connor
The hotel is our favourite for breaks. Our only (very small) complaint is about the low to ground seating in the pool area, for people our age, getting up and down can be challenging! A marvellous place with fantastic staff!!
.
Lewis Lee
Great hotel, friendly staff and nice area to be in
.
Mairead
Staff were lovely . Bar service in lounge bar a bit slow. Food in lounge area and beach restaurant amazing . Tried the food on half board option one night and was very disappointed with choice . The food on offer was fine but very limited choice. Stick to bed and breakfast and pay extra to eat in lounge bar. Love this hotel. Stayed here for my last 3 holidays and can't imagine finding a better hotel. So I intend coming back in June!!
.
Alex & Julie
Had a fabulous second time and will definitely be back. Also plan to try the new hotel in Ibiza. Thank you
.
Rita-anne and Curtis Fuss
We were very impressed with the service and room. Would highly recommend the Amare' Hotels. Thank you for a memorable stay.
.
Harbert Knottnerus
Nice and good!
.
Karl Casey
Great well done thanks Karl b casey
.
Ann d
This is our second stay at mare and wont be our last ,we had a great time the hotel is very clean and comfortable .The staff are always very polite and helpful nothing waa to much trouble .the breakfast are perfect and their is something for everyone .added bonus adults only,ww had a very relaxing stay .
.
Linda Hart
Excellent and will highly recommend the Amare to my friends. Will be visiting again.
.
Spectacular hotel! So clean and comfortable. The location between the beach and the mountains cannot be beat. Simply beautiful!
.
Bob
Very clean and tidy hotel with friendly staff.
.
Lesley kings
Fantastic hotel & staff
.
Denise
Beautiful room. Very clean. Comfortable beds. Exceptionally helpful staff. Gluten free options excellent. Lovely to be so close to the sea, promenade and old town. A few observations as you requested. Hotel room a bit too close to road and noisy when balcony doors open. Bluetooth speakers in the room encourages loud music from other rooms which can be annoying. Bath/ shower a bit slippery with no grab rail to prevent falling. Just pointing these things out to help you improve your service as you requested but overall we had a lovely holiday and would come back and recommend to others.
.
Alex Kerr
The hotel was lovely, the food, minibar and drinks was grosly overpriced.
.
Sara-Jane Inglis
A lovely hotel, very well kept and relaxing atmosphere. Great location. Didn't think the spa set up was great, and the pool rule of not being able to leave your towels at all was a bit too onerous (I can see the reason for this and support it, but it's a bit tricky when you just want to go for lunch then return to your sunbed!). Excellent breakfast. Only ate lunch once in the bar restaurant and this was expensive for what it was, especially as the mango in my salad was rock hard, but the ambience and serve were good and high prices are probably to be expected in hotel restaurants. I ate out the rest of the time. I would definitely recommend this hotel for a few restful days in Marbella.
.
David Ruiz
Very good service and clean. Swimming pool was good. The restaurant was excellent with different variations every day. Great help for gluten free. The room was great but a bit warm despite the A/C during the day but very pleasant at night to sleep. All personnel was friendly and polite. Excellent! The parking was a bit complicated to get out of, very narrow way out and difficult to drive through when meeting other cars. All in all, we are coming back!
.
Gary A Coombs
Excellent room facilities. Breakfast first class. If I had to give just one comment for improvement it would be - air con in room not available for cooling during stay in March. Love staying at the venue. Look forward to next year already.
.
Fabulous- customer service at its best
.
Martin
We had a fantastic time at Amare, would recommend and will return. One problem we encountered was the air conditioning in the room.We pressed buttons to set it up, put up with the noise of the unit, which did disturb our sleep and when we enquired at reception we were told that it was not working throughout the hotel.We were lucky to have great weather during our stay but it did mean , even closing the curtains to shade the room, that the warm room temperature did lead to our sleep not being as good as we had hoped.We studied the hotel and room information prior to booking and it confirmed air conditioning was in the room.
.
Gillian Perry
An excellent stay, staff were amazing especially the manager of the beach restaurant. Loved the roof top bar. Would definitely like to come back x
.
Kelly Davies
We had an amazing time at your beautiful hotel and will definitely be returning in the near future. Thank you for making our stay a wonderful experience.
.
Lesley Chapman
Everything was first class apart from the fact that you could not control the heat in the room and we were directly on top of the breakfast patio. We were told by Reception that air conditioning was not possible and we could not control the heating as it was winter season. I am a menopausal woman and my husband is undergoing treatment for cancer and we both suffer with very hot moments. We were so hot we had to have the patio windows open all night where we were disturbed by late night music and the early morning noise of staff arriving to set up for breakfast. We had five nights of very poor quality sleep which impacted on energy levels during the day. Breakfast was exceptional. Lack of surface space in the bathroom and coat pegs in the dressing area would be good. We had a great time and would certainly recommend your hotel. Please take the feedback as constructive rather than a complaint. Lesley Chapman.
.
SJ
Excellent hotel. The ONLY thing I would change *and it is really small* is to have better hairdriers in the rooms, they really are useless, which makes drying your hair difficult when you could be having fun in the sun!
.
Sam Hugges
We had a totally marvellous time and could not fault anything. 5* star all the way! Hope to return soon
.
Damien Rochford
Best Breakfast ever. Beautiful rooms. Very clean area. Reception very nice
.
I shared a room with a friend as opposed to a partner. A curtain at the top of the shower would be good as one can see all into the shower in the mirror across from the bed.
.
Helen Moran.
I go to Marbella/Porto Banus about twice/three times each year, first time to go to you hotel, enjoyable experience. Will keep my eye out for you offers to return. Really lovely staff.
.
ed millar
overall the hotel was excellent and the staff were always very helpful and polite ,superb breakfast to start the day
.
John Gillan
The only item that I found annoying was that long narrow shallow hand basin in the bathroom,it was too shallow. Your staff that we engaged with are top class and extremely friendly. That was our third stay at the Amare and , please God we will return
.
Petra Bee
Beautiful hotel with amazing staff who are so helpful
.
Paul Jenkins
I thoroughly enjoyed my stay at the Amare Hotel and would have no hesitation in booking this hotel the next time I visit Marbella. The staff are very friendly, attentive and helpful. The hotel location is excellent with its proximity to the Old Town and the beach, with great scenic views from the rooftop bar.
.
Mark Palmer
Loved the sun loungers and massive towels, the beds in the room are fabulous. Beach club looked lovely, we would have loved to use it but not good weather in the two days we were there. We will definitely stay again. Staff were very polite and smart, with a very nice manner and not at all condescending, they contributed to the ambience.
.
Mr P Roadjouse
My wife and I were extremely happy at the hotel for start to finish. We were only on a short trip but were very pleased that the hotel upgraded our room at no extra cost that made our stay even more pleasurable. We found the whole experience a delight and will definately return on a longer trip and recommend the hotel to anyone staying.
.
cheryl cook
any special offers please advise we really enjoyed our stay