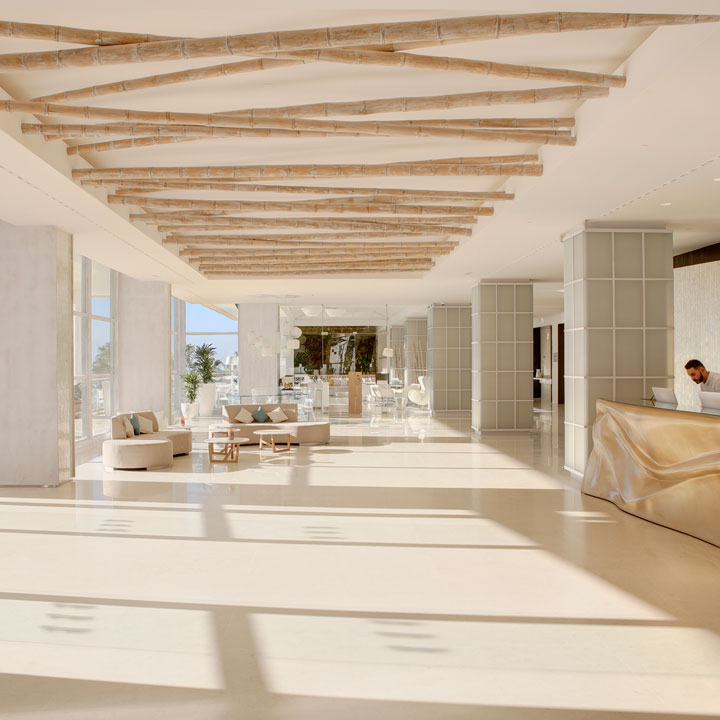 AMÀRE MARBELLA
.
Yvette
Fabulous hotel that we have enjoyed staying at for many years. The customer service, breakfast choices and stylish/clean bedrooms and hotel decor are always excellent. Sadly, the awful "club" style music played everywhere in the hotel now, from the breakfast terrace, all through the hotel and down to the beach, would prevent us from visiting again (along with other guests we spoke to last week). Hopefully, the hotel will take note and revert to the previous subtle/tasteful background music.
.
Catherine & Bernard Troy
We were very impressed by the hotel, & lovely helpful staff, just what we needed to relax and enjoy our time out from a busy work schedule.
.
Terry Swor
We are touring Spain and Portugal and found Amare to be head and shoulders above the other places we have stayed. The setting, facility, and commitment to guest needs were evident and embraced by all of their staff.
.
Christina S
Fabulous stay as always, very friendly staff and comfortable hotel. Lovely location, love the beach club. Very pleased with my stay here. Thanks
.
Ken Borland
Hi.....just a few issues from Room 804... No light near bed.....so difficult to go to bathroom if required during the night.. No Toilet Brush in Bathroom... Ken
.
Jane plackett
Hi the only reason I rated a 4 is we had to change rooms as our air conditioning unit wasn't working, the room we moved too whilst the same grade was smaller and the view was restricted by the plants. The problem was dealt with swiftly but I'd have liked the exact same room or one that was better., as it was hassle having to repack and then unpack
.
Colin Cook
We are never disappointed, the staff are always smiling and helpful even when under pressure. Reception are so helpful as nothing seems to phase them.
.
Pat Salmon
Beautiful hotel, professional and friendly staff, breakfast was amazing, we dined once in the Restuarant which was lovely the choice was great. Only two things as elderly people we observed which would be a great help to others ….. If we could have Printed menus we struggled with the mobile phone bar code? Also the Sun beds around the pool are very close therefore movement of sun umbrellas proved difficult to move And somebody to help move them. However it did not spoil our stay we just loved it!!!! And will certainly be back. Thank you for an amazing stay
.
Tony McHenry
Continuous thumping of music from morning 'till night very annoying
.
Constant boom of music from 7 30am not necessary. Very expensive inflated prices in poolside bar.
.
Allan Marples
Very nice hotel with pleasant, attentive well dressed staff and first class facilities. Look forward to returning with a special mention to Diego on reception for extra special service.
.
Paul
Hi, The service was great with excellent breakfast. However the quality of the food at your beachrestaurant is under min requirements for such a hotel. Other urgent points of improvement: - stability of wifi - pool water very cold during Greetz
.
Angela Schell
I have been to Amare Marbella many times , and always enjoy my time there. I would like to comment on Gabriele on reception who is always polite and friendly . Also Jesus who is at the door, such a friendly person to greet all guests, always with a smile, We look forward to returning in April 2023
.
Ron
The Amare team are wonderful. The hotel is the friendliest I've stayed at. The service was superb as was the food. I'll be booking again next September 2023.
.
Bella
amazing hotel wonderful friendly staff very helpful thank you ! x
.
Loved the decor and would visit again if get a good deal for a longer stay. Breakfast was great!
.
J O'Brien
We have been coming to Amare twice yearly since 2015 and found this year that: Wifi very poor for 2022. Beach service very slow. Beach food below par ( cold ) Smoking in public open areas needs to be prohibited. 9th floor Bar too noisy with non-residents.
.
Ann S
Had a lovely visit! Enjoyed pool, beach, food and environment!
.
Ken McManus
This was my 7th trip to the Amare and again like in previous years was very enjoyable. The breakfast and rooftop bar remain highlights, as does the friendly staff in every station of the hotel. Two gripes... the quality of the WiFi was noticeably poorer than in previous stays. I ended up disconnecting completely and just using my mobile network. I'm not sure if there has been a change in provider but it is a much poorer experience than I was expecting. Secondly, I would've thought that given my customer loyalty (staying 4 to 5 nights for the last 7 or 8 years) I'd have qualified fro Gold Amigo status and thus a free room upgrade... But when I asked about that it seems the calculation on accumulated nights stayed is way off the mark... That is something that really should be sorted out for guests who return year after year to feel valued.
.
Ruth Murphy
My Bag was stolen from the sunbed, while I must accept some responsibilty for leaving it unattended, I assumed it was safe in your hotel. there was no notice up that I should watch my belonging or to warn me that it was dangerous to leave bags unattended. Does that mean that you cannot go swimming as you would have to leave your bad unattended. On the day the manage was not very sympatetic and said it was my responsibility
.
Paul Kenny
The same piped music after day 3 would wreck your head
.
John ELLIOT
Excellent hotel. The staff are amazing nothing is a problem to them. The beach bar and entertainment is brilliant especially the guitarist
.
Julie Hawkins
We have stayed many times with many more to come. We love the Amare Beach and looking forward to checking out the new hotel in 2023 See you in 2023
.
Simon
Very nice hotel, staff extremely helpful when sorting out a lost bag from flight. Would be better if restaurant opened earlier for breakfast - golfers often have an early start!
.
Patrick Deforche
Only 1 remraket : too unreliable WiFi. For the rest everything was perfect
.
D Ward
Such a lovely hotel luxurious facilities and impeccable service and friendly staff, comfy sun beds and great atmosphere at beach club with great DJ sets in afternoons
.
Valerie
Very nice hotel, breakfast was excellent, nice beachclub with great live music, friendly staff; enjoyed it a lot! Certainly coming back to the hotel if I get a nice offer.
.
Jacqueline Selby
I've been before and must say the hotel is run perfectly we enjoyed our stay very much
.
Ana Torres
The hotel was very clean and the service in every department was excellent. Nothing too much trouble and all the staff were very friendly. The breakfast is delicious and great choice. Perfect!
.
myke
Travelled alone and I found e'one so friendly. Decided to do half board , excellent and value for money..despite my room being quite small and basic it perfectly served my needs. I would highly recommend this hotel for its location being a short walk to the old town (where you'll find little quirky shops with street cafes), it's right by the beach, for it's hospitality , good food and cleanliness.
.
Lara
My second stay here and the whole stay was excellent. The hotel is in a perfect location for restaurants and evening entertainment. The pool area is lovely and all of the staff are very friendly and professional. We will definitely return.
.
Elizabeth
my second visit to Amare room 093 had the most uncomfortable noisy bed we could not sleep had to ask to be moved after 1st night wifi was not working at all for first 24 hours otherwise very happy with the rooms in general (moved to 103 and 503) staff very helpful and hardworking especially in club lounge and breakfast food excellent in lounge will definitely return
.
Jo
Amazing hotel. great for a much needed break with friends
.
Duncan Rogerson
Great hotel. Fantastic breakfast. Wi-Fi poor.
.
Arvid Ubostad
We had a wonderful stay at Amare! The staff were all very happy to accomodate us to make it a spesial occation.. Thank you!
.
Emma Deeks
I felt that the entertainment was less "inclusive" than previous years (especially the saxophonist). The "vibe" was older than in previous years - My friends and I would prefer a younger overall clientele. The coffee at breakfast needs to be better! Otherwise excellent.
.
Mary Margaret Daly
It's my fourth time back to your hotel,the ambience is superb,staff are always smiling and helpful. The music at the beach needs the volume to come down somewhat. I have booked for 14 days for September 2023
.
ROY CHARLES ALEXANDER EWEN
Everything excellent apart from minor comments wifi went down for 2 days music to loud around the pool no evening entertainment
.
Arkadiy Sapozhnikov
Hotel is Great, stuff is very friendly and helpful . Food was excellent. The problem that we had was- WiFi. It was Very slow the first week and then it didnot work for 2,5 days. when I asked Manager- why Internet company cannot send specialist to fix it- the answer was-because tomorrow is Saturday and they are not coming on Saturday and Sunday, I was shocked. This is 4 stars hotel with 500 customers and n ot having internet in 21st century is emergency. the hotel stuff tried their best to help us in this situation and we appreciate a lot
.
Nina linderman
We really enjoyed the hotel and will be coming back
.
Sasha Bates
Amare beach Marbella hotel is a fabulous, luxury hotel, this was my second stay here and I will most definitely be going back. All the facilities are excellent, entertainment excellent, food is delicious, all of the staff were lovely, the location is excellent as you have the old town very close by, puerto Romano atleast 5/10 minutes in a taxi, puerto banus, 20 minutes in a taxi. Or the catarmaran very close by which takes you to puerto banus. I cannot speak highly enough of this hotel! My only, only negative was that the Wi-Fi was down for 4 days but that was out of the hotels control, that is the reason I gave Wi-Fi a lower score!
.
Helen McsharryHayes
Excellent beautiful space fab decor all staff very professional and happy enjoying their work very relaxing environment will definitely return
.
Jo Burke
We really enjoyed our stay. Breakfast was excellent. A big thank you to the young man that was at reception and helped us with the bicycles, he was very helpful. Only areas for improvement would be air conditioning in the gym to be working and the spa the water was cold. Ie jacuzzi The beach restaurant was busy so perhaps more staff there as had to wait along time to be served. Otherwise fantastic trip.
.
Janice Gilpin, & Elaine Brown
Excellent overall but reservations did not acknowledge my email sent before my arrival letting them know I was celebrating my 70th birthday.
.
Willard Nichols
We love "The One", though the lounge should be open until 11:00 PM. Also, the hydro circuit in the spa is a treat. All hotel staff were helpful in every way.
.
Keith Percival
All the staff, reception, cleaners, restaurant staff were all friendly and helpful. However, there were several times when the staff appeared to be badly trained. For example: we asked how many times Amigos Platinum members could use the spa. Reception said once PER HOLIDAY but the spa staff said one PER DAY. We asked about bus services to Gibraltar. One person in reception printed off a set of timetables that showed the first bus was 08.30am. Later, another reception staff looked on a web site and said it could be 09.30. Actually the first bus is 09.30! (as we found out at the bus station). We asked how early the restaurant opened since we were going to Gibraltar. At reception we were told 08.00 but at the restaurant we were told 07.30. The two menus for the beach restaurant do not show that one is open at a different time to the other. We talked to two other guests who were also Amigos Platinum and they had been told a completely different set of benefits to ours. All these issues are poor staff training, NOT necessarily the fault of the staff. The constant music is DREADFUL! Lots of guests agreed with us about that. It was incessant and too loud and a heavy persistent beat. I like to listen to my own music sometimes but, even on our balcony, it interfered. There was no quiet are in the hotel to sit and read a book. Finally, when we came to check out, I was asked by reception, if I had had anything from the minibar in our room. I definitely said NO. Looking at the bill when I got home, I have been charged 17.50 Euros for "mini bar". We took only the one bottle of "free" water. What bottle at 17.50 was I charged for and did the maids have to replace? We love Marbella and have been to El Fuerte about 8 times. Would we come back to the Amare? We're not very sure about that.
.
Esther Lattmann
Das Wifi funktionierte nicht und das war gar nicht gut. So musste ich jeweils Roaming-Gebühren bezahlen.
.
Daniel Euston
Our visit was very enjoyable and the all around service was very good !! The music on the beach was often too loud making it difficult for people to relax ! But generally we enjoyed our break and will look forward to coming back in the future
.
Mags Gallagher
We had a lovely stay at the Amare. The hotel is very clean and the staff are extremely helpful and friendly. Our room was spotless with towels changed daily and the room cleaned daily. The pool area and the beach club are fab with plenty of space and no problem getting sun beds. Overall, we loved it there and will definitely be returning.
.
Geoff Foden
We were refugees from the Fuerte. We liked the staff who mostly tried to be helpful. Especial recommendation for the call order chefs. Hotel is perhaps too big for available land. Sun beds too close together. Appalling sound system which reproduces only the drum beat and has no discernable top notes. This plays loudly around all sun beds. You cannot get away from it. Suggest you specify an upper age limit for guests in the same way as no children. Clearly, we were a bit too old. Most of the stay, Wi-Fi was broken. Lack of Wi-Fi was appalling in this modern age. Most people need Wi-Fi to keep in touch with business or home. The club benefit was poor compared to the Fuerte. No reserved sunbathing area, no complimentary drinks by the pool. Wonder what the new "Select" offering from the Fuerte will be?
.
SB
Had a girls few days away and the Amare was the most amazing hotel to do this. We had a fabulous few days and made loads of memories. We will definitely be back in the future.
.
Loved the hotel. This is our third time here. Only negative experience was when we used the shower facilities for our late check out. We had to drag our suitcases down to the gym area (after being told we could use the spa) only to find a staircase we couldn't carry our cases down to, so had to leave our case unattended by the pool, only to find no towels and only one shower for 4 of us to use. Apart from that the rest of the stay was great
.
Patrick and Agnes O Flynn.
We look forward to going back to Amare every year, we have no complaints, everything was excellent as usual. Thank you.
.
Gavin
Wifi was down for 3 days which was totally unacceptable and created huge inconvenience to me as I had work and meetings I could not attend to. Very disappointing for a hotel of your standard
.
carol Imrie
A wonderful place to stay , ideal spot .
.
David B
Even on the 8th floor in an Oh La La room, and despite double glazing, booming bass hotel music from the ground floor continues until late and starts early. This can be irritating. It was disappointing that the w-fi was not operational for 3 days and even more surprising that there was no back up for it in the Hotel. The Amare Club lounge is very good, and the breakfast, staff service and room quality continue at a very high standard over the several times we have stayed here.
.
emma chappell
The wifi did not work for 4 out of the 7 days we were there. The bathroom smelt strongly of sewage/drains every day
.
Stephen Bodkin
We did not use the spa and beauty service and no activities were on during the day or evening during our stay so cannot rate these. However I would highly recommend the hotel over all. However the WiFi was down for almost 4 out of the 5 days of our stay which was extremely disappointing.
.
Jessica
Tolles Hotel!!! Insbesondere die Mitarbeiter machen es aus. Die Zimmer- insb. Bäder könnten etwas renoviert werden. Negativer Punkt- die Preise! Wein und Cocktails sind teuerer als im Puerto Banus oder Ibiza … das sollte so nicht sein!Fahrräder mit eigener Werbung sollten auch deutlich günstiger für Gäste sein.
.
Sylvia Lowry
Loved every minute. Unfortunately the WiFi wasn't working the whole time we were there. For our next visit you may have to give us an extra treat/voucher/discount Thank u
.
Julia Alexandra Williams
The hotel itself is beautiful and beautifully maintained. The rooms are smart, bright and clean. The facilities are top notch. The staff are attentive and helpful to a point but there is no HEART in the place. Staff run around at breakfast seating us, clearing plates and wiping tables like a well oiled machine but if I wanted more of anything i.e. coffee, extra cutlery/cups, nobody was paying attention to ME as the customer. I had to constantly get up to find these things myself. The staff need to speak to the customers, not just each other. I understand that the aim is to create a young vibe but most of the people who stayed during my week (5-12 Sept) were between 40 and 70 and complained about the piped music. We all agreed we LOVE music but not the constant IBIZA type, mundane, heavy base noise that was relentless. It went off for 30 seconds around pool at one point and people cheered! We do now place a lot of emphasis on the visual and I can't fault that. I love art and interior design. But don't forget that a building is just a building without people and for a building to be beautiful, it has to have a soul.
.
Jack
We enjoyed our stay overall and would stay again. Our room was spacious and cleaned by Ana who was very friendly. I gave the WIFI a low score because it didn't actually work. Lots of guests including myself spoke with reception staff, they knew there was a problem and apparently had an engineer working on it (it wasn't fixed when we left) We also thought the music was quite loud on the beach when trying to relax on the sun loungers. It actually woke us up at 7am one morning. We could hear it from our room, I think the staff turn it on as soon as they arrive. We did however enjoy the live music which is a nice touch in the afternoon for an hour.
.
Jeanette Byrne
This was my 4th time staying at the Amare and I've always enjoyed it. But the only thing that I had an issue with was the music, everywhere…I love music and I'm relatively young but I would seriously recommend having some quiet areas in the hotel…there was music everywhere and sometimes people just like to relax in quietness. That type of music is not to everyones liking. Gorgeous hotel but we'll be looking for something different next year. I would also like to mention one of your staff, Jesus, (hopefully only the one Jesus working there!). Jesus came to the assistance of my friend who slipped outside the hotel the morning we arrived. He was so very helpful. She hurt her knee and he was so helpful in assisting in first aid. He was just friendly and thoughtful. Also helped us sort a taxi for the way back to the airport. My friend and I noted that he was the ideal person to work in hospitality!
.
The staff were excellent. I had a small Problem with my room and they couldn't be more accommodating. From the moment we arrived to checkout every member of staff were hospitable and welcoming. I will be back 😊
.
Jo Povey
Amazing stay, every minute was lovely. I'll definitely be back
.
I have been there twice, And both times we have been given the smaller rooms. A bit disappointing as my friends got lovely bigger rooms.Also the wooden walk way to the sunbeds at the beach were missing a few panels which are a bit dangerous and could cause a fell.
.
Rachel
Overall the hotel was fantastic. The only moan I have is that the food is not always hot! The hot plates are inadequate and even the a la carte menu meals come out warm not piping hot!
.
Julie Duggan
A beautiful hotel which we are sure to return to. The staff were so efficient and very friendly. Myself and my three friends had a wonderful stay. Thank you xx
.
Christina
Excellent hotel, we return every year, the staff and the service are superb.
.
Alex jeeves
The staff in kitchen were very friendly the number is due to the level of choice as a non fish eater amd afood was not very hot at breakfast. The wifi was down for 3 days . Whilst room was clean and cleaning staff were lovely aa was the spa the bar on top of the room kept me aqakw every night . Given the amount we paid I do not feel we got the level we should have.
.
Carl Richards
Everything first class except the annoying music; feel starting before 7am is a bit too much.
.
Malcolm McCaughey
Excellent as usual
.
Loved this hotel! It checks all the boxes. Definitely will come back.It should allow dogs is my only complaint.
.
Roger Philcox
Sun beds too close to each other on beach,Use wider area to give more space and provide a area free of music during the the day for those who want to rest
.
David Norman
Nice hotel , great location. Staff very friendly. Excellent rooms extremely clean
.
Jennifer Noble
Just returned from my third visit and it was as usual fabulous . I will be back.
.
Fiona Ireland
Seriously can't fault this hotel in any way. Outstanding staff, beautiful rooms, fabulous facilities, incredible food.
.
Jason Parfitt
Great location very clean and friendly staff and breakfast was fantastic overall experience was good
.
Laura
I really enjoyed my stay at Amare Marbella, however a few aspects I thought fell a bit short or a great experience. 1. The air con in my room 098, was a bit loud as there was a rattle. The air con in my second room 811 was much better. 2. The chrome cast in my room 098 worked on day 1 but didn't after that no matter what I did, both 1 and 2 were not reported by me as I wasn't too bothered by them. 3. On my last day, I had a late flight and needed to use the shower after check out. I was advised to use the showers opposite the gym, the shower was freezing cold for the first 5 mins then normal. After that the room was too hot to dry my hair plus someone else was waiting to use the shower so I moved out to the sink to dry my hair. The room had no air con and was too hot to dry my hair. I had to change my clothes after attempting to dry my hair as I was so hot after it and ideally needed another shower. Most hotels I have been to offer a day room facility to shower and change in which has air con and the necessary facilities to leave for the airport feeling refreshed. I was also advised there would be clean towels in the shower room but I had to use a pool towel. I thought this was an extremely poor service offered by the hotel. After staying c.9 nights at the hotel I would have expected a better option for showering so I could leave refreshed after my stay but I only felt annoyed and angry, as I felt once my money had been handed over that the hotel was happy for me to go. I complained to reception about the shower facilities after and only got a sorry and they would tell maintenance about the shower, my name or details were not requested
.
Lisa Wynne
Please note that we didn't feel the one lounge was as well serviced as it has been on previous stays.
.
Lisa Harrop
Always love staying at the Amare hotel. Great vibe with a beach club feeling close to the beautiful old town of Marbella. The service is excellent and the food and the beach restaurant is fantastic. My only negative comment is around the breakfast food, whilst the selection is fantastic unfortunately the hot food that is kept warm is not very hot and is more like warm which isn't that nice, but other than that I would highly recommend and will come back.
.
Kenny jones.( Liverpool)
Excellent hotel, breakfast is superb great choices, pool area kept clean & tidy ,comfy beds , waiter service excellent,would highly recommend this hotel for a adults only break
.
EAGLE LENNIE
Very nice hotel I will come and stay again lovely hotel and staff trained very well.
.
Lady M
A fantastic trip thank you! Just one request please put more vegetarian options on your menu
.
Just a few things to improve the experience. Bath robes in the room. Better facilities on day of check out eg. Somewhere to open your case to get changed and get dressed for homeward journey, without dragging your case down a flight of stairs and queuing for one shower. These small things would not stop me staying again as overall I had a fantastic stay.
.
Christen
My daughter and I had a glorious few days celebrating or big birthdays. The brilliant facilities and welcoming atmosphere were everything we'd hoped for and more. I'd also like to highlight how impressed I was with many aspects of the design and layout which appeared to take into account the needs of people with reduced mobility.
.
Tamara
Good hotel for a fair price. Friendly staff and a beautiful location.
.
Steph Chen
Amare was just wonderful from start to finish. Throughly enjoyed our stay! The staff are absolutely excellent all round. We loved the beach club. Cannot wait to visit again! Thank you!
.
Sun beds much too close together
.
Mr dean crozier
Hi Amare This was our 7th year at the Amare and so looking forward to our next trip in 2023 Overall always satisfied with the experience at the Amare they always make you feel welcome and very polite one thing for me that let it down slightly was the price increase as to what I have paid previously but overall could not fault the hotel once again
.
Laura
Wir würden jederzeit wieder Urlaub in der Amàre Hotelgruppe buchen.
.
Miroslav Bačík
My holiday in Amare Beach Hotel Marbella exceeded all my expectations. Pleasant music, great service, excellent hotel facilities and The One concept made my vacation unforgettable. I booked my next stay at the Amare Beach Hotel on the day of my arrival home in the Czech Republic.
.
Fantastic holiday hotel
.
Stacy Sherman
Originally I booked with a friend. I learned that she snored too loud so I had to book a 2nd room somewhat last minute. Her room was gorgeous and quiet with a terrace on the water side. For the same price I had a tiny room on the side that faced the street. It was very noisy all night. For $350 /night I would have expected a room where I could get a decent night of sleep. My room was a huge disappointment for that kind of money
.
Karen Forrest
The staff make this hotel special a beautiful hotel
.
CLARE
Excellent hotel with great staff. But a few points. Disappointed with room this year, previously have booked basic room rate but have had more spacious room with balcony. I have stayed 3 times and food/drinks seemed much more expensive this year.
.
Very mean amount of wine when buying by the glass. So we went out to dinner. Sheets might have been changed more often especially in very hot weather But overall not bad !
.
philip surtees
came to relax and you delivered , thank you .
.
John Brodie
Second visit this year…absolutely love the hotel….. If I had one tiny criticism it would be to change the music around the pool daily….it seemed to be the same playlist for 10 days consecutively…
.
Fiona
From when we arrived nothing was a problem. Staff were extremely helpful advising us when asked.
.
Ted
Love the staff. It's makes the hotel. Everything was great besides the dinner buffet was not great. The breakfast buffet was amazing. The hotel staff was amazing. The hotel should go out every morning and clear any excess plastic and garbage from the sea. It's little but that's more than what's being done now.
.
No toilet brushes in rooms or common bathrooms is very strange and a requirement. Under some of the sun loungers by the pool there was rubbish and debris on most days. Under loungers needs swept properly and all rubbish/dead leaves cleared away. As a 4 star hotel i think the in room products (shower gel, hand gel etc) could be a better quality. They are nice in the common rooms, but basic/poor in the rooms. We received a complimentary bottle of rose wine, which was a nice thought, but was poor quality and not drinkable. The staff showing us to the loungers informed us of the requirement not to leave the lounger for longer than 30 mins. This is understandable but I did feel the manner the girls had was not of a particularly friendly or pleasant manner. I think their customer service could be much nicer, more pleasant and welcoming. I even saw 1 member of staff throw a couple off the loungers because they had taken 2 free beds themselves and another member of public said he had reserved them, but he hadn't, they had been free. I think the level of customer service across the hotel needs improving with exception of reception staff who were all lovely.
.
The hotel was fine, accommodation was adequate but I didn't understand why it was so expensive for average accommodation. The walls were so thin we were next to a real party room next door so didn't sleep at all during our stay. The pool area is very small with every inch surrounding taken up by sun beds. The beach was easy access and fine but not the kind of beach we like to visit but this isn't the hotel's fault, we should have researched the area more to understand this is not really a golden sand beach. It was very close to the port so the smell wasn't great. Food to be fair was outstanding and very reasonable. The only thing we did really enjoy was the food. We tried not to spend too much of the day at the hotel or beach as it just wasn't the experience we were looking for. The room was simple, clean and had air conditioning. The hotel communal areas have obviously been updated recently but the rooms seemed very outdated in style, they've had a facelift but the bathrooms were like walking back in time to the 1990's. the smell of oud pumping out all over the hotel was very overpowering.
.
Jessica Rothwell
Beautiful few days. Couldn't have asked for more. Nothing was too much for any of the staff and we were always greeted with a smile
.
Rachel lynch
We stayed for 4 nights on our honeymoon earlier this month booked last minute. Definitely would recommend and will definitely be back in the near future.
.
Phyllis Lawlor
Went for big family holiday everyone loved it would go again
.
Paul Fasulo
Fantastico!!!
.
Michael Lloyd
Excellent hotel with extremely helpful and friendly staff
.
Clare
Excellent stay. Travelled with my 20 year old daughter and 80 year old mother and my sister and we all loved it. We hope to definitely return. Staff were very friendly and welcoming in all areas. Many thanks xx
.
Jose JHasenohr
We were transferred from the closed sister hotel Furte Marbella which had a completely different vibe unfortunately the need/wants of these clients were not considered. My review of this hotel comes with very mixed feelings. The staff overall were hard working and friendly, Ana our cleaning lady was excellent and kept our 3 rooms to a high standard of cleanliness, reception staff were helpful and informative. Breakfast was plentiful and full of choice for all, we had lunch a few times on the beach and at the poolside bar quality of produce very good but came at a price. The real bone of contention was the PERMANENT drone of loud music from breakfast until we went up for dinner there was no escape, one morning as a party of 6 we could not hear each other at 8.10am around the breakfast table it was so loud, when we asked if it could be turned down a little we were told it was not possible as it was piped !!!!! This does not give you a relaxing staff to the day. I did raise the subject of the music levels twice and on both occasions was just responded with a nervous laugh We had a good time we made sure of that but our experience could have been enhanced with a couple of quite hours around the pool
.
Loved the property, location and the food. Customer service needs attention though.
.
Michelle
Fabulous hotel great service will definitely return
.
Peter Huybrechts
For us the hotel was super in all the ways. Only the bed good be a little bit better. its 5 star hotel thank you so mutch Greetings Peter
.
The stay was amazing, the only thing I would criticize is the dinner buffet. As a vegetarian, I felt like there was too little of a choice for me. The pasta sauces were the same every day and not as good as I would expect when going out. Also, I do not regard having vegetables grilled by your cook as a real meal. The choices on the card had some vegetarian options, but the Italian meals did not really taste nice. I would have appreciated some real vegetarian meals, like wraps (e.g. with falafel), ratatouille, pasta with changing and more tasty sauces (e.g. vegetable sauce / vegetarian bolognese etc.), sushi with vegetarian options, stroganoff etc.
.
ANDREW DUTTON
As visitors to AMÀRE beach club for many years, we explained when we booked many months ago which room area (406 / 506 etc) we'd like. The booking agent emailed the front desk at the hotel to advise them. I phoned the front desk a week before our arrival & was told our preference was noted. It was very disappointing therefore to find on arrival we were allocated 315. The clerk moved us 24 hours later to room 506; it would have been a better start to our holiday it our preference had been acted upon on arrival. And then my wife broke her leg, falling down your wooden steps to the AMÀRE beach beds … not a holiday we wish to remember.
.
Kate Wynne
Amazing stay as always, can't wait to come back again. Everything being QR code based was a bit cumbersome however, I would worry about recommending to my mother for example. Paper menus etc should be freely available also. My only feedback. Excellent other than that.
.
michelle HART
Can not fault anything from arrival to departure
.
Val
The hotel is fabulous, has a great atmosphere, smells devine and is scrupulously clean. The views are amazing from your sun lounger to the roof top bar. The staff are wonderful, so friendly and polite - definitely the nicest staff i have met in any hotel . The food from the restaurant to the beach bar was gorgeous. We only had a 3 night stay here to celebrate birthdays and we were sorry we didn't book a longer one ..loved the hotel ..definitely will be back next year for a few visits !
.
Gemma
We had a great holiday and the hotel is fabulous. The only room for improvement would be the drinks/food service around the pool and beach area as most of the time we had to press the buzzer multiple times for someone to come and waited over 20 minutes to place an order. Once we ordered the food and drinks came quickly though.
.
One of the Best hotel in Marbella ✅✅
.
Marilyn Borlase
We loved the Amare beach hotel. It's my second visit and this time I bought my daughter. It's immaculately stylish with breakfast to die for. Live music was unforgettable.
.
Sarah
Hotel is great, all staff friendly and polite. Room clean and a good size. Access to The One area was a bonus with our room and we did make good use of it for snacks and drinks, there is a really good choice of drinks including branded spirits, and tasty savoury and sweet snacks, a suggestion may be to have sun umbrellas on The One terrace area , if it is busy inside during the day the sun is straight on that terrace and there is no shade which makes it very hot! The only negative would be evening entertainment and lack off atmosphere which we found disappointing, we saw a couple of singers on the roof top bar but they didn't seem to sing for very long!? And apart from the beach restaurant which again had nothing happening on the night we ate there, there is nothing happening, I'm guessing alot of the guests venture out at night so this makes the hotel very quiet in the evening which is a shame, but apart from that we couldn't fault the hotel. Its in a great location, 5/10 minute walk to the old town which is beautiful and great for people watching!! Also taxi's park outside the hotel which we used a few times to go to puerto Banus which is a fantastic place for dinner and to see all the fab cars!! The hotel has people of all ages staying there so it's definitely not just for the younger ones ! We had a great time.
.
Hello, It was our first time on Coste del Sol. Generally, our stay was pleaseant. We had, however, two bad experiences... Once, with massage on the beach. My wife booked 30 min. At the scheduled time, on the beach, the masseeur was undeniable...She was sent ,several time, between beach and inside center of spa, searchig the masseur...She booked 30 min, recieved 21 min, payed 30 min. We tooked all the meals at your location (we booked half board and , at lunch, we ate on beach restaurant). We preferred to eat ,especially, fish ! (poor offer for a place at the sea) In a day, we ordered a whole fish ( it was sibas ). After an expectation of 40 min, the waiter informed us that "sorry, no more sibas""...It was, at least, funny! Near the sea and at those prices, "" no more sibas"". I m talking about the whole fish, no pieces of fish.Probablly, you shoud consider to offer for tourists the possibility to reserve, in advance, the fish for lunch...)) But, I repeat, generally, our stay in your hotel was pleasant ! Thank you!
.
Fero
It was a nice experience and perfect relaxed holiday.
.
Jessica curd
I felt the welcome and help with bags was not good no welcome drink was given no help with bags to the room. Then leaving no help with bags taxi etc I have never experienced this before as I always stay in good hotels. I did not start the holiday with a feel of being looked after.
.
Bill & Emma Wood
The quality of the whole experience was fantastic. Drinks, food and customer service was 100% A few weeks ago we were in Malta at the Hilton St Julian and the drinks were measured at 2 cl !!!! The Spanish way of pouring at your table does make a great difference. Only problem we had was the room air conditioning didn't come on one evening. We called reception and a chap appeared and looked at the blank screen and said maintenance would check in the morning. Reception did then offer us another room, but not practical at 2am. Turned out, the problem was that the balcony door was not properly closed. If the person had checked when he visited the room, it would have been easily fixed.. Maybe more training, or notices in rooms, would fix this situation for the future residents. We did however get a lovely plate of fresh fruit next day for our inconvenience, most appreciated.
.
IAN MATHIESON
lovely Hotel well Done
.
Amazing time I highly recommend a visit staff are amazing and go out of their way to make you're stay pleasurable
.
Hotel security and staffs lack professionalism. Threatening of guest with police for there in adequacy.
.
Jo
Excellent stay. You are a guest not a visitor!! Excellent job!!
.
Roslyn griner
My only recommendation is that even basic rooms need coffee makers. I stayed in Barcelona and had a Nespresso machine. Instant coffee is unacceptable for a 5 star hote.
.
We have been quite a number of times to the hotel. This time we felt that the hotel was more tired than on previous occasions. Our bedroom was certainly more tired. There was an outbreak of ants in it. The 'one' lounge at times was understaffed for the very high number of people that were visiting it in peak season. In the first few days the food and glasses often ran out when we entered. The music in the hotel was outstanding and has steadily improved over the years. There were not enough nice treats in the breakfast for example the jam was very cheap.
.
Jdag
I love the hotel, the facilities, the room and the location of the hotel. The only negative I identified during my stay was breakfast. Although COVID has decreased, the buffet should be more covered (protected) from people walking around and coughing on the food. Also, food was being touched and placed back in the plates by other guests. Perhaps, someone from the hotel should be serving the items from the buffet and prevent contamination of the food and make it more hygienic.
.
Patrick de Bruijne
a very fine hotel with great staff and hospitality. Very clean rooms and great services at the pool and beachclub. We had a great vacation superb breakfast buffet with fresh oj, fresh eggs etc etc
.
Jem
Perfect for a girls long weekend. Even the sunbeds around the pool, you can't put your towel on early and reserve, this stops people from reserving a bed and not being there all morning. So much better.
.
Dirk Janssens
very good hotel, friendly staff, would 100 per cent come back next year, but hesitating because the new rule that airco has to be on minimun 27°.
.
Tony Puls
Very bad standard rooms. Airco doesn't work properly. The temperature of the shower varies from warm to hot and back. WiFi is appoaling . As a member of the Club de Amigos I normally have an upgrade, but not this time. I had to pay lots of money for the upgrade. It was my fifth stay in the hotel with my family but my last . Nunca mas . Very disappointed..
.
Kim Chaston
Beautiful hotel amazing staff will definitely come back 😀
.
Stavros Steides
We had a fantastic stay, thank you. Only criticisms Music could be changed, it kept repeating over and over. There was issues with the wifi slowing up. It took a long time to get served by the pool or the beach bar. Maybe, this was because of a staff shortage.
.
Lisa H
Excellent hotel in a lovely location. Pool area and beach were great, free towels and service was very. All staff were kind and considerate. Room was classed as side sea view yet we had a full view, room was clean and cleaned daily with fresh towels. Breakfast was fantastic.
.
Paul
Excellent hotel but could be better. WiFi By the pool is poor and evening entertainment could be better downstairs.
.
Nicolaas Koning
Good afternoon everyone, we spent a wonderful time in your Hotel. the rooms, the facilities the staff, it was great. we would like to visit again.
.
Nicola Brophy
Quite honestly one of the best hotels I have ever stayed in. The hotel itself was immaculate, the breakfast had so much choice and was amazing and the rooms were very clean. I would highly recommend.
.
Martin Reichel
Amare Beach Hotel is top notch in every respect. Outstanding rooms, restaurants, service, pool/beach. I have traveled the globe and this is a hotel of the highest caliber. I do hope to return again.
.
ronald baptiste
very nice
.
Colchester lady
Friendly helpful staff - nothing was too much trouble. Lovely ambience and great pool service. Comfortable seating areas round pool. Fab breakfast.Great bike hire service. Only downside was TV in room which kept returning to Home Screen mid program!
.
Denise G
Amazing hotel! The hotel and all the staff were amazing, from the moment we arrived until 5 days later when we checked out. Really friendly staff who were so helpful. The food in the hotel was amazing, the freshest food for breakfast, lunch and dinner regardless of what area of the hotel you ate in . Woukd highly recommend.
.
Deirdre
Really impressed by all your staff especially those at the reception area and the man in charge of the bag storage area.
.
Ben Shakespeare
Nice hotel, clean, good location facilities, beach bar/pool bar service was a little slow at times.
.
Brenda Creedon
Fantastic hotel with amazing service. Quality food and drinks served to a very high standard. Would definitely recommend your hotel to our family and friends. Thank you for amazing stay
.
Anne Quinn
Second visit with a group of friends and it was as amazing as the first. The hotel public areas, rooms & outdoor areas are all kept immaculate & the service from staff is fantastic! We will definitely return!
.
Annie
I really enjoyed our stay for my birthday and in preparation for our wedding. One recommendation I would have is to have a nespresso machine in the bedrooms. This is such a small addition but would have a wonderful impact. Also loved the rooftop bar.
.
Aisling Sproul
Excellent
.
Fiona Pirie
This was our 3rd time staying and we love everything about the hotel. The location, service, room, food, decor, amenities, entertainment and the staff are all excellent. The hotel has thought of everything. We had a fantastic stay and can't wait to come back next year! Thank you
.
Christoph
Insgesamt sehr gut. Die Musik wurde mir zeitweilig allerdings zu viel. Es ist meiner Meinung nach nicht nötig, 24/7 mit Musik berieselt zu werden. Es ist auch nicht nötig, dass JEDESMAL das TV eingeschaltet wird, wenn ich mein Zimmer betrete. Das ist etwas zu viel.
.
Deborah Street
The car park exit method is crazy not clearly communicated that the car had to be in a specific spot for the barrier to lift. Causing confusion, delays and queues of cars trying to get out with no room to manoeuvre into the exit spot. The car park attendant was unhelpful. Also, the table tags for service were not all working which meant we had to wait for long periods and try to get the attention of the waiter service
.
D
Excellent overall. The only thing I would change is the very loud music all day long at the beach. It is not relaxing with the noise. Otherwise, staff very friendly and nice. Great hotel.
.
Fantastic stay. (Music at beach club a little to loud in the afternoon …)
.
Diane Lovegrove
Great hotel everyone was really friendly service was perfect the attention to detail is spot on Food and refreshment were great Was a perfect few days away with my daughter x
.
Ghazal Abazaid
I would highly recommend this Hotel from the cleanliness of the hotel, the pool and the rooms. The staff are so professional and very helpful. The room service was super fast, the food was good but not super great. Although I have one comment regarding the beach it's not clean and prepared for the swim. But I would definitely come back again as I really had a good time!
.
Thank you for the very nice greetings with cava and chocolate for our wedding anniversary. Highly appreciated!
.
Tracy kerrigan
I have stayed at the Amare many times and will continue to do so it is superb From the location to the staff and facilities it's everything you could want in a special place I love it and will always be back Thanks to everyone at the Amàre for always looking after me so well
.
Mihaly Mihó
Fantastic location, super beach bar&kitchen! Beautiful Hotel, kind staff. Very clean rooms.
.
Ursula Neuscheler
Outstanding
.
Leider war der Strand nicht schön. So schwer ins Wasser zu gehen wegen Steine !!! Ich müßte ein Paar Wasserschuhe kaufen.
.
Carol and Peter May
Absolutely love the Amare… an adult only paradise! We Will keep going back as standards are always so high. The staff in particular are super helpful with any enquiry/ problem/ question. Highly recommend
.
Noel
We are long time guests at Amare & Fuerte having enjoyed your hotels for 26 years. Getting back this year after COVID was like coming home. Thank you Amare, will see you again soon.
.
Meinir Williams
Booking system not good. Lack of communication during booking process and difficult to contact hotel directly.
.
Andrew Aldis
5th visit to Amare Beach Hotel and it gets better everytime!
.
Joan Gilsenan
Excellent all round; a little expensive but we booked last minute; however the extras were good. We never had to contact reception - which is an excellent sign. Towels and turndown in bedroom excellent.
.
We had a very pleasant stay...only the kindness at the reception needs to be improved.
.
mr john mcdonald
hotel very good staff excellent but the most annoying thing was the 30 minutes you could leave your sunbed for as this was not enough time to go to breakfast and i do realise to be fair to other guests time limit should be set but 1 hour would be a realistic time
.
Joe Miller
Great hotel in a good location, lots of friendly helpful staff.
.
Karen clelland
Fabulous hotel very clean and staff are amazing good location to promenade and restaurants all within walking distance
.
Carol Dixon
We booked via Jet2 It was unclear we did not have a balcony so had to upgrade The room originally allocated very poor option and would be surprised if many people realised with the standard room had no balcony I think these need removing from or alert It caused quite a bit of stress at checking Had to go to 3 rooms as group of female friends the glass bathrooms not really appropriate Reception staff nice though
.
Tolle Lage vom Hotel, super liebes Personal. Die musikalische Dauerbeschallung in extremer Lautstärke am Strand war zu viel. Die Snacks an der Beach-Bar sind preislich maßlos überzogen.
.
Chris Stark
Overall we enjoyed our time at the hotel and we love the music on the beach along with the location of the hotel. The only negative that we can think of is that the shower leaked onto the floor. The floor mat was not large enough to keep the floor dry so it became slippery.
.
Jamie nardone
Best hotel I have ever been to
.
Treasa Morgan
Fantastic hotel...chilled out atmosphere with excellent attention to detail. Loved the beach club area and the live music...all while relaxing on my lounger. We did not want to leave!
.
Sarah keane
The only negative we could find is the "sun bed "situation in the mornings . The hotel has an excellent pool policy which would work very effectively if people were not allowed to reserve pool beds prior to 9am when the pool staff start work....there is a perfectly good system in place and people should be made to adhere strictly to the pool policy so that everyone has an enjoyable experience while at the hotel.People should not be allowed to reserve pool beds prior to 9am. I hope this can be rectified asap otherwise we had a wonderful experience while staying in the Amare Marbella
.
Pool was a bit cold at times
.
David
Brilliant couple of days stay. Everything exceeded our expectations. Will definitely be back
.
Pearl OKeefe
The reception was the worst for me personally we upgraded our room just wasn't great for the price we paid not overly impressed
.
Lisa
Lovely modern hotel with very clean rooms. Comfortable sunbeds and staff at reception and by the pool were really good. Service at the Spa could be improved.
.
Losing the sun mid afternoon isn't ideal but can't be helped. Beds were great but always fine really early which really took the shine off - felt over subscribed
.
Dionne Chance
Loved our few nights stay. Highly recommend
.
Melanie
Loved the hotel beach entertainment dj with live instrumental great each day sunbeds so comfy and loads of umbrellas everyone very helpful and polite would definitely return
.
Mckenzie
Just returned from a lovely stay at the hotel. Staff were excellent. Very helpful and always smiling. Nothing was ever to much for them. One little point is the towel situation! You are supposed to get your towels at 9am but some guests were keeping theirs from the day before and putting them down on the beds at 8am! We chose the beach which was always quite and beds were not a problem but if you wanted a good space by the pool I thought this was a little bit unfair. Also you could only keep your beds if you had lunch at the hotel where they gave you a sign saying gone to lunch to keep your beds. If not they would take away the towels. If you're going to do this then don't allow people to have their towels and reserve beds early. One rule stick to it. As I said, very small point and it really didn't make a difference as we where on the beach. Would definitely return. Loved it!
.
Suzanne Scanlon
We booked the amare marbella after going to the Amare Ibiza last year. Our stay at the Amare beach in Marbella was just amazing. The hotel spotless, the staff so very helpful and friendly and the fantastic facilities from the pool to the food and the bar areas. We loved our trip so much we have booked again for next June and bringing our daughter with us who was very jealous she was not invited along this time lol. Roll on June 2023
.
Lindsey Brett
A fantastic hotel with lovely staff. This was my third visit to the Amare Marbella & I will defiantly return again. It is a relaxing space with lovely scents throughout. The buffet breakfast has everything you need & more. Very good quality. It was great to once again be there for the festival of light which is a fantastic night & very good value. All of the staff are pleasant & make the service fun, especially down at the beach club. It was nice to have the live music on the beach on a more regular basis.
.
John Bowden
Our overall experience was very good . The staff were very friendly and helpful particularly at reception. The location is excellent being so close to the old town of Marbella. Would definitely stay there again.
.
A beautiful hotel, very well situated.Personnel very friendly, helpful, polite.Maybe,for a few of the personnel please try to learn a bit of English.But the price I paid for my stay way too expensive.And for a 4 star hotel you also expect a certain type of guests…instead I found a lot of English people from the worst type:men covered with tattoos/badly dressed(going for supper to the restaurant in slippers and tee-shirt!), women walking around in the lobby of the hotel in bikini strings, wearing nothing else…I am wondering with which kind of worst English tour-operator the hotel is working with!
.
Mohamed Fahmy
The Hotel management and staff couldn't have made our experience better. Everything exceeded our expectations. From Hospitality, professionalism to the smallest details, interior and vibe.
.
Amy
Great stay - better than some 5 star hotels in the area. Fantastic restaurants and service. Wouldn't hesitate to recommend and will be returning. Thank you.
.
Melvyn Franses
A very professionally run property excellent and well trained staff all working together for smooth running. The rooms are bright and airy with everything working as it should. The beach area is very cramped and would benefit from allowing more space. Personally I could have done without the persistent thumping music.
.
N O Connor
Amazing hotel. Sorry if we were too lovely i hope we didn't ruin it for anyone
.
Jennifer rowley
10 of my girlfriends went for my hen do, we had the best 4 nights at the hotel and beach. You could not ask for a better hotel, the beach was amazing and every day you had different entertainment during the day. You have to book this hotel x
.
DC
Hotel Amare is a beautiful hotel. The service is impeccable and you feel like you are in dream land. I would highly recommend this hotel and I will definitely be returning in the future!
.
Lesley Dalton
Nice hotel, very difficult to get sunbeds if hotel full, very unhelpful as we had a late flight and would not let us keep our room or pay for another for a couple of hours so we weren't just sitting around for 7 hours, even though there were actually 12 sunbeds empty that day, food and drink on beach were not great, served 2 days on trot corked wine, breakfast was great though, beach full of seaweed and needed to be made a bit nicer
.
Generally had a good stay. I don't think charging parking fees which is owned by the hotel is justified especially when the room charges are €550 per night.
.
Sarah Avern
We had a fabulous weekend - the hotel was stylish and yet the customer service was second to none. The breakfast was the best buffet selection we've ever seen and the cocktails in the bars were delicious. We will definitely be back !
.
Bernard Conn
I accompanied my family for relaxing holiday. Your hotel is not suitable for people.over the age of 45. The pool is tiny, the pool area is far too small for the number of residents. The sun beds are inches apart and there is a battle for them every morning. The thumping disco beat goes on all day there is no peace it is hell. This is only suitable for people who are stone deaf or under 25 with the mental age of 5 or who like to get drunk so they don't notice anything My room had no cupboards or drawers so my belongs were stacked on a tiny shelf The good parts were friendly efficient staff and cleanliness. Also a good position in Marbella with access to the town and promenade I will never return or recommend your hotel to anybody
.
Tricia Hamilton
Beautiful location, friendly, helpful staff. The music at the pool was rather disruptive….peace and quiet would have been better.
.
Gorika Ahuja
Loved the hotel beyond words! The food was exceptional, please complement the chefs on our behalf. Thank you for a lovely stay! Would visit again soon.
.
Nice 4* hotel - no entertainment when we were there. Lovely roof top bar with great views and sun till it sets. Unfortunately the hotel is in the shade from early evening and the beach area in front isn't the best - it's nicer just further up nearer Amares sister hotel Fuerye.
.
Jennifer
The hotel is nice enough but I believe I smelled the septic system every time I entered my room. I had to keep the slider open to bear the odor. The breakfast buffet could be higher quality. The coffee was terrible and many of the hot items were mediocre. The club music playing incessantly by the pool was tiresome too.
.
Tina Wilson
We have stayed at this hotel many times and it gets better and better, thoroughly enjoyed our stay once again our room Oh La La was brilliant and for the first time we went half board, the food and service we received from Elvis was impeccable, we shall definitely be returning next year. Thank you once again for an amazing holiday.
.
JH
Beautiful hotel amazing service and friendliness .Very clean and staff cannot do enough to help .Amazing breakfast . Only complaint was one inadequate member of staff on night duty who should not be working there as he is quite rude but everyone else is professional and cannot do enough for you .
.
Tori Gunputrao
Nothing more to say then love Amare 100% 4th visit and still no faults ❤️ The service, cleanliness and standards are exceptional, credit to all the team at the hotel, we are planning on taking a trip to the Ibiza hotel late September as love the hotel so much, thank you xx
.
Alyn Brewis
Great as usual!
.
Mrs Jane Snowden
Lovely decor, clean and staff very friendly. The constant bass on music system was for the younger generation! Almost dance music all day!! Certainly not for the over 60s, and lack of sun beds! Only 30mins to go and get a paper or lose your place!!!
.
Joanne Pledger
I just love this hotel there's nothing I don't like about it apart from the tea at breakfast! The rooms are fab, the food and drinks are great, staff are lovely a very nice place to relax and have a great holiday right on the beach but within an easy stroll to Old town which I also love!
.
Niamh Duggan
Amazing as always. Thank you again for a beautiful stay. Until next time x
.
Colin Cook
We are regular visitors and we enjoy the experience, staff are always welcoming, helpful and most importantly always smiling. Flor in reception was extremely helpful. Can't wait to get back in september
.
Joanne Cowell
Fantastic hotel very modern and the staff were very friendly
.
Carol
We have been staying at Amare Marbella for many years & our only complaint is that for a hotel of this quality there are frequently not enough sun beds! Each year we make this comment & also that the half hour time slot for lunch & having to leave a sign on the sun bed saying you have gone for lunch is a farce. Otherwise we cannot fault the Amare & have enjoyed every stay there
.
Dorothy Irene Place
I have to say I returned to the lovely Hotel for luxury stay to rest and recuperate after a busy few months. Unfortunately our holiday was ruined, because professional thieves infiltrated the breakfast area with intent to Rob client's Unfortunately we were the victims at the time. This caused us and still is causing so much distress spoiling our holiday. Sadly the hotel has not dealt with our terrible loss of personal effects...I really feel they have responsibility to ensure this can't happen in their premises to paying guests. So because of this we will not be returning again . Dorothy Place Peter Flowers
.
Siobhan Purcell
Thank you for another lovely stay in the Amare! The Amare is a great hotel. It is perfectly located; the staff are friendly, courteous and efficient; the food in both the beach and breakfast restaurants is superb as is the service; the decor is calm and serene. We did unfortunately have an issue with the air-conditioning. On one night, we had none at all. During the second half of our stay, it went off for a time each morning around 5 am. There can be an unreasonable wait time for lifts. This is understandable at busy times but access to stairs was tedious and clearly not a desired option on the hotel's part. Signage for fire exits was not clear. On one day we were told there were no beds available on the beach, while there were four beds 'reserved', with rolled up towels, unused and empty! A row ensued between two members of staff when we eventually claimed two with the permission of a male staff member. It was very unprofessional and uncomfortable to witness. In any case, there should be enough beds to accommodate guests. I am not complaining but hope my comments will guide. We look forward to returning to the Amare. Many thanks, Siobhan.
.
Bruce St Leger
The hotel was lovely and I would recommend others to visit and my scores above reflect this. Reception staff were outstanding. I was disappointed with the Amare lounge. It is just in the wrong location, is not very inviting and there is no atmosphere - we paid a lot extra to have this included and hardly used it as we didnt enjoy the experience of it. The worst experience though was the beach lounger service. Waited ages to be served then waited ages for the drinks once we had been served. You also cannot order from the bar to help the staff at busy times which was very frustrating. You need more staff to offer this service at the busier times. Otherwise the beach experience was good but this really let it down.
.
Erika
Hello Overall we had a lovely time at your hotel. Two points that would have made it even better though - the first was the service in the roof bar, the person who served us was incredibly rude/abrupt so we didn't go back. The second was there was only one male and one female shower we could use on our last day as we couldn't get a late checkout. There was a large queue and actually made our last day quite a stressful experience. Hope this feedback is helpful. Many thanks Erika
.
Gemma
Many thanks for a great stay and i have to say Cristina who served us many times was an outstanding staff member. Always smiling and nothing was too much trouble
.
Naomi tuckwell
Overall we had a fabulous stay. Cristina is particular who served us around the pool, at breakfast and in The One lounge was amazing! She was so attentive. My only slight negative is the sun bed policing. I completely agree with keeping track of sun beds that aren't in use as it's extremely frustrating when people reserve them and don't use them however only being allowed to be away from your bed for 30 minutes is a little extreme. We were even in the pool and the beds were marked down as not there. We never felt like we could fully relax incase our stuff was removed. We also paid extra and had access to The One lounge as we had The One room, and we wasn't even allowed to go and have lunch in there for more than 30 minutes. Making people have lunch at the beach club only to be able to have the 'gone for lunch' sign in the sun is totally unfair. I feel this whole process could be tweaked a little and it work for everyone.
.
David Rowland
Top class hotel in perfect location. Great vibe by day. Breakfast is a delight with great customer service and attention at all times. Thoroughly recommend the Amare for a 5 star experience.
.
Lisa
The hotel is lovely inside and out. Overall the service is excellent. The only area that lets the hotel down is the lack of staff at the beach bar. Having the buzzer is a great idea, but not when it's ignored. When the buzzer was pushed more than once as it was assumed it hadn't worked, we were 'told off' by staff. There needs to be more than one person behind the bar making drinks. When asking staff for service, they were fairly rude and uncooperative - probably because they were receiving so many complaints. This wasn't all the staff, a few were helpful and sympathetic to the problem. Waiting more than 30 minutes for a drink and on many occasions, isn't acceptable. The rooftop bar, the service was excellent. Great breakfast selection. Good food at the beach bar. The entertainment was very good. Reception extremely helpful. The balcony in the bedroom was quite dusty. Drawer space limited. No mini bar tariff. We did enjoy our stay and felt comfortable in the hotel. Thank you
.
Eileen & Gareth Jones
We loved the hotel but was very disappointed with the standard of the food, meat generally tough to eat, the cakes were poor nearly always the same every night. Cereals not to our taste prefer cornflakes and porridge also do not like hot milk on cereals makes them very soggy. Prefer vegetables to be cooked not just put on the griddle. Also had to queue for seating at breakfast time why couldn't we just pick our own seats. Not happy being blown around in the open air. Also some evenings it was quite cold but we were not allowed to eat inside, surely this should be judgment issue according to the weather not hotel policy.
.
Roger Philcox
Sun beds too close. Had to walk 20 metres to walk to get from front of be to the rear ! Constant music was too loud and there was nowhere quiet to sit by poo/ beach to be quiet to read or sleep
.
Style over substance
Ultimately the customer service was very low and not all personnel engaged with me and for an exclusive property I would expect nothing less ! If it's a party hotel fine but there was no party ! Excellent location . Small pool Service in the restaurant was very good at breakfast and dinner.
.
Agnes Buckley
We love everything about the hotel and have recommended Hotel to our friends but was very disappointed to only be able to leave your bed on beach for half hour. As my husband has been ill and needed to go to room for medication and when we came back which was maybe 1 hour our beds were gone.
.
Everything perfect other than the time it takes to be served on the rooftop bar, walked out twice after waiting over 15 mins . Otherwise no fault
.
Louise Doyle
Loved it so much I have booked to return in 3 weeks
.
Ronnie
Disappointed with the 30 minute pool rule. Took advantage of The One package but felt as though we were continually rushed to get back to our sunbed before the towels were taken away. On holiday lunch and drinks breaks should be relaxing not taxing. Overall liked the hotel.
.
John Haymes
First rate service and facilities . Great location . Only drawback is the obsession with teckno music … not at all pleasant to listen to on the beach and completely spoils any enjoyment of the rooftop terrace bar area at night. At least provide some variety ? Thanks
.
Fabulous hotel ⭐️⭐️⭐️⭐️⭐️
.
Debbie
Had a fantastic stay at the Amare Marbella - we felt completely relaxed, loved the ambience of the hotel, all the staff were lovely and welcoming.
.
Mrs. J. Evans
We were so disappointed by the fact that the seaweed was left the whole time at the edge of the sea!! Other resorts usually clear it even on a daily basis so one can swim in the sea! The hotel beach seemed to be the only one in such a disgusting mess. That left the lovely outdoor pool which was us heated and cold and rarely used by anyone. Everyone said it was so cold.Why ? Hardly anyone in the pool because of the temperature . This is far from 5*. very disappointing. Lovely staff and most attractive inside the building. However on a summer holiday it is the outside and facilities such as sea and pool that surely are so important. Mrs. J. Evans.
.
Hetty Van kasteren - kemps
What we don't like this time we stayed at your hotel is that in that early in the morning the towels where lay down at the beds by the swimming pole en the see. So that when we came back from waking all the beds where full. How irritated.
.
Anthony Hutchings
we had an excellent stay pre pandemic this time the bar service was slow at times and the music poolside was not as relaxing as before. on one day there were no sun beds available poolside or on the beach and this was very unsatisfactory otherwise the staff are excellent efficient and friendly
.
Alles goed behalve de koffie. Was veel beter.
.
David Kanareck
I have rarely met such efficiency and friendliness from hotel staff at every level. The hotel is perfectly located and the level of comfort and cleanliness is first class.I have been travelling more than 50 years on both business and holidays - mainly in S.E.Asia, and I would rate your hotel with the best of them.
.
disastrous beach !!!!a shame ! tiny swimming pool. great breakfast excellent staff in all sectors
.
Karina Mcaleavey
Overall a fantastic stay. Disappointing that there is not enough sun beds and two days of our stay we had to find a beach club and pay extra as there was none left after our breakfast. Would recommend though.
.
Clare
This was our second stay at the Amàre Beach Hotel and we were once again not disappointed. The hotel decor is beautiful and contemporary and public areas are very spacious. The hotel is immaculately clean and smells wonderful. The staff are extremely helpful and friendly and can't do enough for you, this truly is a holiday where you don't need to lift a finger, from having freshly squeezed orange juice poured for you at breakfast, having your oversized beach towel set up on the sunbed of your choice, to the buzzer next to your sunbed which you ring when you want a drink…. the service is just spot on. Anyone looking for a quality adult only hotel in Marbella, you can't go wrong with the Amàre Beach Hotel, we will most definitely be back.
.
Leon
Brilliant hotel, Pool and Beach. The only very small issue is that it is about 15mins away in taxi from Puerto Banus
.
Kkk
My low rates on 3 counts was because I didn't use those facilities…I had a lovely time thank you
.
Rajesh Passi
Over priced hotel even charged for water in the room and no coffee in the room, bar prices ridiculous , at times felt like hell with all the stag and hen parties around
.
Monique
Good hotel, unfortunately in the evening nothing to do. We missed some live music in the evening @the beach and the rooftop was closed or very full of drunk English people. Breakfast was very good. Shower is switching from temperature, extremely hot (watch out!) or cold. Price is overrated we had better hotels for this price in the Cariben. We think it's wel one of the better hotels in marbella. But a lot of 60+ people. It looked good, sunbeds also nice and staff is very friendly. We had a good time but it was better if there was a show or band in the evening.
.
Richard Kennedy
This is a well located hotel. However the bfood offered at dinner ws very repetitive with little choice at the mea counter in the evening. Indeed the meat appeared to be mainly cheaper cuts, though the fish was excellent. The piped music was plyed too loudly through the speakers and was monotonously repeated every evening. Surely you could find some decent Spanish and / or latin music to play rather than the dirge that is the current play list
.
Kerry Champion
Amazing hotel, quality food and alcohol choices. Lovey staff. Perfect location - will visit again
.
Rachael Booth
The only complaint is about the quality of the sangaria it was very expensive for the quality of the wine used and no fruit as a result very unpleasant and we had to leave it.
.
Dean
Overall a great hotel which we've stayed at many times. Unfortunately we did have a few issues with the air conditioning in our room - first not getting cold enough (would not cool the room below 22 degrees) and then leaking all over the room. It was eventually resolved but no compensation was offered. The Wi-Fi is also as bad as it was 3 years ago when we last stayed. It frequently drops out and streaming video services to the TV via Chromecast is impossible as a result as video just continually buffers. The spa hydrotherapy area also needs refurbishing - the ceiling is damp with numerous areas peeling.
.
This is our 3rd trip to Amare Marbella, and we enjoyed very much. A few things have changed since the last visit. It is a little inconvenient having to go outside to go to breakfast, the inside door is preferable. The spa needs to have better facilities eg, shampoo, conditioner, extra towels. We were unable to take advantage of our amigos late checkout which would have made a better last day due to our late flight. The bar could be open slightly later, we couldn't get a drink downstairs at 11.50 so they sent us upstairs and we waited 20 mins before leaving. However we love the hotel, the beach club, the beach restaurant, the art and we have thoroughly enjoyed our break. We will be back! Thanks very much! Also my name is Anne Dredge, I am the lead booker for this group, I was in 625 and my friend Mandy was in the other room 922 so please update your records. Thanks 😊
.
Susan Marino
Beautiful hotel. We ended our two week vacation in Spain there for only 2 days. Wish I had more time. Loved the hotel. Hope to return one day.
.
S. Hayes
We had a wonderful week at Amàre Beach Hotel, it provided more facilities than we required, of those we used they were first class. We would definitely consider staying here again and explore more of the local area. The position of the hotel was at the end of the busy area which suited us very well. Thank you for a perfect holiday.
.
Amanda Foster-Wall
Had a great stay at the hotel. Overall experience was first class. Looking forward to returning.
.
Naets Jacques
super staff ....quality of the food is very poor
.
Diana Steele
Thoroughly enjoyed my stay. It all went too quickly! I would be interested in any good offers.
.
Christopher
This was another very very pleasant experience again and will return again when possible. Staff were amazing!!!
.
Sarah Norma Chambers.
We had a great holiday everything was very professional the staff were very friendly &are every need was taken care of I will definitely be back many thanks congratulations on a well run hotel. S
.
One of the best hotels I've been to. The staff are extremely professional, helpful and pleasant. The hotel amenities are great, the breakfast selection covers all options. The beach/pool area is very clean and relaxing. I will definitely be back and will continue to recommend the Amare to family and friends
.
I have stayed quite a few times in the Amare marbella and the standards have definitely slipped. The breakfast was always great and still is, however the lunch we had wasn't good. The prices on the drinks menu went up €3 over night. The rooms are still beautifully maintained and kept spotlessly clean . a special mention to Jesus, the porter/ doorman who was just lovely in every way. I still had a enjoyable time and I will return but maybe just not eat lunch!
.
Very nice hotel beach not so good
.
Bernadette McGrath
We had always been guests in the El Fuerte Marbella but we were very impressed with Amare and look forward to returning in September
.
Lynda
Great but not enough sun beds
.
Stephen Devins
Excellent
.
Caroline
The only downside was the fact that lunch had to be eaten in the hotel or your towels would be removed. A minimum period should be applied for " gone for lunch ", but you should be free to eat at a place of your choosing.
.
Frank Lampole
Once again a perfect experience Only remark - not unimportant - I think you have changed your supplier of the bread at breakfast; this is really not up to the standard of Amare.
.
Eric J.
At best, could have been an oasis in a ghetto. The Amare hotel was by far the worst price to value property I've ever experienced. The hotel is located near rundown Maintenace area for fishing boats. The promenade on which it sits is tired, rusty, neglected and unappealing. The area is noisy—can't even enjoy the terrace. The hotel room had some definite cleaning issues—the same pieces of little and used w-tip in the lobby was there the day we arrived and the day we left. The room also had cleanliness issues. The was significant mold build-up in the caulking of the shower in our room. There was also a large tennis shoe footprint on the wall that should've been wiped off before I knew I knew guest arrived. The Jacuzzi outside did not work—it was neither warm nor did the water jets function. The beach was covered in seaweed which, at the price of this hotel they should have had removed. Moreover the water at the beach is not that clean. The hotel is constantly being pumped with perfume from spray units hanging on the walls about every 10 meter or so. The hotel intensely smells like the worst duty-free zone at an airport. Hotel rents bikes for a fee. We rented two and both were broken. The staff friendliness level is adequate. Please read my review on booking.com. This was by far the worst value I have had.
.
Sinéad macHale
Put prawn pil pil back on the menu.
.
Jayne
Beautiful hotel and amazing staff.
.
Gemma Douglas
Our experience at the Amare Marbella was exceptional, I have been to many five star resorts and this hotel exceeded all of them. Will definitely be returning.
.
Hywel
Disappointed with standard of coffee at the hotel.
.
Hilary Daly
We found the all day music annoying and it was extremely loud a few nights in the roof top bar.
.
Paula Smith
Fabulous week and Amare staff and service were first class as always. Thank you.
.
We really enjoyed our stay in June. The hotel staff were all so helpful and friendly. The hotel itself was clean and I was impressed with the processes your teams had for communicating with one another to make sure they were operating efficiently. There was always a nervousness about getting a sunbed but on one of the busiest days of our holiday, we did see the pool staff removing towels from beds that hadn't been occupied for 30 mins which was pleasing to see! Thank you for a great holiday!
.
Muy bien. Pero en la planta 9.Mucho ruido por la animación de la terraza y el tránsito de gente
.
Maura Jackson
The hotel and its team were fantastic , we felt rested and looked after. The building and gardens are amazing, food was beautiful and service was great.
.
Linda
Excellent property with a wonderful location close to the old town. Great facilities wonderful staff and excellent communication when something wasn't quite right 5*
.
John Cahalan
Staff are very nice and friendly. We have stayed in the Amare many times. The prices have gone up and it would be nice to see some investment in the pool area, which looks a bit tired.
.
Dudley Cooper
This hotel was largely focussed on the needs of young people. Therefore it was not appropriate as a substitute for the more formal Fuerte Hotel which we have visited for many years. It would have been helpful if we had known earlier about the youthful emphasis and clientele of the Amare and we may have made alternative arrangements. Nevertheless, the staff were unfailingly courteous and helpful and the servicing of the rooms was excellent. From this you will gather that we will return to the Fuerte when refurbishment is complete!
.
Andy
We just needed a few days away to relax after a difficult 6 months and we certainly got it. Everything from the time we arrived was just perfect to recuperate and recharge ourselves.
.
We loved our stay in the Amare . Beautiful front sea view . All staff were efficient and friendly . Staff looked happy in their work . Will definitely be back again.
.
John Partridge
We love everything about the Amare Hotel and have vacationed with you previously, however while we 100 % agree with the not saving sun beds and towels being removed after 30 minutes the wait in a morning at 9 am to get new towels and taken to a sun bed can be quite a while , some mornings there was only one member of staff on sun bed duty. We noticed a lot of guests were taking their towels to their rooms to avoid the wait and getting to a sun bed early. Kind Regards John Partridge.
.
Jim & Joan Noud
Lift door failed to open and we could not get out for 10 minutes, continually pressing alarm bell failed to get a response from maintenance engineer. My wife panicked and did not enjoy last two days of our holiday. I reported it to lady at pool and she made a note in her log book.
.
Billy Hugh
World Class Hotel… you won't find a better hotel in Marbella!
.
MICHAEL GEORGE KILBRIDE
.
Stuart vģ Povall
The hotel is excellent. The space in the garden and on beach too limited Reserving sunbeds rules are not kept, or enforced. The executive lounge location and facilities excellent The position of the hotel is good, I think we would stay again, uncertainty is over the limited, crowded beach and garden areas.
.
Aidan J Connor
We have been regular visitors to the hotel over many years. It is a fantastic hotel with a great location and fantastic staff. We will return later in the year, all things permitting. Thank you to the staff for making our stay so enjoyable.
.
Colin
Excellent hotel. Really enjoyed our break there.
.
Leanne
One word ….. fantastic!
.
Julie Hawkins
Another great visit, as always a fabulous stay with wonderful staff providing great service. We will be back later this year. Thank you
.
Brenda Mc caffrey
Always a great stay!I just thought not as attentive as usual at poolside bar waiting quite a while on someone to come take a drink order!
.
David & Denise Dyment
We were referred to Amare absent usual El Fuerte availability. Excellent Amare staff in all areas of hotel. Rooftop Bar excellent. Constant music around pool drove us insane. Sunloungers too crowded around pool and little respite from sun despite the many umbrellas.
.
Wojciech
Large comfortable hotel with small own beach. Clean rooms. Swimming pool nice but rather small. Personnel mostly helpful and friendly, just service at the rooftop bar super slow and sloppy
.
Gemma
We had a great holiday, the staff at the hotel were always friendly and helpful, making the experience feel personalised. We were also given a room with an amazing balcony which was big and overlooked the sea and pool. We'd recommend the hotel to friends and family, and we'd visit again!
.
Cieran
This was our second stay with you and we are already looking to book again next year!
.
Nicholas Johnson
Everything was great except in the rooftop bar where we had to wait ages to be served and even longer to get a drink. Overall we waited 25 minutes to get a drink.
.
Elaine
Best Hotel I've ever stayed in. All staff are lovely. Excellent service all holiday x
.
Barbara
Lovely beachfront hotel. Good poolside/beach service. My only disappointment was there was no coffee machine in the room - the instant coffee provided was not nice and i could not drink it which is not acceptable for the quality of the hotel.
.
Tara
Great hotel. Location perfect for Old Town. Beach bar one of the best for food and ambiance. Rooms very clean and tick all the boxes. Staff very pleasant and helpful. All in all great hotel, highly recommend.
.
Daisy
Showers need to be changed or updated. Water leaks into bathroom and there's no privacy. Awkward when you are travelling with a friend or adult child and need to take a shower. Need a stool or bench in the shower for ladies who shave their legs. The first few days we noticed large amounts of Seaweed on the beach with a lot of small flies. After a few days it was cleaned up. Beach should be cleaned daily. Otherwise, everything was great, room was spotless, comfortable and Marbella was lovely. I would definitely come back.
.
Sarah (49)
Fabulous hotel, great service, nothing is too much trouble. Highly recommend this hotel.
.
Unhappy visitor
We arrived after a very long journey where some of us had been unwell to be told the hotel had no record of our booking and the hotel was fully booked. We had booked a package with Jet2. Some reception staff were quite rude to us. We were offered a hotel along the road which we knew nothing about, had no sea view or balcony. Eventually a few hours later some rooms were found, even though we were told there were no rooms- but they weren't the rooms we had booked or paid for and our party was split up. These things do happen I guess and I realise mistakes can be made but it wasn't dealt with well and we were very disappointed with the service and experience. We weren't told about any of the hotel facilities or spa and were treated like an inconvenience. As a good will gesture the hotel gave us half board but the first night we arrived at 9.30 (we hadn't been told by reception the times or that everyone had to be out by 10pm- again we were treated rudely and like an inconvenience) Most of the staff in the hotel were lovely and the location and cleanliness is great. It's a real shame what happened at check in and the first night of the dinner. We didn't originally book half board as we wanted to be flexible with where and when we had dinner so unfortunately the 'good will' gesture by the hotel wasn't great and didn't make up for the double booking as we just wanted what we had booked and paid for. I've never left a bad review for a hotel before and I'm really sorry to have to do it this time. I haven't shared this publicly and I won't put it on trip advisor at the moment as that's not fair to the hardworking members of the team. However, if you could respond to this that would be great as I'd really like to change my mind about your hotel and brand. We were only there for the weekend from the 10th to the 13th so these issues really affected our stay.
.
Ciara mcentee
A friend of mine left her chanel glasses at the rooftop bar on our last night. We were the last customets there and unfortunately they were not there the next morning. There were no other customers there in the interim so it's very disappointing that the glass's were not found
.
Stewart
A modern, stylish hotel with great staff and facilities. I would recommend for anyone wanting a chilled break away.
.
Sally Hall
Overall I enjoyed my stay immensely however, for some unknown reason I was told I could not join my friends on the balcony for breakfast, and was placed in the restaurant on my own. I did complain and move but I was again told I could not sit on the balcony! It was a very upsetting experience as I was totally entitled to do so.
.
Dave B
Very nice room on the fifth floor the staff are amazing and very very helpful it's nice to see happy faces. The room was kept clean daily and the cleaning team worked really well lovely view from the room will definitely stay again as a couple
.
Elaine Harris
We have stayed in many 4/5 star hotels, this is our 3rd this year and feel that this lacks in comparison. Negatives were:- Button for drinks service, this is a great idea but only if it works. We had to wait over 30 minutes a number of times and still no one came. If we went to the bar we were told to go back to sun lounger and wait for someone. This is unacceptable when it is hot and you are ready for a drink. We had booked a table at the beach restaurant and went for our booked time and were made to wait 10 minutes before anyone came and spoke to us. There was no one else in the restaurant at that point as it was 12.30 and there were 4 staff members stood at the bar talking and when someone did come and ask if we had a booking he was quite rude. Queuing for towels in a morning. Having to wait until 9am before you could get a towel and then waiting while each person was taken to the sun lounger individually, this just takes longer. Similar experience with breakfast, having to queue for breakfast when you can see many empty tables, all set up. The shower head didn't work correctly in our shower and sometimes the water would suddenly become scolding and then very cold before reverting back to normal temperature. The price of the room in relation to the standard is expensive In the last few days of our stay, there were groups of people congregating round the pool area, who got louder and louder as the day progressed and we're using offensive language and conversations. This should be addressed by the staff as will spoil the hotel for the majority of people who are couples. Positive:- Location Cleanliness Promptness of lift One Lounge
.
G.C.
Only drawback were the queues for the omelettes/fried eggs prevented people getting to the bacon, scrambled eggs and the plates. Otherwise food was excellent and the waiting staff exceptional.
.
Kay Lancaster
Stayed in both Ibiza and Marbella - would stay in more if you had them - loved staff uniform and service , rooftop bar is one of the best
.
Emily Philbin
Fantastic stay. Lovely sea view room. Great service Stunning hotel and great location. Thank you
.
Nigel
Everything was excellent
.
Lynn
We had an excellent trip to your hotel, everything was first class.
.
Strange check in, no welcome drink, breakfast line awful (10/15 mins wait) and chaotic getting table Fresh orange juice wonderful but coffee (both pots and machine bespoke) was terrible. The special Club on ground floor is awkward and quite offensive if you don't have access (which we didn't ) - why isn't there a bar on that floor ? Overall a disappointing experience - I doubt we will come back Simon BOLTON
.
Graham
2nd time at Amare and we will be back
.
Mary Fehily
Fantastic staff and services everyone of staff was so kind and helpful during our stay reflecting v high standard of training of all staff to ensure a brilliant quality service. Best holiday ever
.
This is our second visit to the Amare, we really enjoy the comfort, food, and beach surroundings, the staff are very helpful and friendly, especially around the sun beds area. Our top marks this year goes to a very helpful friendly, gentleman on reception in the evening time, he helped with all questions, he was full of knowledge. Most importantly for us, he had patience and understanding, and all with a smile on his face. Apologies, I did ask his name, but he was on duty on Thursday evening June 9th, and 8th and 7th. This young man is an asset to the hotel. Thank you and well done Sir. Also sharing the high praise was housekeeping, we were never disturbed, but our room every day was absolutely perfect after we returned from our meals. We were in room 207, partial Sea View, we loved the comfort, and cleanliness of this room during our stay. Thank you so very much, for your hard work, and non intrusive skill. On a negative note: disappointed no bath in the room, for me a bath is luxury after a long walk or evenings shopping, so I was disappointed that I came home with my bubble bath salts still in the wrapper. I guess the partial Sea View won over a bath. I also feel like other guests that a" half hour" break from your sun bed, if you" dont" eat at the hotel pool side restaurant is totally discriminatory. We booked half board this year, eating in the hotel in the morning and evening and liked a break away in the mid afternoon to snack along the promenade, but we didn't have enough time, so we had to eat separately, an hour would have been lovely. Some other guests using the "gone to lunch" sign were missing for over an hour and a half. Feel it's unfair, all guests regardless of where u choose to eat should be treated the same. Finally, the loud music around the pool side and beach sunbeds area it terrible, the music choice was not at all suitable to the age profile during our stay, on one afternoon there was a talented gentleman with lovely guitar music, ending with huge applause, indicating customer satisfaction. The negative's are small in comparison to the many many positives of this hotel. We are privileged and thankful to all at the Amare and will without doubt be returning next year. Please God.
.
Teresa Willcock
The hotel, staff, beach and roof top bar were exceptional. Well worth a visit. The food and wine were also second to none. I don't need to say anymore. The perfect beach holiday experience
.
sharon Moore
An app booking system to reserve Sun loungers around the pool would be beneficial. Very stressful to gain a sun lounger. If a reserved bed had not been taken within 30 mins of time slot then bed is released for others to reserve. This can be monitored by staff.
.
Paul G
Excellent modern and well located hotel near the old town of Marbella. The staff are fantastic and really help make you stay a great experience. The upkeep of the hotel is to be commended as it is spotlessly clean at all times. Throughly enjoyed stay and will be back!
.
Steve Moore
Returning customer, who is always impressed and can see improvements or upgrades each visit. An excellent experience, from firstly contacting Bea Perez over a number of years direct. Nothing a problem, friendly and extremely professional... to all the staff at the hotel this year and prior. New and old faces, but always to the highest quality and service. My wife, I and friends a like... will keep returning at every opportunity (normally yearly) and have recommended the Amare Marbella to many others who have stayed too. All returning, saying the same in praise. Keep up the outstanding work/vision, its unique to your image... and a credit to the whole team involved! See you next year!
.
Mike
Very good hotel. Unfortunately we were give rooms on 9th Floor ……. which houses the Rooftop Bar! Some low IQ Morons couldn't help themselves but to knock bedroom doors and try the handles when leaving the Bar early morning. Suggest….. 1, Close the Bar, or 2. Station a member of Staff in the corridor or 3. Cease using the bedrooms on the 9th floor. Spoilt our holiday.
.
Ian cartmel
Exceptional hotel will definitely be back
.
We had another amazing stay at your hotel. I have been come here for 16 years and have introduced it to lots of other people too. Everything was great, the only things that didn't really work this time were - the breakfast booking system. It was still just one line of people and didn't make any difference if you had booked or not. And also the towels for the sun beds. There was always a very slow queue for the towels and there should have been more staff doing this to make it quicker. It's not a good start to the day having to queue for so long. Otherwise it was amazing - thank you!
.
Kelly
The hotel was brilliant and we really enjoyed our stay, but I would say that the lifts in the hotel were quite frustrating. We were staying on the first floor and there were no available stairs so we spent a long time waiting for lifts each day
.
peter bowers
1- you constantly needed a qr code which means you have to take your phone to the beach. 2- maintenance tried to resolve and failed 3 times with issue with the sink in the bathroom and the shower leaked. 3- constant queue for breakast in the morning even though booked a time slot. 4 - the staff are very good but the hotel seems to run to accomodate itself before it's clients
.
Alan Pridham
The staff are excellent and my time with Amare is always very enjoyable. I am a frequent visitor and am never disappointed
.
Stacey Croft
Amazing room on the 9th floor next to the roof top bar. Gorgeous views overlooking the sea. Fantastic location right on the beach, next to the old town (orange square) and a short ride to banus by taxi or ferry. Loved the use of the bikes although a tad scandalous asking for €16 a bike when we had already paid such a lot to stay! Never the less we loved a day out on them and the map provided was great as we got to stop off at some fab places. The evening entertainment could have been more frequent but the day time vibe was spectacular with the DJ set each day. The service by the staff was 10/10. Would Absolutley stay again!
.
Sue Kaye
We have stayed at the Amare twice before and as we were on our honeymoon travelling around Spain, we chose the Amare again as we absolutely love Marbella. From start to finish the staff, service & food were excellent. The extravaganza night El Divo was superb. Fabulous room overlooking the sea in the 8th floor. We will definitely come back, thank you.
.
Mark
Great hotel all round. Good location on beach in central Marbella. Hotel is spotless, service is great with attentive / friendly staff. Breakfast buffet is very good with extensive choice. The spa visit included is worthwhile as the spa is very cool. Drinks and food rather expensive but it is Marbella and are good quality. The music / entertainment in the beach bar in afternoon and rooftop bar in evening was bit dodgy playing music not by original artists. Overall we had a great time in this fantastic hotel but as said it is expensive for the pleasure!
.
P yeomans.
Lovely hotel, my only disappointment was some people breaking the towel rule for the sunbeds. But I will return.
.
Patricia
Beautiful Hotel, staff are all very friendly and pleasant .
.
Ash
Initial rooms were terrible- we then upgraded to better rooms but reception staff were rude in facilitating us.
.
ANDREW CROWE
excellent ....would however prefer a larger diversity of daytime music played in pool area
.
Hard to fault as place to visit with wife
.
Chris
Friendly, efficient staff. Always pleasant and helpful. Great facilities and beach. Room a bit narrow with excess furniture and unusual layout regarding the shower and toilet! Would have expected better for the price. However everything else was very good and the breakfast selection was excellent. Once again credit to all the staff who worked hard and always greeted us with a smile. Nothing was too much trouble for them in all the departments. Many thanks to you all.
.
Harry Christakis
Excellent hotel, great rooms, great service great people! Please heat the pool and hot tub it was a bit chilly. I will certainly recommend it to others.
.
Fiona Sims
We had a very enjoyable holiday, all the staff made it a great experience, I could not fault it all. Thank you
.
Elaine
Our overall experience was excellent, but unfortunately our pool and beach enjoyment was ruined by excessively loud music more suited to a nightclub for young people.
.
Excellent Hotel couldn't improve on anything
.
Annika
The scent you use in the hotel is very strong and unpleasant. We almost changed hotel because of the «old man perfume» smell. Other hotels can have scents that are pleseant and nice, I really recommend you changing it.
.
Sid
We would highly recommend the Amare Beach hotel to anyone looking for a bit of luxury as it is quite expensive but worth the extra cost.
.
AMAZING place to stay, already looking at booking for next year
.
Smith
We really like lots of aspects of your hotel and enjoyed our stay. Areas for improvement are: Coffee machines at breakfast don't work properly and often have error messages so takes a while to get a coffee. The coffee handed out in jugs by the waiters tastes dreadful as so weak! Lift systems take ages. Queuing for lifts. Sangria tasted awful. Was too sweet and tasted of no alcohol. Certainly wasn't what was expected when in Spain!
.
Dan
This is a excellent hotel and I would not hesitate to recommend to friends. The shower leaked considerably on the floor of the bathroom which should have been addressed before we checked in. The rooftop bar was stunning and should be a major selling point, however, the service here was shocking. Over 40 minutes to receive drinks and to effectively be ignored when we could see our drinks at the bar made this a bad experience. To get exceptional feedback which this hotel deserves the service in the rooftop bar needs to be significantly improved.
.
Paul Fox
Wonderful hotel in a fantastic location close to Marbella Old Town. Wonderful rooms, Greta service from all staff. Really made us feel special. Great communication beforehand meant my wife had Complimentary Proseco and balloons in the room for her special birthday. All great!
.
Mark tynan
Hi, Pool service on first day extremely poor, waited over 45 minutes for a drink and had to approach the bar/waiter on 3 occasions, waiter stated I'll come right over but didn't happen. Other than bar service, staff and hotel was extremely pleasant.
.
Lovely hotel and great time but hairdryers were very poor. Wifi a bit hit and miss.
.
ALISON CLAIRE WRIGHT
we had a fabulous time here, we would like to return next year, we booked through Jet 2 and it says it is not available, can you book direct?
.
Caitriona
We had a fabulous time group of girls we will book again next year only one small complaint is the pool waiting service is a bit slow I think maybe more staff are needed to facilitate the amount of people ordering food drinks the staff were run off their feet
.
Annie Robinson
This is my 4th stay with you. But my husbands first stay. Absolutely gorgeous hotel. Service is fantastic. Loved it as always. My husband loved it too. He definitely wants to return. Thank you so much. Annie
.
Denise Kelly
I had an amazing trip with 5 friends the check in experience was poor though I had booked 3 rooms and checked in online made lots of calls etc but it was all over the place money on other rooms all messed up even though I had given clear instructions then one room got upgraded but not mine even though I did it all and it was 4pm before I got my room
.
Michael Voogel and Jacoba Noya
.
Ian O Sullivan
Overall I would be happy with the hotel. Being charged to get my room changed at 1.30 in the morning due to a flood on my balcony is not the type of service I would expect especially given our group had approximately 18 rooms in the hotel for 5-7 days.
.
Anita Voogel
Heerlijk only adults hotel om een een paar dagen uit te rusten en te relaxen op het strand. Wij hebben elke middag heerlijk gelunchd bij de beach bar. Bij de kamer "keep the secrtet"miste ik wel de pantoffels en badjas.
.
Diane Durr
This was my first visit to Marbella and whilst I wasn't overly impressed by Marbella I loved the hotel, staff are amazing so accommodating. Beach isn't great quite stoney and shingley. I would definitely recommend amare beach hotel. Thank you for a wonderful visit.
.
Helen Halley
I enjoyed my week in they Amare , had a lovely rest and had a lovely week of sunshine.. Regards. Helen Halley.
.
Margaret Bouchier-Hayes
.
ASM
A wonderful birthday experience. Will definitely return. Thank you for the memories. See you all again soon .
.
Heidi VDB
More than worth its 4 stars! i am a very picky 5 star hotel traveler and this is one of my most liked hotel. Very clean and well cared for hotel. Friendly staff, very good breakfast, good beds and pillows, perfect location, pleasant sunbeds at the beach. If I may give small comments, the elevator system can be improved. Provide the possibility of an expresso coffee machine in all rooms. Fix the safe in the wall (it was loose and easily stolen) But this does not stop me from coming back, very satisfied.
.
Yvonne
Very pleasant hotel and spoil hotel near the oor centre of Marbella. Locatieontwikkelaar of The hotel is very good. And it's not too big. Some kind of boutique hotel and we we have experienced it as very nice!! We will come back for sure to your hotel.
.
Pauline Bourne
On checking out we were informed that we owed 146.41 euros - apparently a mistake had been made when we arrived. The way in which this was handled was in our opinion unprofessional - why wasn't it sorted out the day after we arrived? My husband had to ask three times for a mat for the shower - he is nearly 80 years old and could have slipped - there was no rail. He also requested a price list for the mini bar but was told he would need to access it on his phone. Eventually after three people on reception tried to find it on the phone they managed to print a copy. We enjoyed our stay but felt that on the whole the Amare is not particularly suitable for the older client. We had originally booked the Fuerte and were sad to see the state it is now in - hopefully it will be refurbished in a more "traditional" way.
.
Laura
I would definitely recommend this hotel to friends & will definitely be going back.
.
Paul Diamond
Our stay was very nicely just one niggle, the lifts were unreliable and stopped at every floor.
.
PdB
Very friendly staff, hygienic , good location, choice between pool and beach, parking , easy to reach, ....
.
Sharon Hall
Sublime staff, so friendly, so professional, so helpful. So Spanish! Everything 5* but just so good - so busy! Place needs to be twice size for same clients but that's Europe. We love it. Would be amazing if beach could be cleaned and improved. Removal of seaweed and stones/cobbles would make such a difference and sand is like builders' sand! Still love it. Fabulous. Thank you.
.
Steve Cant
Really enjoyed the hotel
.
A.C.Albania
Good experience
.
Kate Naylor
We booked this hotel in Jan 2020 and so were waiting a long time to come and it exceeded our expectations. We upgraded to Ooh La La The One and it was very much worthwhile. We will definitely be back.
.
Annabel Dillon
Amazing location, hotel is bright and clean and staff were helpful. The outdoor jacuzzi was the best.
.
Neil McDonagh
As a frequent visitor to Amare beach hotel we were not pleased to see such a large gathering of women arrive on on two separate occasions during our week . They were having a rowdy Hen Party . This is far from what we expected , they were loud ,and mostly drunk in and around the pool area . Making other guests very uncomfortable . Many other guests expressed their concern for the future of The Amare if this is where it is going ! Next time we book I really hope your policy may have changed . best regards Neil McDonagh and Pat Whyte
.
Jill Kirkpatrick
The most professional and friendly staff I have ever encountered throughout my stays all over the world This was my 5th visit and I will of course be back With a fabulous hotel in a perfect location what more could any traveller want. Oh and THE best breakfast buffet I have ever had! Obviously Amare have a great culture which exudes from every single member of staff An absolute pleasure to spend time with you all … thank you Amare Marbella
.
Larry O Brien
You lost the common touch. Check in ,give us the money. Check out ,give us the money. Pool music annoying, prices too high. For years you tried to attract young crowd,not working. Fuerte way better until you ruin that. Owner of Orange Tree would give you lessons in customer care. They queue to get in. However the property is very clean and well maintained. Pool and breakfast staff excellent. This is not Puerto Banus!!!
.
The only criticism we would have is that the music played in the public areas was far too loud and of a nature not suited to older guests.
.
Deirdre Cussen
Really enjoyed my holiday as did my daughter. Looking forward already to my return trip in October.
.
My friend and I had an amazing stay at your hotel. The hotel has a very relaxed and chilled out vibe which was exactly what we were looking for. Pool and Beach club was where we spent most of our time. Only minor comment would be that the drinks service could be a little slow to respond to the buzzer service. Also in the rooms there is very little storage, but again in the overall experience was a very minor point.
.
Joanne Hakings
Fabulous hotel and staff, would definitely return. MUST MENTION THOUGH - roof top bar - a deliberate attempt to over charge our whole group by over €100. It was our first night, our first drink and after 25 minutes we settled our bill (still not accurate) and left. A table of 3 girls later told us exactly the same had happened to them. The bar lost any further trade from our party of 17 due to their dishonesty and greed!
.
Claire Robbins
Lovely break in a top class hotel. Breakfast was a dream
.
Helen
From check in to check out, all staff were amazing, friendly and polite! I honestly didn't come across one person who wasn't helpful! I fell over, a lovely young lady was there instantly! Will definitely be back!
.
Erika McGuinness
Yet again a truly amazing experience at the Amare! - looking forward to my next visit already
.
Susan
Lovely hotel with good facilities. Good location with underground parking. Fabulous breakfast.
.
An excellent hotel, efficiently managed. The standard of rooms and common areas is high. Breakfast dining is excellent and efficiently managed.
.
Sandy
This hotel is simply amazing. Every aspect is just perfect, the hotel is exceptionally clean and the rooms are amazing. I travelled as a travel agent and was fortunate to receive a complimentary upgrade and also a bottle of cava in my room. The staff are so polite and could not be any more helpful. This hotel is 5 stars, thank you for an amazing stay.
.
Just a few comments about the room. The shower set up needs to have more privacy as this is not just for couples. The wardrobes would be better as slide robes. Currently they open into the room and cause obstruction. The push button hair dryer is very difficult to use . However the room was lovely and bright and clean with a beautiful sea view and I would certainly come back!
.
Greta Band
A welcoming and attentive service in a modern hotel near the beach and old Town .. Thank you
.
Lovely hotel and lovely staff and yes I would go again.
.
Sean
We had a great time at the hotel. Would recommend it to anyone who wants a relaxing break. We will be returning again later in the year . The staff couldn't do enough for you through out the hotel.
.
Sharon Cooley
Overall experience was amazing, just a small few things need improvement but nothing that would stop returning. Long waiting times at beach and pool when request drinks/food, definitely more staff required in this area. The sun-beds could do with small pillows. 1 side of the sun-bed area had nothing to cool down, that area could do with a small pool or a jacuzzi to cool down. Not all the jacuzzi jets were working beside the pool. The hotel and staff were so friendly and very informative on everything. Will definitely return!!
.
Darrell Crookshanks
Great as always see you next year
.
Ian
Very nice hotel, well situated. best sunbeds anywhere! Drinks service slow when busy, but I am sure that is the same anywhere. What is wrong with going to the bar to get your own? Spotlessly clean, very polite and helpful staff.
.
Angela lincoln
Overall a lovely hotel and a really enjoyable experience however two small points.....insufficient staff at breakfast . Bedroom cleaned well but very late in the day.
.
Annette Fisher
I have been coming for 11 years (apart from 2 year break due to covid restrictions) and it is the ultimate experience. Brilliant service, high quality of food and immaculate surroundings. There is nowhere better than this
.
Joanne Arnett-Morrice
Another wonderful stay at the Amare Beach Hotel Marbella. Thank you for keeping the standard so high. We had a wonderful time. I am booked for September so will be back in a few months. One member of staff was very helpful to us as when we arrived I had booked the wrong date by one day - Javier who was on night duty on 12 May 2022 sorted a room for the 2 of us for the extra night - we were very grateful. He deserves an award!
.
JAH
Third visit, and even better experience. Loved the room (#703) and the use of The One Lounge. Specifically I would like to commend the staff at the beach/pool in the morning who showed us our beds and laid out the towels. They were all cheerful, friendly and really made us feel welcome, a credit to the Amare group.
.
L Hopwood
love this hotel - lovely atmosphere and so relaxing. Great roof bar.
.
Mikeh
The location of the hotel to the beach & the actual beach bar was excellent, not so good was the quality of service at breakfast & around the pool for drinks. It seemed slow & understaffed.
.
Roger G
Very good hotel, pleasant and efficient staff, good food and facilities.
.
Tomas Garvey1935
MusIc much to loud in beach bar
.
Maire Niamh Barry
A VERY BIG 'THANK YOU'' to all members of the Amare Team that I had the pleasure of meeting and speaking with. From the moment my bags were taken from the taxi to the very last second of saying 'Farewell' I experienced nothing but big smiles, kindness and exceptionally high standard of awareness from all staff members and management. There is no question in my mind - I will be returning again in the very near future. Xxx
.
Noelle
The music around the pool and beach restaurant was the same bom bom bom all day . Then in the afternoon another music system started in beach restaurant , so loud you could not hear if you were having lunch. It was so bad we only had lunch there one day. The two music systems were competing at the same time. It was very disappointing . We went for a peaceful holiday. When we complained , we were told it was hotel policy !!!
.
Fabulous hotel in great location with superb facilities We would have liked to have seen menus for drinks and food rather having to scan QR codes as I don't want to carry my phone with me to the beach. The beach service was fantastic and set in lovely surroundings and the food was excellent too.
.
Matt Challoner
Overall, a lovely experience. The only negatives were that we found the poolbar service very slow at times and that when the jacuzzi stopped working it took quite a while for it to be repaired. Other than that, i really enjoyed my stay.
.
Julie Marshall
As usual we had a lovely holiday, however the only complaint which is minor but I have mentioned this before, the music on the beach is very mundane and repetitive,our friends that we recommended the hotel to felt the same and this is there first time. Although this is not the fault of the hotel, the wooden walkway at the very front is unsafe and almost impossible to walk on, some of the front beds can't be laid on comfortably they are too far tilted, feet down. The massage ladies come up and pinch the toes of people trying to relax 'close there eyes' and have a sleep even two rows back! The men selling items are less of a nuisance thru take no thank you as no thanks you but a couple of them walk beyond the first line, very intrusive and a great shame as this didn't used to happen.
.
Nicola Johnston
Great holiday, hotel was lovely and staff all very helpful and pleasant
.
Dermot Duggan
Most enjoyable experience
.
Hotel was fab but breakfast was chaotic, no flow, breakfast area too small for amount of guests, need to open up the area. Very enclosed for the most beautiful location by the sea..otherwise hotel was fab.
.
Debbie hamlin
Absolutely stunning place, all the staff are so friendly and kind, I didn't have to lift a finger by far the best place I have ever stopped!!
.
Ciaran McCallion
Lovely hotel. I rated maintenance lower because the hair conditioner dispenser kept falling off the wall. There was also some mildew on the shower tiles in the corner. No coffee making facility in room was a downside. Muzak in breakfast restaurant was very loud and obtrusive. However these are very minor issues and I would return in the future as I enjoyed my stay. Finally I would be interested to know the hotel's policy for managing left over food from the breakfast buffet. I hope it is not thrown out but is used appropriately or distributed to a charity etc. thanks
.
Roy Ball and Anne Myers Ball
.
Samantha Brannan-Smith
Fabulous hotel. Great location! Staff all very friendly. Sometimes a bit of a wait at breakfast to get coffee but they were very busy. Breakfast buffet selection the best I have ever experienced!
.
Room, cleaning and cheque in very good. Food good but not top. Ambiance in the evening at the bar zero. Help from the desk at the entrance of the hotel zero. El Fuerte was a friendly hotel. Amare is for young people.
.
Patrick Lafferty
Overall loved everything about the hotel though the drink was expensive in the main bar and in the rooftop bar. Would've used them more if the drink had been a little less expensive
.
Rob D London
Excellent location and hotel experience
.
Guy Collingwood
Absolutely lovely hotel. Great facilities and loved the roof top bar. Nice rooms. Great service and spotlessly clean. Only criticism was the incessant music everywhere in the hotel. Most annoying!
.
John Brodie
Fantastic holiday…. Can't wait to return…
.
Suzanne
The greatest place of all we ever have visited.
.
Overall we loved staying at the amare beach , and only a couple of things were slightly disappointing. When we arrived and checked in we headed to our room which had been missed on the house keeping list and was still as the previous guests had left it. It was rectified but spoilt our initial first impression. The beach bed bar service was very slow and although we appreciated it was busy , waiting over half an hour was at time in acceptable even after trying to order our own drinks at the bar which was refused. An amazing location and generally superb hotel. The evening staff in the bar area were outstanding and very friendly. General area were spotless and the breakfast was the best we had ever had. Thank you
.
Derek Humphries
My absolutely favourite vacation hotel & has been for a number of years. The one and only issue is the truly awful background music that has always been imposed we poor putupon tourists. Fortunately the good points compensate and ear phones block out what becomes unendurable.
.
Jon
Overall great experience and our 4th visit. A couple of improvement opportunities, service in the beach club was slow at times due to lack of staff on some days (not all) and the buffet breakfast hot options were often cold and need better methods to keep food hot. But overall we love the hotel and experience - we'll be back!
.
Sarah S
We've been to the Amare on several occasions. We return as often as we can because we love the location and don't believe the quality of the facilities and the service given can be bettered. Well done Amare and we can't wait for our next visit. Apart from everything being as good as it gets, the breakfast is legendary.
.
Ann and Theresa
Simply fabulous. 3rd time to the hotel and can't wait for the 4th ....
.
Helen
Fabulous hotel in a fantastic location loved it, would definitely stay again. Only negative was my room was between the roof top bar and the lifts, very noisy at night, with people walking past talking loudly.
.
Bob Bourne
Very good viy
.
Nicki Day
Couldn't fault this hotel at all, staff were all so helpfull. My boyfriend and I had the most wonderful time
.
Tim mccann
It was our 25th wedding anniversary and Amare made this trip so memorable. We will definitely be back
.
Fiona
The beach club is run down too many people and in the afternoon full the influx of non residents completely changed the vibe. Residences are bottom of the pile. Reception was appalling. No welcome , no information, no enjoy your stay etc. Almost impossible to get a second towel for swimming!!!!! I could continue the list is long……..would absolutely NOT recommend.
.
Bill Whitehurst
Bathrooms need two sinks.
.
Keeley Rose
Amazing place and amazing staff. From the moment we got out the car on arrival to the moment we left,the staff were so attentive ❤️. The beach club bar was amazing. We enjoyed the live DJs . Highly recommended for a relaxing stay. Travelled qith 2 girl friends so this place was perfect! Would definitely return !
.
Carla
Zeer goed, centraal gelegen hotel
.
Pool too cold would never go back as a result. Oh la la room not to my taste No privacy no proper seating unnecressary glass tables. No management visable which amazed me. Extremly noisey with sewers being cleaned 2 lorries working. Not hotels fault. Felt security was inadequate and not visable should have uniform. Beggar from street working the sunbeds on one occasion not good enough wife felt insecure as a result. You could serve porridge at breakfsstyou have a lot of English and Irish guests. Found 2 staff very rude unnecessarily one at reception which suprised me as my request was very simple to replenish the Sauvignon Blanc in the complimentry room to be told rudely that it was never in the bar when my wife was drinking it there. It was replenished next day. That incident certaintly warped my view of the hotel. Some staff felt no was the easy answer A lot of unnecssary small things took away from my enjoyment of your hotel. Food was excellent towels excellent sunbeds excellent. Management visability non existant
.
Laura Bell
Superb hotel and the staff are super attentive, rooms are very clean with many restaurant options. Right by the beach very relaxing. We will certainly return to this resort.
.
Martyn Geri Burton
An excellent all round experience. The public rooms are beautifully furnished with modern furniture and artwork. Now the best bit.........All the hotel team we met were very friendly and efficient. It was our 50th wedding anniversary made perfect . Thankyou
.
Todo estuvo de maravilla. Lo único que se puede mejorar es el olor del hotel, me daba nausea el perfume de flores que había en todas las áreas comunes.
.
Laura Shannon
I first visited this hotel in 2018, again in 2019 and this year 2022. I couldn't recommend this hotel enough, the staff are so kind - they truly could not do enough for you! The amenities are fabulous and the hotel is spotless. Our room was cleaned everyday even on days we slept in! This hotel is a little piece of heaven on earth - I fall more in love with it at each visit.
.
Archie McPike
Great stay quality hotel would recommend to our friends
.
Juliet Blenkinsop
Dreadful hair dryers - dangerous
.
Brian Donohoe
Very enjoyable stay. Rooms are a little small but level of comfort is high. Hen parties can be a little noisy. Fantastic choice of food at breakfast. Most staff are friendly, some need training - especially at breakfast. A smile should be the norm.
.
Stephen beer
Lovely staff, great hotel, very enjoyable stay
.
Gert
Everything was very good only the poor coffee at breakfast!
.
V.B
Great service, clean room. Beautiful city Great place for vacation.
.
Hilary Murray
Loved The Hotel - fab location . This was mainly due to the fantastic Staff - highly trained , polite and efficient. We were 16 on a golf trip - everything workled seamlessly . Breakfast was super - great selection of foods and fresh orange juice. Highly recommend the Amare .
.
Catherine Keohane
Staff were very helpful and overall the hotel facilities were good I found there were not enough drawers or wardrobe space for 2 people sharing a room The shower in the bath was dangerous There was no anti-slip mat and no handle to grip getting into or out of the bath An improvement would be to have a designated locker room for golf clubs, as in other hotels
.
Sue
Lovely stay at this beautiful hotel. Everything about it was great. Modern, comfortable clean and relaxing
.
Tracey
This hotel was amazing from start to finish. The service was fantastic and friendly. Elisse at the beach restaurant was very personable, professional and friendly. Can't wait to come back.
.
The staff did a very good job!
.
Joanne Goss
Beautiful hotel was luxury all the staff work so hard to give people an amazing holiday thank you
.
Karen Ferguson
Enjoyed our stay, great location. Staff were friendly and helpful. There was an issue with our booking when we checked in. We had 2 rooms booked and one could not be located. A different name had been checked in to one of the rooms linked to our booking reference. Whilst this was sorted quickly the rooms were not together, although close by.
.
I enjoyed my stay at the hotel and would definitely go back.
.
James Bryan Kirkby
Everything fine with the exception of breakfast. Made to wait to sit down and then queue for egg counter. Tables not cleared and staff did not appear very happy. Needs some work to make it right.
.
We experienced some days of bad weather. The hotel did not react. This , for example , led the hotel to feel very cold in certain areas ( no adjustment in air conditioning ? ). Level -2 was particularly uncomfortable.
.
Leo Halpenny
Constent music too much as we both like to read. It's everywhere even at breakfast. Turn down the volume, change the DJ or create totally quite areas .
.
Maggie
This is a lovely hotel. Excellent location.
.
Annica
It's our 3rd time here at Amare and we love it
.
John Malone
It's the first time we've stayed at The Amare since it's been totally refurbished as we normally stay at The Fuerte, being 78, at times I found the " throbbing background " music annoying!! Apart from that, everything was of a very high standard.
.
Jacinta O'Halloran
What struck me most was the friendliness of all the staff. Breakfast was fantastic. Fantastic location.
.
maria morris
My husband and I booked with our friends to celebate a birthday. Our room was 512 and overlooked the beach with the use of the lounge. Weather, hotel and service was first class. thanks again Mrs Maria Morris
.
Martin Dalton & Deirdre McManus-Dalton
This was our 4th trip to the Amare Beach and we will most definitely return for our next trip. We visit Marbella frequently at least twice a year and during summer months would not choose anywhere else. It is just a pity that they do not open over New Year meaning we have to stay elsewhere. Everything works perfectly for our stay - only one challenge, the signal on the television is not good, making it difficult to keep up with the news which would be the only reason to use the television during a holiday.
.
Nigel
Great hotel friendly service
.
M Bourke
Had booked online but still had to go through passport details etc at check in. Took approx 10 mins to check in and a bit of confusion with staff (new member being trained). Also had to ring down to reception 2 night dues to parties in room on same corridor. Otherwise, the hotel was fabulous.
.
Phil. Keane@hotmail.com
The hotel was lovely. The staff were excellent and nothing was chore.
.
Jayne Traverse
Absolutely stunning hotel. We couldn't fault anything. I travelled with my 17 year old daughter and we both didn't want our holiday to end. Food was fantastic - breakfast was excellent quality and choice. We decided to opt for half board - the food/service in the restaurant was excellent and exceptional value for money. We ate in the pool bar at lunch time and again the food was excellent - the best tuna salad I've ever had! There was a tranquil and relaxing feel to the hotel. It was impeccably clean throughout and our room was perfect. We opted for "The One Oh La La" sea facing. We left our terrace door open at night and went to sleep to the sounds of the sea. This room choice gave us access to the VIP room which is self serve - it has branded spirits and soft drinks as well as a range of wine, including Carva, mini sandwiches and cakes. Huge thank you to all the staff for making our stay so enjoyable. One of the best hotels I've ever stayed in and we look forward to returning.
.
Karen Armstrong
Loved everything about the hotel, rooms, service, view. It was bliss. Truly amazing. The only missed opportunity was additional evening entertainment in the Lounge on -2 Level, as there is no better place to be. The atmosphere was just was a little flat once the rooftop bar entertainment ended.
.
Louise Clancy
We attended Amare in 2019. We thought it was outstanding then. While the food, service (most the time) and helpful staff remain the same the hotel has dated. I found it was not as outstanding as our last visit. Little things like art on walls stairs, lifts had been removed. Carpets and stairways more worn. It had an older vibe with an older clientele(We are early 40s). The fact the price had increased from our previous stay and the overall hotel was not as exquisite made me come to the conclusion I probably wouldn't return a 3rd time. I wonder is this hotel being down played now on social media and as a whole as there is soon a 5 star Amare to be built in the area?
.
KVW
Excellent services, excellent breakfast/brunch. Top quality !!
.
D Hydes
This was a delayed retirement celebration with friends. Only 4 nights away but we spent quality time in and out of the hotel. Couldn't fault it at all. Beautiful place
.
Michael Ashton
This was my 5th visit to this hotel, I would recommend it to anyone, absolutely superb!
.
Henry Vavasour
Enjoyed very much my stay .staff were extremely good.great location.hope to see you again
.
Overall very happy with my stay. I found the prices in the bar to be excessive.
.
Brian
Thanks to the staff who are amazing
.
Mary MacBride Walsh
Great hotel. Staff very helpful Not enough sun beds though. Missing a heated swimming pool.
.
Ben Jagger
Overall I found the hotel well kept, the staff were excellent and helpful. Whenever I asked for anything they would go out of their way to sort it. As a vegetarian there was very limited options and foods were not separated in their preparation. This would be difficult for some particularly where this could impact on beliefs rather than choice. Overall I would recommend the Amare and would not hesitate to use it again.
.
Joanne Robson
Amazing location and hotel was perfect, beautiful rooms and public areas