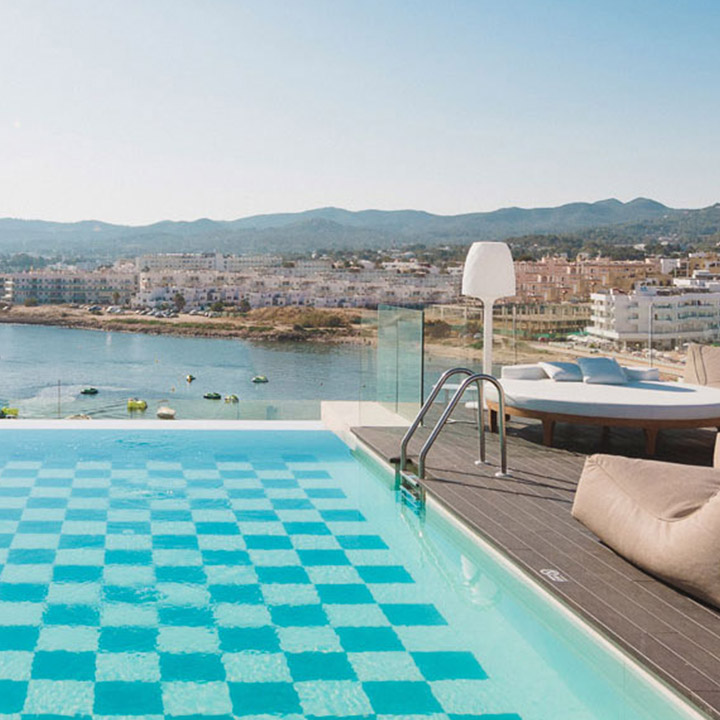 AMÀRE IBIZA
.
Mr and Mrs Rixon
Amare Ibiza is simply stunning! A beautiful hotel, amazing food, an array of drinks of all kinds, very polite and friendly staff. Lunch time restaurant was a bit slow when taking our order and the roof top bar was too. A little more on the expensive side to what we are used to but what you would expect for this type of hotel and setting, and was totally worth it. Overall an amazing stay.
.
Jo Sorenson
Great hotel. Would definitely visit again. No negatives at all.
.
Nicky
From start to finish the trip was memorable. Luca & his team are impeccable! I've stayed at hotels around the world, and this is up there with them. If you're looking for a resort-type hotel then the Amare is the one for you. It won't disappoint!
.
Steph Heald
This is our second time staying at this property. The service and hotel is excellent and we highly recommend it.
.
Emma
Need to improve the meat quality and quantity in evening meals Great if you're a vegetarian but paying top price for half board and there are no selection of nice meats for a meal
.
Brandon Turner
I can't say much more than, this hotel and the staff is absolutely amazing, from when we first walked in to the hotel and from when we left they catered to everything we needed without any hesitation! As soon as you drive in to the reception, you know that they look after the place it was spotless… and walking through the reception it was really zen! Would really recommend and will definitely staying here again! Thank you amare
.
Kirstie Rathbone
Wow, what a beautifully breathtaking hotel. Everything about this hotel is 5 star from the decor, service, food and attention to detail in every corner of the hotel. I would not hesitate to recommend!
.
Stunning Hotel with the best breakfast facilities & food options! Only short stay so didn't get to use Spa or have dinner in hotel but had sushi lunch & sangria was flowing - loved the individual buzzers at the Sun loungers … though very easy to get carried away signing everything to your room lols. Definitely recommended & would return.
.
Bren
The beach was not that great, either was the outlook from the hotel. The breakfast area is a hectic and overcrowded. We went when most of the staff were new and they had not been trained yet, but I am sure as the season continues this will improve. In general the location and facilities are good, but there was something lacking.
.
Martin & Debbie
Pool side drink service was slow, staff did not seam to know where to take the drinks once ordered even though the tables by the sun beds are all numbered. Food and drinks are expensive for what they are. We went with TUI and the drop off is 100 meters away from the hotel, other companies drop you off at the hotel entrance. Food in the restaurant is good with a wide selection to choose from, the staff are very helpful and polite. The rooms were kept very clean. The pool side DJ's were very good with a good mix of music. The location of the hotel is nice, unfortunately a few of the local bars and restaurants have closed down and there is limited places to walk to local to the hotel. Taxi and bus services are good a not to expensive we paid 12 euros to go to San Antonio and 27 euros to the old town. The foot ferry to San Antonio is 4 euros each way. Overall we had a good time and would consider going back again.
.
J Stewart
Fantastic hotel. Staff work so hard to keep everything running smoothly and always have a welcoming smile. Room could have done with a bit more storage. We went fairly early on in the season which meant we encountered a few days with rain showers only one of which we headed for shelter and was over in 5 mins. Disappointed that the pool bars were closed till very late afternoon on this day even though there were lots of people still on loungers - this also included the pool side menu. Other than the above 2 points I had an amazing time at the Amare enjoying a completely chilled week, in the comfiest of beds in the room and in the sun listening to great music and soaking up the Ibiza atmosphere. Will definitely be back.
.
Zainab Patel
I enjoyed my stay, I stayed at Amare in Marbella and fell in love. I did find the food to be a bit different compared to the Marbella location but still enjoyed it. Stunning views and hotel, would definitely come back!
.
Francesca
Hotel was beautiful and breakfast was amazing with great service. However the drinks service through the day around the poor was terrible every day. We waited 40 mins for someone to be able to take our order and after trying to go to the bar we were repeatedly told to go back to the sun loungers even though no one was coming to take the order. Even when they did the drinks still took a very long time too arrive. I wouldn't return solely on that aspect alone.
.
Tim C
Stunning hotel Stunning location Keep up the hard work
.
Adam
This is my 2nd time staying, the hotel is amazing the staff are great I love it. Pools freezing though
.
Robert
Perfect stay. All staff were amazing, the hotel is extremely clean and modern with great views over the bay. Breakfast had a great selection of food and the pools with bar service were really great. 10/10, we will be staying again.
.
Carol Dixon
We had a lovely holiday The rooftop bar needs bit of work on some cocktails Nachos not very nice very dry Otherwise all good
.
Big Mike
Was a lovely place to stay, cost me a lot. Upgraded for £350 so I could 'enjoy' the all inclusive lounge...... What a joke. Had 1 sandwich and 2 or 3 warm beers. If we'd actually seen what we were upgrading to we 100% wouldn't of bothered. Wish I could get reimbursed but that won't happen. My friend is there in 2 weeks and I've said to stay clear of that 'all inclusive lounge'
.
Sharon Bartram
Amazing from start to finish would highly recommend
.
Catherine Pearce
Lovely hotel. Very clean and smelt amazing Room was small but very clean and tidy. Had a lovely balcony too. Sunset from roof top bar was stunning. All the staff were friendly, welcoming and always said hello. Would recommend a massage in the wellness suite. Have had a lovely few days and would definitely return here without a doubt.
.
Sam Lynch
Beautiful Hotel, very clean, amazing roof terrace, good food, lovely rooms. Let down by service which is ever so slow around the pool and is non existent in the restaurant, miserable staff lets down the hotel. The only member of staff who was amazing was Carolina, you need more staff like her who was very happy and friendly.
.
Amare Beach Ibiza - Amazing!
What a great hotel! The staff were great, location is good and the F&B on offer are very good. We got a great deal by booking early and would highly recommend for anyone to visit who wants a nice, relaxed hotel that offers a great service.
.
We were really impressed by every aspect of the hotel. However, you clearly hire wonder staff and train them well. I particularly liked having a friendly interaction every morning with the person who cleaned our room.
.
Michael .Northumberland
Great hotel.Imagine the best in the area. Resort a bit run down.
.
Em. H
Great hotel with wonderful breakfast set up. Bar and food service at the pool was also good , some of food a little expensive though for what you get Rooms were nice. Overall good experience which we got at a good price. Not sure I'd pay the listed prices in mid summer though.
.
Cindy Morrice
This was our second visit to Amare & we did have a great time however I would say the service at the sunbeds for food & drinks were much slower this time. We were also overcharged for wine twice. That said when we raised it they were very apologetic & refunded us. Other than that it was a fantastic stay.
.
Sheryl and Chris Jones
From the moment we walked into the hotel until the moment we lift was utter bliss and happiness. We will return next year in May. The staff were all fantastic, happy, helpful and lovely so thank you 😊 we went to celebrate my husbands 50th and 30 years together. Sheryl and Chris xx
.
Linda Southall
Had a fabulous holiday.
.
Sheila O'Gorman
We really enjoyed our stay, thank you ❤️
.
Alanya Mackie
Reception staff had an attitude and were rude. Did not like the layout of the bathrooms in the room, the showers are inappropriate and lacked privacy. Room was clean and bed was made daily, floor could have been swept better each day and before arrival. Water sports could had been advertised better, otherwise all was great. Lovely coffee at breakfast.
.
Kaz
Check your booking details, I was charged tourist tax on check out which was included in the price of the room when I booked. Be aware this is hen party hotel, the beach is uncared for with dogs fouling. Hotel is clean - bar staff don't always respond when called. Breakfast staff amazing and friend,y. Glass showers in middle of room mean you need to really know the people you are sharing with.
.
Samrat Ghosh
Our stay at Amare beach hotel Ibiza for 2niths on 7-9th May 2023 was really great and enjoyable. Starting from the front desk and till all the staff are really good. Checking experience was excellent and got the Sea View as well as Pool view room as expected. We were offered upgrade also (against some cost). The property overall is amazing boasting three set of swimming pools and access to beach. the view form Room is also amazing but expected a bit bigger room for the price as the charge of the rooms are quite premium. I had early checkout before their breakfast time ,so Cab booking service form reception came handy as well as they packed breakfast for us ,though with very limited and average food option but must appreciate this provision arranged by them. there are multiple kitchen but few of the kitchens like Lounge, Pool side hotel etc. are basically form same kitchen having same Offering. so it lacked variety. the Roof top bar and the Latin Restaurant was really good the food taste was good too. However I found the staffs are delaying the complimentary Cava bottle (for my Club Amigo membership) which I thought could be improved. I did not see any dental kit in room ,as I am not sure if it is not provided in any hotel in Spain but a premium property should have them. the Roof top restaurant closes at 23:00 and the Bar stop service at 00:00. Ibiza being a party place and many customer may return bit late ,so I assume the property should have atleast limited menu options available for in room dining 24x7. Lastly the transportation in Ibiza is very bad they are Bus (alsa) running across the island 30mnts interval and they also do not stop in all the stoppages and there are Taxi which you need to board form taxi stand ,unless you call one of them through call center number. I found it really inconvenient to commute across the areas. Amare beach hotel has an excellent service to book taxi for you over call but if they can start a cady/buggy service till the nearby Taxi stand and couple of bus stands to pick up or drop customers it will be helpful. As not all customer will travel buy taxi (we did though) but people coming in Bus where the bus stands are around 600-800m away it will be really wonderful.
.
Laura Berisha
Amàre is one of if not the BEST hotel I have ever stayed at. The attention to detail is incredible In everything they do, from the decor of the hotel to the friendliness and attentiveness of the staff. The cleanliness was so wonderful to see and all the drinks and food were delicious. The rooms were absolutely stunning, chic but not overdone & the pool and facilities were cleaned thoroughly every single night. I will most definitely be returning to Amàre in the future. 10/10.
.
Mairead Reid
Just back form a week at the Amare Beach Hotel Ibiza. The hotel it was unreal, the best I have stayed in from start to finish. I will be back
.
Karen blain
Having stayed at the amare in marbella I thought we would have the same experience in amare ibiza. The staff were amazing and food was excellent lots of choice. However there was no saxophonist or violinist round the pool when the do was on ...no entertainment round pool ..maybe this was because we arrived the first week of the season ? But aside from that the hotel was lovely . The setting letsbit down round San Antonio bay ...but having Said that we still had a fab time
.
Kiera Ford
Overall, the hotel was great. The only issue we had was poor service by the pool and rooftop deck. Servers seemed unhappy and weren't very helpful when ordering.
.
Paul Deverre
Dislikes- Room 2408 . when someone on the floor above has a shower or uses the toilet the water can be heard going down the pipe.in our room This must affect all rooms on floors below . ( we stayed 4th floor) . Bad design! No lock on toilet ! ( very impersonal) The hanging egg chair is a waste of time and takes up space when more cupboards for clothes are needed. The waiter button service by the pool does not work - either the batteries are dead or the staff have a problem finding guests as the buttons do not give a proper location. Only one bar open at night at the top when April/ may can be chilly . You need a bar on the ground floor fully enclosed. Good things . See my overall scores note - staff are very nice and work hard for the guests Hotel is modern and very clean . Thank you all for the great service
.
Amanda Cheshire
Wow! Wow! Wow!, Everything about this Hotel has the Wow factor, we loved every minute of our week here. The Hotel is fabulous , from decor, smell, view, facilities, staff, we will be rebooking for sure, Thank You to Caroline (Caz) for your happy beautiful smile whilst serving our drinks everyday, makes such a difference to us, Jamie & Amanda
.
David H
Overall an enjoyable break in a very well appointed hotel - the staff were exceptional and rooms were comfortable and quiet at night. A little poolside music is always welcome but drum and bass mixes from 12 til 6 were excessive IMO. Go up to the roof top bar and similar music was playing all night. I reckon a little more variety is called for with maybe an indoor location offering chart hits/ 70's and 80's classics etc - the hotel could be busier at night if there was a destination bar providing different sounds. And PLEASE put a hook on the room balcony doors - the sound of sliding chairs on concrete to prop the doors open all evening became annoying.
.
Mica
The hotel was just unreal, couldn't fault a thing! Will most definitely be returning.
.
Eduardo Veloso
We had a very pleasant stay. The staff are very well trained and professional!
.
Candis
Had an amazing stay at Amare beach everything was perfect, the staff could not help enough and were very polite, service was amazing and rooms were beautiful and spotless.
.
Iggy Eignor
Incredible place, 5 star at not 5 star prices, 2nd time being in the amare will be going back
.
C Walker
Amazing hotel! Spotless clean, comfortable pool area, spacious rooms. Will definitely be back!
.
Tina Kendall
Absolutely faultless in every way. This hotel is incredible, staff food drinks just a perfect break. We will definitely be back.
.
Barry Smith
Fantastic hotel! Friendly staff, clean, modern and fresh. Really enjoyed our stay and would defiantly stay here again. Great breakfast variety as well.
.
Sandira Williams
I booked through a third party which was stressful but once we got there the hotel, staff and facilities were absolutely amazing! Everything went so smoothly. Definitely going again...
.
Lynn Campbell
We had a wonderful stay at the Amare hotel Ibiza. Service could not have been better, staff were extremely friendly and helpful. The hotel is beautiful, with a lovely chilled vibe throughout. The pool areas are very relaxing with wonderful cushioned beds. The rooftop is a must for the restaurant and stunning views - especially at sunset. The Rooms were spotlessly clean and I loved the Molton brown toiletries. Overall a 10/10 from me ……. Can't wait to come back!!!
.
Molly & Tomm
After a little problem with the room allocated to us after we waited nearly all day to check in as it was not ready despite us letting the hotel know about our early morning flight and arrival in advance, the hotel staff resolved everything quickly and moved us to a different room the next morning. Everyone was very helpful and polite. The hotel is beautiful. Booking "The One" option worked very well for us. We had a lovely time, met some amazing people and would definitely not hesitate returning to Amare Beach in Ibiza again. Thank you to everyone who made our engagement celebration even more special.
.
Marine
Le gros point négatif était le service à la piscine : la commande à distance ne fonctionnait pas, on n'a jamais voulu nous la changer, on devait tout le temps aller chercher un serveur, qui arrivait 30 minutes après… Bref, c'était toujours pénible et long de se faire servir (nourriture, boissons)… Le reste, très bien.
.
Hayleigh Gale
Absolute stunning hotel, very luxurious. Everywhere was very clean and smelt lovely. The staff were always happy to help. The views are amazing too and not to mention how gorgeous the beach is which is literally right outside the hotel. We would 100% rebook this hotel if we visit Ibiza again.
.
Jackie
Lovely and relaxing stay. Room was very clean and the bed very comfortable. The pool area is also very good. Couple of points to improve on would be to keep the breakfast items hotter, and the drinks are a bit on the pricy side
.
NoNo
Der Duft der Lufterfrischer war teilweise unerträglich. Mehr Eukalyptusduft wäre angenehmer.
.
Liked hotel a lot, the communal areas are beautifully designed. Bedrooms are small, wasted space in the impractical/horrible glass bathrooms. Half the room is taken up as bathroom space leaving little space in bedroom area. Bedroom Space also taken up by impractical hanging chair which only one person can sit in so no chair for other person and it takes away from view from window. Food serving area in restaurant is small for sauce of hotel we were there in quiet season I dread to think how busy that serving area must be in the summer. Food selection, for a buffet style is very repetitive and not huge choice. Always same dishes so if you want people to eat there every night you need more choices. Same noodles with veg every night also same mushroom dish also same meat which is just fried plain meat or fish - no sauces!! So if having every night would be nice to have different sauces each night to make food more interesting. We were there the last week of season and very evident that there wasn't much food left/choice. So our first 3 days we had ice cream trolley then it disappeared no more ice cream 😢!! Desert almost always the same every night and bought in not made. A lot of the self serve food was cold/Luke warm, particularly the vegetable noodles and roasted vegetables and chips! Pasta was great. Fresh orange juice at breakfast - fab! Dissapointed you have different prices for buffet, so if you book at reception one price if you book at restaurant it's €10 euros more - why? This feels like you are trying to con us, - it should be same price if you book anywhere in hotel. I had asked for quiet room and asked for specific location but none of my requests were listened to! I said it was a celebration but nothing ever mentioned. All in all we enjoyed hotel - it's beautifully done. We would stay again. The area the hotel is in is in our opinion not very nice, so while the hotel lovely the surrounding area is not! - such a shame. Staff were lovely, but in restaurant at night they did not clear tables quick enough tables piled high with plates so people still eating we were sat next to piled high plates did not look or feel nice need staff to clear plates more quickly! Beautiful hotel and would recommend but could be top notch with some more thought.
.
Paul Gee
Chefs are very poor that serve you the wrong food
.
The hotel is every bit as good as advertised. Staff were always very friendly and helpful. A extra high level of cleanliness was in evidence everywhere. Food was exceptional. A special mention must go to Monica and Yaiza from the One Lounge who went out of there way to be helpful and assist with every query . Both great ambassadors for the hotel.
.
Ian urwin
Excellent all round very friendly staff Hotel was always clean There was a good selection of seating and sunbeds available with excellent choices to order drinks and food from wherever you were
.
Kasia
Reasons for my lower rates: Restaurant: dirty glasses and cups at breakfast Kitchen: same reason Maintenance: shower in our room was leaking Daytime entertainment: in my opinion music at the pool was way too loud - I could see that people there did not came there to party (it was October) but to relax - music was a bit annoying and we could not enjoy the sound of the ocean Other than that all was very good, thank you for a lovely stay!
.
Ellie Harding
This hotel was more than we expected - it was truly amazing - we went for a little girly trip away and it just made the whole trip feel like luxury. I couldn't recommend this hotel more - everything about this hotel was an enjoyable experience. The rooftop bar and sunlounges are very relaxed vibe and would highly recommend swimming in the rooftop pool - slightly colder than expected but was very nice in the hot sun. The food for breakfast through to the evening was again outstanding and the cocktails also the same. I am definitely going to visit again next year.
.
The hotel gave me a birthday present even without telling them it was my birthday. was very impressed. Thank you
.
Dimitri C
Great hotel! Everything was nice and clean. Parking was easy and free outside the hotel. Nice swimming pool with a great bar service. During the day, a DJ is playing nice lounge music at the swimming pool area. Great breakfast. We will definitely come back to this hotel.
.
CM 17
Beautiful hotel with decent size rooms and comfortable beds. Only moan is the food and drinks are way over priced there's no need for the prices they are charging.
.
Tracey Brooks
The hotel was very lovely, beautiful room, we booked a sea view but got a side sea view above the bin store lucky we were on the top floor so didn't hear the bin lorry. We only had the choice of one restaurant to use which was good for breakfast but the evening food choices were not very good
.
Rianne van Drenth
Very pleasant and nice stay in hotel Amaré! Everybody is very friendly. Don't think no more, just booke now. ☀️
.
Bob McCann
Loved the hotel, staff where all welcoming and polite. Food was amazing. Only fault I'd have is with the website, its not very clear the difference between the room types. I booked a sea view which usually the best view, in this case the pool view is the best room.
.
Lorena castillo
El staff increible! Los camareros de la zona de abajo en general brillantes, fueron super amables durante toda la estancia, a destacar alex y adrian que nos hicieron sentir como en casa 🙂 lamentamos que los camareros del rooftop no fueran igual 🙁
.
Leigh Roche
The hotel was very good and extremely clean and the housekeeping staff were very good and polite. Reception upon arrival was not informative and we were kept waiting for access to our room for over 2 hours and had chase up ourselves as no one came to let us know. The same can be said about the pool side service kept waiting for drinks had to chase up as they had basically forgotten. The food was very repetitive and certainly not value for money. Evening entertainment was zero. Not one of our best experiences having stayed in various hotels around the world.
.
Paul Quigley
Brilliant stay at the Amare. Exceptional staff with a great atmosphere.
.
Derek
This is such a fantastic place to stay. Extremely well staffed everywhere. Lots of different quirky areas with interesting decor and amenities. The buffet food is great quality with plenty of variety. I personally don't like buffets because food goes cold and it's hard to pace yourself between courses, but this was wonderful. I did opt for a-la-carte one evening which was really good quality and service. Checking in and out was quick, friendly and efficient. Getting service for drink and food to the sunbeds was such fun; the buzzers were intermittent on how they worked but there was always a waiter passing anyway. The only thing I didn't like was that the shower and toilet in the room had no privacy; I don't understand this modern style. Overall, I want to visit again and would recommend the Amáre Ibiza to anyone.
.
Valentina Guerrieri
The Hotel and the Location is Stunning. Every details is studied for comfortable of guests, from the different relaxing areas to the perfect choice of the forniture, from the easy access to services to the kindness and impeccable efficiency of the staff. For these reasons, we will definitely return as your guests! Just 2 suggestions: -Breakfast offers all you need, but for Dinner I'd have like to find more Ibizian/Spanish foods, -after dinner at the Rooftop, I expected Music for dancing as are the popular ibiza clubs (not like that same at the pool). Thanks for giving us wonderful moments! Kind regards
.
Joy Smith
Fabulous hotel....right on the beach Rooms cleaned daily Friendly staff
.
Andreea Parjol
Amazing place!!! You have made such an experience for me and my husband who were celebrating 15 years of marriage! It all started at the reception when we arrived and reception immediately approached and checked us in. We have been offered a bottle of Champagne 🍾 form the house for our anniversary. The room was very nice and clean and included pool and sea view as per my request. Breakfast buffet has so many options including gluten free bread (which I love it) and lactose free. Also, dinner buffet its amazing - So many options to choose from meat and fish, all grilled, fruits, desserts … everything you need for a perfect dinner. Last day, Tuesday, we ate at the Rooftop bar & restaurant and I was impresses. We have Wagyu beef 🥩 with roasted potatoes and salad and the chef cooked right on my taste (and I am very picky specifically with the food) and we've been offered a little starters from the house. Not at least the rooftop team - Sandra, Soraya and Victor who looked after us. Also, Life saver gentleman from the pool - told us about things to do around and we had a nice chat with him. A place where to come back! Thank you all for making out stay so special! Andreea & Catalin
.
Mark Clayton
Quite simply, the best hotel I have ever stayed in, bar none (and I speak as someone whose wife has worked in hospitality for many years). Service was exemplary from the moment we checked in, all staff were extremely friendly. helpful and clearly very good at their jobs (as well as multilingual, which is a skill that shouldn't be underestimated). The hotel itself is exquisite and the room, with its beautiful view across the bay was immaculate and very tastefully furnished. The pool, beach and bar areas were clean, bright, very elegant, the whole place just has a really classy aesthetic, was a pleasure to be there. The only tiny, insignificant (first world problems) negative was the descriptions on the English version of the online cocktail menu didn't match the titles after a menu update, so I ended up with something I didn't expect, but the excellent bar staff were happy to replace it free of charge, so what more could you want? And the breakfast buffet was stupidly well stocked, so much choice, and all decent quality and fresh. You can't beat starting the day with fresh bread, smoked salmon and avocado while sipping a mimosa, all very decadent! Not the cheapest place to stay, but you get what you pay for, a very classy establishment that was a perfect, luxurious long weekend getaway for my wife's 40th in beautiful Ibiza. Would love to go back one day.
.
ETOURMY J.
Nous avons tout simplement adoré votre établissement. Tout commence à l'arrivée avec la belle découverte de l'hôtel, le design, la décoration, la propreté, un émerveillement ! L'odeur envoutante dans chaque recoins de l'hôtel qui appelle au voyage. Tout est pensé dans le moindre détail. L'accueil est chaleureux et très professionnel. Le petit déjeuner et le diner buffet sont exceptionnels tant dans sa diversité que dans la qualité des produits proposés. Tout le personnel est dévoué et agréable. Nous avons testé le spa lors d'un massage en duo et ce fut un moment suspendu. Une parenthèse de bien être. Seul petit bémol, l'environnement proche de l'hôtel qui n'est pas à la hauteur du standing de l'établissement. Mais cela nous a incité à profiter pleinement de l'hôtel, piscines, spa, détente. Nous avons passer un agréable séjour en amoureux. On recommande sans hésiter ce bel endroit !
.
Tony
By far the best hotel I have ever stayed in. Outstanding from checking in to checking out.
.
Michelle David
I can only describe my experience in Ibiza at the Amare Hotel, DIVINE! I realized as I was checking out that I wasn't ready to leave. I should have booked my stay for a longer period. The staff was delightful and accommodating. The design and decor of my room (The La La AD1) was breathtaking. The bed & bedding was amazing. Loved ALL the pillows. The shower had the right amount of water pressure. The food, wine & cocktails were superb. However, I was disappointed with the lack of wifi on the balcony. That was the only negative. I'm already searching for time in my schedule where I can return! Thank you Amare Hotel Team for making my first trip to Ibiza a beautiful memory.
.
S Cullen
Amare is a beautiful hotel. From the moment you enter you can see the hotel is kept extremely clean. Staff are helpful and friendly. The beach is beautiful. The only thing I would drop a star if the bar food is unreasonably overpriced!
.
Zoe
A very pleasant experience, the hotel and rooms were very clean and beautifully decorated, the hotel had a very chilled good vibe with different dj's which created a great atmosphere around the pools and rooftop bar. The facilities were great, the beds were very comfortable, the restaurant had amazing food and drink but the only fault would be the pool was extremely cold
.
Robert Nelson
Excellent staff make this a really nice place to spend a holiday, rooms kept very clean, tidy & comfortable. Choice, quality of food and service at the Amare ( beach,pool and restaurants) are all first class. Would recommend this hotel to anyone wanting a relaxing break in Ibiza.
.
Sergio Nodone
I very much enjoyed my stay at the hotel. I am a professional in the F&B industry and I can say that the overall level of the Amare Ibiza is excellent. The place is very clean and people are friendly, polite and competent. If you are looking for a place where you want to pamper yourself and cut with the daily routine this is definitely the one. Also, its private beach it's exceptionally organized, with one part closer to the hotel and closer to its cool vibe and the other one being a pure seaside experience, which I loved the most. The booking service was perfect and the reception outstanding. Only three things are to be revisited, in my opinion: - the bar and the wines a hotel that is so focused on gastronomy should have less mainstream wines and spirits and also offer a range of high-end handcrafted and terroir-driven products - the music in the morning: lounge music for waking up is a bit too much, I would say it's better to enjoy a sunrise with some ambient or relaxing music - the beach needs more sand from the second raw on and the enhancing of its natural side. I am very satisfied, I hope I will have the possibility to stay at Amare Ibiza again.
.
Nick
I had an amazing weekend at Amare in Ibiza! The resort was all I could have asked for and more. It was clean, the pool area was amazing, food was great and all the staff were wonderful! I want to say a special thanks to Jhay and Victor who worked up at the rooftop bar and restaurant. They were very nice, kind and attentive during my trip. I will definitely be back next year!
.
Mark O'Keeffe
The hotel and facilities were fantastic and we will definitely be coming back, very highly recommend.
.
Marco Boncompagni (Room 1915)
Buenas! Everything was fine except that I could not sleep during the first night because the toilet was broken and the flush did a huge noise every third minute making it impossible to sleep even with ear plugs. The day after I went to the reception and they sent someone to fix it. A person came and could repair the toilet..it was broken and it took him one hour to fix it! The hotel must make sure that the room is well functioning before handing it over to the next hotel guest. I was not in the mood to request a compensation because I was tired the day after but after all a compensation would have been appropriate from the reception in terms of a good gesture.
.
Audrey Dorey
Amazing hotel, fabulous staff, wonderful food, can't wait to return.
.
lee galligan
this is our 2nd stay at amare beach and we couldn't recommend it enough. we love ibiza and wouldn't stay anywhere else now. our only criticism is maybe the bar staff could do with a refresher in making cocktails and speciality drinks,especially at €14 ish a drink. apart from that the hotel and staff are amazing and we are 100% booking for next year again. Well done amare you rock
.
Sharleen
This is my second time staying in Amare Beach Hotel and it did not disappoint. It is slightly more pricey than other local hotels but in my opinion it is more than worth it. The staff are extremely accommodating - they cannot do enough to help you, they are friendly and go out of their way to provide a good service. The location is great, not too far from the centre but not so close that it is noisy around a 40 minute walk on a good day. The accommodation and surroundings are beautiful - picturesque even - you can tell they really value the beauty of the area and the furnishings in the room are high quality. If you pay a little extra the views are astounding and in my opinion very worthwhile - the sea spans for miles or you can see the coastline over at the marina in San Antonio. Overall, I cannot recommend this hotel enough - the food is delicious and the atmosphere is second to none. I will definitely stay here again if I return to Ibiza.
.
Shereen
Lovely hotel, lovely bar staff, and next time I would do all inclusive as I did breakfast only Room service food, was not very nice, and lacked taste, for what it was worth, the fruit plater, was even dry and the staff there were a little rude, but other than that, I would come back, and I just would not use the room service food The mini bar was amazing and very reasonable - this was great.
.
Andrew
Friendly. Fun. Steamer for clothes in the room. Carmen in the terrace restaurant was a joy. Aircon was a little tricky (make sure the balcony door is properly shut). LOVED IT. Thank you for looking after us.
.
Daniel Hayton-Ahmed
Excellent hotel. Great ambience, excellent food, comfortable rooms. Would definitely recommend.
.
Maya
Disappointed when the lounge restaurant closed at 10pm
.
Dean Thompson
Our second visit to Amare and once again it didn't disappoint, the chilled atmosphere makes for a relaxing holiday, the rooms are lovely and the service in all areas is excellent, will definitely be returning.
.
Sharon Dolan
We really enjoyed our stay. Staff were attentive and friendly (but some in the restaurant did look a bit stressed, may it was a long season!) But service none the less was very good. I have already recommended the hotel to numerous friends and we have decided we will return and now prefer the Amare over our favourite Mykonos beach hotel. We liked the pool areas and lay out. (Personally I would prefer a slightly different mix of music some days by the pool.) We upgraded and enjoyed The One lounge (I think it should be managed as I'm sure some guests had invited other guests who had not upgraded, in to consume the food and alcohol. And we did find some guests to be extremely greedy with the alcohol then become extremely loud!) We were on half board and enjoyed the food, quality and choice at breakfast and dinner, also in The One lounge but maybe less bread options could be served and a few more salad choices. We are extremely sweet toothed and found the cakes and dessert choices fabulous. Though I did notice that the cava glasses at breakfast were not washed properly and had orange juice rings on the inside and the teapots had milk stains at the spouts from previous use. I liked our room and bathroom which were kept very clean and the choice of amenities like pillow menu, toiletries and clothes steamer. Hairdryer not so good. My only issue is there is not a lot of space for someone staying for 7 nights to store all of their belongings. We found the whole hotel in general to be very clean and well maintained and I liked the fragrance used throughout. I usually only find this in city hotels. The gym was well stocked for its size and kept at a good temperature and although I didn't use the spa, it had a good choice of products. All important since outside the hotel there area us very run down and not inviting for venturing out. Thank you for the bottle of cava voucher presented on my birthday. Looking forward to a future stay.
.
Michael Kennedy
Lovely hotel & for every experience besides the 2 issues i will highlight shortly, lovely hotel & good value. Unfortunately, we were the subject of theft & although I did raise it with reception, it was not dealt with in anything like a satisfactory manner. My fiance had €45 in her purse which was left in room 1208 on Friday 7th October approx 1.30 pm & when we returned at approx 7.30 pm, the cash was gone. Nobody else had access to our room & we are 100% certain that the cash was in the purse before we left. We checked every item of clothing/bag that night so as to not falsely accuse anyone of the theft but after searching for hours, we reported it the next morning. Once reported to reception, there was no real customer service or action to ensure we were looked after in any way. I understand it is our word against the cleaners which makes it difficult for the hotel to impartially judge but there is still a whole lot that could be done to appease the situation. A genuine understanding from the hotel & perhaps an offer to come back to stay at the hotel or even lunch would have sufficed but nothing was done other than to suggest we were lying. Aside from this, our cleaner walked into the room TWICE without knocking. Once when we were asleep & the other time when my partner was in the bathroom. We understand this is an innocent mistake but really not acceptable & we shouldn't have to be worried about somebody bursting into our room at any time. As i said, a lovely hotel & great breakfast were ruined by this instance of theft im afraid.