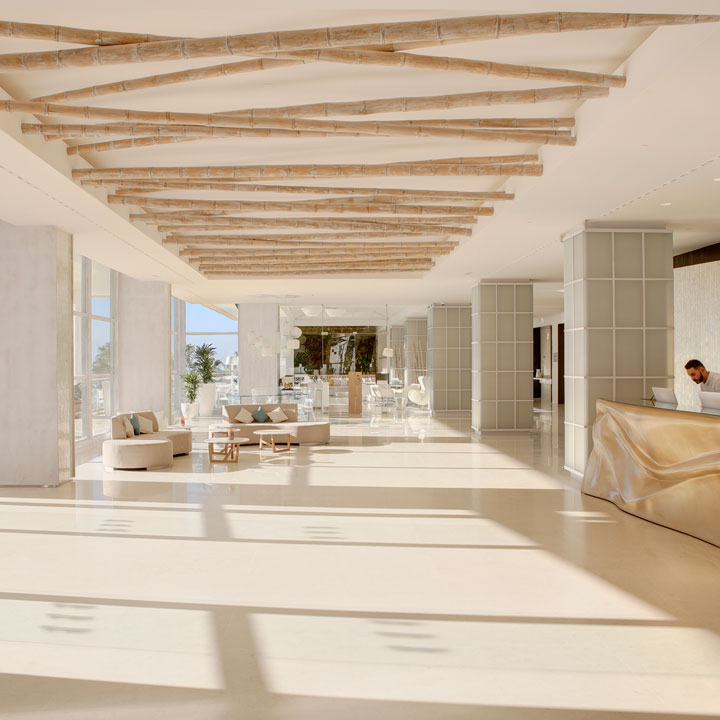 Frequently Asked Questions

Amàre Marbella
Accessibility
We offer rooms adapted to people with reduced mobility.
All the hotel's common areas can be accessed by ramp.
Check-in / check-out
You can enter your room from 3 pm on the day of arrival. Check-out is by 12 noon, with the option of late check-out depending on availability. You can consult prices and availability at Reception.
Languages spoken at reception
Spanish
English
German
Italian
French
Luggage
We can look after your luggage. If at check in your room is not ready yet or in case of early check out after. We will store your luggage free of charge on your check-in and check-out days.
Parking
The carpark has extra cost and cannot be booked beforehand – request a space directly at Reception (depending on availability).
Electric vehicles
Charging points for electric vehicles available
Pets policy
Amàre Beach Hotel Marbella do not allow pets.
Smoking policy
Although smoking is not permitted within hotel buildings themselves, guests who smoke are permitted to do so outside in designated areas.
Minimum age
Amàre Marbella is an Adults Only hotel. The minimum age to stay at the hotel is 16 years old.
WiFi
We have free high-speed WiFi throughout the hotel, including the pool and beach areas.
TV
We offer Spanish and international TV channels.
Pillow menu
Padded bedspreads, Nordic duvets and a pillow menu.
Room service
Available from 12 noon until 12 midnight.
Safe box
We have a free safe service in the rooms. Check our Rooms page to find out more features.
Pool towels
When you get to the hotel, Reception will give you a "towel card" for each guest. This card can be exchanged at the towel area, located by the pool from 9 am until 6.30 pm.
Until 6.30 pm you can bring the towel back here at any time and get your "towel card" back. After 6.30 pm you can bring the towel back to reception.
Hand your "towel card" back to Reception when checking out; if not, or if it gets lost, there's a charge of 10€.
Salt water pool or chlorine pool?
Sunbeds reservation
There is a no reservation policy for the sunbeds. After 30 minutes of not using a sunbed, towels and guest belongings will be removed and saved for later collection. If you are going to have lunch at the beach restaurant you can inform the customer service team by the beach or pool area and they will allow a longer reservation time during your meal.
Bars
Amàre Marbella has 2 bars, one at Amàre Lounge and another at the Belvue Rooftop Bar. You can also have a drink or a cocktail at Amàre Pool or Amàre Beach. Check out more on Gastro Experience page.
Breakfast / lunch / dinner opening hours
Breakfast Buffet from 7:30 am to 11 am.
Lunch at Amàre Lounge from 11 am to midnight (à la carte).
À la carte dinner from 7:00 pm to 10:00 pm.
*** These schedules can be modified due to change of season, weather or current regulations.
Are Belvue and Hayaca open to the public?
Belvue Rooftop Bar and Hayaca restaurant are both open to the public.Belvue Rooftop Bar is open to the public.
To get to Belvue Rooftop Bar, enter Amàre Beach Hotel Marbella, use lifts on the left of the lobby, go to the 9th floor. Check Belvue page to find out more and make a reservation.
To get to Hayaca, go along the promenade. The restaurant is located on the beach level, in front of Amàre Beach Hotel Marbella. Opening from 7.30 pm to 12 midnight. Check Hayaca page to find out more and make a reservation.
Alergic diets
Are you allergic and / or intolerant to some food? Indicate this in this form before your arrival.
Music, shows and DJs
Amàre is a paradise for music lovers. Entertainment is omnipresent thanks to the wide range of shows such as Pool Parties, live music of all kinds and DJs sessions in almost every part of its facilities.
Check out our Calendar to see what's on during your stay. Here's a photo album of previous events.
Art
The hotel become in art itself thanks to the art exhibitions that are displayed regularly in its facilities. Local and international artists show their work through the walls, lifts and stairs of Amàre.
Check out Amàre Art page to see the current art exhibition.
Transfer
For transfers, please contact us or just ask at Reception.
Car hire
For information on prices and vehicle hire, just ask at Reception.
Taxi
Telephone: +34 952 774 488.
Bicycle rental
15€ for a full day rental. Ask in reception.
Spa by Germaine de Capuccini
Please visit our SPA section for information about our services.
Gym
Our gym that is open 24 hours per day and equipped with Technogym technology.
Yoga
We look forward to seeing you three times a week at our yoga classes at 8:30 am or 9 am (depending on the season) until 25/11/2023. Sign up at Reception.
Personal trainer
Stick to your routine with personalised advice from a personal trainer who'll get the best out of you. Get fit twice a week in our gym at 8:30 am.
What to do?
On our Blog you will be able to find a wide range of interesting information to allow you to get the most out of the area: the best trekking routes, natural areas, unforgettable beaches, original restaurants and villages that shouldn't be missed, as well as the curiosities, stories and secrets hidden in the streets that make this unique part of the world.
Beaches
On our Blog you will be able to find information about the best local beaches.
Street markets
On our Blog you will be able to find information about the best local street markets.
Medical centres / Hospitals
You'll find all the information you need for any emergency during your stay at Reception.
Useful phone numbers
Emergencies: 112
Policía Nacional: 091
Guardia Civil: 062
Policía Local: +34 952 899 900
Bomberos: 080
Foreign Tourist Assitance: +34 952 768 755
Hospital Costa del Sol: +34 951 976 669
Hospital Quirón: +34 952 774 200
Ambulance: 061