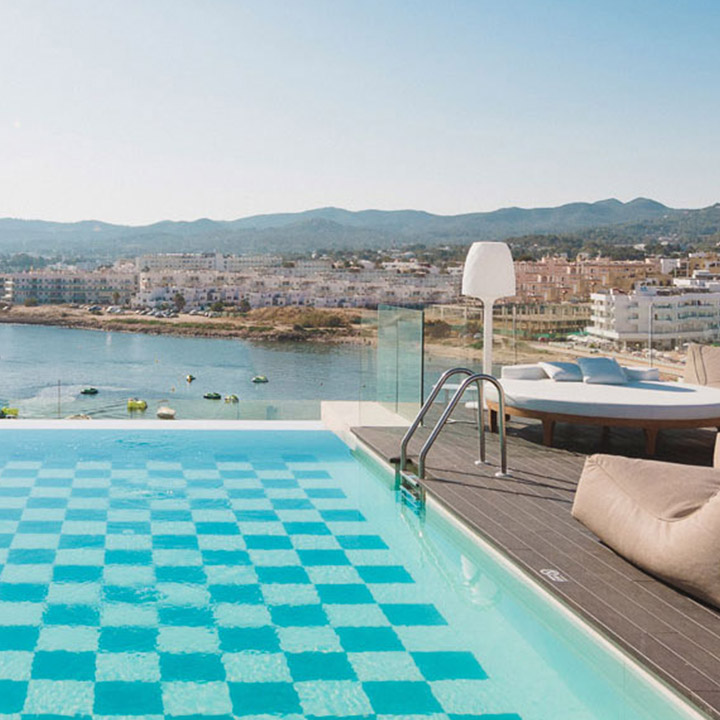 AMÀRE IBIZA
.
Ben
Lovely hotel, facilities and pool area are very impressive and kept immaculately clean, but let down by the service. Waiting 30 minutes for a drink and up to an hour for food by the pool. Very frustrating. Would be such an easy fix for the hotel to get more staff/ spend more time training them/
.
Fraser Felton
Best hotel- Carla and Jose the mangers are simply fantastic! They are always on hand to support you as and when required!! I would recommend this hotel to all of my friends and family!! Such a great place with amazing staff!!
.
Fraser Craig
Hotel and views 10/10 Service was the worst I've ever experienced.I had better service at a travel lodge.I left the hotel early due to the service being so bad. Not the staff fault I don't think maybe lack of staff/communication/training
.
Neviana Marinova
An incredible stay in Amare Ibiza. Staff were super friendly. you see that those people work super hard and yet they continue to welcome you with a smile. I myself stayed in Amare for six weeks, it felt like coming home. Special Thanks to Katia, Jennifer, Flor, Diego, Paula(rooftop) Victor, Stan, Carmen, Alejandra, Tarek, Camelo, Montse, Victor(manager) and Elena. special thanks to these people for making our stay so excellent and pleasant. you guys are incredible, top team and super hard workers. an example for many other hotels what a teamwork. You guys impressed us!!!
.
Phil
The service doesn't match the hotel. The concept of the hotel is very good with the daily guest DJ sets. The rooftop bar was very impressive however the bar service around the pool and rooftop area was very very poor. We where waiting over 1 hour to get served around the pool area with the buzzer service. On our last day we visited the beach bar for lunch only to be told that there was no food service due to lack of staff. I fully understand what we are all going through with COVID 19. However we paid a lot of money to get the service we paid for and sadly the 5 star Amare hotel fell very short of Achieving this. To top it all we had money stolen out of our room on the first day. The hotels response was to give me an envelope with the money that was stolen with no explanation nor apology. I could go on.
.
Jkate
Lovely hotel with great facilities and good food. The staff are friendly but there's not enough of them, queues for towels, breakfast, bar drinks so frustrating we would have spent so much more if we had quicker service.
.
Stephanie Aston
Service was so poor throughout the hotel. Had to complain on 4 occasions about inadequate service and rude staff. Extremely disappointed as this was my first holiday in 2 years.
.
Sergio Keller
Super Hotel. Ein Mangel hätte ich zu erwähnen. Jeden Morgen bis ca 14:00 wurde nur Brasil Musik am Pool gespielt. 1 Woche durchgehend. Passte gar nicht. Sonst aber ein tolles Hotel.
.
Franciscus Backx
The whole vacationperiode was perfect! We are glad we spent our holiday at Amare Beach Hotel. And we'll be back!
.
Samantha
I was pretty disappointed with my stay, the reception staff where anxious the whole time, which made me feel uncomfortable. The service in the restaurant on the roof top from 8-10 was always bad, and the chef's upstairs are below par compared to the chefs in the Lounge. In Hycanda my wagu steak was over cook, chips were cold, my started came with 50% of the dish missing at the same time as my main and it took me 40 minutes to get a drink. Awful experience for someone dining on my own! Most of the time I get ignored. At the point of checking out, which took 45 minutes, a junior member of staff advised they do not book taxi's for guests which to my horror trying to get my flight home was not something I was used to hearing. After finally getting through check out, I explained my plight to a senior member of the team who helped me get a taxi. I'm just disappointed as the hotel has the potential to be great, but I do not feel I got value for money. The staff in your SPA, where great, and I don't know who from the management team thought it was a good idea to offer COVID tests from the spa, but it was completely the wrong place to offer this service as the two are in conflict from an experience perspective. The gym, had no water service, which is ridiculous. Overall I'm disappointed and hope your staff receive better training, that you get more staff around the pool areas as there was always a que at the towel station and the call button system is useless as the team ignore it and just attend to people flagging them down.
.
K Davies
Pool bar service for food and drinks was very poor, it took over 1 hour to take an order via the buzzer system. This was also the same in the rooftop bar. The hotel needs more staff in both areas. Lovely hotel but unsure I would return if the staffing issues do not get resolved.
.
Jose Renaldo
Never any beds at pool. Drink service very slow. Rooms are very small. Nice place no sunset from our room. Balcony very small. Couldn't get taxi. Had to get changed in disabled toilet before leaving for airport. Drinks and food very expensive
.
Molly
The Hotel was amazing, beautiful and very clean, I would 100% return. The only think that let it down was the extremely slow service, particularly around the pool where we would often wait 40-60 mins for someone to take our order after buzzing. Other than that it was great, food was lovely, massive choice at breakfast, rooms were cleaned pretty well (abit of sand etc left in shower), the views were lovely if you had a room looking out over the sea. The staff were all very friendly I just assume they were understaffed so could not take orders quick enough, as I say that is the only thing letting the hotel down. Loved my stay!
.
Susan
Beautiful hotel, fantastic balcony overlooking the sea and great breakfast!
.
Lisa Ogden
Fantastic, beautiful hotel with lovely, friendly welcoming staff. Bar service was slow and queuing for breakfast slow - but other than that everything was absolutely perfect - would definitely recommend this hotel.
.
James Dean
We've been over 5 times now and also put all our 90s popstars into the hotel. Usually the service is fantastic but this time it was horrendous. I shall be getting quotes from Neighbouring hotels from now on.
.
Kathy Tritton
We have previously visited the Amare Ibiza and although we understand the Covid outbreak will have had an impact we were sorely disappointed with the customer service received ! Reception were unhelpful and rarely understood anything we ever asked, the pool bar service was virtually non existent with waits often nearing an hour from the button pressing to receiving your drink / food ! Breakfast was extremely stressful with again flustered staff not understanding simple requests and felt really hard work to even get a hot cup of tea ! Obviously the hotel and pool are of an amazing standard but without doubt the strain of COVID had taken its toll ! We had a completely different experience in 2019 which is why we rushed back as soon as Ibiza became available to us ! I hope as time passes the staff can iron out some of the issues as we know we were far from alone in our thoughts ! Otherwise a lovely few days in the sun
.
Erik Swart
Great hotel with fantastic service and extremely friendly personnel.
.
Clo
Buffets pdj et soir exceptionnels en qualité Cadre chic relaxant et moderne avec immenses transats ronds Dj avec musique electro-chill toute la journée Piscine en rooftop idéale pour l'apéritif le soir L'un de nos meilleurs hôtels !
.
Vanessa
Wir haben uns 10 Tage lang rundum wohl gefühlt! Das Hotel ist wunderschön mit Liebe fürs Detail. Das gesamte Personal war zu jederzeit sehr bemüht und freundlich. Einziger minuspunkt: 15€ fürs parken ist definitiv zu viel. Wir kommen definitiv wieder!
.
Zwischenbrugger G + R
Management im Esssaal zu jung, keine Erfahrung. Dauer Entschuldigungen!! (Bestellungen für Essen/Wein klappte mehrfach nicht) Vor Esssaal: Administration zu kompliziert, zu lange Wartezeiten.Kontrolle o.k., aber Platzzuweisung durch gleiche Person dauert. Grill Abendessen: nur 1 Grillmeister zu wenig. Badezimmer zu spartanisch mit Utensilien . 1 Seife für 2 Personen in 10 Tagen, keine Morgenmäntel, Duschgelhalterungen defekt etc.) Strandbar: unfreundlicher Service, Wartezeit bis 20 Minuten. Trotz Berücksichtigung von Covid 19, Preis-Leistung nicht optimal
.
Antonio Sabido Septiem
Pasamos unos dias geniales en el hotel Todos los trabajadores nos atendieron atendieron estupendamente con especial atencion de Nicolas y Carmelo . gracias por todo
.
Patricia
We loved the hotel. Very friendly staff, very good breakfast. Costumer care is outstanding. Only thing we didn't like is the really loud music at the pool when the DJ starts playing. You can't have a conversation anymore. It's not so bad when it's nice relaxing lounge music but when is not relaxing it's very annoying. We left the pool one day.
.
James
WiFi was very slow. The booking process on the website was extremely difficult to use as I wasn't able to use any American credit cards to purchase. It took me days to pay and multiple calls with customer support and my credit card company - it was the booking system, not my credit card. Drinks and food were slightly too expensive and the parking situation was inconvenient. The hotel is very nice and smelled great. I asked for a complimentary upgrade and didn't get any. On check in, I had to remind the staff at the front about my complimentary welcome drink for using the online check in system - it seems that online check in saved no time during check in at all.
.
John Hooks
Had 3 days vacation in Amare Ibiza hotel, from checking in to checking out nothing was any trouble to the Amare team. Would recommend this hotel to anyone and will definitely stay again. First class in evryway.
.
Francesco azzaro
Room small and park of car very small... for this reason my car take away and I pay 130€ this is not good service for this never I will come back
.
Karen
Stunning new hotel in a great location. Fabulous rooms, great swimming pools and loungers, great beach club with ok beach. Fantastic roof top terrace with a small pool, lots of loungers and delicious food. Fantastic electric bikes to rent which I highly recommend. The staff by the pool are still finding their feet and the food on the beach menu although descriptively sounds good, needed improvement. The restaurant on the roof terrace was stunning and the food mostly fantastic but they need to give more side vegetables and salads.
.
Don Patterson
I have stayed at Fuerte group hotels before and have always found them well run and value for money. I like the fact that it is still a family business after 60 years who cares for their customers and have a sense of history.
.
Keith Little
Hotel was beautiful but what really sets the experience apart is how amazing the staff is! They make you feel like part of their family!!
.
We stayed last year and we LOVED this hotel and the service but this year it was totally different. I understand covid has been tough for every industry but the service at the pool and restaurant was below standard for a 4*. It took over one hour sometimes to get someone to serve you at the pool and when they did things were delivered wrong or completely different order and then we were charged for things we didn't receive. One day we ordered pizza and it took over one hour and then 2 pizzas came and we only ordered 1. At the restaurant we waited quite some time for drinks, we ordered a bottle of rose 3 times and ended up getting it 20 mins later. Overall stay was amazing but the service was pretty bad and this is something that must improve.
.
Stephanie prentice
We loved the hotel, our room was lovely and so clean. The staff were wonderful and the amazing choice at breakfast started our days well. We woke up early each day for the advertised yoga and circuits class on the beach area but it didn't happen so we were disappointed about that. Overall a good stay and if you were looking for a good hotel this is the one. If I was looking for a hotel with extras like fitness etc I would probably advise another hotel. Thanks for a good stay.
.
Mikayla Snodgrass
Loved! Will definitely be the place we stay on our next trip to Ibiza!
.
Susan
Absolutely incredible hotel - we enjoyed every second of it and would love to come back again.
.
Kenneth W Gammie
Just arrived back from a 7 days break at the Amare Ibiza. A beautiful decorated hotel with stunning designed and clean rooms. Pool has beautiful furniture with waiter service. Soothing music plays all day as well as entertainers during certain timings who are of a good standard. Breakfast was excellent with a great choice for all diets. Restaurants serve a good choice of foods of good quality a bit expensive but if you want quality you don't care! Staff are so helpful and will do anything to enhance your experience. Adult only makes the experience so much more where you can relax and enjoy everything around you. One of the best hotels I've ever stayed in and i can assure you I've stayed in a lot! Will definitely visit again. Thanks to all
.
Emma Davies
Amazing time staff so friendly, hotel and rooms are fabulous, food and service perfect. Everything about the stay was perfect will definitely be going back 😁
.
Louise & Kimberley Hawkins
The hotel and staff as a whole were absolutely magnificent (kind and helpful). The art-work placed around the hotel were unique and interesting. The breakfasts and evening meals (buffet style) didn't disappoint, the variety of foods offered and they catered for people with allergies as well. Nothing was too much trouble for any of the staff, who all had smiles on their faces and got to know everyone. My Daughter and I would definitely come back again, together with other family and friends. The only downside was the entertainment in the evenings. One of the DJ's on the roof-top was exceptionally good, and other guest artists were okay, but the live entertainment stopped by 10.45 every night and the roof-top bar closed at mid-night. The rooms were great apart from when one of us wanted a shower, the other one had to go on the balcony or make sure the clothes in the wardrobe covered the glass to the shower, not to show anything off. Thank you to all the staff who made our stay relaxing and enjoyable!
.
Excellent hotel, great facilities, clean, spacious, lovely food with very friendly staff. Special thanks to our lovely porter Danny and all the pool side waiting staff. We would definitely stay again. Our only criticism was that the service was often slow in both the reception, and restaurants for dinner. Once spoken to, the staff were lovely and the food was very nice, but we had to wait a very long time. On the occasion we went to eat at the roof top restaurant no one served us. We had to get up and go find someone to ask for drinks and provide us menus. Other than that it is a wonderful place and we'd recommend to all.
.
Hannah
Had a very pleasant stay at this hotel for my birthday and would want to stay again. The only thing that could do with an improvement is allergens in the restaurant. As there is no information with allergens on any of the dishes. I suffer with a nut allergy and got told by restaurant staff there was no nuts in any of the dishes. However I did see nuts on display during breakfast. Which could've quite easily been contaminated with other dishes.
.
Tash
We had an absolute blast at the Amare Ibiza. It was the perfect setting for our group of friends to celebrate birthdays and good health. The pool areas were large with really comfortable loungers and the music vibe throughout the day was perfect - we loved the acoustic guitar and singer. The roof terrace gives a stunning sunset view and the food in the buffet breakfast and dinner was generous and delicious. We'd love to come again and explore more of the island but it was ideal for a weekend getaway.
.
Victoria kiernan
Fabulous hotel with three beautiful pools. Views from the hotel are amazing along with a beautiful beach front . There is a boat that you can get that brings you across to San Antonio which is very handy. The only thing that could be improved is the air conditioning in the hotel. I felt we couldn't control it ourselves and I found my room very hot. We did ask about this at least twice and it never improved.
.
Marek L
Just spent 4 nights here on half board terms and had a great time. We were made very welcome the moment we arrived. Our pool/sea view room.was modern, comfortable and spotlessly clean. Breakfast and dinner are buffet style and the choice is staggering. The pool areas are really smart , superb ultra comfy sunbeds and waiter service for drinks etc... just press your buzzer. The rooftop bar and restaurant are nice with elevated views and of course the famous San Antonio sunset. There is also a water taxi just outside the hotel grounds where you can be in San Antonio centre in a few minutes. (€3.00 one way) So overall a great few days in a modern, chic hotel with superb staff, thanks to you all 👏👏👏 No hesitation in recommending the Amare.
.
Tom Carey
My wife and I stayed at the Marbella numerous times. We were unsold Ibiza. Though the hotel itself is very good we were extremely disappointed with the hotel surroundings and location. We spent an additional €500 over 7 days on Taxis in to Ibiza Town and other pleasant locations. The frustration over lack of Taxis at the hotel 3 months after you opened was very frustrating and inconvenient to all guests. I cannot understand how this issue was not addressed shortly after you opened. The service at Hayaka was very poor. It was far too casual with both interest in the food or explanations. My wife and I felt very cheated and taken advantage of due to our regular stays at Marbella. For this reason we will not rebook Marbella again and will choose a competitor hotel instead. We spoke with numerous guests who feel the same. I think upselling Ibiza to Marbella guests is misleading and taking advantage . Sincerely, Tom & Lorraine Carey
.
George
Great Hotel - 100% recommend
.
Colette Edwards
So much about this hotel was lovely. Great staff, excellent outdoor space. All common parts were gorgeous. However the room was far too small, and had completely inadequate wardrobe space. It was such a shame, we moved rooms when we arrived the first room was even smaller. In all other respects this was a fantastic hotel but the room spoiled it for us, and the poor design of the wardrobe space, and sink area. A proper wardrobe with drawers, shelves for products and somewhere to put your cases is a minimum requirement. Such a shame.
.
Emma Chadwick
Beautiful hotel! Check in was chaos and very unorganised! Bar staff around the pool generally good one bad experience with a staff member who was more interested in finishing her shift than listening to a customer request
.
Bintu S
Beautiful hotel. Great food couldn't ask for more
.
Jon W
First time visit at the Amare Ibiza and won't be my last. Fantastic hotel we stayed in a suite with the most amazing view across San Antonio Bay to wake up to. Decor and art in the hotel is very beautiful and modern. I think this is one of the best hotels I've stayed in. Superb and would recommend 100%.
.
Cathy Aiken
Hotel is great but sometimes the bar and food service could be quicker
.
Anu Joshi
I would like to commend the service and hospitality received from Monste she was exceptionally helpful to us all. I remember her from our stays at Marbella where she will always go above and beyond in her duties. This is the 3rd time I have stayed at Amare and the friends that I have recommended it to love it as well. Please mention to Monste how much we appreciated her help and brilliant service. She is an asset to your hotel brand.