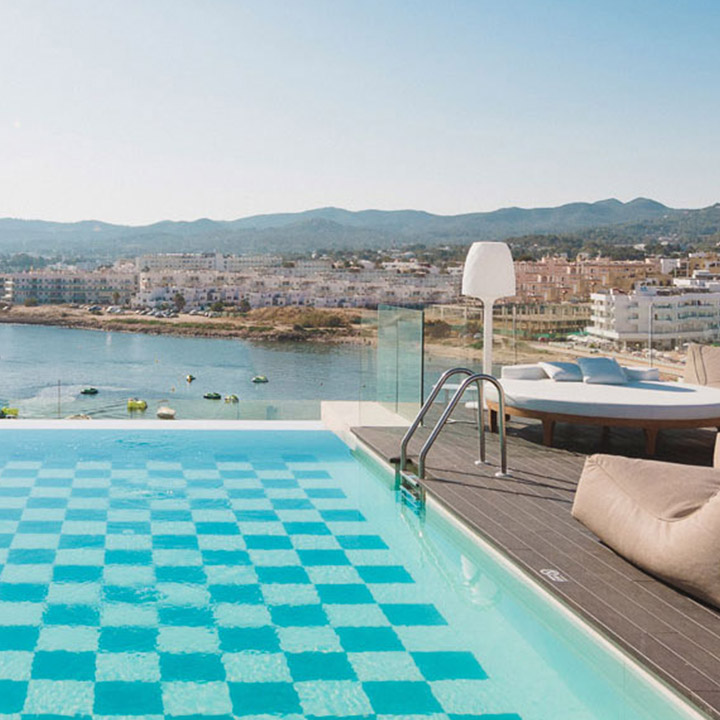 AMÀRE IBIZA
.
Marine
Le gros point négatif était le service à la piscine : la commande à distance ne fonctionnait pas, on n'a jamais voulu nous la changer, on devait tout le temps aller chercher un serveur, qui arrivait 30 minutes après… Bref, c'était toujours pénible et long de se faire servir (nourriture, boissons)… Le reste, très bien.
.
Hayleigh Gale
Absolute stunning hotel, very luxurious. Everywhere was very clean and smelt lovely. The staff were always happy to help. The views are amazing too and not to mention how gorgeous the beach is which is literally right outside the hotel. We would 100% rebook this hotel if we visit Ibiza again.
.
Jackie
Lovely and relaxing stay. Room was very clean and the bed very comfortable. The pool area is also very good. Couple of points to improve on would be to keep the breakfast items hotter, and the drinks are a bit on the pricy side
.
NoNo
Der Duft der Lufterfrischer war teilweise unerträglich. Mehr Eukalyptusduft wäre angenehmer.
.
Liked hotel a lot, the communal areas are beautifully designed. Bedrooms are small, wasted space in the impractical/horrible glass bathrooms. Half the room is taken up as bathroom space leaving little space in bedroom area. Bedroom Space also taken up by impractical hanging chair which only one person can sit in so no chair for other person and it takes away from view from window. Food serving area in restaurant is small for sauce of hotel we were there in quiet season I dread to think how busy that serving area must be in the summer. Food selection, for a buffet style is very repetitive and not huge choice. Always same dishes so if you want people to eat there every night you need more choices. Same noodles with veg every night also same mushroom dish also same meat which is just fried plain meat or fish - no sauces!! So if having every night would be nice to have different sauces each night to make food more interesting. We were there the last week of season and very evident that there wasn't much food left/choice. So our first 3 days we had ice cream trolley then it disappeared no more ice cream 😢!! Desert almost always the same every night and bought in not made. A lot of the self serve food was cold/Luke warm, particularly the vegetable noodles and roasted vegetables and chips! Pasta was great. Fresh orange juice at breakfast - fab! Dissapointed you have different prices for buffet, so if you book at reception one price if you book at restaurant it's €10 euros more - why? This feels like you are trying to con us, - it should be same price if you book anywhere in hotel. I had asked for quiet room and asked for specific location but none of my requests were listened to! I said it was a celebration but nothing ever mentioned. All in all we enjoyed hotel - it's beautifully done. We would stay again. The area the hotel is in is in our opinion not very nice, so while the hotel lovely the surrounding area is not! - such a shame. Staff were lovely, but in restaurant at night they did not clear tables quick enough tables piled high with plates so people still eating we were sat next to piled high plates did not look or feel nice need staff to clear plates more quickly! Beautiful hotel and would recommend but could be top notch with some more thought.
.
Paul Gee
Chefs are very poor that serve you the wrong food
.
The hotel is every bit as good as advertised. Staff were always very friendly and helpful. A extra high level of cleanliness was in evidence everywhere. Food was exceptional. A special mention must go to Monica and Yaiza from the One Lounge who went out of there way to be helpful and assist with every query . Both great ambassadors for the hotel.
.
Ian urwin
Excellent all round very friendly staff Hotel was always clean There was a good selection of seating and sunbeds available with excellent choices to order drinks and food from wherever you were
.
Kasia
Reasons for my lower rates: Restaurant: dirty glasses and cups at breakfast Kitchen: same reason Maintenance: shower in our room was leaking Daytime entertainment: in my opinion music at the pool was way too loud - I could see that people there did not came there to party (it was October) but to relax - music was a bit annoying and we could not enjoy the sound of the ocean Other than that all was very good, thank you for a lovely stay!
.
Ellie Harding
This hotel was more than we expected - it was truly amazing - we went for a little girly trip away and it just made the whole trip feel like luxury. I couldn't recommend this hotel more - everything about this hotel was an enjoyable experience. The rooftop bar and sunlounges are very relaxed vibe and would highly recommend swimming in the rooftop pool - slightly colder than expected but was very nice in the hot sun. The food for breakfast through to the evening was again outstanding and the cocktails also the same. I am definitely going to visit again next year.
.
The hotel gave me a birthday present even without telling them it was my birthday. was very impressed. Thank you
.
Dimitri C
Great hotel! Everything was nice and clean. Parking was easy and free outside the hotel. Nice swimming pool with a great bar service. During the day, a DJ is playing nice lounge music at the swimming pool area. Great breakfast. We will definitely come back to this hotel.
.
CM 17
Beautiful hotel with decent size rooms and comfortable beds. Only moan is the food and drinks are way over priced there's no need for the prices they are charging.
.
Tracey Brooks
The hotel was very lovely, beautiful room, we booked a sea view but got a side sea view above the bin store lucky we were on the top floor so didn't hear the bin lorry. We only had the choice of one restaurant to use which was good for breakfast but the evening food choices were not very good
.
Rianne van Drenth
Very pleasant and nice stay in hotel Amaré! Everybody is very friendly. Don't think no more, just booke now. ☀️
.
Bob McCann
Loved the hotel, staff where all welcoming and polite. Food was amazing. Only fault I'd have is with the website, its not very clear the difference between the room types. I booked a sea view which usually the best view, in this case the pool view is the best room.
.
Lorena castillo
El staff increible! Los camareros de la zona de abajo en general brillantes, fueron super amables durante toda la estancia, a destacar alex y adrian que nos hicieron sentir como en casa 🙂 lamentamos que los camareros del rooftop no fueran igual 🙁
.
Leigh Roche
The hotel was very good and extremely clean and the housekeeping staff were very good and polite. Reception upon arrival was not informative and we were kept waiting for access to our room for over 2 hours and had chase up ourselves as no one came to let us know. The same can be said about the pool side service kept waiting for drinks had to chase up as they had basically forgotten. The food was very repetitive and certainly not value for money. Evening entertainment was zero. Not one of our best experiences having stayed in various hotels around the world.
.
Paul Quigley
Brilliant stay at the Amare. Exceptional staff with a great atmosphere.
.
Derek
This is such a fantastic place to stay. Extremely well staffed everywhere. Lots of different quirky areas with interesting decor and amenities. The buffet food is great quality with plenty of variety. I personally don't like buffets because food goes cold and it's hard to pace yourself between courses, but this was wonderful. I did opt for a-la-carte one evening which was really good quality and service. Checking in and out was quick, friendly and efficient. Getting service for drink and food to the sunbeds was such fun; the buzzers were intermittent on how they worked but there was always a waiter passing anyway. The only thing I didn't like was that the shower and toilet in the room had no privacy; I don't understand this modern style. Overall, I want to visit again and would recommend the Amáre Ibiza to anyone.
.
Valentina Guerrieri
The Hotel and the Location is Stunning. Every details is studied for comfortable of guests, from the different relaxing areas to the perfect choice of the forniture, from the easy access to services to the kindness and impeccable efficiency of the staff. For these reasons, we will definitely return as your guests! Just 2 suggestions: -Breakfast offers all you need, but for Dinner I'd have like to find more Ibizian/Spanish foods, -after dinner at the Rooftop, I expected Music for dancing as are the popular ibiza clubs (not like that same at the pool). Thanks for giving us wonderful moments! Kind regards
.
Joy Smith
Fabulous hotel....right on the beach Rooms cleaned daily Friendly staff
.
Andreea Parjol
Amazing place!!! You have made such an experience for me and my husband who were celebrating 15 years of marriage! It all started at the reception when we arrived and reception immediately approached and checked us in. We have been offered a bottle of Champagne 🍾 form the house for our anniversary. The room was very nice and clean and included pool and sea view as per my request. Breakfast buffet has so many options including gluten free bread (which I love it) and lactose free. Also, dinner buffet its amazing - So many options to choose from meat and fish, all grilled, fruits, desserts … everything you need for a perfect dinner. Last day, Tuesday, we ate at the Rooftop bar & restaurant and I was impresses. We have Wagyu beef 🥩 with roasted potatoes and salad and the chef cooked right on my taste (and I am very picky specifically with the food) and we've been offered a little starters from the house. Not at least the rooftop team - Sandra, Soraya and Victor who looked after us. Also, Life saver gentleman from the pool - told us about things to do around and we had a nice chat with him. A place where to come back! Thank you all for making out stay so special! Andreea & Catalin
.
Mark Clayton
Quite simply, the best hotel I have ever stayed in, bar none (and I speak as someone whose wife has worked in hospitality for many years). Service was exemplary from the moment we checked in, all staff were extremely friendly. helpful and clearly very good at their jobs (as well as multilingual, which is a skill that shouldn't be underestimated). The hotel itself is exquisite and the room, with its beautiful view across the bay was immaculate and very tastefully furnished. The pool, beach and bar areas were clean, bright, very elegant, the whole place just has a really classy aesthetic, was a pleasure to be there. The only tiny, insignificant (first world problems) negative was the descriptions on the English version of the online cocktail menu didn't match the titles after a menu update, so I ended up with something I didn't expect, but the excellent bar staff were happy to replace it free of charge, so what more could you want? And the breakfast buffet was stupidly well stocked, so much choice, and all decent quality and fresh. You can't beat starting the day with fresh bread, smoked salmon and avocado while sipping a mimosa, all very decadent! Not the cheapest place to stay, but you get what you pay for, a very classy establishment that was a perfect, luxurious long weekend getaway for my wife's 40th in beautiful Ibiza. Would love to go back one day.
.
ETOURMY J.
Nous avons tout simplement adoré votre établissement. Tout commence à l'arrivée avec la belle découverte de l'hôtel, le design, la décoration, la propreté, un émerveillement ! L'odeur envoutante dans chaque recoins de l'hôtel qui appelle au voyage. Tout est pensé dans le moindre détail. L'accueil est chaleureux et très professionnel. Le petit déjeuner et le diner buffet sont exceptionnels tant dans sa diversité que dans la qualité des produits proposés. Tout le personnel est dévoué et agréable. Nous avons testé le spa lors d'un massage en duo et ce fut un moment suspendu. Une parenthèse de bien être. Seul petit bémol, l'environnement proche de l'hôtel qui n'est pas à la hauteur du standing de l'établissement. Mais cela nous a incité à profiter pleinement de l'hôtel, piscines, spa, détente. Nous avons passer un agréable séjour en amoureux. On recommande sans hésiter ce bel endroit !
.
Tony
By far the best hotel I have ever stayed in. Outstanding from checking in to checking out.
.
Michelle David
I can only describe my experience in Ibiza at the Amare Hotel, DIVINE! I realized as I was checking out that I wasn't ready to leave. I should have booked my stay for a longer period. The staff was delightful and accommodating. The design and decor of my room (The La La AD1) was breathtaking. The bed & bedding was amazing. Loved ALL the pillows. The shower had the right amount of water pressure. The food, wine & cocktails were superb. However, I was disappointed with the lack of wifi on the balcony. That was the only negative. I'm already searching for time in my schedule where I can return! Thank you Amare Hotel Team for making my first trip to Ibiza a beautiful memory.
.
S Cullen
Amare is a beautiful hotel. From the moment you enter you can see the hotel is kept extremely clean. Staff are helpful and friendly. The beach is beautiful. The only thing I would drop a star if the bar food is unreasonably overpriced!
.
Zoe
A very pleasant experience, the hotel and rooms were very clean and beautifully decorated, the hotel had a very chilled good vibe with different dj's which created a great atmosphere around the pools and rooftop bar. The facilities were great, the beds were very comfortable, the restaurant had amazing food and drink but the only fault would be the pool was extremely cold
.
Robert Nelson
Excellent staff make this a really nice place to spend a holiday, rooms kept very clean, tidy & comfortable. Choice, quality of food and service at the Amare ( beach,pool and restaurants) are all first class. Would recommend this hotel to anyone wanting a relaxing break in Ibiza.
.
Sergio Nodone
I very much enjoyed my stay at the hotel. I am a professional in the F&B industry and I can say that the overall level of the Amare Ibiza is excellent. The place is very clean and people are friendly, polite and competent. If you are looking for a place where you want to pamper yourself and cut with the daily routine this is definitely the one. Also, its private beach it's exceptionally organized, with one part closer to the hotel and closer to its cool vibe and the other one being a pure seaside experience, which I loved the most. The booking service was perfect and the reception outstanding. Only three things are to be revisited, in my opinion: - the bar and the wines a hotel that is so focused on gastronomy should have less mainstream wines and spirits and also offer a range of high-end handcrafted and terroir-driven products - the music in the morning: lounge music for waking up is a bit too much, I would say it's better to enjoy a sunrise with some ambient or relaxing music - the beach needs more sand from the second raw on and the enhancing of its natural side. I am very satisfied, I hope I will have the possibility to stay at Amare Ibiza again.
.
Nick
I had an amazing weekend at Amare in Ibiza! The resort was all I could have asked for and more. It was clean, the pool area was amazing, food was great and all the staff were wonderful! I want to say a special thanks to Jhay and Victor who worked up at the rooftop bar and restaurant. They were very nice, kind and attentive during my trip. I will definitely be back next year!
.
Mark O'Keeffe
The hotel and facilities were fantastic and we will definitely be coming back, very highly recommend.
.
Marco Boncompagni (Room 1915)
Buenas! Everything was fine except that I could not sleep during the first night because the toilet was broken and the flush did a huge noise every third minute making it impossible to sleep even with ear plugs. The day after I went to the reception and they sent someone to fix it. A person came and could repair the toilet..it was broken and it took him one hour to fix it! The hotel must make sure that the room is well functioning before handing it over to the next hotel guest. I was not in the mood to request a compensation because I was tired the day after but after all a compensation would have been appropriate from the reception in terms of a good gesture.
.
Audrey Dorey
Amazing hotel, fabulous staff, wonderful food, can't wait to return.
.
lee galligan
this is our 2nd stay at amare beach and we couldn't recommend it enough. we love ibiza and wouldn't stay anywhere else now. our only criticism is maybe the bar staff could do with a refresher in making cocktails and speciality drinks,especially at €14 ish a drink. apart from that the hotel and staff are amazing and we are 100% booking for next year again. Well done amare you rock
.
Sharleen
This is my second time staying in Amare Beach Hotel and it did not disappoint. It is slightly more pricey than other local hotels but in my opinion it is more than worth it. The staff are extremely accommodating - they cannot do enough to help you, they are friendly and go out of their way to provide a good service. The location is great, not too far from the centre but not so close that it is noisy around a 40 minute walk on a good day. The accommodation and surroundings are beautiful - picturesque even - you can tell they really value the beauty of the area and the furnishings in the room are high quality. If you pay a little extra the views are astounding and in my opinion very worthwhile - the sea spans for miles or you can see the coastline over at the marina in San Antonio. Overall, I cannot recommend this hotel enough - the food is delicious and the atmosphere is second to none. I will definitely stay here again if I return to Ibiza.
.
Shereen
Lovely hotel, lovely bar staff, and next time I would do all inclusive as I did breakfast only Room service food, was not very nice, and lacked taste, for what it was worth, the fruit plater, was even dry and the staff there were a little rude, but other than that, I would come back, and I just would not use the room service food The mini bar was amazing and very reasonable - this was great.
.
Andrew
Friendly. Fun. Steamer for clothes in the room. Carmen in the terrace restaurant was a joy. Aircon was a little tricky (make sure the balcony door is properly shut). LOVED IT. Thank you for looking after us.
.
Daniel Hayton-Ahmed
Excellent hotel. Great ambience, excellent food, comfortable rooms. Would definitely recommend.
.
Maya
Disappointed when the lounge restaurant closed at 10pm
.
Dean Thompson
Our second visit to Amare and once again it didn't disappoint, the chilled atmosphere makes for a relaxing holiday, the rooms are lovely and the service in all areas is excellent, will definitely be returning.
.
Sharon Dolan
We really enjoyed our stay. Staff were attentive and friendly (but some in the restaurant did look a bit stressed, may it was a long season!) But service none the less was very good. I have already recommended the hotel to numerous friends and we have decided we will return and now prefer the Amare over our favourite Mykonos beach hotel. We liked the pool areas and lay out. (Personally I would prefer a slightly different mix of music some days by the pool.) We upgraded and enjoyed The One lounge (I think it should be managed as I'm sure some guests had invited other guests who had not upgraded, in to consume the food and alcohol. And we did find some guests to be extremely greedy with the alcohol then become extremely loud!) We were on half board and enjoyed the food, quality and choice at breakfast and dinner, also in The One lounge but maybe less bread options could be served and a few more salad choices. We are extremely sweet toothed and found the cakes and dessert choices fabulous. Though I did notice that the cava glasses at breakfast were not washed properly and had orange juice rings on the inside and the teapots had milk stains at the spouts from previous use. I liked our room and bathroom which were kept very clean and the choice of amenities like pillow menu, toiletries and clothes steamer. Hairdryer not so good. My only issue is there is not a lot of space for someone staying for 7 nights to store all of their belongings. We found the whole hotel in general to be very clean and well maintained and I liked the fragrance used throughout. I usually only find this in city hotels. The gym was well stocked for its size and kept at a good temperature and although I didn't use the spa, it had a good choice of products. All important since outside the hotel there area us very run down and not inviting for venturing out. Thank you for the bottle of cava voucher presented on my birthday. Looking forward to a future stay.
.
Michael Kennedy
Lovely hotel & for every experience besides the 2 issues i will highlight shortly, lovely hotel & good value. Unfortunately, we were the subject of theft & although I did raise it with reception, it was not dealt with in anything like a satisfactory manner. My fiance had €45 in her purse which was left in room 1208 on Friday 7th October approx 1.30 pm & when we returned at approx 7.30 pm, the cash was gone. Nobody else had access to our room & we are 100% certain that the cash was in the purse before we left. We checked every item of clothing/bag that night so as to not falsely accuse anyone of the theft but after searching for hours, we reported it the next morning. Once reported to reception, there was no real customer service or action to ensure we were looked after in any way. I understand it is our word against the cleaners which makes it difficult for the hotel to impartially judge but there is still a whole lot that could be done to appease the situation. A genuine understanding from the hotel & perhaps an offer to come back to stay at the hotel or even lunch would have sufficed but nothing was done other than to suggest we were lying. Aside from this, our cleaner walked into the room TWICE without knocking. Once when we were asleep & the other time when my partner was in the bathroom. We understand this is an innocent mistake but really not acceptable & we shouldn't have to be worried about somebody bursting into our room at any time. As i said, a lovely hotel & great breakfast were ruined by this instance of theft im afraid.
.
Ruth Allen
We have been at the hotel every year since it opened, apart from 2020 when it closed early for the season. We're also planning already to come back next year because we like it so much. It's like a little jewel.
.
Lori
Great hotel. Location is a bit more remote so car is recommended. The beach at the hotel isn't great. The facilities are great though. We loved the pool area that had a dj. The room was nice. The rooftop bar has an amazing sunset so no need to spend a fortune on sunset row.
.
Kamran
Excellent hotel and well equipped rooms with friendly staff. Amazing pool area but sadly the pool water was ice cold as Antarctica and no guests was swimming during my 5 days stay here in September. Ideally for this price such a hotel should have temperature controlled swimming pools. The breakfast & dinner buffet spread was extensive but the quality of food especially in the hot stations can be improved a lot.
.
Robert
Fantastic Hotel, will be back for sure!!!
.
Lisa
Wonderful time at Amare. Service was exceptional, great hotel, room, pool, spa, food and atmosphere.
.
Macca
Fantastic hotel. Only feedback from me is the music on the beach could have been better as most days non and the beach seemed under staffed due to pressing for assistance and nobody attended.. Other than that the hotel was superb
.
D Watts
First time visiting this hotel, have been to Ibiza 4 times previously and this was by far the best hotel I have stayed at in Ibiza, very friendly staff, everything from check in, cleanliness of the hotel, grounds and room, service for food and drink was of a very high standard. It made my holiday and experience the best so far in Ibiza and if I return I will only stay at this hotel as I have no complaints and it made the holiday a great holiday as everyone and everything at the hotel was perfect, thank you 😊
.
Beautiful hotel with amazing rooftop views. We stayed half board and food was excellent and varied. Service at poolside also incredible
.
Kayo
We had a very pleasant stay. The grounds were beautiful & well maintained. We wished the room was a little bigger but we had a short stay so it was fine. The spread for the buffet breakfast was wonderful & buffet dinner was even better. I had the most amazing pasta at the Made to Order pasta station! My only complaint was obtaining taxi service. On a Saturday night we waited almost 2 HOURS for a taxi. We had to change our dinner reservations due to the delay. I feel that the hotel should contract with a taxi service that is JUST for the hotel so it can be more reliable & convenient for the guest. Also, I noticed upon check-in I was not offered/brought water like some of the other guests were. All in all I would stay here again.
.
John Harkins
Very clean property, polite and helpful staff and the basics are taken care of nicely. standard of food at lunch good , standard of breakfast ok. Things I diddnt like.. - no one to greet you at the door on arrival and take cases. - expected to be shown to room - nice to be offered water at check in but would have been nicer to be offered a cava or a beer. - TVs are equipped with all apps such as Netflix, prime, you tube etc etc but unfortunately none of these were working, all apps said updates were required. - serious lack of storage space, we kept losing things because there's nowhere to put things. - open shower in middle of room isn't a good idea, if I had booked to stay with a few friends or perhaps a brother or sister then it would be very awkward. Fine for couples. - tea/coffee and milk portions weren't replenished. - shower door leaked. - on Saturday 1 October at breakfast only 1 out of 4 coffee machines were working and even that one wasn't working properly. By the time I got my coffee my breakfast was stone cold! Perhaps when you sit down the breakfast waiter could ask if you'd like a cappuccino or latte etc and have it brought from the proper machine behind the bar.. this would be a nice touch and 1 less thing to carry along with your breakfast.
.
Helen Potts
Had a wonderful stay at this beautiful hotel. The room was stunning as was the entire resort in general. The included breakfast was incredible, so much choice & you can also have a morning Buck's Fizz to start your day off. Only complaint with the breakfast was the coffee, the machines did not make nice drinks however you can order jugs of coffee to your table which were ok. My only other grievance was with the bars, if you order drinks it's best to have everything added to your room. Several times we paid cash and for example the the bill was €52 & we put €70 in we never got the change back! Best to either have correct money & extra for a small tip or put on room tab! Except for these our stay was faultless & we will definitely be returning! Thank you hotel Amare 🙂
.
Hope Gladding
Best place we have ever stayed, we were so pleased with our stay the staff were amazing especially the ladies in the The One they were so polite and loving towards us. Only issue we had the whole holiday was the wifi not working at all and having to personal hotspot the tv for it to work but was a minor issue. Definitely going to be coming back.
.
Gosia
My stay was very good and i was positively surprised with the quality of amenities for a 4 star hotel. It was much better than many 5 star hotels on the island. Very satisfied. Just one remark about breakfast - usually around 10:45 there was nothing left and from 11 staff was cleaning everything although breakfast was until 11:30am.
.
Alexandra Booth
Amare is an amazing hotel that we would highly recommend to anyone. We had an amazing stay and couldn't fault anything.
.
Vivienne Brown
We were very disappointed in our rooms , they were tiny very little storage and a view of a grubby building. We did complain and were upgraded to a better view room. The room still didn't have enough storage space. We have stated several times in the marbella amare, and feel that this hotel is far superior than the ibiza amare. The service in the restaurant was very slow, and service around the pool also very slow . All in all a bit disappointing compared to the marbella amare . We will not be returning.
.
Ruth Bowe
We have stayed at Amare in Marbella several times before. We were very impressed with the Amare Ibiza. The only thing which I feel lefts the Amare Ibiza down is the rooftop restaurant. Which is overprice for very basic food.
.
Angela
Great stay, will return
.
Valerie Boitte
Tout était parfait, notre chambre exceptionnelle.le lit très confortable, la vue extraordinaire. Le buffet du petit déjeuner est gigantesque! Le roof top est un endroit magique, avec une belle carte de cocktails et une bonne cuisine. Petit bémol pour l'équipe de service de ce restaurant qui n'est pas très conviviale par rapport à l'ensemble du personnel de l'hôtel. Nous avons adoré aussi la prof de yoga du mercredi matin. Bravo pour votre prestation. Nous reviendrons certainement!
.
Angie
Wow, what a beautiful hotel. Beautiful, clean, and modern, with very friendly staff. Breakfast was amazing, so much choice. Plenty of beds available, rooftop pool and bar amazing, beautiful views. Superb water taxi (4 EUROS) every half hour, over to San An, where there are some beautiful restaurants or for those who would like to sample the night life, lots of fun bars and clubs. Thers also a little gem of a restaurant not far from the hotel called Relish that has an amazing ambience an delicious food, if you just want a chilled evening. Over all one of the best hotels we've stayed in, will definately be back.
.
Arturo C.
Leonardo at Hayaca was excellent. Great service and very professional. I loved the attention to detail he gave my partner and I. Thank you!!!!
.
Lisa
Overall, the hotel was wonderful and we had an amazing time. The only things I would point out are the staff on the beach and at the roof top terrace were very slow. At the beach, we were on the beds nearest to the hotel and it was so hard to get their attention. On our last day the buzzers were available and even then it took a very long time for them to come to us. The roof top terrace was much worse. One night we actually left because it took so long to get served. This didn't take away from our experience and we still had a lovely time. I wanted to make you aware.
.
Emma
Beautiful hotel, very clean rooms. Only issues was the shower leaking after use. Would definitely stay again! There's a boat that runs every 30 minutes from the hotel to San Antonio.
.
Claire
Overall the facilities, cleanliness and hotel is excellent. The outdoor setting particularly was exceptional. Two negative points-we were told we couldnt swim in the sea because of a waste pipe 🤮. And the service was really not great at times-the call buttons didnt always work and we waited long periods for drinks. The hotel wasnt overly busy at this point either. Overall a beautiful hotel but needs some tweaking to meet similar competitors in the region.
.
Tania
Everything was perfect except the bar service at the rooftopbar. The cocktail Card with QR-code was wrong and Some bartenders were not friendly.
.
Jen
Amare is THE BEST hotel we have ever stayed at, and having explored Ibiza while on holiday, we didn't see any others that we would ever consider staying at instead. Amare's decor is stunning, the location perfect, staff so friendly and helpful, and our favourite spot at the rooftop pool/bar was perfection. We can't wait to come back! Thank you for having us!
.
Martine kelly
Hotel is fantastic been a few times and will definitely be back.
.
Simon Richardson
Hotel is lovely , position not great. Surrounding area very much let's it down. We could not use the beach for most of our stay due to a sewage leak , which was VERY disappointing. Other beaches are so clear and beautiful , but we had to spend a fortune in cabs to get to them.
.
Chris B
Excellent hotel. The staff were very friendly and attentive. The room was small but had all amenities and very modern and was cleaned daily. Day and night DJs were really good. The rooftop restaurant had excellent food and the service was great. Highly recommend and looking forward to visiting again next year.
.
Roy
We didn't come to party, we came to relax. The location and accommodation were ideal and the service there when required. We spent a lot of time on the balcony watching the sea, boats and birds. Perhaps we should have indulge in the tempting side offers (gym, pool and bar) but keeping our own company, doing very little was what we enjoyed. To have good food, drink and support on demand made it a royal experience. Thank you.
.
Emily
Lovely hotel and staff, would 100% recommend to others & would stay again. 😊
.
Cathryn Gain
Lovely hotel.. Very clean .. Staff good
.
Char
Absolutely unreal hotel. There's nothing I can fault at all. Rooms clean and beautiful. Staff super friendly and helpful. I only ever ate breakfast from here and as someone who is cannot eat gluten there were enough to chose from. I couldn't see any gluten free bread so asked staff if there were Any, to which they said yes, it's cooked fresh in the kitchen and comes in a sealed wrapper so there's no chance of cross contamination, which made me feel really reassured. The rooftop bar and restaurant absolutely unreal, the views are the best on the island in my opinion. I've travelled a lot, this is has to be the best hotel I've ever stayed in. Would definitely reccomend.
.
Shanice Morgan
Amazing stay
.
Stephen Bellamy
excellent all round performance by staff ( I would like you to give our regards to ARNOLD he was outstanding in making our holiday complete.
.
Laura
Problem with our rooms but it was eventually sorted. The hotel is beautiful and staff very friendly and helpful.
.
Fiona Carleton
The perfect resort if you want to be ignored, overlook bins and fancy someone else's hair in your bed. 1. Expect to move your own cases 2.expect to find human hair (you can guess the origins) on your bedding and on your floors 3. Check the view before you arrive; we've been in 3 rooms in 2 days 2 overlooking bins and one onto a derelict construction site. 4. If you drink champagne hopefully you like it warm and flat and are happy to pay €36 for 2 glasses of it 5. If your idea of relaxing vibes is 30 mins to an hour to get service either to your lounger or in the restaurant, then this is your place 6. If you like to complain you will be perplexed as here they genuinely couldn't care less. 7. Finally check your bill- I was knowingly overcharged and only refunded when I pointed it out. Charged for a room upgrade I didn't actually receive. Shocking, expensive, insulting. Sadly you can't undo these memories. Luckily if you are already booked you can jump on the water taxi for €4 to San Antonio proper and be treated as though you matter. Btw- no amenities nearby so it can feel you are captive.
.
C Turner
We came as 2 x couples, for 3 nights, to celebrate a "Big" birthday. The hotel didn't disappoint. The communal areas, reception, dining areas are all fantastic. The rooftop bar and pool has incredible views. The choices for breakfast were superb. It had everything you could imagine, from cooked breakfasts, to pastries, buns, fruit, meats, cheeses and even a vast array of donuts! The main outside pool areas, around 2 pools, are lovely. Great service to where you're sat, comfy beds to relax on, with great views. Access to the beach was superb too. The bedroom was small but had everything you needed. We had a 'Make it happen' room. Perhaps a bit optimistic for a couple married for 20 years!! However, the fact the glass shower extended into the room for added visual delight, was in my eyes a bonus. Not sure my wife agreed, but this isn't her review! The toilet area just had a frosted glass door. If you've been married 20 years, there are no noises or smells that will surprise you. However, if this was the 1st holiday we'd been on together as love struck youngsters, I'm pretty sure I wouldn't have proposed and she definitely wouldn't have said yes!! 🤣
.
John Brennan
The hotel and resort met all our expectations and the advertising video piece on socials and online is exactly what you get . From the welcome on arrival , staff and decor not to mention food and top service . Nothing was too much and the atmosphere the same with cool pool vibes and music from talented DJs added to the whole experience, we will be back . Amare Resort we thank you .
.
Esther
Een prachtig hotel, mooie ruime kamers, mooie zwembaden en heerlijk eten. Het uitzicht op de rooftop is waanzinnig mooi, vooral de zonsondergang. Het hotel is gericht op luxe en comfort….een echte aanrader!
.
Naomi
Enjoy this hotel, reception staff fantastic. WIFI dropped out every so often, not a massive problem just a bit annoying. Cleaners polite and friendly. Breakfast service fantastic every morning- would like wider selection of fresh fruit. Hayaca restaurant service was slow and not at high standard, finished plates sat on table for 20+ minutes (again not massive problem but not top standard service). Ordered food at pool which was slow, and Quality not good for price (cold pizza, underwhelming)- had stayed at this hotel last year and food overall was at a much higher standard in restaurant and at pool service. Cleanliness of overall hotel was exceptional- great staff working in this area. Concierge staff helpful with bags and courtesy room. Taxi service was a disaster, waited over an hour on several nights- would recommend a more dynamic service for pre booked taxis through hotel in the day- tell customers of the expected wait so this is managed in advanced opposed to missing evening meal bookings which I know happened to several people whilst we waited. Suggest during peak taxi times a member of concierge should be escorting hotel guests into taxis as I know people were taking other peoples taxis- this created an unpleasant atmosphere, again for the volume of staff working at the amare, one person helping between 7-10pm would help a smoother taxi service. Overall a great stay but could be even better if food (outside of fantastic breakfast) was improved and taxi booking process was supported by concierge.
.
Vivienne Freeman
This is a first class hotel. Our overall say was very impressive from the location facing San Antonio Bay to the food, service and overall facilities . Luxury sun beds with DJ's & live music as part of the pool side entertainment everyday . Roof top bar was stunning and food delicious. Best hotel we have stayed in for a while and will definitely be back.
.
I would definitely recommend and book again. Amazing hotel and staff brilliant. Night entertainment would be a recommendation and for the bar to stay opened later at night.
.
Bahareh
The facilities at the hotel were amazing but the service and room amenities were inadequate. The staff at the reception (in particular Anna) and in the restaurant were often rude and abrasive. Also, the room lacked basis essentials such as teas. Further, our shower was leaking for the whole duration of our stay and was never resolved.
.
Sharon Horsburgh
We were in Ibiza to watch a dance comp and so needed to be in the San Antonio area (not our personal preference) we booked our stay at Amare through Jet 2 holidays and stayed in a Keep the Secret with the One room overlooking the pool. The staff on arrival were very friendly and as there was a few people checking in at the same time they brought us drinks while we waited. The room (1808) was spotless and spacious with a generous balcony and a cute little egg chair to relax in. The facilities in the room were all as you would expect and there was a well stocked and moderately priced mini bar. It was late when we arrived so we were surprised that the roof top bar was still serving food (I can recommend the waygu steak) We spent 4 nights in the hotel and will definitely be returning, it had a really relaxed vibe and the staff seemed to float around being lovely! Fabulous breakfast which included hot and cold options, freshly made delicious omelettes and lovely mimosas! Sun beds round the pool were plentiful and extremely comfy also great areas on the roof top and on the beach to sunbathe. Live music round the pool was fab too and the service was great You can walk in to San An but its not a great walk and why would you when the cute little water taxi runs every half hour from the dock just out front. We had an evening flight and though we weren't able to get a late check out they do have a couple of great courtesy rooms with everything you need to get ready. All in all a fabulous stay and one I would highly recommend
.
Richard hillas
Hotel was lovely ,staff were great there was only two tiny problems . There was always a wait in reception and the English breakfast was not nice ie, sausages , bacon and beans . But will defiantly stay again .
.
Rooms were a little small and the beach wasn't the greatest
.
Jim Slayman
Wonderful experience, and am already recommending to others
.
Leila Croydon
This hotel is outstanding in every way. The only reason I didn't give top marks was due to an altercation at reception where I've had an un-authorised amount of £2816 come out of my bank account. I've only had half go back in up to now. Reception tried their best to amend this. But I'm still disappointed as to WHY this has happened when I paid for two rooms in advance to checking in.
.
Dennie Wijnbergen
Wij zijn in veel hotels geweest maar dit is zeker de beste hotel waar wij zijn geweest. Er is zelfs over de kleine details gedacht zoals lekkere geuren door middel van aroma defuses de aangename frisse geur ruik je dus door het hele hotel.er is ook Veel sfeer in het hotel en leuk aangekleed. Wij komen zeker nog terug. Bedankt.
.
Catherine Corcoran
A really fabulous hotel for a couples getaway. An ideal location to rest, relax and recharge but also to enjoy amenities both within the hotel and nearby locations. Hotel standard was excellent, very modern, rooms very clean and a good size. The view from our room was of the Bay which was beautiful to watch the sun rise in the morning. We will definitely be making a return visit.
.
Dean Waudby
Stunning hotel in great location - they've got everything spot on & breakfast was our favorite part of the day it was so good. Stayed in room 1607 and view over the pool and across the bay was beautiful. Roof top bar / pool / restaurant was a great place to relax and eat on the night. Will return and definately highly recommend.
.
Ursula
Lady at reception was very welcoming when we arrived late after midnight. We paid to upgrade the room but were disappointed with both the size of it, the lack of storage space and the open shower in the room. The toilet is also not very private. However I must say the beds were extremely comfortable and the shower was great. Floor and room mirror were dirty. Slightly annoying that all info and menus are viewed through a QR code.. which half of them didn't work in the room or around the pool. When at the pool we pressed the little card service button but no one came. So we alerted a passing member of staff that we wanted to order food. She said she would alert the waiter but of course no one arrived. After 15mins we ended up packing up our belongings and going to the restaurant to order inside. Food very overpriced, prices on 5 star London level and this is not a 5star hotel so it obviously has ideas above its station. Breakfast options were great, omelettes were lovely cooked to perfection from scratch. However we went to the rooftop restaurant Hayaca for dinner one night and it was disappointing. We had sunbathed there for most of the day so they were aware we were guests. Waited 15mins to be asked what drinks we wanted while we sat at the bar and it was not busy. When we moved to a table for food there was one waiter called Diego who seemed to smirk everytime he had to come to our table. The other waitress in contrast was lovely and made an effort to make us feel comfortable. At the end when I asked Diego for the bill he shouted "whattt??" right in my face.. my friend and I were shocked at how rude he was. We would have liked to have enjoyed the rooftop longer after the meal but he really put us off so we left and went to the nearby street inside to a bar. The final morning before checkout, the cleaner knocked the door once while i was in the shower and came walking in.. which I couldn't understand as checkout isn't until 11.30am and our room had not been cleaned before 12pm any day before. All in all, a chilled relaxing hotel but some staff need training on social skills and general etiquette on how to speack to a guest. The food/drinks prices are ridiculous for a 4 star hotel.
.
Mrs jan price
Excellent hotel staff all amazing facilities fantastic cleanliness excellent disappointed with the meal we had on the roof top restaurant steaks were awful. The prices of the drinks were also rather expensive.
.
Lou Roberts
The One Room was a total surprise at the quality and the quantity of food and drink supplied - totally overwhelmed with this. The team was lovely and kept the place spotless and restocked at all times. The bedroom was lovely, super clean, and practical, and loved the detail of the clothes steamer - bravo. The only tiny bit of feedback is if the hairdryer could not be one of the hold the button down ones. Breakfast was lovely, great variety of food and catered for everyone's requirements. The team was also super welcoming and helpful. Big shout out to Alejandra - she was amazing. Gym - really good equipment and spotless. All in all a really good experience - thank you
.
Riccardo Zuliani
In This Hotel it's no possible you have'nt a Private Parking for cars
.
Jessica
Absolutely beautiful hotel. All staff were really helpful and friendly. Love the chilled atmosphere, only had a 3 day stay but could of stayed for another week at least we had such a lovely time! Reception staff were great - available 24/7. Evening entertainment would of been an extra however we were happy to go out nd come back to the hotel to access this. Great atmosphere and overall fab experience.
.
Col G
Hotel is really nice. What let's it down massively is the service. Time it takes to be served is ridiculously slow whether that be in the restaurant or just waiting for a drink !! Also quality of alcohol served is poor and cocktails are like Benidorm not a nice hotel in Ibiza !!
.
Thomas capewell Cheryl donovan
Love love love the hotel the friendly staff and atmosphere 5 star
.
WR (Ireland)
Absolutely beautiful hotel and overall a fantastic experience. Would certainly return but in an effort to assist management with the goal of improving their level of service & customer experience I have listed the following small but important items. * Not impressed with the main pool bar man purposely not returning any change due for drinks orders (hoping I'd walk off) & at one point looking at me and saying "keep this for tips" hoping that pressure would make me leave my change. This is not the behaviour of a 5 star hotel and if he had of treated me correctly he'd have received €10 per day for his hospitality, not the €3 he looked for on one day. €100 Vs €3 - use your head Mr.Barman (blonde hair). * The music area at the beach can sometimes be way too loud. Most people use the beach area to relax, snooze, chill out but on some days the speakers were turned up full blast and it made the beach area as loud as the main pool area thus rendering the relaxing area useless. This might be something one person doesn't realise rather than the rule. * Drinks / food orders can take an age for an employee to come to your loungers when you press the button. The biggest problem is that when you press the bell there is nothing to indicate whether it has been received, worked or anything. Do you wait 5,10,15 minutes before you enquire or just hope it has been flagged. We always had to ask to then find out it wasn't received or that it was on the way. Can definitely be improved on the current process. *The cost of certain items is outrageous at the hotel. Whilst the hotel is spectacular, having to pay €23 for a CLUB sandwich is laughable. Of course paying €28 for 2 pina colada's is what you would expect from a 5 star Ibiza hotel but for a basic sandwich, that's beyond what we would consider as value. That is a rip-off in anyones world. *We saw some bad reviews about getting taxi's at Amare but every time we called reception the taxi was there within 5 minutes so that along with the frequent water taxi (every 30 mins) heading to San Antonio there was no issue getting around and the cost of these modes of transport was extremely good value. It's €4 one way on the water taxi and roughly €1 per minute in a car taxi in normal traffic conditions. Very good value. * Excellent cleaning service - Chari on floor 4 was superb at her job and always greeted us with a smile. * Reception was always manned in numbers and no wait time with big smiles and personality. Excellent. Outside of the above literally everything else was beautiful. We stayed in the Ooh La La room and it was overlooking the bay (towards Cafe Mambo & not overlooking any pools or music) and we loved it. The hanging seat in the room, whilst pretty was an absolute pain and takes up so much room for absolutely nothing worthwhile. The room is comfy but pointless hanging seat. We will definitely be back and thank all the staff who made our trip so memorable. WR
.
Linda
Pros: rooms are clean, lots of breakfast options, rooftop area is great Cons: bar service is inconsistent and wine choices aren't as good as expected, night time reception staff was poor/rude.
.
Inge & Gunther
Enorm genoten van dit hotel. Super vriendelijk personeel. Leuk muziek te hebben aan het zwembad en toch voldoende rust op de kamer.
.
Shelly
Wow! What a hotel. Thank you Amare Beach for being so amazing. I won't hesitate to recommend you to everyone and can't wait to return some day!
.
Rebecca Hardaker
Fantastic Hotel - great location. Clean and modern - best place I have stayed in ibiza.
.
Phemelo Ramong
One of the best hotel experiences I have ever had! I honestly cannot fault anything. The facilities, the rooms, the location, the aesthetics of the hotel, the art, the entertainment areas, THE FOOD, the service, the MUSIC in the late morning to late afternoon. Just fantastic. The only thing I would highlight is just to inform the guests of that very useful ferry taxi to go across to the other side. It came in very handy. And perhaps please figure out a more practical way to allow a traveling group to enjoy both the buffet and the a la carte dinner service in the same space. We had to sit apart for dinner as some people wanted the buffet, and some people wanted the a la carte menu. So it was a bit of an inconvenience. But otherwise, everything was perfect. The artistic look and feel of the hotel was just amazing! I would definitely come back!
.
Adrian
Taxis are a problem after 6-7pm.
.
Cl
Absolutely stunning hotel, staff were amazing.
.
M Shenton
The hotel is modern and clean, the decor is light and makes the hotel feel airy, the biggest plus for me was the standard of service given at the hotel and also the Air con in the rooms it was fantastic! The fresh orange at breakfast was a great touch freshly squeezed, it is touches like this that makes the hotel standout no cost cutting or penny pinching with the food or service, Bar service could be slow at times but put that down to the hotel being busy. we ate in the restaurant on our first night and met with Alex Melia who made us some fantastic pasta fresh and tasty again reiterating the above comment about quality. the Water taxi service is right in front of the hotel so if you want to visit San Antonio easy access.
.
Mr A Hoverd
This Hotel in my opinion is the best hotel in ibiza.We have stayed at 5 star Hotels in Santa Euellia ,Cala Tarida and playa de bossa .The Hotel should have a-five star rating. Excellent service the staff work tirelessly.We stayed in a "keep the secret room ,Our bed was so comfortable and we had a great view of the pool and sea.The walk-in shower gave instant hot water and has a strong flow.Flatscreen tv has English channels ,the only small criticism is there is only one draw for clothes.The Amare is spotlessly clean,including our room.All the communal areas including the pool areas are immaculate the sun beds are plentiful and so comfortable.You have a choice of the beach ,pool or rooftop terrace with infinity pool.There is a call button to order drinks on the table next to your sunbed so you don't have to go to the bar to order drinks or food.The San Miguel and cocktails are all reasonably priced and good quality.We were celebrating my wife's 50th Birthday , we didn't tell anyone at the hotel and was surprised to be given a voucher for a bottle of cava on her birthday, did they know this from the date of birth on her passport? Great attention to detail.We celebrated her Birthday having champagne and lunch at the restaurant on the rooftop terrace again the service and food was excellent, definitely 5star.There is a boat taxi which is next to the pool area and for €4 it takes you in to the heart of San Antonio, this is very handy as sometimes there can be a long wait for taxis.There is a good mix of age groups and nationalities at the hotel.We were very sorry to leave and wished we had booked longer than a week.We look forward to returning !!!!
.
Ian Currie
Very poor Public relations from the Director and Genral manager Ibiza Hotel , after a sending two e-mails re our stay from August 28th 2022 to September 10th 2022, after, I had booked two rooms 2519 & 2522 Will never returen to this Hotel Received an apology for the inconvenience caused , just the tip of the problems
.
Darren North
We enjoyed our break in Amare very much. it is a wonderful Hotel, very relaxing which is just what we wanted. regards.
.
Ciara F Cleere
Fantastic hotel. Would highly recommend and would definitely return
.
Greet
We had a great stay at Amàre Beach. What a nice hotel, everything so clean and beautiful, very friendly staff, outstanding breakfastbuffet, nice pools and bars,... The only thing we didn't like was San Antoni itself, but you don't really need a nice town if you have Amàre 😉
.
Samantha Sheldon
We had such a great stay here, we already booked our next stay here before we even left!!
.
Lucy
Lovely stay! The hotel has great facilities, is very clean and staff are professional and friendly.
.
Muriel Theodore Jones.
A lovely clean and friendly hotel the staff are amazing nothing to much trouble,perhaps the music relayed outside could be a little softer. One point that I would mention is half board other hotels that we have stayed at over the years give an option either lunch or evening meal.
.
Sarah S
Amazing hotel- you have to stay here!!
.
Jan
The room was much smaller than expected. Breakfast was a free for all and not a good standard for the money paid for the holiday. The most shocking thing though was the lack of sanitising sprays in the gym to wipe down equipment after use. This used to be standard pre-Covid and though it would continue post-Covid. We used water which was not ideal. Overall although we had a nice time we would not return to the hotel as there were so many issues with the room, i.e lack of space to put clothes - only one drawer. Toilet seat had broken etc. On a positive note, the bed was sooo comfy!
.
Dawn
The Amare Beach in Ibiza blew me away, especially this being the first full year when people could travel after the pandemic. They have an army of staff to attend to your needs, keep the hotel clean and produce wonderful food. I stayed at the beginning of September which is close to the end of season and I can imagine it been a busy year but the people working there were polite, courteous and helpful all done with a smile. I highly recommend eating at the rooftop bar, the food is amazing and highly recommend the scallop ceviche and prawn thai salad. They also did some amazing mocktails which tested delicious even though they were out of a packet-maybe room for an improvement next year where mocktails are made from scratch. The breakfast buffet in the morning was run with military precision and so much choice. Special shout out to Carmen who kept my room wonderfully clean and always had a smile in the morning. I will definitely be back next year and following my friends eating at the rooftop bar they will be booking as well. Thank you for a wonderful stay
.
Couldn't find anything to fault - very clean hotel. Lovely Staff. Great food
.
Alex Bendall
From upon arrival, the surroundings are amazing. Feels are very luxurious very clean throughout the whole hotel and the aroma smell is beautiful. Reception staff on check-in very friendly. We stayed in room 1508 which was amazing. We requested for a sea/pool view and this was accommodated for. The rooms are very clean and modern, evening a little egg swing chair in the room, PERFECT! The views was amazing, and the early Morning sunrise was not to be missed! The restaurant could not be better! The food was amazing, way better than anticipated with a huge variety in options and ordering off the menu each night which comes out a la carte style was very very good. Also the buffet food was amazing for breakfast and evening meal, again a huge variety in options catering for everyone. Big shout-out to Antonio on the live cooking station at breakfast times, cooking off fresh omelette's, eggs etc. He handles every request very professionally and very polite. Lola on the evenings was our waitress most evenings, lovely lady very polite and respectful, very good. Daytime Pool entertainment with Live Dj's / Singers daily was amazing. Very nice touch (please don't change this), this gives the hotel that extra special touch for a nice daytime atmosphere. Again Evening DJ on the rooftop bar is a nice chilled experience and whilst watching the IBIZA sunset go down tops it off. Amazing Views!! Water taxi right outside the back of the hotel on the beach front to take you across to the main San Antonio strip. 4 euros Per person very fair price and takes 15 minutes to get across. Last Return taxi from the strip back to the hotel is at 11pm. Definitely worth the visit, so many restaurants/bars and clubs and a good experience. All Staff are friendly, polite and wanting to make your experience as best as possible. I cannot thank you all enough for making our stay and choice for the AMARE Beach Hotel IBIZA PERFECT!!! I recommend this hotel accommodation to ANYONE, you will not be disappointed. 5**+ Keep up the amazing running of the hotel. Will Definitely be returning in the near future!
.
Mandy Buckley
Everything was great except the bar service and waiter service on the roof bar. It was very slow.
.
K Wilton
A beautiful hotel in every way, literally faultless apart from the service in the rooftop restaurant. We ate there on the first night and never bothered again, such a shame as it's a stunning spot. All the staff were super helpful and the breakfast is to die for!
.
Stefan C
From the moment we checked in and until we checked out, everything was perfect. The hotel was amazing, staff friendly and very helpful, room immaculate and well equipped, and the breakfasts were amazing. Best hotel we have stayed in. Hoping be back next year.
.
Gavin Merryweather
BEAUTIFUL HOTEL - GREAT STAFF, FOOD, POOLS, FACILITIES ETC. AND EVERYTHING WAS JUST PERFECT.
.
Sam
My two friends and I spent 4 nights at Amare and it was more than we had ever expected. Beautiful hotel, immaculate, friendly staff who couldn't do enough for us and amazing food. We had bed and breakfast and the breakfast was unreal. Huge selection and even sparkling wine! Loved our stay. Was sad to go home.
.
kerry Hand
Everything was perfect with our stay apart from the service at the pool. It was chaos on the first day due to the poolside buttons not working , we thought that once these were fixed a normal service would resume. Normal service seemed to be waiting an age for any kind of service at the pool!!
.
Michael
I have stayed at hotels all over the world. Amare Ibiza is definitely the best hotel I have stayed at. As a big house music fan the chilled music around the hotel was 1st class. The pool and Sunset DJ 's were top drawer and made for a very cool experience. Breakfast was fabulous, the chefs and staff were great. If I could improve anything it would be, 1. there seemed to be people around the pool who were not resident but were joining friends who were. And they were taking up lounger/ bed space. So maybe more checks on guests to ensure non-residents could not take up bed and pool space. 2. The 'influencers' are painful, posing and preening taking photos for their instagram. I am there to relax and unwind and not have to see people in a variety of staged fake poses all day. These people and photos would make me less likely to stay at a hotel. 3. The music around the hotel is brilliant, yet when you open the hotel room door it automatically plays irritating piano music. I would just play the same type of cool house music played throughout the hotel. 4. Check in experience could be better, if took a long time and maybe more information could be provided up front, ie we did not know about the water taxi and the first night waited a long time to get a taxi into San Antonio when we could have just boarded the water taxi. We only found out by talking to other guests the next day. 5. We were there for our 20th wedding anniversary, I had mentioned when booking and thought there may be a small gesture, ie room upgrade or complimentary glass of something, but we did not receive anything and had to pay for an upgrade in order to get an earlier check in to the room at 1pm. Maybe I shouldn't have expected anything. I do find 3pm check in late, as when you arrive you just want to get settled and get to the pool area. We did check in online and were told we would get a glass of wine on arrival for doing so, but did not. All in all these improvers are minor, we loved the stay and will be back.
.
Amazing hotel, very clean, chilled environment, great restaurant and brilliant breakfast.
.
Christella
This is one of the best hotels we have stayed in as it had everything that we love. Style, service, cuisine and the music! Everything was just perfect. We are booking again for next year!!
.
Jemma Gardiner
Amazing hotel, beautiful views!! Lovely friendly accommodating staff! Rooms and hotel very clean. Very nice food and drinks! Would defo come back here and highly recommended!!
.
Colin hay
Amazing hotel can't fault it 1 bit definately come back here. We were there on honeymoon and was wanting to just chill out and that's exactly what we done great hotel and location
.
Vittorio
La mia esperienza è stata eccezionale. L'unica cosa è che un giorno ho deciso di pranzare al bar/lounge vicino alle piscine. Il pranzo (due tapas e due secondi piatti) mi sono stati servito dopo un'ora, ma questo può accadere, non è un problema. Quello che mi ha dato fastidio è che nessuno dello staff mi abbia detto nulla o informato del ritardo... nessuno che si sia scusato per il ritardo... però amen... non è una cosa che va ad incidere sull'esperienza totale.
.
Paul
My wife and I really enjoyed our stay! The whole property from the room to restaurant to rooftop and pool were all beautiful and very well kept. The staff was excellent, especially in the kitchen working with my gluten allergy (Adrian the F&B supervisor went above and beyond to make our dinners exceptional and Alex at the pool grill was also great and very friendly). The rooftop was stunning and we enjoyed both yoga and cocktails from the bar up there! We will definitely be back!
.
Carolina Martín de la Rosa
Ha sido una experiencia 10. Desde el minuto uno, la atención del personal ha sido excepcional, asi como el bufet, el servicio de atención en las hamacas, la limpieza de las habitaciones. Absolutamente todo. He puesto menos nota al entretenimiento pq el dj ( cada dia uno), estaba de 1 a 6 y la hora de la siesta para un español es fundamental ( en mi caso no por dormir, sino por tener un rato de relax en la hamaca) pero entiendo q es ibiza y va con el lugar. Nuestra estancia ha sido absolutamente maravillosa y sin lugar a dudas, repetiremos.
.
Nerea Laplana
No es la primera vez que me alojo en el hotel y sin duda volveré. La atención de todo el personal es de 10, te sientes arropado y atendido en todo momento. Los servicios de los que dispone, por ejemplo, las toallas es muy cómodo. La decoración del hotel muy acertada y acogedora. Enhorabuena.
.
è stata veramente una bella esperienza di coppia. Abbiamo prenotato la stanza keep the secret e con l'accesso al The One abbiamo reso veramente completo il nostro soggiorno da Amare. Abbiamo provato la piscina, la colazione e le cene, oltre alla SPA con un bell massaggio. Tutto ottimo dal cibo alla pulizia, dalla cortesia ai servizi. se possiamo volevamo lasciare solo due appunti/suggerimenti: - il phon per asciugarsi i capelli non è all'altezza della camera, ha il filo corto, per mancini ed è scomodo asciugarsi i capelli tenendo premuto quel pulsante! - il caffè in camera e il servizio frigo bar può essere integrato/migliorato - renderei il tramonto il momento culminante della giornata sul terrazzo perchè è veramente stupendo con dj set più frequenti o pool party... bello davvero grazie e alla prossima!
.
Špela
Amare hotel worth a visit! It is definitely the best hotel on that part of the island. Beautiful, neat, clean, comfortable rooms. Great interior design of the hotel, as well as three swimming pools plus a roof top terrace. Excellent breakfast selection. We will definitely be back! The only friendly note: Maybe the age of the hotel can be seen somewhere, the plaster is falling off, the paint is peeling from the facade, the shower is leaking. In short, you have to be careful and constantly renovate the hotel so that things don't get neglected or fall apart. Maybe the prices of drinks and food could be adjusted a bit for the primary guests of the hotel. Thank you very much for a wonderful stay and experience at your hotel! All the best until next time! 🙂
.
Fiona Landsberg
Another perfect stay. Food is excellent, staff are very friendly and helpful. Great location too
.
Sarah
Stunning hotel. The service at reception at check it was extremely slow and some guests pushed their way to the front. Think it took us an hour to check in. We booked Hayaca for dinner for 20 people. Service was awful we were told you can't order more than one item. Everyone's meal was missing an item. Took 45 min to get a drink. We were the only people in the restaurant, we were meant to get a glass of fizz as it was a special occasion the staff didn't bother. The staff seemed uninterested. Really let's the hotel down. Breakfast was amazing and the staff round the pools were lovely.
.
Michael Serridge
A truly amazing hotel ,
.
Lucio Forgione
Amazing place and amazing service… Victor one of the best taking care of every client as the only one!
.
Jo Davis
We were delighted with our stay at the Amare. The hotel was so clean and fresh and smelt lovely! The restaurant service was excellent - the pool service was a bit slow and a bit hit and miss but was ok. We really enjoyed our stay and will definitely be back.
.
Mark Davies
Superb holiday and the hotel was 1st class with service from all staff been outstanding ! Great vibe around the pool with high quality seating areas to suit all ! Would definitely go back !
.
mark
I have stayed in san antonio and the bay area 29 times, this hotel tops them all, you pay for what you get. amasing place will stay again
.
Mark
I never normally write reviews but honestly me and my wife absolutely loved this place it was perfect for us. The balance between being very nice but a party atmosphere as well , can't wait to go back
.
Glenda
Fantastic time at Amare beach ibiza! Service and staff all excellent.
.
David
Need to consider having resort cars for taking customers to the air port and other locations. Your location is to far from Ibiza and cars for going places need to be available. Fix this because it hurts your hotel.
.
Sarah Belzile
Really nice hotel that made you live the experience of Ibiza!! Would recommand +++
.
Dimitri
We really enjoyed our stay in the Amare Hotel. We think about coming again here. Thanks to all the crew of the hotel. Special thanks to Jhai who was very kind and professional during our trip .
.
Heather
Staff was always smiling and very helpful. The hotel was pristine and more beautiful than we had hoped! This holiday was about relaxation and Amare really allowed that to happen.
.
Tríona Murtagh
Excellent hotel. Spotlessly clean. Fantastic service. Brilliant location. Can't wait to return!
.
A Green
All in all a pleasurable experience. My only disappointment being the quality of service regarding drinks. Cocktails by the main pool area were served at higher standard compared to those served outside in the Amare beach area and also on the rooftop. Cocktails at these areas were often served in beer glasses which also meant you were getting less quantity although the price remained the same. Pina Colada's and Ice tea cocktails were served in beer glasses which should never be the case. I think the presentation and standard of these drinks needs to be consistent when served no matter what area of the complex you order them in.
.
Ty
Overall had a really great stay. Not the best location. Had a really hard time getting taxis and the property is really far from clubs, bars, and restaurants. The beach was not pretty at all. I would not even consider it a beach. While eating at the rooftop bar, the server had a really bad attitude because we did not order all of our drinks at the same time. It was as if he did not want to serve us. Other than that one staff member, the staff was great.
.
Paul Mason
Absolutely loved this hotel. Everything about it was great. The DJing and music around the pool areas was awesome and the whole vibe was just amazing. Can't say enough good things about it really, looking forward to coming back real soon. Thank you.
.
Mauro Bertani
Tutto il personale molto attento e gentile. Colazione superlativa. Un particolare ringraziamento a Alejandra (Messico)
.
Nathan & Rachael Ogley
Absolutely fabulous hotel and staff. The decor was of an extremely high standard, you instantly felt like your where inside a 5 star hotel. The location was ideal away from all the hubbub but not to far. The staff were very courteous, they always greeted you at the restaurant reception for breakfast and evening meals with your first names which I feel is as simple as it is it goes a long way. The roof top bar and infinity pool was amazing, always clean as was the whole hotel. I would definitely like to visit this hotel again and soon please. If your reading this review make sure you book it after as you'll not be disappointed.
.
Robin and Marissa lane
Excellent apart from getting stuck in a lift for 45 minutes
.
Natasha xx
Thank you for your communication was astounding…(especially after I left clothes in toom and collected 48hours after I checked out) great location. My first time staying in this area in the 14 years coming here, I will be coming back here xxx
.
Ellie fay
Amazing place to stay, hotel was modern and staff wore friendly
.
Sandra Fowler.
We have been coming to Ibiza since 1974 and love the place,this year we celebrated a special birthday and the hotel was fantastic and will recommend it to everyone I know.
.
Shawn Simon
Very very nice staff everywhere. The hotel uses very strong aroma piped into the air filter system which was a little overwhelming. The food is not great. At all. Pools are very clean!! Loved that. Pillows and linens mediocre and sparse. Hotel doesn't allow access to use tvs Netflix, so mostly Spanish Italian and German tv. Beach is not groomed and felt dirty. Style of lobby and rooms is fresh and nice, balconies have good view. Overall 7+, wish food was edible. So bad.
.
Orlaith Hamilton
An amazing hotel, the best we have stayed in Ibiza🥰 great vibes all day and staff are very attentive and polite. We cannot wait to return to this beautiful hotel!
.
Elk
A very well presented hotel - best on the island by far, loved the ambient vibe and live Dj sets, breakfast was exceptional, rooms perfect just felt bar service very very slow - pool bar service during the day very good but in the evenings so slow and didn't meet standards from all other areas - also don't like having to use app to view menus very difficult on the phone
.
Tracey
A beautiful hotel that I would definitely stay in again but the system for obtaining drinks by the pool, in the buffet restaurant and the rooftop bar is not good at all. By the pool we would regularly wait an hour to be served and couldn't work out the system where you have some waiters taking orders and some not. The restaurant was slow to bring drinks and we weren't attended too that often. The rooftop bar again was slow and one evening because our alarm wasn't working we went up to the bar but were then given plastic glasses with wine in to which I took back and asked for proper glasses. Please do sort out the drinks service as this spoiled what could have been closer to a 5 star rating.
.
Dawn
We were very impressed with Amare Ibiza, it is absolutely stunning. The entire staff were lovely- very professional, friendly and helpful. The roof top was absolutely spectacular both daytime and of course at sunset. Hayaca is a delight, the latin fusion inspired cuisine, well, doesn't get better!! The ambiance, overall, is the perfect place to enjoy a luxury experience. Mare Nostrum breakfast buffet is simply delicious and the options were tremendous, literally something for everyone. The accommodations/room was comfortable, clean, perfect really. The hotel location was perfect, beach front, just great. My only regret is that we did not remain in this hotel for the duration of our trip (not knowing the island, and how easy it is to get from one side to the other- we booked the second half of our stay elsewhere and were completely disappointed. There was no comparison to the luxury and experience of Amare.) Amare Ibiza is a lovely modern and trendy hotel, I will 100% return and highly recommend it. Love!! Love!! Love!!
.
Lee Robinson
Fantastic team of people both from cleaners to reception Everyone amazing & attentive
.
Darren Hickey
Wonderful hotel, with delicious food & drink in an amazing setting. The service from the staff was exceptional, particularly Alex and the manager.
.
Lovely hotel that copes really well with the number of people that visit the hotel. Big shout to Ricardo for being the best receptionist 😀. Also a big thank you to the pool staff who were so attentive despite the number of people who were ringing the buzzers at any one time 😃.
.
Diane Hammal
Fantastic hotel and service, a really relaxing and pleasurable stay. Even when we had to get our air conditioning attended to, it wasn't difficult, although they had to be called twice. Being older citizens we did find some of the disco music rather loud and intrusive.
.
George
Overall a fantastic experience at Amare Ibiza and I will most definitely be staying here again in the near future.
.
Amir Esmailzade
Your staff in general gave us the vibe that they're tired and not happy with their jobs. The service I experienced at the rooftop was so bad that my fiancé and I decided to stay at our room on our last day which was this past Saturday! Your bartenders at the rooftop treated us terribly. It took them 15 minutes and couple waves to acknowledge us. Except a few of your personnel that really understand the basics of customer service, the rest are in deep need of training! I am lost for words to describe how bad my experience at Amare was that made the ending of my 10 day trip in Spain so sad. I can't believe everything I saw on social media was just an image and far from reality. I was in Marbella, Madrid, and then Ibiza, and I never felt anything like what I experienced at your hotel. I definitely take some responsibility on my choice that I shouldn't have trusted your social media image. It was my first time at Ibiza, and it turned to a big disappointment. I really hope you make changes for your other guests. This is not fair that people travel from far and end up being served like that. Thank you!
.
Ram
Really great hotel and experience, lovely helpful staff would definately come again!
.
Lloyd Rowlands
Really nice hotel, staff were great. Nice quiet relaxing location with a lovely beach on the front. Would definitely return
.
Good experience overall, great breakfast and drinks at the bar, great pool area, nice stuff.
.
Amy Booth
I would recommend Amare to everyone, my partner and I absolutely loved our trip. The food, drinks and service were excellent. Will definitely be back next year
.
Steve Newman
Lovely hotel, great food, great music, great service. Special mention to customer service manager Juan Pe who managed to produce a Pino Colada when waiter/bar staff said they had run out.
.
Iris
Cooles und modernes Hotel für ein Ferienfeeling pur. Herrliche Dachterrasse mit Pool und Bar wenn es etwas ruhiger sein soll. Das Essen und Trinken war sehr gut, wenn auch ziemlich überteuert. Der Hoteleigene Strand war zudem nicht sehr schön. Deshalb lohnt es sich in andere Buchten zu fahren.
.
William Walton
Very nice hotel. Roof bar and poolside bar service slow even though lots of staff. Outside music volume constantly playing annoying and was not aware music would be playing ALL the time. Food very good. Breakfast great everyday. Sunset bedroom nice inside and lovely view. Electrical sockets loose. TV should have guests home language preprogrammed into it. TV apparently had no WiFi to it. WiFi slow in room 1616. No room minibar prices. No hotel info booklet in room. Not everyone is scan barcode aware. 2 old people in our group. Hotel in a beautiful location and as mentioned initially very nice and would stay again but is expensive. You get what you pay for.
.
Emma
The best hotel we have ever stayed in. The staff go above and beyond to make your experience a fantastic one and for us this started before we even arrived. We were travelling for my partner's 30th birthday and I had emailed the hotel to request a specific room when I booked, which I knew couldn't be guaranteed. Amare gave us the room that I had requested and this got our experience off to a great start and honestly made the holiday for us. We sat on our balcony every evening watching the sunset with a drink and it was idyllic. It's small touches like these that make all the difference. We were also gifted a bottle of Cava on my partner's birthday which was a lovely surprise. The hotel smells AMAZING all the time! They even have a little grab and go store where you can buy the scent to take home with you. The decor around the hotel is lush and there are loads of places to sit and enjoy your surroundings throughout the building. Our room was gorgeous and the bed was incredibly comfortable. The balcony was huge and we also had a fantastic view of the sea and the sunset - the two things we always enjoy whilst on holiday! Antonia, the lady assigned to clean our room each day, did a fantastic job and our room was always cleaned to a very good standard. We bumped into her a few times on our way out and she was lovely and always made conversation. As a guest at the hotel, you have access to Amare's own sunbeds on the beach, which is extremely convenient and means you're not having to pay €15 each for a sunbed somewhere else. You also get a fresh towel everyday to use by the pools/beach, meaning you don't have to pack your own and have more room in your luggage. We upgraded to 'The One' experience and I highly recommend this. It gives you access to your own area in the hotel with seating, snacks and drinks and is never overly busy which is nice. The breakfast selection is vast and they make eggs/omelettes to order whilst you wait. We went half board, which also included an evening meal at Mare Nostrum, and this was fabulous. There is a buffet with a nice selection and then show cooking on top of this - a highlight for us was the pasta bar! They have have a selection of signature dishes that change every evening which you can order and is included as part of your half board plan - a great bonus! The pizza is to die for - highly recommended. We ordered room service one evening after we had been out on a boat all day and arrived back after the buffet had closed. The room service was fabulous - delivery was quick and the food/drinks were fantastic. Our flight home wasn't until 11pm at night and Amare offer different tiers of late checkout for a small fee. We were able to keep our room until 6pm which was ideal and meant we weren't sat waiting around and didn't have to rush to leave on the final day. Overall, we had an absolutely perfect stay and we're already desperate to return! Amare is definitely the place to stay if you're looking for a relaxing break in Ibiza. We will be back!
.
Matthew M
Amazing customer service upon check in. Everything was fantastic!
.
Emma Wilkinson
The hotel was fantastic and the staff were brilliant. The rooms were lovely, modern and very clean. The pool and entertainment through the day including the DJ's were fabulous. Poolside bar and menu lovely. The rooftop Terrance could have been staffed better and choice of food was just ok considering it's position. The dj's and the views here were amazing and the sunset views with a drink also made it an amazing stay! Breakfast had a good choice but the cooked side of it could have been better. All in all a fab hotel that I would recommend to anyone.
.
Ellen
100/10. Will definitely come back, everything about the hotel was spot on - from pool amenities, food, drink, the room and it's cleanliness. Couldn't recommend enough!
.
Jaydee Davis
A fantastic hotel, every corner inside and out had something different. Spectacular views, easy access with the water taxi, chilled DJ vibe round the pool. My only recommendation is the room needs a little more storage (draws etc) but it's insignificant with how good everything else was! Buzzers were great for the first 3 days then not as good last two but it may have just got busier. The hotel always had this beautiful fragrance too when you walked in certain areas. The sunset terrace for both sunbathing, drinking and eating watching the sunset is absolutely perfect. I'd come back here in a flash.
.
Dear Amare, Our stay at your wonderful hotel was perfect. Thanks again for the room upgrade and see you maybe in 2 years for our 10 years wedding anniversary 😉 Clément & Valentine
.
Ranjit Shergill
All good
.
Roisin Gregory
Fabulous hotel, stunning decor, friendliest, most helpful staff. Our bed was super comfy. Sunset from the rooftop bar is not to be missed. We had the best stay - thanks to all the team at Amare
.
Ali
DO NOT STAY HERE!!! I would give 0 stars if I could. A valuable item was taken from our room and the staff did not believe us. The assistant manager had no idea of the protocol and said the manager would contact us first thing. After several attempts, we were able to speak to the manager the following day. They said they can not prove it was stolen (asked them to unpack our backs but they refused) and said they would only compensate if the food was bad not if there was a robbery. Absolutely horrific experience and would avoid AT ALL COSTS.
.
Marco
Overall the hotel and the staff were very good. The only negative points is the beach. Not very nice area and quite often we had a bad smell, not sure if it was due to the seaweeds (there were a lot) with the hot temperature, or from canalisation. For our view they played music (DJ) all day long, they should leave some quite moments without music. It is too much. Other than that we highly recommend the hotel. Thanks
.
Breugelmans Raf
Hotel staff is very friendly and helpfull. The Rooftop is amazing / nice view and a good bar. The only downside in the room was that there were to little shelves to store our luggeage/ clothes
.
The service was not great, we had to ask for things on multiple occasions and had long wait times for order of drinks/food, the waiters were not attentive as this should be for a hotel of this standard
.
Youssef Ysm Merhi
Amazing experience. Amazing staff. Alex from the Resturant was super nice and really helpful making our meals.
.
We have stayed at the Amare Marbella several times and feel it is a very special place, the Amare ibiza didn't have that specialness for the expense the staff were not friendly, nor helpful didn't show us to our room, not polite when ordering on the rooftop! I had to send food back we are really disappointed with our stay.
.
Dawn Reeves
Beautiful hotel Comfortable spacious rooms Breakfast food and service excellence Really lovely touch, brought cake and candle to our breakfast table for my husband's birthday and then a bottle of cava brought to our room later. Loved the sax player walking round the pool. Brilliant location for good bars, beach and access to water taxi. Lovely pool side service and gorgeous cocktails. Would definitely return.
.
Suzy Newson
We've had the most wonderful 10 days at the Amare. All your staff were amazing and go above and beyond. We couldn't fault the hotel at all. Thank you all so much for a wonderful stay.
.
Zoe Lehmann
Brilliant loved it! Will be back thanks!
.
Jessica henderson
Could not have been more impressed with Amàre beach hotel. It was absolutely stunning in every way. The rooms were beautiful, clean, stunning views and very comfortable. The staff couldn't have been more accommodating. they were never put out by any questions, queries, booking taxi's, advice, information that we put forward to them. Across the hotel all members of staff were extremely welcoming and polite. The all inclusive breakfast was stunning. Such a wide range of different foods you can pick from. The chefs were very polite and accommodating with any specifications you had I.e I don't like my omelettes too over cooked. They were ace! The overall feel of the hotel was just pure chilled Ibiza vibes! Exactly what you want when relaxing around the pool listening to the different dj's they had on during the day. Will definitely be returning here next year, we didn't want to leave. Thankyou so much to all the amazing staff for making our Ibiza experience one to remember. Jess and cassie.
.
Marlene
Dissatisfied, unlikely we'll be back. We booked under Mr.& Mrs, as we are married couple of 14 years, yet arrived to two single beds, the room wasn't clean hair on the floor. The reception staff (jorge) was really rude the rest were nice enough. The bar staff around the pool area were very accommodating & helpful. Was an absolute palaver each time we needed a taxi though (2hr wait at times). Food wasn't the best we had to eat out. 3/10
.
Christopher Cowie
This hotel was without a doubt one of the finest, if not, the finest hotel we have stayed in. The service, staff and location were second to none. We will be back. The one was an extremely nice touch. We were in there daily for sandwiches, pastries and coffees. I do think some hot food options would be beneficial to its patrons. The room was fantastic. Very comfy and large bed. Views from our balcony were beautiful as is Ibiza itself. It is all you need. We will be back for sure. Many thanks for your service Kind regards Christopher John Cowie
.
Sue
Loved the hotel, everyone friendly. Breakfast was lovely and had everything on offer. However getting a drink on the roof terrace during the day was a nightmare. And in the evening at the bar on the roof only had one person working and she seemed to go out of her way to do anything but serve me or the couple I was with.
.
Brad Kelemete
Excellent hotel with even better staff. Quality on all fronts.
.
Izzy
We were very impressed by the hotel & surrounding. Very welcoming New hotel. Modern design & beautiful. We had the holalla room with ocean view. Fantastic choice. We loved the pool area and roof top pool and bar. Great vibe, clean and friendly service. They also have beach area which also was nice. Dj playing music pretty much till 1am. The breakfast buffet was fantastic. Regarding the near by Places to the hotel. 4 min walk from a strip that had more Restaurants and local shops. Overall I highly recommend this place. We will go back there no doubt!
.
Cyré Guadalupe
I wish the resort provided more entertainment. Ibiza is a party island and there wasn't any partying taking place at this resort especially for it to be adults only. Very chill and quiet and I would've liked it to be more lively.
.
Danielle
We stayed here for my husbands 40th birthday and it was amazing. The hotel is gorgeous, the rooms are clean, comfortable and the shower was fantastic. The poolside entertainment was different everyday but each act was again amazing we loved our stay and would definitely return. Great locality for local bars and restaurants should you wish to eat out and lively access to the beach area for guests.
.
Alex Hughes
My stay was outstanding in every regard. I could not have asked for more. The staff were impeccable - the management should be proud of them all. Excellent customer service. Great vibe and tunes, delicious food, fabulous spa, awesome location and stunning rooftop views. Well done and good luck. I'm already planning my next visit 🙂 Cheers
.
John and Christel
I would like to especially mention the following staff for there service and professionalism. They made our stay extra special. Celia and Alejandro from the dining area. Roelia for her attentive care, this lady would show us to our tables and sun beds. Anna and Edu from reception. Also the staff in the one lounge, I can't remember their names. And the rest of the staff in general for their dedication. Great working crew. Amares should be proud.
.
Lisa F
We very much enjoyed our stay at the Amare Hotel It was very clean and had everything you need… even bar/food service to your sunbeds ! Staff were friendly and helpful. Only downsides were you have to get out early for a sunbed by the pool but there are plenty by the beach which was fine for us cos you get a bit of a sea breeze so it's cooler than by the pools Also if you are in building 2, ask not to be on the 1st floor… it's right above the dining room so you are woken up by chairs moving from 7.30-11.30 when breakfast starts If we come back to Ibiza would definitely stay here again
.
Robert Woolhouse
Yet again, had a great few days at Amare Ibiza. We simply love this place and can't wait to get back again.
.
Peter Vereecken
Kamers aan de kleine kant, weinig ruimte om kledij te stockeren, soms te luide en eentonige dj sets, de rest fantastisch !
.
Mark Finlays
Had a great stay however I expected there to be a much better cocktail selection and food offering. For the price paid I felt the restaurant and bar service / quality of drinks was very average.
.
Neil
You should be very proud of your hotel and your staff it was a wonderful experience and I definitely will be coming again I was impressed
.
NM
Für ein 4 Sterne Hotel sind die Zimmer Preise 10-15% zu Teuer. Getränke sind auch zu Teuer.
.
Mike
We enjoyed our stay at Amare Beach in Ibiza. Muncie and Clara did an excellent job checking in to make sure we were comfortable with our room. The quality of the food at the hotel was excellent. Hard to do for such a big property. We had lunch everyday poolside and the staff were great. Our favorite spot for dinner was Huyaca. We went there twice and the entire staff were nice, attentive and friendly. You can see they work hard. My only concern is that the pools are small for such a big property and I wonder how well they are maintained. The daytime DJs were fun and entertaining.
.
Karen Andrews
Absolutely stunning hotel, couldn't fault it in any way. Will definitely stay again and can highly recommend 😊
.
Sharon Clarke
Wow, wow, wow! We travel a lot and have stayed in some of the best hotels in the world. This is up there with the best! We especially loved the rooftop pool, watching the amazing sunsets whilst eating dinner, the day and evening DJ sessions, the stunning interior, cleanliness and calming aroma of every inside space, the friendly and helpfulness of all staff and lastly the pure luxury and being made to feel special. We usually like to go out and explore but found we didn't want to leave the hotel, the food was delicious and drinks reasonably priced. We cannot fault this hotel. 100% recommended and will definitely return.
.
Katie
The hotel is stunning, we was originally placed in the wrong room but it was sorted very quickly by the reception staff. Pool area is lovely and clean and sun beds are very comfortable! Poolside service is great, also staff are very friendly.
.
Lorrenda Roloff
Having stayed at Amare Marbella I was so excited to visit Ibiza Amare as I had such an amazing time in Marbella. Ibiza Amare did not disappoint. Everything and everyone was truelly amazing . Our room was perfect - I'll be requesting it when I return . The room was decorated for my daughters birthday and she cried - happy tears! The staff on the roof top - victor in particular - such a gentleman and very complimentary- were exceptional. I can not wait to return . I'm looking to book Amare Marbella next year so expect it to be just as incredible. Thank you Amare for an amazing beautiful stay x
.
Mark Freeman
A beautiful hotel with stunning views of the bay and sun set. All the staff we came into contact with were so polite, professional and friendly. Check in and out was seamless. Food and service in all outlets was 5*. we'll definitely be back sooner rather than later 🙂
.
Jamie Crispin
Hotel was beautiful and was kept very clean at all times. Very much a couples hotel and I did share with my friend and the shower in the middle room wasn't ideal so no real privacy but it was manageable. Wifi kept dropping out constantly but again not a massive issue with my data plan. Food was good and got better as the time went on as you get use to what's being served. Would say the music was great during the day however with so many speakers about it was very very loud on some days so hard to have a conversation with others during this. Overall it was a very good 10 days and would recommend the hotel to anyone but mainly couples. Jamie
.
Charles Morgan
Amazing hotel great value for money will definitely be revisiting.
.
Andy moore
What can I say ,unbelievable ,I have travelled to many countries and many hotels ,you're hotel is the best bar none ,the overall experience from checking in to leaving was exceptional.the staff are very welcoming ,kind ,courteous , polite even the cleaners etc . The vibe of the poolside dj is exactly what I had anticipated being of an age that 20 years ago we used to visit the island regularly for the music ,ambience etc . Although we still like a good night out ,a more relaxed approach suits more nowadays . I have even downloaded the soundcloud soundtrack already lol . The room was great ,the breakfasts was great ,the pool great ,location perfect I booked it for a surprise for my partners 40th birthday and she absolutely loved it ,especially watching the sunset on the rooftop ,so a big thankyou to your staff and your hotel We will definitely be back and have already left a review on Google Many many thanks Andy moore Room 2228 👍🏻
.
Phil
Great hotel - amazing views from Rooftop - only improvement would be the food served in the rooftop restaurant was not as good as the view and ambience …
.
Emily
Good: Room decor, air con, view, amenities. Pools, outdoor spaces, loungers/furniture. One lounge refreshments - definitely worth the upgrade. We never bought drinks or lunch during the day. Staff - very helpful and friendly. Pool towels - changed daily. Water taxi being right outside the hotel. Water dispenser to fill your own water bottle. View from the roof top bar/restaurant - Gorgeous. Not good: A sewage smell around the beach. Not sure if it was coming from the sea or drainage?? Kind of off putting. The beach area/water taxi/water sports area let the hotel down in terms of look. With graffiti and broken concrete. Its a shame because the convenience of the water taxi is great. The pool side djs/singers/sax play etc were really good but extremely loud and there wasn't really anywhere without speakers that you could have some quiet time. Would be good to have a quieter corner maybe? Need air con in the lifts - vv hot. Free water should be given in the rooms every day, not just the arrival day. Please put a mirror up at the dressing table/desk and make the vanity mirror light up for makeup. Please also put some frosted panels up in the shower cubicle. It's completely see through all the way round and, being in the middle of the bedroom, wasn't great for two friends sharing a twin room. Would be fine for a couple. More hangers in the wardrobe! The two derelict buildings directly opposite ruin the view and ambience a bit. They could be covered with advertising sheets (which i've seen elsewhere during building works etc)
.
Miranda mcinerney
This is a fabulous hotel in every aspects. We will 100% rebook for another year and will recommend it to all friends and family.
.
Pauline
We were in Ibiza for our daughters wedding we chose and booked this hotel through Jet2 Holidays we were a party of 14 persons
.
Josh
Awesome stay, staff are incredible, service was great & hotel couldn't have been better. Would 10/10 Recommend, wish I had stayed longer. Will 100% be back!
.
Monica
The hotel room was nice even if very small for the price. The music during the day was much too loud and not to everyone's taste. The bar service was poor, the Sangria is terrible whatever premix you use it is awful it should be made fresh on the spot like everywhere else. The breakfast food was good. Lunch was terrible, the fish was not fresh and it was very over cooked. Very disappointing for a hotel in this "class" and price. The reception and general staff inside the hotel were lovely and efficient. The kitchen is obviously not up to standard and the service was very slow and the staff outside serving us had to be reminded to bring things they simply forgot about. Unfortunately the beach is not good at the hotel, it should be cleared daily and prepared for guests but it is not. We preferred to go to other beaches like Calabassa where it is nice to swim but this should not be necessary. Very few people swim at your beach.
.
Deborah Baggley
We had a absolutely wonderful Holiday, Hotel beautiful Staff very friendly, excellent service Cleanliness outstanding we will definitely be back Thank you for making our Holiday such a wonderful experience.
.
Trevor Hope
My wife and I celebrated our wedding anniversary here. It was wonderful. Staff were extremely helpful and friendly. Our room was clean and decorated tastefully. The hotel is in immaculate condition. Food was brilliant, amazing breakfasts and food from the restaurant. For what we paid and what we received, in my opinion was good value for money. I was a little concerned from some previous reviews which where written during covid about staff and service, but my personal experience was brilliant. My only other concern that the hotel would be full of trendy influences, but in my opinion, it catered for all age groups. I hope to return next year to celebrate my wedding anniversary again. Thank you all for a wonderful stay.
.
Anxhela Agaci
Where to start!? Housekeeping was coming in without even knocking and we didn't even left a sign outside to clean the room! When the sign was out they didn't clean! Bedsheets never got change we asked 4 times! We had to ask for fresh towels every day as they were folding the old ones. Dry Cleaning service I don't recommend, they promised the clothes next day they came after 2 days, not ironed and with stains! We paid for it 76€. Staff hardly understand English! We went one morning 10min before close of the breakfast and we got a look from the staff like, "go away"!!! Taxi service useless, we had to wait like we were in a bus stop outside the hotel and fight for a taxi. Few dinners got cancelled just because of this issue! Instead of having a free stress holiday we had a very stressful holiday! We didn't manage to go with the plans we made as we got put off by all of this issues at the hotel! 500€ a night in June and with this costumer service, not happy at all!
.
Just got back from this amazing hotel. They can't do enough for you. The bell on the pool sides beds is fab you don't have to get up. Service can be a little slow but your on holiday what's the rush. The rooms were fab with amazing views. Hotel itself is beautiful. We had use of the one lounge which was a little bonus. Music by the pool is great gives a good vibe. I will definately be coming back to this hotel. It's in a great spot with a water taxi that will take you to other beaches and to San An. Fab place would definitely recommend .
.
Beach was not as expected for a swimmable beach. Very disappointed that it was very low with much seaweed all 8 days we were there! Also, The room was small with not enough drawers space for clothes of two people.
.
Cara Evans
Absolutely loved the hotel, very very clean, staff lovely. On my last night we went to the roof top restaurant. Of a party of 8 we had to return 4 meals. When we got the bill charged for bread which we had not asked for. No compensation for poor meals and when this was queried we felt like we were being thrown out. We tried to stay for another drink and we're told no!!!! We had spent a lot of money over the 5 days and this was very rude and disappointing. All of our meals were very poor.
.
Mark,Lorraine Allchurch
Excellent hotel,very very clean and tidy, Excellent friendly and helpful staff across all departments breakfast buffet is the best I've ever seen and eaten after 30 years of holidays. Highly recommended
.
Pooja
The entertainment was OK just singing but there could be more, organised activities, beach volleyball, maybe parties etc. I had a massage on the beach and a reflexology treatment, the reflex treatment was really bad and I paid alot for it, there was no pressure at all. Aside from this amare was one of the best hotels I've ever stayed in
.
Christy
This Hotel was out standing from start to finish. All the hotel staff were friendly helpful and efficient. The whole experience was luxury and amazing i have already highly reccomended this hotel and i am returning next year. 10/10 for location/ food/hospitality/staff.
.
Jdh
Everything was perfect except housekeeping. I felt my room wasn't cleaned thoroughly, the floor wasn't swept and was it was dusty. Aside from that I will definitely book this hotel again.
.
Room was okay, basic cleaning. Could have been better
.
Lucy
Fantastic stay. The breakfast was brilliant. Staff and general service very good. Only negative was the roof top bar speed of service, was very slow in the evenings. Also the wait for taxis but that is out of your control. The room was great, food was great, would definitely stay again.
.
Eric
Overall good in any aspect. Music and DJ by the main pool as from 2pm is not my style. The roof top is great and the food very good. Too bad our waiter made us wait 45mn for our plate when the restaurant was empty. Hotel beach not great but superb view.
.
amazing hotel ..staff excellent hotel very clean and comfortable food amazing unfortunately the music was too loud and continuous you couldn't get away from it ! from morning till eve no break sometimes people like to just relax ! The room was very comfortable but too small no storage no mirror near plug to do your hair wardrobe and drawer space not sufficient
.
Dave
Excellent quality hotel, Service,food high standard My only criticism would be the rooms need a little more draw space for keeping clothing in
.
Leann
Hotel is just stunning. Service in all restaurants was always first class! Need to work on pool service as buzzers did not work, small issue! Cleanliness brilliant. Location perfect for us. Be good if more activities available from beach. Overall had an amazing stay and would highly recommend this hotel. Make sure you have plenty cash to eat and drink here, as not cheap…but worth it!
.
Sarah Lazarou
We booked Amare Beach Hotel in 2019 to celebrate both a friend and I 50th Birthdays. Finally in 2022 we got to celebrate and wow it was worth the three year wait! Amare beach hotel was outstanding, super efficient, professional and friendly with a hint unique in the decor. We thank you for making our stay the most amazing and memorable experience. Furthermore, the saxophone player was on another level, he was absolutely Superb. Thank you and I can't wait to return at some point in the future. Mr & Mrs Lazarou
.
Nadine Nicoll
Hotel excellent, staff very friendly. In particular Alex who worked very hard serving drinks at the sun beds, he was efficient, professional, friendly and very knowledgeable. He was absolutely fantastic
.
Nicola
The worst service ever experienced in what is supposed to be a good hotel. If your drinks did turn up within half an hour they were often wrong. Staff often just chatting with each other. We left the bar after a twenty minute wait one night, there were 4 staff behind the bar and we were the only customers! You would think they would be trying to make some money back after the pandemic closures. Its such a shame.
.
Paul Scott
We had an amazing time at the hotel. Couldn't fault a thing. Friendly staff, great Location- water taxi to San Antonio a great touch €4 fantastic. Rooms great, really well kept and stylish. If I could make a suggestion- improve the list of cocktails on offer, at this level should be a wider variety- or at least give permission to staff to go off book. Other than that- perfect
.
Excellent stay with Amare - the level of service has improved massively since the last time we visited. The staff were on top of their game and were quick to take orders. Would recommend - great value for money.
.
Rae Milne
Excellent service whilst hanging out at the pool areas. Gym was a little lacking.
.
B.
Great place to relax, beautiful people
.
Severin
The hotel is very nice, all the area are very clean, rooms are beautiful also and the restaurant is excellent. But the restaurant service is not at the same level as the rest : many confusions, order mistaken or misdelivered. The personnel also don't know the details of the menu. Yet it was a very good stay
.
Nathan Lajevardi
By far the best hotel I've stayed at. The hotel staff were very friendly and helpful. The breakfast was amazing, there was so much choice. The rooms were a very high standard. You had everything you needed from the facilities. I will certainly be returning in the future.
.
Adam El-Abd
Great hotel, breakfast was really good. Good vibe around the pool. Rooftop was nice to relax. Only downside was the food ordered outside of meal times was a bit of a let down. Ordered a breakfast which I paid 55euros for and it was worse than what u can get at the buffet. All in all though it was a lovely hotel.
.
Sian Frances Booth
I came in 2019 when it first opened and maybe there were a few teething problems. This visit was perfect - we upgraded to a sea view room - lovely. We had an amazing experience so relaxing - the staff are brilliant - nothing is too much trouble - Breakfast buffet fabulous - beautiful rooftop pol and bar - I cannot recommend this hotel highly enough just come chill and relax and experience it for yourself. Thank you Amare.
.
Max
Magnifico Hotel, praticamente non riuscivi a starci lontano per andare a girare per calette, ma tendevi sempre a rimanere lì, per tanto era comodo e i servizi ottimi
.
CM
Fantastic stay, excellent hotel, clean, great service, lovely surroundings. Would not hesitate to recommend to others and stay here again.
.
Absolutely incredible from beginning to end. I couldn't fault anything! Friendly staff
.
Nick and Kelly
Excellent hotel my only negative comment would be that some of the food was cold when the restaurant was quiet, this was only the food that was already prepared so there was plenty of other hot choices that would be cooked fresh.
.
The hotel is of a high standard. The staff is very friendly and helpfull. Good food, good quality, good entertainment... Pools are nice, clean as also the beds.. I certainly would come back again if i visit Ibiza again... keep up the good work..
.
Robert Bryce
A great experience! The facilities are excellent and the staff all really friendly and helpful. Thank you, we will be back!
.
Debbie D
Absolutely stunning hotel, beds are like clouds and they have thought of everything. Great entertainment and music in the daytime and also the evening. The food is fantastic and it is super clean. Had a wonderful stay and cannot wait to return.
.
Twan Wijnen
We had a very good stay in your hotel. It was excellent. We had a good time.. Good music, Good Vibes and drinks. Nice Pools.
.
Remy Walker & Bethany Noblett
We have just come back from 8 Nights here and the hotel is amazing! The pool area is so trendy and they usually have a singer on 12-2 and then a DJ, who all play great music, on 2-6 which keeps a good atmosphere in the downstairs area at all times. No problems getting a bed at all, absolutely loads of around the premises. Rooftop bar & pool area is unbelievable, watching the sunset up there had to be one of the highlights of my holiday. We had food at the Hayaca which was great and then chilled out with a bottle of wine watching the sunset. They also have a DJ playing up there every night who play the most amazing music, made the experience 10x better! We went for the 'The One' lounge which is 100% worth the upgrade. We found is really good to nip up there a few times a day to chill out after being sat in the sun and was a nice touch. You can get glass bottles of cokes, sprites, fanta, beer, wine, prosecco etc. They also have little nibbles like small sandwiches, donuts, cakes, fruit etc. We had the 'Oh La La' room and the view is by far the best one you can get in the hotel and I would recommend booking that room if it is available. You have a full sea view and you can see all of San Antonio from your balcony…looks amazing at night! Room was really trendy, bright and spacious. Wardrobe space is limited so may be a problem for people with loads of clothes but we didn't care. TV had Netlix, Prime, Youtube etc…but it didn't work for some reason and we asked reception but they said it didn't work on the Wi-Fi…be great if they sorted that out as would appeal to everyone wanting to watch english channels. Overall it was an amazing hotel and I would recommend it to anyone staying in San Antonio area. We booked OKU initially and then cancelled it to move to this hotel and after having looked at the both, this was 100% the right decision! I can't believe this hotel isn't 5*!
.
NickCaz
Just back from a great 10 days at the Amare Beach Hotel Ibiza. What made the holiday for us wasn't the fantastic facilities, great food, cleanliness or even the brilliant service. It was the people who work there, from the cleaners to the reception to the restaurant, pool and bar staff. Everyone was so friendly and nice. It's the people who make the holiday special and the staff here go above and beyond to make sure you have the best holiday. It was our wedding anniversary while we were there and the staff brought us a special breakfast and decorated our room with balloons and champagne which was an unexpected and lovely surprise. Would definitely recommend this hotel to anyone looking for a luxury hotel with the best staff you could ask for.
.
Jacquie
We have just returned from Amare Ibiza after having 10 nights in this fabulous hotel From arriving to leaving the whole experience was amazing everywhere we went the service and friendliness of all the staff was exceptional in particular Alex in the roof top bar who looked after us every evening when we went with his smiling friendly face Yazia who looked after us and supplying me with endless glasses of orange juice at breakfast!! Then in the One Lounge looking after us and everyone. She is an asset to the hotel along with her colleague Angie Fabio you have a great team of people some that we recognised from Hotel Fuerte including you!!! They are all an asset to this fabulous hotel
.
Richard Magee
Your hotel is beautiful and has a really laid back relaxed vibe. The staff are by far the best I have experienced at any hotel I have ever been to. They were polite, friendly, happy and very good at their jobs. I can not compliment them enough.
.
Heidi Evans
Had a fantatsic stay, I can not fault the hotel, staff or facilities.
.
Dave Rodgers
Absolutely amazing hotel, we have visited 2 years back to back and both times have been 10 out of 10. Very friendly and helpful staff, great atmosphere and beautifully maintained. We will be coming back, it's the only place to stay in San Antonio for us. Love it.
.
Der Aufenthalt war wunderbar! Was uns ab und zu fehlte war die ruhe im poolbereich, der dauerbeschallung mit techno entkamen wir nur mit der flucht an einen anderen strand. Aber wir kommen wieder! Vielen Dank für das Erlebnis!
.
Deepak Panwar
Superb Hotel with great customer service. Beautiful property with all departments working in a synchronisation to make our stay a memorable one🥰. Huge variety in Breakfast buffet 😋 Roof top restaurant has amazing dishes with Perfect sunset view. Pool staff is all the time working to keep the pool clean and providing guests a great experience 👍 Nothing is difficult for them. Coming back soon!!!!
.
Paul
Really mixed reviews. I bought 44 guests to the hotel for our wedding and have encouraged all 44 guests to leave the same reviews on trip advisor and Google unless some compensation can't be reached. We were disgusted when we arrived that nothing had been offered or a gesture of good will had been left when originally asked from my self when I told you it was our wedding. I wrote this prior to our arrival and also at reception. We had a car park view which was outside the delivery entrance so was woken up every day at 5am. The receptionist was extremely unhelpful. In total we estimate that we probably bought £60k to the hotel last week. Another issue we experienced was in the restaurant where a member of your team from the large table that we were sat on put a drink bill of €96 onto our room. This wasn't signed for by us , we didn't order it. I don't know who did. The manager spoke to me 2 days later and asked me to sign. I explained the situation and he was amazing and assured me this was sorted and it would be taken off. Then to my surprise on check out it was still there. So underhand and cheeky, assuming I wouldn't check. Look forward to hearing your response.
.
joan moisey
2nd time of staying here. Beautiful hotel. Kept immaculate and run by a very friendly team of staff. Only point I can think of mentioning is that there is no real daytime or evening entertainment given that the hotel is in a quite part of San Antonio, made even more so by the recent pandemic.
.
Jihan and Brandon Ross
My husband and I traveled throughout Spain and stayed many places. This is by far one of the BEST hotels in Spain, especially in ibiza. It was quant and quiet. The staff is impeccable. The food was delicious with many options to choose from. We won't stay anywhere else for out annual trips to Ibiza. Your cheating yourself by not staying here
.
Andrew Daverson
The no smoking by the pool was tiresome, having to walk to the beach for a cigarette every time. The rooftop bar closing early, meant you had no option but to go out of the hotel for a late night drink.
.
I love the Hotel however, My only complaint is the option to order food. The roof top food was not great. Numerous time we couldn't get a reservation. It felt like the hotel was more concern about making money. There needs to be more evening food options.
.
Terry
Hotel very relaxed Ibiza feel. Enjoyed the design very much. Staff friendly and helpful. Far enough away from town to relax, close enough to get there with no hassle.
.
Rita
Your hotel is perfect but we don't like that area of Ibiza. It was our first time on that side of Ibiza but we prefere the east side. We stay in Amara Marbella in 2021. That was great So that's why we went to your hotel in Ibiza. Maybe you Can build a new hotel on the east side😄 Kind regards Robert and Rita van Rosendaal
.
Matthew Harmer
I had a fantastic time, the hotel was great and I would definitely come back. My only small criticism is that my flight was changed by my airline to 1 day earlier and when I contacted Amare beach, they couldnt offer me my room at the same rate I paid originally - even though it was available. Instead the best rate you could do was 258 for the night (my avg was 130 per night when booking). As a result I had to stay elsewhere on the first night of my stay in Ibiza and I suspect my room at the Amare was available, so strikes me all of us missed out a little.
.
Ian T
Great hotel overall. I've stayed in the Marbella Amare previously and this is of same high quality. Great vibe around the pool with the DJs. Really enjoyed the breakfast and evening buffet (its as good a breakfast & buffet as i've experienced in Europe. The staff here were very courteous and helpful). Also the most comfortable hotel bed bed i have ever slept in. Only minor negative was the rooftop restaurant. We ate there one night (8th June) and it was a bit disorganised. We were served by many different staff. Ordered cocktails and we were served the wrong cocktail and then told that not all drinks were available. At the end of the evening we were presented with two more bills for other customers food - someone must have got away without paying? In fairness the staff didn't challenge us once we explained. With hindsight we should have eaten in the buffet and saved 100 euro. But this wouldn't put us off returning as i am sure its not easy employing multilingual staff soon after covid. Another thing we noticed was some of the miniatures in the room mini bar had been tampered with and drank out of. But i've seen this before in other mini bars where they miniatures have been consumed and the gin/vodka replaced with water and the caps screwed back on. We booked this under an Amigos offer and thought it was good value compared to a package holiday. We often stay in H10 and Barcelo chain but would rate the Amare brand better. Probably head off to the Amare Marbella next time as its our favourite hotel. (waiting for special offers!) All in all the Amare is a top place to stay and for my wife and me a great hotel always makes a great holiday.
.
Kay from Bournemouth
Excellent Hotel All Staff Amazing fabulous experience would definitely recommend and we will be returning thank you x
.
Benni
We had a fantastic stay at the Amare hotel. We had space to park the rental car near the hotel. The entrance hall was fantastic. We were very well welcomed at the reception. It was a very friendly and smooth service. The room was very clean, with a beautiful view of the bay. The breakfast was excessively good. It was very comprehensive, better than expected. In the evening we went for dinner in the Rooftop restaurant Hayaca. This is an absolute must! Very friendly service. Everything was to your liking. The view of the sunset made the evening complete. The three swimming pools in the hotel ensure that you can always swim in the sun. There are plenty of sunbeds, all equipped with a parasol. We also had access to 'The One'. It was very pleasant to relax with an (alcoholic) drink and a wide choice of snacks. This hotel is definitely worth its four stars.
.
Mel Birch
Excellent location, service and facilities. Some Mix up with our room booking but managed well on the whole.
.
Steve McNamara
Truly excellent experience from start to finish. Hotel first class and staff very helpful and friendly. Food and see excellent at breakfast. Pool areas and sun longer service really good. Will definitely recommend: thank you!
.
Tim
Unglaublich tolles Hotel und nettes Personal. Für den hohen Standard des Hotels, passt das Angebot der Küche nicht. Essen ist eher mittelmäßig.
.
Patricia
Amazing stay! Wow!!
.
Steph Heald
We loved our stay at Amare and would highly recommend it. We will be back soon!
.
Jenny Minnock
Hotel vibe and decor was spot on. Service was a real let down. Getting drinks at the bar was extremelry slow and you often had to ask twice. We had an issue with the toilet all night had a to chase up to get someone to look at it. Not sure why they have the buzzer at the pool not once did anyone come. The hotel was busy and it was obvious there was not enough staff to cover.
.
N Booker
Lovely hotel that needs a little attention in certain areas….there is a definite lack of space in the room. Also, we were on the 8th floor of the main building and there is a definite problem with the drain in the shower. Basically a nasty smell. On the subject of the shower, I have to say, it is one of the best showers for a hotel! The service in the rooftop bar was poor. This was not due to general staff but due to lack of management organising the staff. The team is young and I think need more training/help before the busier months. Two young men were especially helpful, in my opinion, Alex & Arnau. They tried to be as helpful as possible. Stunning views from all around the hotel. Good age demographic in the hotel. We weren't the youngest, but also definitely not the oldest!
.
Teresa Kingston
The hotel in terms of decor, ambiance and style was exactly what we were looking for however there are some areas for improvement in terms of service levels on the rooftop bar/pool. we stayed for 3 nights and we encountered more then once slow service. On one occasion during the day we ordered drinks and food to our loungers the drink were delivered after 30mins and then after 1 hour our food had not arrived and the server then argued with us and said we hadn't ordered any food. On the second occasion after Sunset one evening we went to the rooftop bar, our drinks order was taken after 10mins wait which was fantastic however after waiting 45mins our drinks had still not arrived and we had chased this up several times with various team members
.
Chris S
Great Hotel & service, room very comfortable (great bed). Buffet breakfast very good, tho' coffee machines small measures. Service in roof top bar struggled a bit when busy as well as confusion over which menu applicable in the restaurant in the evening which caused issues ordering food (we were right & the waiter wrong, but we got there in the end). Not great fan of QR code access to food & drink menus, sorry but would rather have a menu in my hand than on my phone. Service for beach towels excellent & very friendly with sun beds very comfortable. Gym was a little bit warm. We really enjoyed our stay and would definitely come again.
.
It was an amazing stay, everything was perfect from start to finish. I would like to know of any offers in the future as I would like to come and stay again next year. Thank you for the hospitality and the staff are a credit to the hotel .
.
Wendy
Great service and hospitality, we've enjoyed our stay very much and are planning to come back again. Thank you Amare!
.
Bryany
Our stay was amazing. The hotel is stunning, and has everything you could ever need. Staff are attentive, polite, helpful. Facilities are brilliant. Amazing vibe by the pool with the live music. Nice to have beach option as well as the pool. The only issue was drinks on the rooftop bar, we went in the evening but it wasn't busy, and we sat for nearly an hour and our drink never came, we just left in the end. Several other people had the same issue. It wasn't the waiting staff as they seemed attentive but did some reason the drinks weren't coming out. Other than that, absolutely no complaints! Loved our stay!
.
Lyndsay
Can't recommend enough. Excellent hotel will be back again
.
Steph
Amazing hotel great atmosphere really chilled out I highly recommend and will definitely be returning again in the future
.
Sue
The Amare hotel is a beautiful hotel, i a good location, all the area's are kept clean and well maintained. a few little issues - firstly the "old-aged" thing of towels on sun-loungers - some days they were out at 7.30am - no staff removing them, music at the downstairs pool a little too noisy for me (DJ's not really my thing - playing obscure music i didn't know) roof top pool - very different - lovely chilled out atmosphere. my main issue was the Beds - 2 singles pushed together - that moved apart as soon as you got anywhere near the middle - website advertising "double rooms" then told by reception - all of our rooms have 2 singles?? not ideal for a married coupe booking in... would i stay again - yes I would - but please sort the sleeping arrangements out. no instructions in room how to use air-con nor prices for the mini-bar - told when checking out there was a QR code in the room? nor me or my husband found it.... 8/10 for our stay - we will return (hopefully minor issues sorted by then.
.
Robert mcavoy
One of the best hotels I've stayed in. No complaints. The quality of food and drinks was excellent. No reason to leave the hotel other than going for a walk
.
Claire
The ambiance is second to none! This was my second time visiting and won't be the last!
.
Rob Dawes
Very poor service in restaurants. Main pool was shut for two mornings for photo shoots with no prior warning to guests. Hotel is more interested in perception than customer service. Room cleanliness was excellent. Would not visit again.
.
Jorge González henonin
Excelente actitud de todo el personal y decoración muy adhoc a Ibiza Muy recomendable
.
excellent stay, all the staff were super welcoming and it is a beautiful hotel, very clean, complete different variety of food, on the beach, not a single fault for me and my partner, 10/10
.
Paul
Great hotel, extremely clean and great facilities throughout, staff where great and having an ice bucket in the room was fantastic, sadly 2out of the 4 lifts in our block where out of order, 1 to the pool for the whole 7 days and 1 to the rooms for the last 3 days, also the car parking was way to expensive and seems very unnecessary
.
Peeters
The hotel is fabulous ! So beautifully located near the sea ! We had a great time. There is only 1 issue that still can be approved , and that is the waiting time at the bar. It takes too long before you get your drinks. And the staff should have more knowledge what can be offered and served. For the rest Everything was exquisite ! 👍
.
Jill
Hotel fabulous. Room fabulous. Everyone professional and friendly . However - Service in both restaurants needs to improve as does the evening food in both restaurants ( I felt it was boring, overpriced food not even particularly well done - even the roof top restaurant is very style over substance) also I did not appreciate being put in the " poor man's area" when I order the a la carte menu in Mare Nostrum - made to sit pool side , no candles on tables , no service etc while the buffet diners got sea side area, nice candles and atmosphere was lovely. We feel the price is the same so diners should all get the same nice atmosphere and choice of where to sit . Lastly - not at all impressed with amount of professional photo shoots that closed the pool areas several times. I only had 4 days so to not have the pool for half of one is not acceptable. Marketing team need to think about their real clients and reality rather than selling a fake dream. Clara was an excellent guest relation manager and is an asset to your hotel - she is a calm influence who seems to be able to sort anything which is exactly what a business needs . We will come back for sure but won't be eating in your restaurants again however . We are now booked for the Amare Marbella to compare, as some of the guests said that service was better so will be interesting to see for ourselves. Overall all, we loved our break so thanks again !
.
Debbie
Fabulous hotel. As soon as you walk through the door the smell is amazing. Staff are fantastic nothing is too much trouble I especially would like to thank Victor our amazing waiter in the Rooftop restaurant x
.
Susana
Muy bueno el desayuno y muy simpáticos los cocineros
.
Alexander Koch
Ein tolles Hotel mit einen super Ambiente und tollen Personal in jeder Berufsgruppe
.
Emily
First time in Ibiza and it was amazing! Beautiful resort and very kind and attentive staff.
.
Damiano
Servizio ristorante con chiusura troppo presto per essere ad Ibiza, alle 22:00 fine dei giochi, impossibile usufruire della cucina se state in giro per un aperitivo.(fuori dall'albergo abbiamo ordinato da mangiare ancora alle 22:30). Pochi cuochi alle piastre per servire la tanta gente, comunque cibo di qualità. Staff molto gentile, però sembra che chi lo gestisca non abbia le idee chiare. Colazione fantastica, ma anche qui per mancanza di cuochi, coda per farsi cucinare un paio di uova o un'omelette. Al desk check-in era presente una bellissima ampolla con acqua e limone, ma non c'erano in bicchieri per poterne usufruire. Rooftop bar chiuso alle 11, solo 1 ora dopo la cena. Drink di benvenuto scarso, almeno mi aspetto un cocktail del menù, non un drink finto solo per dire, vi abbiamo dato qualcosa. Spiaggia non bellissima, in confronto a cosa offre Ibiza. Peccato perché l'hotel è bellissimo, alte potenzialità… Spero migliorerete🤙🏼
.
Linda N
Having been to Amare Beach Marbella my best friend and I thought we give Ibiza a go. Well we where not disappointed in any way. Hotel was out of this world, staff could not do enough for you which just enhanced the stay to the next level. Certainly will be back for another visit as Ibiza as it is a lovely island and want to explore more as it has something for every age group.
.
Zoe creasser
We couldn't of asked for a better stay, we were a party of 20 and all of us were highly satisfied with the hotel. We will be back
.
Dee
How is this hotel only 4 stars? I have stayed in 5 stars that are not as nice as this hotel. Everything about Amare was perfect!! From the beautiful pools, to the smell of lavender throughout the hotel and the amazing food and cocktails. Such a wonderful hotel ❤️
.
Kerrie
The best hotel we have ever stayed in. Beautiful room, gorgeous room and amazing service. Thank you for our stay. X
.
Liz
Fantastic hotel, great staff, food and atmosphere- would definitely return!
.
Dominic
An excellent hotel.
.
Bronach hynds
I have stayed in both hotel Amares now and loved them equally. Attention to detail is superb. Up there with my favourite hotels to date. Breakfast is fab
.
Deborah McCarroll
Amazing hotel from start to finish! Will be back
.
Paul Mercer
Absolutely amazing stay here, was my first time in Ibiza and we have already booked up again for next year. The hotel had everything and couldn't do enough for you, especially around the pool during the day which was a brilliant atmosphere. The sunsets whilst having a fantastic dinner on the roof and watching DJ Miss Monique play the sun down was something I wont forget in a long time. Overall everything was pretty perfect, just the length of the stay wasn't long enough 🙂 See you again soon.
.
Victoria Dennis
Overall delighted with our stay at Amare Ibiza would recommend and will return.
.
Keeley Harris
We stayed at Amàre 24-27th May. The hotel is absolutely beautiful. The staff were exceptional. Upon arrival they couldn't possible do anything more if they tried. Always accommodating our group. Would definitely go back again.
.
Jenny Brumby
One of the best hotels I have stayed at. The hotel is very contemporary and spacious with wonderful atmosphere. The attention to detail was outstanding, my only criticism is more staff needed around the pool area through the day, they were run off their feet. We will definitely be back next year. Many thanks
.
Samantha Petch
From walking into the hotel the whole experience at Amare was great from a friendly welcoming from Rebeca to the rooms well equipped clean staff always friendly tasty breakfast and great music round the pool. Just one point I m a top swimmer and like to train before breakfast when quiet, had to wait for cleaning pool . If one pool was ok to swim in at 8am would have been great.
.
Carol Taylor
Absolutely Beautiful place to stay, nothing is too much trouble for the staff, very well looked after, clean, relaxing, food lovely, plenty of space around the pools, roof top sunsets so lovely. Can't fault this place at all, definitely will be back. Thanks for the experience Amare!
.
Brasseur
Very nice hotel, beautiful decoration, always smiling staff. VIP lounge a little disappointing. Lower quality wine for example
.
Amazing Hotel, would definitely go back.
.
Paula Hylins
lovely trip, can't wait to return x
.
Andrew
Stunning . Just a shame about locality .
.
Tim
Top hotel in Ibiza. Definitely going back to this hotel. Everything was amazing from food to ambiance.
.
blondie girl
We had a lovely stay here we liked that it was early in the season therefore not too busy ,only one thing we would of liked is more storage to put away our clothes we had to keep some things in our cases under the bed also the egg chair was an unnecessary addition to the room some more drawers would of been better for putting away all f our stuff
.
Neviana Marinova
Everything was perfect, glade to be back. I come every year 3 or 4 times to Amare. The hospitality of the hotel is amazing. Feels like coming back home every time 😍 The reservation team in Marbella don't u understand very well when I call and ask about specific things. Like the conditions of my club amigo stay's.
.
julie bacon
Beautiful hotel and very helpful staff
.
Sharon Pickerill
Had a wonderful stay at amare beach , beautiful hotel and staff were amazing
.
Scott Morrice
Hotel was stunning and very comfortable. Staff were excellent although it may be wise to have some queueing system for check in, we stood waiting to check in for over 30 minutes whilst other visitors walked to the front of the queue and were dealt with by staff who were aware of us waiting to be checked in
.
Elizabeth Graham
Hotel was amazing staff really friendly would definitely recommend. 😍
.
Lizzie
The hotel was lovely, beautiful settings and lovely spaces. The pools were great and we loved the towel service. The buffet breakfast and dinner were fantastic.the staff were very friendly. The only few issues were 1) the Aircon in our room didn't work, 2) the check in process was a little confused, being told that one of three rooms didn't have half board when it did 3) it was sometimes difficult to get hold of a server in the restaurant to order drinks and 4) we tried to settle our bill the night before checkout to save time but in the morning they informed us that hadn't been done.
.
I loved the customer service and how friendly and approachable the staff is. The rooftop restaurant was amazing and the food was by far the best we tried drying our stay in Ibiza. The only thing that I feel was an inconvenience was the fact that there was no free water for the guest.
.
Mrs Sara Brady
Loved this hotel .It was like a boutique spa hotel . Friendly , attentive staff . Beautiful modern decor . Immaculate surroundings . The breakfast choices were amazing and Samir who looked after us around the poolside with drinks and food was very professional . We would definitely love to stay again soon .
.
Jackie and John
This hotel is stunning! Spotless all over, so many places to relax, 3 swimming pools and a jacuzzi. The roof top bar is beautiful and we were fortunate enough to see a pod of Dolphins! We stayed in the O la la room, it is very modern but i didnt find it quite small and the balcony didnt get the sun on it. (No room for a lounger either) The Breakfast choice is vast and I enjoyed the fruit selections, pastries and eggs cooked however you wanted them! Although......the cooked breakfast choices although plentiful, were always tepid. You are abit out of the way but the water taxi is right outside the hotel at 4 Euros each. Overall if you like the Ibiza music vibe all day, beautiful hotels, to be treated like royalty by staff, then this hotel is for you.
.
Alex C
Excellent quality hotel with a very professional and friendly team running it. Highlights: rooftop bar and restaurant for sunset, nice pool loungers and towels, staff.
.
kevin cruickshanks
My wife and I spent 5 nights in room 1905, everything was excellent from check in to check out, excellent call out to the restaurant staff, we had breakfast every morning and were thoroughly looked after. One item I noticed; when we were checking out on the 20th, a lady was at reception complaining that young people in the next room were playing music all night [ partying in there room] whereby her and her husband could not sleep; any anti-social behaviour has to be stopped immediately, before the hotel is ruined, we have been going back to the hotel since 2019 and do not want to see the hotel become just another party hotel.
.
Zoe Jackson
Excellent hotel , immaculate, will be looking at Marbella one next
.
A thomas
Amazing hotel and fab break. Would definitely return. Only negatives, we were a party of 2 rooms, which i had found and booked and invited other guests to join us 1. amanda Thomas(1602)and 2. Kelly thomas(5th floor) . We had a very snall room, compared to the other room in booking. They even had room for a swinging chair! Surely you should allocate same rooms to people in the same party. Our room had a kettle, 2 mugs and teaspoons, but no tea,coffee , milk and sugar. The other room had all of this. When I rang reception to ask for some, i was told my room wasnt allowed tea and coffee. I questioned then, why they would put a kettle in. She eventually said i could have tea bags, but no coffee!, as that required a coffee pod machine. The other room had normal sachets and no coffee machine. Felt very dissapointed by this. Felt rather discriminated by the more inferior room and lack of services, comoared to my sister in laws room.
.
Kevin Rudkin
Best Hotel I have ever stayed in. The room was amazing, view from the balcony was perfect and the hotel itself is so nice everywhere you go. Great friendly staff and service. Will definately be back one day.
.
Cathryn Angus
The hotel was beautiful really enjoyed the daytime music too, food was lovely, great choice for breakfast and pool side food was also delicious, bit disappointed in the service at the rooftop bar, waited a long to e for good and drinks but would definitely come back and thoroughly enjoyed being there
.
Carol Byrne
Gorgeous hotel, lovely staff, perfect holiday 10/10
.
Kirsty
Amazing hotel, would 100% recommend. I will definitely be coming back. Staff are really lovely and friendly. The food was amazing, the bar staff were great. The hotel itself was stunning, amazing views and really clean and welcoming rooms that get cleaned daily. Thank you 🙂 xxx
.
Ben smith
Absolutely amazing hotel the staff and facilities were brilliant throughout our stay I would recommend this hotel to anyone we will definitely be staying again in the future.
.
Martine Jeynes
This is our second visit to the Amare and we have just booked again for July this year Everything is perfect at the Amare Thank you
.
JT
Loved our time here. Such a stunning hotel, with thought and attention to every detail. Staff were all great, pleasant and helpful. The hotel has such a cool vibe, from art work around the site to DJs playing during the day and at night in the Rooftop Bar. Selection of pools and sitting areas. Breakfast was excellent with lots of variety, even bucks fizz. We stayed on bed and breakfast, not realising we could have booked evening meal at really good rate. Worth checking. We did book into the restaurant a few times and the food was gorgeous. Water taxi dock just outside the pool area, so very easy to get about. Cannot recommend this hotel enough. We will be back.
.
Beautiful hotel, great service, i had a lovely time
.
Fiona Davies
Arnold your server around the pool service was fantastic - lovely lad and super helpful - )
.
Michelle lafitte
Wow ! What an amazing hotel . Clean beautiful and extremely welcoming . We had breakfast included and also bought lunch a few days ( when we were up late ) the food was amazing . My daughter and my mother celebrated their birthdays on this break and they had the best time , the hotel even sent a card and a bottle of fizz to each room on their big days ! I can not find fault with the hotel at all ! If I had to be extremely picky I'd say the music they played all day was tedious ( relaxing funky jazz ) as there was a DJ every day I was expecting popular dance music . There we a few tracks played that everyone knew on the Saturday and people of all ages were up on their feet dancing by their sun beds . If there was more of that the hotel would have been completely perfect
.
Femke Nyland UK
I had a lovely stay at Amare Hotel. All of the details were excellent. I wish I was there now! The staff were great, the hotel was spotless, the spa was lovely and the service was tip-top. Looking into booking another holiday and visiting Amare Marbella next..
.
Oriane
Hôtel is super nice and very good in terms of comfort of the rooms and sunbeds. Only comments is (1) food choice was quite poor I wished there were more options for dinner and breakfast (2) the dj and music was too loud and too much in my taste I had some issue to relax (My room was just below the rooftop so music was loud even at nights and during the day it was non stops - sometimes we just need to relax.)
.
Mellisa
Fabulous hotel, staff were always very friendly and helpful, especially Kader who worked in the restaurant. Fabulous value for money, will certainly be back!
.
Lauren Whitfield-Edwards
The best hotel I've stayed in
.
Patrick Verstraeten
Very Nice hotel and kindly staff I didn't want to go home!!!! I sure come back! Beautiful decorated
.
Dean Bamforth
Stayed here for 4 nights with my wife and friends and we loved it! Will definitely be returning hopefully sooner rather than later 😎
.
Angela Rose
Absolutely perfect, a real gem of quality, sophistication and calm from the minute you walk through the door. The artwork was phenomenal and the live DJ sets every day added something special. The relaxing music wherever you went from poolside to lobby to your bedroom was right on point. Staff were very professional, courteous and friendly making us feel very welcome. And last but not least those breathtakingly beautiful views across the bay are what dreams are made of.
.
Moska Nang
Amazingggggg
.
Lloyd Mazivanhanga
This was my first time in Ibiza, I enjoyed my stay at Amare and I'm already planning my next visit
.
Kristina Wood
The perfect experience - beautiful hotel with a great overall service portfolio. Super nice staff!!!
.
Catherine Fletcher
Lovely hotel, staff very helpful. Food excellent. Very clean.
.
Debbie Webster
Had a lovely stay however was very disappointed in the bar/restaurant service areas of the hotel, hence the scores above. Upon arrival we we went to the Amare Lounge for lunch (which was not busy). It took over 30 minutes for someone to take our order. Food was delicious. When I asked for the bill, we waited and waited but it never came. I ended going to the till point to pay. Dinner that evening in Hyaca was also a disaster. Had to ask 3 times if we could order food & drink. Had to ask twice for the bill and again ended up going to till point and was left standing for sometime before anyone assisted me. When I said I wanted to pay I had to take the girl and show her where the table was we had been sitting at. Turns out there was no bill and had to go through what we had ordered in order for her to generate a bill!! Bells by the pool don't work!! Used them on several occasions and no one responded, other guests had the same issues. You had to wave at the waiters to get their attention. This was the issue for our entire stay. Pointed this out to the servers who said yea sometimes they work, sometimes they don't! No point in telling guests this is how you order when it doesn't work. Sitting at the bar in the evening you could not get waiters attention as they were too busy rushing about answering the earpieces! If you have customers at the bar then there should be a dedicated member of staff without you having to chase them to order. Saw some people leave the bar as service was non existent. Coffee machine for breakfast is awful, should have Nespresso machines as per Marbella. I did enjoy my stay but feel the hotel needs to up it's game in regards to the service. We would have spent a lot more time and more importantly for the hotel, money but the service was too bad that we went elsewhere to eat & drink. Such a shame as enjoyed the food but the process in ordering was just too painful. I did raise these concerns with reception and was told someone would get back to me but I heard nothing! I have been going to the Amare Marbella (previously Fuerte Miramar) since 2011 and have never experienced anything like the above. It is a much slicker run operation. Would like to recommend Fabio at the breakfast/pool area, he was so cheerful and helpful - an asset to the hotel.
.
Jane Jackson
Absolutely fabulous hotel, really enjoyed our stay. Although disappointed with the service and food in the rooftop restaurant on our last night. I would not recommend people eating there.
.
Tracey Blackstone
I have just returned from 4 nights at the Amare Beach Hotel in Ibiza. O would find it difficult to fault the hotel in any way! Beautiful place, the staff are super helpful & very friendly. The food and drinks are reasonably priced the surroundings are gorgeous. The ambience is amazing. I will be booking again in the near future. Must shout out again to the hardworking staff! Wonderful!!
.
Amazing week away! 5* service, all the staff were very attentive. Only downside i had was lack of storage to put belongings in the bedroom, which meant living out of suitcase. However the room was lovely!! Will 110% stay again when i next return to Ibiza.
.
Pool service very slow Food average on roof top Food poisoning after roof top meal on first day so was in bed three days Breakfast and staff exceptional! 10/10 Staff very well trained all very friendly Uniform beautiful
.
Janey-Sue
Really fabulous hotel in a really grotty area. We were so disappointed in the location but very pleased we booked half board because the meals were excellent. My sister and I stayed at the Amare Marbella and loved it, the hotel has everything, so for my 60th we booked Amare Ibiza. The hotel can only be described as luxurious, beautifully equipped and styled, a really attractive hotel. BUT, the location is dreadful; horrible boarded up and closed down businesses, Irish pubs, English breakfasts, so different from the Marbella Amare which is in a perfect location. Part of the reason one stays in a hotel and pay a premium is the location, I just don't understand why this hotel is is a run down area. Hotel staff were very good, lots of people working and all very helpful and friendly. But the reception was pretty poor on arrival and wasted our first day;: *Online check in - but no one at desk *Room key not issued till 4pm and the room corridor smelled of human waste *Finally received room key at 4:30 after two requests for a room without a smell *No instructions given about location of room or dining room *Credit card details not requested, but we'd given them to hold booking, which we had done through your central reservations. *Called back to reception to give credit card details and felt awkward as if we had avoided payment! As I have mentioned, the hotel is fabulous, but we can't return because we didn't want to leave the hotel. One more small point, the hotel music repeats itself continuously, it's too loud to avoid and got on my nerves. 'Give me the night' and 'Purple Rain' played at every meal and during the day, there was no escape from it! I mentioned it to two staff but was told it's hotel music. DJ's were super and really friendly. In summary, fabulous hotel, great service and food but encourage new businesses in area and change the hotel music more often! Thank you.
.
Melissa
The hotel is beautiful. All areas were exceptionally clean and the staff were all welcoming and super helpful. There was quite a bit of rain on our last day, but the hotel has plenty of sheltered chill out areas and we didn't struggle to find somewhere pleasant to spend our time whilst we waited for the sun to come out. Our room was a good size and the beds are the most comfortable beds I have ever slept in, better than my own one at home! The sunbeds were also super comfortable, again, the best I've ever had the pleasure of lounging on. There was a great selection of food at breakfast and the Cava / Mimosa's were a nice touch when we were feeling a little worse for wear after a big night out! We only had a few bar snacks, but what we did have (sweet potato fries; chips & the vegan sushi) was wonderfully cooked and tasted delicious - the sushi especially so. I had two massages at the Spa with Flo. As a regular Spa goer, I am pleased to say that Flo was exceptionally good at her craft and I would highly recommend treating yourself to a treatment. The only thing I would note is the lack of privacy in the room. The shower has clear glass and the toilet door is only frosted glass, so you are clearly visible to whoever is in the room, if they don't stay by the balcony doors. It was fine for my friend and I, but we did both wonder how new couples would feel about it when you don't have a deeper level of familiarity. That's literally the only negative I could think of and it's not that deep and certainly didn't affect my enjoyment of the room.
.
Anoushka
Everything was very well cared for, very friendly staff, well maintained pool, loungers/sofas, pleasant room, breakfast excellent. The Roof Top is a nice extra; swimming pool, bar, restaurant and you have a very nice view over the town and in the evening a beautiful sunset. Compliments to Francesco who made us feel very welcome.
.
Bruna Ferreira
This hotel is by far one of the best 4 start hotels I've ever been. Starting with the amazing pool area, decoration, it an art experience mixed with the best of Ibiza. If you have a chance, please stay at the La dolce Vita Suite, it's a surreal experience and the view is absolutely stunning. Thank you, it was my best birthday ever
.
Luke
Very beautiful hotel
.
Jonny
We had an absolutely fantastic 4 days at Amare Ibiza. The staff were all so friendly, the rooms are so nice & the shower is wonderful. The pool area is super clean and so much space it doesn't feel crowded at all. The gym is also brilliant! We loved the buffet too 🙂
.
Pascale
Fabulous Thanks!!!
.
Tara White
Outstanding hotel. Great food. Decent location. Would definitely recommend. A couple of small points that I'd like to be considered. I travelled alone and found that unlike most hotels I've stayed at, the layout of the seating areas and bar, wasn't conducive to meeting people easily, as the chairs and seating is designed for couples mainly. I was aware of The One lounge, but this was not available to me within my package. It would be nice if singles could be acknowledged (especially lone ladies) as being included in the action, somehow. It can be very disconcerting / difficult to find your feet when you arrive as a single traveller. I score the restaurant service 4/5 because I only found out about the specials on my last night of 7, which was a real shame. I know that there is a card on the tables, but without my glasses, it was too small for me to see 🙂 The food I chose on the last night was outstanding and I feel I missed out on this side of things, because it wasn't explained by any of the other staff on the previous 6 nights. The buffet was excellent though. I scored reception 4/5 because I found that the level of service provided by some members of staff was not matched by others. Most were kind and helpful, a couple were a little dismissive. When I arrived on the evening on Wed 20th Oct, at approx 9.30pm I was informed that I was too late to eat in the buffet and that the rooftop restaurant was pre-booking only. Even though I explained that I was very hungry, I was not offered information about places to eat nearby or even that I could a sandwich from the Grab and Go area. Despite my niggles, I did have a lovely time and the hotel is top notch. Thank you x
.
Mary Lam-Hang
One of the best hotels I have been to! Fabulous place to stay - arty reception, friendly staff, clean and spacious room, with balcony. Free yoga on rooftop. Amazing food and drinks. Definitely coming back!
.
Terry M
Great Staff , Lovely Hotel , really enjoyable experience and will return
.
Lisa Farrell
Brilliant hotel, probably more suited to couples (due to the shower being in the bedroom) staff on reception really helpful and the staff handing out the beach towels. View from the beach bar amazing. Spa really nice and staff lovely. Food was really good as well especially the breakfast. Can't wait to go back…
.
Andy Adams
Great Hotel, Great location - only fault is the sunbed towel process, you can be waiting 20 mins for a towel, needs scrapping and new process introducing
.
Alberts Petrus - Edel Chryslene
I would like to thank in particular all the staff of the hotel, with a special mention for the restaurant and bar. Even in difficult times they do their job with professionalism and kindness. Special thanks to Lourdes and Bea, but also to all the others whose names I did not have time to ask. Everything was perfect, even if the first day the wait was very long for a sandwich and chicken wings. The reception is at the top, the hotel and the room always clean, the meals delicious, a kindness in the eyes of everyone. Thank you for the people who take care of the pool and the beach. I didn't like the music all day in the pool, but maybe I'm too old for that 😉 I would have liked to stay longer to get to know everyone better. Bravo to you, don't change. I wish you a good holiday, and maybe see you soon. Petrus and Chryslene Alberts-Edel
.
Amber
Absolutely lovely hotel. It was like a dream being there. Thank you
.
Desiree Rogier
We had a wonderful time at the hotel. The swimmingpool and the beach were perfect. Nice music (especially dj Wolo with the sound of the '70/'80s) and the saxophoneplayer by the pool. Food and drinks were excellent. The system to order drinks was not working properly so there was a long waiting time by the pool and in the restaurant. This caused some irritation. It would be better to just send someone that walks around to take orders. The decoration of the hotel was really nice. Overall we had a very good stay and we will be back in the future.
.
Steven mole
Terrible, worst place we have stayed, totally ignored,breakfast cold every day,lifts allways out of order and we were on the 5th floor,really unorganised, staff far to young and inexperienced,stay away from this hotel, faulty towers springs to mind,never again!too much more to mention.
.
Kaye Sherwood
Having stayed at the Amare hotel in Marbella we thought we would try the Amare Ibiza . It didn't let us down 😊 The Dolca Vita suites are second to none - book one if you can😎 Although the weather wasn't great - 2 out of 4 we had rain - we had a great time . A special mention to Eli who was just the most helpful and friendliest member of staff you could ever want to have 🥰 My only comment would be that there are some minor inconsistencies with the ' waiting staff ' . If you are on the beach it seems to be a little 'hit and miss'! As it does in the restaurant - bit we put this down to being the last week of the season . That said , the staff that are still giving their all are amazing and make up for the ones that may be a little tired . Will definitely be back next year . Have stayed at the Amare Marbella and loved that one too but will def be back to Amare Ibiza in the spring 🏖 Kaye & Angela x
.
Renate Jonker
Very nicely decorated, good vibes, clean, nice smell, friendly staff, beautifully situated, perfect views, very good swimmingpool beds, modern fresh rooms, good breakfast buffet with many options and good quality. Breakfast a bit too crowded, DJ music at pool sometimes too loud, pools a little too cold.
.
Chantelle
The most amazing week at this hotel, everything about the hotel was great! The staff were lovely, the breakfast was really nice, the pools and beach are extremely clean all the time. Nothing was to much to ask from any staff member. They clean the sun beds and place your towels down for you before you sit down, the bar service was quick and easy with the buzzer service they provide. They had music round the pool and the beach which was lovely. Our room was cleaned everyday with fresh towels and the bed made. I would recommend to anyone visiting Ibiza that is looking for an adults only hotel to stay here. Thank you for such a lovely week!
.
Mandy P
From the moment we arrived, we were blown away. The hotel decor is just beautiful and everything looks new, so clean and so much space. The front desk staff at check in were so lovely from the moment we arrived, and the staff throughout were so welcoming and helpful. As we were at the end of the season, there were plenty of beds around the pool everyday, and the vibe and atmosphere was just so chilled and relaxed. Bed service for cocktails, was the icing on the cake! Even a small private beach area for the beach lovers out there. We upgraded to a full sea view room and wasn't disappointed. The room was stunning! Full Sea view and the other side of the bay was Cafe Del Mar. Breakfast buffet was amazing, so, so much choice and in an amazing setting too. Didn't want to leave......the only gripe I have, if I HAD to find one was that the room service food could definitely be improved for the cost. The noodles one evening were not nice at all.....but we just opted for dinner out so problem solved! The rooftop bar and pool were equally amazing with a beautiful view of the sunset. We'll be back next year for sure! HIGHLY RECOMMEND..and THANK YOU to all the hard working staff that make it all so relaxing!!
.
Keith
Our first room was pleasant but it's location next to the general garbage bins and access for kitchen supplies meant it was VERY noisy from 4am as service vehicles arrived and reversed into location. We were offered an alternative smaller room which was quieter, but otherwise not as pleasant as the initial room. Rooftop drinks service was a farce. Completely inadequate service and no way of telling if the waiter service bell had actually been activated. Breakfast buffet was fantastic, lots of friendly helpful staff and a great choice of food.
.
Pina Cavallo
Amazing hotel with great service. We had the best time & looking forward to going back. Beautiful surroundings, loved all the artwork. It was a calm haven & we enjoyed every moment we were in the hotel. The staff were very helpful & service was top notch.
.
Ela Kucuksahin
Thoroughly enjoyed my stay at Amare. The rooms were beautifully decorated and always kept clean, we had a stunning view of the pool and sea where you can watch the sun rise. There was an abundance of choices for the buffet breakfast, which was always cooked to the best standard.
.
Maylee
Very good stay, the hotel is beautiful even more beautiful than pictures. The hotel offers quality services. I recommend
.
King K
I had a pleasurable and memorable time Amare Beach Hotel. I felt extremely appreciated when the hotel gave me a surprised free bottle of wine for my birthday. I recommend this hotel to anyone.
.
Claire Bell
The Amare Beach hotel is the nicest hotel I've stayed in . Absolutely fallen in love with the hotel beautiful location great room with a beautiful sea view . Amazing sunsets from the rooftop terrace. The hotel had so many staff on all so friendly & helpful. Loved the DJ sets that came on everyday at 2pm . Food and service was brilliant. We thought the sun beds were so comfortable and loved the towel token system. Great beach access too . We had a couples spa treatment which was amazing and good value . Thank you for a wonderful stay we look forward to staying next year .
.
Stephen Simpson
Everything about my stay was first class I'd definitely book the Amare every time I go to Ibiza
.
Tru
It was amazing! The hotel is beautiful, the staff is friendly. The food is delicious. The rooftopbar was really amazing. We had an amazing time here. We would definitely come back to this hotel! Thank you so much, for making our vacation the best!
.
Jürgen Covemaeker
Very nice design hotel. The overall service-level can be better.
.
Neil Walters
Amazing hotel, would highly recommend.
.
Tikeira
This hotel exceeded my expecatations. I was beyond happy with my room and my stay. The food was wonderful.
.
Leonard Wood
Your towel card system is ridiculous, why should anyone in a 5 star hotel have to que up to get a towel and also when ordering food by the pool, why does it always come without any paper towels to clean your hands especially when you order chicken wings! Come on, you can do better than that…
.
Ju
Great hotel, with friendly and helpful staff. Good value for money. Super location for beach and sunsets.
.
Ruth Allen
We stayed here when the hotel first opened and the only reason we didn't come last year is because the hotel shut early. We really enjoyed being back and have already booked for next year!
.
Fernando. Madrid
Destacar la amabilidad, eficiencia y excelente disposición de todos los empleados. Las sugerencias en las cenas del cocinero Alex, muy valoradas. Las instalaciones, todos los servicios, limpieza, ubicación, todo es de una gran calidad. Sin duda volveré, y lo recomendare.
.
Terence
Great hotel will be coming back next year in May
.
Fiona McGimpsey
I really enjoyed my stay here, the view is stunning and the hotel is very clean with a beautiful pool area and the rooftop pool has an amazing view of the bay. The only thing I would comment on is service could be slightly slow especially around the pool however for the amount of staff they done their best, as it was very busy for the time of year. One of the ladies on reception went above and beyond calling around hairdressers for us to get a blow dry. I would definitely recommend this hotel, the decor is also very modern and I look forward to returning.
.
Daniel Devlin
10/10 absolutely stunning hotel
.
Angela Jones
I would highly recommend this hotel.. it has spared no expense at supplying the customer to have a great stay here. Staff and DJs were excellent from the pool Towel desk through to the DJ sets. Yoga on the rooftop was excellent. I shall struggle to find fault at this Hotel and I have travelled to many places all around the world Stunning right through and just to add to the flavour of the decor a great Art exhibition Highly Highly recommend this Hotel
.
Charlotte Leuchter
Very good hotel! Friendly service & good food. Amazing breakfast! I definitely want to go back!
.
Anna
Fabulous hotel, perfect for our weekend break. Staff were so friendly and helpful. Everything felt very clean and well maintained. Food was great and the cocktails were delicious. We can't wait to book a return visit.
.
Yvonne mcbueny
I was very disappointed in your staff, they were very rude and unhelpful all the time, the quality of the food was terrible I found hairs in my found which make me not go back the whole time I was there and I paid for half Board.
.
Lisa Scaife
The hotel is beautiful and spotless. Breakfast was fantastic, so much to chose from. The friendliness of staff was poor, and at times very rude. However, a few staff were friendly. Personally I think this should be improved on, it dampens the whole experience for such a lovely hotel. I would stay here again, hopefully next time that would have changed.
.
Mairead, Luxembourg
Beautiful hotel enhanced by interesting contemporary art exhibitions. Very comfortable room with a furnished balcony and wonderful views of the bay. Aromatherapy shower and high quality toiletries. Good breakfast and delicious, varied evening meals in the spacious, tastefully appointed restaurant. Friendly and efficient staff. Very nice quiet beach, also attractive pool areas for those guests who like to listen to music as they sunbathe. Many well furnished lounge and bar areas. Warm, friendly and efficient staff. Recommended.
.
Iggy Eignor
wonderful hotel one of the best I stayed in, so comfortable, so clean and wonderful food. Only issue I had is the service for the drink by the pool and in the rooftop terrace was simply too slow at times, if the system was the people who took your order got the drink instead of it getting sent to a third party the system may work better. That would be the only issue I would have, i would highly recommend this hotel to anyone visiting the beautiful ibiza.
.
As we had an issue with our room during the night (key card switch), this was handled very professionally by the Amare staff ! We were compensated and the attention given to the issue made us feel understood and appreciated. Well done !
.
Martijn
Overall a good stay, The bar staff was terrible we went to another place to drink because they wouldn't serve us drinks. (And believe me we tried everything) we are all owners of restaurants and know about service. The bar was stil open but we think because it's the end of the season they wanted to close early. also the service at the poolbar was not that good we ordered coffee but had to wait for 45 minutes and finaly we had to go to the bar ourselves. Also during the whole stay they never came when we pressed the button for service.
.
Tom Potter
Hotel was spectacular. The only downside was the double bed was 2 singles pushed together and that was annoying for my partner and I as the bed moved apart a lot at night.
.
Akkie
The hotel and the services are great. Same as in Amare Marbella. Although there was one annoying thing……we slept in room 2228 (sea view) every morning between 6:00-7:00 o'clock the supply truck for the hotel came and woke us up. It's almost impossible not to wake up when the truck drives backwards and beeps. Advise to the supply during day hours.
.
Paul
Great set up. Service was very good. Candela at the pool bar was exceptional!
.
ZESTY LIFESTYLE
Amare hotel ..A refreshingly warm atmosphere & service from decor to cuisine to entertainment to cocktails & must importantly amazing staff with warm friendly service smiling to keep guest happy .. I would love to say a warm thank you for rejuvenating my soul with music & a healthy delicious cuisine ... I cannot wait to come back again and enjoyed the simplicity of hotel yet chic with art beauty & natural elements which was so key for my well being . Lastly the jet ski tour was a breathtaking experience & a must do activity if you love adventures .
.
Kevin McDiarmid (K69)
An excellent break and the best hotel by far I've stayed at. Everything was super smooth and easy. The staff always greeted you with a smile and made conversation. The first of many stays for sure.
.
Human
Nice hotel, friendly staff but incredibly slow service with orders constantly being taken to wrong tables. You end up standing waiting to be sat with staff walking past you or if you sit down no one checks you and walks past even if if you're the only people sat there. The electronic buzzers don't seem to work, even if you only press them once. You seem massively understaffed.
.
Marcin
The hotel, very nice and clean, loved it, had a nice time. However, I think the food should be on a better level.
.
Nicole
We would highly recommend this hotel it's beautiful, the location is perfect and staff really helpful. We had half board and couldn't fault the food especially dinner with so much choice as well as fish and shellfish cooked in front of you and fresh pasta was delicious. The pools are amazing including the rooftop pool and loungers and pool service was excellent! Highly recommend!
.
Scott Drane
Had a great week at this hotel. Stayed in the Dolce Vita suite which was amazing. Staff are attentive and hard working and the Pool area has a great vibe throughout the day. The Rooftop Pool is a bit more chilled with a great infinity pool. Eat in restaurant twice and the food was great value. Will be coming back next year no doubt.
.
Connor Whelan
We were thoroughly pleased with the hotel, the staff were very helpful and a pleasure to be around. The pool areas and rooftop were where we spent most of our time and it was the perfect way to spend a week after a tough couple of years through the pandemic and working 24/7. Perfect place to switch off and recharge. A*** From Connor Whelan & Annabelle Evans.
.
Vasco
Splendid hotel, hearty breakfast and rich dinner included in the room package. Three swimming pools, one of which has an exceptional view with an adjacent bar. Good table service, sun loungers by the pool or on the beach. Nice, modern, clean room with sea view at 10 meters. Very comfortable and huge double bed. Friendly and smiling staff. Every evening a different DJ set on the terrace. Recommended for couples. Very pay close attention to Covid regulations.
.
Amanda Holderness
Arrived queue lack of attention was terrible! No fast check in and too many long queues! Admin dreadful!! Feel very cross about this as I took time to do priority check in. No care about our arrival and staff who didn't know the system of care. Dirty plates at breakfast on tables and some rude stressed staff! You are too busy at 95% capacity to deal with us and you did not make our experience very good. This is a great shame as I am a top reviewer and will not share my feedback. We are now at hard rock hotel and the experience is so much better. Your hotel is excellent but you need to sort out these issues. Very disappointed.
.
Mario Neubeck
El servicio fue excelente.
.
Jayne
Hotel is clean and the food is good, however, the button service for drinks and food round the large pool area is chaotic, it took over an hour to get a drink! . to the breakfast room, because of covid, I was uneasy with the amount of people running round It was especially crowded around the cooking station, that much so, I didn't bother with the eggs, not monitored at all, the other thing I did not like was all the graffiti on show literally just outside the door, not a great area, overall nice hotel but would not return
.
Eniola
The stay was lovely and hotel was beautiful. Couldn't ask for more
.
Margaret McSherry
Lovely hotel and second time visit did not disappoint. Staff went out of their way to be helpful and felt that they were doing their best in difficult COVID 19 times.
.
Really nice hotel , nice environment . We had dinner one time in the rooftop and the food was over price of what I had . Plus the flavor was not really good .
.
Jim Brannon
Me and my future wife went as a mini honeymoon before we get married. The hotel was amazing and one of the best we have stayed in thus far. We will be returning next year as part of our long extended honeymoon and can't wait to visit the hotel and island again.
.
Fiona from Surrey
My first stay at the hotel and VERY impressed, it certainly won't be my last ! Cleanliness, friendly staff , quality food and wine, great location. No faults found. Thank you to all your staff for making our stay so memorable
.
Lianne
The majority of the staff are inefficient; rude and need a lot of training on customer relations. The obsession with masks needs to stop and those on 'day passes' ruin the calm, mood. Sometimes the music was way too loud and the canteen can sometimes feel like a canteen.
.
Anca
The hotel and its services exceeded my expectations. The facilities, the food and the atmosphere in general were amazing. The staff was incredibly friendly and always helpful. The pool area and the daytime entertainment, together with the rooftop bar were the highlights. Great choice for a relaxing luxury holiday.
.
Nick Patey
Great hotel, lovely 'vibe', recommend for a week of relaxation
.
anthony busson
Stayed in most of the best. Hotels on the island over last 15 years ,have to say that the Amare is up there with the service and amenities ,pools were great ,roof top was amazing ,wellness was fantastic ,only complaint was the menu on the roof top in the evening ,bit of a let down ,otherwise a fantastic hotel
.
Jeroen van den Oever
Thank you for the great stay in your Amarè Beach Hotel Ibiza. And a special thank you to Nico for his help during our stay.
.
Florina Bieri
Beim Abendessen immer das gleiche. Bei der Zimmerreinigung nur 2 mal Aromatherapiekapseln erhalten. Service zu unorganisiert - viel durcheinander.
.
Marc Lodefier
Once again my holidays and my stay at your hotel were AMAZING ! Unfortunately I had a little disagreement at the rooftopbar about a payment of an order that a German couple did (at my table but they left earlier) but luckily the kind person at the reception canceled that payment. Thanks for that ! I would also like to apologize for the THUMB DOWN to the lovely (blue eyed) girl that takes the orders at the rooftopbar. SORRY ! I will be back (probably next year) ! Kind Regards, Marc
.
Johan Benaets
wonderful accommodation where everything is available to enjoy a relaxing or more active holiday breakfast, lunch or dinner: always fresh and surprisingly delicious helpful staff and clean nice rooms We will recommend Amare to everyone no negative points
.
Hotel was beautiful, stayed on the beach 2 days, service was very slow! However, by pool not bad. Beds were very comfy love that room had balcony but far hotel is far from everything
.
Hamad AAM
The ambience, the facilities, the vibes were all amazing. Special thank you and appreciation to Mr. Victor - hotel manager who turned a disappointing first impression with a broken mirror when checking in the room into an unforgettable and memorable experience for us which made us think differently of the hotel. Very warm, pleasant and a professional when dealing with people and completely seems genuine and loves what he does. Thank you and keep it up.
.
Nathan Hill
SERVICE WAS TERRIBLE!! On arrival we were pleasantly surprised with the appearance and cleanliness of the hotel and rooms but this soon changed when arriving around the pool area and trying to get service. The Bar staff were rude and I have never known service so slow in all of my life! When asking one member of staff, they would refuse to serve and pass us to another member of staff who then also would make hard work of taking an order. When we finally made an order it took over 30 minutes for our drinks to arrive. This was not a one off, this repeated itself over the whole holiday, at both bars and in the restaurant for breakfast, dinner and evening meal. The service and and staff really put a downer on our holiday, and although the hotels fantastic condition, we would not re visit.
.
Rich
Probably the best hotel I've stayed in the 20 years i've been coming to ibiza. Will definitely be coming again soon. They have dealt with this covid nonsense very well, extending my voucher for 2 years, testing at the hotel was really convenient. Staff really friendly. This place is going to be amazing when we don't have to wear silly masks
.
Ben
Lovely hotel, facilities and pool area are very impressive and kept immaculately clean, but let down by the service. Waiting 30 minutes for a drink and up to an hour for food by the pool. Very frustrating. Would be such an easy fix for the hotel to get more staff/ spend more time training them/
.
Fraser Felton
Best hotel- Carla and Jose the mangers are simply fantastic! They are always on hand to support you as and when required!! I would recommend this hotel to all of my friends and family!! Such a great place with amazing staff!!
.
Fraser Craig
Hotel and views 10/10 Service was the worst I've ever experienced.I had better service at a travel lodge.I left the hotel early due to the service being so bad. Not the staff fault I don't think maybe lack of staff/communication/training
.
Neviana Marinova
An incredible stay in Amare Ibiza. Staff were super friendly. you see that those people work super hard and yet they continue to welcome you with a smile. I myself stayed in Amare for six weeks, it felt like coming home. Special Thanks to Katia, Jennifer, Flor, Diego, Paula(rooftop) Victor, Stan, Carmen, Alejandra, Tarek, Camelo, Montse, Victor(manager) and Elena. special thanks to these people for making our stay so excellent and pleasant. you guys are incredible, top team and super hard workers. an example for many other hotels what a teamwork. You guys impressed us!!!
.
Phil
The service doesn't match the hotel. The concept of the hotel is very good with the daily guest DJ sets. The rooftop bar was very impressive however the bar service around the pool and rooftop area was very very poor. We where waiting over 1 hour to get served around the pool area with the buzzer service. On our last day we visited the beach bar for lunch only to be told that there was no food service due to lack of staff. I fully understand what we are all going through with COVID 19. However we paid a lot of money to get the service we paid for and sadly the 5 star Amare hotel fell very short of Achieving this. To top it all we had money stolen out of our room on the first day. The hotels response was to give me an envelope with the money that was stolen with no explanation nor apology. I could go on.
.
Jkate
Lovely hotel with great facilities and good food. The staff are friendly but there's not enough of them, queues for towels, breakfast, bar drinks so frustrating we would have spent so much more if we had quicker service.
.
Stephanie Aston
Service was so poor throughout the hotel. Had to complain on 4 occasions about inadequate service and rude staff. Extremely disappointed as this was my first holiday in 2 years.
.
Sergio Keller
Super Hotel. Ein Mangel hätte ich zu erwähnen. Jeden Morgen bis ca 14:00 wurde nur Brasil Musik am Pool gespielt. 1 Woche durchgehend. Passte gar nicht. Sonst aber ein tolles Hotel.
.
Franciscus Backx
The whole vacationperiode was perfect! We are glad we spent our holiday at Amare Beach Hotel. And we'll be back!
.
Samantha
I was pretty disappointed with my stay, the reception staff where anxious the whole time, which made me feel uncomfortable. The service in the restaurant on the roof top from 8-10 was always bad, and the chef's upstairs are below par compared to the chefs in the Lounge. In Hycanda my wagu steak was over cook, chips were cold, my started came with 50% of the dish missing at the same time as my main and it took me 40 minutes to get a drink. Awful experience for someone dining on my own! Most of the time I get ignored. At the point of checking out, which took 45 minutes, a junior member of staff advised they do not book taxi's for guests which to my horror trying to get my flight home was not something I was used to hearing. After finally getting through check out, I explained my plight to a senior member of the team who helped me get a taxi. I'm just disappointed as the hotel has the potential to be great, but I do not feel I got value for money. The staff in your SPA, where great, and I don't know who from the management team thought it was a good idea to offer COVID tests from the spa, but it was completely the wrong place to offer this service as the two are in conflict from an experience perspective. The gym, had no water service, which is ridiculous. Overall I'm disappointed and hope your staff receive better training, that you get more staff around the pool areas as there was always a que at the towel station and the call button system is useless as the team ignore it and just attend to people flagging them down.
.
K Davies
Pool bar service for food and drinks was very poor, it took over 1 hour to take an order via the buzzer system. This was also the same in the rooftop bar. The hotel needs more staff in both areas. Lovely hotel but unsure I would return if the staffing issues do not get resolved.
.
Jose Renaldo
Never any beds at pool. Drink service very slow. Rooms are very small. Nice place no sunset from our room. Balcony very small. Couldn't get taxi. Had to get changed in disabled toilet before leaving for airport. Drinks and food very expensive
.
Molly
The Hotel was amazing, beautiful and very clean, I would 100% return. The only think that let it down was the extremely slow service, particularly around the pool where we would often wait 40-60 mins for someone to take our order after buzzing. Other than that it was great, food was lovely, massive choice at breakfast, rooms were cleaned pretty well (abit of sand etc left in shower), the views were lovely if you had a room looking out over the sea. The staff were all very friendly I just assume they were understaffed so could not take orders quick enough, as I say that is the only thing letting the hotel down. Loved my stay!
.
Susan
Beautiful hotel, fantastic balcony overlooking the sea and great breakfast!
.
Lisa Ogden
Fantastic, beautiful hotel with lovely, friendly welcoming staff. Bar service was slow and queuing for breakfast slow - but other than that everything was absolutely perfect - would definitely recommend this hotel.
.
James Dean
We've been over 5 times now and also put all our 90s popstars into the hotel. Usually the service is fantastic but this time it was horrendous. I shall be getting quotes from Neighbouring hotels from now on.
.
Kathy Tritton
We have previously visited the Amare Ibiza and although we understand the Covid outbreak will have had an impact we were sorely disappointed with the customer service received ! Reception were unhelpful and rarely understood anything we ever asked, the pool bar service was virtually non existent with waits often nearing an hour from the button pressing to receiving your drink / food ! Breakfast was extremely stressful with again flustered staff not understanding simple requests and felt really hard work to even get a hot cup of tea ! Obviously the hotel and pool are of an amazing standard but without doubt the strain of COVID had taken its toll ! We had a completely different experience in 2019 which is why we rushed back as soon as Ibiza became available to us ! I hope as time passes the staff can iron out some of the issues as we know we were far from alone in our thoughts ! Otherwise a lovely few days in the sun
.
Erik Swart
Great hotel with fantastic service and extremely friendly personnel.
.
Clo
Buffets pdj et soir exceptionnels en qualité Cadre chic relaxant et moderne avec immenses transats ronds Dj avec musique electro-chill toute la journée Piscine en rooftop idéale pour l'apéritif le soir L'un de nos meilleurs hôtels !
.
Vanessa
Wir haben uns 10 Tage lang rundum wohl gefühlt! Das Hotel ist wunderschön mit Liebe fürs Detail. Das gesamte Personal war zu jederzeit sehr bemüht und freundlich. Einziger minuspunkt: 15€ fürs parken ist definitiv zu viel. Wir kommen definitiv wieder!
.
Zwischenbrugger G + R
Management im Esssaal zu jung, keine Erfahrung. Dauer Entschuldigungen!! (Bestellungen für Essen/Wein klappte mehrfach nicht) Vor Esssaal: Administration zu kompliziert, zu lange Wartezeiten.Kontrolle o.k., aber Platzzuweisung durch gleiche Person dauert. Grill Abendessen: nur 1 Grillmeister zu wenig. Badezimmer zu spartanisch mit Utensilien . 1 Seife für 2 Personen in 10 Tagen, keine Morgenmäntel, Duschgelhalterungen defekt etc.) Strandbar: unfreundlicher Service, Wartezeit bis 20 Minuten. Trotz Berücksichtigung von Covid 19, Preis-Leistung nicht optimal
.
Antonio Sabido Septiem
Pasamos unos dias geniales en el hotel Todos los trabajadores nos atendieron atendieron estupendamente con especial atencion de Nicolas y Carmelo . gracias por todo
.
Patricia
We loved the hotel. Very friendly staff, very good breakfast. Costumer care is outstanding. Only thing we didn't like is the really loud music at the pool when the DJ starts playing. You can't have a conversation anymore. It's not so bad when it's nice relaxing lounge music but when is not relaxing it's very annoying. We left the pool one day.
.
James
WiFi was very slow. The booking process on the website was extremely difficult to use as I wasn't able to use any American credit cards to purchase. It took me days to pay and multiple calls with customer support and my credit card company - it was the booking system, not my credit card. Drinks and food were slightly too expensive and the parking situation was inconvenient. The hotel is very nice and smelled great. I asked for a complimentary upgrade and didn't get any. On check in, I had to remind the staff at the front about my complimentary welcome drink for using the online check in system - it seems that online check in saved no time during check in at all.
.
John Hooks
Had 3 days vacation in Amare Ibiza hotel, from checking in to checking out nothing was any trouble to the Amare team. Would recommend this hotel to anyone and will definitely stay again. First class in evryway.
.
Francesco azzaro
Room small and park of car very small... for this reason my car take away and I pay 130€ this is not good service for this never I will come back
.
Karen
Stunning new hotel in a great location. Fabulous rooms, great swimming pools and loungers, great beach club with ok beach. Fantastic roof top terrace with a small pool, lots of loungers and delicious food. Fantastic electric bikes to rent which I highly recommend. The staff by the pool are still finding their feet and the food on the beach menu although descriptively sounds good, needed improvement. The restaurant on the roof terrace was stunning and the food mostly fantastic but they need to give more side vegetables and salads.
.
Don Patterson
I have stayed at Fuerte group hotels before and have always found them well run and value for money. I like the fact that it is still a family business after 60 years who cares for their customers and have a sense of history.
.
Keith Little
Hotel was beautiful but what really sets the experience apart is how amazing the staff is! They make you feel like part of their family!!
.
We stayed last year and we LOVED this hotel and the service but this year it was totally different. I understand covid has been tough for every industry but the service at the pool and restaurant was below standard for a 4*. It took over one hour sometimes to get someone to serve you at the pool and when they did things were delivered wrong or completely different order and then we were charged for things we didn't receive. One day we ordered pizza and it took over one hour and then 2 pizzas came and we only ordered 1. At the restaurant we waited quite some time for drinks, we ordered a bottle of rose 3 times and ended up getting it 20 mins later. Overall stay was amazing but the service was pretty bad and this is something that must improve.
.
Stephanie prentice
We loved the hotel, our room was lovely and so clean. The staff were wonderful and the amazing choice at breakfast started our days well. We woke up early each day for the advertised yoga and circuits class on the beach area but it didn't happen so we were disappointed about that. Overall a good stay and if you were looking for a good hotel this is the one. If I was looking for a hotel with extras like fitness etc I would probably advise another hotel. Thanks for a good stay.
.
Mikayla Snodgrass
Loved! Will definitely be the place we stay on our next trip to Ibiza!
.
Susan
Absolutely incredible hotel - we enjoyed every second of it and would love to come back again.
.
Kenneth W Gammie
Just arrived back from a 7 days break at the Amare Ibiza. A beautiful decorated hotel with stunning designed and clean rooms. Pool has beautiful furniture with waiter service. Soothing music plays all day as well as entertainers during certain timings who are of a good standard. Breakfast was excellent with a great choice for all diets. Restaurants serve a good choice of foods of good quality a bit expensive but if you want quality you don't care! Staff are so helpful and will do anything to enhance your experience. Adult only makes the experience so much more where you can relax and enjoy everything around you. One of the best hotels I've ever stayed in and i can assure you I've stayed in a lot! Will definitely visit again. Thanks to all
.
Emma Davies
Amazing time staff so friendly, hotel and rooms are fabulous, food and service perfect. Everything about the stay was perfect will definitely be going back 😁
.
Louise & Kimberley Hawkins
The hotel and staff as a whole were absolutely magnificent (kind and helpful). The art-work placed around the hotel were unique and interesting. The breakfasts and evening meals (buffet style) didn't disappoint, the variety of foods offered and they catered for people with allergies as well. Nothing was too much trouble for any of the staff, who all had smiles on their faces and got to know everyone. My Daughter and I would definitely come back again, together with other family and friends. The only downside was the entertainment in the evenings. One of the DJ's on the roof-top was exceptionally good, and other guest artists were okay, but the live entertainment stopped by 10.45 every night and the roof-top bar closed at mid-night. The rooms were great apart from when one of us wanted a shower, the other one had to go on the balcony or make sure the clothes in the wardrobe covered the glass to the shower, not to show anything off. Thank you to all the staff who made our stay relaxing and enjoyable!
.
Excellent hotel, great facilities, clean, spacious, lovely food with very friendly staff. Special thanks to our lovely porter Danny and all the pool side waiting staff. We would definitely stay again. Our only criticism was that the service was often slow in both the reception, and restaurants for dinner. Once spoken to, the staff were lovely and the food was very nice, but we had to wait a very long time. On the occasion we went to eat at the roof top restaurant no one served us. We had to get up and go find someone to ask for drinks and provide us menus. Other than that it is a wonderful place and we'd recommend to all.
.
Hannah
Had a very pleasant stay at this hotel for my birthday and would want to stay again. The only thing that could do with an improvement is allergens in the restaurant. As there is no information with allergens on any of the dishes. I suffer with a nut allergy and got told by restaurant staff there was no nuts in any of the dishes. However I did see nuts on display during breakfast. Which could've quite easily been contaminated with other dishes.
.
Tash
We had an absolute blast at the Amare Ibiza. It was the perfect setting for our group of friends to celebrate birthdays and good health. The pool areas were large with really comfortable loungers and the music vibe throughout the day was perfect - we loved the acoustic guitar and singer. The roof terrace gives a stunning sunset view and the food in the buffet breakfast and dinner was generous and delicious. We'd love to come again and explore more of the island but it was ideal for a weekend getaway.
.
Victoria kiernan
Fabulous hotel with three beautiful pools. Views from the hotel are amazing along with a beautiful beach front . There is a boat that you can get that brings you across to San Antonio which is very handy. The only thing that could be improved is the air conditioning in the hotel. I felt we couldn't control it ourselves and I found my room very hot. We did ask about this at least twice and it never improved.
.
Marek L
Just spent 4 nights here on half board terms and had a great time. We were made very welcome the moment we arrived. Our pool/sea view room.was modern, comfortable and spotlessly clean. Breakfast and dinner are buffet style and the choice is staggering. The pool areas are really smart , superb ultra comfy sunbeds and waiter service for drinks etc... just press your buzzer. The rooftop bar and restaurant are nice with elevated views and of course the famous San Antonio sunset. There is also a water taxi just outside the hotel grounds where you can be in San Antonio centre in a few minutes. (€3.00 one way) So overall a great few days in a modern, chic hotel with superb staff, thanks to you all 👏👏👏 No hesitation in recommending the Amare.
.
Tom Carey
My wife and I stayed at the Marbella numerous times. We were unsold Ibiza. Though the hotel itself is very good we were extremely disappointed with the hotel surroundings and location. We spent an additional €500 over 7 days on Taxis in to Ibiza Town and other pleasant locations. The frustration over lack of Taxis at the hotel 3 months after you opened was very frustrating and inconvenient to all guests. I cannot understand how this issue was not addressed shortly after you opened. The service at Hayaka was very poor. It was far too casual with both interest in the food or explanations. My wife and I felt very cheated and taken advantage of due to our regular stays at Marbella. For this reason we will not rebook Marbella again and will choose a competitor hotel instead. We spoke with numerous guests who feel the same. I think upselling Ibiza to Marbella guests is misleading and taking advantage . Sincerely, Tom & Lorraine Carey
.
George
Great Hotel - 100% recommend
.
Colette Edwards
So much about this hotel was lovely. Great staff, excellent outdoor space. All common parts were gorgeous. However the room was far too small, and had completely inadequate wardrobe space. It was such a shame, we moved rooms when we arrived the first room was even smaller. In all other respects this was a fantastic hotel but the room spoiled it for us, and the poor design of the wardrobe space, and sink area. A proper wardrobe with drawers, shelves for products and somewhere to put your cases is a minimum requirement. Such a shame.
.
Emma Chadwick
Beautiful hotel! Check in was chaos and very unorganised! Bar staff around the pool generally good one bad experience with a staff member who was more interested in finishing her shift than listening to a customer request
.
Bintu S
Beautiful hotel. Great food couldn't ask for more
.
Jon W
First time visit at the Amare Ibiza and won't be my last. Fantastic hotel we stayed in a suite with the most amazing view across San Antonio Bay to wake up to. Decor and art in the hotel is very beautiful and modern. I think this is one of the best hotels I've stayed in. Superb and would recommend 100%.
.
Cathy Aiken
Hotel is great but sometimes the bar and food service could be quicker
.
Anu Joshi
I would like to commend the service and hospitality received from Monste she was exceptionally helpful to us all. I remember her from our stays at Marbella where she will always go above and beyond in her duties. This is the 3rd time I have stayed at Amare and the friends that I have recommended it to love it as well. Please mention to Monste how much we appreciated her help and brilliant service. She is an asset to your hotel brand.