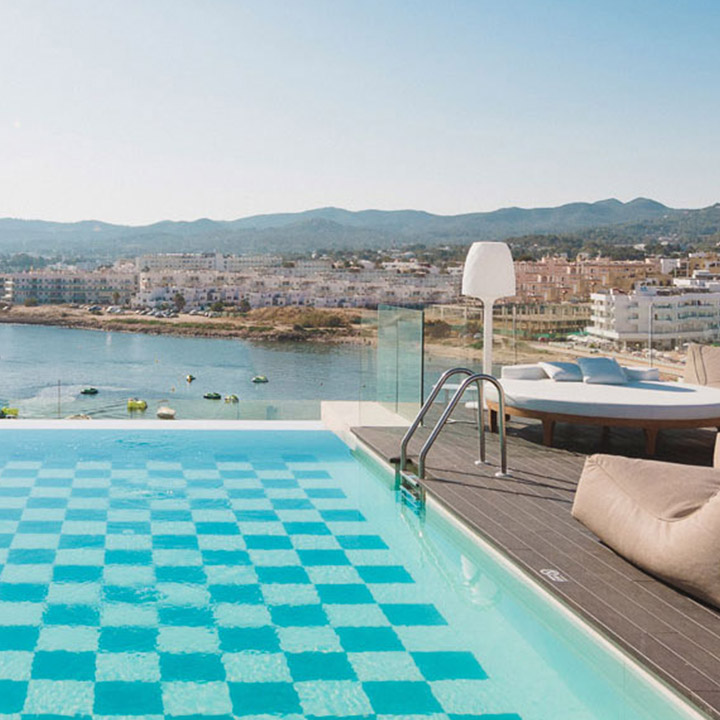 AMÀRE IBIZA
Mikayla Snodgrass
Loved! Will definitely be the place we stay on our next trip to Ibiza!
Susan
Absolutely incredible hotel - we enjoyed every second of it and would love to come back again.
Kenneth W Gammie
Just arrived back from a 7 days break at the Amare Ibiza. A beautiful decorated hotel with stunning designed and clean rooms. Pool has beautiful furniture with waiter service. Soothing music plays all day as well as entertainers during certain timings who are of a good standard. Breakfast was excellent with a great choice for all diets. Restaurants serve a good choice of foods of good quality a bit expensive but if you want quality you don't care! Staff are so helpful and will do anything to enhance your experience. Adult only makes the experience so much more where you can relax and enjoy everything around you. One of the best hotels I've ever stayed in and i can assure you I've stayed in a lot! Will definitely visit again. Thanks to all
Emma Davies
Amazing time staff so friendly, hotel and rooms are fabulous, food and service perfect. Everything about the stay was perfect will definitely be going back 😁
Louise & Kimberley Hawkins
The hotel and staff as a whole were absolutely magnificent (kind and helpful). The art-work placed around the hotel were unique and interesting. The breakfasts and evening meals (buffet style) didn't disappoint, the variety of foods offered and they catered for people with allergies as well. Nothing was too much trouble for any of the staff, who all had smiles on their faces and got to know everyone. My Daughter and I would definitely come back again, together with other family and friends. The only downside was the entertainment in the evenings. One of the DJ's on the roof-top was exceptionally good, and other guest artists were okay, but the live entertainment stopped by 10.45 every night and the roof-top bar closed at mid-night. The rooms were great apart from when one of us wanted a shower, the other one had to go on the balcony or make sure the clothes in the wardrobe covered the glass to the shower, not to show anything off. Thank you to all the staff who made our stay relaxing and enjoyable!
Excellent hotel, great facilities, clean, spacious, lovely food with very friendly staff. Special thanks to our lovely porter Danny and all the pool side waiting staff. We would definitely stay again. Our only criticism was that the service was often slow in both the reception, and restaurants for dinner. Once spoken to, the staff were lovely and the food was very nice, but we had to wait a very long time. On the occasion we went to eat at the roof top restaurant no one served us. We had to get up and go find someone to ask for drinks and provide us menus. Other than that it is a wonderful place and we'd recommend to all.
Hannah
Had a very pleasant stay at this hotel for my birthday and would want to stay again. The only thing that could do with an improvement is allergens in the restaurant. As there is no information with allergens on any of the dishes. I suffer with a nut allergy and got told by restaurant staff there was no nuts in any of the dishes. However I did see nuts on display during breakfast. Which could've quite easily been contaminated with other dishes.
Tash
We had an absolute blast at the Amare Ibiza. It was the perfect setting for our group of friends to celebrate birthdays and good health. The pool areas were large with really comfortable loungers and the music vibe throughout the day was perfect - we loved the acoustic guitar and singer. The roof terrace gives a stunning sunset view and the food in the buffet breakfast and dinner was generous and delicious. We'd love to come again and explore more of the island but it was ideal for a weekend getaway.
Victoria kiernan
Fabulous hotel with three beautiful pools. Views from the hotel are amazing along with a beautiful beach front . There is a boat that you can get that brings you across to San Antonio which is very handy. The only thing that could be improved is the air conditioning in the hotel. I felt we couldn't control it ourselves and I found my room very hot. We did ask about this at least twice and it never improved.
Marek L
Just spent 4 nights here on half board terms and had a great time. We were made very welcome the moment we arrived. Our pool/sea view room.was modern, comfortable and spotlessly clean. Breakfast and dinner are buffet style and the choice is staggering. The pool areas are really smart , superb ultra comfy sunbeds and waiter service for drinks etc... just press your buzzer. The rooftop bar and restaurant are nice with elevated views and of course the famous San Antonio sunset. There is also a water taxi just outside the hotel grounds where you can be in San Antonio centre in a few minutes. (€3.00 one way) So overall a great few days in a modern, chic hotel with superb staff, thanks to you all 👏👏👏 No hesitation in recommending the Amare.
Tom Carey
My wife and I stayed at the Marbella numerous times. We were unsold Ibiza. Though the hotel itself is very good we were extremely disappointed with the hotel surroundings and location. We spent an additional €500 over 7 days on Taxis in to Ibiza Town and other pleasant locations. The frustration over lack of Taxis at the hotel 3 months after you opened was very frustrating and inconvenient to all guests. I cannot understand how this issue was not addressed shortly after you opened. The service at Hayaka was very poor. It was far too casual with both interest in the food or explanations. My wife and I felt very cheated and taken advantage of due to our regular stays at Marbella. For this reason we will not rebook Marbella again and will choose a competitor hotel instead. We spoke with numerous guests who feel the same. I think upselling Ibiza to Marbella guests is misleading and taking advantage . Sincerely, Tom & Lorraine Carey
George
Great Hotel - 100% recommend
Colette Edwards
So much about this hotel was lovely. Great staff, excellent outdoor space. All common parts were gorgeous. However the room was far too small, and had completely inadequate wardrobe space. It was such a shame, we moved rooms when we arrived the first room was even smaller. In all other respects this was a fantastic hotel but the room spoiled it for us, and the poor design of the wardrobe space, and sink area. A proper wardrobe with drawers, shelves for products and somewhere to put your cases is a minimum requirement. Such a shame.
Emma Chadwick
Beautiful hotel! Check in was chaos and very unorganised! Bar staff around the pool generally good one bad experience with a staff member who was more interested in finishing her shift than listening to a customer request
Bintu S
Beautiful hotel. Great food couldn't ask for more
Jon W
First time visit at the Amare Ibiza and won't be my last. Fantastic hotel we stayed in a suite with the most amazing view across San Antonio Bay to wake up to. Decor and art in the hotel is very beautiful and modern. I think this is one of the best hotels I've stayed in. Superb and would recommend 100%.
Cathy Aiken
Hotel is great but sometimes the bar and food service could be quicker
Anu Joshi
I would like to commend the service and hospitality received from Monste she was exceptionally helpful to us all. I remember her from our stays at Marbella where she will always go above and beyond in her duties. This is the 3rd time I have stayed at Amare and the friends that I have recommended it to love it as well. Please mention to Monste how much we appreciated her help and brilliant service. She is an asset to your hotel brand.