Marbella and Ibiza Blog
Amàre Beach Hotels
MARBELLA IN DECEMBER: UNIQUE PLANS FOR ENJOYING AN AUTHENTIC CHRISTMAS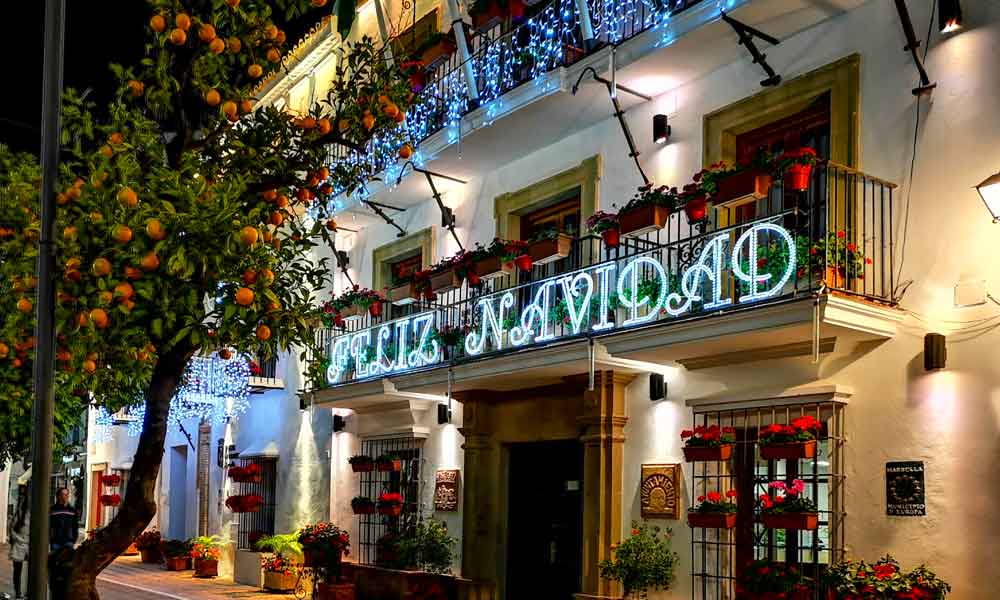 MARBELLA IN DECEMBER: UNIQUE PLANS FOR ENJOYING AN AUTHENTIC CHRISTMAS
lthough it is sunny in Marbella during the winter months, in the city there is a very festive climate in which to spend the Christmas holidays. This lively city has something to offer everyone at this time of year: from bright lighting to choirs of Christmas carols, Christmas markets, good food and glamorous events for New Year's Eve.
Why visit Marbella at Christmas?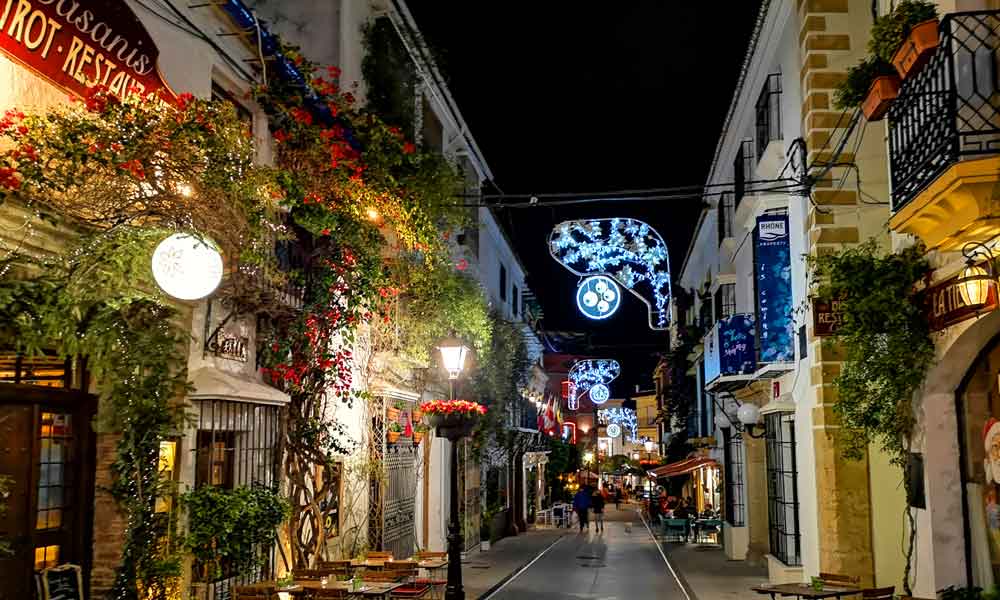 1. See Plaza de Los Naranjos with oranges
One of Marbella's most famous squares is Plaza de Los Naranjos and while in spring you can enjoy the wonderful sight of the orange trees in bloom, it is at this time when you can see these tress full of fruit and enjoy the colour they give to the city.
2. Stroll around the historic centre to see the Christmas lights and eat chestnuts
The historic centre of Marbella is one of the most visited in all of Andalucia because it has been known to preserve its identity and its own Andalucian style. Well, if any day at any time is beautiful to see its streets, imagine it at night and decorated with Christmas lights. A spectacle for the senses! Also from the end of October you can find the typical roasted chestnut stalls on a multitude of streets and squares. These stalls are traditional during Christmas in Marbella and it is that a Christmas if its smell flooding the streets in December would not have so much charm.
3. Singing carols on the beach
Only in Marbella will you have the chance to celebrate New Year or Christmas by eating outside. Imagine singing carols while enjoying a glass of wine on a terrace looking out at the Mediterranean. Marbella at Christmas is definitely for you.
4. Being able to show off your outfit on New Year's Eve without covering it up with a coat
As we have said on several occasions, temperatures are mild in the capital of the Costa del Sol, sometimes pleasant, so you can show off your festive attire and leave our coat at home.
5. Golf, hiking and much more
Marbella is definitely the place where the practice of Golf can be done 365 days a year. This sport has become one of the most popular in Costa del Sol, because while the rest of Europe is cold in Marbella thanks to its pleasant climate you can "make some holes" whenever you want.
Other outdoor activities that can be practiced in Marbella during Christmas is exploring the interior of the province of Malaga, as relatively close you can visit cultural and tourist sites as beautiful as Ronda, Ojén, Antequera … Although if yours is the hiking we tell you that here from December the landscape is covered with the first fresh green, so it is the right date.
6. Gastronomy
And what would Christmas be like without good food, so in Marbella you can enjoy both the typical dishes of this festivity, as well as more Mediterranean and sophisticated culinary experiences. We encourage you to visit restaurants such as El Lago, El Balcón de la Virgen or Marbella Patio Restaurant, among others to taste the richest and most innovative dishes cooked all with the best native products.
Christmas in Marbella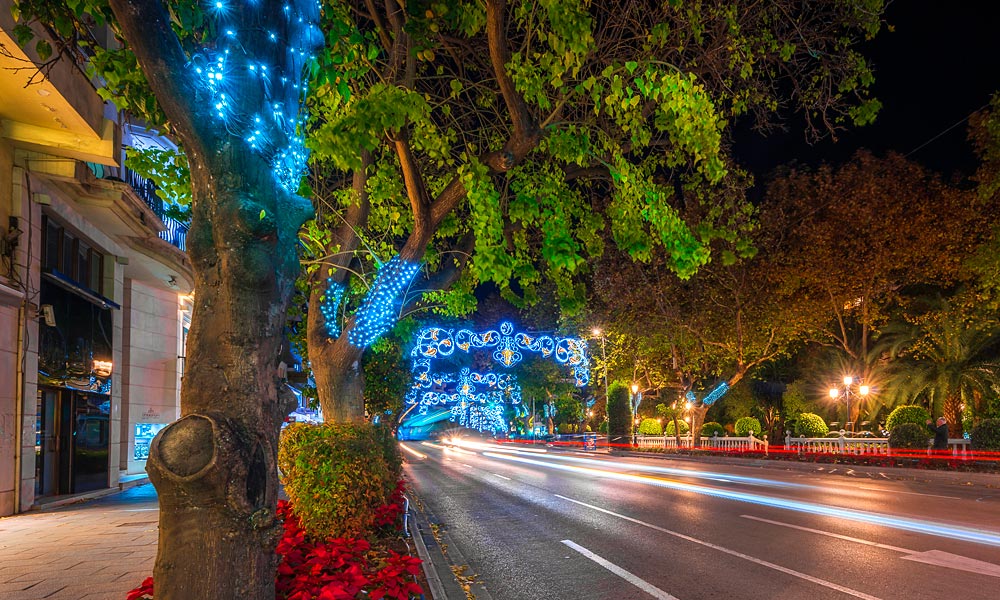 Although there is plenty of winter sunshine in Marbella, there is a very festive atmosphere in the city for spending a Christmas holiday.  This fun city has something to offer everybody at this time of year: from sparkling lights to carol singers, Christmas markets, great food and glamorous New Year events.
Christmas Lights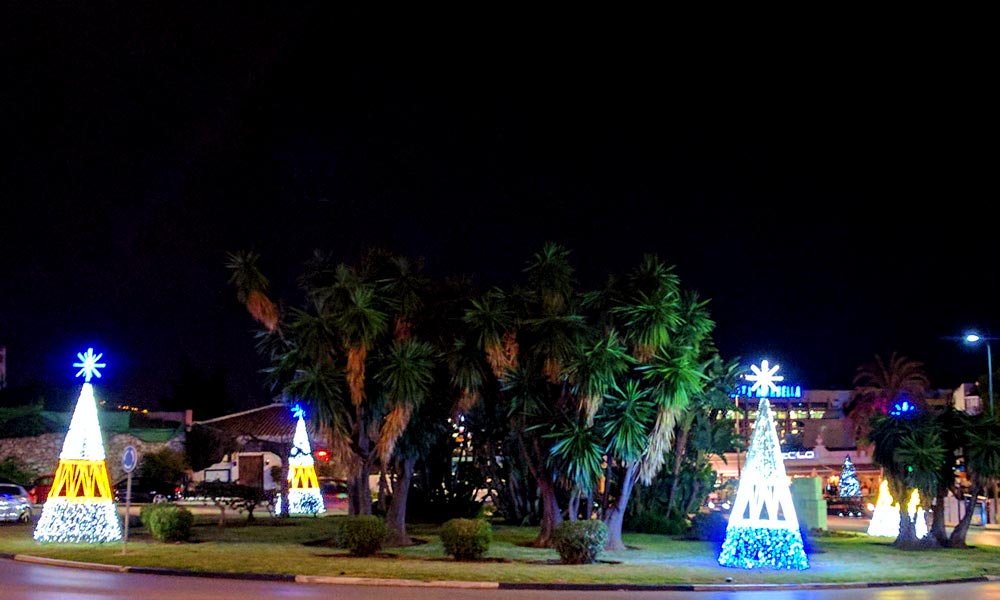 When Christmas comes to town, Marbella is transformed into a very festive place. At the end of November the city is lit up with an elegant and pretty series of Christmas lights. In Parque de la Alameda can be found nativity scenes and stalls selling roasted chestnuts, hot waffles and other festive treats. Meanwhile, a stroll around Marbella's Old Town will certainly add a bit of magic to anybody's Christmas. The Christmas decorations this year will include over five hundred illuminated arches, eight nativity scenes decorated with LED lights and four Christmas trees decorated with tinsel. In addition, there is a new feature this year that visitors will love: a daily sound and light show in Parque de la Alameda. This show will be held every day at seven pm, and there will be an extra show at eight thirty pm on Fridays, Saturdays, Sundays and holidays.
Christmas Shopping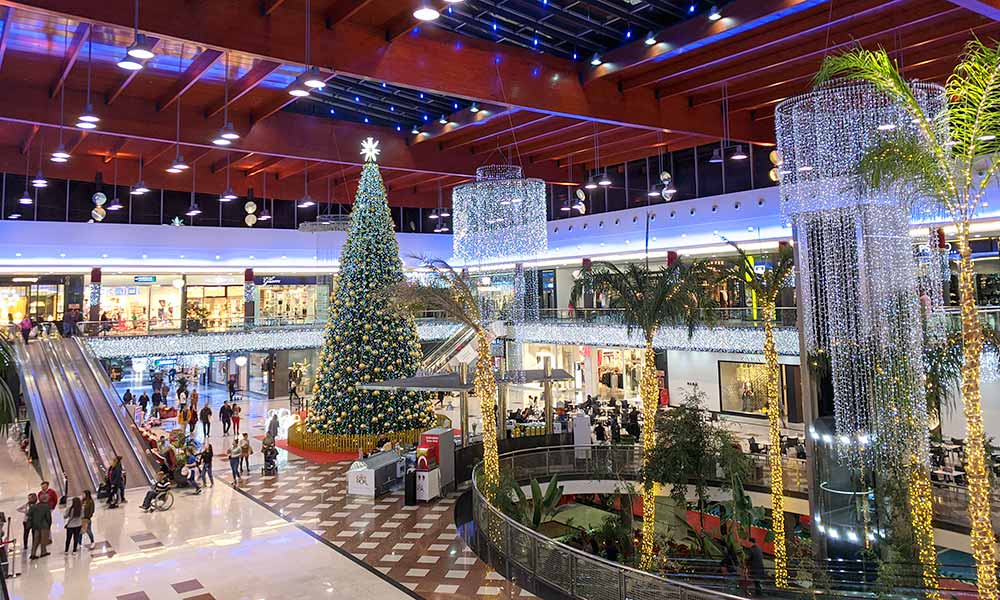 When it comes to Christmas shopping, Marbella has a lot to say and offer. During this holiday, the town is filled with lighting and decorative motifs typical of this time in which it is possible to enjoy the events and markets that reflect the traditions and customs of the town. It is also worth a trip to La Cañada shopping centre, with its spectacular Christmas tree and festive decorations on the counters.
In addition, it should be noted that on December 16, next to the Divine Pastoral Parish from 10 am to 1 pm, the traditional Christmas market held by the Multiple Sclerosis Association will be held. Here you can buy all the Christmas crafts you need so that your home is flooded with the long-awaited Christmas feeling.
Christmas Events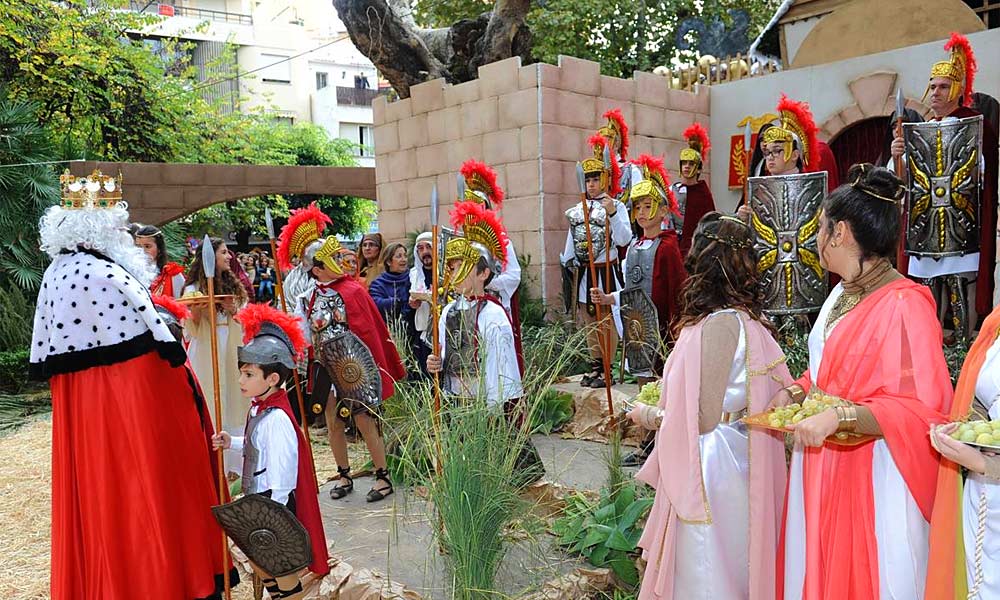 Christmas Nativity Scene and Nativity Exhibition  
As is traditional in Marbella and in order to promote the cultural manifestations and popular tradition of Marbella for several years the Christmas contest of Nativity scenes is held. On this occasion there are two different modalities:
Nativity Contests. Nativity scenes installed by any Brotherhood, Association, Establishments, Institution, Peña …, that perform the Bethlehem in any place of public access.
Competitions of private nativity scenes.
Also, people can visit them since the beginning of December.
Meeting and pastoral contest
Also during the month of December the pastoral meeting takes place, here you can enjoy the following activities:
Parade with the following route: Ave. Reina Victoria, C / Felipe II, C / Salduba and ends at Plaza de los Infantes.
Meeting of Pastorals in the Plaza de los Infantes (Pastorales de El Ángel and Pastoral de Ojén).
The Pastoral Contest will be (NO DATE; PLACE OR TIME), and participants and visitors can taste paella and churros with chocolate.
Christmas carol contest
On December XX at XX in the morning you can enjoy the celebration of the XX Carols Contest of the Old Town which on this occasion is organized by the Merchants and Professionals Association of the Old Town of Marbella.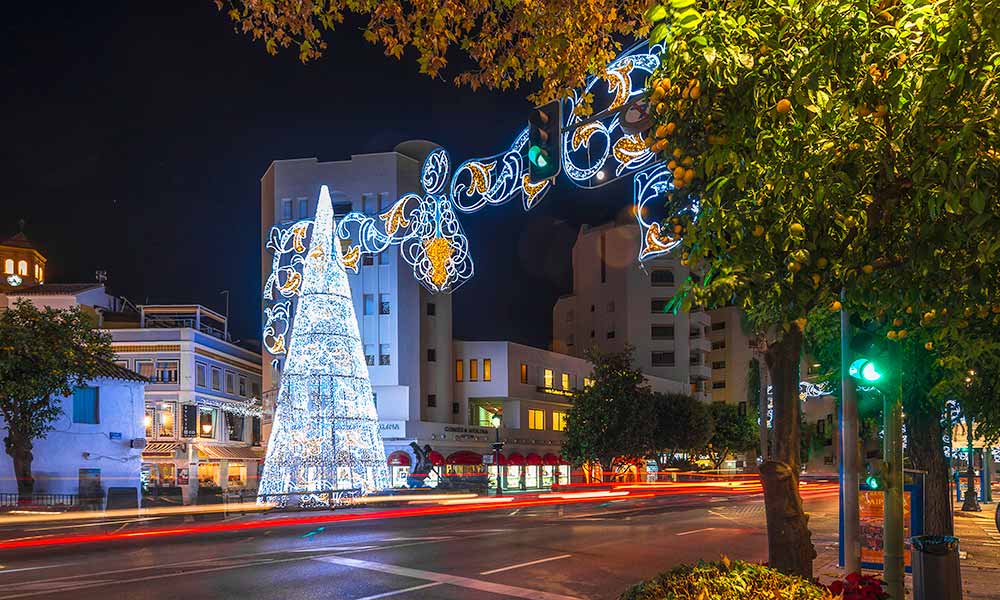 Living Bethlehem
Christmas is all around Paseo de la Alameda with the already traditional Living Bethlehem. The Maldonado Sisters Dance School will perform on December 14 a spectacular performance in two sessions, the first at 12.00 h. and the second at 4:00 p.m.
One of the most beautiful things about this act is that it always has a beneficial nature, since funds are usually raised for the palliative care unit of the Spanish Association against Cancer (AECC) in Marbella.
Chirstmas concerts
As every year, Marbella celebrates a Christmas concert, this year it will be in charge of the ORCHESTAL ACADEMY OF MÁLAGA. It will take place on December 29, at 12 noon in the Auditorium of the Palace of Fairs and Congresses.
Roasted chestnuts for Christmas
Traditional Roasted chestnuts are on offer after the Mass in honour of the Virgen del Rocío with the Sierra Blanca choir at the parish church of Virgen del Carmen de las Chapas. This old tradition involves sampling roasted chestnuts, washed down with a glass of aniseed liquor or aguardiente.
It's a group celebration aimed at keeping the traditional spirit of roasting chestnuts alive. This typical Marbella activity forms part of the city's cultural DNA.
New Year's Eve, New Year and Three Kings' Day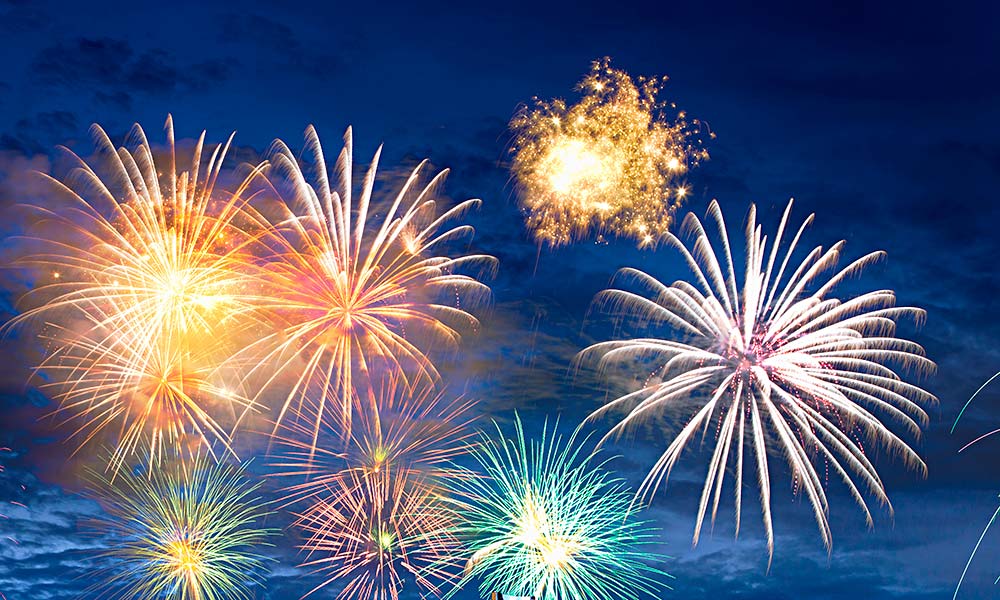 New Year's Eve Dinner
At the end of the year, Marbella offers a wide range of options for celebrating New Year's Eve with your partner or family. There are restaurants to be enjoyed with friends, romantic spaces and other options offering different experiences for the most adventurous among you. Any moment during the Christmas festivities is perfect for getting together around a table and savouring the delicacies of a menu designed specifically for this celebration.
New Year's Eve Party
If you're thinking of spending New Year's Eve in Marbella, this year's party has been moved to Plaza de la Iglesia de la Encarnación. Marbella residents will be able to eat the traditional midnight grapes in this new space to the rhythm of the church's tolling bells, before getting the year off to a great start with the Velada y Arenal Orchestra.
In addition, bars, pubs and nightclubs all arrange private parties where you can pay for what you drink or enjoy an open bar. As a general rule, venues tend to charge different prices to those found during the rest of the year. Although some forget about special promotions for this particular evening.
New Year Concert
As it is now traditional, in Marbella and in San Pedro Alcántara, there will be a New Year Concert. It will feature the municipal bands. This time, it will be held on January 3rd at 6:00 p.m. in San Pedro Alcántara Square.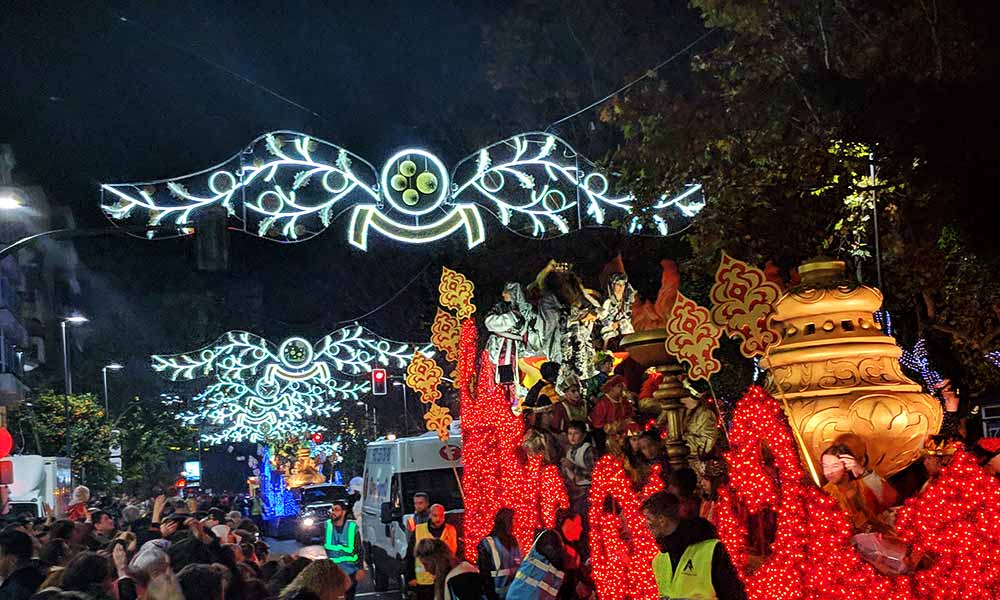 The Three Kings' Day Parade
On January 4 at 5:00 p.m., the three kings from the East will arrive in Marbella, starting their journey from Puerto Deportivo they will walk to Huerta Chica Street where after meeting with their entourage they will walk the streets of the urban centre on foot until they reach the Plaza de church.
Marbella
The Magi festivity is on January 5 when they give gifts to children. But before, they make their traditional ride on horseback, giving candies and sweets. After 18 hours the long-awaited Cavalcade of the Three Kings will begin, which this year will have the following route; it will begin at Severo Ochoa Street, then pass through the avenues of Ramón and Cajal and Ricardo Soriano, this time the tour will end in the square of Monsignor Rodrigo Bocanegra.
After reading all the Christmas options that Marbella offers you there is no excuse for not experiencing Christmas to the fullest in the capital of Costa del Sol.
Curiosities about Christmas in the province of Malaga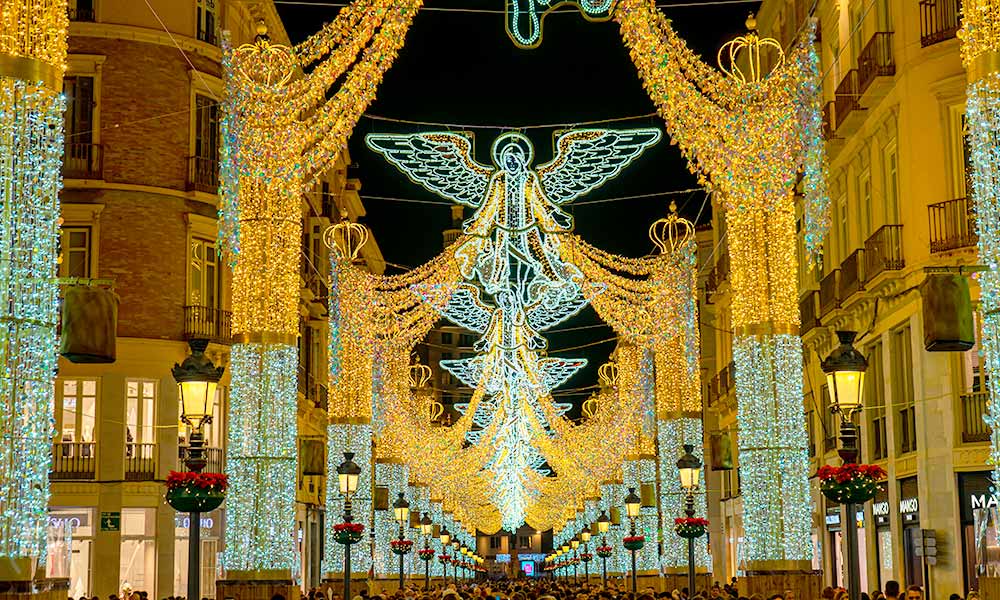 "The Living Nativity" in Mollina: Mollina, a small town in the province of Malaga, is known for organizing one of the most outstanding living nativities in the region. The residents of the town recreate biblical scenes and everyday life from that time in a very authentic setting.
"The Three Wise Men" in the Málaga Parade: The Three Kings Parade is a very important event in the province, especially in the city of Málaga. The arrival of the Three Wise Men is celebrated with a spectacular parade that travels through the city streets, throwing sweets and gifts to the crowd.
Christmas Eve on the Beach: Given that Malaga has a mild climate during Christmas, it is not uncommon for some people to choose to celebrate Christmas Eve on the beach. Many families gather to enjoy a special dinner by the sea.
Christmas Sweets: Christmas gastronomy in Malaga includes a variety of typical sweets, such as "polvorones" and "mantecados." These are traditional products consumed during the Christmas festivities and can be found in many local bakeries.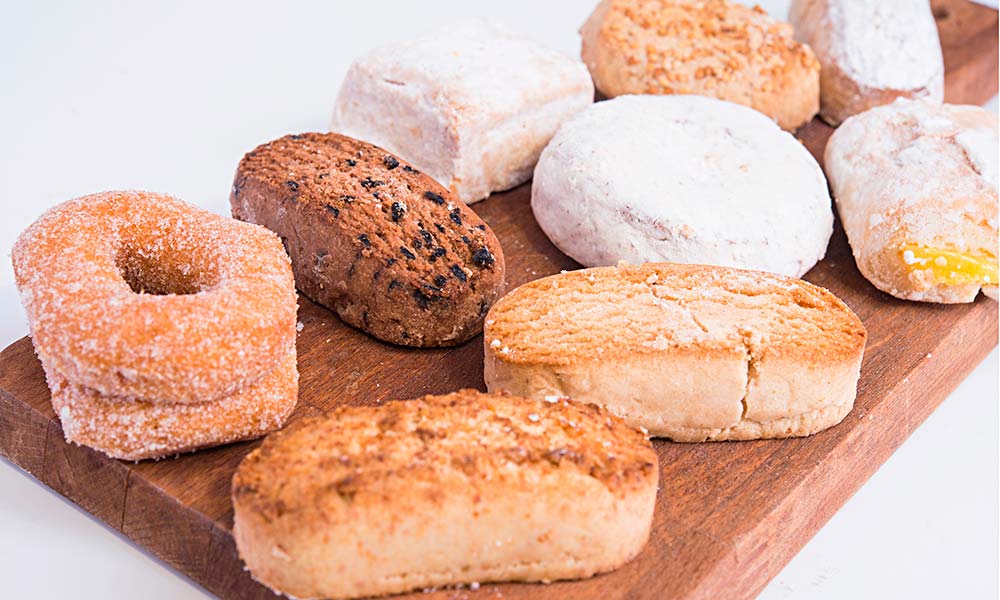 Lights and Decorations in the Center of Málaga: The center of Málaga is illuminated with festive lights and Christmas decorations during the season. Calle Larios is especially known for its light show, attracting residents and tourists alike.
Religious Celebrations: Given the strong Catholic tradition in Spain, Christmas in Malaga also includes a series of religious celebrations. Local churches offer special masses and events to commemorate the birth of Jesus Christ.
Christmas Markets: During the Christmas season, many towns and cities in the province organize Christmas markets where one can find handmade products, gifts, and festive decorations. These markets are popular places to enjoy the Christmas atmosphere and find unique gifts.
New Year's Eve Party in Constitution Square: Constitution Square in the center of Málaga is an iconic location to celebrate the arrival of the New Year. The square fills with people who gather to enjoy the chimes, live music, and fireworks.
Christmas Lottery Drawing: Like all of Spain, the Christmas Lottery drawing is a highly anticipated event in Malaga. The lottery is known for having one of the largest prizes in the world, and people buy tickets hoping to win and have a prosperous start to the new year.
New Year's Eve Grape Tradition: Following the Spanish tradition, many people in Malaga participate in the custom of eating 12 grapes at midnight during the New Year's Eve chimes. It is believed to bring good luck for each month of the upcoming year.
Concerts and Cultural Events: During the Christmas season, Malaga offers a wide variety of cultural events, such as classical music concerts, theatrical performances, and dance shows. These events contribute to the rich cultural scene of the province.
St. Stephen's Day: In some localities in Malaga, December 26, known as St. Stephen's Day, is celebrated with special events and activities. It is a day to enjoy with family and continue the Christmas festivities.