Marbella and Ibiza Blog
Amàre Beach Hotels
Amàre carves out its niche amongst Ibiza's newest hotels for 2019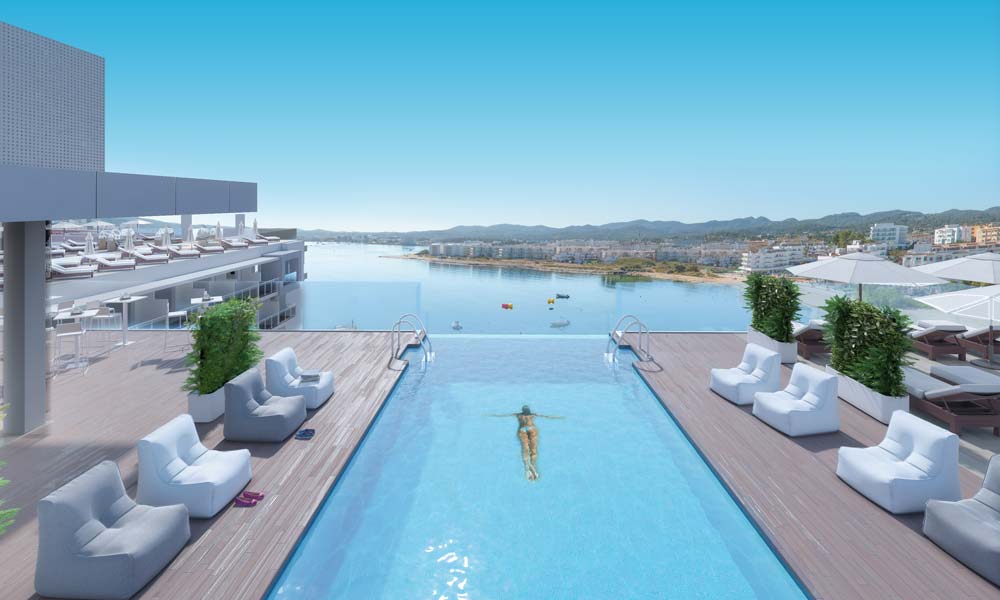 Amàre carves out its niche amongst Ibiza's newest hotels for 2019
The adults-only brand of hotels, Amàre, has touched down in Cala de Bou, in San Antonio Bay. Amàre Beach Hotel Ibiza is becoming a real sensation amongst the island's newest arrivals for 2019.
Following its success in Marbella over recent years with the Amàre Beach Hotel Marbella, the Andalucian group Fuerte Group Hotels has once again opted for an adults-only destination, an increasingly popular niche in the market, with the aim of creating a concept based on outstanding entertainment, food and design.
Its new hotel, ideally located in Ibiza's San Antonio Bay, is just a 25 minute drive from the Ibiza Airport and provides direct access via a dock. The refreshing and modern design of its two buildings reflects the minimalistic interior design of the Amàre Marbella, immersing guests in an environment which encapsulates the island's culture, as well as being innovative and eclectic by opting for shades of white and gold. The hotel's own exclusive perfume is the icing on the cake for the initial experience guests are treated to, carefully designed to awaken their senses.
Sophistication and a cosmopolitan feel go hand in hand at this 4-star hotel, perched right on the coast and boasting three swimming pools, jacuzzis, a rooftop terrace and various restaurants where guests can sample innovative Mediterranean cuisine.
Food, leisure and entertainment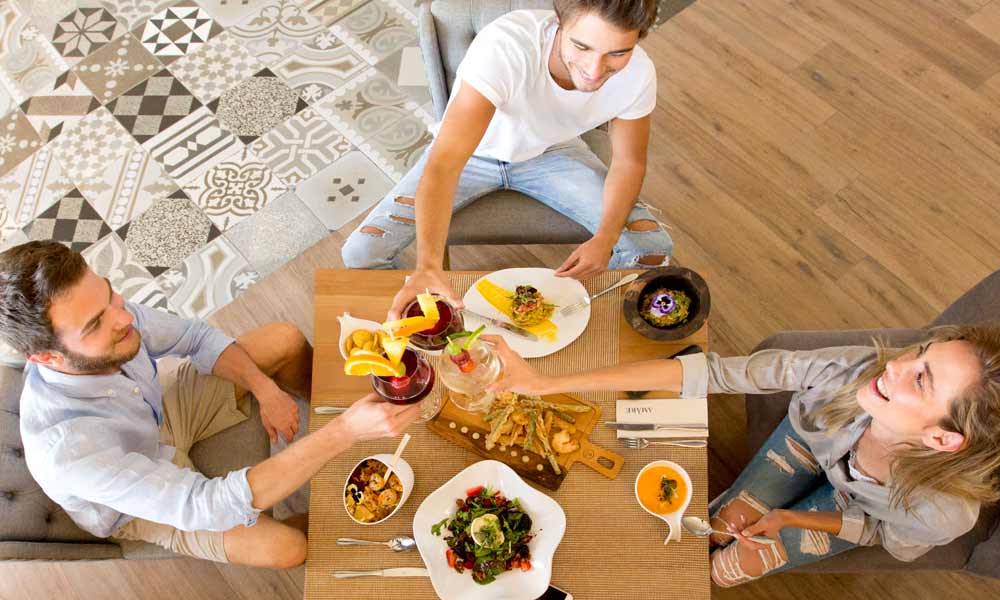 Amàre's philosophy is based on exploring the senses through the experiences guests are offered. Entertainment, musical events and food are all at the heart of what makes it so unique. The hotel offers various culinary options for guests, including the restaurant Mare Nostrum, which puts on a dinner and breakfast buffet with chefs cooking in front of diners, and boasts a terrace area with sea views.
The hotel's social hub is the Amàre Club, which has three distinct areas: The Amàre Lounge, a modern contemporary area where guests can enjoy a late breakfast as well as food and drinks during the day.
The Amàre Pool has two stylish swimming pools, as well as sunloungers, daybeds, outdoor jacuzzis, a bar serving food and drinks, DJs and live night-time performances.
At the Amàre Beach, with a suggestive island feel and direct access to Cala de Bou, this is the perfect spot for relaxing, where guests can easily press a button to order a drink or snack right from their sunlounger.
If that wasn't enough, the hotel offers even more leisure and food options at one of its most spectacular spots. The Belvue Rooftop Bar offers breathtaking views across the San Antonio Bay and the Mediterranean. From the sunloungers area, its infinity pool fuses with the sea, giving bathers the impression they're flying over the horizon. The various music and food options make this exclusive space even more magical and vibrant. In terms of music, Belvue has an extensive program featuring unique and original artists that includes the most representative songs of soul, pop and funk from the 50s onwards.
To make the experience on the rooftop of the Amàre Ibiza even more special for guests, the restaurant Hayaca serves mouthwatering Latin American fusion dishes. The culinary delights served at this exclusive restaurant have been created by Argentinian Michelin star chef Mauricio Giovanini.
From up there, the icing on the cake is the Sunset Ritual, a "five senses" experience when the sunset merges with vibes of Latin House and chill out music. All with a touch of contemporary Latin American spirit and live shows.
Mens sana in corpore sano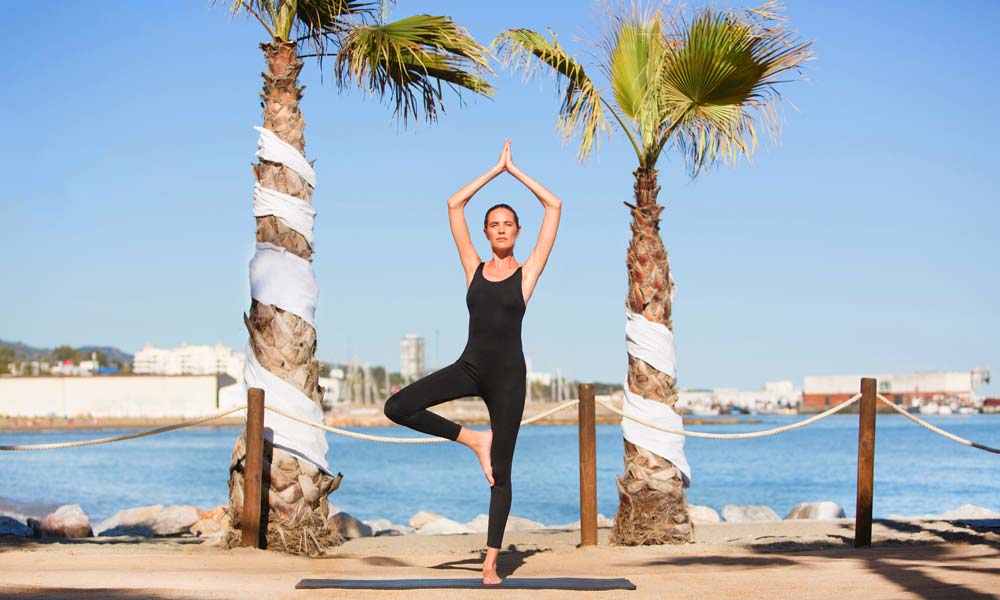 The hotel offers its guests a wide range of services to guarantee maximum well-being and allow them to take care of their mind and body whilst on holiday. Amàre Fitness by Technogym has direct views of the sea and is perfect for working out any time, day or night. Guests looking for something a little more relaxing can treat themselves to one of the rejuvenating treatments available at Wellness by Germaine de Capuccini or take a ride on one the hotel's stylish bikes. For those looking for more adventure, the hotel offers a jet ski rental service as well as underwater activities.
There are also yoga classes three times a week, first thing in the morning, and guests can even enjoy the services of a personal trainer during their stay.
Rooms with character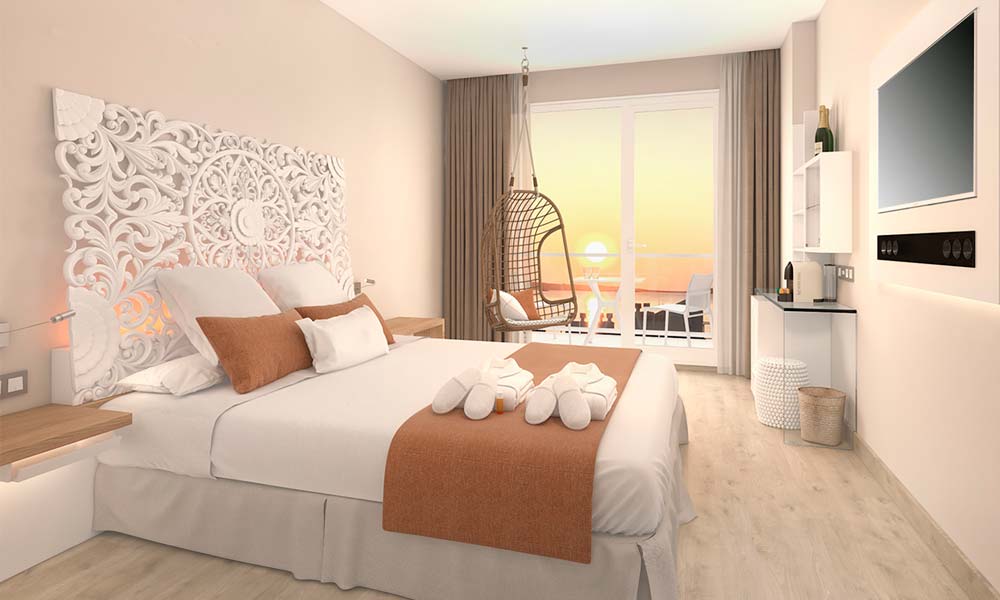 The 366 rooms at the Amàre Ibiza exude authenticity and originality. They all have a private terrace area and 288 of them (more than 80%) offer sea views. The names they have been given, "I Was Here", "Keep The Secret", "Make It Happen", "Oh Là Là" and "Dolce Vita The One" are a perfect reflection of the Amàre spirit. Guests staying in the last four categories can also opt for the exclusive "The One" service, giving them access to a premium lounge, amongst many other advantages.
The interior design of the rooms combines style and comfort: they are spacious, white, have striking furniture such as suspended chairs and transparent bathrooms, and feature the latest in technology, including Wi-Fi and many other details designed with digital natives in mind.
A social friendly hotel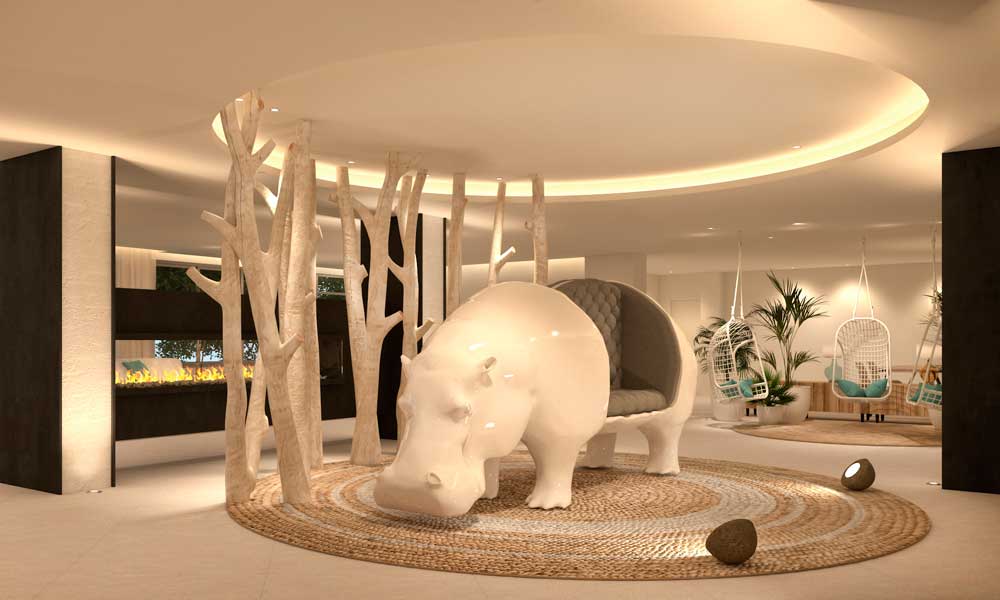 Every experience at the Amàre Ibiza is ready to be shared. That's why our hotels have been designed to capture the attention of those in constant search of Instagram moments. A cosy reading corner, a wall with vibrant colours, a hippopotamus shaped chair – perfect places for stopping, reflecting, and snapping a shot with your smartphone. Thanks to the charging spots throughout the hotel, even on the sunloungers by the pool, guests are hard pushed to run out of battery.
Art awakening the senses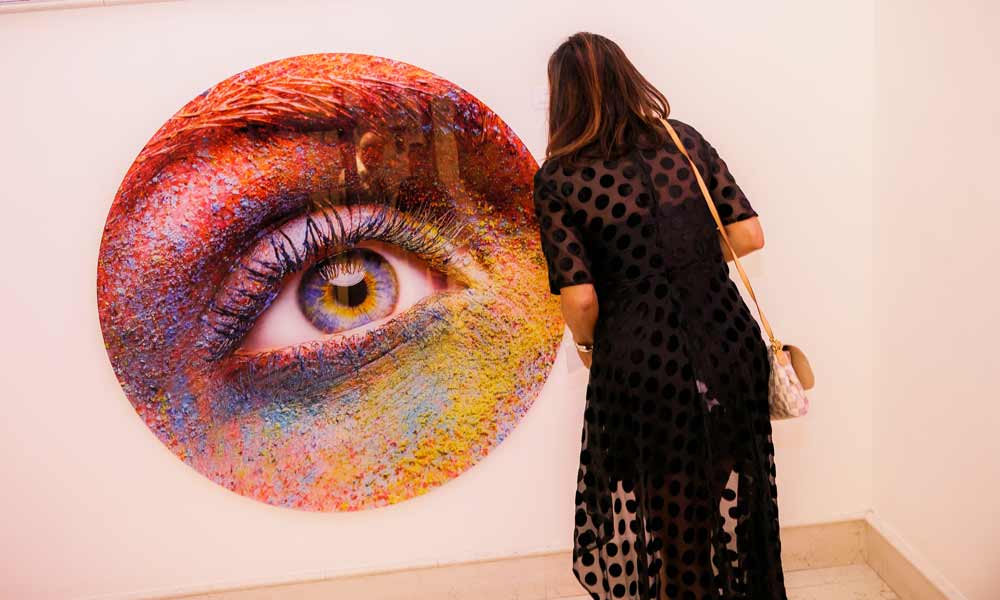 Amàre Art is a new cultural concept, transforming our hotel into an arty space where temporary exhibitions by local and international artists meet an architectural style which comes to life through its corridors, stairs, walls and lifts. Paintings, photography and fashion are showcased in different areas of the Amàre Ibiza through a wide array of programmes and activities organised throughout the year.
As seen in Flightnetwork's Article – 6 Places to Stay in Style in Ibiza.