Discover the best beach clubs in Marbella and the Costa del Sol
Discover the best beach clubs in Marbella and the Costa del Sol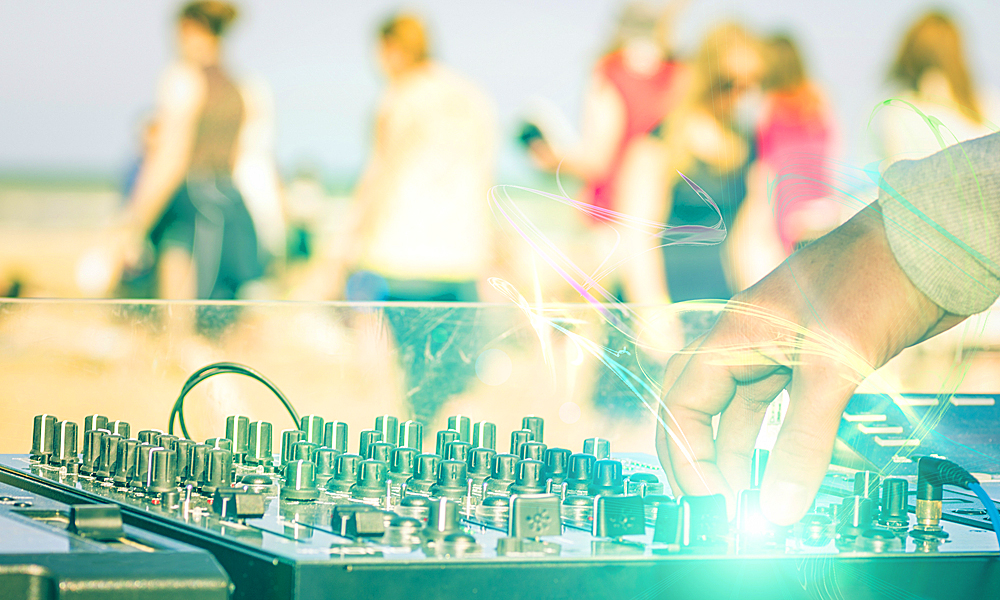 Relax in a Balinese bed with a refreshing drinks during the day, and at night, dance until the sun comes up. Beach clubs are the epicentre of relaxation, fun and luxury on the coast of Malaga. On Costa del Sol, beach clubs are the best places to enjoy the good life, the sea, the music and the mild climate since in Malaga you will find good weather all year round, not even in winter and that is why even at this point of the year you can find at your disposal some of the best beach clubs in Andalucia. Some are transformed at night into nightclubs and entertainment places where you can taste the best cocktails in an atmosphere of glamor. So if you travel to the Costa del Sol do not hesitate to make a stop at a beach club in Marbella, it will undoubtedly be one of the best memories you can take of your experience in Malaga.
Its magnificent services and security are a plus for thousands of tourists from all over the world, who every year visit this area of the Mediterranean to enjoy a unique climate.
Among the many facilities that are in the population of Malaga, without a doubt beach clubs are one of their references. Who can resist?
NIKKI BEACH (Marbella)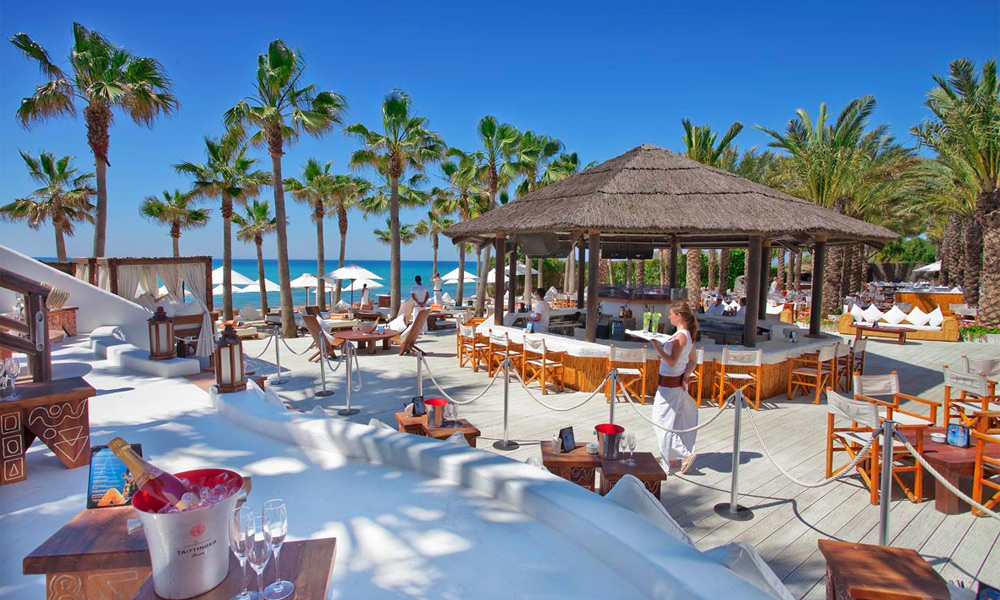 Nikki Beach is a Marbella venue renowned internationally for its beach front luxury. It's just 15 minutes from the city centre and oozes glamour from every nook and cranny. During the summer it's a meeting point for high society and glossy magazine celebrities, who sip champagne while topping up their tans; during other seasons it's the perfect place for a coffee beside the sea. In the evening, the venue hosts international DJs who play funky house and Latin rhythms. An elegant space that has become a symbol of the city of Marbella.
Playa Hotel Don Carlos, Carretera de Cádiz, Km 192, 29600 Marbella, Málaga
www.nikkibeach.com
T: (+34) 952 83 62 39


Google Maps
PURO BEACH (Marbella)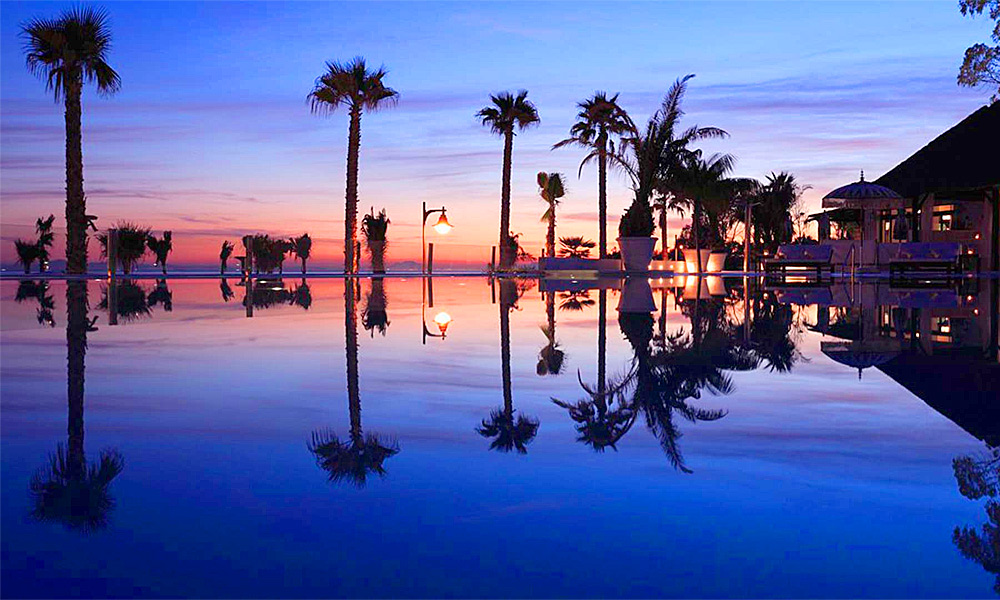 Another option is to enjoy luxury cuisine at one of the beach clubs on the Costa del Sol. Puro Beach is an elegant establishment where you can enjoy a fine beach front lunch. Its swimming pool, with its distinctive Mandala bottom, is surrounded by 90 hammocks and 3 nomad beds on the terrace, which have become one of the venue's icons. Forget your worries at a place like this, and let your imagination run riot on the coast where winter never comes.
Carretera Cadiz, Km 159, 29680 Estepona, Málaga
www.purobeach.com
T: (+34) 952 80 00 15


Google Maps
AMARE BEACH (Marbella)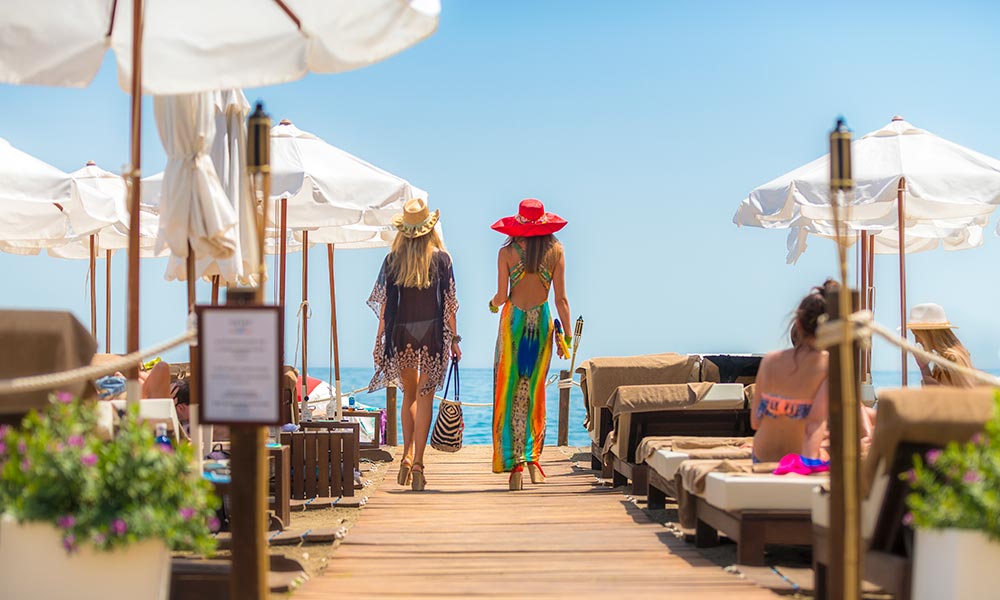 Amare Beach is a private enclosure on the shores of the Mediterranean, capable of awakening your five senses. This establishment is full of elegance and calm so you can relax your body and mind. Its cuisine is exquisite and the feelings you can experience beside the sea are inexplicable. Enjoy its music, ambience, services and people. A unique experience only available at this spot.
Paseo Alfonso Cañas Nogueras, 29603 Marbella, Málaga
www.amarehotels.com
T: (+34) 952 76 84 15


Google Maps
OCEAN CLUB (Marbella)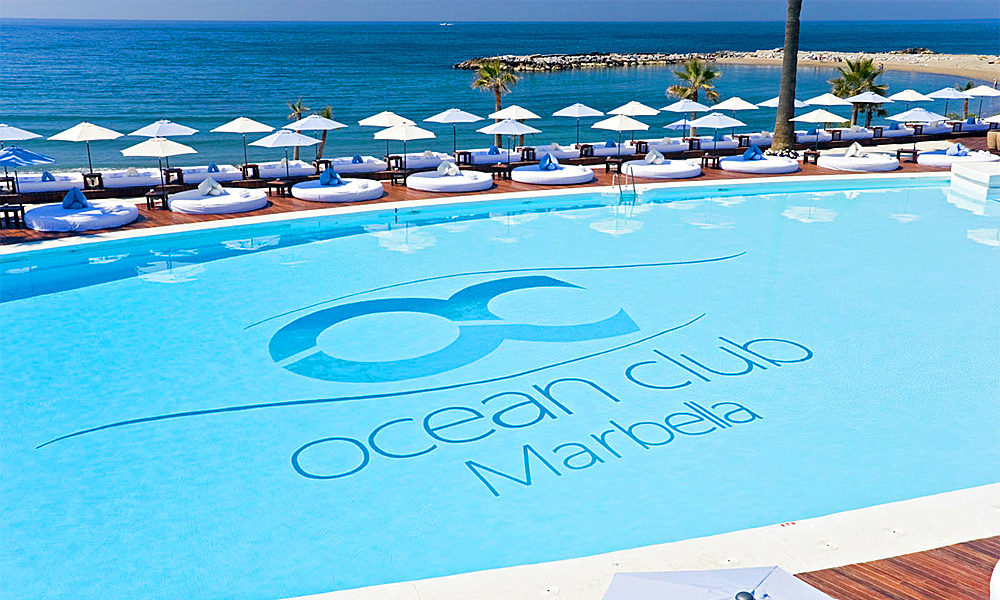 International cuisine and cocktails at a select terrace-club with white and wood tones, with a swimming pool. This is Ocean Club Marbella, an epicentre of luxury known internationally for its summer champagne parties. During this time of year you can sample the best recipes from all over the world, or have a coffee with sea views while you read a good book. Any activity is a thousand times better in such a chic environment.
Avenida Lola Flores, S/N, 29660 Marbella, Málaga
www.oceanclub.es
T: (+34) 952 90 81 37


Google Maps
BEACH CLUB ESTRELLA DE MAR (Marbella)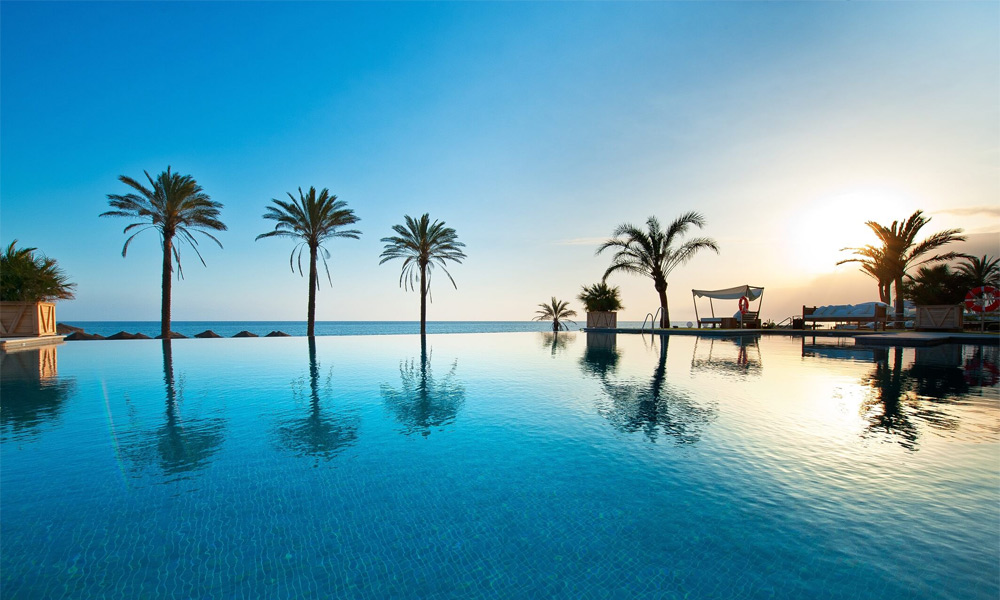 The gardens of the Estrella de Mar beach club span over 2500 square metres on the shores of the Mediterranean sea, the perfect spot for this type of luxurious complex in Marbella. A space where you can relax and where, if you fancy it, you can play sport with a sea view at the purpose-built facilities. Relax, sip on a cocktail and be seduced by the beauty of this place. Don't hesitate to visit if you're on the Costa del Sol.
A/, km 190.5 Urbanización Estrella del Mar, desvío Urbanización Golden Beach, 29604 Marbella, Málaga
www.beachclubestrelladelmar.com
T: (+34) 951 05 39 90


Google Maps
OPIUM BEACH CLUB (Marbella)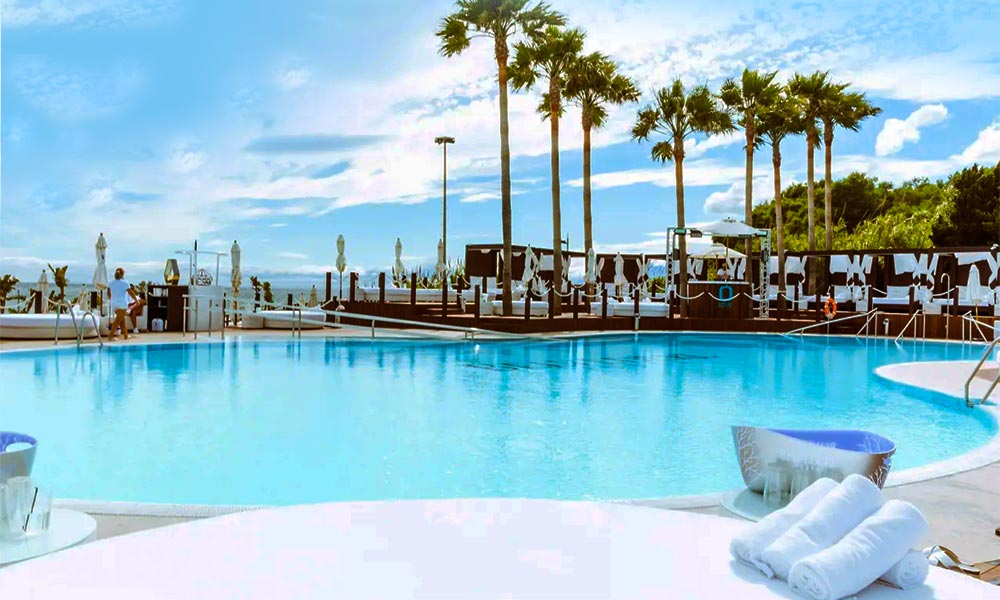 This beach club is one of the referents in Costa del sol, for daytime and night-time leisure, since it is located at the foot of the beach, with incredible views of the Mediterranean and a modern design full of Balinese beds and exclusive reserved areas, this place has been able to combine perfect of an outdoor lounge-restaurant with a relaxed and sophisticated atmosphere, a meeting point within the international jet set and the beach club where you can enjoy the best music "played" by a cast of renowned DJ's worldwide.
Carretera N340, Km 184, 29603 Marbella, Málaga
www.opiumbeachmarbella.com
T: (+34) 657 62 71 44


Google Maps
LA SALA BY THE SEA BEACH CLUB (Marbella)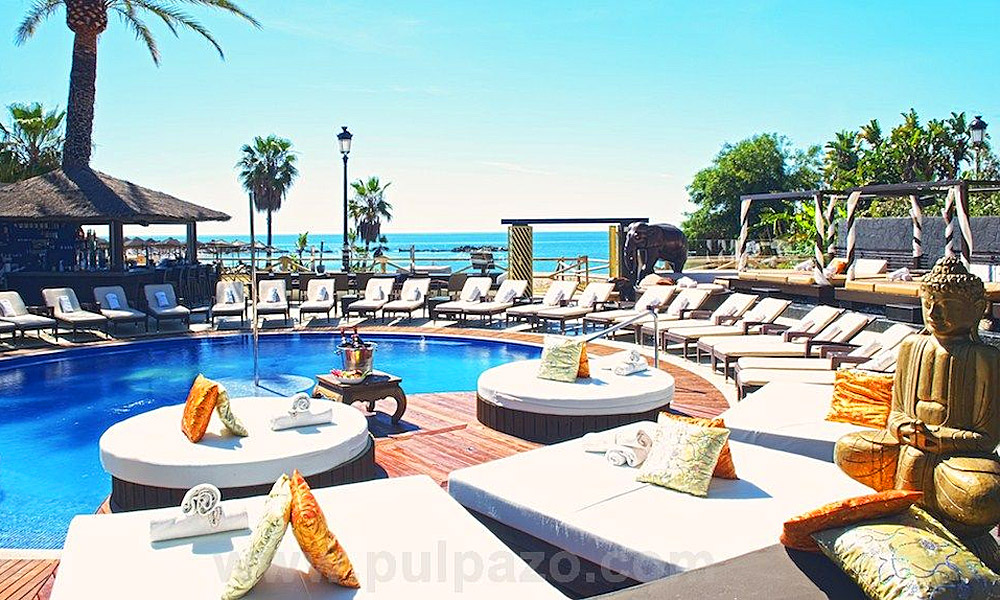 Sala by the Sea Beach is Marbella's first boutique style beach club. Located just a stroll away from the jet set at Puerto Banús, Sala Beach, as it's known, is the perfect place for some shopping and having a coffee beside the sea. Its restaurant is ideal for romantic dinners and special lunches. But its highlight is without a doubt is its intoxicating aroma of salt.
Urbanización Nueva Andalucía Villa Marina, 29660 Marbella, Málaga
www.salabeach.com
T: (+34) 952 81 38 82


Google Maps
BONO´S BEACH CLUB (Marbella)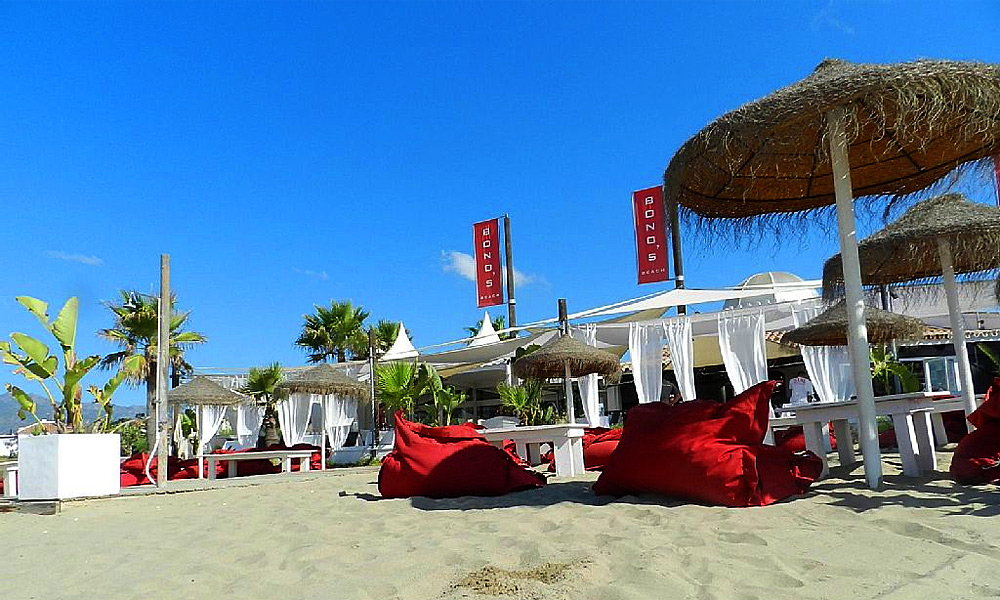 Just five minutes by car from the centre of Marbella is a special and magical beach club. If you like fusion cuisine, don't hesitate to visit this unique spot. The beach is right beside you while you have lunch and provides a soundtrack for the most intimate moments of your holidays. It's a perfect spot for the more creative among us, as having a coffee at this beach club awakens the imagination.
Urbanización Costabella, Av. Cervantes, s/n, 29604 Marbella, Málaga
www.bonosbeach.com
T: (+34) 952 83 92 36


Google Maps
SONORA BEACH (Estepona)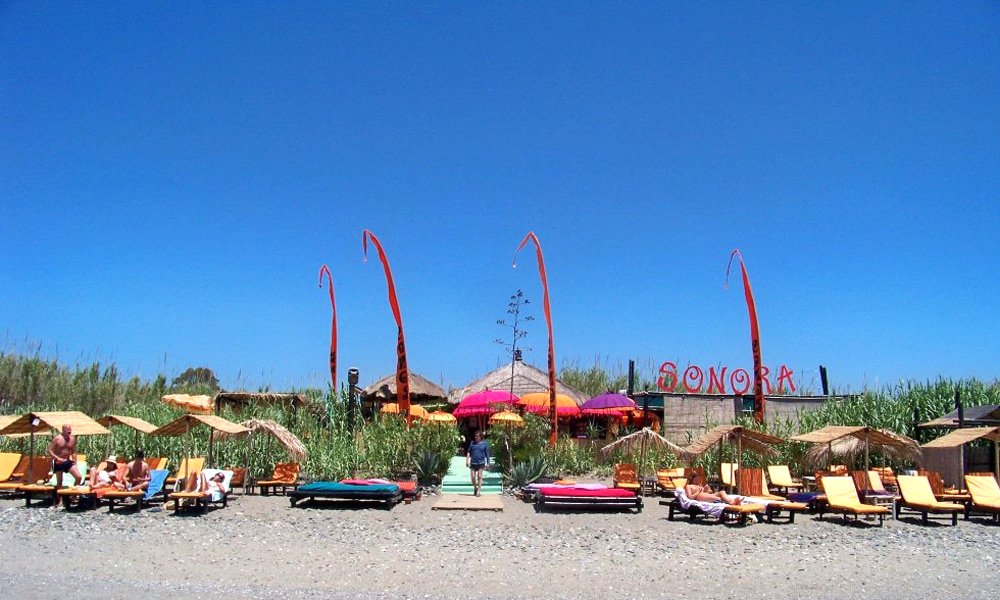 Sonora Beach is found on a beautiful beach between Estepona and Marbella; its enchanting Bali-style decoration is set in a relaxed environment. Here you can sample à la carte fusion cuisine at its restaurant. Its colourful sunshades will spice up your day and inspire contagious joy. If you visit the Costa del Sol, go and sample this charming beach club.
Urbanización Hacienda Beach 2, 29689 Estepona, Málaga
sonorabeach.es
619 31 80 98


Google Maps
HORNO BEACH CLUB (Torremolinos)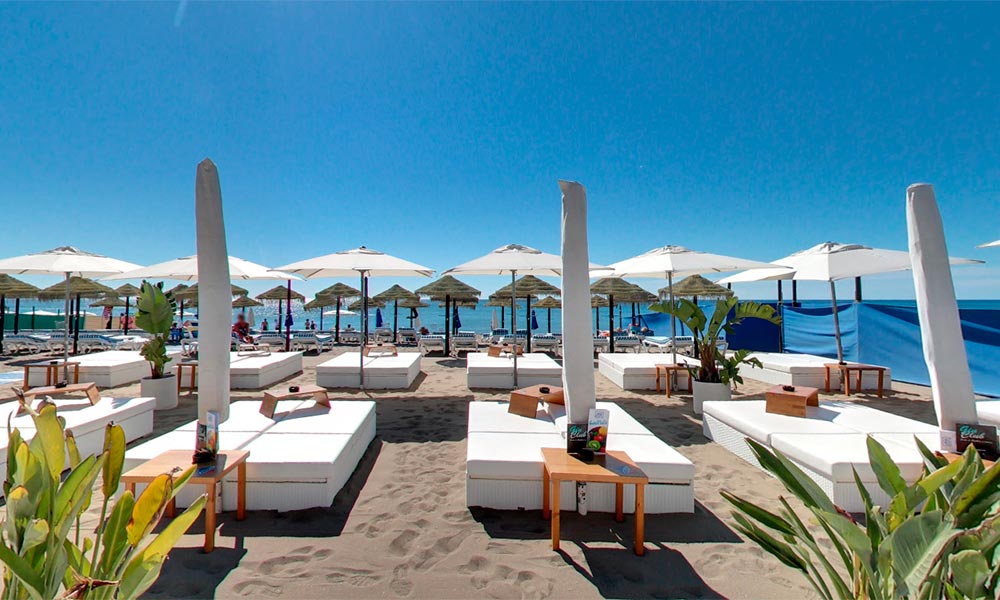 El Horno Beach is the place where the party does not end. This beach club is located in the heart of La Carihuela, is a local surrounded by the Mediterranean and where you can enjoy many premium services such as free Wi-Fi, more than 200 hammocks, massage service, solarium and exclusive reserved for you to make the event what you want In addition, when the sun goes down, this place becomes one of the liveliest clubs on the coast where you can have cocktails or drinks while enjoying the best parties and night session is a pleasure for the senses.
Calle de la Playa, 46, 29620 Torremolinos, Málaga
www.hornobeachclub.com
T: (+34) 951 90 91 27


Google Maps
FINCA CORTESÍN BEACH CLUB (Casares)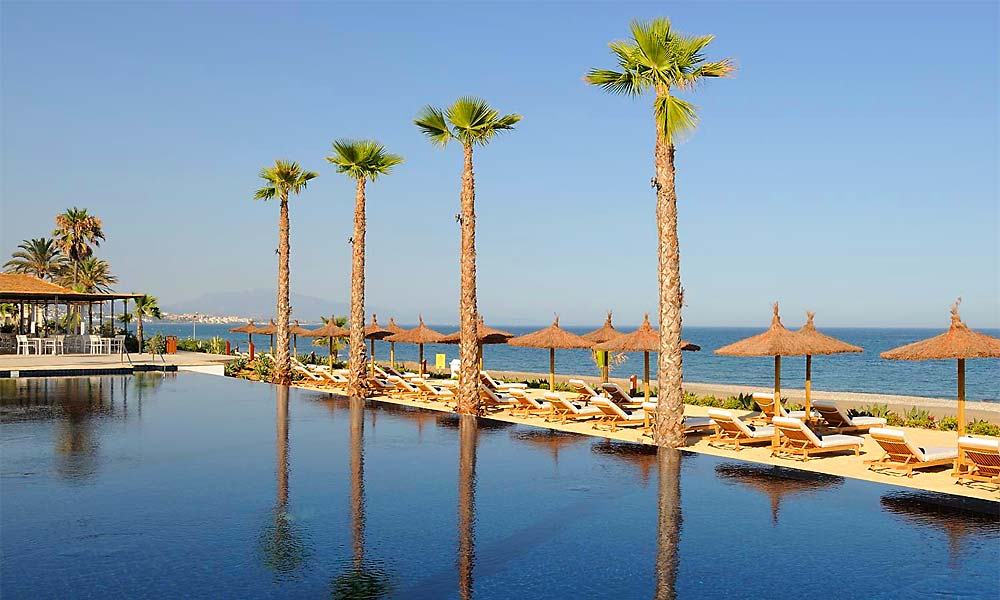 This beach club is found on Casares beach, and in a short time has become the city's trendy place. Its more than six thousand square feet offer resting places to take sun baths and zones to enjoy of snacks or different drinks. Furthermore, if you would like to be calmer, Finca Cortesín offers you a VIP lounge with splendid gardens, Balinese beds and comfortable deck chairs around a spectacular infinity pool so you can enjoy of the beach in a more exclusive way.
Carretera N340, Km146, 29690 Bahía de Casares, Málaga
T: +34 952 93 78 00
www.fincacortesin.com


Google Maps
BORA BORA BEACH CLUB (Marbella)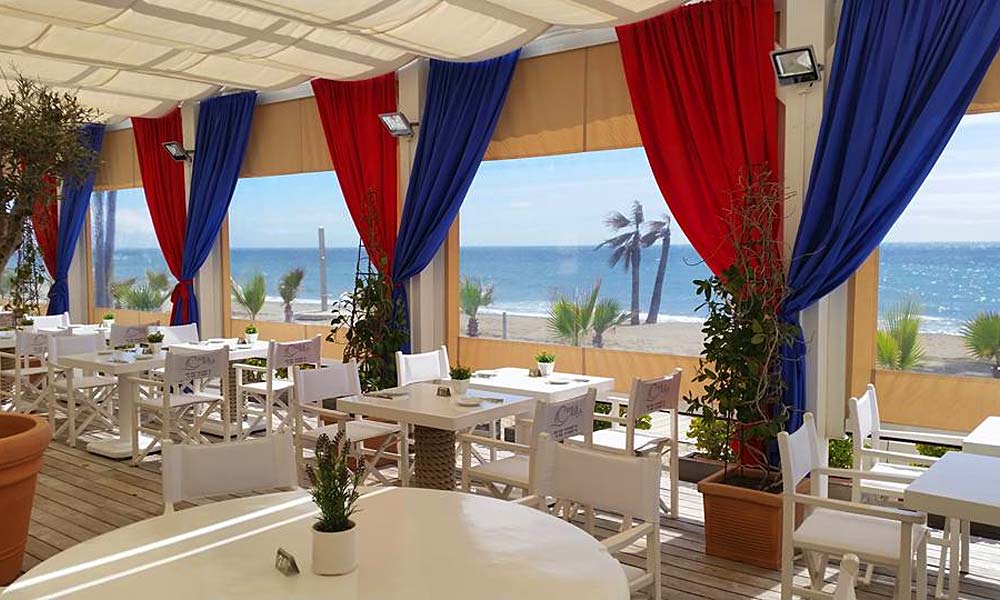 Bora Bora is the excellency beach club. It's found in the residential area of Linda Vista Playa, in San Pedro de Alcántara. This day club is one of the favorite sites of the ones that choose to spend their vacations in Costa del Sol. The mix of the beach, the outdoors, music and sculptural bodies create a very fun and unique experience, very difficult to describe with just words.
Urbanizacion Linda Vista Playa, 14, 29670 San Pedro Alcántara, Málaga
T: +34 952 78 91 00
www.boraboramarbella.es


Google Maps
LA CABANE BEACH CLUB (Marbella)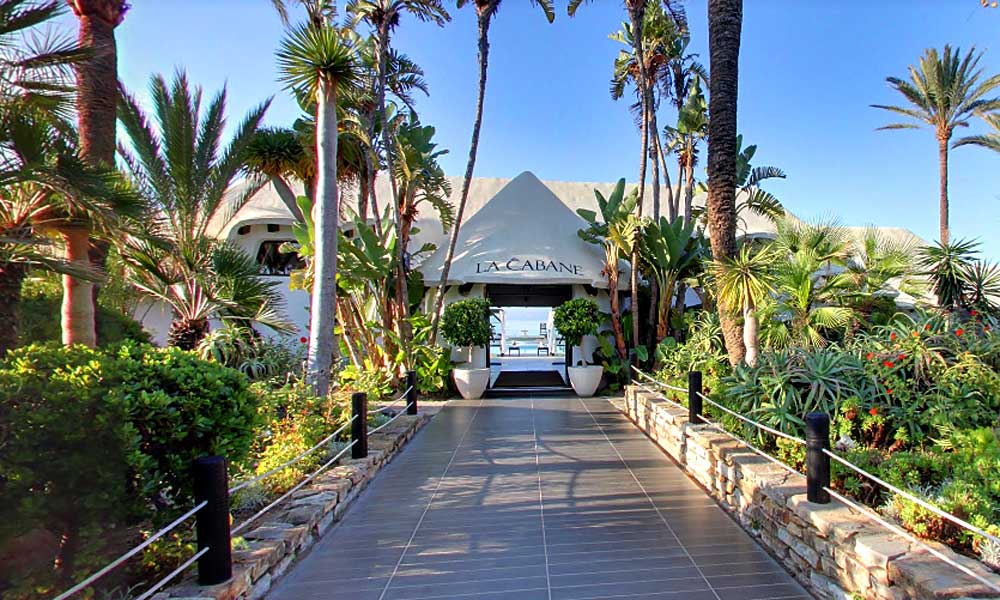 La Cabane beach club is one of the most exclusive and elegant places in Costa del Sol. Its spectacular scenery and its modern and functional design make this place perfect to enjoy of a relaxing day and rest.
This beach club gives you the chance to experiment an unforgettable day as well, an exclusive zone, in one of the best beach clubs along the coast. Service with champagne bottles, refreshing towels, fruit plates, special commodities and personalized services complement this incredible VIP experience. It also offers direct access to the beach and free parking only for customers as well.
Calle Jabalí, 29603 Marbella, Málaga
T: +34 952 76 27 20
www.clublacabane.com


Google Maps
KOKUN OCEAN CLUB (Torremolinos)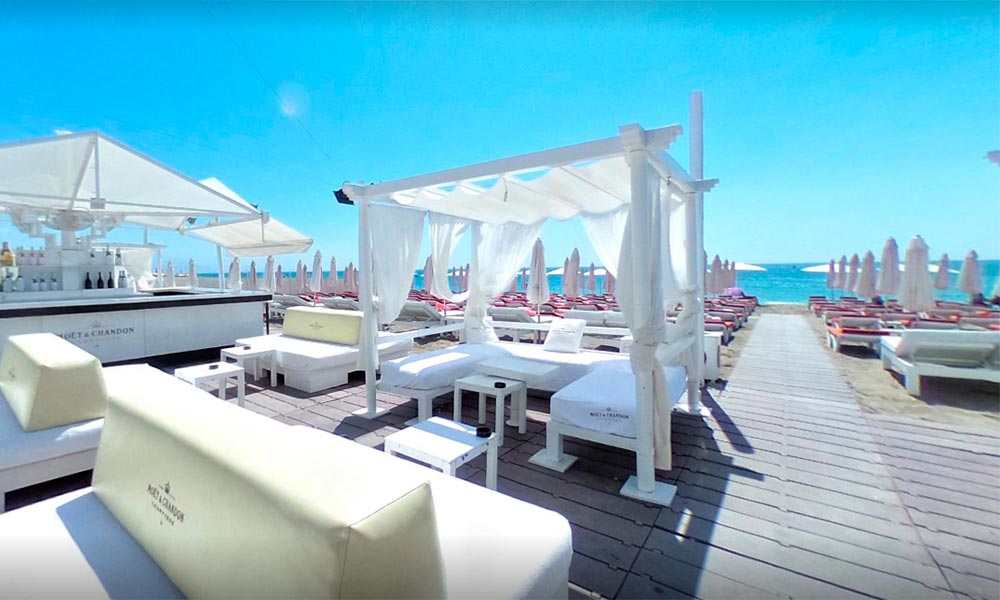 Kokun, is the most famous and exclusive beach club of all the Torremolinos coast, here you can enjoy the best DJs and the coolest parties. This beach club offers customers everything they want since Kokun more than a chiringuito, a lounge bar or a nightclub is a philosophy of life and therefore we can only say that you cheer up and go to enjoy some of the festivities, guaranteed fun.
Paseo Marítimo, 20, 29620 Torremolinos, Málaga
www.kokunoceanclub.es
T: (+34) 664 23 34 64


Google Maps
MISTRAL BEACH (Marbella)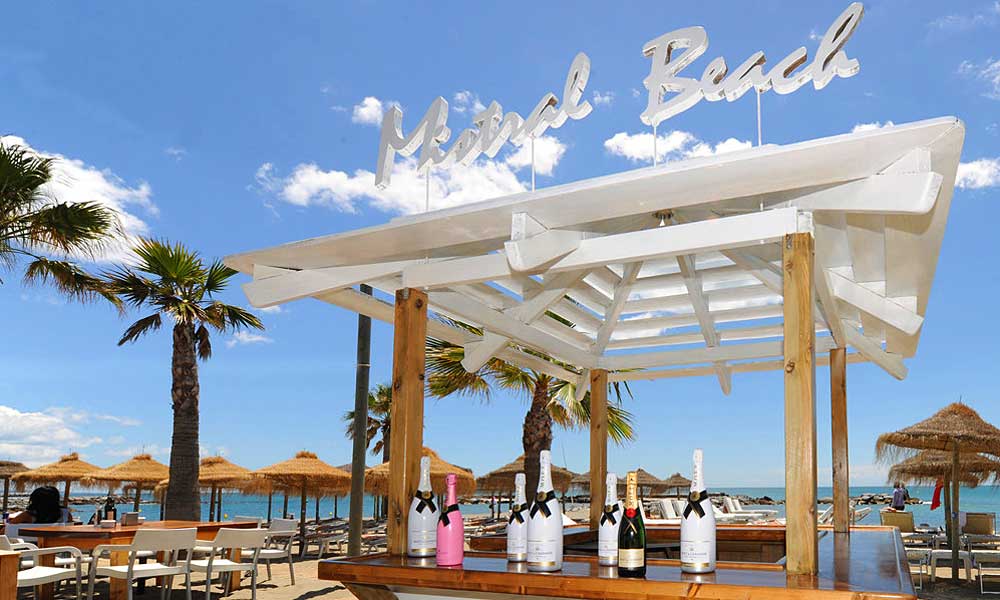 To talk about Mistral Beach is to talk about sculptural and tanned bodies, in one of the best beaches from the western side of Puerto Banús, enjoying of relax time while having a delicious cocktail under the palm trees shade while the best music cheers up the party…an authentic paradise.
Mistral is a beach club that offers an added value, it offers nautical sports, a zone of deck chairs and well cared umbrellas on fine sand and high-level food since the menu is very fresh and creative to take the most advantage of what there's in the market.
Playa del Rodeo, s/n, 29660 Marbella, Málaga
T: +34 952 11 32 84
www.mistral-beach-marbella.com


Google Maps
ALABARDERO BEACH CLUB (Marbella)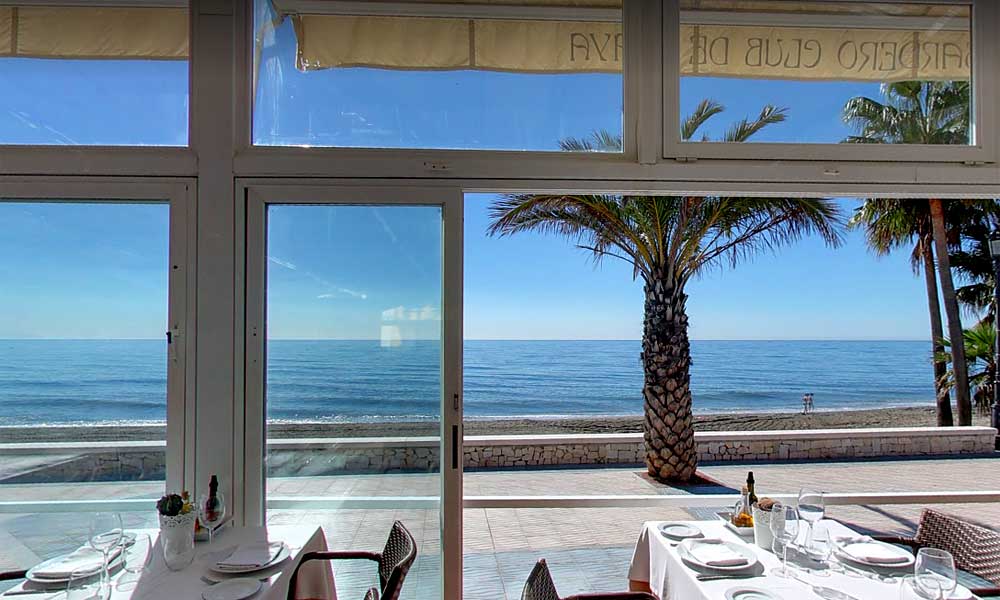 Alabardero Beach Club is found right on the middle of the beach in San Pedro de Alcántara, it has some spectacular scenery of the Peñon de Gibraltar and Morocco, therefore is the perfect choice to enjoy of a rest day for couples or friends, where the rice lovers find the right place.
En Alabardero Beach Club everything is thought to make up a pleasant environment, of which you can enjoy the 365 day of the year. Its big lookout to the Mediterranean, its garden with swimming pools or its indoors hall are perfect places to rest or allow yourself to be delighted by its delicious gastronomical proposal.
Urbanización Castiglione, s/n, 29670 San Pedro Alcántara, Málaga
T: +34 952 78 05 52
www.alabarderobeach.com


Google Maps
Do you know Marbella's best beaches?
Discover our Amàre Events