Marbella and Ibiza Blog
Amàre Beach Hotels
Organic Marbella: organic restaurants where healthy eating is a pleasure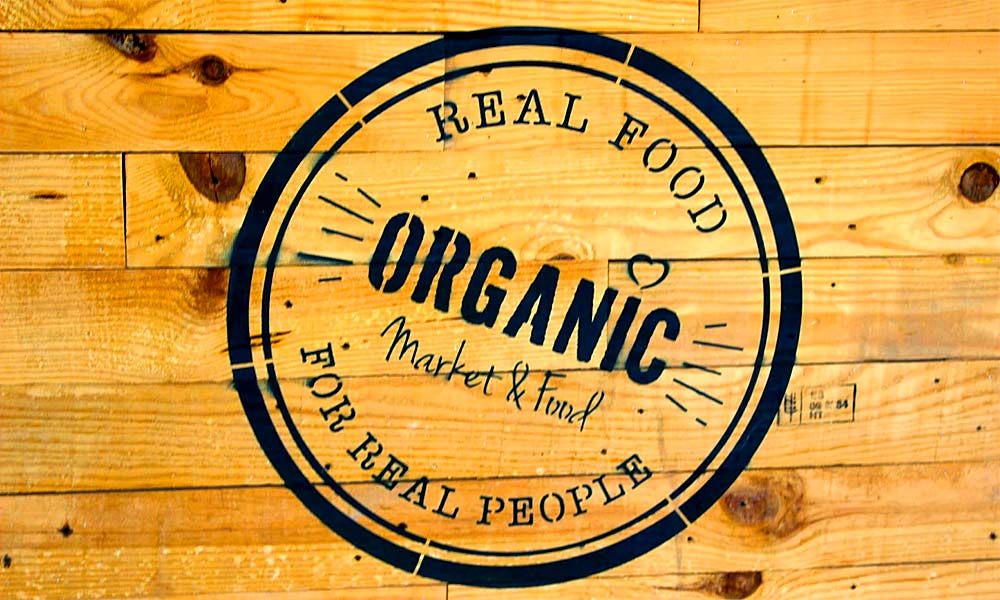 Organic Marbella: organic restaurants where healthy eating is a pleasure
Rather than being restaurants where the variety and the good work of its dishes are the main interests, organic restaurants –  ecological or Eco-friendly – have become the latest gourmet trend for all those to whom eating well and healthy is more than a whim. To enjoy this food and this cuisine, it is not necessary to be vegetarian or vegan, just keep looking forward to eating well and differently. In these restaurants top-quality products are offered, obtained naturally, which is a direct consequence of its belief in preserving the environment. Organic food is free of chemicals and other strange substances and pollutants that, in the long run, may affect the body.
We show you the chicest Organic Restaurants in Marbella.
Origen Organic Food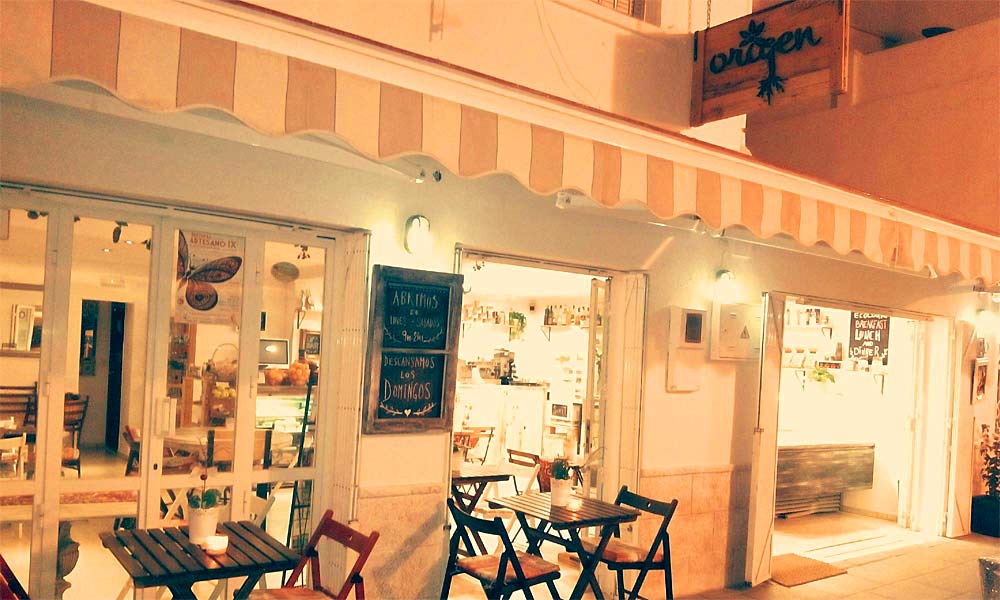 In San Pedro you can visit Origen, a local store – restaurant of healthy food with organic origin. They've opened in the end of 2014 and are creating a good enthusiasm, not only for what they offer (restoration and products for sale, some available online), but by creating a community.
The menu that it offers is very unique and genuine. Dishes with rare products can be found like the Jerusalem artichoke that, in short, is a tuber between the common potato and the artichoke. The offer is based mainly on vegetables and meat, always with top-quality products. All the vegetables come from an organic garden and are exquisite and of top-quality.
It is a pleasure to enjoy products in San Pedro with taste and be able to rediscover all the flavor of the tomato or a tender beef that melts in the mouth. To meet again with nature and the full flavor of rich vegetables, Origen is undoubtedly a good place. As they themselves say, their focus on 'develop and promote Eco-friendly products, encourage recycling, support the work of small artists, farmers and craftsmen and develop our local economy'. To achieve this, they organize events and workshops.
Origen Organic Food
Calle Nueva, 20, 29670 San Pedro Alcántara, Málaga
Tel: +34 638 23 65 49
Web: www.http://origenorganicfood.com/


Google Maps
Organic with love OWL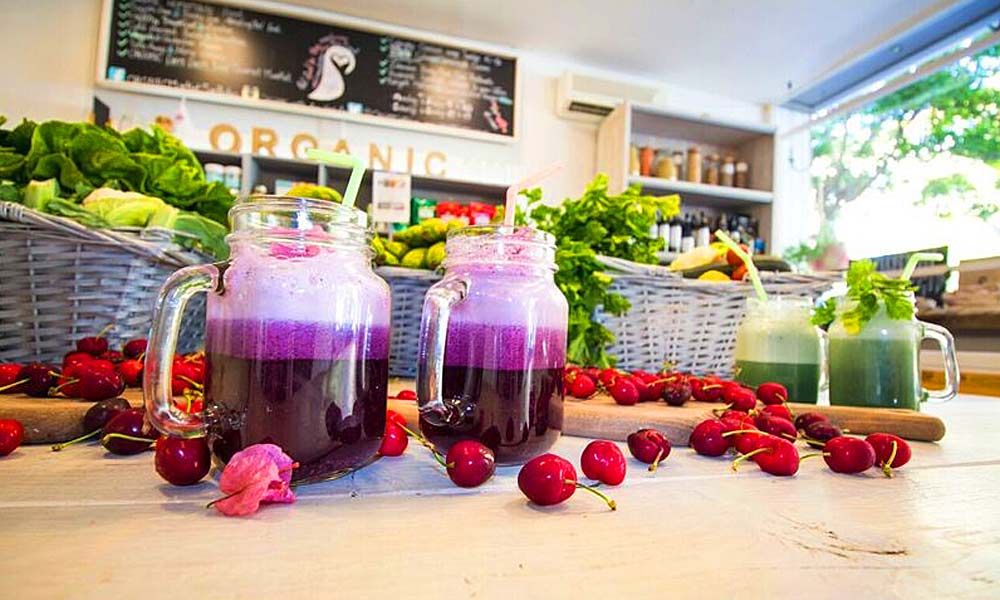 In San Pedro Alcántara and in the area closest to the beach (Nueva Alcántara) is located this small organic shop Marbella that goes almost unnoticed, but once you look at it, you let yourself get carried away by its pull effect.
Organic with love is the ideal place for all those who want to improve their diet or discover new ways to feed themselves but don't know where to start. A modern, wide and cozy environment encompasses a comprehensive concept of eating but here we can find enough to talk about on several lines: raw vegan, organic food, detox, gluten free and organic cosmetics.
And for who wants to go out for lunch, they offer sandwiches, smoothies and tastings. A new concept that deserves to be visited, they also offer 1-3 days' detox programs based on cold juices pressed by them, as well as protein juices. Its policy is 'Healthy is the new sexy', and advocate for the natural and the less processed the better: no to added refined sugar, quick yeast, or chemicals or hormones.
Organic With Love (OWL)
Edificio San Pedro del Mar, Av. Salamanca, 13, 29670 Marbella, Málaga
Tel: +34 952 92 77 19
Web: www.organicwithlove.es


Google Maps
Rachel's Eco Love Organic Food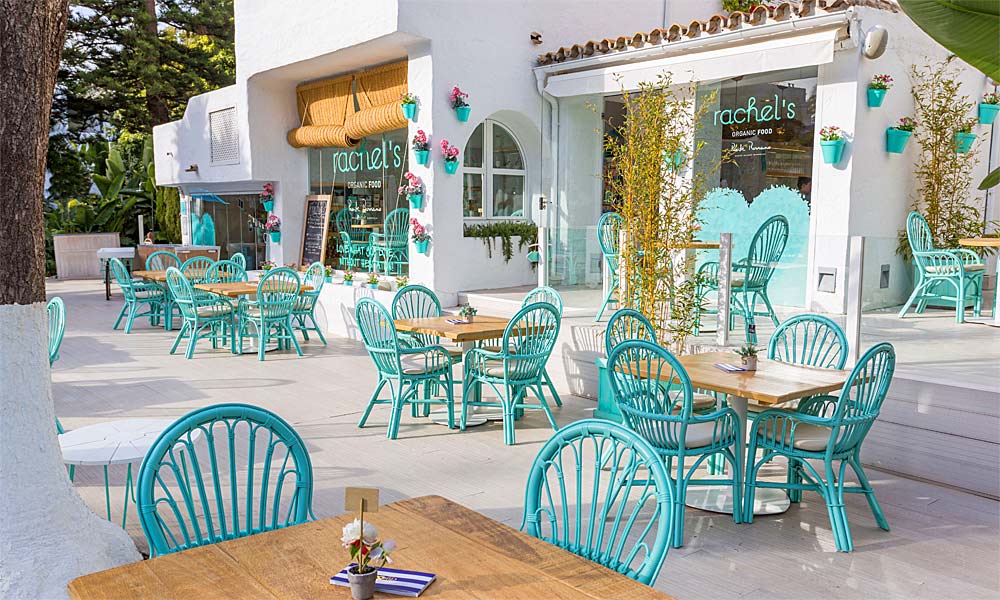 And when one wants an environment already 100% chic and over the top, besides being organic, you have to go for breakfast at Rachel's (where of course you can also eat a light lunch), a wonderful place.
At Rachel's, in addition to relax by the pool taking a coffee, juice or a piece of cake, you can do some small shopping: has a small shop that could be defined as 'convenience', but Very Chic, where you can find everything from cute flip-flops to a toy for a child, something to nibble, or an organic cosmetic.
Rachel´s Organic Eco Love Food
Puente Romano Beach Resort & Spa, 29602 Marbella, Málaga
Tel: +34 952 86 56 17
Web: www.rachelsorganicfood.com


Google Maps
Organic Market Food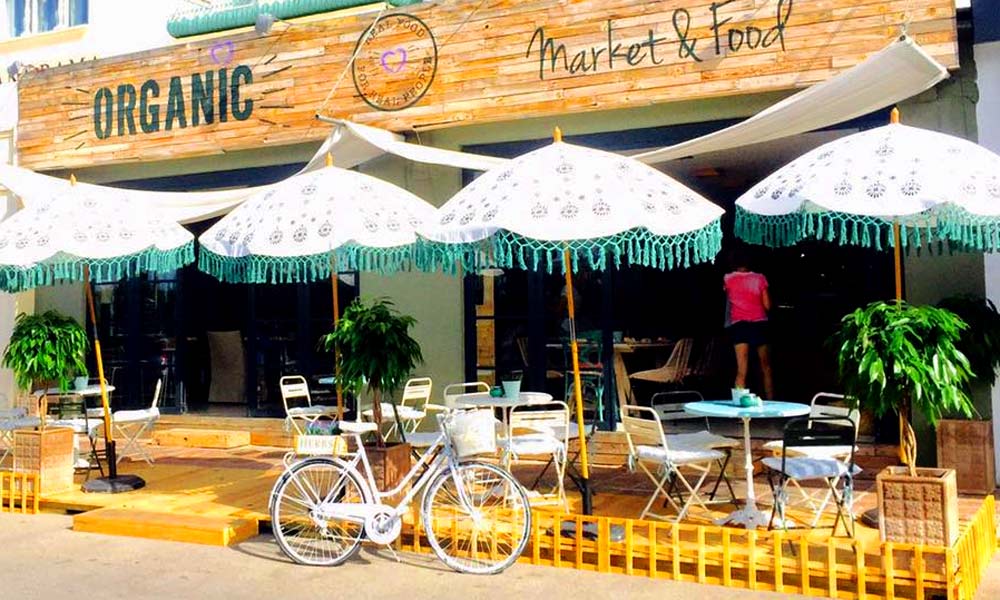 Organic Market Food is already a classic in organic Marbella, it has developed into a reference place since they have taken care of all the details, the decoration, the presentation, the fruit and vegetable boxes at the door… not in vain its owner has dedicated all his life to the hospitality industry.
With a simple menu, has opted for dishes with seasonal products and from Marbella organic markets, offering a healthy, natural and affordable cuisine that keeps in touch with the traditional Spanish cuisine. Desserts and bread are especially noteworthy because they are completely handmade daily, different and from tasty family recipes.
Organic Market Food
Centro Comercial Expo 14, Av. Bulevar Príncipe Alfonso de Hohenlohe, s/n, 29602 Marbella, Málaga
Tel: +34 952 92 52 76
Web: wwworganicmf.com.


Google Maps
Dezentral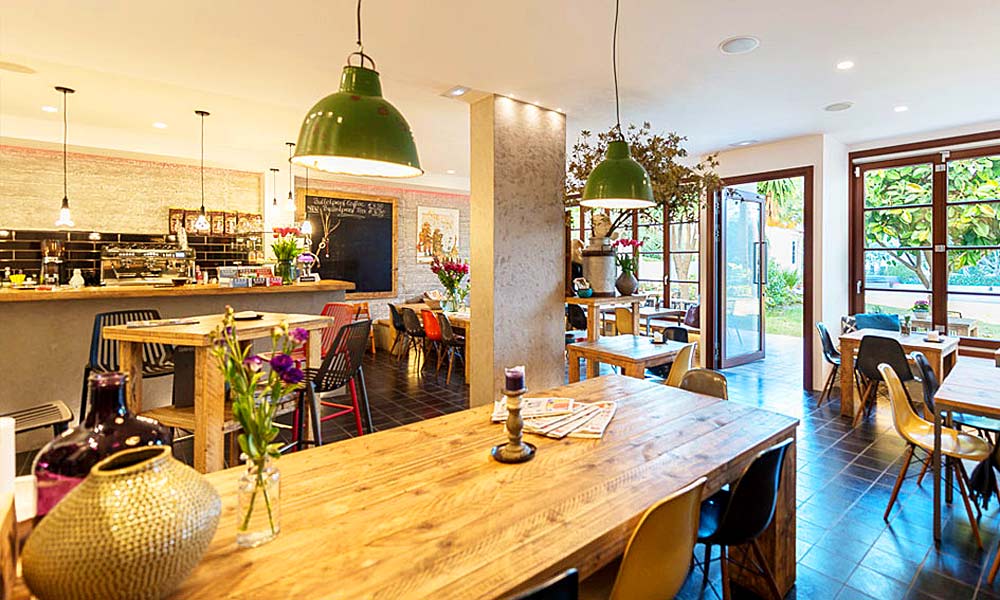 They have opened in 2013. Is one of the first Organic food Marbella restaurants that has opened. It is a cozy place both in summer as in winter, it is one of those places where you sit to have breakfast and you remain sited, even snacking before you realize that already it is time to close.
A thing to have in mind at Dezentral is that they are completely dog friendly, they love dogs and they are welcome, not only they give them a bowl with water but also they have sweets for them.
This restaurant also stands out for its local products, as well as the recovery of ancient recipes with a traditional touch while remaining avant-garde. Stands out for the use of ecological local products and its aromatic herbs, in a gastronomic commitment with the traditional culture. The menu has an endless number of different dishes, made with completely natural products such as rice, hummus, corn, tofu, etc. In addition, also has special dishes for celiac or diabetics.
Dezentral | Marbella
Calle las Malvas Ed. Online 19 local nº 20, 29660 Marbella, Málaga
Tel: +34 661 50 97 29
Web: www.dezentral-marbella.com


Google Maps