Marbella and Ibiza Blog
Amàre Beach Hotels
Hippy chic, the most exclusive Marbella street markets. Let's go shopping!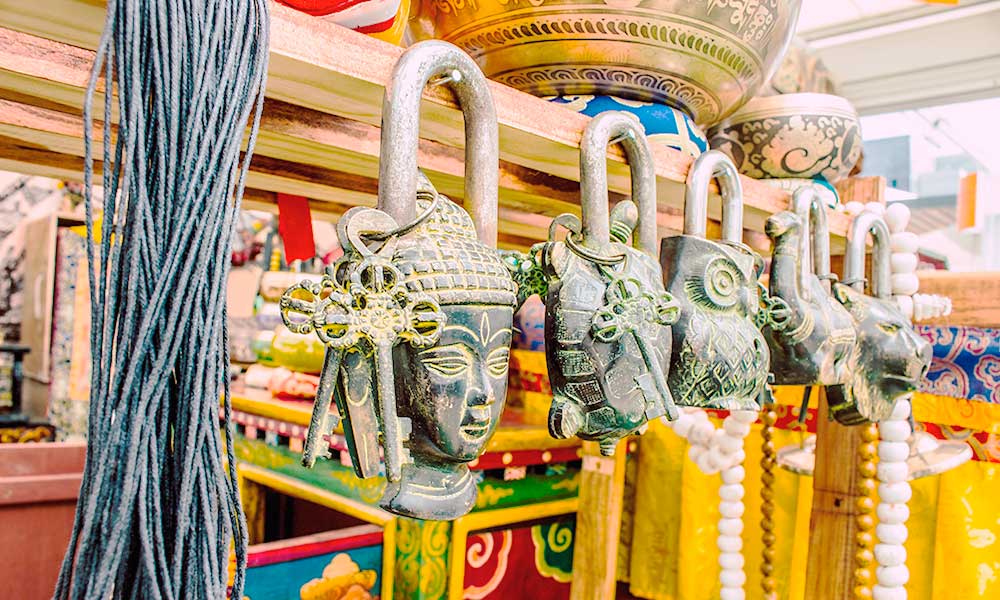 Hippy chic, the most exclusive Marbella street markets. Let's go shopping!
Although Marbella is synonymous with elegance and sophistication, one example being Puerto Banús, which is famous for its exclusive luxury boutiques, it is increasingly fashionable among residents and tourists in Marbella to go to a flea market, street market or bazaar. Whatever you want to call it, these markets have a local touch where visitors can also find something for a good price. The street markets in Marbella offer a wide range of possibilities: silver bracelets, necklaces, earrings, handbags, long hippy style dresses, scarves, espadrilles…
Do you want to know what the street markets in Marbella are like? Well, we'll tell you. Make the most of your holiday to update your wardrobe at the most VIP street markets on the Costa del Sol.
Nueva Andalucía Street Market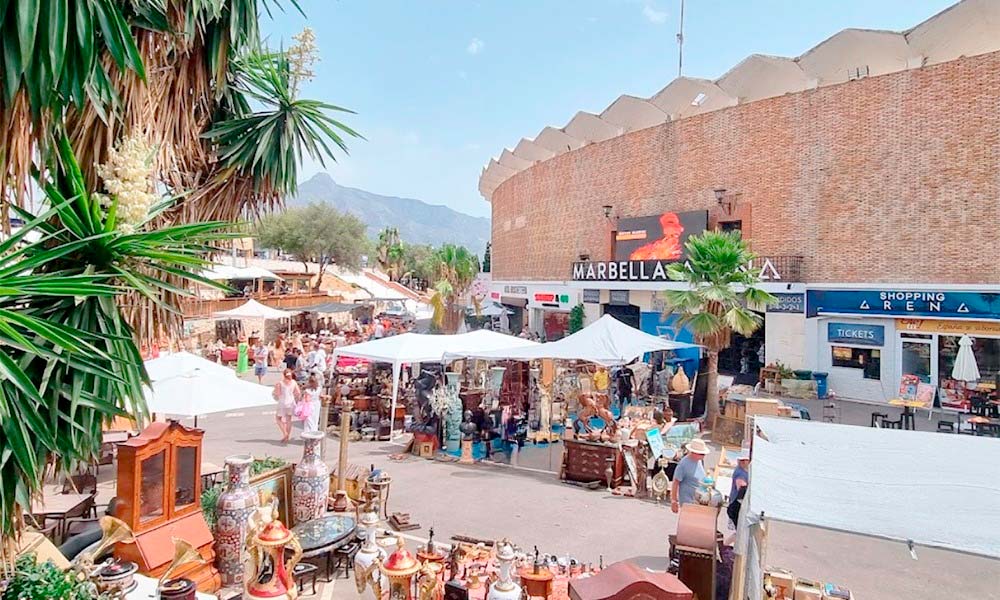 One of Marbella's most famous and popular street markets is Nueva Andalucía, located very near to Puerto Banús. This market takes place every Saturday from 8.00 a.m. to 3.30 p.m. and its stalls sell everything from fashion items and stylish accessories to pictures, antiques and rugs.
Av. Pilar Calvo, 29660 Marbella, Málaga
Google Maps
Where to park
The most practical way to get around Marbella is by public transport, however if you don't want to use it and would rather go by car, you can park your vehicle near Hotel H10 Andalucía Plaza or on the neighbouring streets. We won't lie to you, it will take you a while to find a space, so be patient. Another alternative is to use one of the public car parks in Puerto Banús and walk from there to the street market.
Marbella Street Market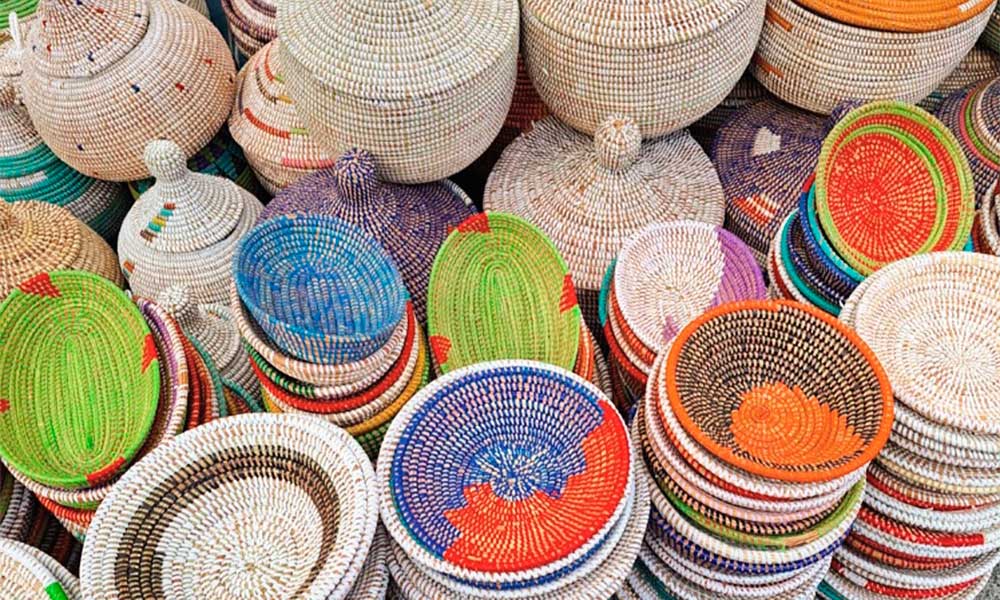 If, when you're on holiday in Marbella, you hear someone mention the "bazaar," don't make a funny face, since they're talking about the street market held on Mondays from 9.00 a.m. to 2.00 p.m. at the Las Albarizas fair enclosure. Here you can buy everything from fruit and vegetables to clothes and shoes, as well as accessories such as handbags, jewellery and cosmetics.
Av. José Manuel Vallés, 29603 Marbella, Málaga
Google Maps
Where to park
If you visit this street market, it's best to walk, since it will take around 10 minutes from the city centre. Another option is to use public transport, since the bus lines L-2, L-3, L-6 and L-7 all pass through that area. However, if none of these recommendations convince you and you decide to go by car, it has to be said that parking is difficult and unless you're very lucky, which is possible, you'll end up parking your car pretty far away.
Organic Street Market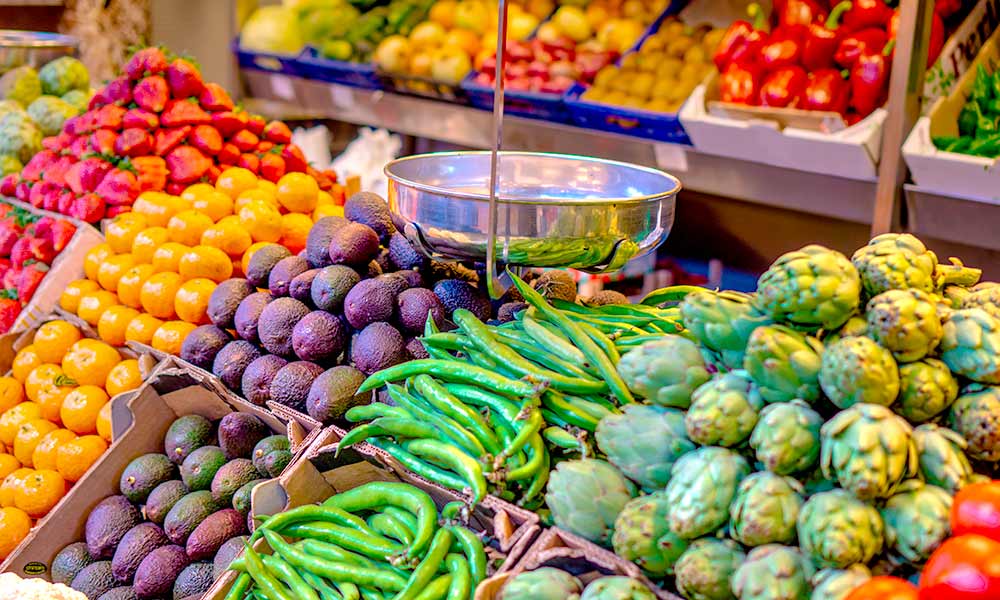 On the third Saturday of each month, Marbella hosts La Campana (calle Sirio), one of the most famous street markets for ecological products. Here the food comes from local farms or small growers in the region who want to display their products, considerably reducing the need for middlemen and the use of preservatives.
Calle Sirio, 29660 Marbella, Málaga
Google Maps
Where to park
Public transport is the best option for getting around Marbella, although you can also venture out in a private vehicle, but we will say that it'll be hard to find a parking space, so be patient and if you still can't find one, use one of the car parks and walk to the street market.
El Patio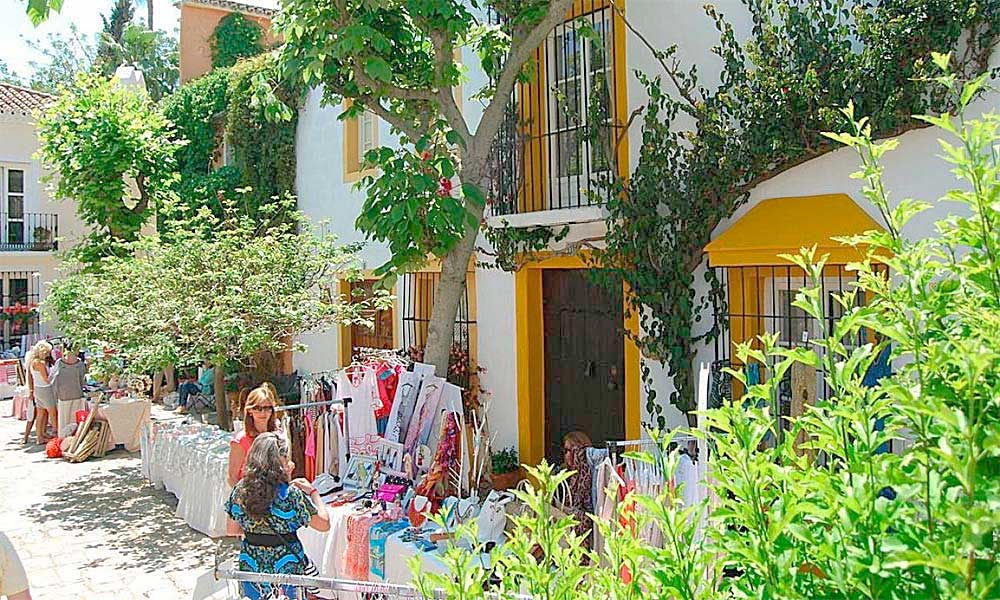 El Patio is the classic Marbella market for the most exclusive shopping of the town and makes a perfect combination between love and business. On the 18 stands at El Patio there are more than enough exclusive attractions: from an antique piece brought from Paris in the 50's to the latest in natural remedies, passing through fair-style shawls, roses bread and perfumes.
Behind the counter, organizers do their utmost to explain to visitors that part of the money that is raised will go to the NGO of Cesare Escariolo, that the basketball player Sergio Scariolo created to help families with children in cancer treatment.
In this charming spot, where the luxury of tapas and shopping to the rhythm of international Dj's music becomes a reality.
El Patio
Milla de Oro/Puente Romano
Bulevar Principe Alfonso von Hohenlohe, s/n, 29602 Marbella
Google Maps
Where to park
Because the area where the market is held is one of the busiest of all Marbella, parking is hard to find, so we recommend you either go early, to avoid having too many parking problems, go by taxi or by public transport, as the L1 Marbella city buses stop very close to the marked location.
Another good option is to go by foot along the promenade and enjoy the great views on the way to the market.
LA VIRGINIA, A PARADISE IN THE NORTH OF THE CITY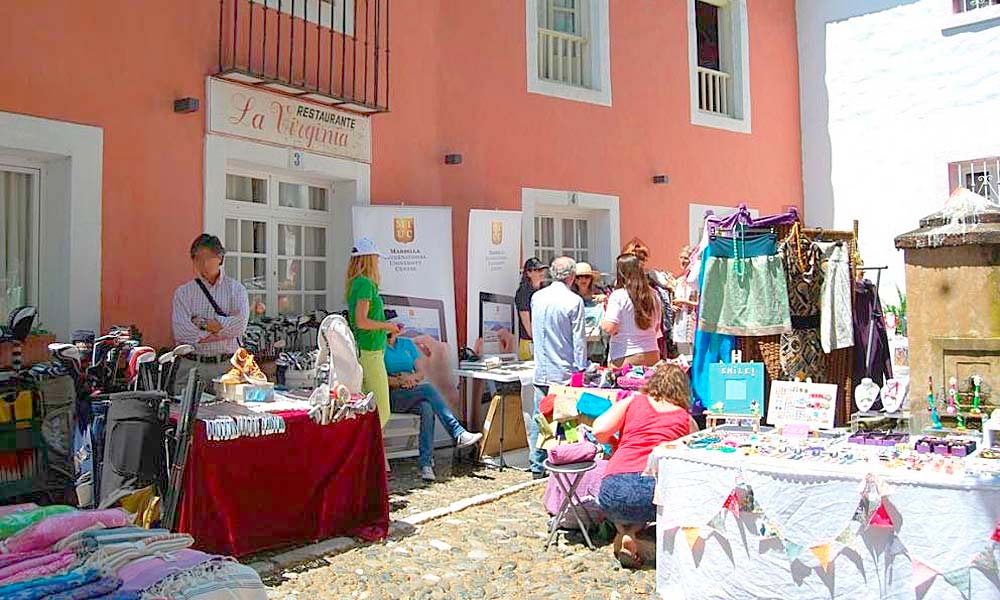 The La Virginia street market is one of the most anticipated social events of the calendar for crafts lovers and Marbella can only enjoy it twice a year: in spring and Christmas.
This market has become fashionable 30 years ago by the hand of the family of Karine Maeck and since then its influx has increased because more and more visitors that arrive for the first time discover not only a nice event, but also an unknown corner of tourism in Marbella, the estate La Virginia, thanks to this market La Virginia turns its cobbled streets, its balconies full of flowers and its small chapel in storefronts with the latest in fashion and design.
La Virginia is filled with homemade food stands, music, hats, accessories, decoration and fashion among others, although among the hundreds of luxury items that you can find, Borsalino and Panama hats are the most popular.
La Virginia, Plaza de Antonio el Jardinero, 3, 29602 Marbella
Google Maps
Where to park
Bear in mind when parking that this market is located in a typical housing estate and that this is one of the more crowded by what we recommend that either you go early in order to not have problems when parking or go directly taking a stroll or by taxi since currently no bus line reaches this point.
Puerto Banús and its International Exhibition of Traditional Crafts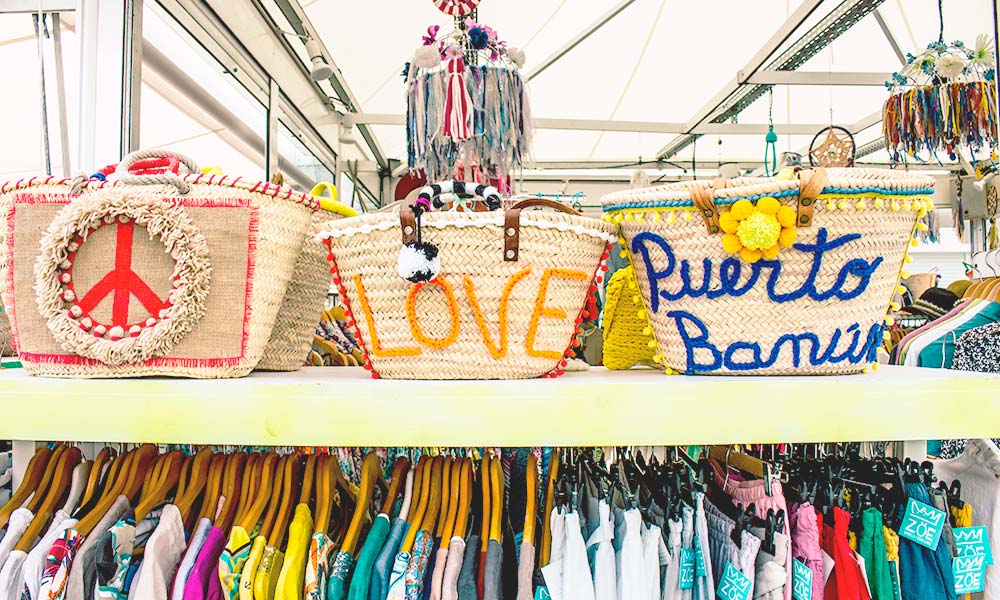 Puerto Banús always has been synonymous of excellence and when is heading to its half century of life displays a shinier image than ever and next to the already extensive and elitist commercial offer we can add since 16 years ago one of the most emblematic street markets of Spain. Known as Muestra Internacional de Artesanía, is installed in the Plaza Antonio Banderas of the city and is a craft street market listed as the best for its features at national level.
The street market gathers more than 100 high-quality exhibitors and brings on each summer to Marbella the cultures and traditions of different countries through a wide range of designs. In addition to a complete gastronomic offer, visitors can enjoy an unforgettable day of shopping in which there is no shortage of attractive proposals focused on families, like music, street performances, cinema and shows in the Goya Theater.
Open only in summer
Where to park
We point out that parking is difficult by what we recommend that you leave your vehicle in the Saba public car park also known as the one of Plaza Antonio Banderas. While its rates are not cheap, the first half hour costs a little more and then the price per minute lowers depending on the time of parking. There are special rates for mornings, afternoons, nights or if you wish to park your car for more than one day.
Saba Public car park
Pza. Antonio Banderas, 29660 Puerto Banús-Marbella
Google Maps
A STREET MARKET EVERY DAY OF THE WEEK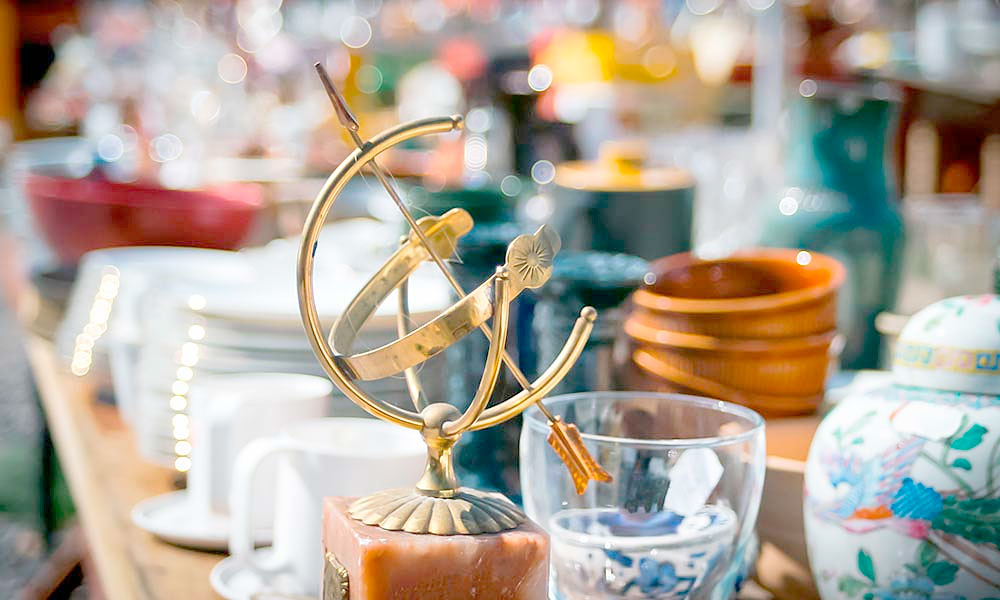 Street markets are very popular in Málaga, so most municipalities organise one, which means that you can find one almost every day of the week. Let's see what the options are:
Mondays
In Benalmádena, a street market is held at the marina where you can buy anything from antiques to arts and crafts. – Google Maps
Tuesdays
Fuengirola. This market is held at the fair enclosure and has a wide range of products, from fruit and nut stalls to arts and crafts. – Google Maps
Antequera. On Paseo de los Colegiales, over 100 stalls are set up every Tuesday with a multitude of items for sale. – Google Maps
Wednesdays
Benalmádena. In Benalmádena, a second-hand market is set up every Wednesday at the Paloma fair enclosure.  – Google Maps
Estepona. Every Wednesday, over 260 stalls are set up at the Camino de las Puertas fair enclosure, selling all kinds of products. – Google Maps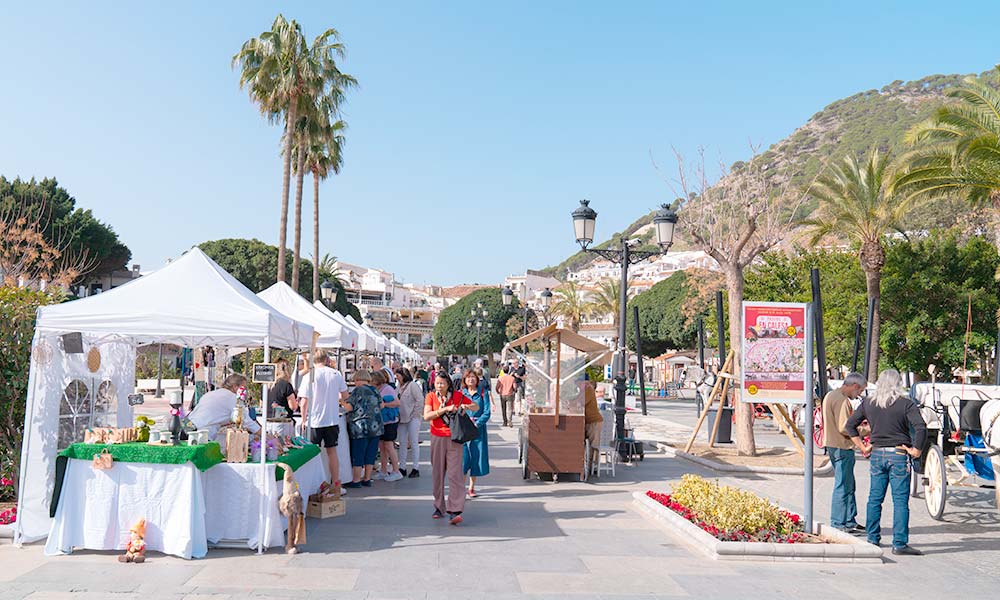 Thursdays
Colmenar. You can visit its bazaar every Thursday on calle de la Fresca, with stalls offering everything from food to clothes and fashion accessories.  – Google Maps
Mijas. You can buy all kinds of products at the Calypso de Mijas Residential Complex on Thursdays.  – Google Maps
Torre del Mar. A street market is held every Thursday on Plaza de la Paz, with over 200 stalls where you can buy all kinds of items.  – Google Maps
Fridays
Arroyo de la Miel. A general street market is held at the Tivoli World car park every Friday, with around 200 stalls.  – Google Maps
Manilva. A traditional street market is held at this locality on Fridays, with all kinds of items for sale.  – Google Maps
Saturdays
Fuengirola. From 9.00 a.m. to 2.00 pm there is a street market at the Fuengirola fair enclosure selling antiques and second-hand items.  – Google Maps
Antequera. Every Saturday, over 10 stalls are set up at the Old Fair Enclosure (El Mapa), where you can buy everything from food items to plants or home items.  – Google Maps
El Soho, Málaga. In this Málaga neighbourhood, you can buy arts and crafts or accessories at an unbeatable price on the first Saturday of every month.  – Google Maps
Sundays
Second-hand flea market in Torremolinos at the fair enclosure every Sunday.   – Google Maps
Second-hand and arts and crafts street market in Estepona at Plaza de Toros.  – Google Maps
Benahavis organises a street market at the Explanada de la Ermita.  – Google Maps
Amàre Beach Hotel Marbella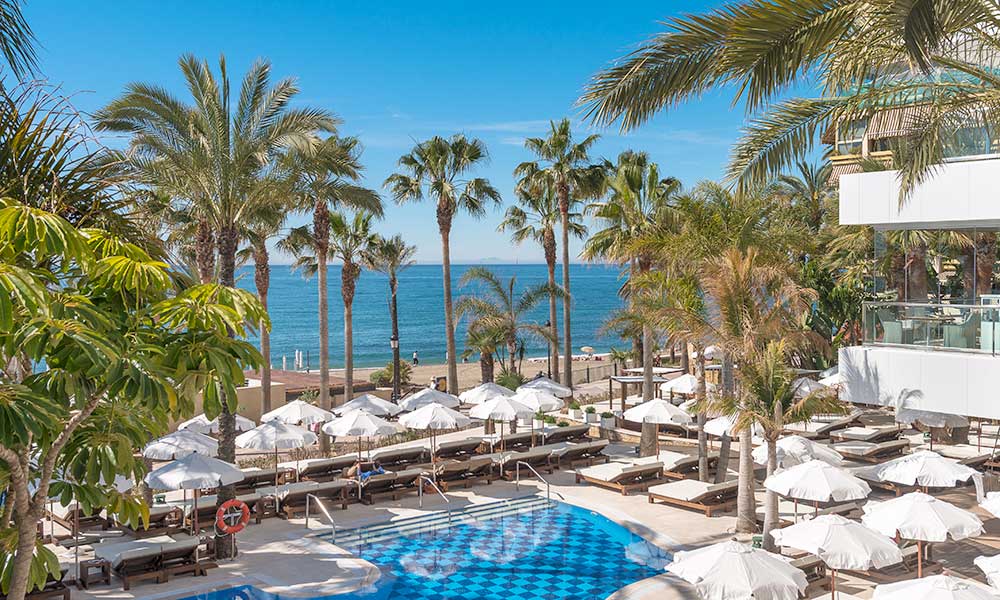 Our four-star hotel recommended for adults is located on the seafront in the centre of Marbella. At Amàre Beach Hotel Marbella you can enjoy fabulous rooms and suites, a swimming pool, exquisite gastronomy, rooftop bar with sunset views and spa treatments by Germaine Capuccini. Book today and take a step towards your unforgettable holiday in Marbella. #WhatAFeeling!