Marbella and Ibiza Blog
Amàre Beach Hotels
Discover the best coves and beaches in Ibiza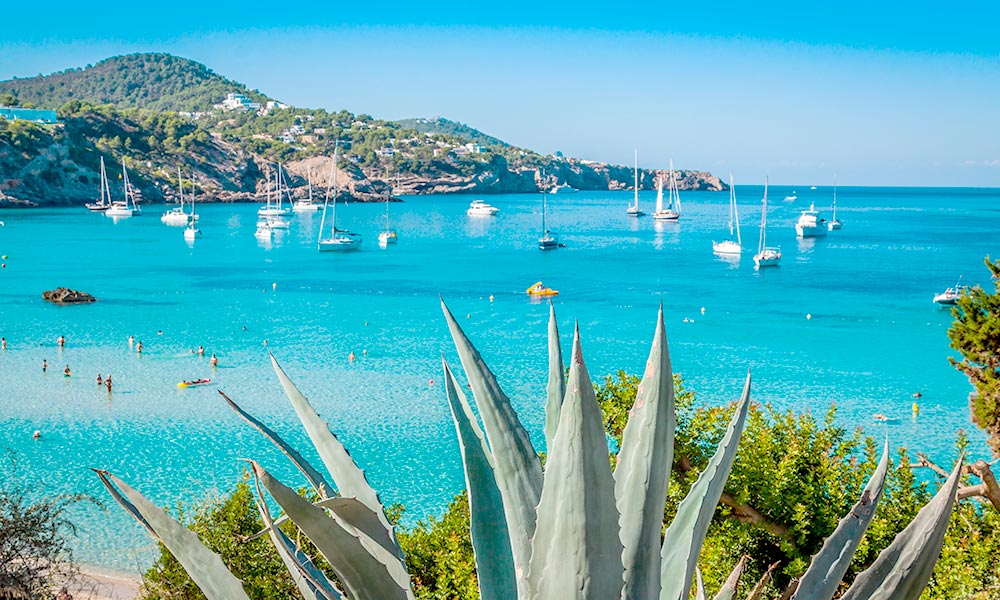 Discover the best coves and beaches in Ibiza
Ibiza's over 50 coves and beaches need more than one trip to get to know them all, so relax and make a note of the following selection, where you'll find the must-visit places for your first trip to the island and those you should visit when you want to get away from the hustle and bustle.  The ultimate beach guide you need to become an expert on Ibiza…
If you want to discover the best coves and beaches of Ibiza, all you need is the desire to travel around the island. The best way to do this is to hire a car or motorbike, but you can also get around by taxi, bus or the regular boat trips that connect Sant Antoni and Santa Eulària with the most beautiful coves in the surrounding area. If you have a restless spirit and like to visit two or more beaches a day, then don't hesitate and rent a car during your holidays on the White Island. That way you can make the most of the Amàre Hotel Ibiza selection that offer the most swimming options. Have you already taken your swimming costume, flip-flops and your favourite beach outfit out of storage? Come on, let's get started…
The 10 most spectacular coves and beaches in Ibiza
Platges de Comte (Cala Conta)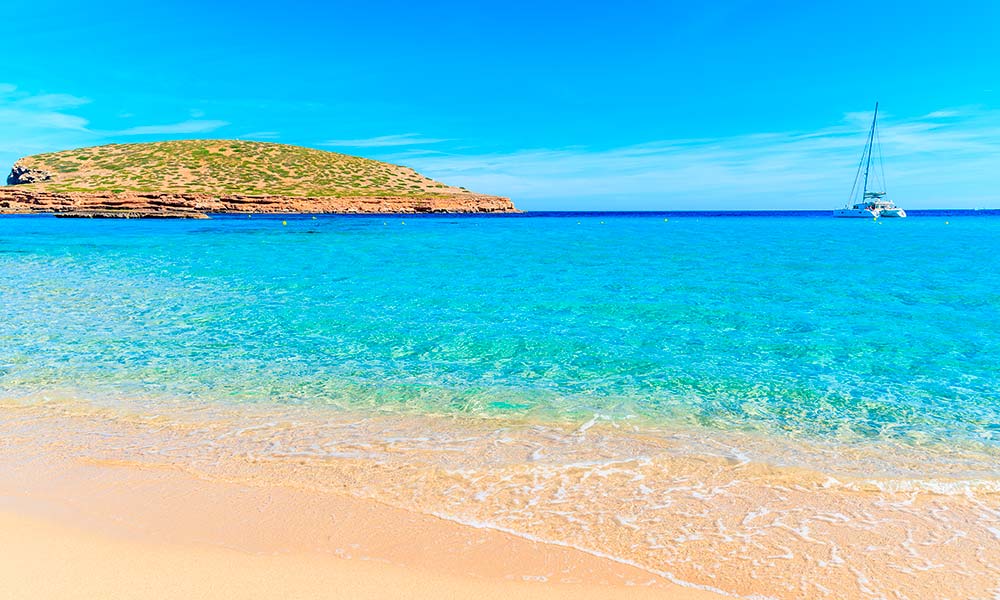 It won't take you long to get to Ibiza's most photographed beach: just a 15-minute drive separates you from the shore with the most superlatives on the island: most famous, most visited, most spectacular, most shared, most named… Its fame comes from the spectacular colour of its waters, which range from turquoise to deep navy blue. One drawback: the three coves that make up this coastal complex are somewhat small, although this is compensated for by a marvellous panoramic view of the sunset and the islets of Ponent, sa Conillera and s'illa des Bosc. Of its three restaurants and a small beach bar, Ses Roques and s'Illa des Bosc stand out, two Ibiza classics for rice and fish dishes.
Ses Salines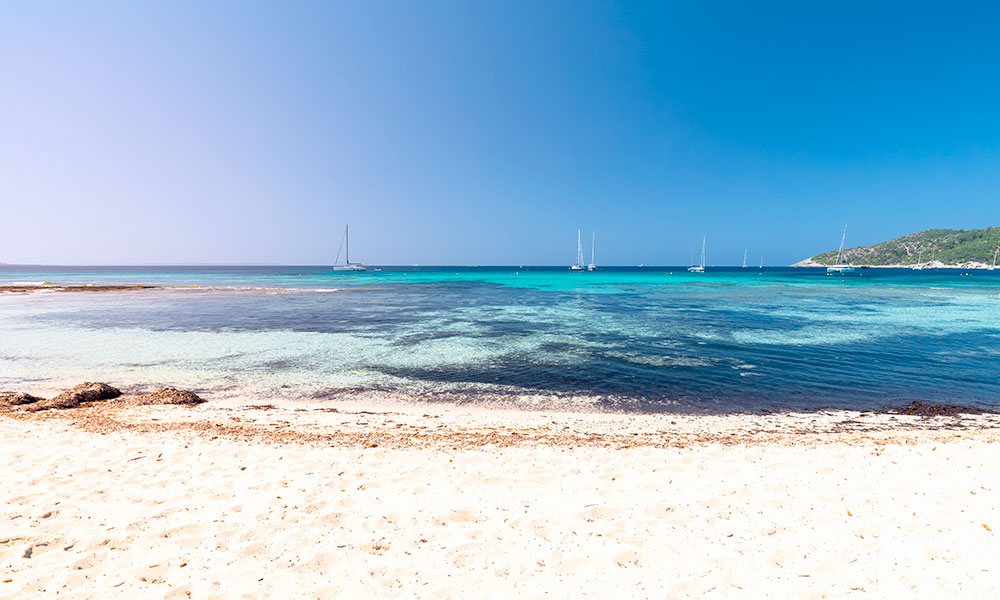 Its transparent waters have made Ses Salines one of the most famous beaches in Ibiza. It is also popular with celebrities, who are often spotted at the exclusive Jockey Club and Malibu Beach beach bars. Surrounded by pine trees and overlooking Formentera, it attracts families and young people alike. If you enjoy strolling, we encourage you to follow the coastline to the Ses Portes tower.
Cala d´Hort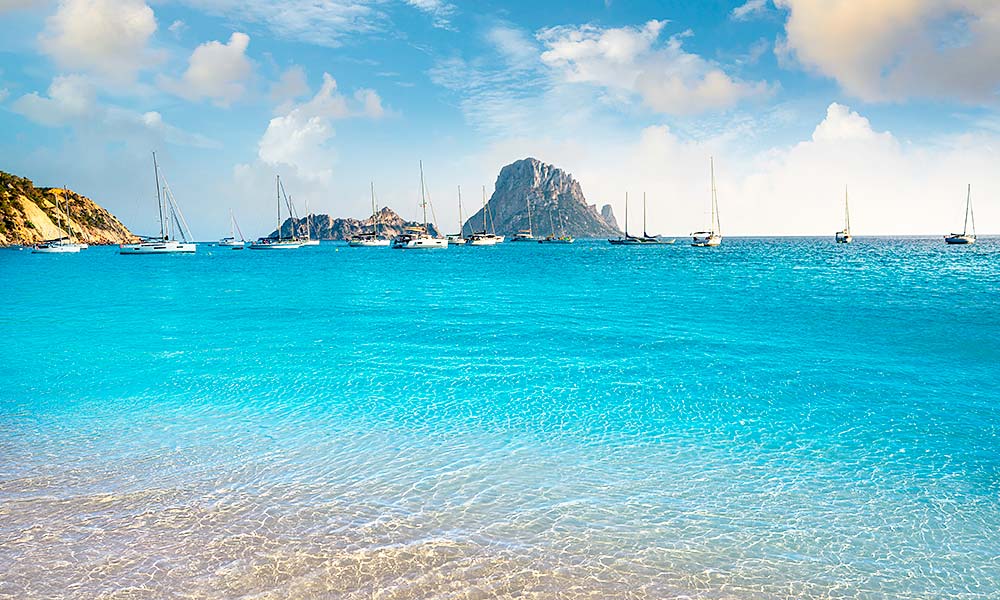 15 kilometres from the hotel awaits this beautiful cove in Ibiza, which has a stunning group of seafaring huts built under the cliff, declared an Asset of Cultural Interest (BIC). However, what makes this wild cove of sand and stones one of the best known on the island are its beautiful views over the islets of Es Vedrà and Es Vedranell. Another plus are the rice dishes and paellas served in the two restaurants located on this emblematic beach in Ibiza.
Cala Benirrás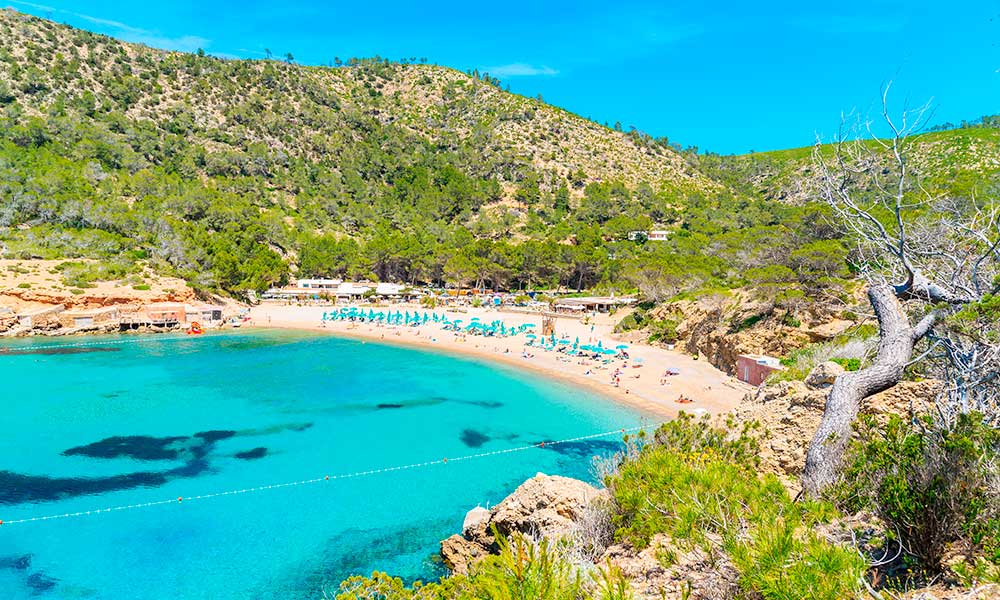 The north of Ibiza is home to another of Ibiza's must-see beaches, Cala Benirrás, one of its most beautiful beaches, thanks to its unspoilt surroundings, the seafaring backdrop of its dry dock huts, the sunset and the unique view of the small islet of Cap Bernat. Known for its free drumming performances on Sunday afternoons, this event is no longer held on Sundays, although you may stumble across it on another day of the week, always with the arrival of dusk.
Cala Bassa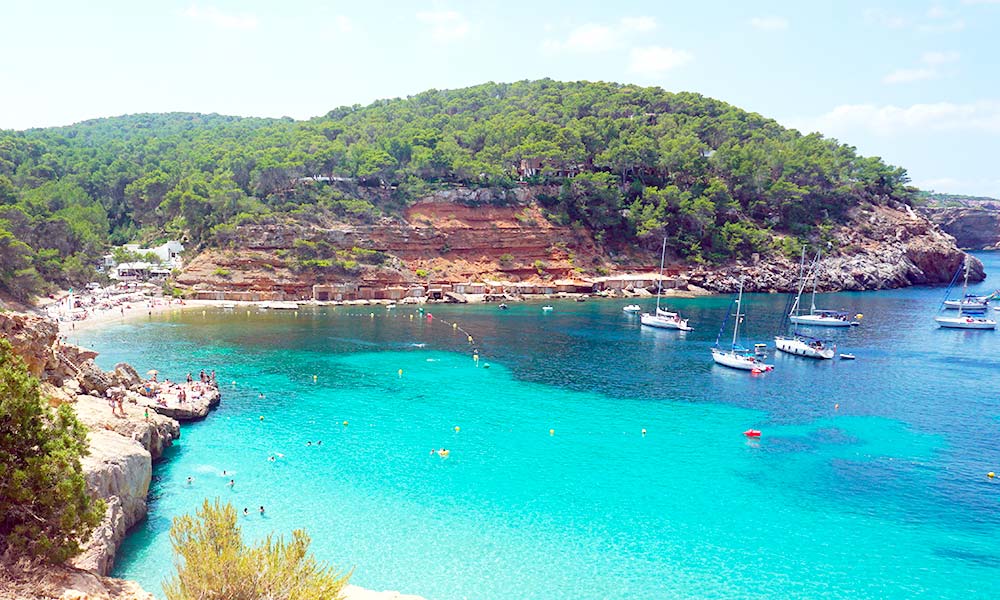 Seven kilometres from Amàre Ibiza you will find one of the most beautiful coves in Ibiza: Bassa Cove. Its fine sand, gentle slope and crystal-clear waters make this unspoilt beach a real natural swimming pool. Framed by a forest of pines and junipers, it offers a fantastic panoramic view over Cape Nonó and has a very cosmopolitan and diverse atmosphere. Its gastronomic options are limited to a very cool restaurant and an informal beach bar.
Cala Salada y Cala Saladeta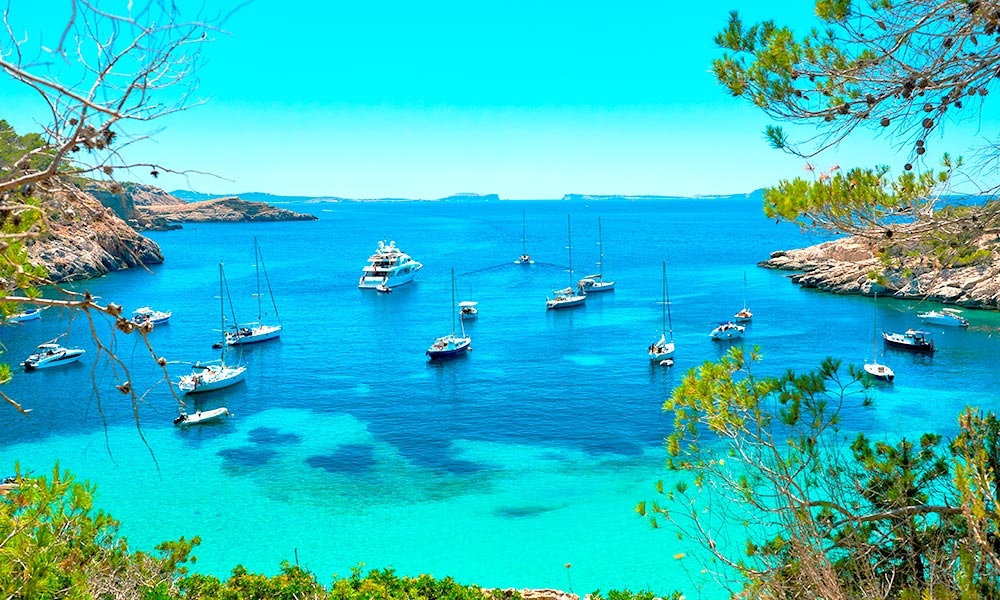 These two beautiful neighbouring coves located eight kilometres from our hotel are always on any list of the top coves and beaches in Ibiza. On arrival, the first cove you will come across is Cala Salada, which is quieter, with a restaurant and a seabed that is a mix of pebbles and sand. From there, the path starts, following the cliff, leading to Cala Saladeta, a smaller cove with no services at all and the most frequented of the two, due to the clearness of its sandy seabed. Cala Salada is part of the Ibiza Connected Beaches plan, which establishes bus connections between the beach and a satellite car park. Please do not hesitate to ask the reception staff for further information.
Es Bol Nou (Sa Caleta)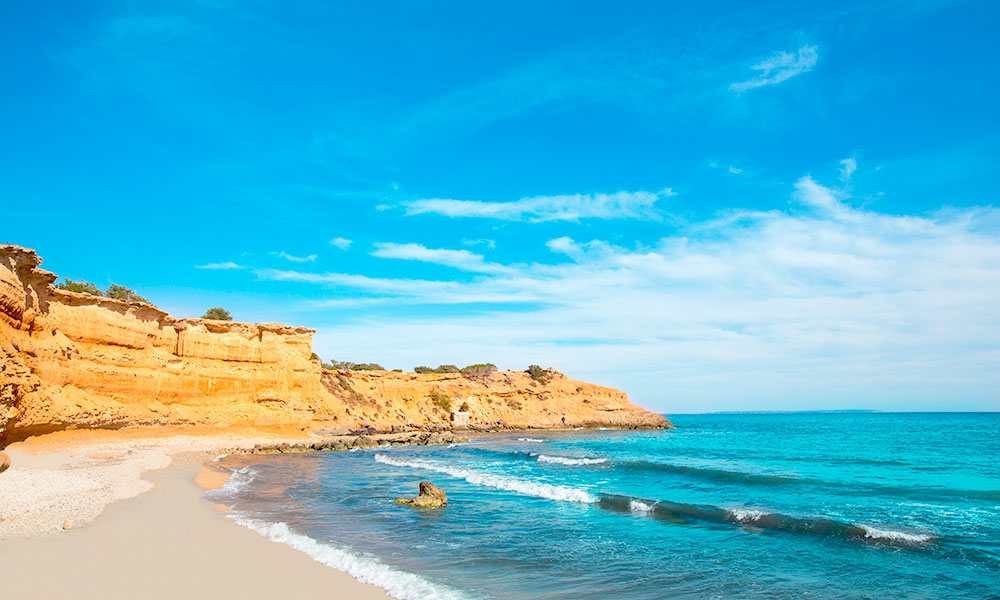 One of the stops you can include on a tour through the south of Ibiza is this cove flanked by clay cliffs, which contrast strongly against the blue of the sea. As it is not very wide, it is better to go at the beginning or end of summer, and always avoid spreading your towel just below the areas marked with danger of falling rocks.
Cala Tarida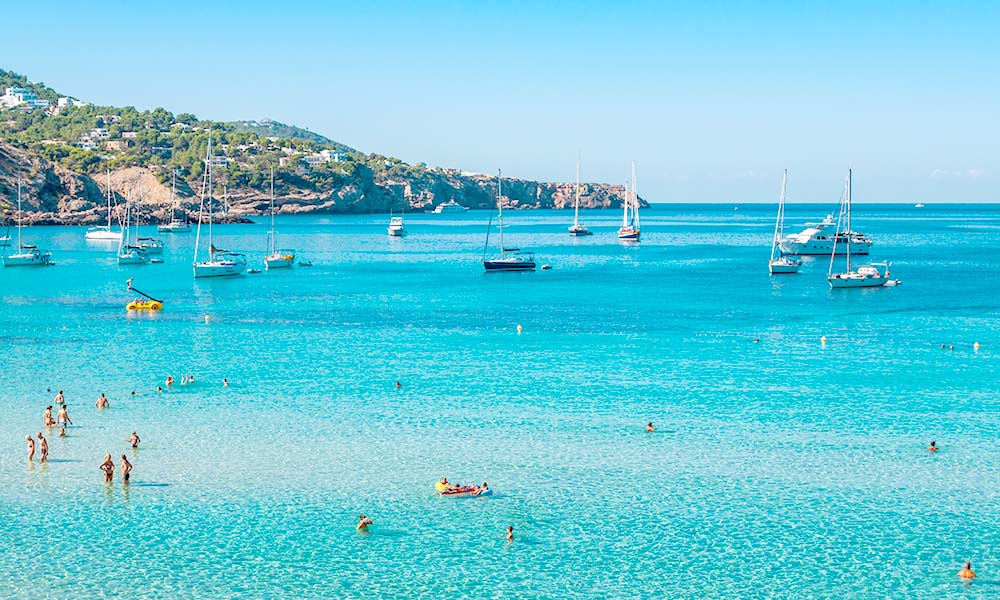 This 300m long cove is a good choice on the west coast for a day at the beach with all services: it has a wide range of restaurants and chic beach bars and you can rent a kayak, snorkel and take walks along the coast. In addition to the main sandy area, there are two small seafaring corners to the north and south of the beach. Check them out!
Aigües Blanques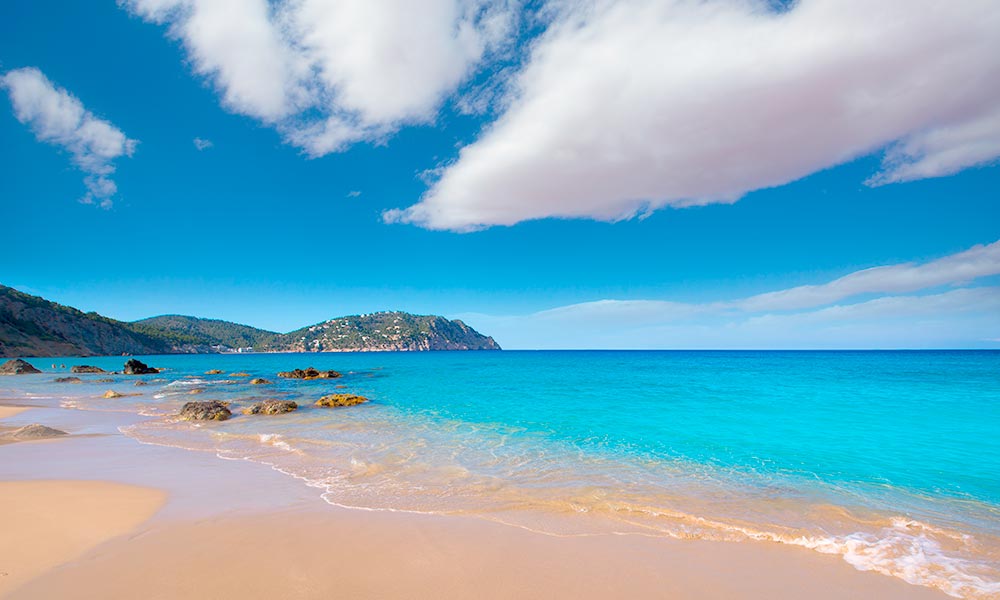 Located on the east coast, just a few kilometres from the little village of Sant Carles, Aïgues Blanques is not only one of the most beautiful beaches in Ibiza but also one of the island's beaches to visit if you practise nudism. One option is to combine it with the nearby beach of Figueral, where you can also take a kayak trip to discover this beautiful stretch of the Ibizan coastline from the sea.
Cala Vedella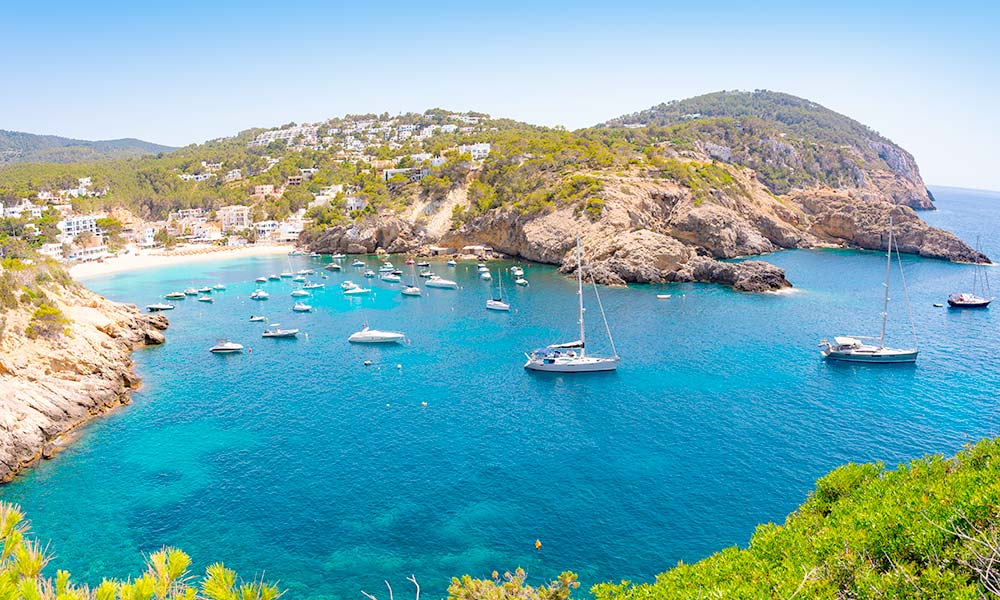 A beautiful cove with calm waters and a diverse atmosphere, although predominantly family tourism. It has a markedly seafaring air thanks to its fishermen's huts and has several restaurants(if you like paella, María Luisa restaurant makes very tasty ones). A perfect choice for a relaxing day at the beach.
The  best coves and beaches in Ibiza to escape the hustle and bustle
El Portitxol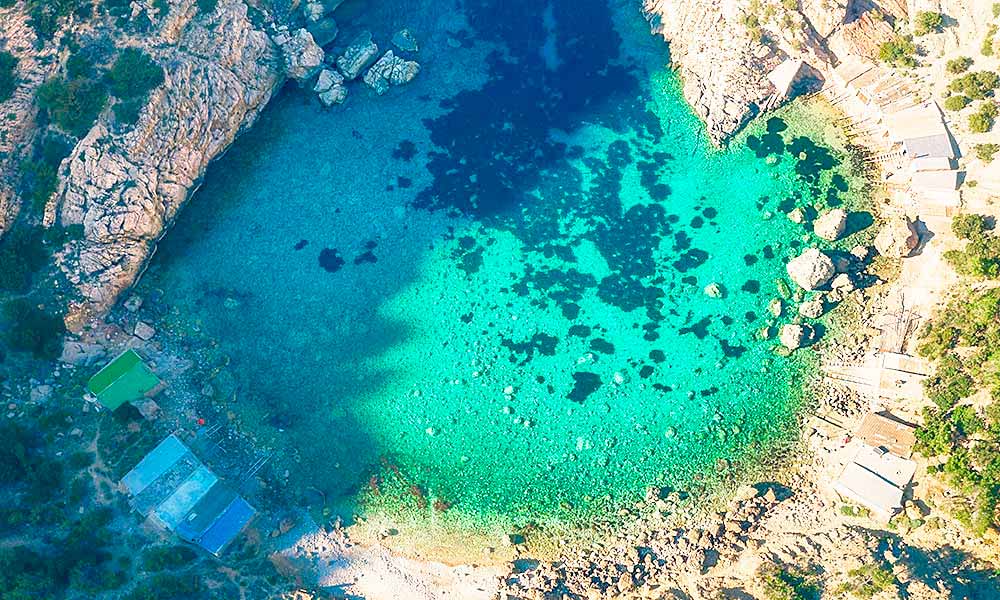 This cove is only suitable for the most active travellers, as to reach it you have to go down a steep path that takes more than 30 minutes of ascent on the way back. So why do we recommend it? Because it is one of the most hidden and charming unspoilt coves in Ibiza thanks to the group of seafaring huts that surround this small natural bay.
Punta Galera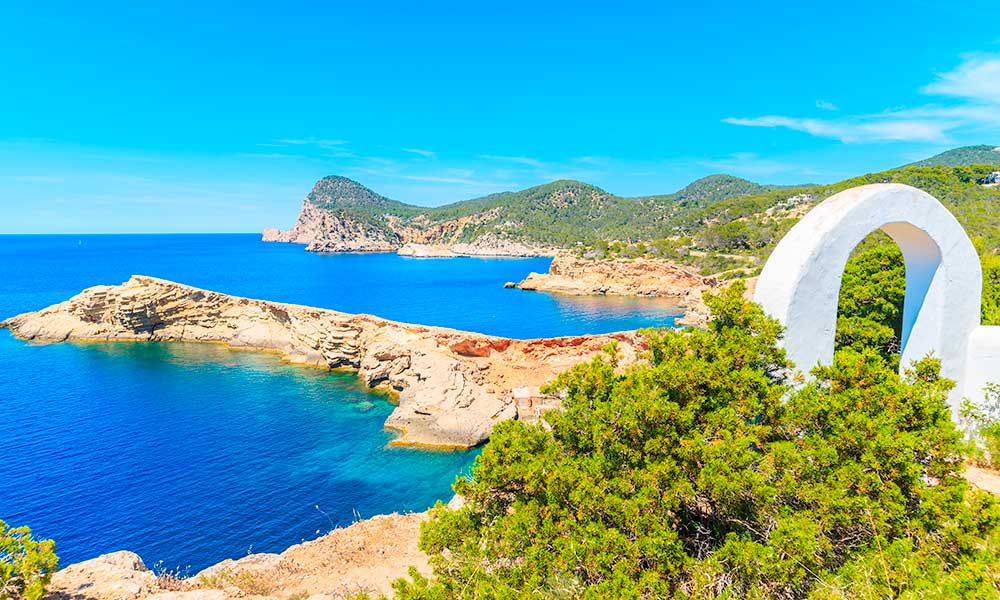 If you like nudism and unique spots, you can't miss the chance to spread out your towel on the terraces of what used to be a marés stone quarry. This unique enclave is located between Cap Negret and Cala Salada and, in addition to incredible emerald waters, it comes with complimentary sunset views.  If you consider yourself a free spirit, head for Punta Galera.
Es Canaret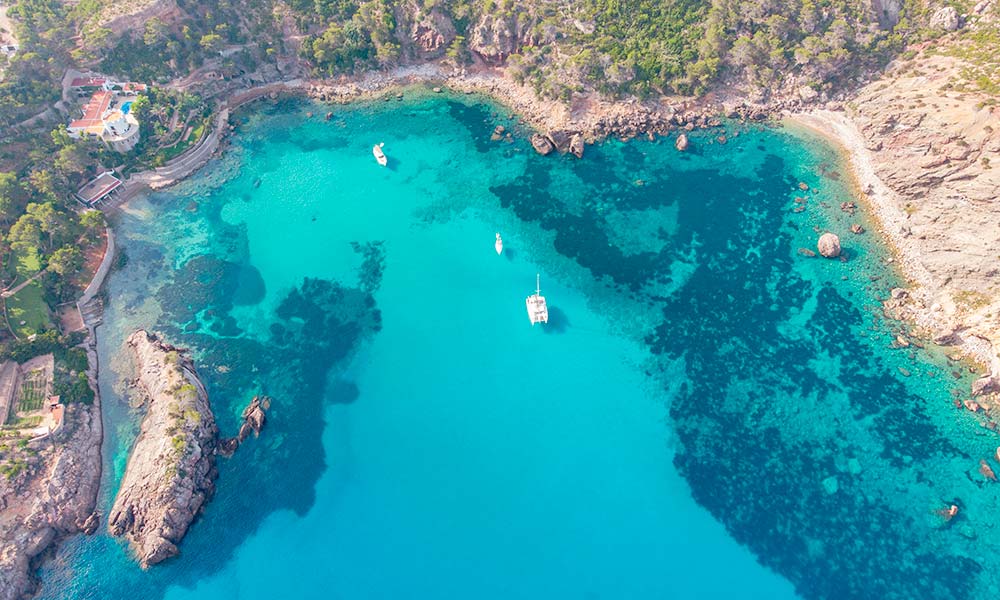 This little cove in the north of Ibiza was until recently a well-kept secret, although it is still a good place to visit in Ibiza in August and July, as it is still a quiet spot with space for a dozen people. It has sandy stone seabeds, so don't forget your beach shoes! To get there, go from Cala Xarraca in the direction of Es Caló de S'illa and take the third turning and continue until you reach a parking area. From this point a path leads to Es Canaret.
Cala Llentrisca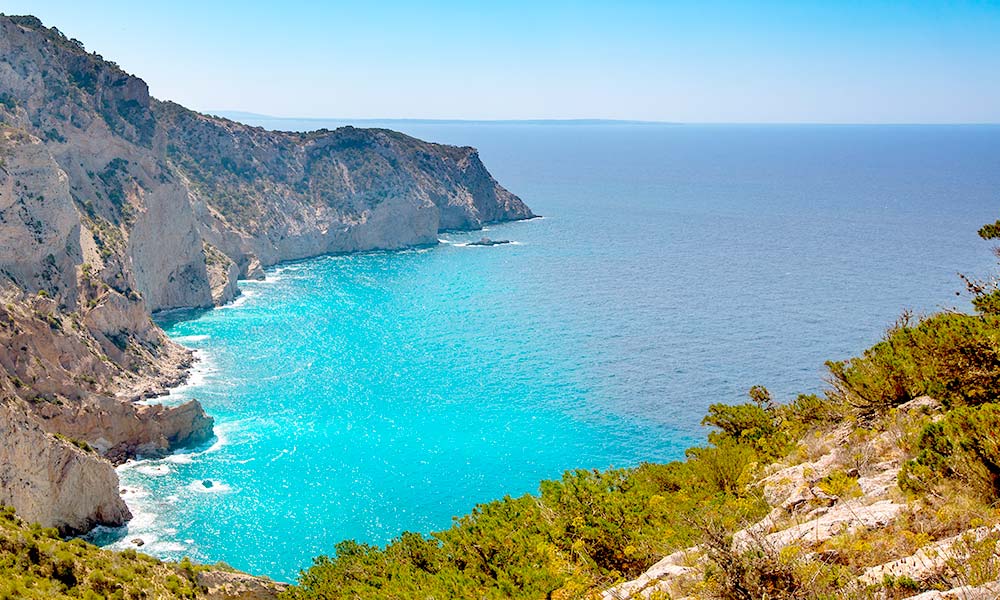 On the coast of Es Cubells lies this wild stony cove with small sandy spaces where fishermen in the area used to keep their boats. To get there you have to take the road that goes down from the church square until it reaches a residential housing estate. From there, a narrow path leads along the cliff to the cove. You'll have good views and calm waters to snorkel in.
Sa Figuera Borda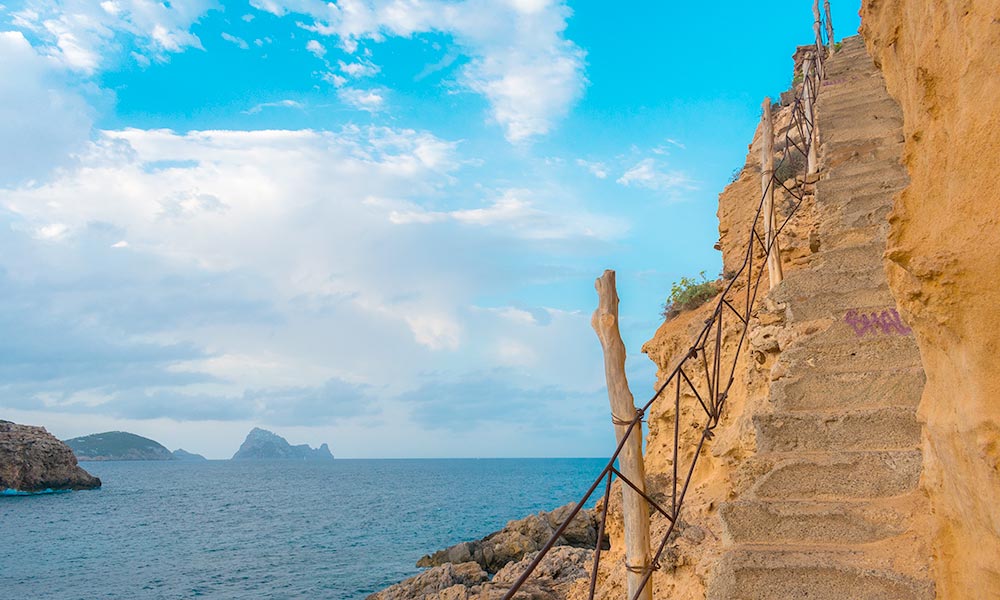 Known by the locals, this seaside spot near Platges de Comte is a good refuge from the hustle and bustle of July and August, as long as you arrive early. It is not really a cove, but a kind of cave under which there is a set of beach huts on the ramps of which you can spread out your towel and dry off in the sun after swimming in its clear waters. Undoubtedly, a very beautiful, unique place in Ibiza.
Sa Pedrera de Cala d'Hort (Atlantis)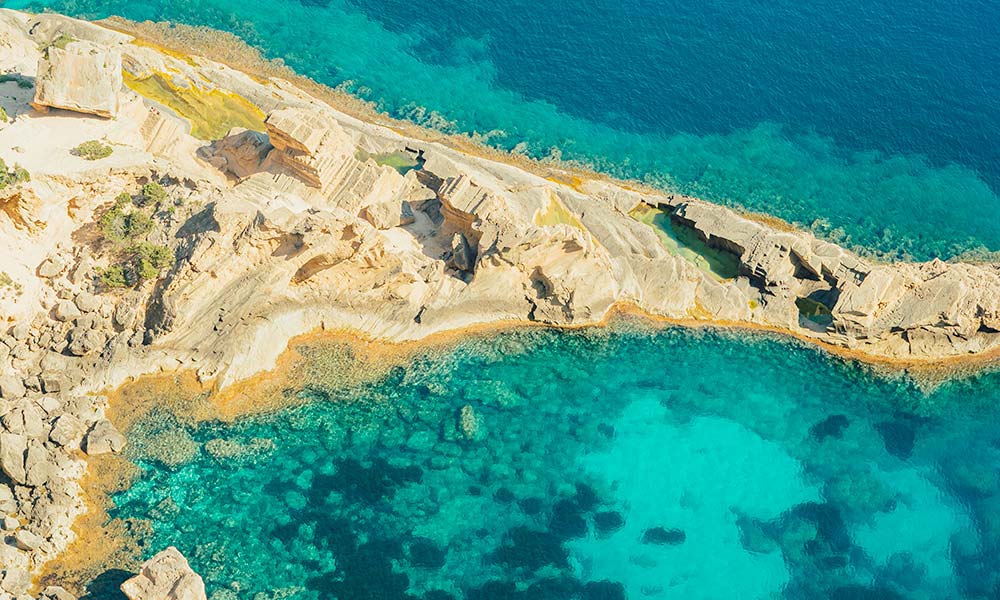 This cove in Ibiza is not a cove either, but an old sandstone quarry where natural pools have formed, which gives great charm to this spot located just a few kilometres from Cala d'Hort. Also known by the nickname of Atlantis, it is not easy to get to, as you have to descend for about 30 minutes along a sandy path that is even more difficult on the return ascent. It is not recommended to visit this enclave without taking water and appropriate footwear (no flip-flops), a tip that should not be forgotten: every summer we have to rescue one or two bathers who are unable to make it back up!
Es Codolar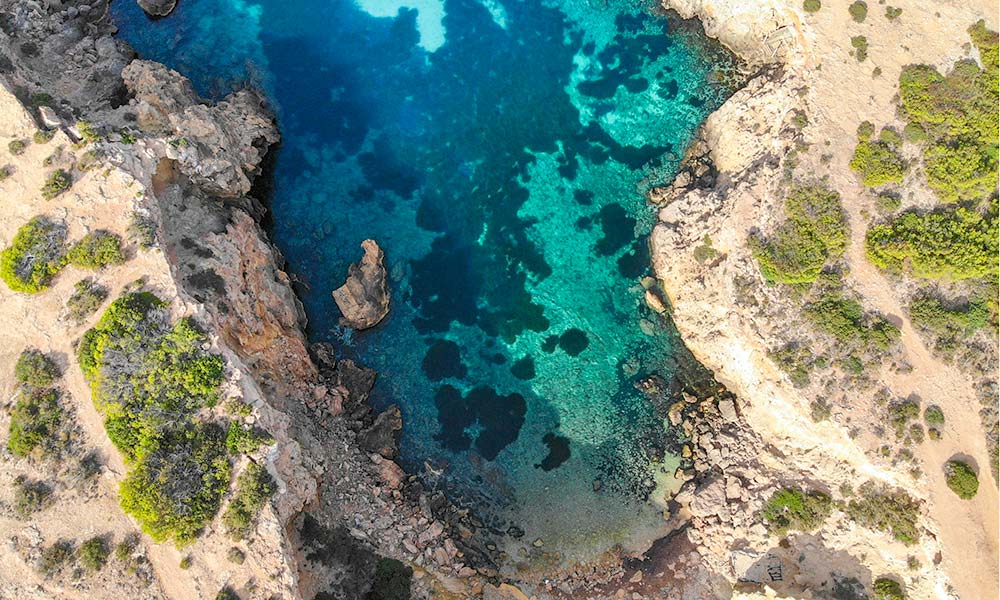 Ibiza's longest beach is the least crowded because its entire area is made up of pebbles, which is why we recommend it for those days when you feel like escaping the summer hustle and bustle. Es Codolar is a good option if you don't need to lie down for a long time and you like to watch planes landing (the beach is next to the airport). The water has a fine sand seabed, although we do not recommend swimming on days when there is too much swell.
Cala Aubarca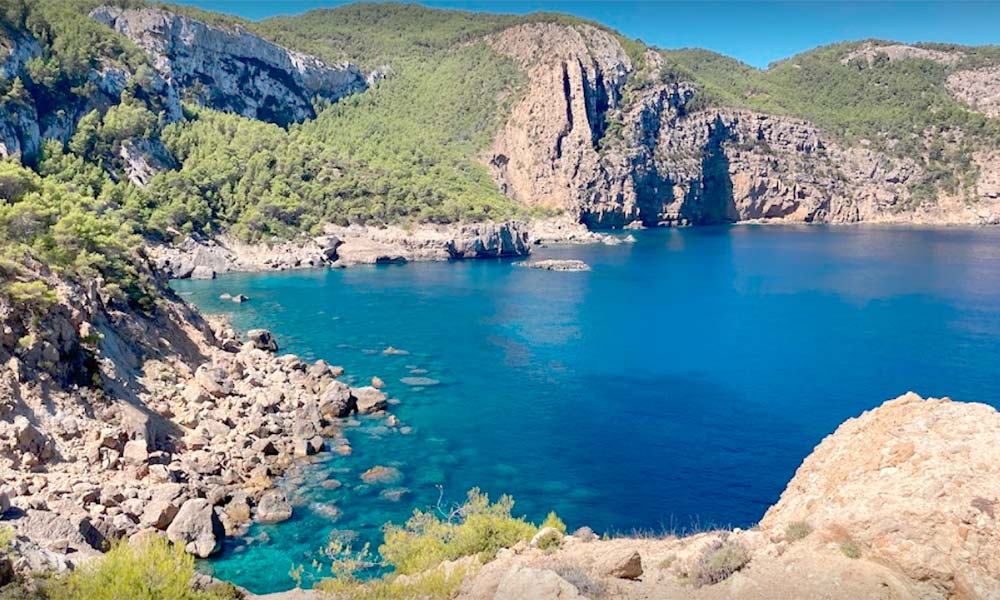 Another one of Ibiza's coves that requires taking suitable footwear and water is this rocky nook located under the cliffs of the Es Amunts nature area. Known for the stone bridge that appears on the way to the sea, the descent requires at least 30 minutes and some patience, as the path is not always easy to follow. Don't expect to find sand or an easy spot to sunbathe, but plenty of peace and spectacular natural scenery. This trip is best avoided during the hottest part of the day.
Ses Balandres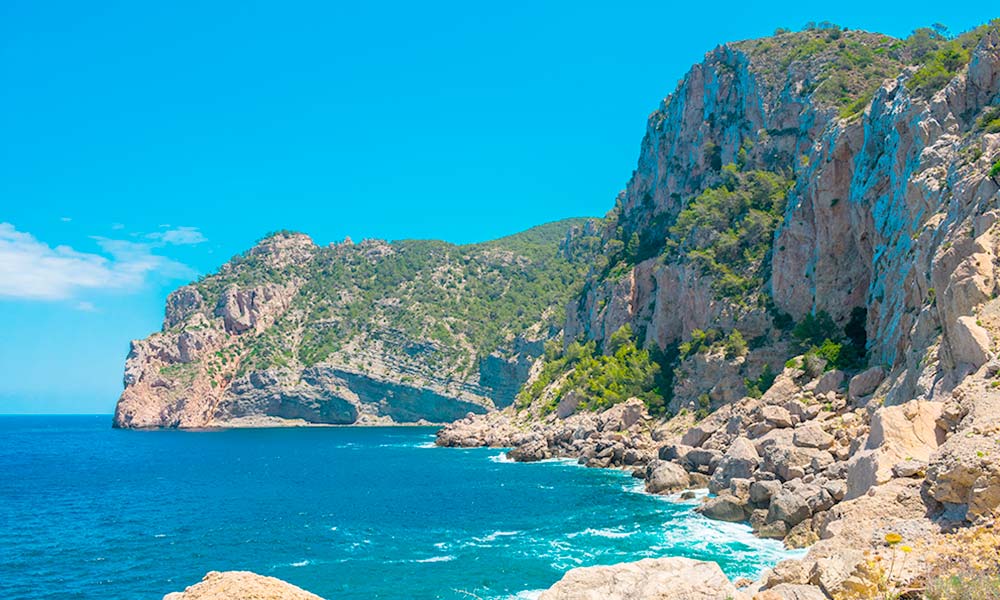 If you are in the mood for hiking and solitude, head for this cove located under the cliffs of Ses Balandres. You will need to take water, trainers and some food, as the descent requires at least 30 minutes walking and the ascent at least 45 minutes. You need to remember that it is not an easy route, as the descent is not suitable for people who don't like heights and there are stretches that can only be passed by using some rustic steps and ropes to hold on to if you want to go up or down. The views are spectacular and next to the sea awaits a charming little fishing cove. If you prefer to skip this walk, book a trip around Ibiza by boat  and don't sweat more than you have to!
5 charming coves and beaches in Ibiza
Cala Molí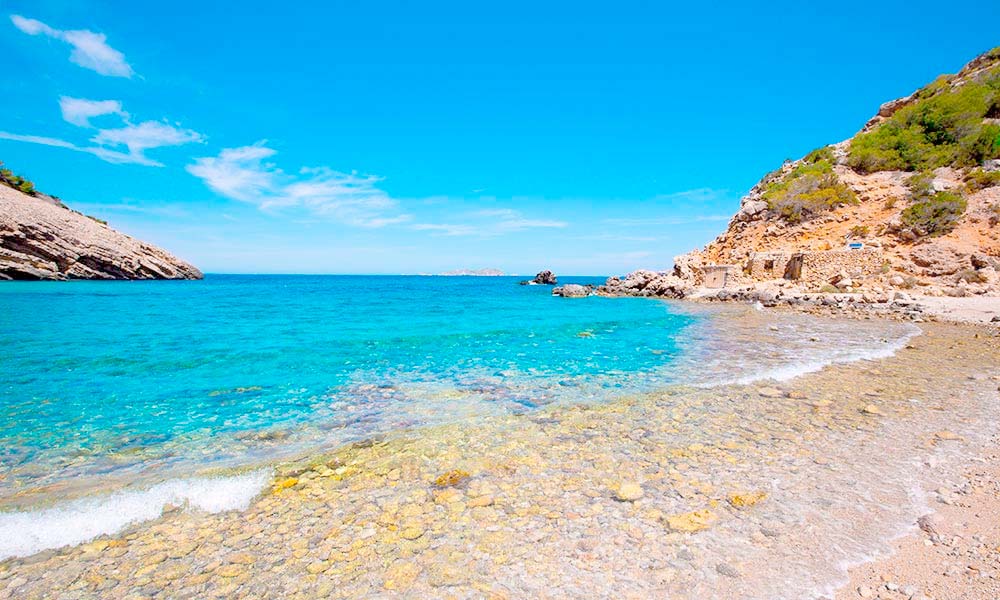 If you are looking for peace and quiet, this beautiful unspoilt cove surrounded by cliffs is the place for you. Its waters are transparent, although with a lot of rocky substrate, so the use of boots is recommended. The reward: if you like snorkelling, you'll be entertained for a while.
Cala Xarraca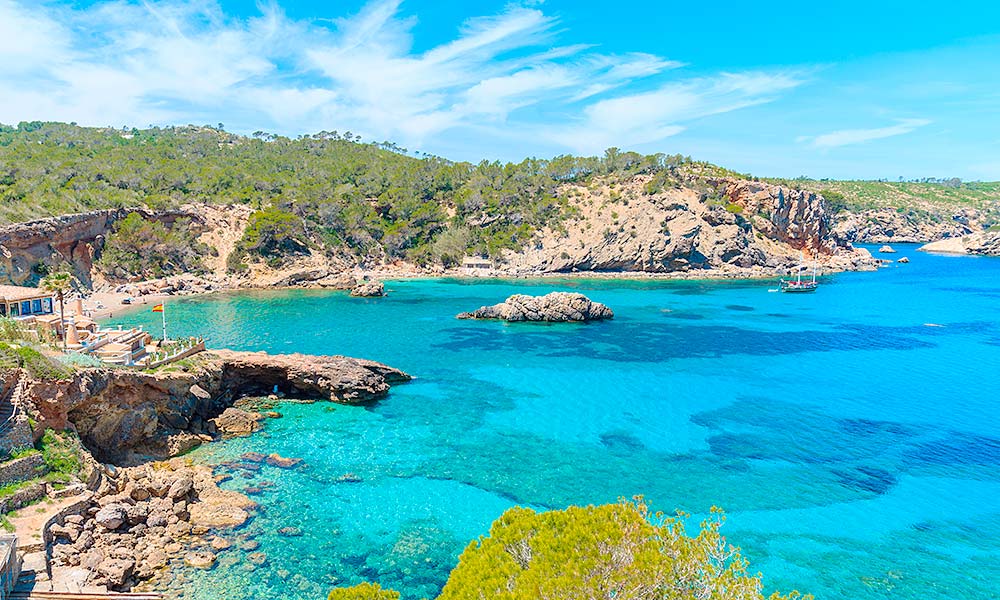 Located in the north, this is an excellent option to get away from the hustle and bustle. With a substratum that alternates between sand and rocks, it is often frequented by families staying in the surrounding area. We recommend that you take goggles and sandals or beach shoes. If you prefer a little more peace and quiet, head for the neighbouring Xuclar cove, another hideaway for lovers of silence.
Cala Gració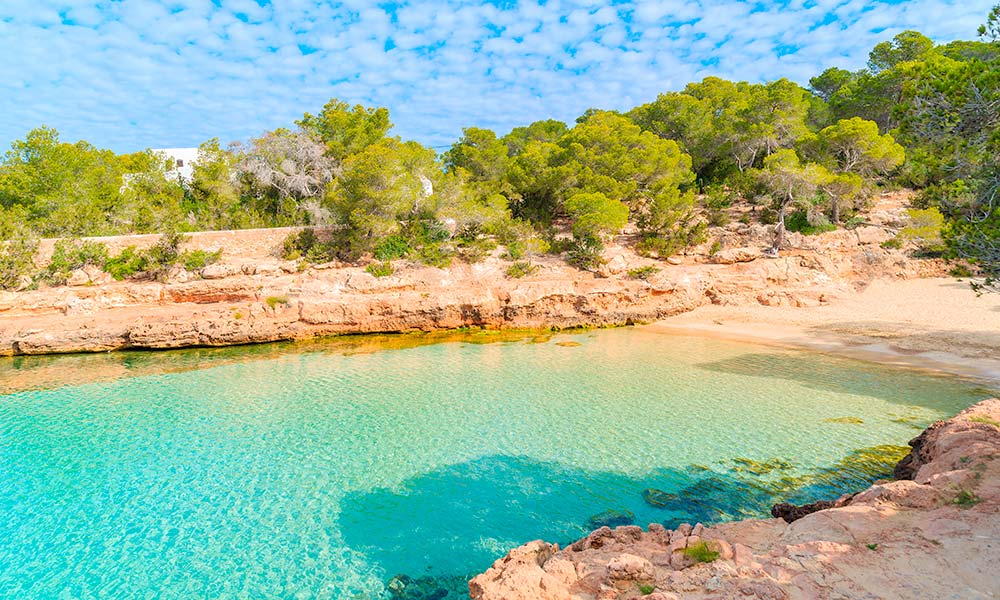 With crystal clear waters, fine sand and disabled access, this beautiful beach with a markedly seafaring feel is perfect for a day's exploration of the northern area of San Antonio. Here you will find a typical beach bar and, in the beautiful neighbouring cove, Cala Gracioneta, another chic beach bar. To get there, just follow the coastal path that starts next to the fishermen's huts of Cala Gració.
Port des Torrent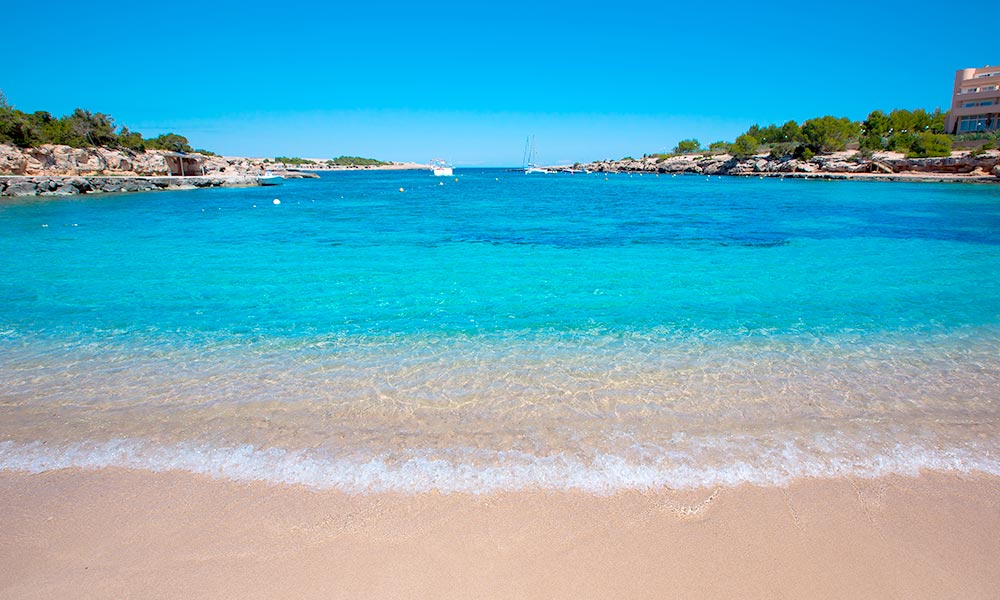 This beautiful cove with calm waters is located just 5 minutes by car from our 4-star hotel. It is surrounded by pine trees, has fine sand and several restaurants, so it is very pleasant for a quiet day at the beach. And if you go in the evening, stay and watch the sunset!
Cala de Sant Vicent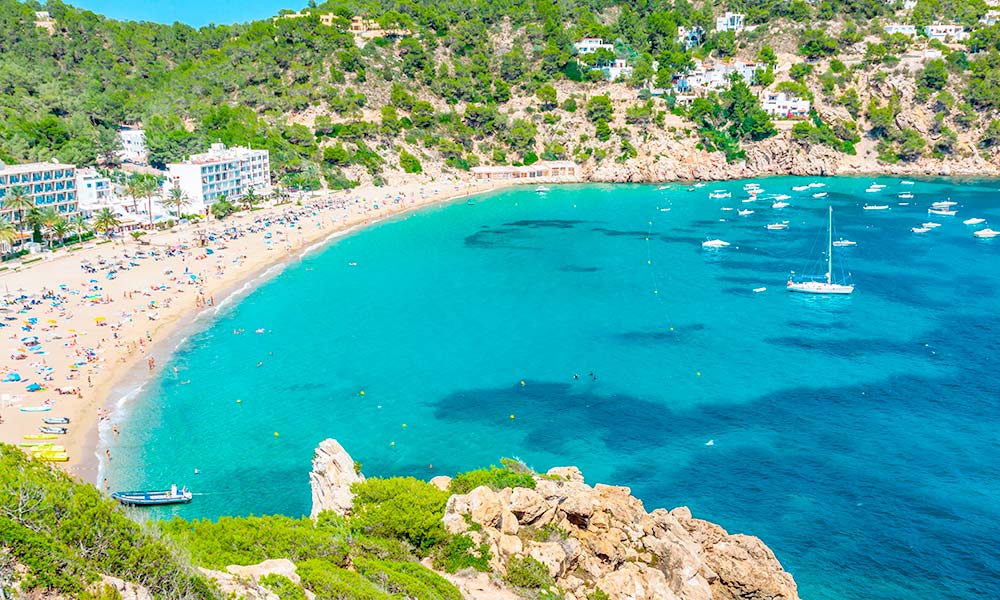 If you're in the mood for clocking up the kilometres, escape to the most remote corner of Ibiza: Sant Vicent de sa Cala. The curvy road that starts in Sant Joan reveals old country estates and a succession of mountains that form the Mala Costa mountain range. And at the end of the route, there is Sant Vicent Cove; wide, enticing, with several restaurants and views of the islet of Tagomago. It is undoubtedly one of the best coves and beaches in Ibiza to enjoy any month in summer.
The best pampering after a day visiting coves and beaches in Ibiza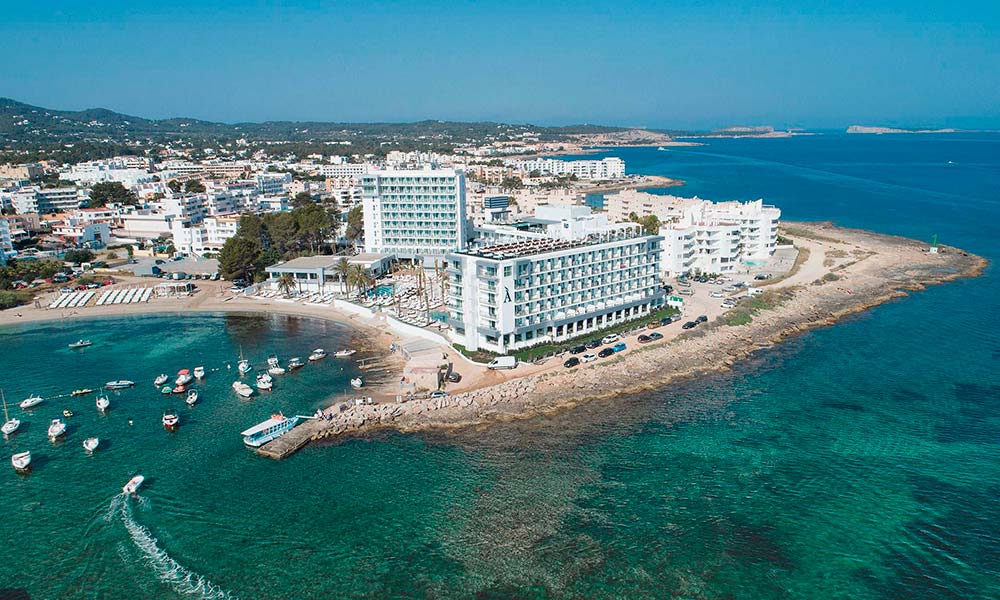 Our recommended hotel for adults Amàre Beach Hotel Ibiza  allows you to conveniently visit the beaches and coves recommended in this article, thanks to its excellent location. And when you return from your day of relaxation or exploration, you can receive extra pampering, whether it's tasting the exquisite gastronomy of Hayaca, for example; savouring a cocktail with sunset views at the Belvue Rooftop Bar or receiving a restorative and nourishing Germaine de Capuccini treatment at our spa to care for your skin after a day at the beach in the sun. #Whatafeeling
Ibiza clubs and bars: a guide to Ibiza nightlife
37 Things to see and do in Ibiza