Marbella and Ibiza Blog
Amàre Beach Hotels
Discover the best coves and beaches in Ibiza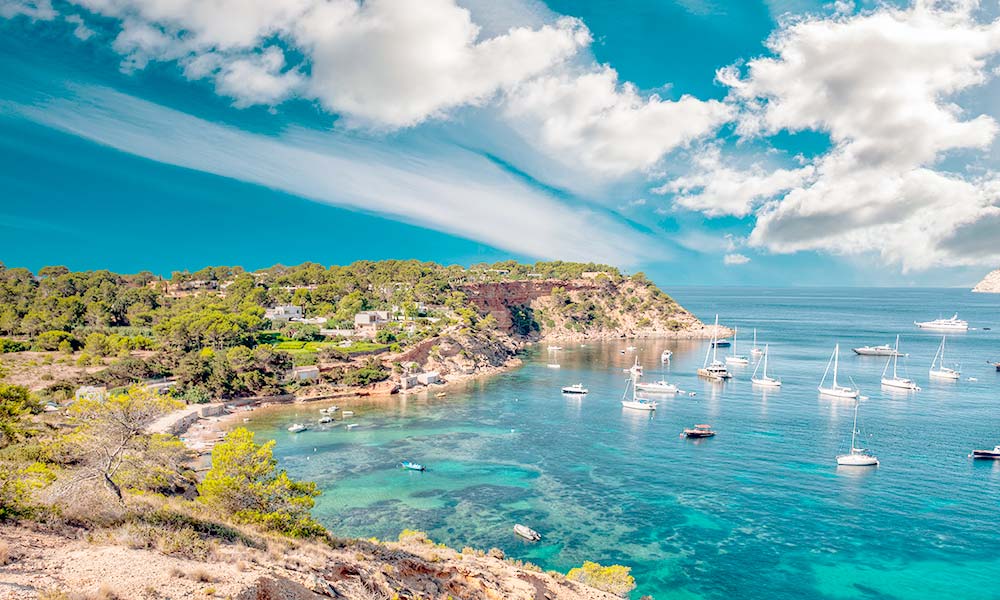 Discover the best coves and beaches in Ibiza
Would you like to discover Ibiza's most Instagrammed coves and beaches? Or do you prefer to put your mobile phone on aeroplane mode on hidden shores with little or no coverage? Playas de Comte, Cala Bassa, Ses Salines and Cala Benirrás are just some of the fabulous beaches that await you on the Isla Blanca. Unless you don't want to end your love affair with your hotel hammock, it's going to be very difficult to return home without having saturated your smartphone with selfies of turquoise seas in the background.
The 5 most photographed coves and beaches in Ibiza
Platges de Comte (Cala Conta)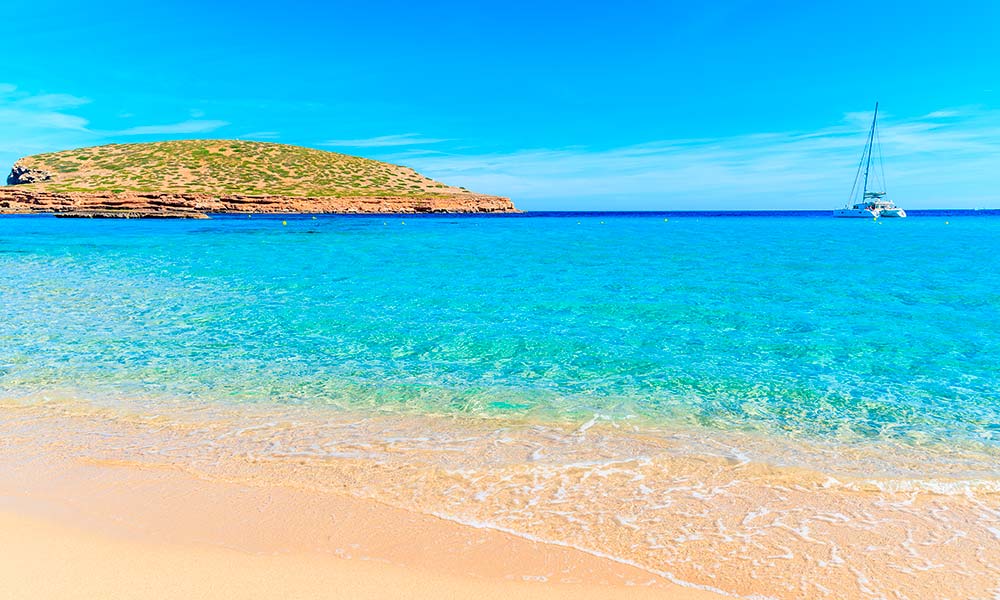 It won't take you long to get to Ibiza's most photographed beach: just a 15-minute drive separates you from the shore with the most superlatives on the island: most famous, most visited, most spectacular, most shared, most named… Its fame comes from the spectacular colour of its waters, which range from turquoise to deep navy blue. One drawback: the three coves that make up this coastal complex are somewhat small, although this is compensated for by a marvellous panoramic view of the sunset and the islets of Ponent, sa Conillera and s'illa des Bosc. Of its three restaurants and a small beach bar, Ses Roques and s'Illa des Bosc stand out, two Ibiza classics for rice and fish dishes.
Ses Salines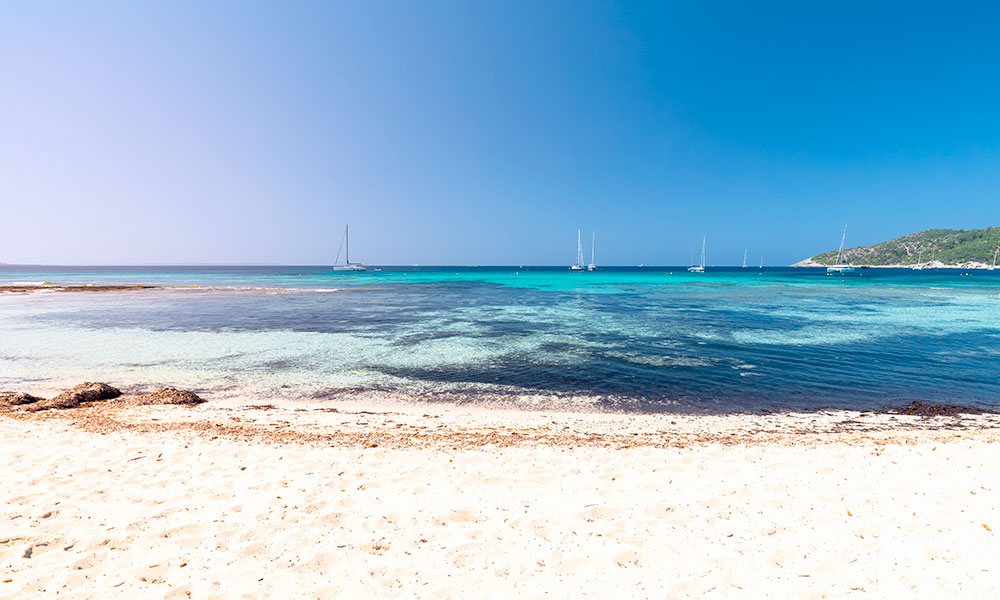 Its transparent waters have made Ses Salines one of the most famous beaches in Ibiza. It is also popular with celebrities, who are often spotted at the exclusive Jockey Club and Malibu Beach beach bars. Surrounded by pine trees and overlooking Formentera, it attracts families and young people alike. If you enjoy strolling, we encourage you to follow the coastline to the Ses Portes tower.
Cala d´Hort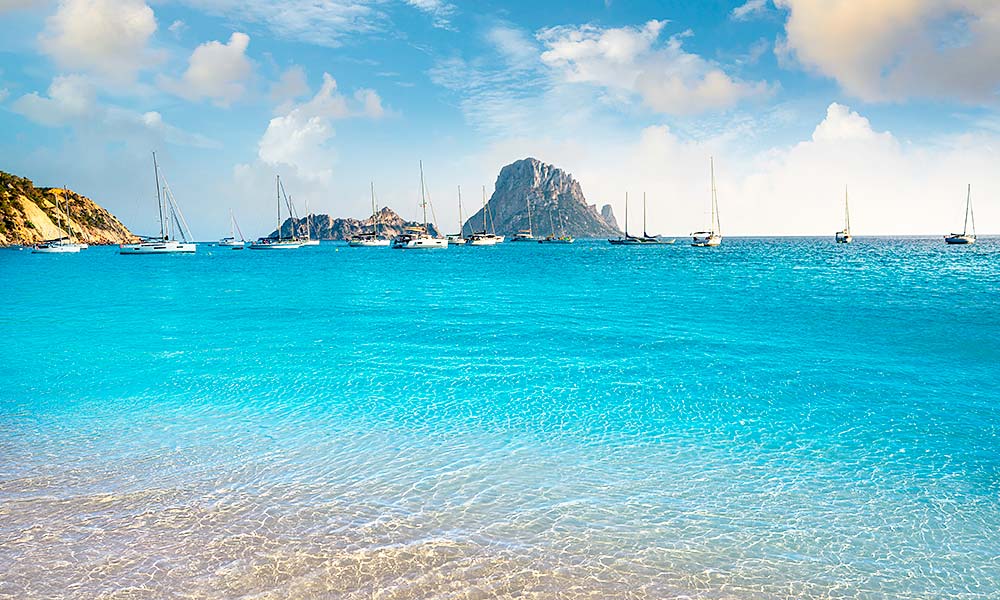 15 kilometres from the hotel, another photo opportunity you cannot miss during your holiday awaits: the islet of Es Vedrà from the shore of Cala d'Hort. A MUST. The rice dishes and paellas served in the two restaurants located on this emblematic beach in Ibiza are also unforgettable.
Cala Benirrás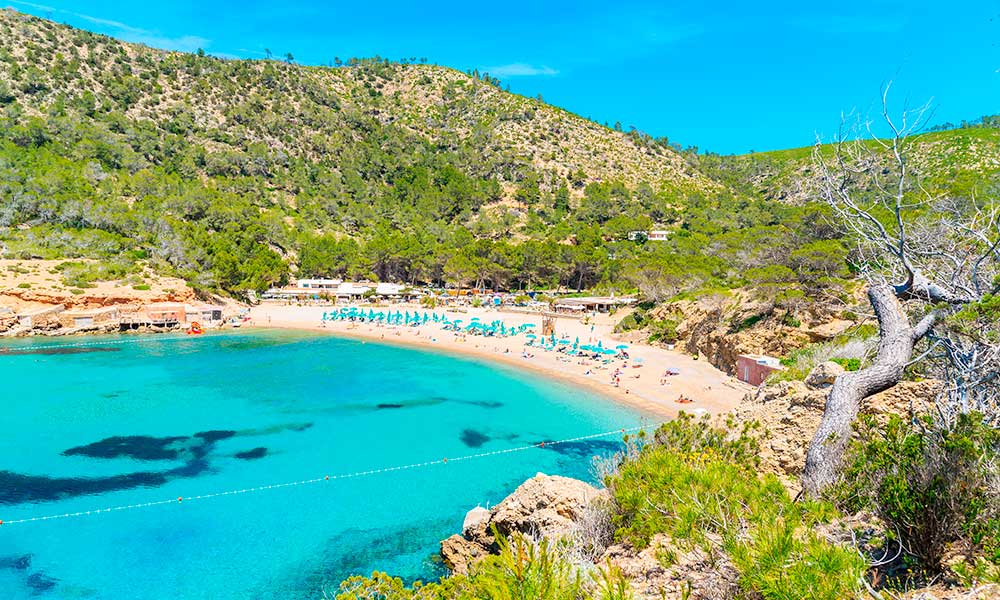 The north of Ibiza is home to another of Ibiza's must-see beaches, Cala Benirrás, one of the most beautiful thanks to its unspoilt surroundings, the seafaring ensemble of its dry dock huts, the sunset and the unique image of the small islet of Cap Bernat. On Sunday afternoons, the multitudinous Fiesta de los tambores (Drum Festival) is held, an event open to everyone where drumming is the protagonist. If you are interested in going, bear in mind that access by car is closed in the afternoon, although you can take the shuttle bus.
Cala Bassa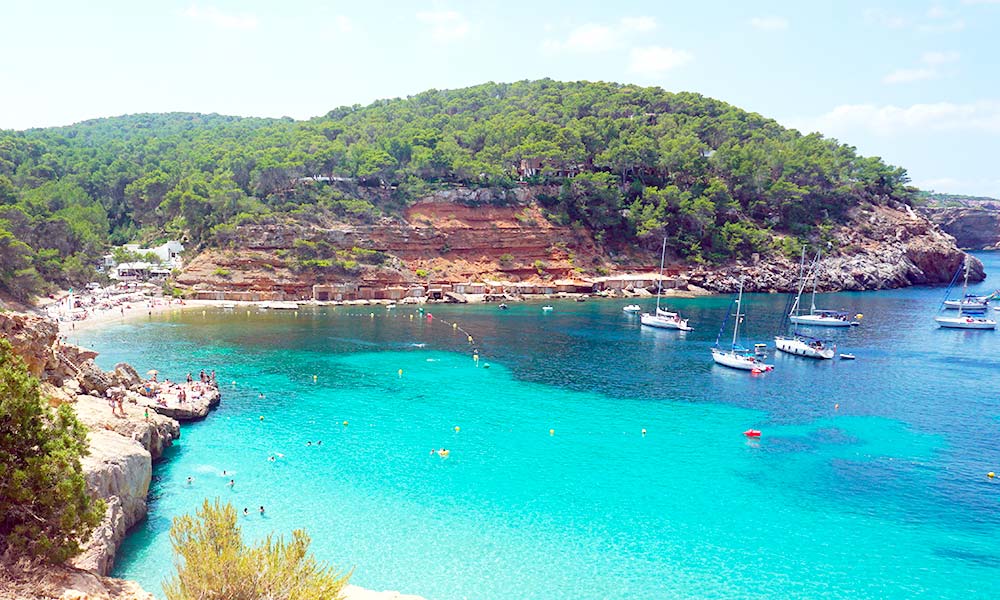 7 kilometres from Amàre Ibiza you will find one of the most beautiful beaches on the island: Cala Bassa. Its fine sand, gentle slope and transparent waters turn this unspoilt beach into a real natural swimming pool. Framed by a forest of pines and junipers, it offers a fantastic panoramic view of Cape Nonó and has a very cosmopolitan and diverse atmosphere. Its gastronomic offer is limited to a very cool restaurant and an informal beach bar.
Disconnect: 5 coves in Ibiza with little or no coverage
Cala Molí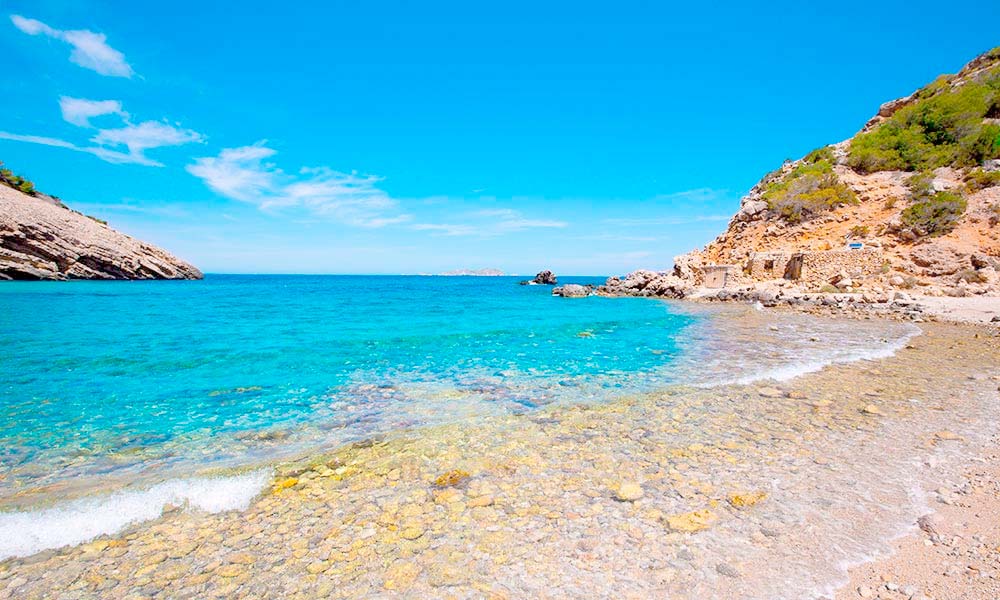 If you are looking for peace and quiet, this beautiful unspoilt cove surrounded by cliffs is the place for you. Its waters are transparent, although with a lot of rocky substrate, so the use of boots is recommended. The reward: if you like snorkelling, you'll be entertained for a while.
Cala Salada y Cala Saladeta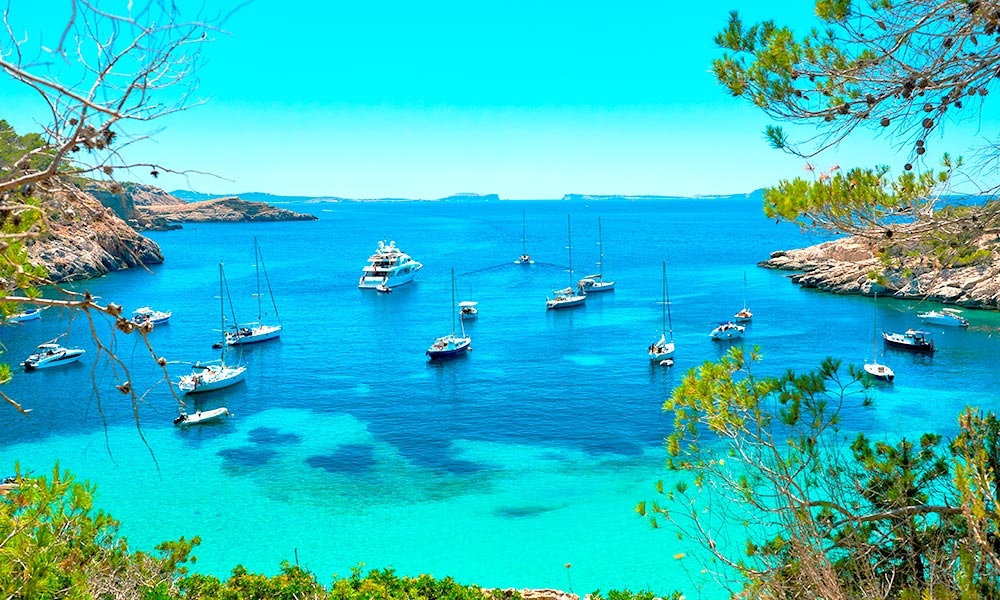 These two beautiful neighbouring coves located 8 kilometres from our hotel in Cala de Bou are never missing from the top 10 beaches of Ibiza. To get the best panoramic view for your photos, follow the path that links Cala Salada with Cala Saladeta along the top of the cliff. At lunchtime, paellas and fish dishes await you at the only restaurant open. Tip: Cala Salada is part of the Ibiza Connected Beaches scheme, which provides bus connections between the beach and a satellite car park. Don't hesitate to ask the reception staff for more information.
Cala Xarraca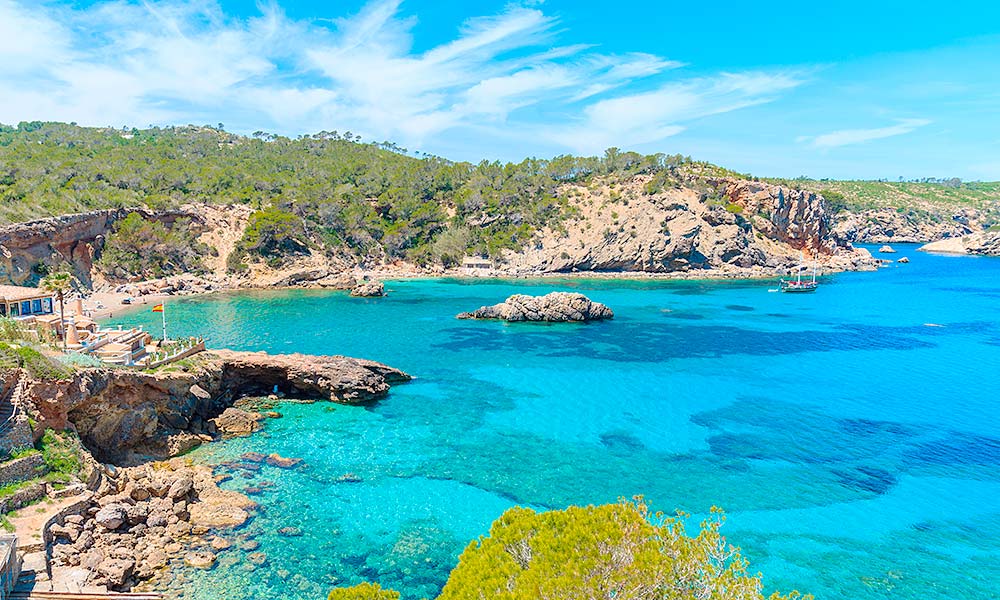 Located to the north, it is an excellent option to disconnect from the hustle and bustle. With a substratum that alternates sand and rocks, it is usually frequented by families staying in the surrounding area and snorkelers. We recommend that you pack goggles and crab shells in your basket. Another good option for losing cover is to spread out your towel in the neighbouring Xuclar cove, another hideaway for lovers of silence.
El Portitxol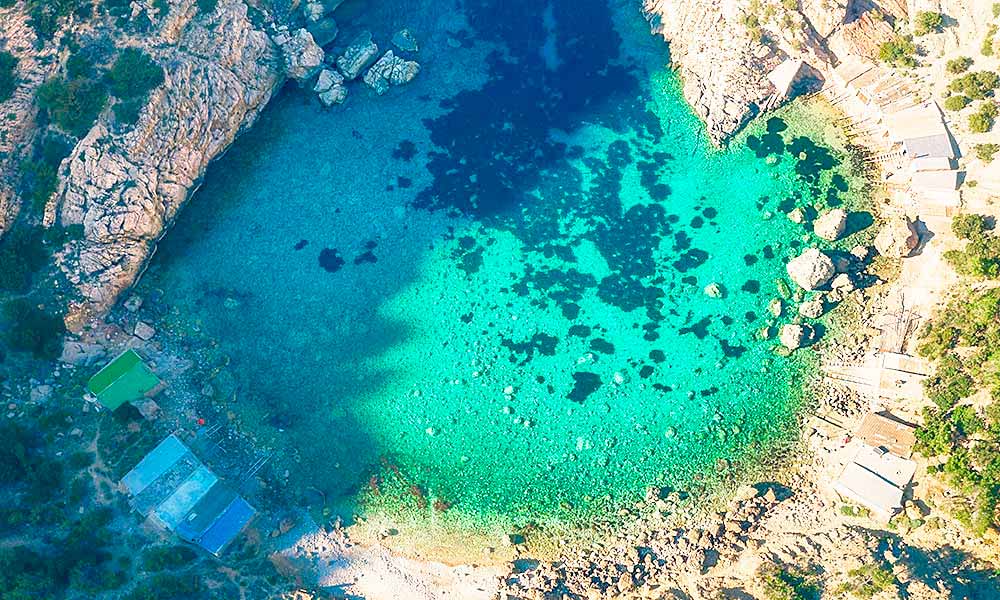 This cove is only suitable for the most active travellers, as to reach it you have to go down a steep path that takes more than 30 minutes of ascent on the way back. So why do we recommend it? Because it is one of the most hidden and charming unspoilt coves in Ibiza thanks to the group of seafaring huts that surround this small natural bay.
Punta Galera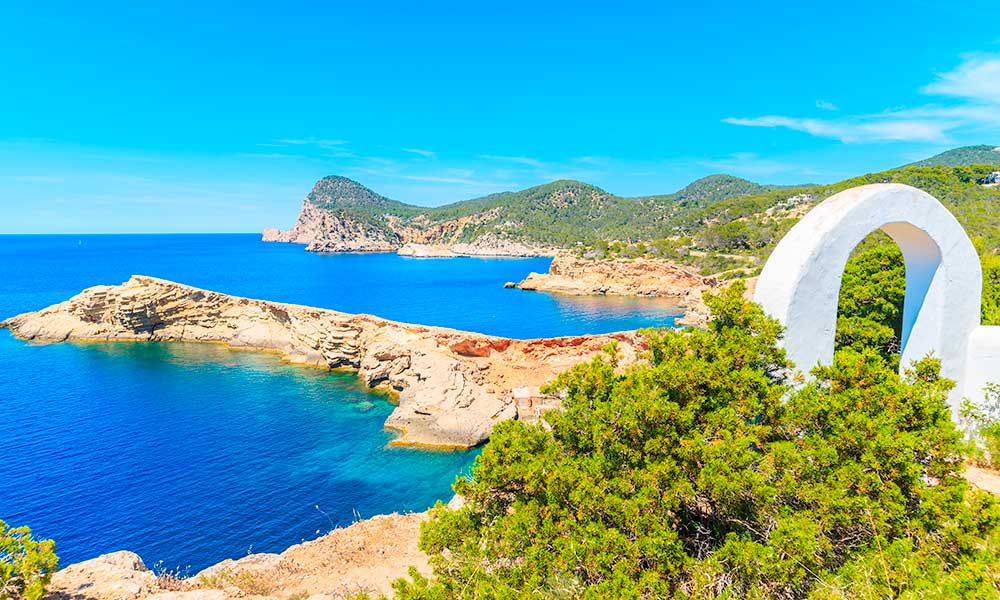 If you like nudism and unique spots, you can't miss the chance to spread out your towel on the terraces of what used to be a marés stone quarry. This unique enclave is located between Cap Negret and Cala Salada and, in addition to incredible emerald waters, it comes with complimentary sunset views.  If you consider yourself a free spirit, head for Punta Galera.
And 8 more coves and beaches to upload to Instagram
Cala Gració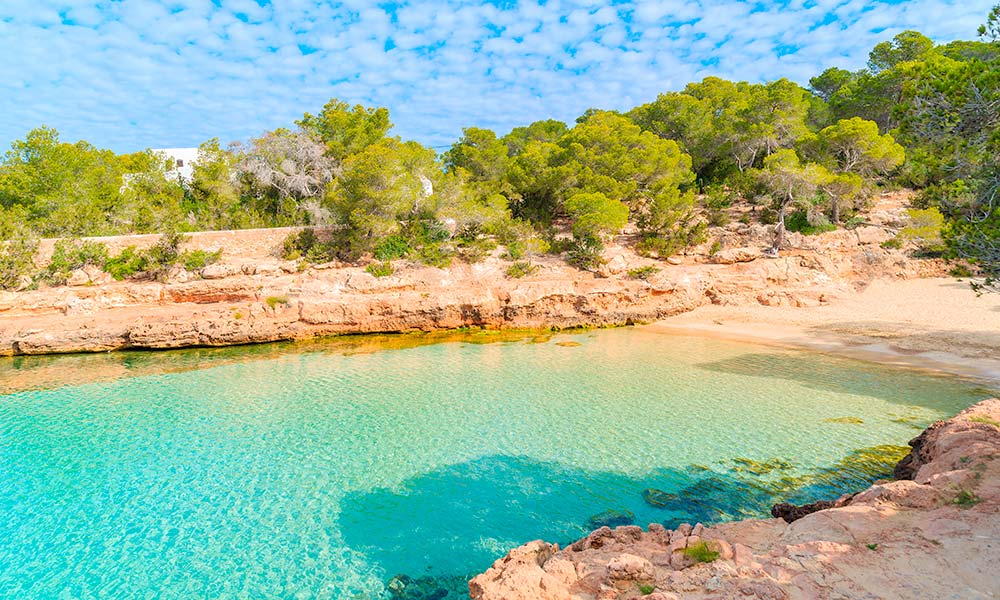 With crystal clear waters, fine sand and disabled access, this beautiful beach with a markedly seafaring feel is perfect for a day's exploration of the northern area of San Antonio. Here you will find a typical beach bar and, in the beautiful neighbouring cove, Cala Gracioneta, another chic beach bar. To get there, just follow the coastal path that starts next to the fishermen's huts of Cala Gració.
Port des Torrent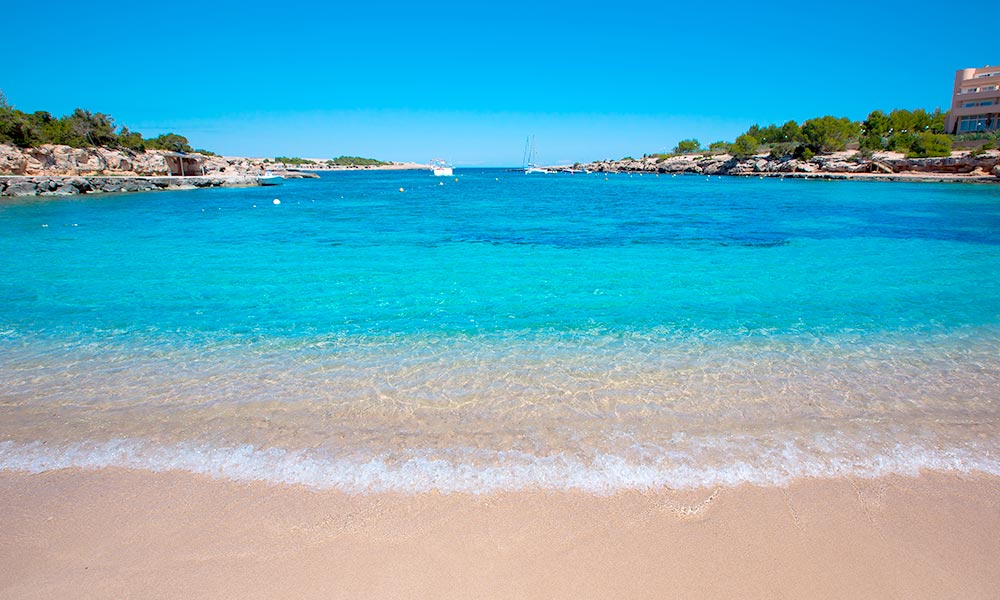 This beautiful cove with calm waters is located just 5 minutes by car from our 4-star hotel. It is surrounded by pine trees, has fine sand and several restaurants, so it is very pleasant for a quiet day at the beach. And if you go in the evening, stay and watch the sunset!
Cala de Sant Vicent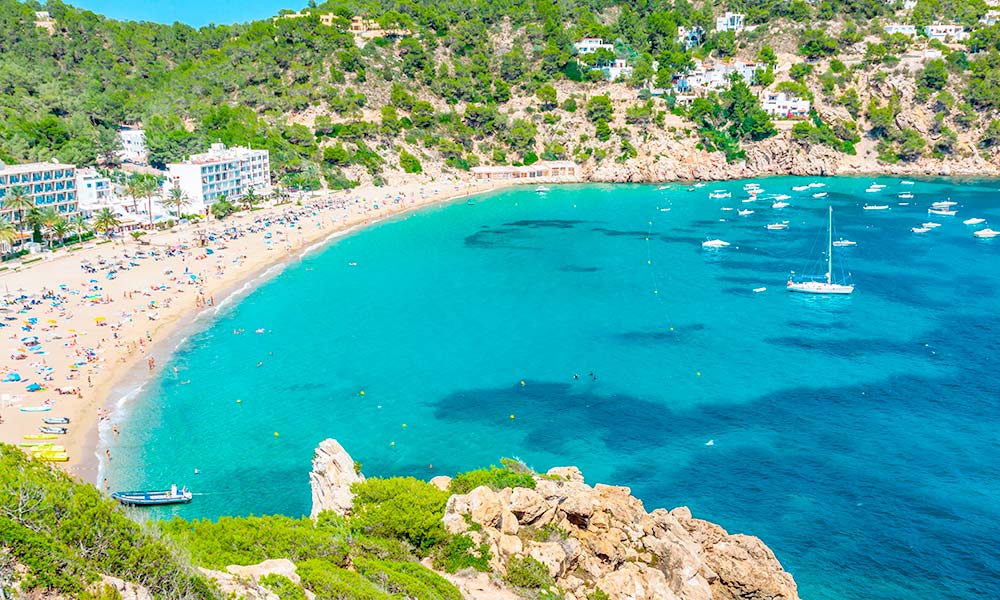 If you feel like covering a few kilometres, escape to the most remote corner of Ibiza: Sant Vicent de sa Cala. The curvy road that starts in Sant Joan will take you past old country estates and the succession of mountains that form the Mala Costa mountain range. And at the end of the route, the Sant Vicent cove, which is wide and pleasant, with several restaurants and views of the islet of Tagomago.
Cala Tarida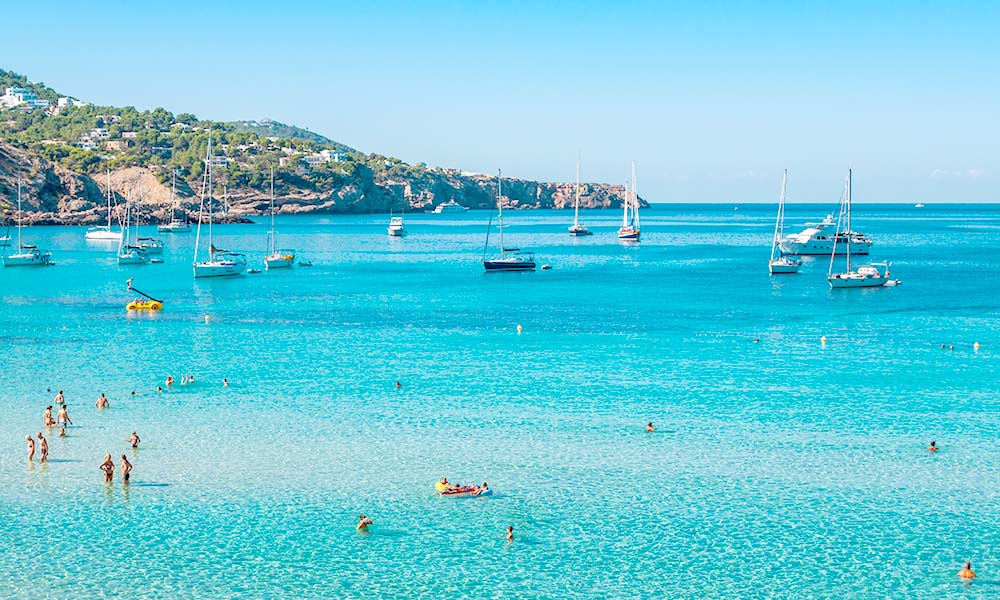 A good option on the west coast to enjoy a day at the sea with all the services: it has a wide range of restaurants and chic beach bars, you can rent kayaks and the atmosphere is diverse and cosmopolitan. In addition to the main sandy area, there is another small seafaring corner in the northern part of the beach.
Aigües Blanques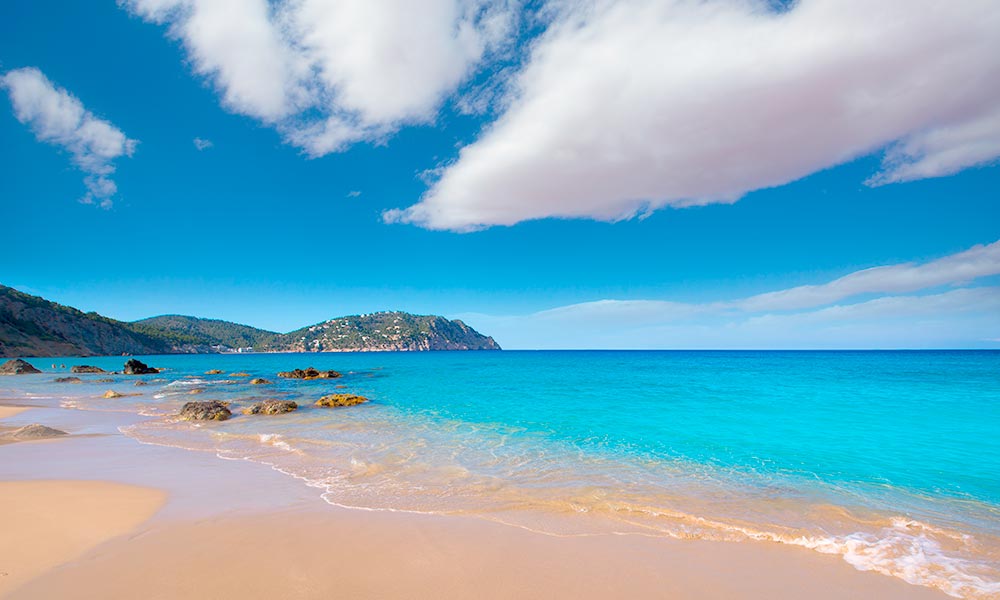 Located on the east coast, just a few kilometres from the little village of Sant Carles, Aïgues Blanques is not only one of the most beautiful beaches on Ibiza but also one of the island's beaches with a nudist tradition. One option is to combine it with the nearby beach of Figueral, where you can also take a kayak excursion to discover this beautiful stretch of Ibiza's coastline from the sea.
Cala Vedella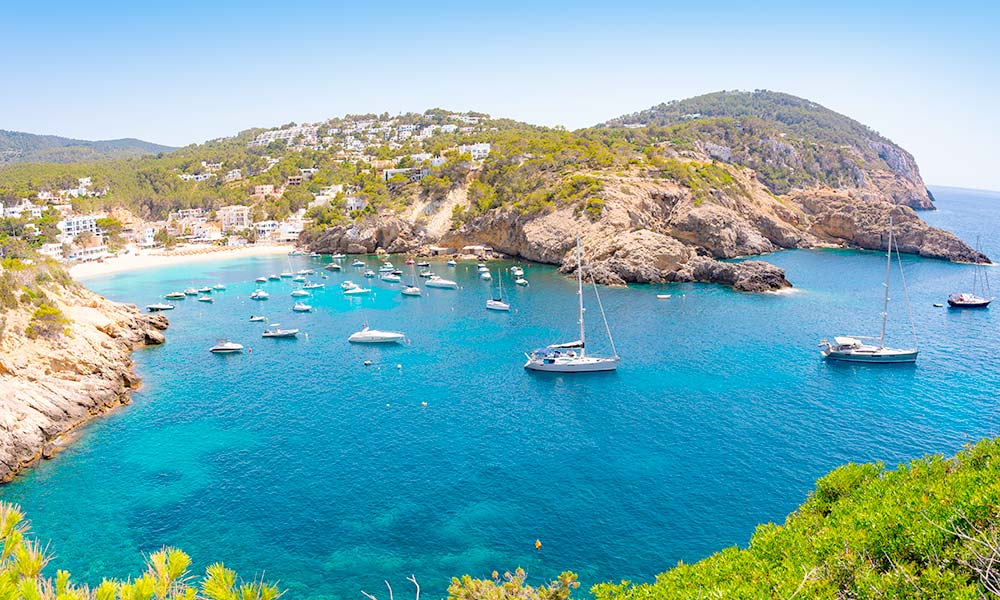 A beautiful cove with calm waters and a diverse atmosphere, although predominantly family tourism. It has a marked seafaring air thanks to its fishermen's huts. A perfect option for a relaxing day at the beach. And if you fancy paella, at the María Luisa beach bar they make very tasty paella.
Es Bol Nou (Sa Caleta)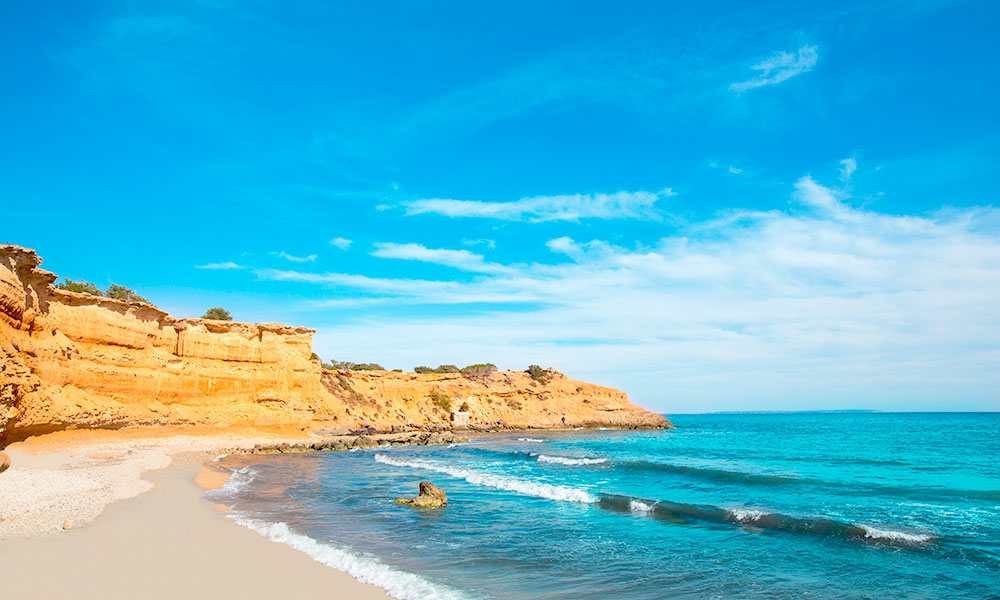 One of the stops you can include in a route through the south of Ibiza is this cove flanked by clay cliffs, which contrast intensely with the blue of the sea. As it is not very wide, it is best to go at the beginning or end of summer, and always avoid spreading out your towel just below the areas marked with a danger of falling.
Caló des Moro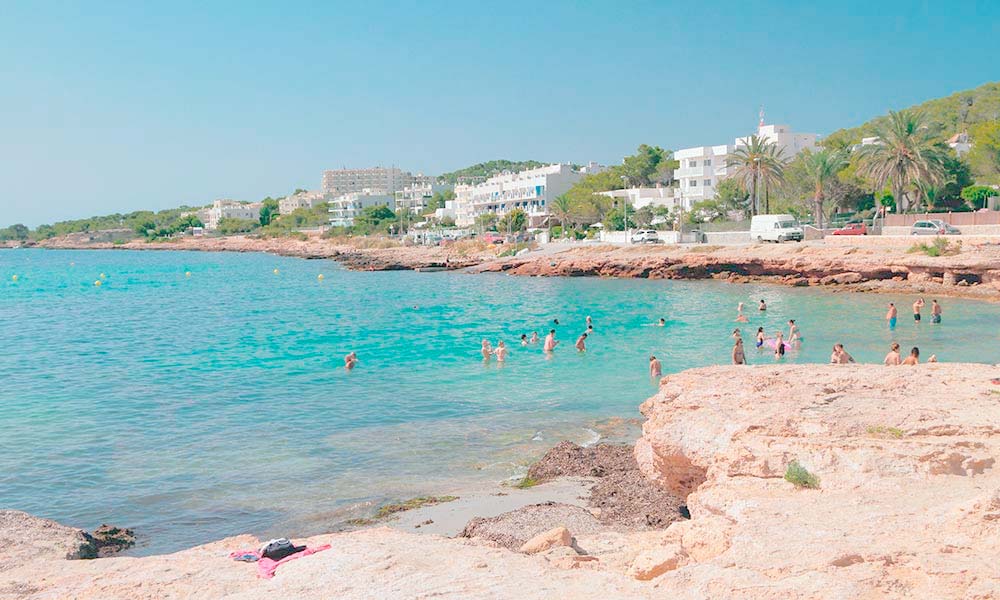 This small urban beach in the town of San Antonio stands out for its crystal clear waters and, above all, its sunset views. It is less than five minutes' walk from the famous Café del Mar and Café Mambo.
The best beaches in Ibiza, just a few minutes from Amàre Hotel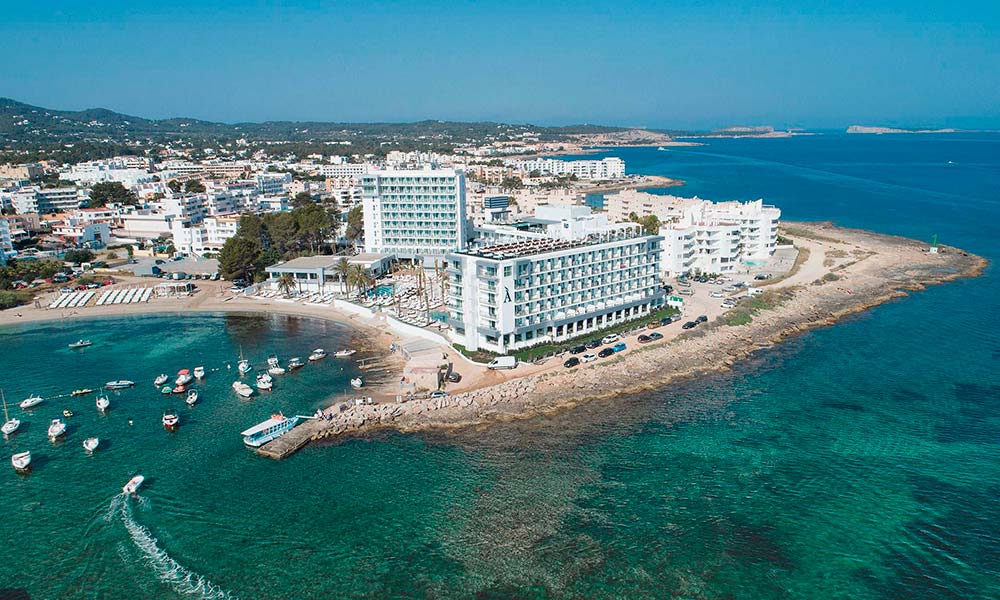 Our recommended hotel for adults, the Amàre Beach Hotel Ibiza  is located on the shores of Cala de Bou, in the bay of San Antonio. Its excellent location will allow you to reach many of the beaches and coves recommended in this article in just a few minutes by car. And for those moments when you feel like staying at the hotel, you can relax in our three swimming pools and enjoy the sunset from the Belvue Rooftop Bar.
Ibiza clubs and bars: a guide to Ibiza nightlife
37 Things to see and do in Ibiza