Marbella and Ibiza Blog
Amàre Beach Hotels
Ibiza clubs and bars: a guide to Ibiza nightlife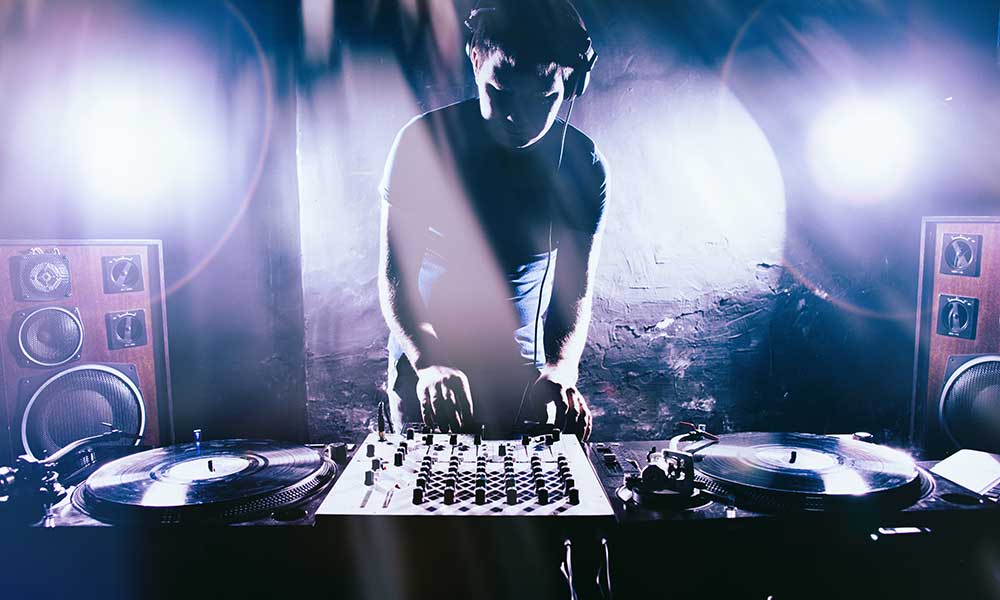 Ibiza clubs and bars: a guide to Ibiza nightlife
Ibiza nightlife is world famous thanks to the reputation of its clubs and bars, which for many visitors have become one of its main attractions. However, it is often not easy to make the most of its very extensive offering of parties, clubs and terraces if you are not sure where to go and when. This article will give you a few clues and recommendations for you to enjoy Ibiza at night as well.
Are you ready?
Ibiza best clubs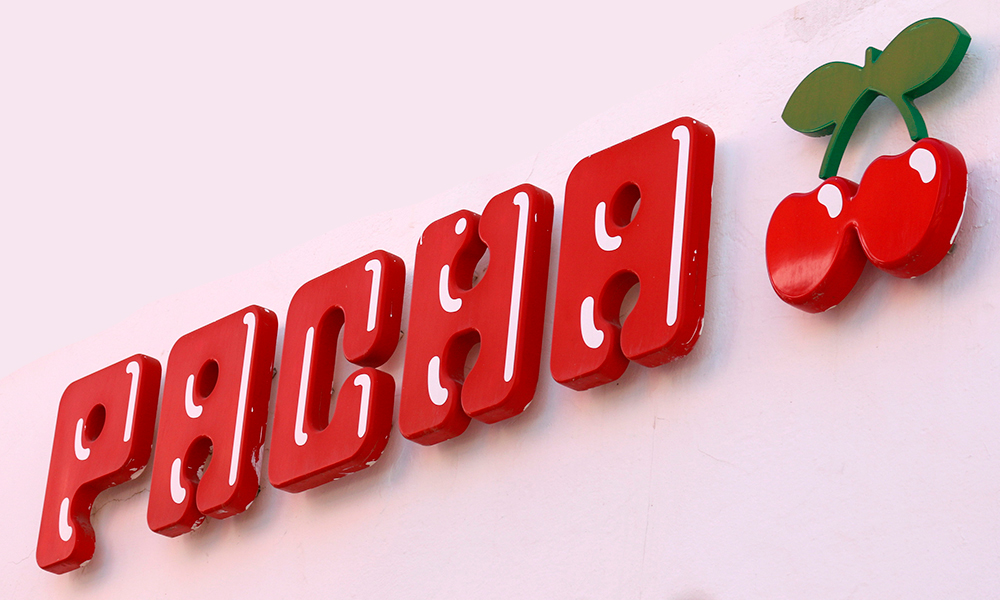 Pacha Ibiza Crédito editorial: 360b / Shutterstock.com
Ibiza has four world-famous mega clubs (Hï, PACHA, Privilege and Amnesia), a few smaller clubs with diverse personalities, hotels that become clubs for a few hours, bars with live music and legendary terraces that provide the soundtrack for one of the most famous sunsets in the world. And let's not forget the Marina de Ibiza neighbourhood, with a lively nightlife that is also home to part of the island's gay scene. So if it's your first time in Ibiza, the first question you will have, when faced with such variety, will definitely be: So where should you go out at night in Ibiza?
How to choose which club to go to in Ibiza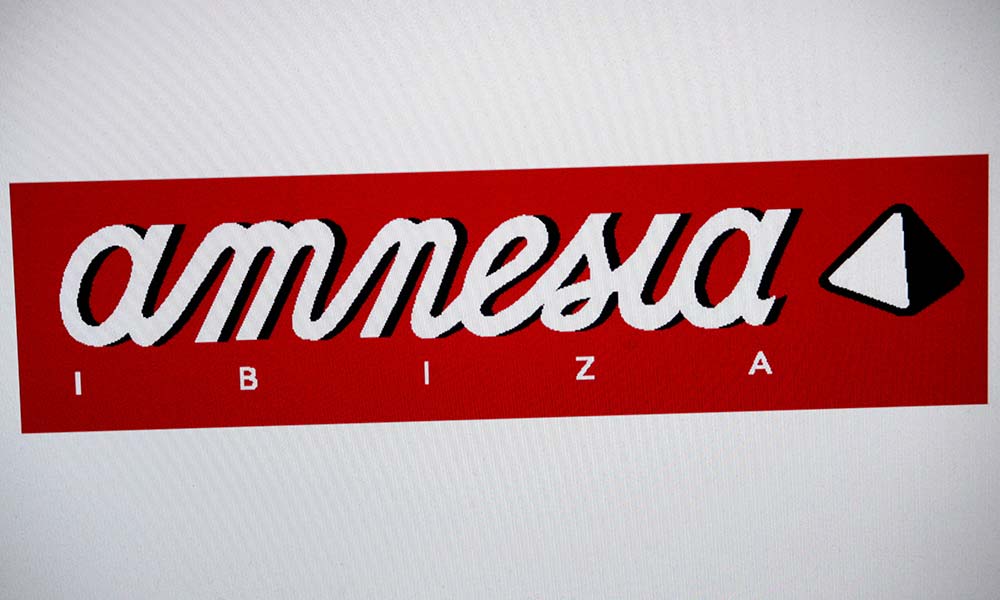 Amnesia Ibiza Crédito editorial: 360b / Shutterstock.com
First of all, you need to bear in mind that when it comes to Ibiza clubs, you need to choose a session according to your taste: going to the legendary Flower Power party held by PACHA, with 60s and 70s beats, is not the same as going to a house session at Hï, enjoying the most danceable electronic music at HEART or joining the Circoloco party at DC10 especially designed for clubbers with a preference for the most underground techno house sounds.
While there are a few exceptions, electronic music is the protagonist at the island's main clubs. So, it is advisable before choosing where to go out at night in Ibiza to check the main clubs' (Amnesia, PACHA, Hï, Ushuaïa…) events calendar on specialist websites like Ibiza Spotlight and see the DJ sessions scheduled for each day of the week. This will help you choose which session best suits your musical tastes.
Is it worth going to Ibiza clubs? 
Ibiza clubs have ended up becoming a destination in and of themselves, since each night offers a true visual show with well-designed staging, where there is no shortage of acrobatic gogo choreography and well-designed light shows. If you are not into electronic music, but are curious and want to experience a famous Ibiza night, the best thing to do is get one of the invitations and discount cards that are handed out each day on the island's busiest beaches (Ses Salines and Platges de Comte, for instance) that will allow you to enjoy this experience more economically, provided that you arrive at the club before the allotted time.
Pacha
Av. 8 d'Agost, 07800 Ibiza, Islas Baleares
Restaurant (evenings)
Tel: +34 971 310 959
Vip Table Bookings
Tel: +34 971 313 600
web: https://pacha.com/
Google Maps
Heart
Pss. Joan Carles I, 17 07800 Ibiza
Tel: +34 971.93.39.77 (Oficinas)
web: https://www.heartibiza.com/en/
Google Maps
DC10
Carretera las salinas, km 1, 07818 Sant Josep de sa Talaia, Islas Baleares
Tel: +34 971 39 34 95
Google Maps
Amnesia
Ctra. Ibiza a San Antonio, Km 5, 07816 Ibiza, Islas Baleares
Tel: +34 971 19 80 41
web: https://www.amnesia.es/inicio/en
Google Maps 
Hï
Platja d'en Bossa, 07817 Sant Josep de sa Talaia, Islas Baleares
web: https://www.hiibiza.com/
Google Maps
Ushuaïa
Ctra. de Platja d'en Bossa, 10, 07817 Sant Josep de sa Talaia, Islas Baleares
Tel: +34 971 396 710
web: https://www.theushuaiaexperience.com/en/club/
Google Maps
The best terraces in Ibiza for seeing the sunset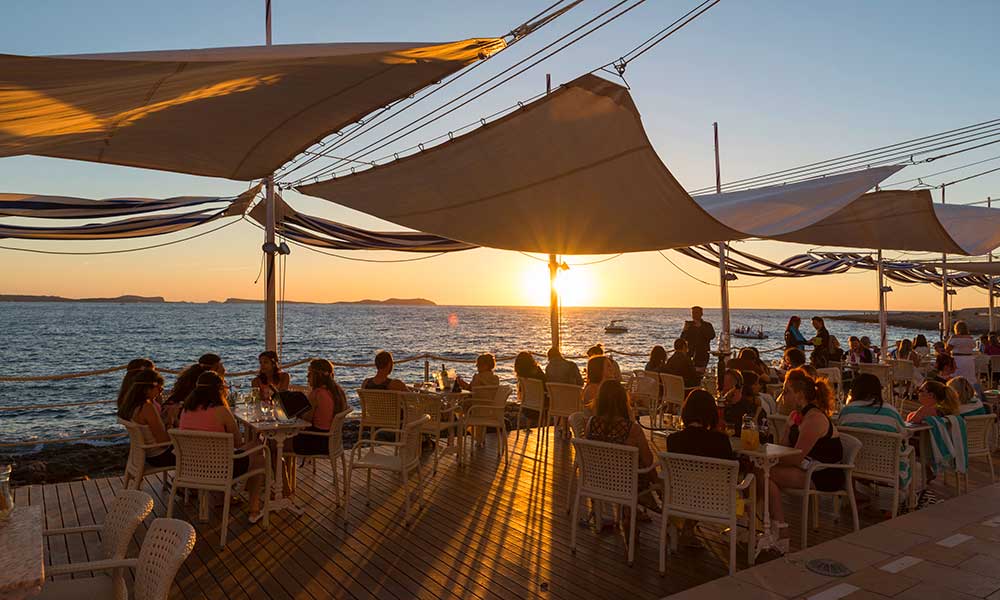 Ibiza sunset Crédito editorial: villorejo / Shutterstock.com
The night in Ibiza starts at San Antonio Bay, which has for decades been providing the soundtrack for the most famous sunset of the Mediterranean Sea. Fifteen minutes by car from Amàre Beach Hotel Ibiza, in the promenade section of San Antonio, known as Ses Variades, are the famous Café del Mar and Café Mambo, as well as many other chilled terraces located a few feet further on in Caló des Moro.
And, returning to Cala de Bou, Amàre Ibiza Beach Hotel is home to our Belvue Rooftop Bar terrace, a fabulous space where you can enjoy the best view of the Ibiza sunset to the beat of the Sunset Ritual event, where good music and carefully prepared refreshing cocktails are in abundance. And when you want a change of scene, a few feet from our hotel is another must-visit place in Ibiza where you can see the sunset: Kumharas. Easy!
Café del Mar
Calle Vara de Rey, 27, 07820 Sant Antoni de Portmany, Islas Baleares
Tel: +34 689 008 494
web: https://www.cafedelmaribiza.es/
Google Maps
Café Mambo
Carrer Vara de Rey, 40, 07820 Sant Antoni de Portmany, Illes Balears
Tel: +34 971 34 66 38
web: http://www.cafemamboibiza.com/
Google Maps
Belvue Rooftop Bar
Carrer La Rioja, 9, 07829 Sant Josep de sa Talaia, Illes Balears
Tel: +34 900 82 84 26
web: Belvue Rooftop Bar Ibiza
Google Maps
Best Ibiza pubs and bars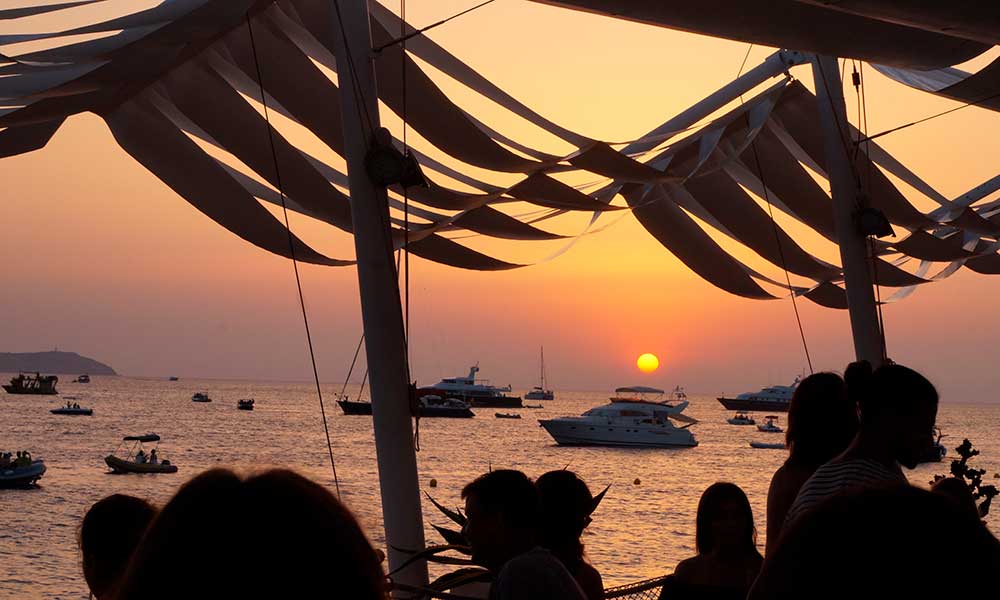 There are many ways to start the night in Ibiza, from the terraces of Sunset Strip in San Antonio to the evening house parties at Ushuaïa. But if you are more into pubs and bars, we recommend you go to La Marina, the port neighbourhood of Ibiza town. There you will find numerous venues along the streets Andenes, Barcelona, Cipriano Garijo and Mare de Deu. The last one has many gay venues. A little further on, a few feet from Portal de ses Taules, is the Tirapallá rooftop, an Ibiza nighttime classic with a good view of the citadel and excellent pop and rock music.
Other Ibiza nightlife venues
Can Jordi: this convenience store and bar situated on carretera de Sant Josep-Eivissa offers rock and blues concerts on Friday nights and Saturday afternoons.
Google Maps
KM5: a pleasant lounge bar where you can have dinner and keep going until the early hours.
Google Maps
Lío: this sophisticated restaurant situated in Marina Botafoch, in Ibiza town, turns into a club after midnight.
Google Maps
Blue Marlin: this famous Ibiza beach bar, situated in Cala Jondal, is one of the best venues on the island to see and be seen, day or night.
Google Maps
Racó Verd: a classic in the town of Sant Josep, where you can listen to live music while you enjoy a cocktail.
Google Maps
The best beaches and coves in San Antonio and surrounding areas
37 Things to see and do in Ibiza
The 10 best beach clubs in San Antonio and surroundings