Marbella and Ibiza Blog
Amàre Beach Hotels
The 10 best beach clubs in San Antonio and surroundings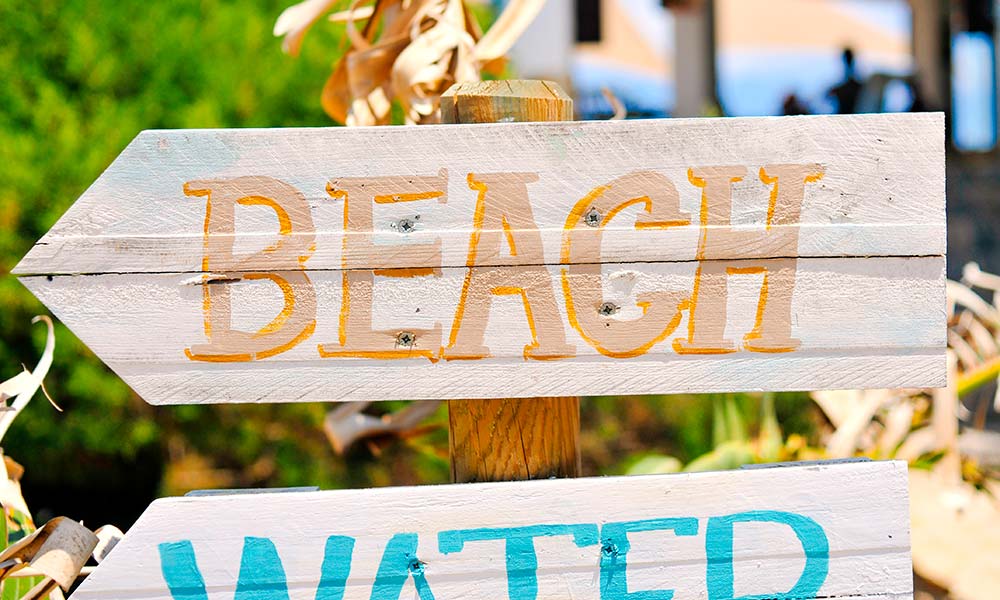 The 10 best beach clubs in San Antonio and surroundings
If you do not like to carry the umbrella, you are nobody without a cold cocktail in your hands, you will see and be seen and you will love to sunbathe with soundtrack included, do not miss our selection of the 10 best beach club San Antonio and surroundings. The essential route to cross the west coast of Ibiza from beach bar in beach bar. Eat, sleep, swim, repeat…
5 beach bars and beach clubs in San Antonio and its bay
Kumharas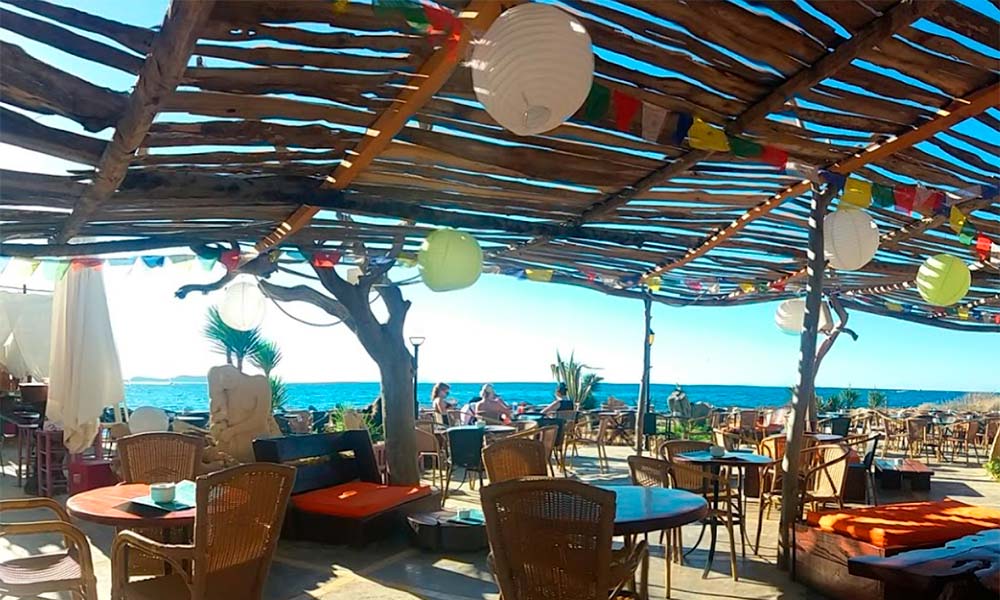 This beach bar in the bay of San Antonio has become one of the essential addresses of the west coast of Ibiza thanks to its relaxed atmosphere, music and fabulous sunsets. It is a few minutes' walk from Amàre Beach Hotel Ibiza and it is perfect to dismiss the day with good vibes and a cocktail in hand.
Carrer de Lugo, 2, 07829 Sant Josep de sa Talaia, Illes Balears
Tel: +34 971 80 57 40
Web: www.kumharas.org/en-gb/
Google Maps
Café Mambo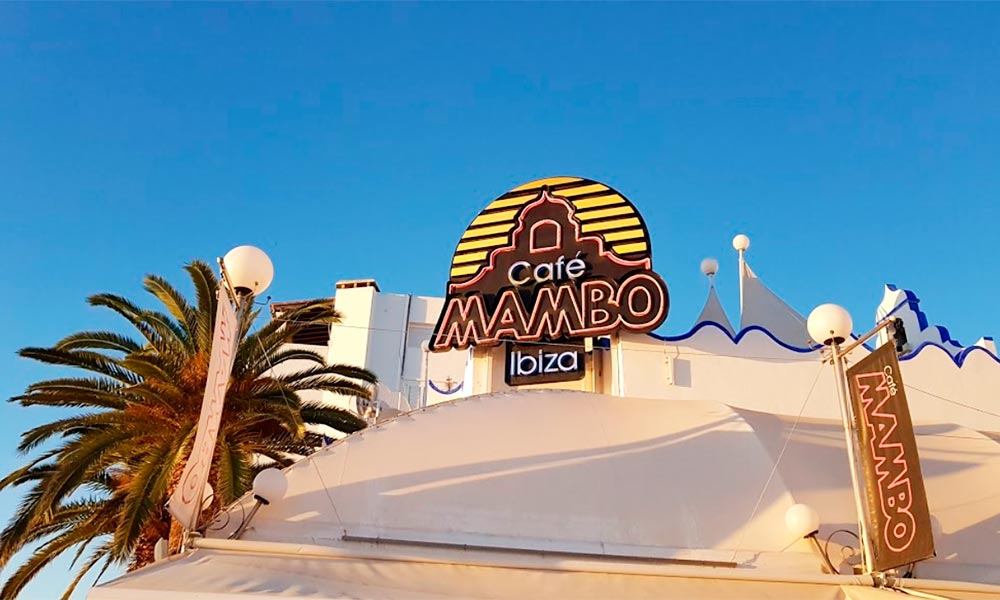 Located on the seafront of San Antonio, in the area known as Ses Variades, it is undoubtedly one of Ibiza's summer hot spots. Open from the morning, the action begins with the arrival of the sunset and its famous pre-party sessions offered by some of Ibiza's most outstanding DJs. If you want to fire the sun from the tables of this famous San Antonio beach club cafe, you better book in advance.
Carrer Vara de Rey, 40, 07820 Sant Antoni de Portmany, Illes Balears
Tel: +34 971 34 66 38
Web: www.cafemamboibiza.com
Google Maps
Café del Mar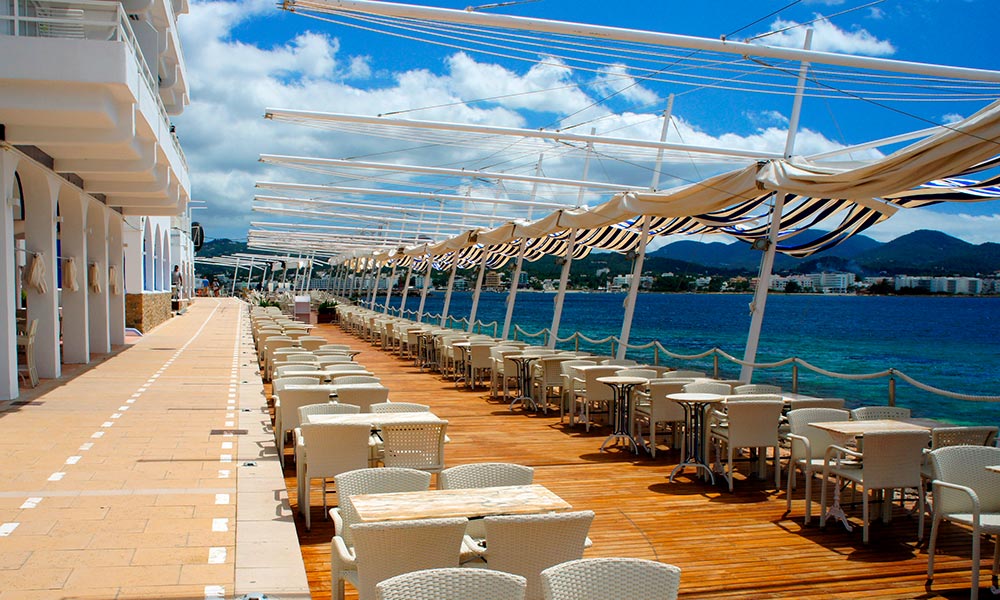 This cafe beach bar in San Antonio rose to international fame thanks to the chill out music sessions created at sunset by the legendary José Padilla. Today, it is still a benchmark of the island and a magnet for the hundred travellers who come to their tables every summer to watch the sunset. He shares the spotlight with his neighbour Café Mambo and, like him, is still one of the essential visits in Ibiza.
Calle Vara de Rey, 27, 07820 San Antonio Abad, Islas Baleares
Tel: +34 689 00 84 94
Web: www.cafedelmaribiza.es
Google Maps
Amàre Beach Club Ibiza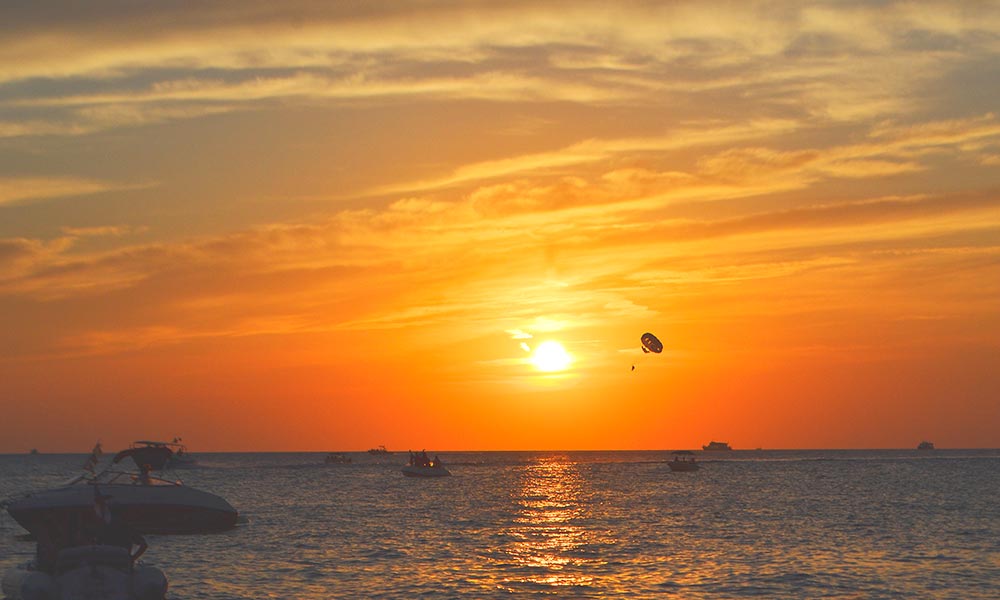 If you are looking for the perfect combination of pool, beach, good music and better food, do not go far and stay at Amàre Ibiza Beach Club. You will have at your feet the shore of Bou Creek and our best service. And when you approach the sunset, you only have to climb the terrace of Belvue Rooftop Ibiza. The best plan, do not you think?
Carrer La Rioja, 9, 07829 Sant Josep de sa Talaia, Islas Baleares
Tel: +34 951 56 20 83
Web: www.amarehotels.com/amare-ibiza/
Google Maps
Sunsea Bar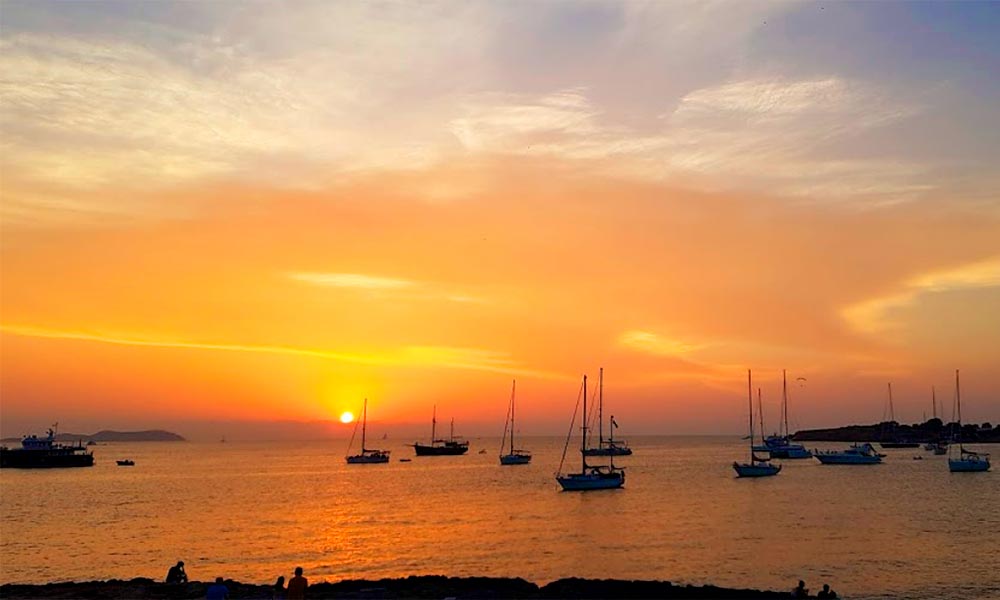 One of the best beach bars in San Antonio to enjoy a nice day of beach with the end of sunset. It is located next to the cove of Caló des Moro, it has an appetizing menu of summer flavours, good music and a small pool to cool off from time to time.
Carrer de Cervantes, 50, Bajos, 07820 Sant Antoni de Portmany, Illes Balears
Tel: +34 971 34 83 89
Web: www.sunseabar.es
Google Maps
5 beach bars in the surroundings of San Antonio
CBbC Cala Bassa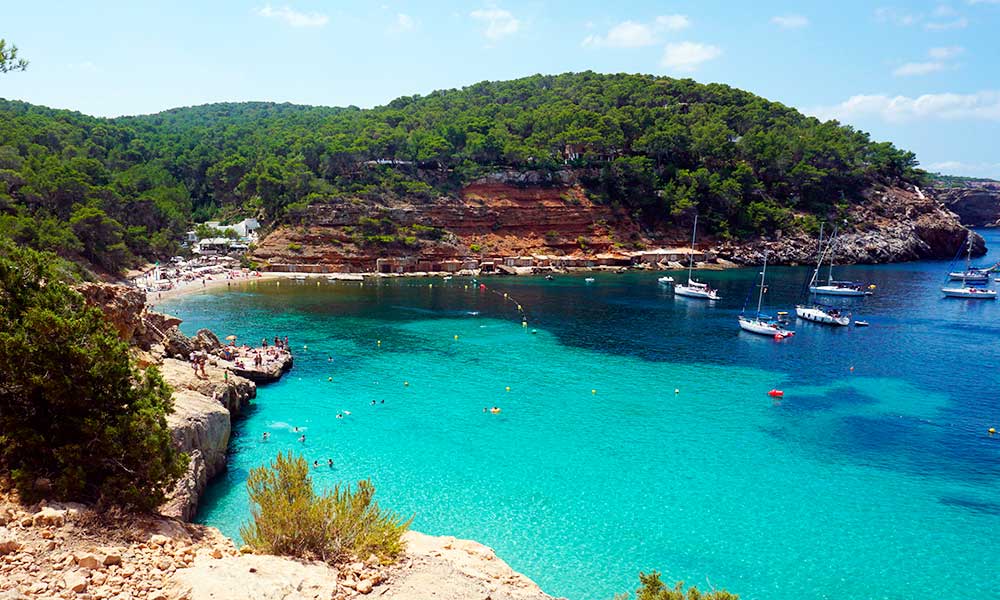 This old beach bar, transformed into one of the most sophisticated beach bars in Ibiza, has a privileged location in Cala Bassa, one of the most beautiful beaches on the island. Their tables and hammocks are in the shade of pines and junipers and, if you wish, you can stay in them from morning until late at night. It has its own parking.
Cala Bassa, 07829, Illes Balears
Tel: +34 619 98 43 71
Web: www.calabassabeachclub.com
Google Maps
Cotton Beach Club Ibiza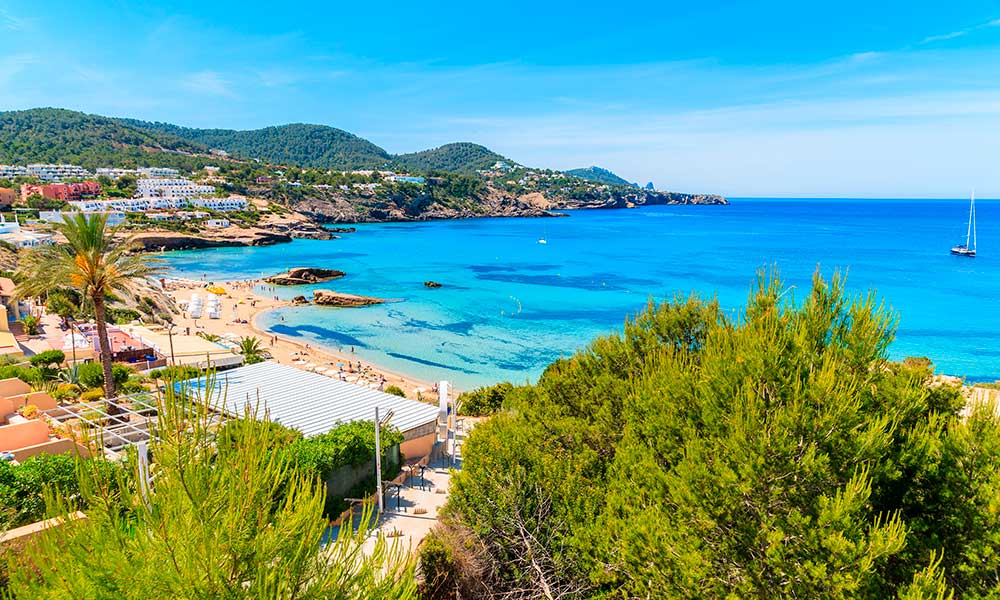 The iconic shore of Cala Tarida stars in the panoramic view from the tables and sun loungers of the Cotton Beach Club Ibiza, one of the most cosmopolitan beach restaurants in Ibiza. You can choose between the proposals of its sushi bar and its menu of Mediterranean specialties. It is located in cala Tarida, a 15-minute drive from Cala de Bou.
Carrer Posta de Sol, Carrer de Cala Tarida, 21, 07829, Illes Balears
Tel: +34 971 80 61 80
Web: www.cottonbeachclub.com/
Google Maps
Maya Beach Club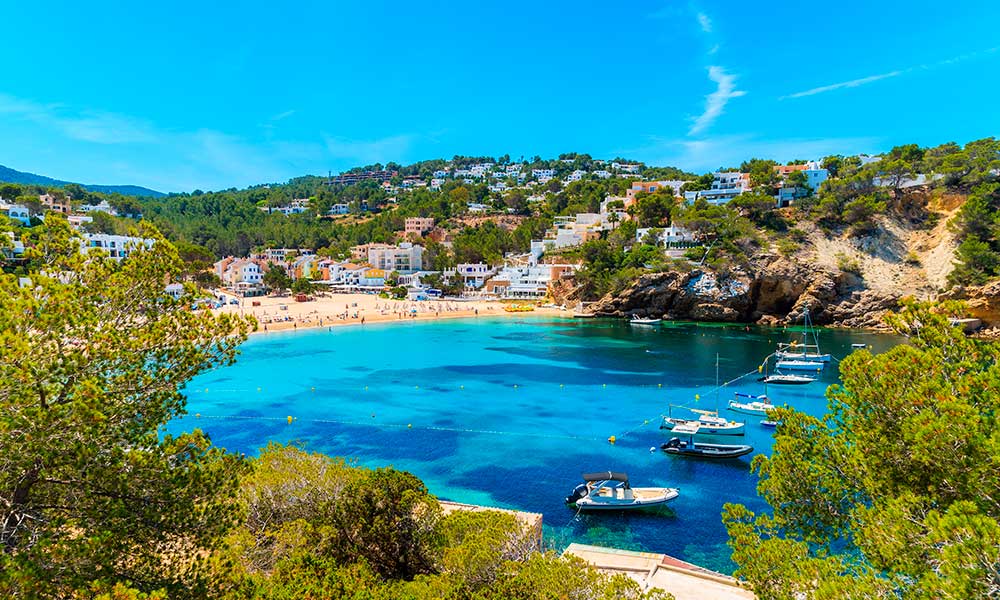 In one of the sides of the Vedella cove is located this elegant beach bar with a chic atmosphere. It has good views of the beach as well as a careful menu that includes sushi, Italian flavours and Mediterranean recipes. If you want a more casual style and similar to the usual beach restaurants, at the other end of the cove you will find in the shade of the pines the tables of Can Jaume Beach Bar, a classic from Cala Vedella.
Carrer Pollença 32, Es Port d'en Nebot, Cala Vadella, 07830 Sant Josep de sa Talaia, Balearic Islands
Tel: +34 971 80 82 17
Web: www.mayabeach.club
Google Maps
Sunset Ashram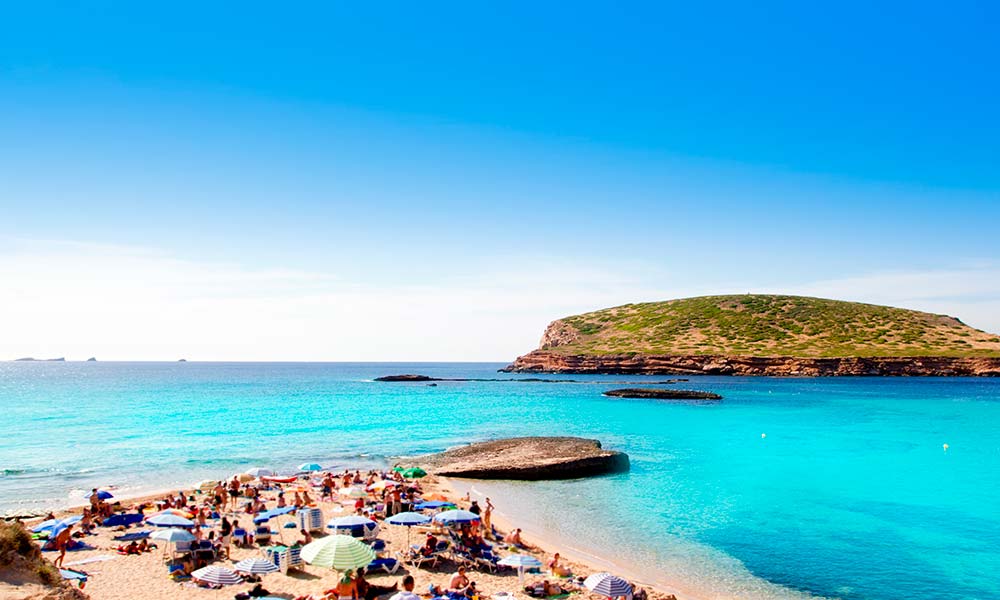 It's hard not to fall in love with the location of this well-known Ibiza beach bar. Located at the edge of one of the sandstone cliffs of Platges de Comte, from its tables you can see fabulous views over the turquoise waters of the sea, the islets of Ponent and s'Illa des Bosc and the sunset. Apart from its proposals of international cuisine with contemporary touches, it has a special menu of sushi and another of Indian dishes.
Carr. de Cala Conta, s/n, 07829 Sant Josep de sa Talaia, Islas Baleares
Tel: +34 661 34 72 22
Web: www.sunsetashram.com
Google Maps
CBbC Port des Torrent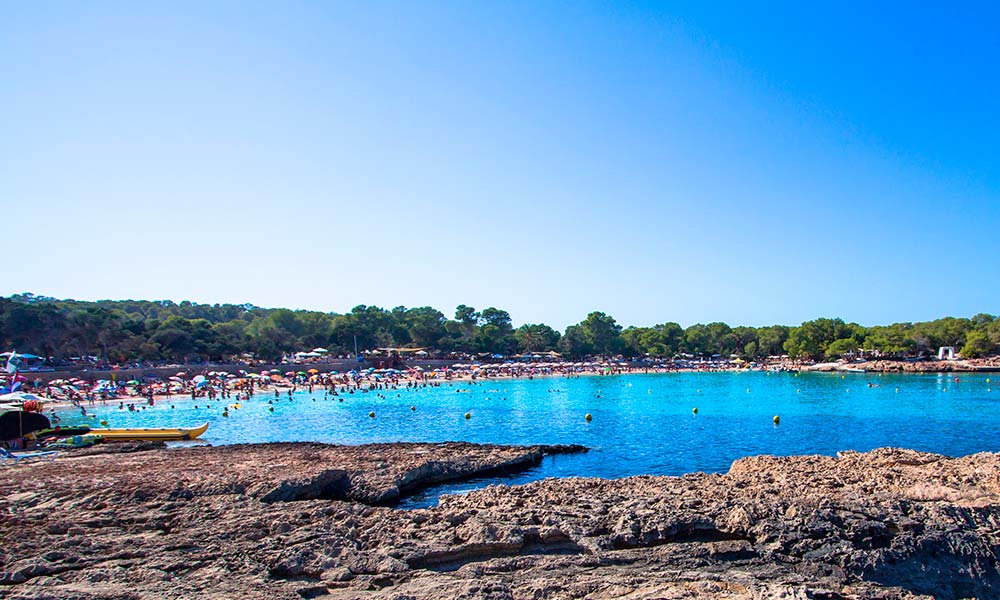 The younger brother of CBbC Cala Bassa is this beach bar opened in the summer of 2018 in Port des Torrent, a quiet cove with a family atmosphere that is less than 5 minutes by car from Amàre Beach Hotel Ibiza. Another direction to consider when the sun goes down.
Diseminado Poligono 15, 84, 07829, Islas Baleares
Tel: +34 971 41 92 06
Web: www.cbbcgroup.com
Google Maps
Preparing your adult-only holidays in Ibiza?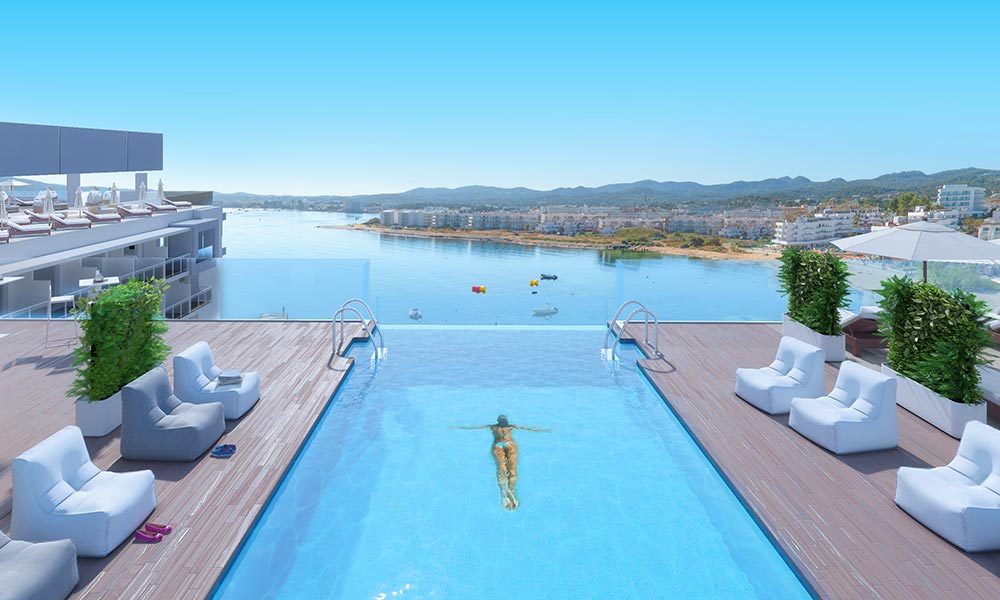 If you have taken good note of our selection of beach bars and beach clubs in San Antonio and surroundings you will surely be preparing for your next holiday in Ibiza as a couple or with friends. If so, and you have not yet booked your stay, do not miss the fabulous rooms of our four-star hotel recommended for adults located in Cala de Bou, in the bay of San Antonio. A first class accommodation with wellness centre, two swimming pools, and Jacuzzi and rooftop restaurant with the signature of a chef awarded Michelin Star and ideal to satisfy the most adult desires. #WhatAFeeling!
Ibiza clubs and bars: a guide to Ibiza nightlife
The best beaches and coves in San Antonio and surrounding areas
37 Things to see and do in Ibiza