Marbella and Ibiza Blog
Amàre Beach Hotels
The coolest of Granada, ideas for an unforgettable day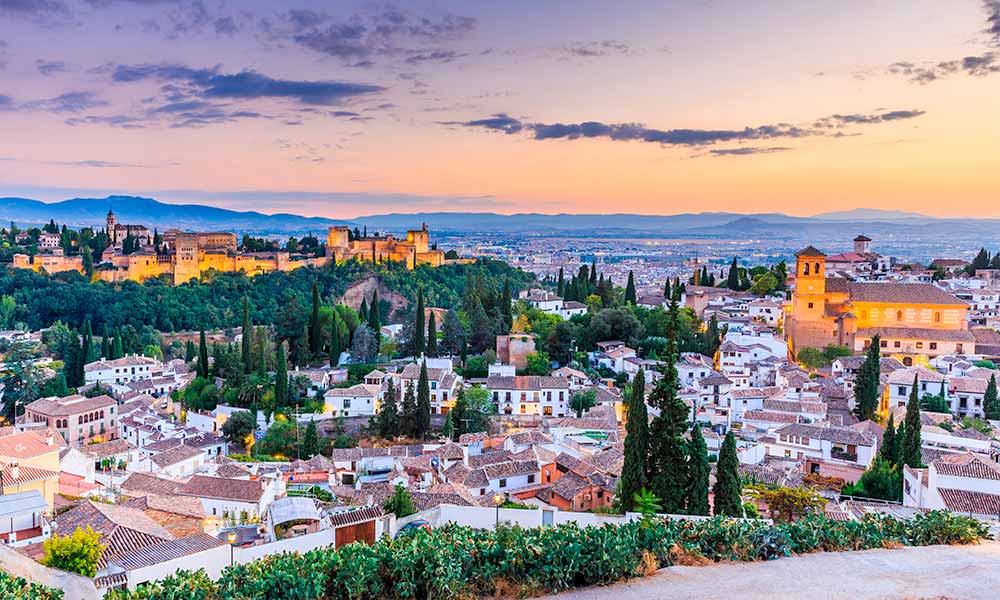 The coolest of Granada, ideas for an unforgettable day
Granada day trip guide
Just hearing the name of Granada recalls the most spectacular landscapes, as Francisco de Icaza once said, "Spare him some charity, woman, as nothing in life could be more pitiful than being blind in Granada", and given that this is not any less true now than when it was written, you'll find it carved on the Gunpowder Tower of the Alcazaba.
However, no matter how hard we wish it were otherwise, holidays are always shorter than we'd like, so for those enjoying this gorgeous city on a tight schedule, we suggest this one day trip to Granada plan.
We hope you find it useful!
Breakfast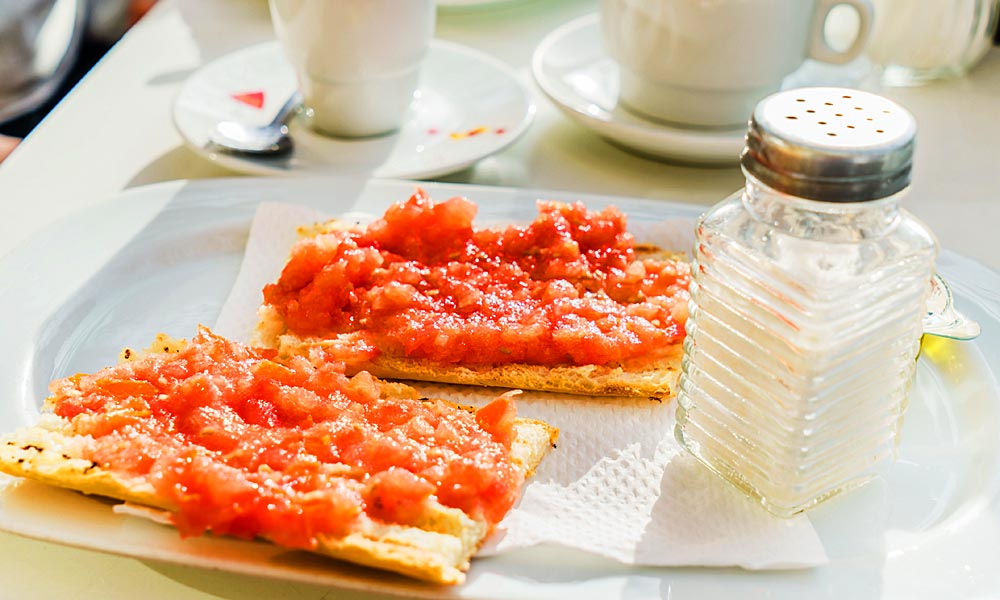 Make the most of morning sunlight in Granada by having a wonderful breakfast on the street. You can have a good breakfast anywhere, good toast, good prices, plus much hustle and bustle. But we recommend having breakfast at La Isla, as enjoying a latte and a few piononos while facing Basílica de las Angustias on Carrera de la Virgen, is a true luxury.
Visit Casa del Chapiz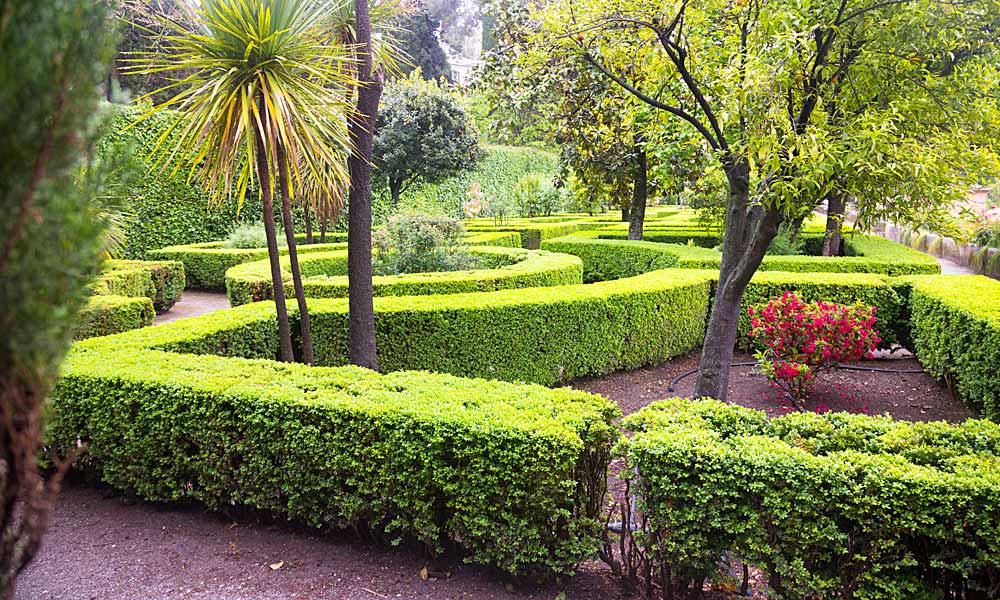 One of the highly suggested places for anyone visiting Granda is beautiful Casa del Chapiz. This fabulous Moorish house is entered from the famous Cuesta del Chapiz, on the Albaicin, and despite the many tourists passing through, few knew this marvel was located on gate number 22.
Although it might seem like a private home, don't be fooled, as this house hosts the Arab Studies School of Granada; beyond its threshold you will find the house on one side, with its beautiful pond, and its gardens on the other side, packed full of myrtle and a fabulous breath-taking panoramic view of the Alhambra.
Casa del Chapiz is one of the most spectacular sites to visit in Granada, while inexplicably rather unknown to the city's visitors.
Camino del Sacromonte, 1, 18010 Granada
Web: www.alhambra-patronato.es


Google Maps
La Alhambra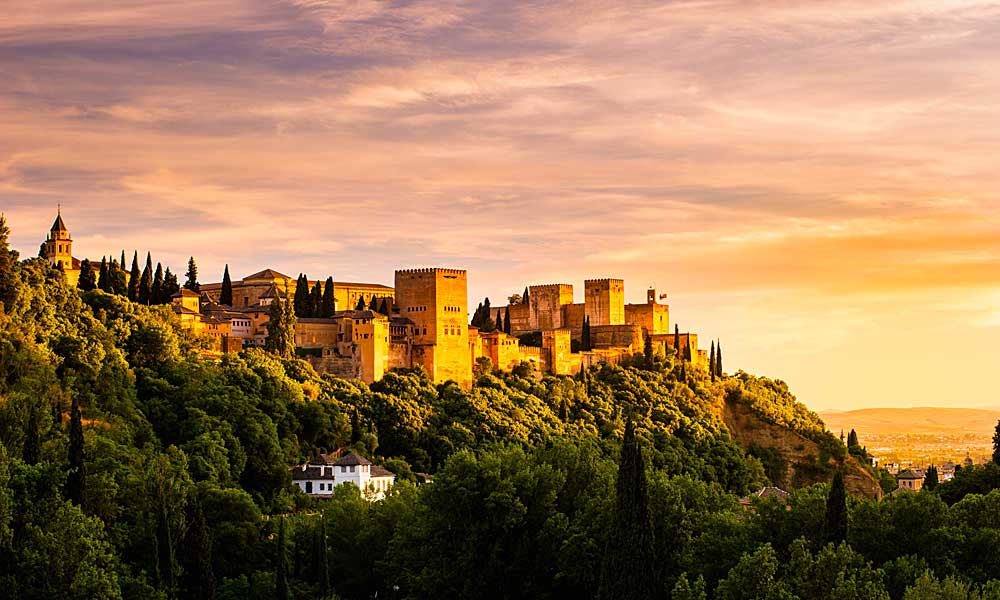 This imposing fortress surrounded by a lush forest is known as "la roja", as twilight bathes its walls in shades of red.
La Alhambra is true beauty, in addition to being the oldest Arab fortress in the world. During your visit, you'll find a timeline tour in memory of the monarchs who resided here throughout history. It is full of amazing and beautiful areas, such as the Daraxa Viewpoint, Mozarabs Room, Mujammad V Palace, and the Generalife Gardens, entirely stunning.      
We must tell you that if you are to spend only one day in Granada, you should purchase your tickets in advance, as they are quickly sold out, and there are usually very long lines. You should also keep in mind, to properly schedule, that the tour of this architectural and historical wonder stretches through 3.5 km and takes about 3 hours, so this visit might entail a good part of your day. 
Ticket Sales
There are only two official entities where to purchase tickets for the Alhamabra: Board of la Alhamabra, and La Caixa Bank (also by telephone and on their Ticketmaster site). The types of available tickets are:
– Full Entry: morning or afternoon (Generalife, Alcazaba, Nazaries Palaces and gardens)
– Night Visit Entry (Nazaries Palaces)
– Night Visit Entry (Generalife)
– Partial Entry: morning or afternoon (Generalife, Alcazaba and gardens)
– Blue Circular Entry (full entry + night visit entry on two consecutive days)
Calle Real de la Alhambra, s/n, 18009 Granada
Tel:: +34 958 02 79 71


Google Maps
https://www.alhambradegranada.org/en/
The Granada Cathedral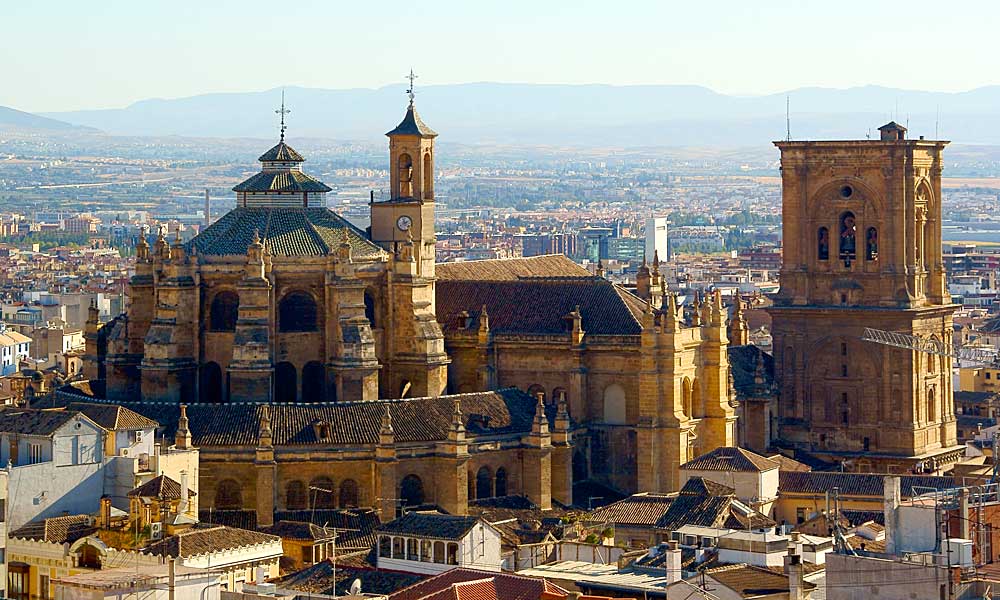 If the Alhambra is the great Arab monument, then Granada's Cathedral is the masterpiece of Christianity. As construction of this monument began in honour of having reconquered the city, exactly on the site of the Grand Mosque.
It was built over a period of nearly two hundred years (1528-1704) and, as expected, was in the hands of many architects, each contributing their unique touch. For example, Enrique Egas defined its foundation in Gothic; Diego de Siloé turned the project towards Renaissance; and Alonso Cano then chose Baroque for its main façade.
It is here, more precisely in the Royal Chapel, where the bodies of the Catholic Kings, Isabel de Castilla and Fernando de Aragón, as well as Felipe II and Juana de Castilla, were laid to rest.
http://www.catedraldegranada.com/
Gran Vía Granada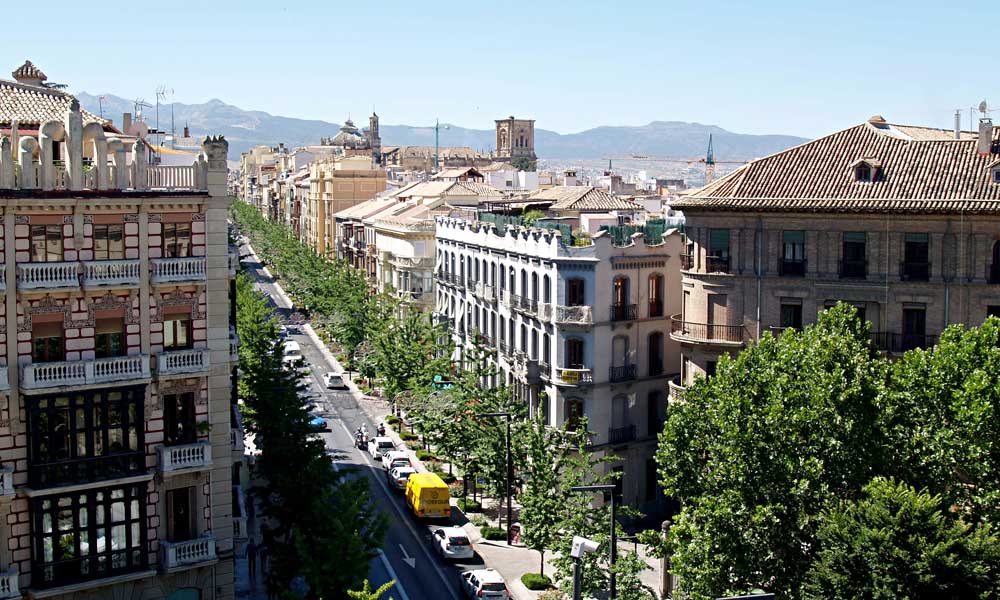 You can't leave Granada without having strolled on the Gran Via, as that's where you can enjoy multiple spectacular views of 19th century seigniorial buildings.
Go for tapas in Granada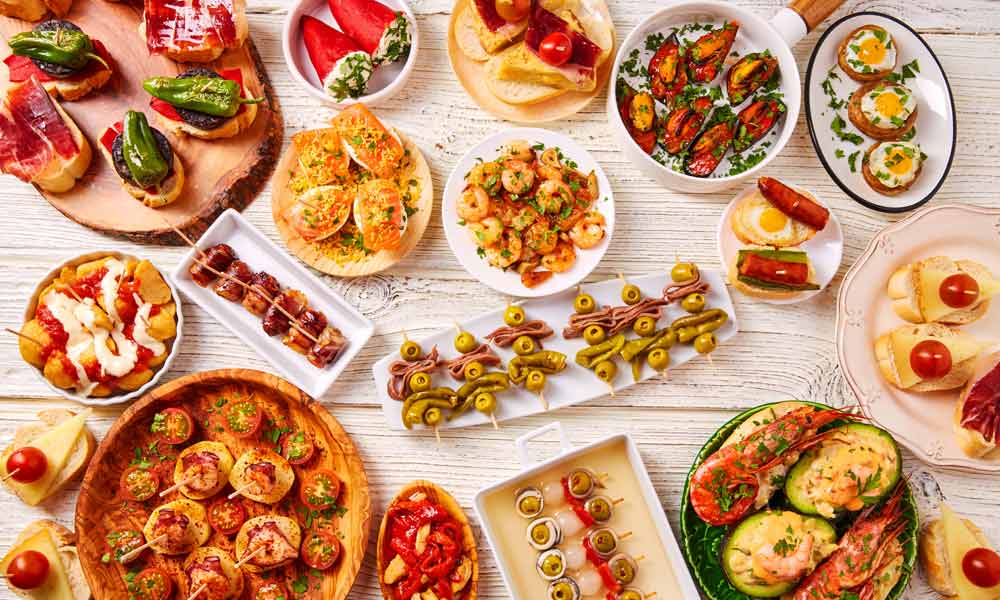 Visiting Granada means enjoying its tapas, as Granada and tapas go hand in hand. So we recommend you at least have a bite. Each beverage has its own tapa, and most of them are truly generous. That's if you don't choose the tapa yourself.
To have tapas the Granaine way, we recommend you walk all the way through to the Chana area, especially if its sunny outside. Some of the well-known classic tapas bars include:
Il Gondoliere
Going for tapas is all very well, but if you are seeking a calm lunch, don't hesitate to visit this Italian restaurant, located in the heart of the city. Il Gondoliere has been feeding locals and foreigners since 1989, because its Italian gastronomy is a delicacy that matches its elegant and minimalist décor. If you are still hesitating on whether to come here, I should mention this venue boasts numerous awards for its great cuisine.
Calle Martínez Campos, 24, 18002 Granada
Tel: + 34 958 25 18 34
Web: www.gondoliere.com


Google Maps
The little Marrakesh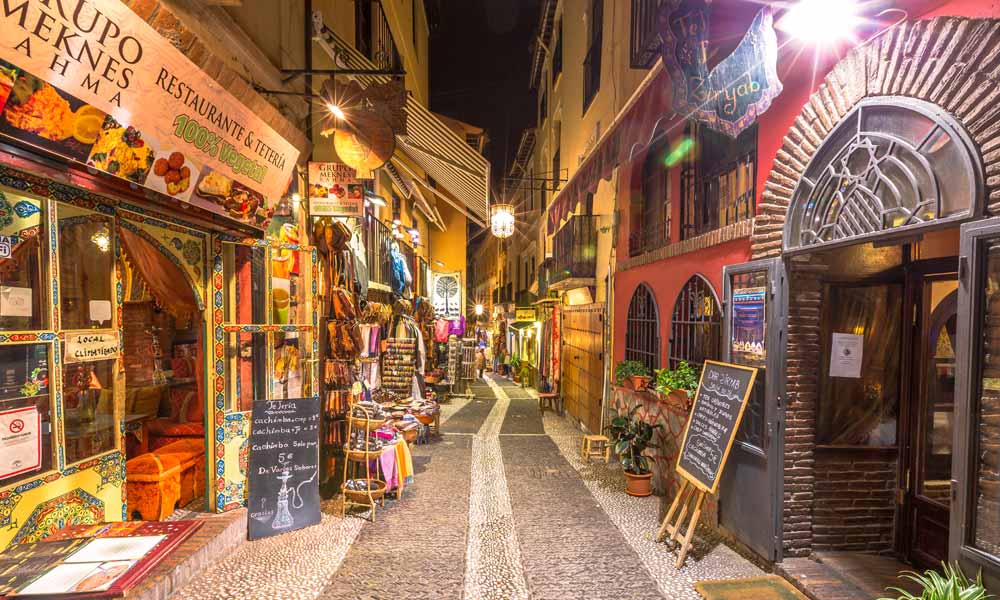 Editorial credit: Benny Marty / Shutterstock.com
From among all the streets in Granada and all the things you can do, you can't miss walking on Calderería Nueva Street, better known as "The Tea Shop Street". Located in the Albaicin, it's one of the most authentic areas. Once you walk inside, you'll literally feel as if you were in Marrakesh.
Here you'll find the best tea shops, so forget your diet and have a few desserts made of puff pastry and honey; enjoy those sweet flavours and dried fruits, an irresistible temptation.
The best 2 tea shops in the area
Abaco Té
This tea shop offers a great variety of teas, pies, coffees, platters, sweets and crepes. You'll enjoy a terrace with spectacular views of the Alhambra.
Calle Álamo del Marqués, 5, 18010 Granada
Tel: + 34 9958 99 57 88
Web: www.abacote.com


Google Maps
Tetería Oriental
This two-story tea shop has the most original decor, as the lower floor is inspired by deserts and oasis, while the upper floor is a traditional Arab hall. One of the most enchanting features of this site is their own Arab bakery, recommended by multiple international guides.
Cuesta de Marañas, 3, 18010 Granada
Tel: + 34 958 21 00 40


Google Maps
Mirador de la Alhambra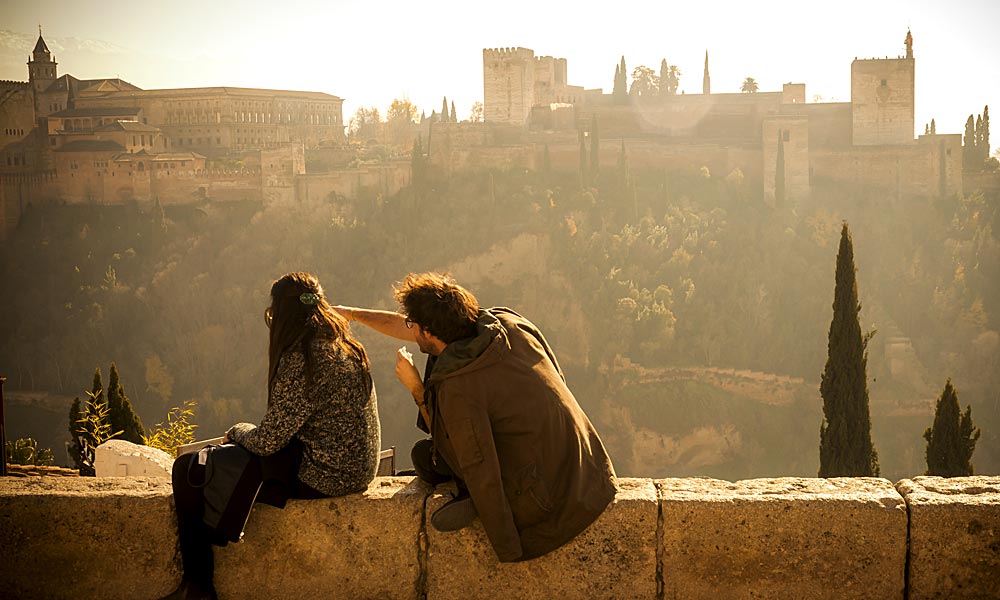 Enjoy the best views of Granada at Mirador de San Nicolás. One of the special attractions in the city, and indubitably one of the essential things to do in Granada you shouldn't miss, the San Nicolas viewpoint, as the beauty of this site is undeniable: the Alhambra y Generalife face to face, the city at their feet, and Sierra Nevada behind.
This site is possibly, next to the Alhambra, one of the most visited in Granada; despite all this, don't hesitate to go there, we recommend you do so at dusk to enjoy the beautiful sunset.
El Albayzín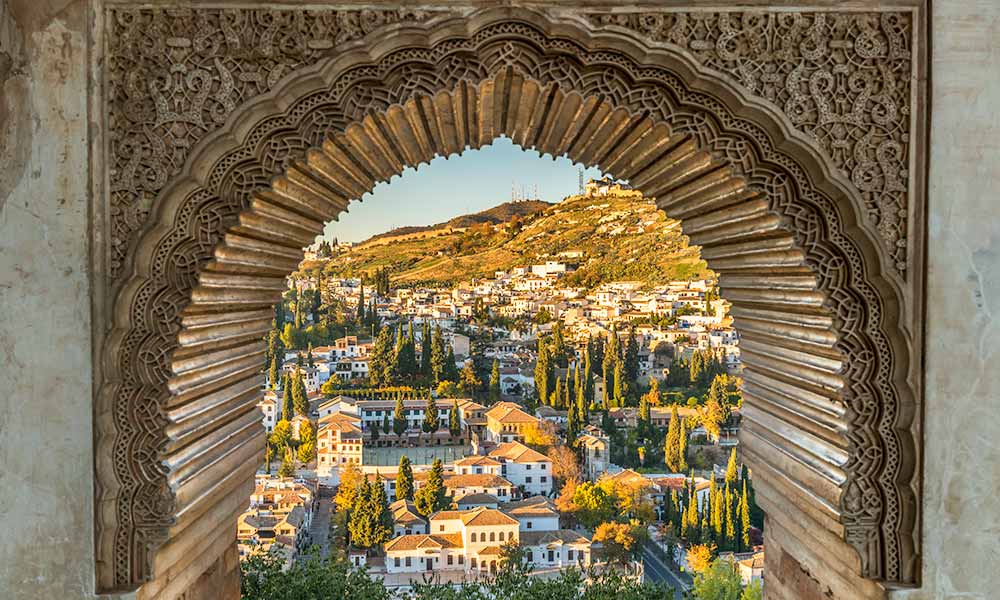 Another site you must not miss during your tour of Granada is the historic and beautiful Albaicin. The best way to start the tour is from Plaza Nueva towards the famous Paseo de los Tristes, next to the Darro river. From there, dare to get lost along any of the stemming alleys, always uphill.
Strolling along the whitewashed streets is a delight, while the Alhambra every so often peeks through, providing the beautiful views that make this tour one of the most dazzling in the city. Nevertheless, get ready to walk!
Dinner at Carmen del Agua
Now we'll move on to one of the best-known restaurants in the Albaicin area. Its hidden access is an entire adventure for those on their first tour of these streets, it's located on Placeta del Aljibe de Trillo. In addition to its carefully selected cuisine proposal, the views from this restaurant are unrivalled.
Placeta del Aljibe de Trillo, 7, 18010 Granada
Tel: + 34 958 22 43 56


Google Maps
Flamenco Show at Sacromonte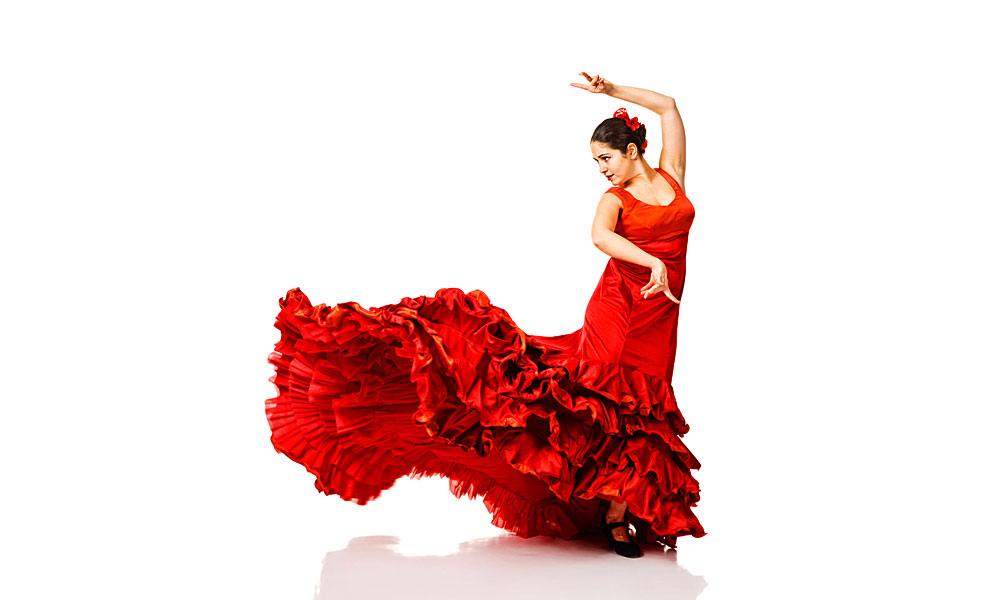 After a day full of excitement and emotions, you must go to the flamenco shows; despite being designed for tourists, they are worth watching at Sacromonte.
You have surely gotten to the end of the day tired of touring around and getting lost through alleys, but keep in mind you have enjoyed the city in highly exclusive fashion.
http://www.flamencogranada.org/en/
Ronda day trips from Marbella, visit beautiful Ronda in one day