Marbella and Ibiza Blog
Amàre Beach Hotels
Ronda day trips from Marbella, visit beautiful Ronda in one day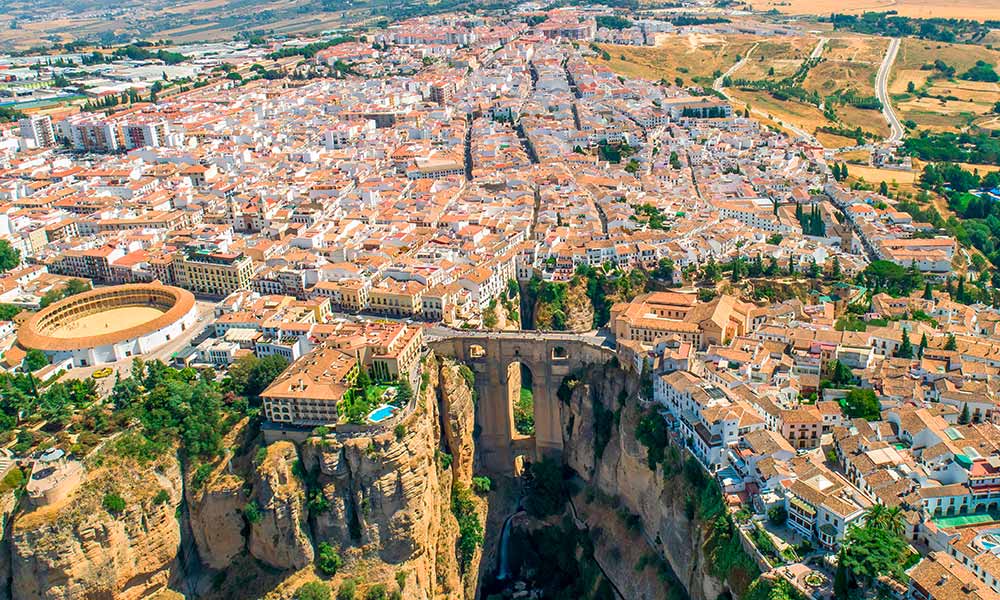 Ronda day trips from Marbella, visit beautiful Ronda in one day
Day trips to Ronda from Marbella are a tradition both for Spanish and international tourists. A Ronda day trip is obligatory if you really want to get to know the Málaga province. Not for nothing would romantic travellers choose this corner of Andalusia as a destination.
To visit Ronda is to enter another era and see unique places and landscapes; to enjoy an experience similar to that of those romantic travellers and writers who have made this city so famous. Palaces, lookouts, Arab baths, Roman theatres and even Neolithic caves can be seen by travellers and transport them in time. Day trips from Ronda to Marbella require time to make the most of it, in order to properly see each of its emblematic places, enjoy its delicious gastronomy and a glass of wine in some of its fashionable establishments.
Ronda in history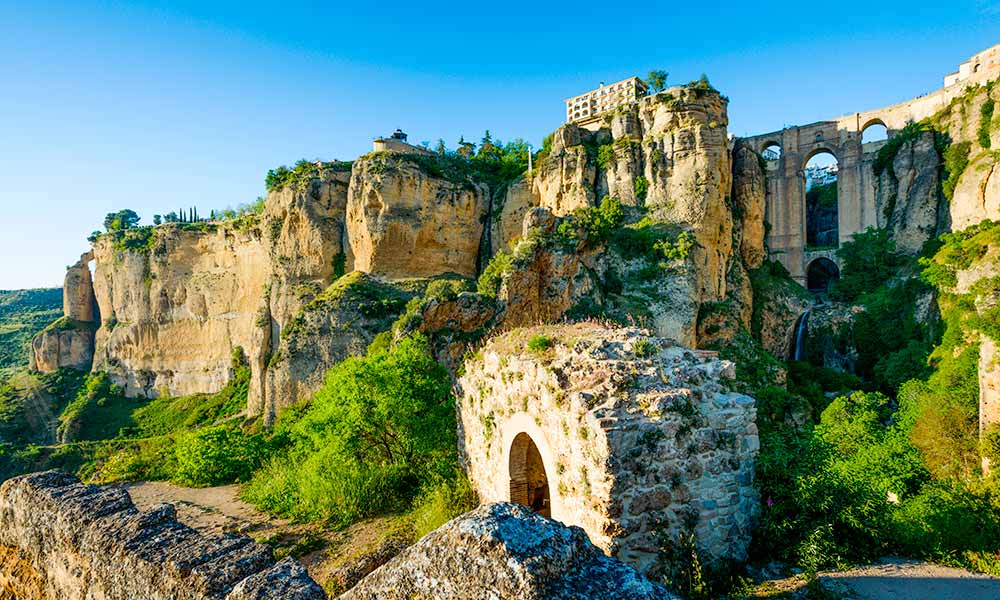 Ronda is one of Spain's oldest cities. Archaeological remains have been found that demonstrate the existence of settlements from the Neolithic era, such as paintings in Pileta Cave, one of the largest exponents of cave art of the Andalusian Paleolithic. Since then to the present day, many pages have been written on the city's history. First Celts and then Greeks passed through it, then it was the Romans who settled  there and granted it city status, and later on the Suevi and the Byzantines. Then with the Arab invasion, the city became the capital of the Al-Andalus province of Takurunna until 1485 when Ferdinand II of Aragon took the city.
The myth of the highwaymen who robbed coaches started in the 18th century in the Serranía de Ronda. Today Ronda is a charming city where holidaymakers can spend a few wonderful days.
Tips for your Ronda day trip from Marbella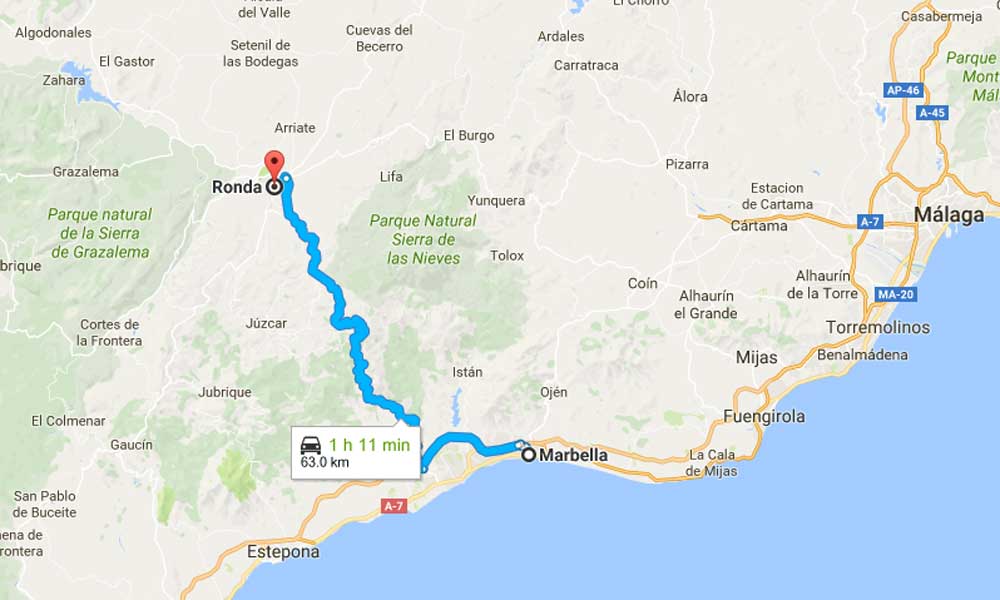 Marbella and Ronda are separated for just 63 milometers. However, most of the way is a mountain road. The trip takes a little over an hour.
You will easily find a parking space at one of the public parking lots, strategically located for tourists.
El Castillo Parking
It is the first one you will find on your way from Marbella. It is located in the old town, known to the locals as "La Ciudad" (The City), a place in which you will feel as if you had traveled back in time, where most of its monuments can be found.


Google Maps
Plaza del Socorro (El Socorro Square) Parking
It is located at the center of the city, next to the emblematic commercial street known as "Calle de La Bola". Really close to the famous Plaza de Toros de Ronda (Ronda Bull Ring).


Google Maps
La Merced Parking
Also at the center of the city, next to another of the must-see places: the Alameda del Tajo (Tree-Lined Boulevard of Tajo). A step away from this Alameda, with balconies overlooking the Tajo, you can find the Plaza de Toros (Bull Ring) and the Jardines de Blas Infantes (Blas Infantes Gardens), which feature some wonderful overlooks. All of these places are tourist attractions and locations at which to take wonderful pictures.


Google Maps
Start your tourist tour of Ronda
If you want to start your visit to Ronda with plenty of energy, the best thing is to have a traditional Ronda breakfast. You can find one of those in any of these three places: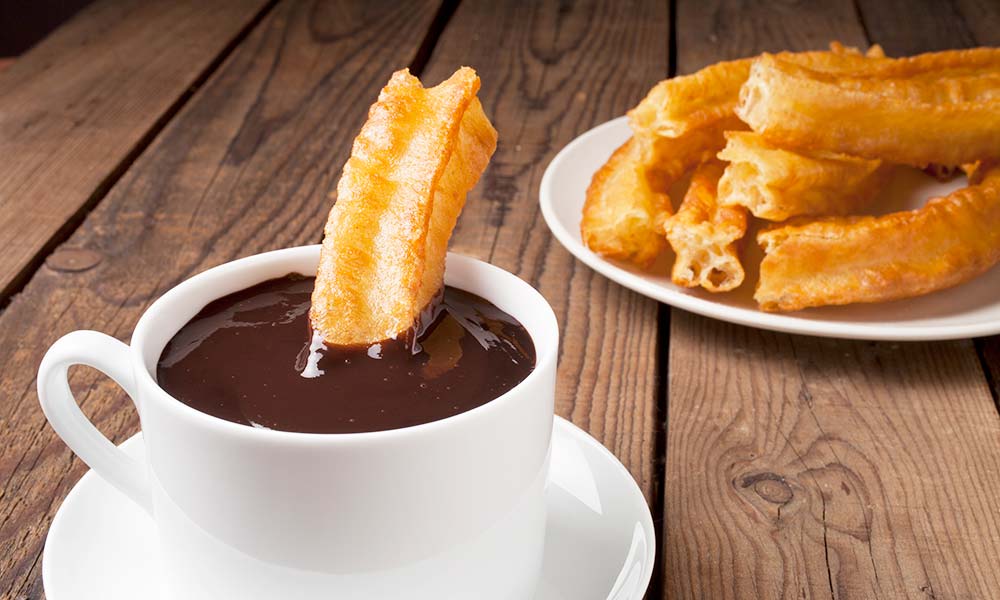 Cafetería-Churrería Alba (Coffee and Churro Shop)
This is one of the most traditional churro shops in Ronda.


Google Maps
Bar Maestro
One of the traditional bars. It has been serving Ronda locals for years. It is closed on Sundays.


Google Maps
Cafetería La Sastrería (Coffee Shop)
An ancient tailor shop turned into a coffee shop. It has been successfully welcomed by the locals.


Google Maps
After a good and delicious breakfast, you are ready for Ronda's most emblematic places. They are all close to each other but, in some cases, you will have to walk up a steep and stone-paved hill.
Puente Nuevo (New Bridge) over El Tajo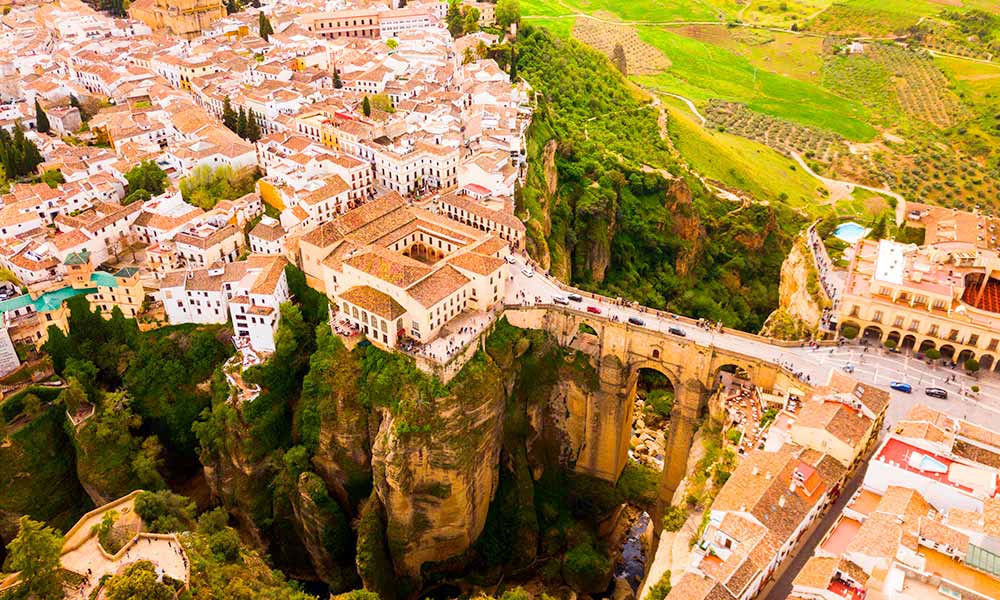 It was built in the 18th century with stone blocks extracted from the bottom of the gorge it stands over. It connects the modern city to the old one. It is the symbol of Ronda and where all tourists want to snap a picture. If you would like to learn more about this construction, visit the interpretation center located inside of it.


Google Maps
Convento Santo Domingo (Santo Domingo Convent)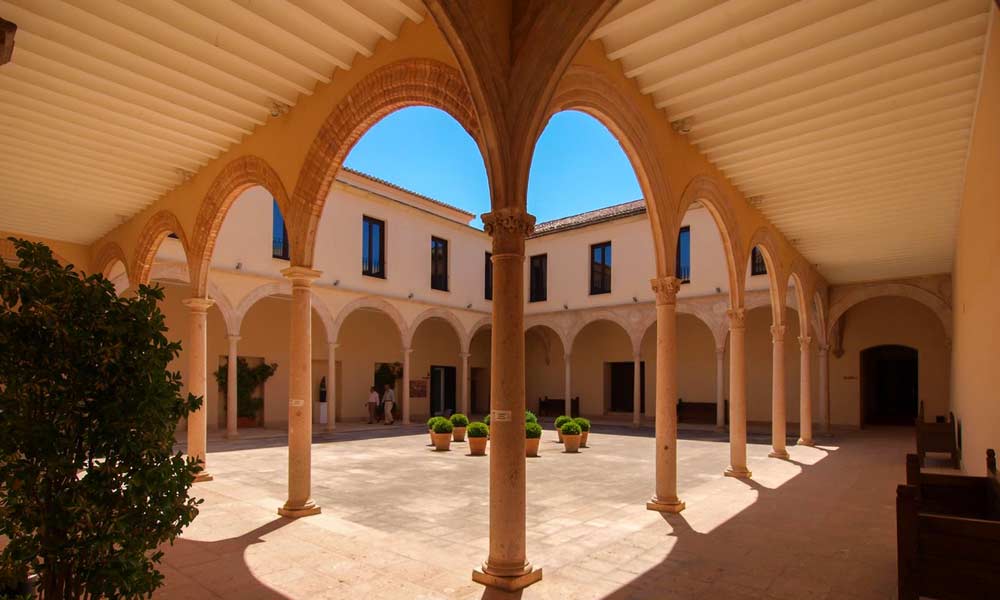 In can be found at the end of Puente Nuevo del Tajo (New Bridge of Tajo), in the direction of the old town ("La Ciudad" or "The City"). Its construction was ordered by the Catholic Kings. For a while, it was used as Plaza de Abastos (Market Square) and as the headquarters of a carpentry cooperative.


Google Maps
Palacio del Rey Moro (Moor King's Palace)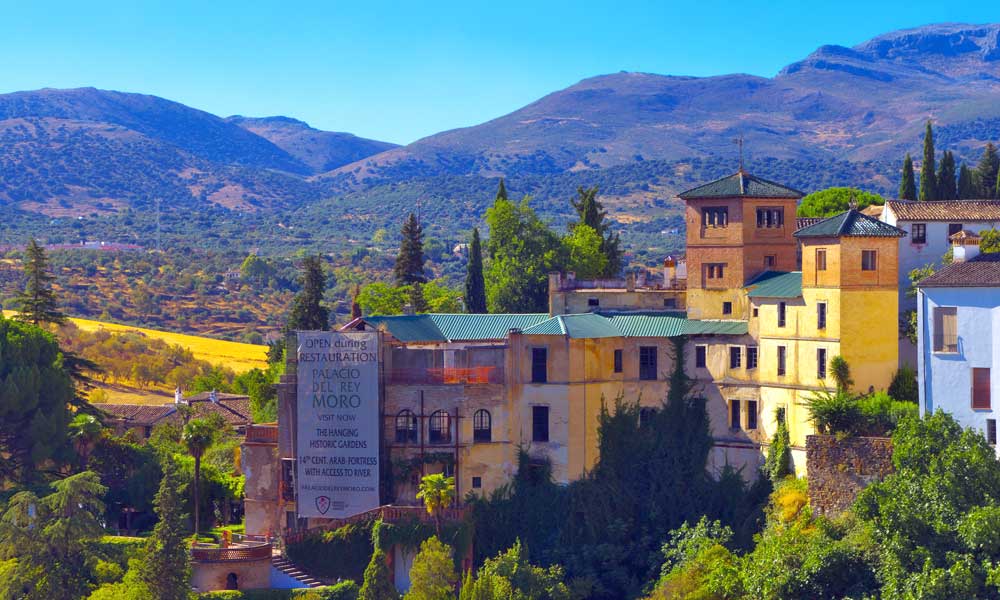 It is located in the steep and stone-paved Cuesta de Santo Domingo (Santo Domingo Hill). It features a water well of Arabian origins in the inside of the building. An Islamic construction descends all the way to the bottom of El Tajo Gorge, through a ladder carved in the rock that has more than 200 steps and that vertically covers approximately 100 meters. Its gardens were designed by Forestier, a prestigious architect and landscapist.


Google Maps
Palacio del Marqués de Salvatierra (Palace of the Salvatierra Marquis)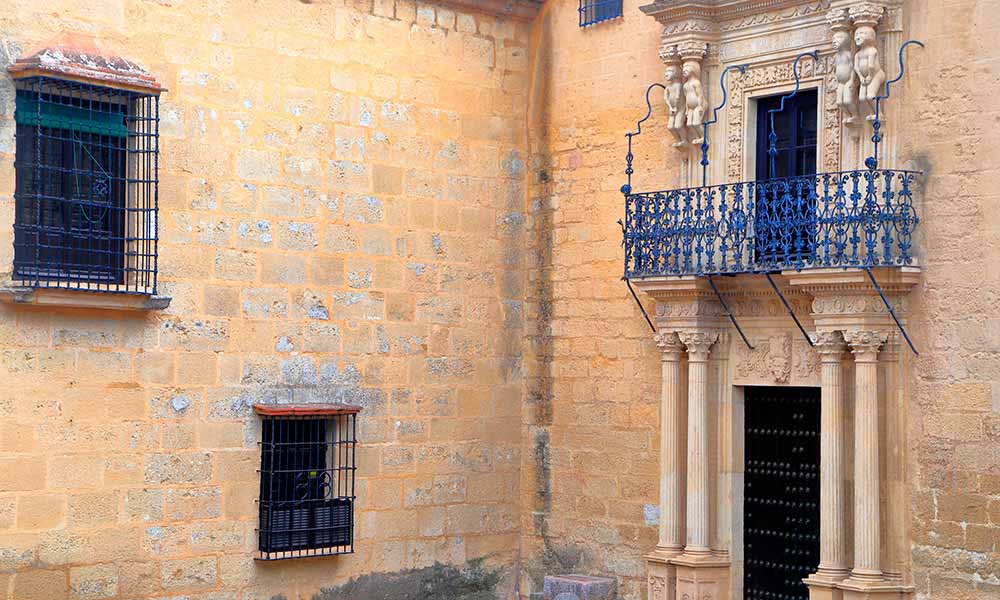 You will only be able to gaze upon its facade, but it is well worth it. It is located a few steps away from the Moor King's Palace.


Google Maps
Arco de Felipe V (Arch of Phillip V)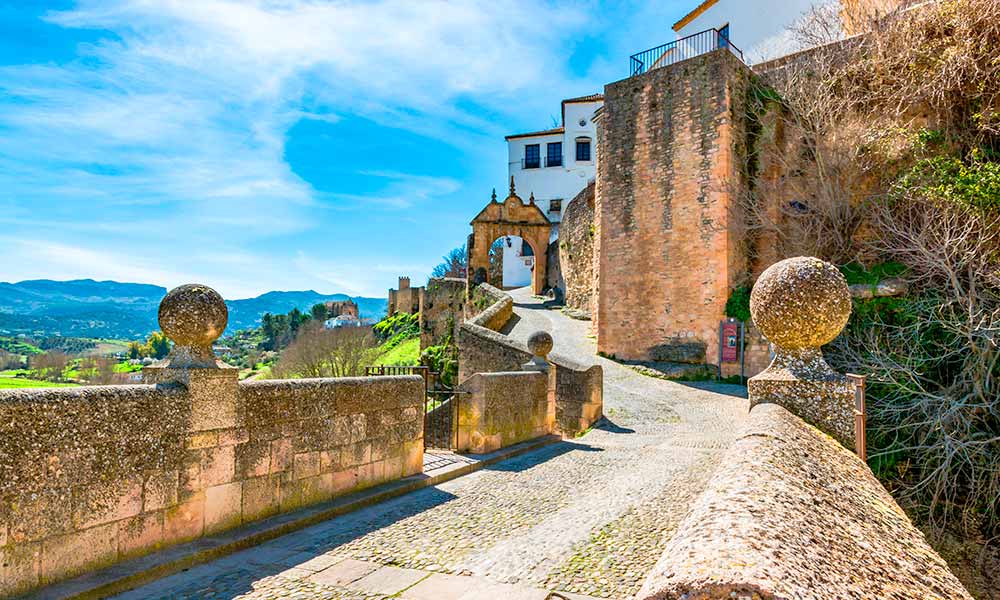 You will find it on your way down from Santo Domingo Hill.  As you continue downhill, you will cross the old bridge, which will lead to another historical building of Ronda: the Iglesia de Padre Jesús Church. In front of said church, there is the famous Fuente de los Ocho Caños (Fountain of the Eight Pipes).


Google Maps
Baños Árabes (Arabian Baths)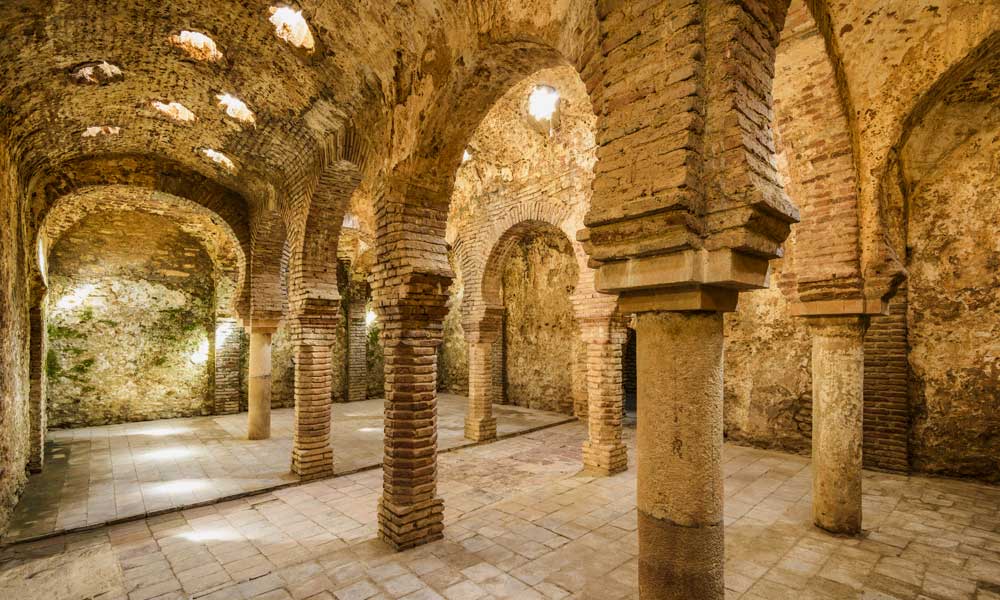 These are located in the current Barrio de San Miguel (San Miguel Neighborhood), which used to be Ronda's Islamic suburb. They are the best-preserved Islamic thermal baths of the Iberian Peninsula.


Google Maps
Iglesia de Santa María la Mayor Church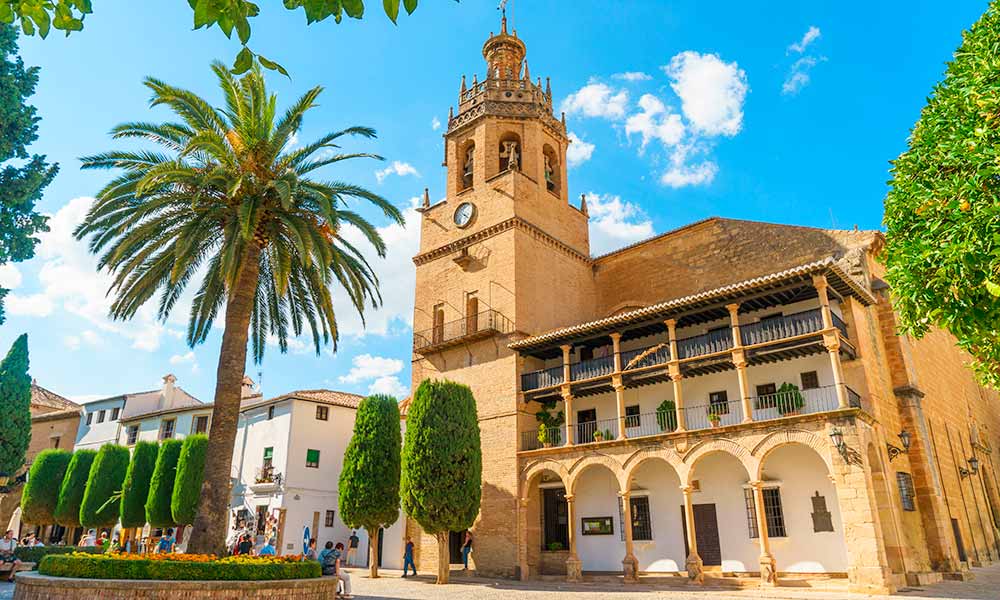 If you leave your car at El Castillo Parking, you will see it as soon as you make your way from there. The Catholic Kings were the ones who ordered its construction. The works initiated in the late 15th century and ended in the 17th century.


Google Maps
Casa Consistorial (City Hall)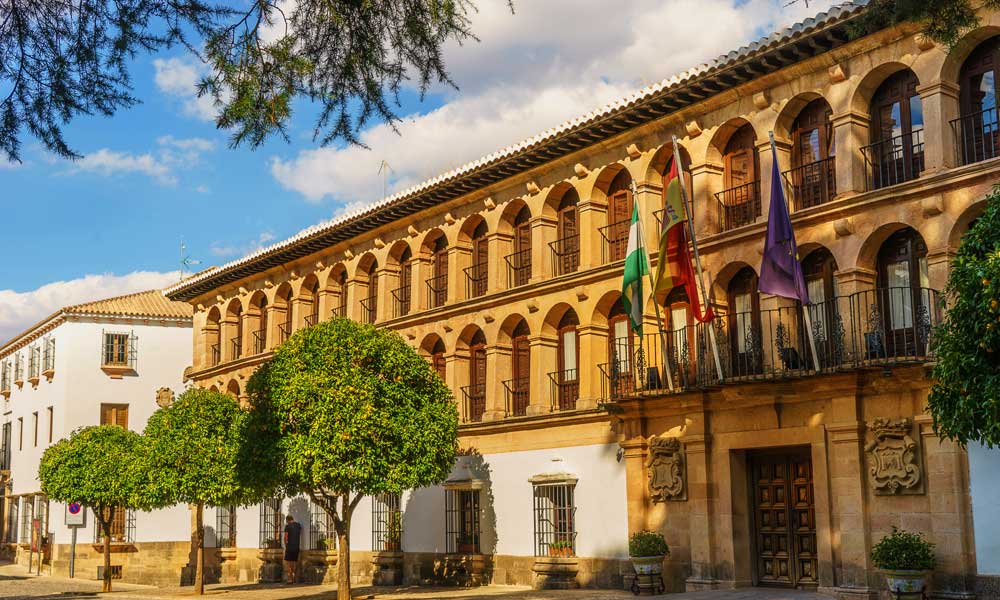 You will see it to the right of the El Castillo Parking. It was built during the 18th century. Before becoming the City Hall it was, among other things, a military headquarter. Its facade stands out, as well as the Mudejar craftwork in the main stairway and the Session Hall.


Google Maps
El Palacio de Mondragón (Mondragón's Palace)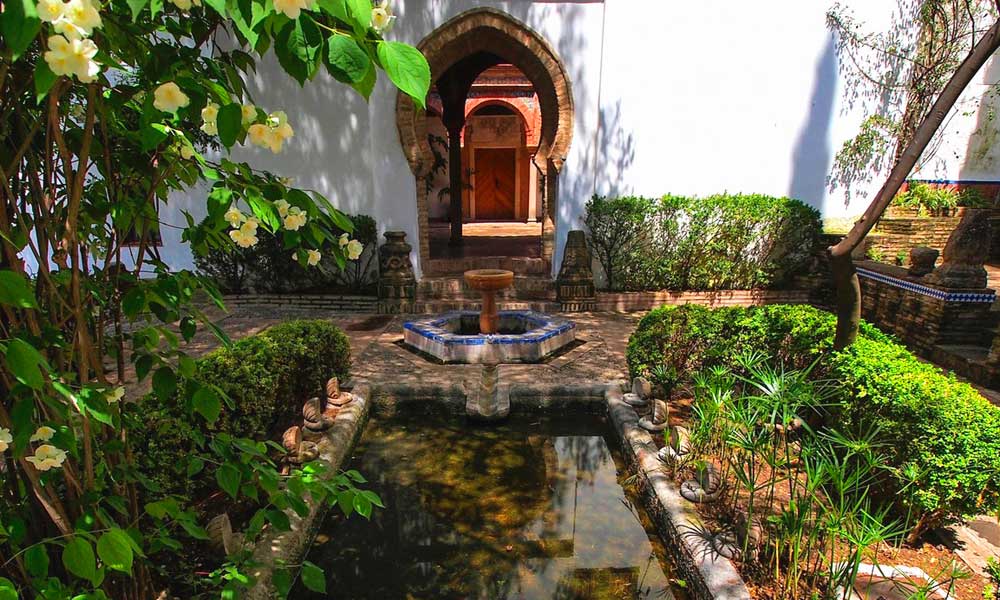 Also known as the Palacio del Marqués de Villasierra (Palace of the Villasierra Marquis). It is considered Ronda's most important civil monument. Its yards, its gardens overlooking El Tajo and its Noble Hall with Mudejar craftwork, are amongst its best features.


Google Maps
Casa del Gigante (House of the Giant)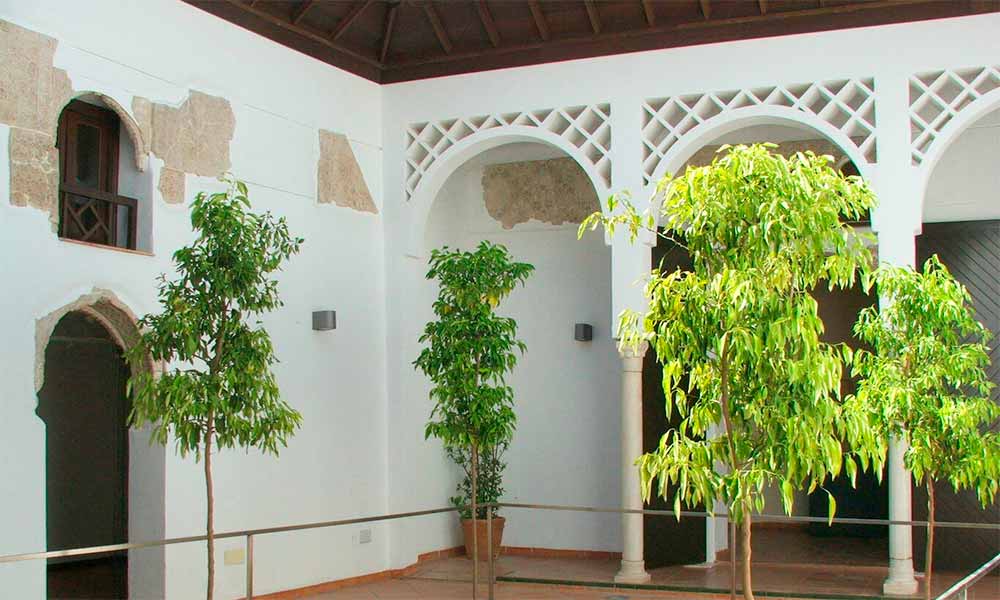 Considered one of the best-preserved Nasrid architecture miniature palaces.


Google Maps
Islamic Walls and Gates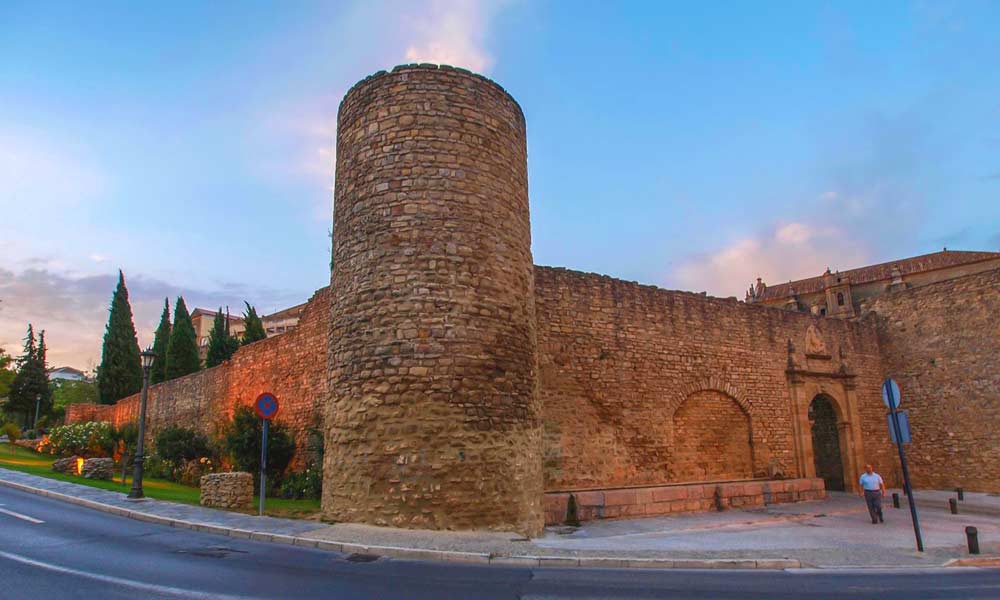 Part of these defensive constructions can be seen from the car when approaching Ronda from Marbella. To the right you will see the Almocábar Gate.

Google Maps
Curiosities about Ronda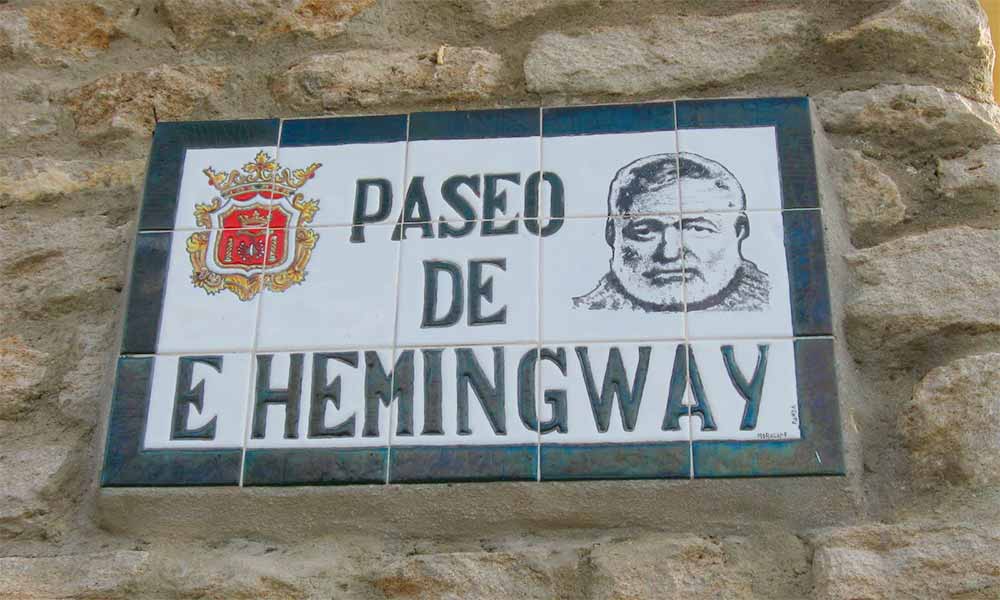 Which historic figures were born in Ronda?
There are natives of Ronda as illustrious as the philosopher Francisco Giner de los Ríos, the bullfighter Antonio Ordóñez and the painter Joaquín Peinado. There are also lovers of the city such as Ernest Hemingway and Orson Welles, who while not from Ronda, have always held it in their hearts,
There was a prison at Puente Nuevo
On the Puente Nuevo central arch there is a spacious room that years ago was used as a prison. It is now the Puente Nuevo Interpretation Centre.
Martín de Aldehuela and the Stendhal Syndrome
It is said that Aldehuela, the architect who designed Puente Nuevo, died by jumping into the Tajo de Ronda from his own bridge. The reason for such an outlandish idea was that he thought he could never build anything as beautiful as that bridge. It must be said that it really is only a legend.
The Holy Chestnut Tree
One of the greatest curiosities about this city is the Holy Chestnut Tree. This tree is surely the oldest in the province, with a perimeter of around 14 metres, and has been declared a Natural Monument.
Places to Enjoy Some Tapas during your Visit to Ronda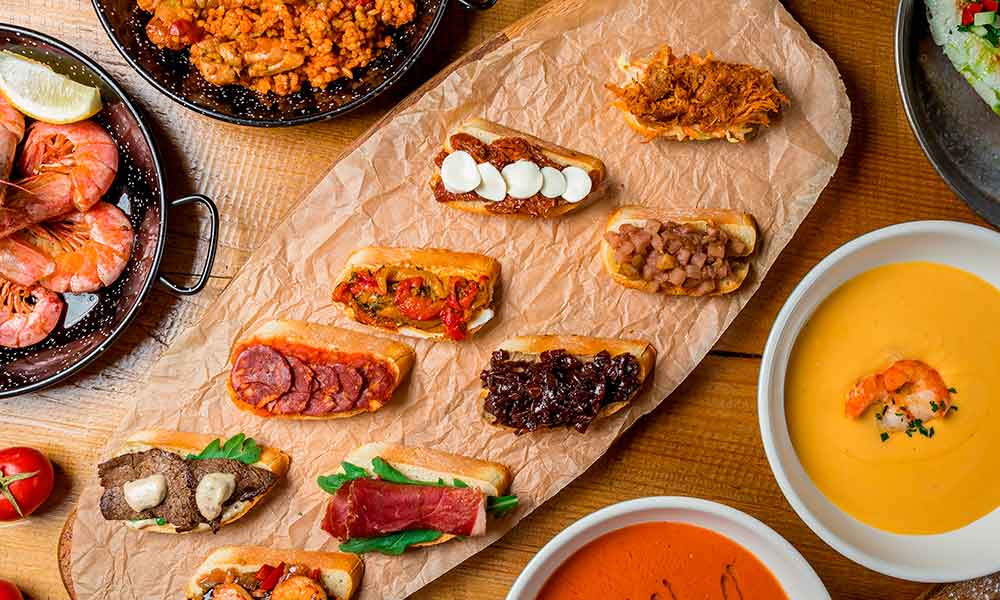 Ronda has always had great tapas bars. Remember, it has been a tourist destination for centuries. Now, with the increase in national tourism, the offer is even wider and more varied.
Places that stand out:
Casa Moreno El Lechuguita
An ancient bar that has successfully adapted to the modern times. Typical servings: Palo Corta and the Lechuguita tapa. It is closed on Sundays.


Google Maps
Tragatá
A more recent establishment where you can enjoy innovative tapas such as marinated salmon à la vanilla, lime and caviar yogurt. Its wine list features more than 100 wines.


Google Maps
Nueva 13
A beer pub where visitors can eat shellfish tapas and excellent local produce.


Google Maps
Toro Tapas
This is located in what is popularly known as Calle La Bola. This establishment is a gastro space where you can enjoy a wide range of tapas. Here you can savour the best 100% acorn-fed Iberian hams paired with Osborne wines in a modern, urban setting.


Google Maps
If you would like to skip the appetizers and go straight for a full meal, we recommend you choose one of the following restaurants, our favorites: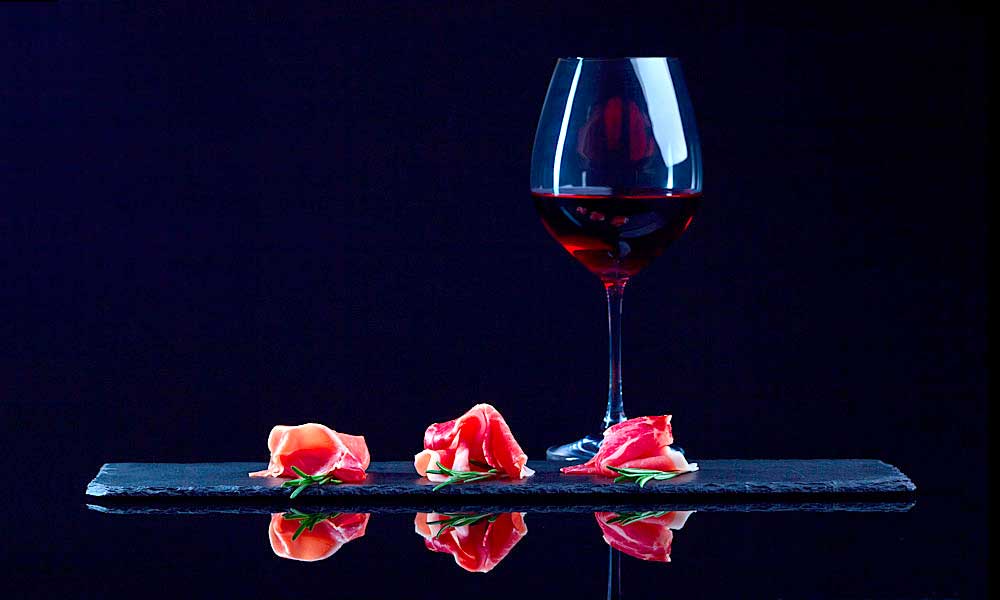 La Pilastra del Torero Restaurant
It is located at Ronda's old town. Here you can have a taste of the typical Spanish cuisine.


Google Maps
Mesón Carmen la de Ronda
Located in the old town, next to Iglesia Mayor Church and the City Hall. A place to enjoy the flavors of the seasonal cuisine.


Google Maps
Casa Ortega Restaurant
Located in the city's busiest street. An old convenience store turned into an amazing restaurant.


Google Maps
Casa Clemente  
This is a bar that is like being at home and where you will also enjoy splendid food. Here you can savour both fantastic tapas and food as God intended. We can assure you that each dish on its menu is amazing.


Google Maps
Places to Have an Afternoon Snack and a Drink at Ronda
Before finishing your trip to Ronda from Marbella, you can have a delicious dessert from one of the city's most traditional bakeries, and say goodbye to this beautiful city after having a nice drink in some of its hip places.
Places to Have Dessert in Ronda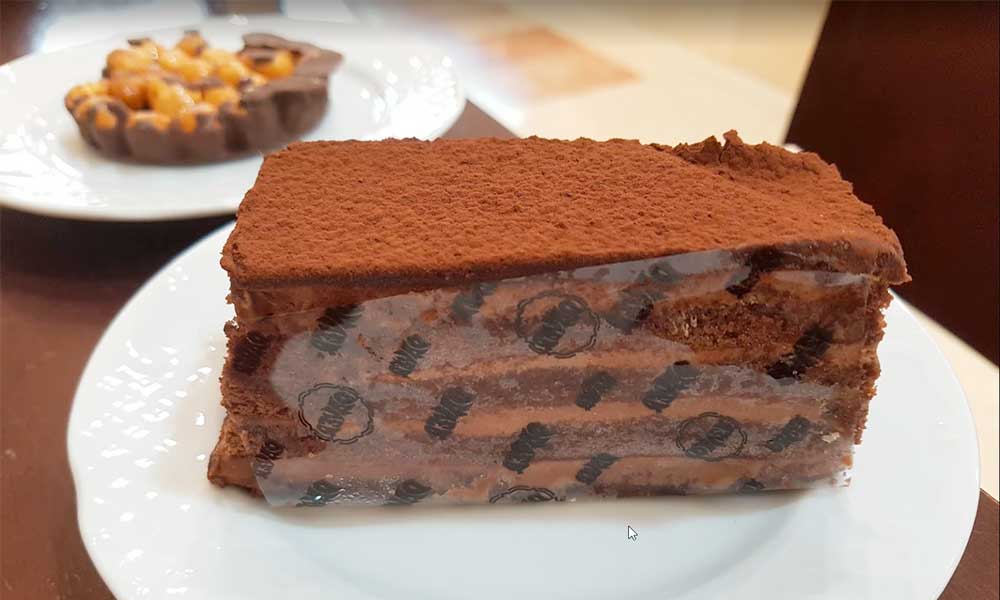 Pastelería Las Campanas Bakery
A bakery as ancient as life in Ronda, located at the center of the city. Amongst its most traditional products, you will find the "Yemas del Tajo".


Google Maps
Confitería Daver Candy Shop
Another historical bakery where tradition is combined with innovative recipes. Here you will find seasonal and gourmet products.


Google Maps
La Bicicleta Café
La Bicicleta Café is the perfect place to enjoy a delicious snack. This establishment offers an exquisite and varied selection of crepes, cupcakes, tarts, sweets and cakes. You can choose from a wide range of cakes and sweets to pair with a delicious coffee while you enjoy a pleasant family ambiance


Google Maps
Places to Have a Nice Drink in Ronda
Dulcinea Pub
A landmark of Ronda, open for business since 1962. A place that offers a nice ambiance, great drinks and wonderful music.


Google Maps
Drinks & Co
A place with a personality of its own, where you can enjoy a nice drink while listening to music.


Google Maps
Cotton Club
If you are looking to have a quiet drink in a pleasant setting, this is the pub for you. The decor, while a little rustic due to its wood finish, is cosy and you can enjoy its gorgeous chimney. It also has to be said that the music played here depends on the customers who are there on any given day.


Google Maps
The coolest of Granada, ideas for an unforgettable day