Marbella and Ibiza Blog
Amàre Beach Hotels
How to get to San Antonio Bay (and la Cala de Bou)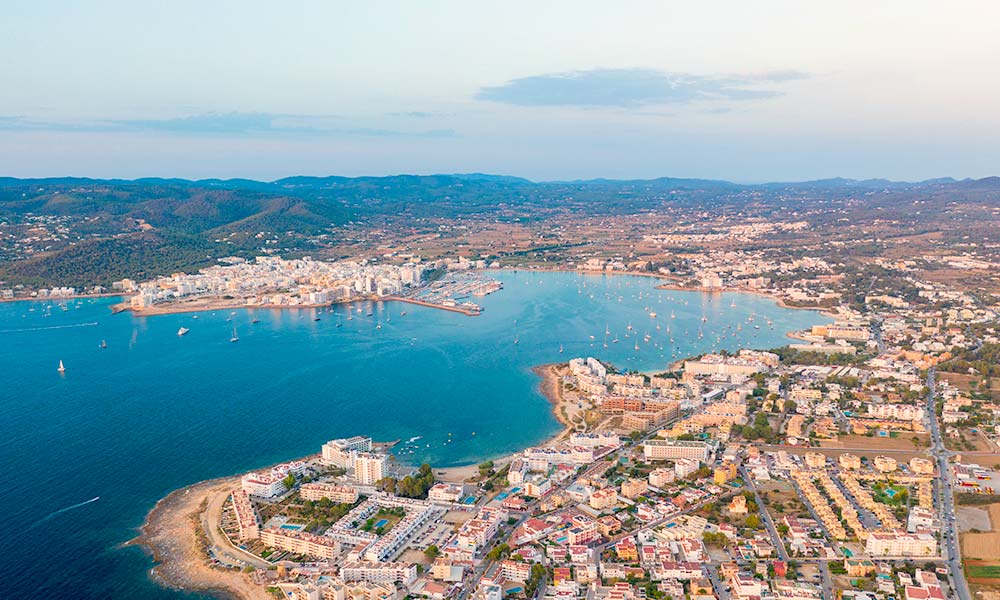 How to get to San Antonio Bay (and la Cala de Bou)
Tourism in Ibiza was born on the shores of the Bay of San Antonio, so it has always had an adequate communications network with the most prominent enclaves on the island. If you have already booked your fabulous room with sea views and the countdown for your vacation has begun, discover in this article how to get to the Cala de Bou, San Antonio Bay and to Amàre Ibiza. Are you ready for the best holidays?
How to get to the bay of San Antonio from the airport of Ibiza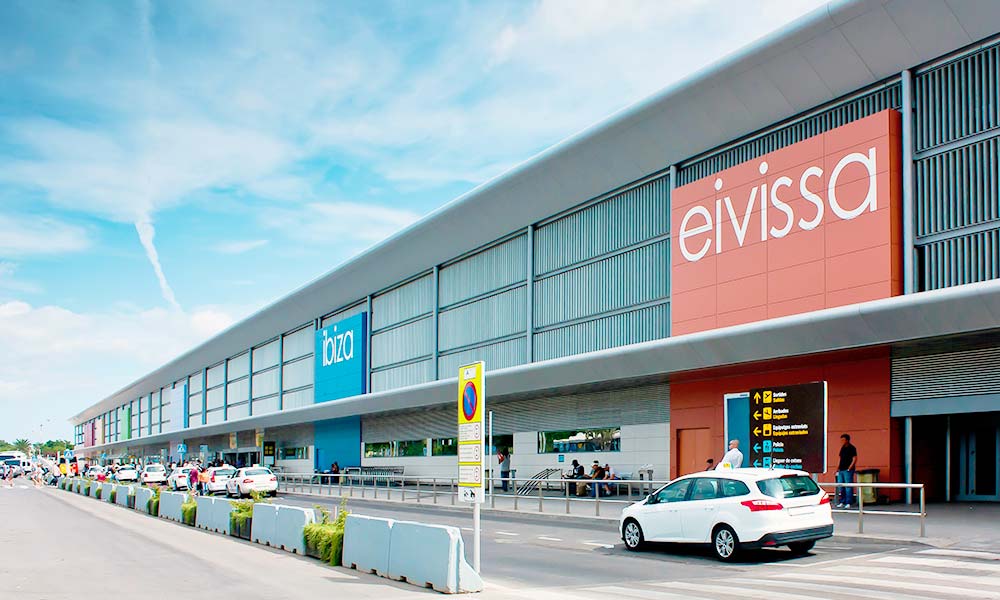 By taxi and transfer service
The arrival terminal at the airport in Ibiza is not very large, so it is very easy to find the taxi area. The distance between our 4-star hotel and the airport is 18 kilometres, which translates into a 20-minute taxi ride that, depending on the time, will cost around € 25.
In high season, it is common to have to wait in the taxi queue. That is why we offer our clients a convenient transfer service from the airport, which awaits your arrival at the terminal exit. Undoubtedly, the most comfortable and fastest way to reach the bay of San Antonio and Amàre Ibiza.
Airport info
Tariffs (tariffs may vary)
Setting the taxi meter running): € 3.65. (Supplement for telephone call: € 1.20)
Price per kilometer between 7:00 am and 9:00 pm: € 1.09
Price per kilometer between 9:00 p.m. and 7:00 p.m.: € 1.33
Price per kilometer Saturdays from 3:00 p.m. to 9:00 p.m., Sundays and holidays: € 1.33
Port or airport supplement: € 1.80
Each hour of waiting: € 19.58
Every hour of waiting nights, Sundays and holidays: € 23.98
Radio Taxi
Eivissa: 971 39 84 83
Sant Josep: 971 80 00 80
San Antoni: 971 34 37 64
Santa Eularia: 971 33 33 33
Sant Joan: 971 33 33 33
Ibiza airport transfers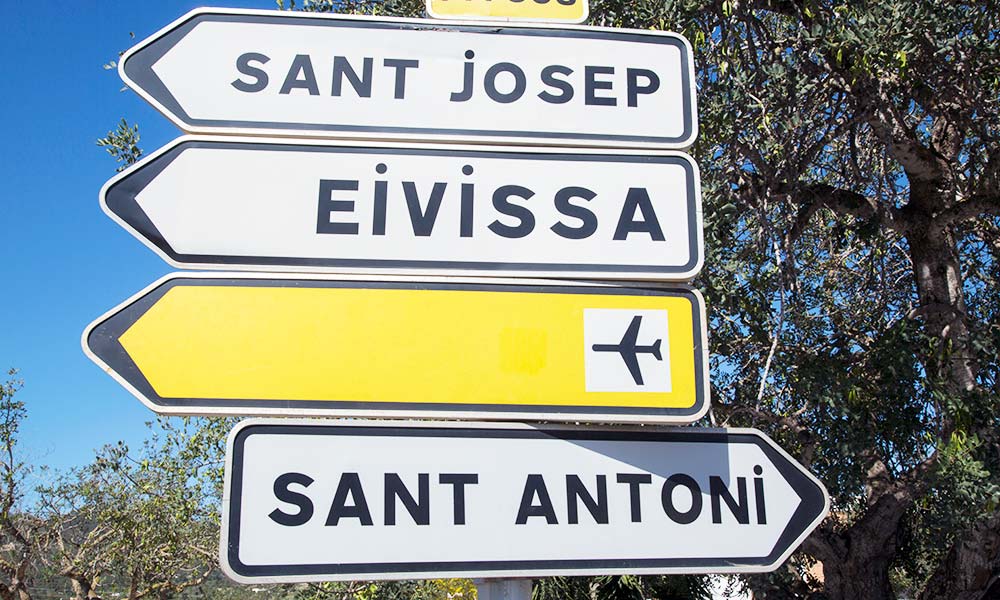 Rent a car
At Ibiza airport you will find a wide range of international, national and local car rental companies. Among the Ibiza companies that offer service at the airport we have: Luis Rent a Car, Class Rent a Car and Mari Cars. If you pick up your rental car at the airport in Ibiza, to get to the bay of San Antonio you have to take the road that indicates Saint Joseph in the roundabout of the airport exit.
Local Car hire companies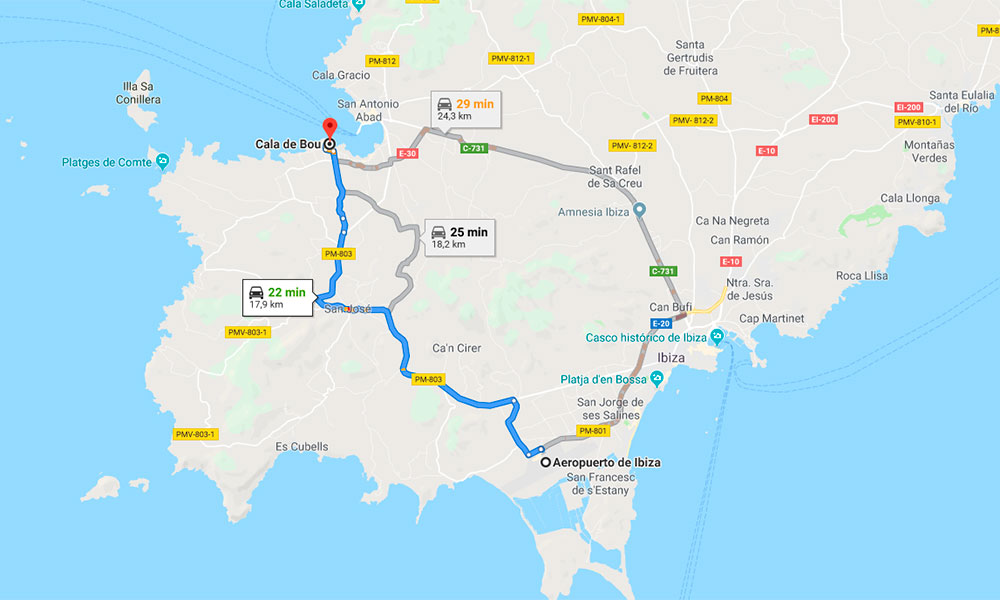 Public bus
The airport of Ibiza is connected to the bay of San Antonio through line L9, which operates exclusively from June 1 to September 30. The departures take place every 30 minutes and the Cala de Bou stop is 900 meters from Amàre Ibiza. Given the low frequency of departures, it may not be the most comfortable transportation option, but it is the most sustainable option.
You can see all the bus lines on this website: Ibiza Bus
Autobuses nocturnos – Discobús
How to get to the bay of San Antonio from the port of Ibiza?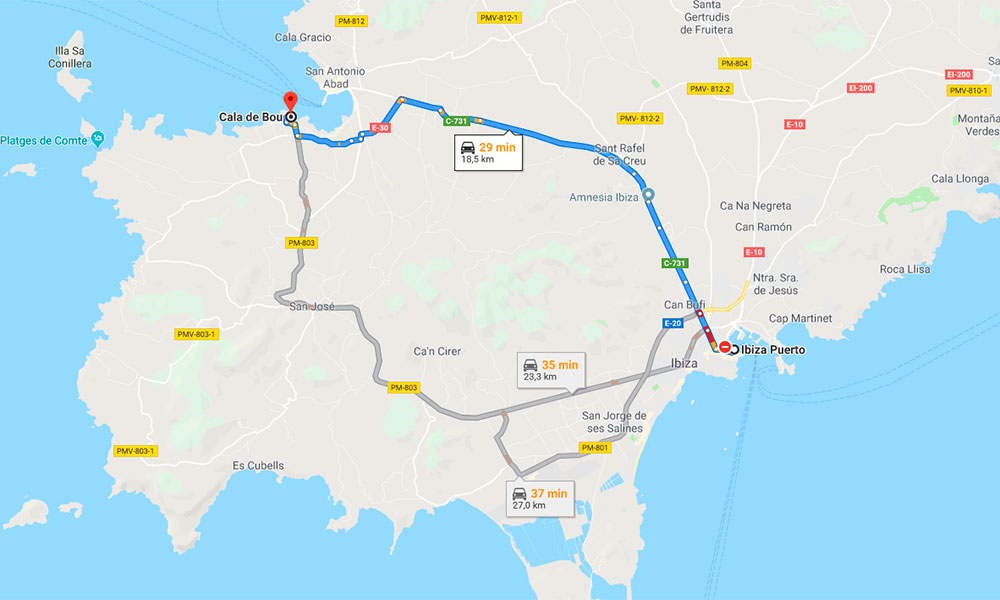 The shipping companies Transmediterránea and Baleària connect the ports of Barcelona, Valencia, Gandía, Denia and Palma de Mallorca with the port of Ibiza, which is 19 kilometres from Amàre Ibiza. From there, the simplest is to take a taxi or benefit from our transfer service.
How to get to San Antonio Bay by boat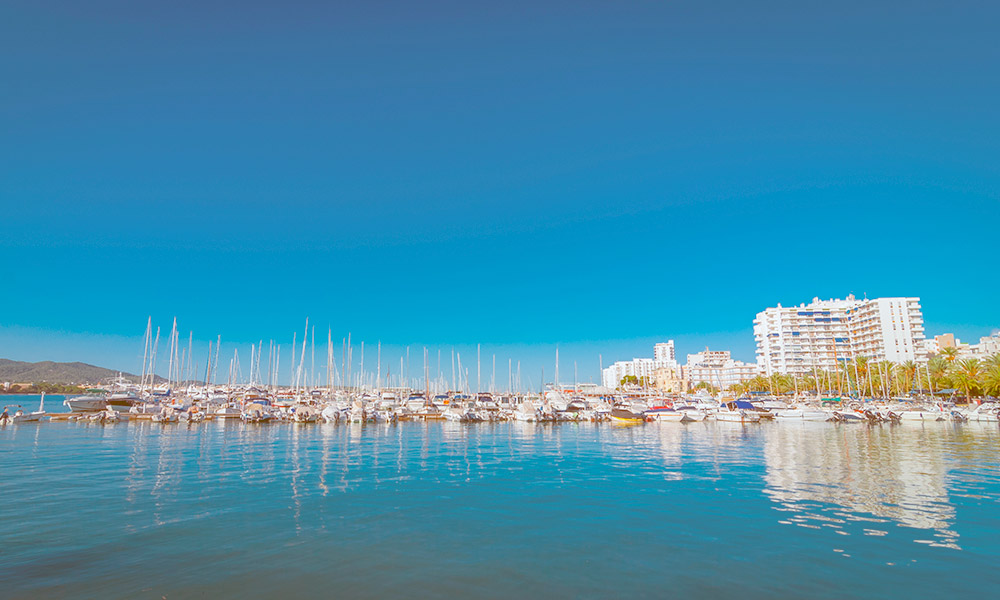 The port of San Antonio received regular traffic of passengers and cars until the summer of 2018, inclusive. However, and until there are no changes, the bay will not have ferry routes between this enclave and the peninsula at the moment.
In case you have your own boat, you should know that Amàre Ibiza has direct access to a jetty located right in front of our facilities. And if you do not have a boat, but would like to go by sea to the town of San Antonio, you should know that a regular line joins the two points of the bay at the jetty.
Amàre Ibiza welcomes you to the White Island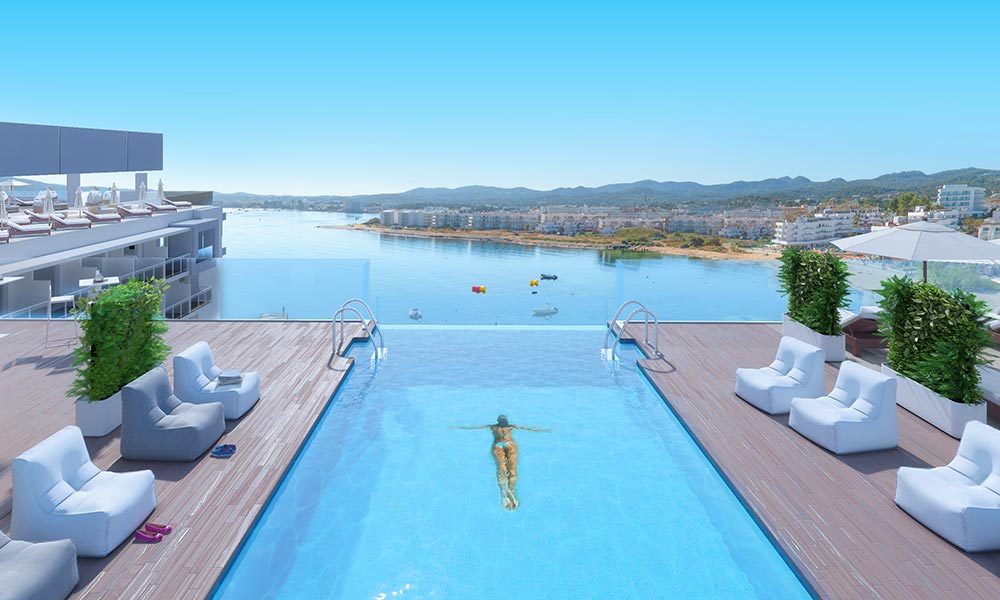 Our 4-star hotel is located at one end of Cala de Bou, in the west of the island, just 4 kilometres from San Antonio and a short distance from some of the most beautiful beaches of Ibiza, such as Cala Bassa or Cala Conta. Its fabulous views over the bay will give you the best possible welcome once you arrive from your trip. And as soon as you relax and you want to explore the island take over, our staff will be at your disposal to help you with any kind of information about the destination: what to see in Ibiza, where to go shopping, what active tourism activities can you to practice, how to go to Formentera to spend the day, which are the most romantic restaurants, where they serve the best fish paellas…
And, of course, we will help you to enjoy our luxurious facilities, the sunsets, our events program and the high level gastronomic proposals that await you in Amàre Ibiza. Because we know there are many Ibizas, but Amàre Ibiza there is only one. We await for you!