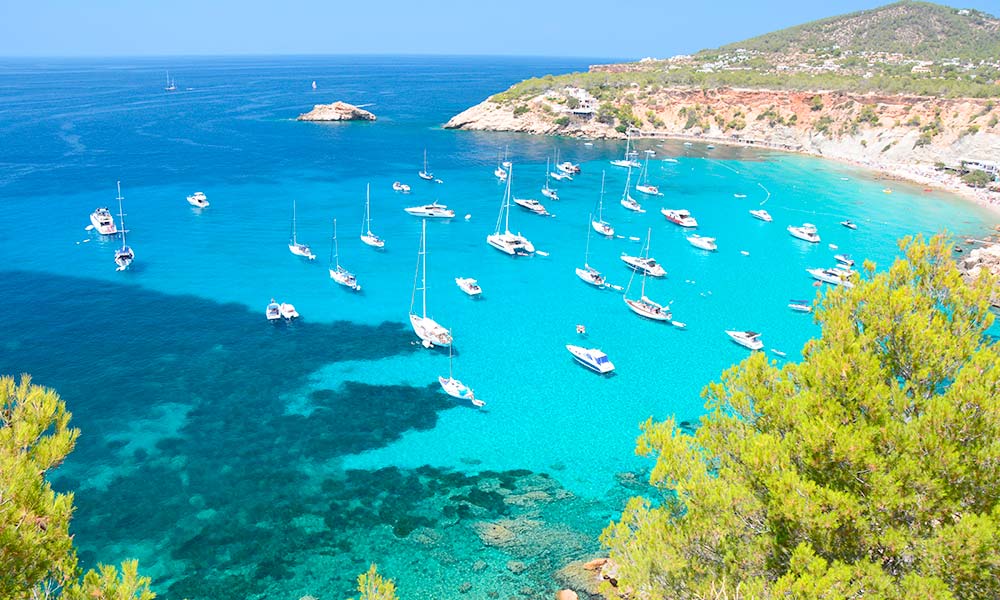 43 things to see and do in Ibiza
All the things to see and do in Ibiza make this island a special destination for summer holidays and for any traveller in the world. Its beautiful beaches and coves with crystal-clear waters, its famous sunsets and its incredible variety of music – the island is considered the Mecca of electronic music – make Ibiza an international icon. Not to mention a unique, inimitable personality that you will only find on the most enticing island in the Mediterranean.
This beautiful little piece of land is the perfect setting for relaxation and fun in countless ways. With a perfect size that means you can cover the longest distances in an hour at the most, Ibiza offers you the chance to have various plans for a single day, such as discovering beaches and coves, going on a hiking route (with a dip included), visiting villages, going to street markets, practising a multitude of water sports, sailing at your leisure, partying until dawn, relaxing in a spa…you set the limits, not the island! However you relate to Ibiza, it will open the doors to the true essence of the Mediterranean.
And before we look at our selection of attractions and activities in Ibiza, be warned that it's easy to fall in love with the island, as every traveller who comes here finds what they want, whether it's peace and quiet or constant action. I'm sure that when you leave, you'll be thinking about coming back.
Shall we take a walk through the island?
What to see and do in Ibiza
On the coast
1. Visit the best coves in the island by boat or on foot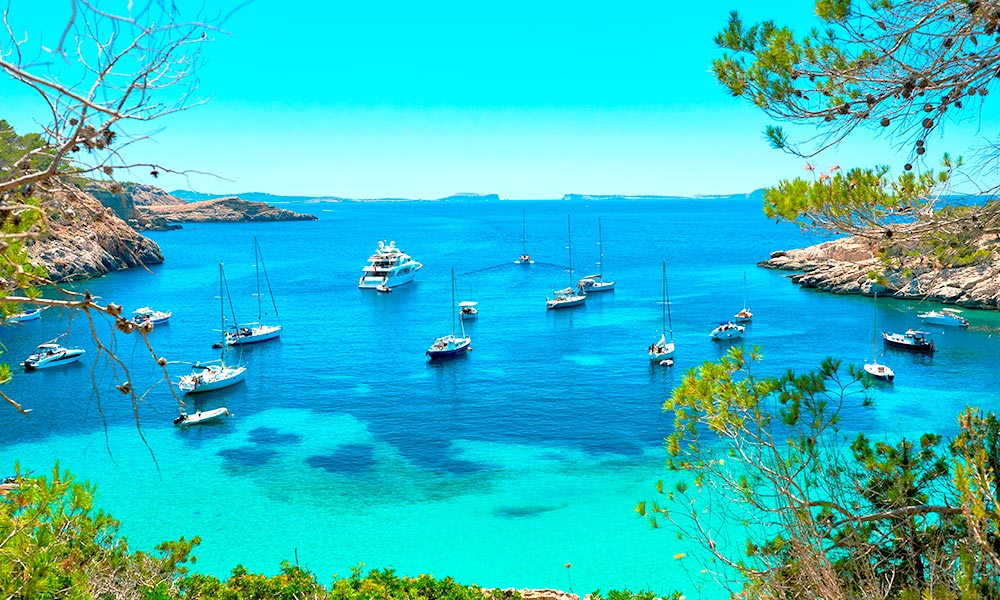 The charming coves that dot its coastline make Ibiza a star destination. Such as Cala Bassa, Cala Conta, Cala Salada and Cala Gracioneta, four of its most famous coves, which are only a few kilometres away from San Antonio. Spending a day touring the crystal clear waters by boat is a fantastic way to get to know the island and a fabulous option that you can do if you hire a private excursion on a sailboat or pleasure boat.
Whether you get there by land or by sea, one of the things to do in Ibiza is to visit the most famous coves and beaches in Ibiza: Cala Tarida, Cala d'Hort, Cala Bassa, Cala Comte and Cala Saladeta, to the west; Cala Benirrás, Cala Portinatx or Aigües Blanques, to the north; Cala Nova and Cala Llonga, to the east; and Ses Salines, Cala Jondal and Es Bol Nou, to the south.
The best beaches and coves in Ibiza
2. Snorkelling and visit caves on a kayak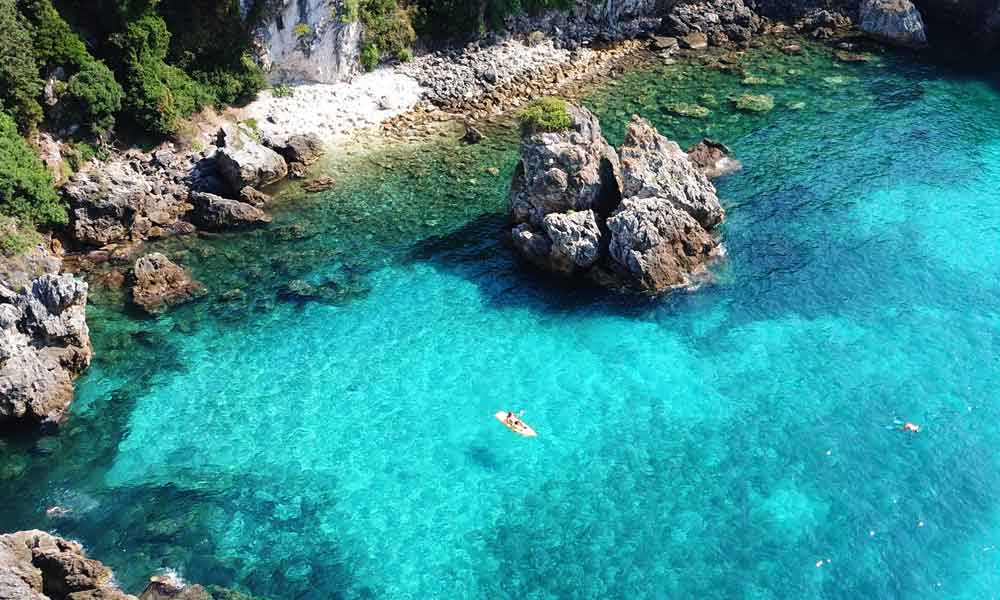 If you prefer to paddle the waters of Ibiza and discover the most inaccessible places, a kayak excursion allows you to explore unspoilt beaches and fascinating caves from a different perspective, while snorkelling in the island's unique marine depths.
Activities and water sports in Ibiza: get off the hammock!
3. Rent a jet ski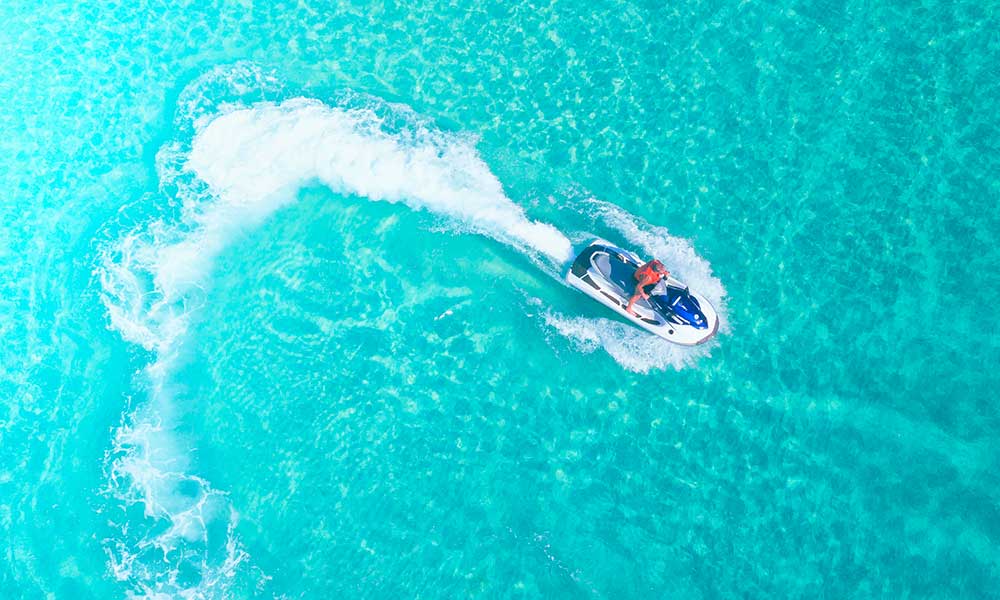 The adrenaline rush of riding a jet ski is a thrilling sensation that you can enjoy in the bay of San Antonio thanks to the specialist companies that offer this water sport. If you do it alone, you must have a sailing licence, although you can also choose a route supervised by An instructor. Whatever your choice, always remember to have fun and be careful.
4. Learn to scuba dive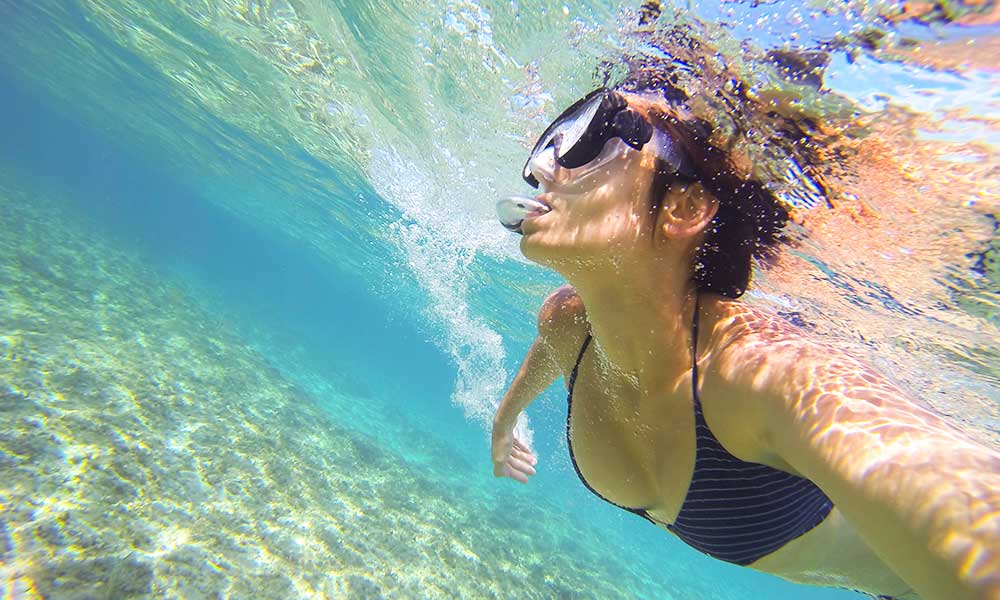 Ready to take the plunge into the underwater world? Ibiza could be the perfect chance. Its unparalleled natural marine environment offers diving enthusiasts numerous sites for a first dive to explore the island's depths in detail. In San Antonio you can dive and return home with a new skill under your belt!
5. A BBQ on a catamaran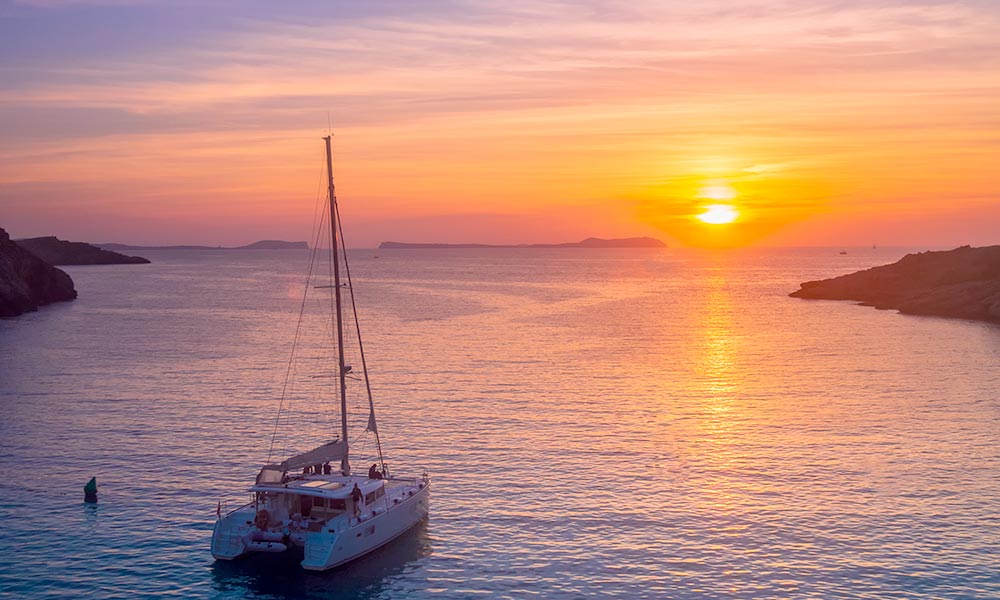 A catamaran trip is an excellent way to circumnavigate Ibiza or approach the neighbouring island of Formentera. With its space and attractive shape, spending a day aboard this type of boat enjoying a barbecue and the sunset is sure to become one of the things to do in Ibiza that you will enjoy the most.
6. Sign up for a SUP Yoga session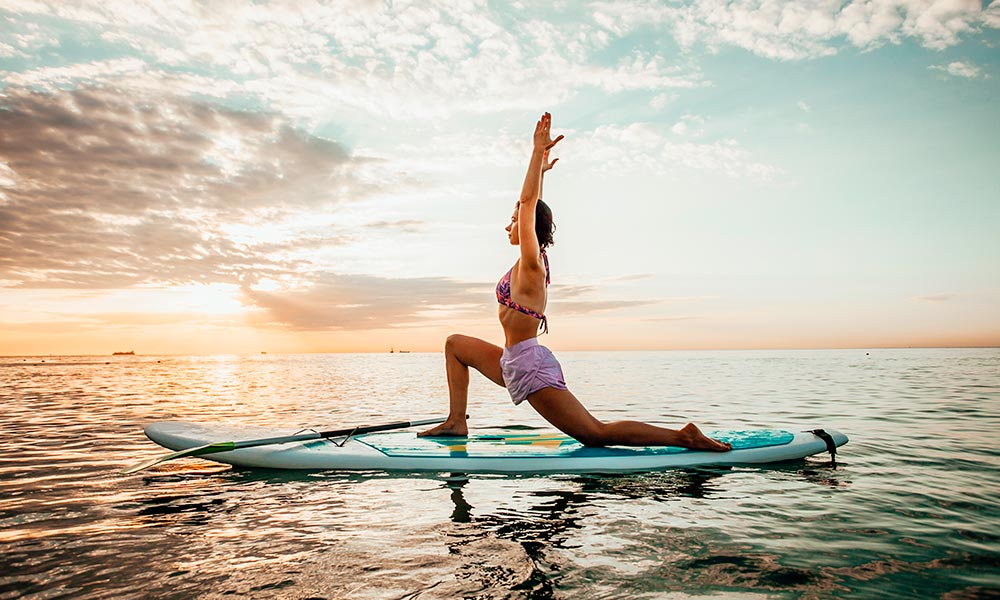 This form of yoga, performed in the sea on a paddle surf board, helps to connect body and mind in a different environment. Either first thing in the morning to fill you with energy or in the evening watching the sunset, it becomes an amazingly interesting wellness experience.
7. Bathing in Cala Gracioneta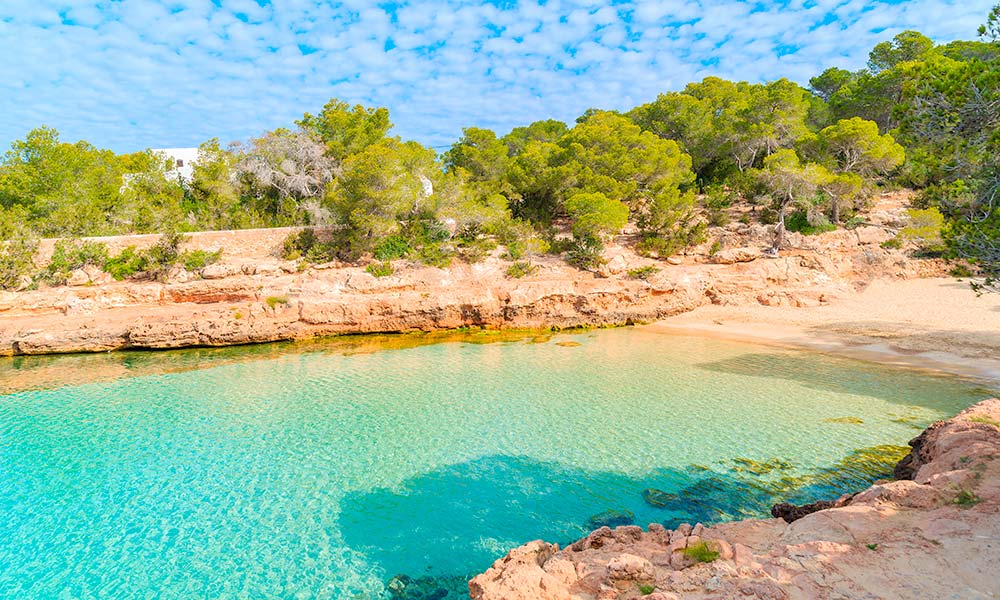 The small and beautiful Cala Gracioneta is one of the closest coves to San Antonio. Its waters are a surprising turquoise colour, complemented by the charm of its surroundings sheltered by rocks and enveloped by pine trees.
8. Snorkelling in Saladeta Cove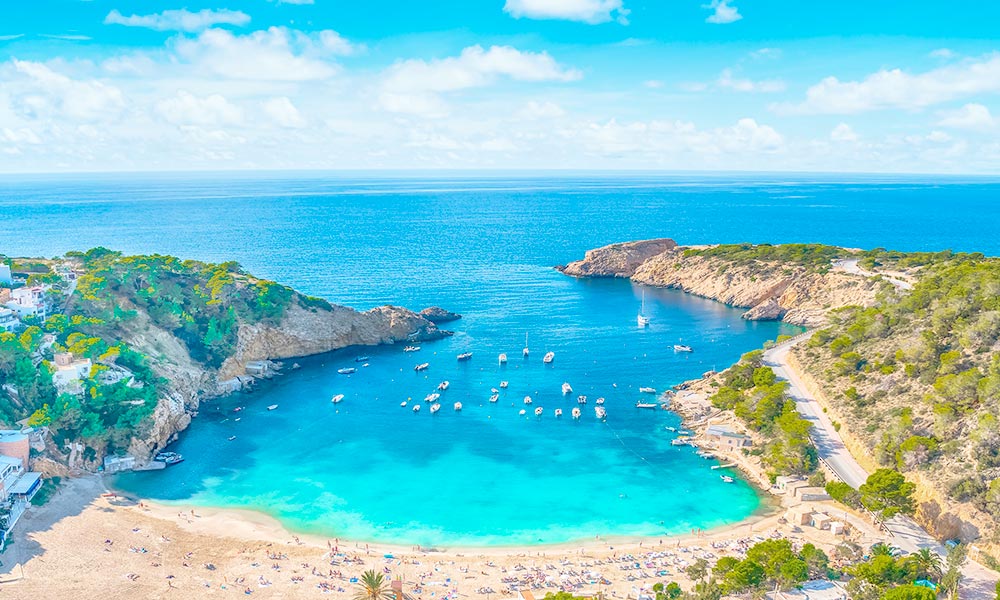 A small paradise that can be reached after walking along a pretty path that starts at Cala Salada, from where you can admire the beauty of this cove of fine sand and emerald waters from above. There are no services of any kind in this cove, so don't forget to bring a drink and, if you want to eat on the beach, in the neighbouring Cala Salada you will find a traditional chiringuito (beach bar). Who needs the Caribbean when everything is so close to hand?
9. Watch the sunset in Cala Escondida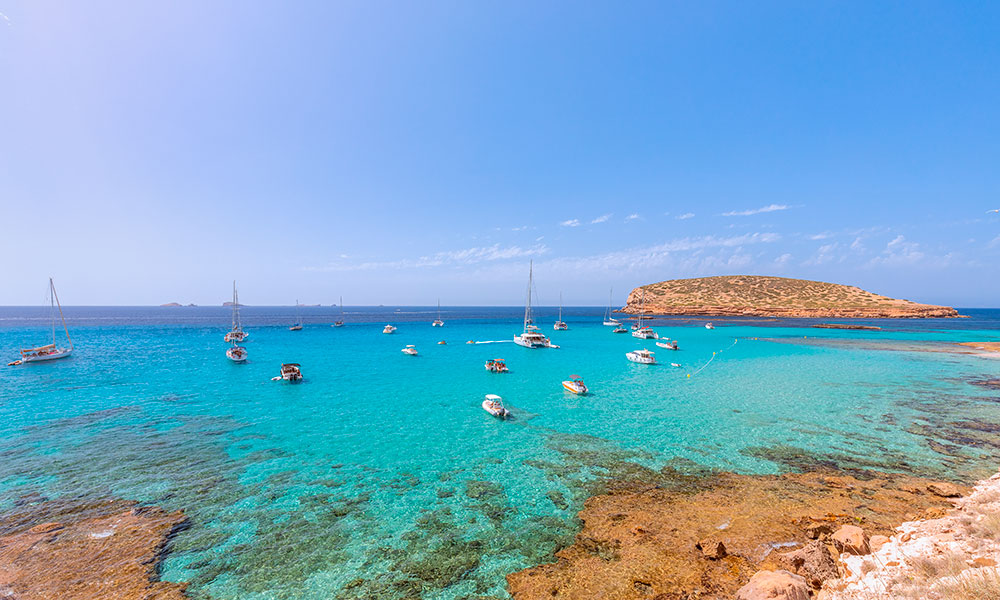 This is a small cove that you will find by going towards the main cove of Platges de Comte (Cala Conta), on the left side of this series of shorelines. Go down the stairs hidden in the rock and find your spot to watch one of the most spectacular sunsets in Ibiza. Or you can sit at its unique beach bar made of 100% recycled materials and admire it with a mojito in hand.
10. Learn to surf, windsurf or kitesurf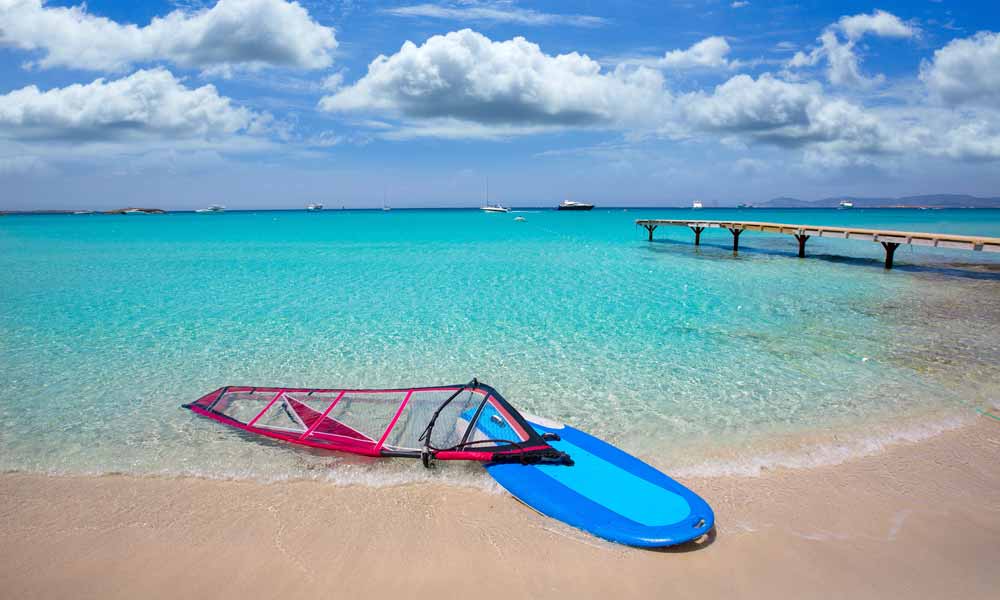 If the idea of taming the waves on a board appeals to you, there are beginners' courses in surfing, windsurfing or kitesurfing to introduce you to these dizzying and fun water sports. However, you must bear in mind that kite surfing is not allowed on the beaches In Ibiza from May to November.
11. Have fun at a party on board a boat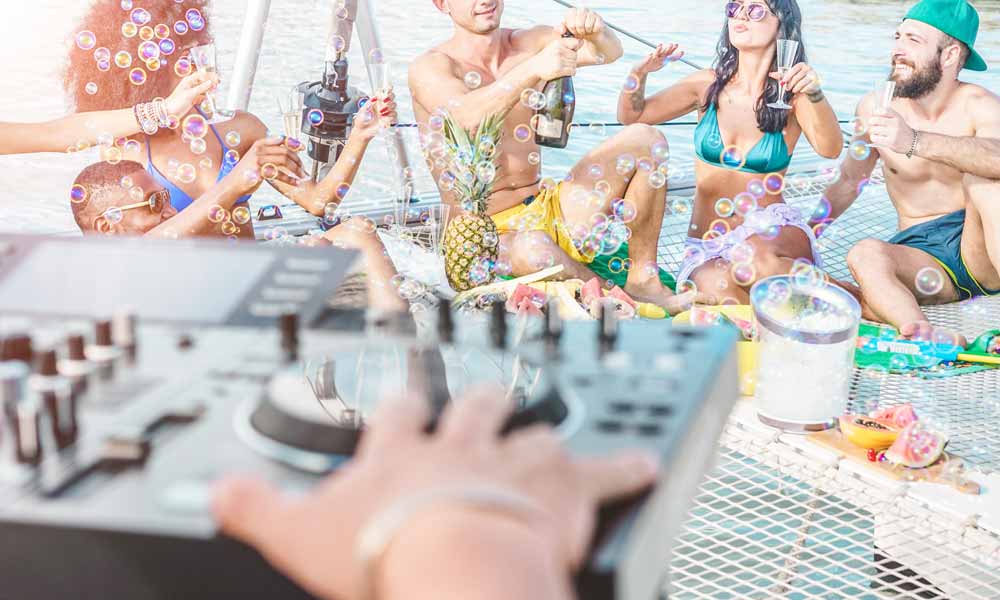 An experience for those looking to have fun in the company of friends and meet new people. Depending on the excursion you choose, you can enjoy live DJ sessions, an open bar, water activities and entrance to a discotheque for an additional fee. And in all cases, you will have incomparable views of the coast of Ibiza and, if you sign up for the afternoon trip, you will also be able to see the sunset. Work hard, party harder.
In the city
12. A walk to the beach of S'Arenal and promenade (San Antonio)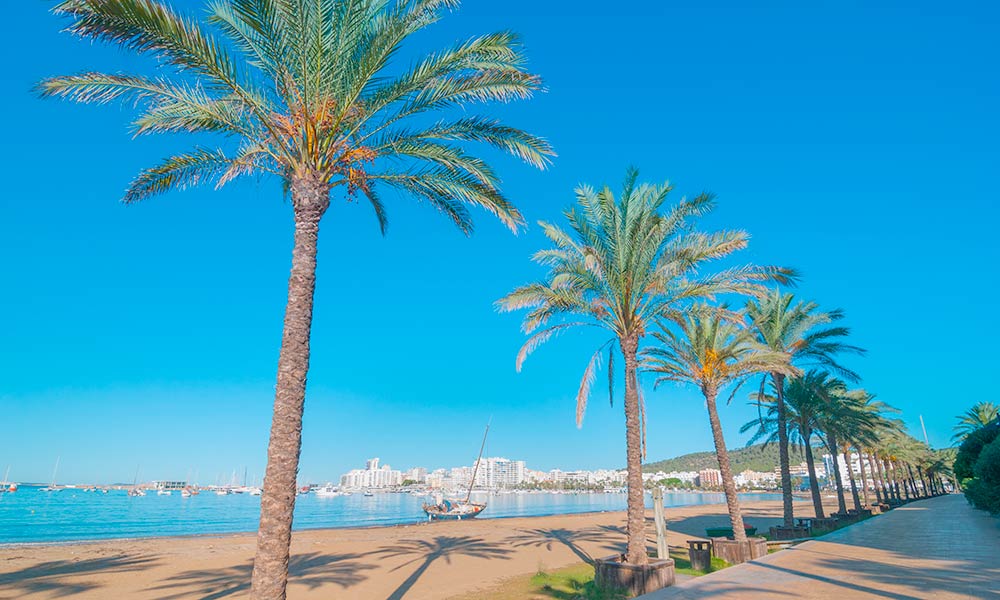 S'Arenal is one of the few urban beaches of Ibiza and is located in San Antonio. Lively and busy, its fine sand and shallow waters offer beautiful views of the Mediterranean with the boats in the harbour in the background. The promenade, lined with palm trees, shops and a variety of bars, is perfect for a stroll during the early morning and late evening, when the colours of the sky are at their most spectacular.
13. Wandering around the walled enclosure of Dalt Vila (Ibiza)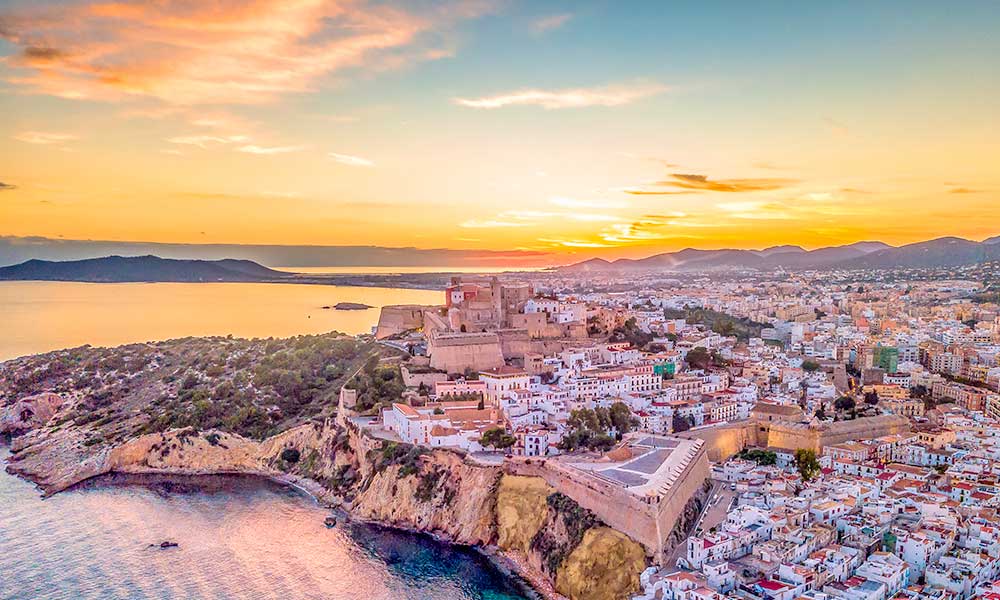 Ibiza's old town is one of the things to see in Ibiza that you can't miss. Called Dalt Vila, "the city from above", its walled enclosure is a UNESCO World Heritage Site and contains museums, medieval houses and narrow streets with lots of nautical charm. Take a stroll up to the top, where the Cathedral of Santa Maria is located and where you can enjoy fabulous views over the port of Ibiza, the surrounding hills, the south coast and the island of Formentera. Don't forget to walk the ramparts from the cathedral to the Plaza del Sol!
14. Applauding the sunset from Café del Mar (San Antonio)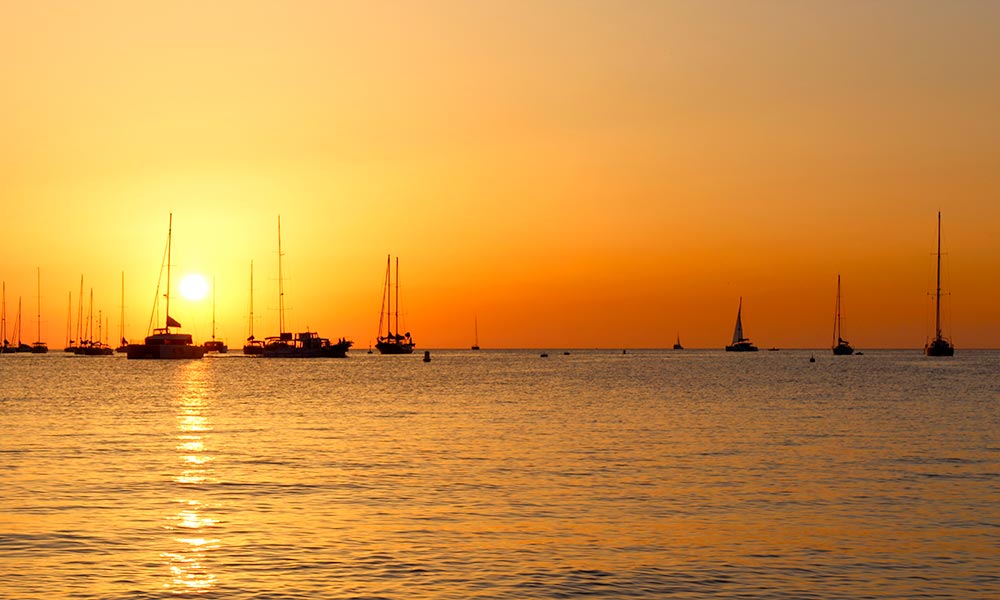 Café del Mar has become one of the best known places to watch the magical sunsets of Ibiza. On its terrace, dozens of people wait every day for the sunset while enjoying a cocktail in a cool atmosphere with chill out music in the background.
15.  A dinner overlooking San Antonio harbour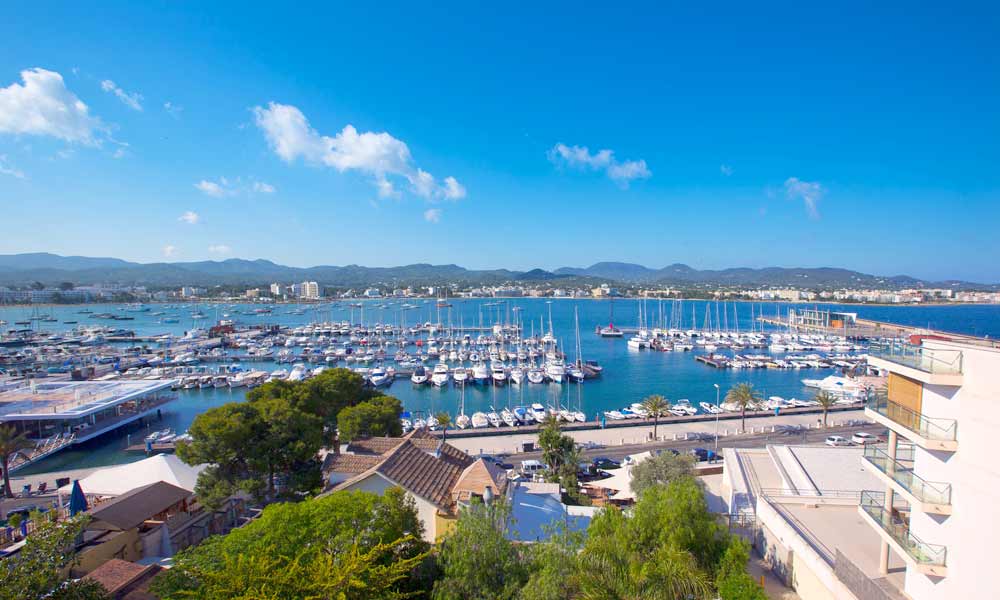 Villa Mercedes is a unique renovated house where you can enjoy Mediterranean fusion cuisine on an outdoor terrace with gardens and views of the port of San Antonio. The restaurant also offers a daily programme of live musical performances.
16. A stroll through the various marinas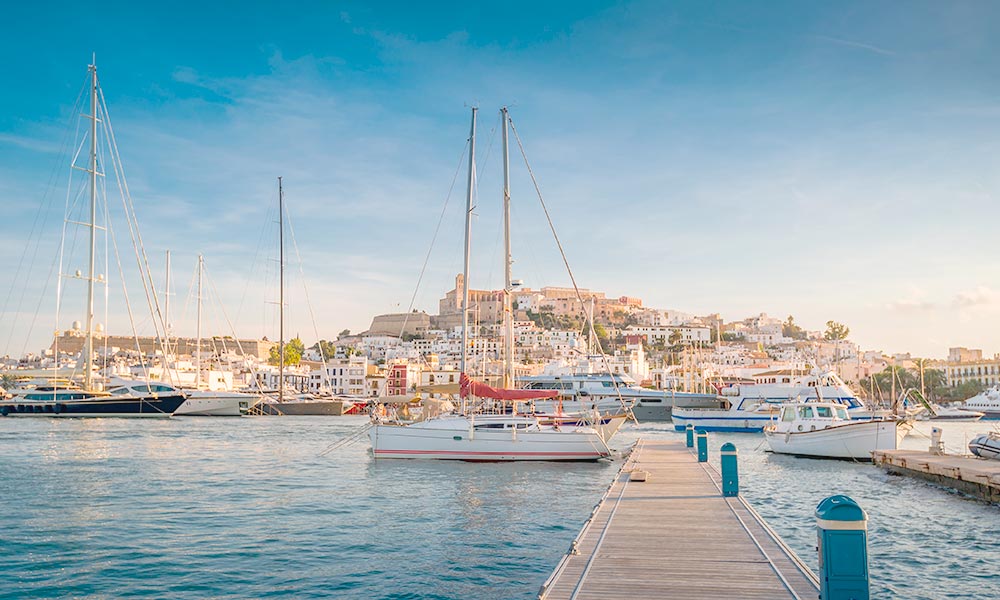 San Antonio has a pleasant marina where you can stroll around, browse the local shops and restaurants or even book a water sport, such as paddle surfing or scuba diving. In Ibiza, you will find several ports on the water's edge, such as Marina Ibiza Magna, Sovren Ibiza, the exclusive Marina Botafoch and Marina Ibiza, where you there is an area with restaurants and clubs when you want to go out and have fun.
If you come by boat to Ibiza or want to choose a base port, the marina of Santa Eulalia is well positioned to reach the north and east of the island quickly, as well as to drop anchor in the crystal clear waters of the island of Tagomago. There is also a commercial area for shopping or sampling the local gastronomic specialities.
17. Visit the fortress church of San Antonio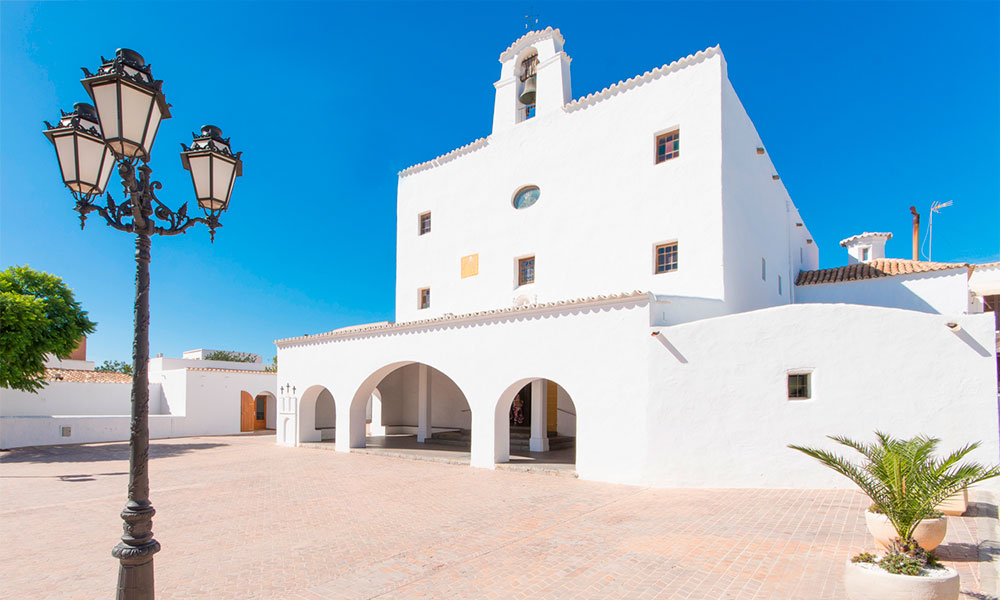 Between the 14th and 18thcenturies, Barbary pirates roamed the Mediterranean at will, forcing the Ibizans to seek refuge during their attacks. The church of Sant Antoni is a good example of Ibiza's fortress churches, and it still has its defensive elements, such as the tower, a complete absence of windows, its thick walls and one of its two original cannons.
18. Searching for something special in Ibiza's street markets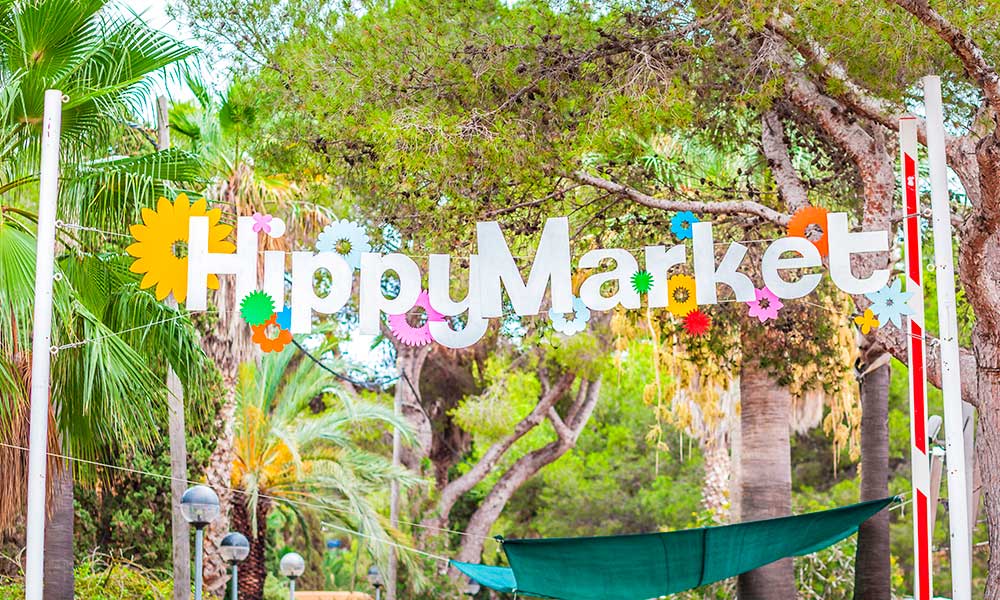 One of the things to do in Ibiza on any trip is to visit its craft markets, located in different parts of the island.
The Punta Arabí Hippy Market, which opened in 1973, is one of the best known and has over 500 stalls selling fashion, handicraft and gastronomic products. At Las Dalias, in Sant Carles, you will find another legendary Ibiza street market, with a fantastic atmosphere and a selection of stalls selling crafts, accessories, natural cosmetics, etc. But there are many more that are held throughout the summer, such as Sant Rafael craft market, Santa Gertrudis market, Cala Llonga market, Sant Josep ecological market… And, of course, Sant Jordi flea market, which is held every Saturday all year round.
We are going shopping at the best Ibiza flea markets
19. Savouring Ibizan cuisine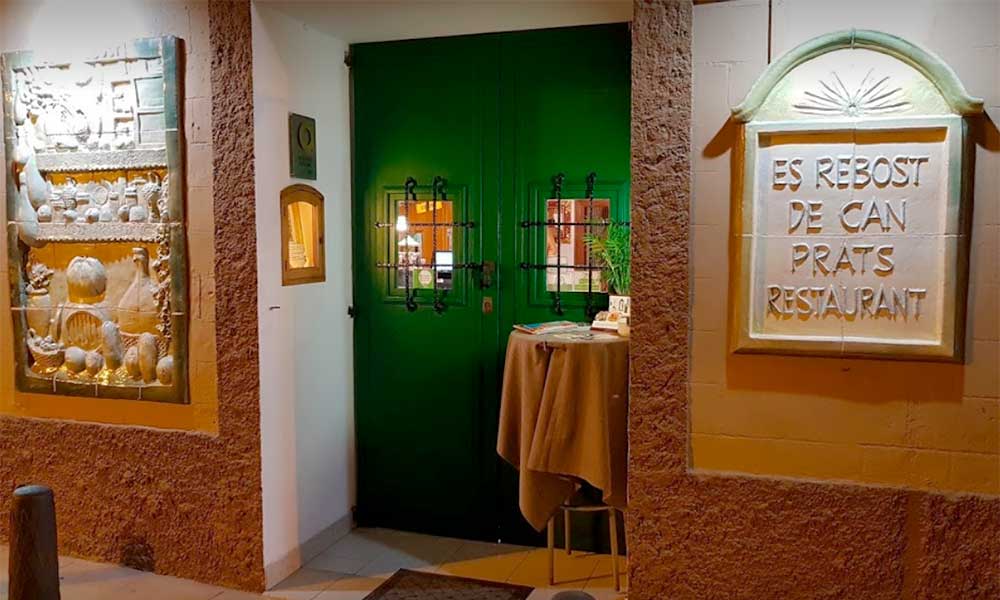 If you don't want to leave Ibiza without trying its gastronomy, in the centre of San Antonio you will find two excellent restaurants serving Ibizan cuisine: Es Rebost de Can Prats and Es Ventall. At the former you can find the island's traditional specialities, while at the latter you can sample the contemporary cuisine of chef José Miguel Bonet, inspired by local recipes.
In Ibiza town, a good option in the centre is Ca n'Alfredo, a historic restaurant where you can try some of the local specialities, such as calamari stuffed with sobrasada cured sausage. Another place worth a stop is Bar Costa in Santa Gertrudis, famous for its ham baguettes and unique atmosphere. And if you're more into beach bars, you can't miss one of the most legendary ones: El Bigotes, in Cala Mastella. Its menu consists of just one dish, Bullit de Peix, which is cooked with the fresh fish of the day and accompanied by the arroz a banda rice dish.
On the island
20. Try Ibiza's most famous omelette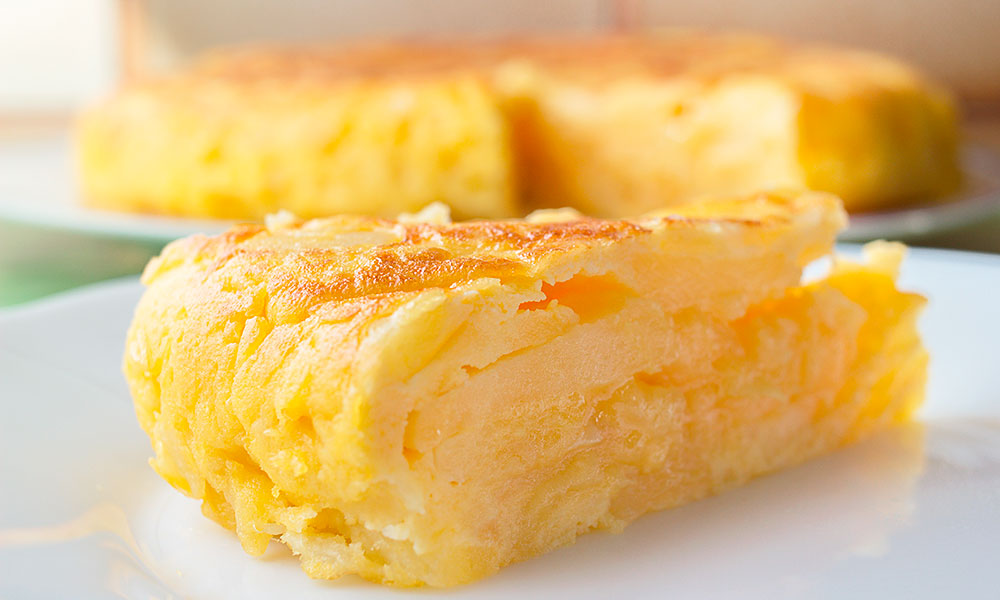 In the village of Santa Agnès de Corona, in the municipality of Sant Antoni, you'll find Can Cosmi, a well-known bar and restaurant that has made its name thanks to its succulent potato and vegetable omelette. Afterwards, you can take a stroll through the Pla de Corona, a valley dotted with almond trees where you can also see examples of traditional Ibiza architecture.
21. Experience Pikes Nights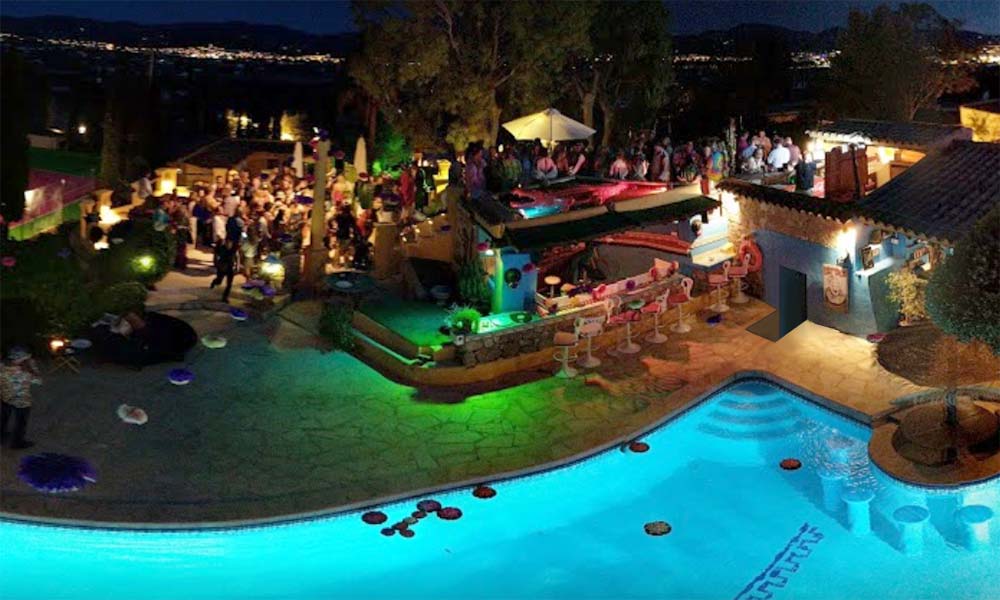 Pikes Hotel is an institution in Ibiza, among other reasons for having hosted Freddy Mercury's (and possibly the island's) raunchiest birthday party. Located less than 3 kilometres from the town, its various venues offer fun house and disco music sessions. Admission is free and can only be reserved through its website.
22. Visiting the Can Marçà cave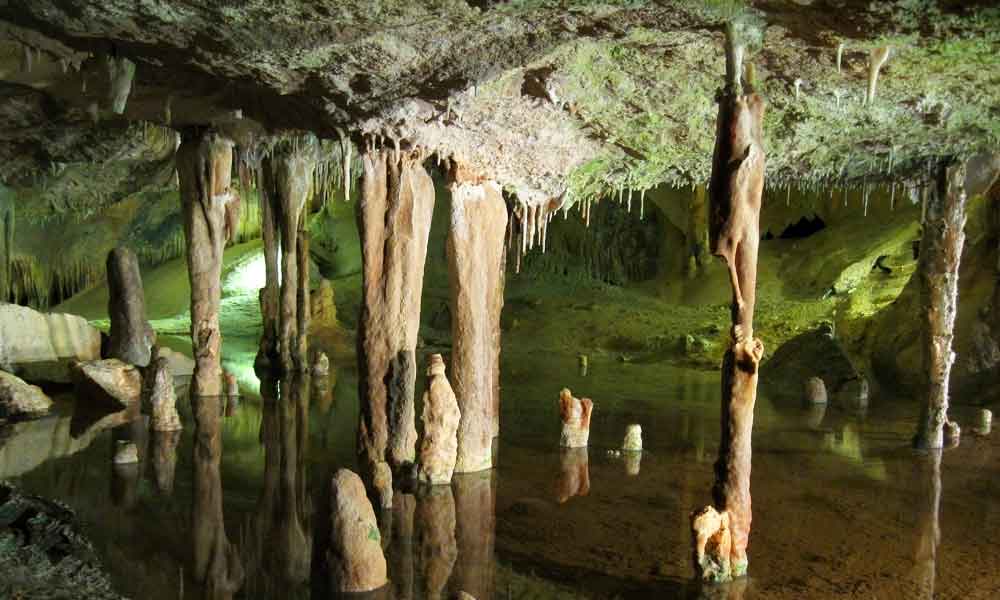 The Cave of San Marçà, one of Ibiza's main tourist attractions, is located 25 kilometres north of San Antonio. You can take a guided tour of its depths with a visit that includes a spectacular sound and light show.
23. Dining inside a church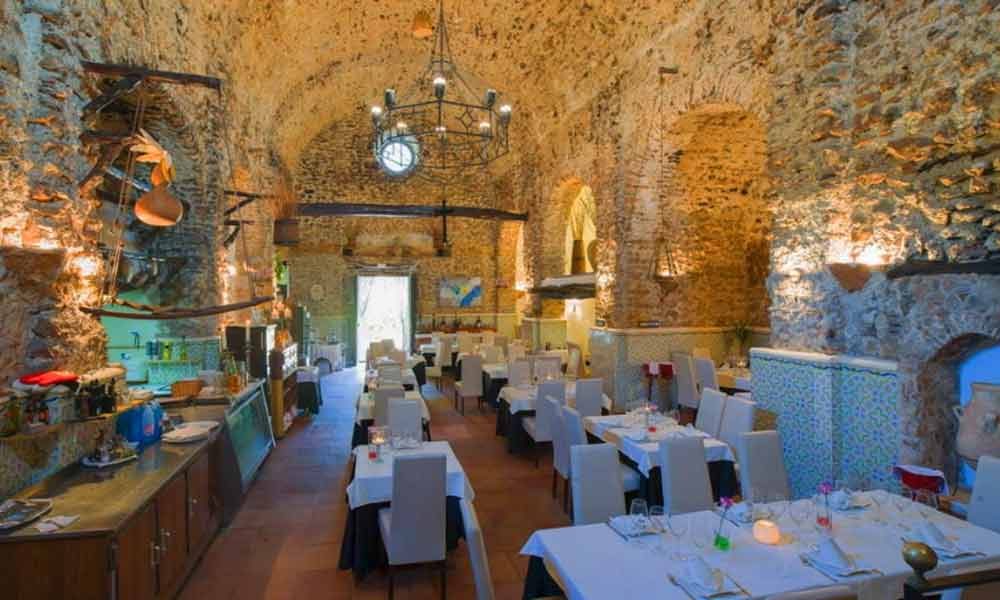 The Sa Capella restaurant, located on the outskirts of San Antonio, is a unique setting to gather for dinner. This space offers its customers a varied cuisine under the stone walls of the old hermitage of Santa Agnès, dating back to the 15th century.
24. Hiking on the island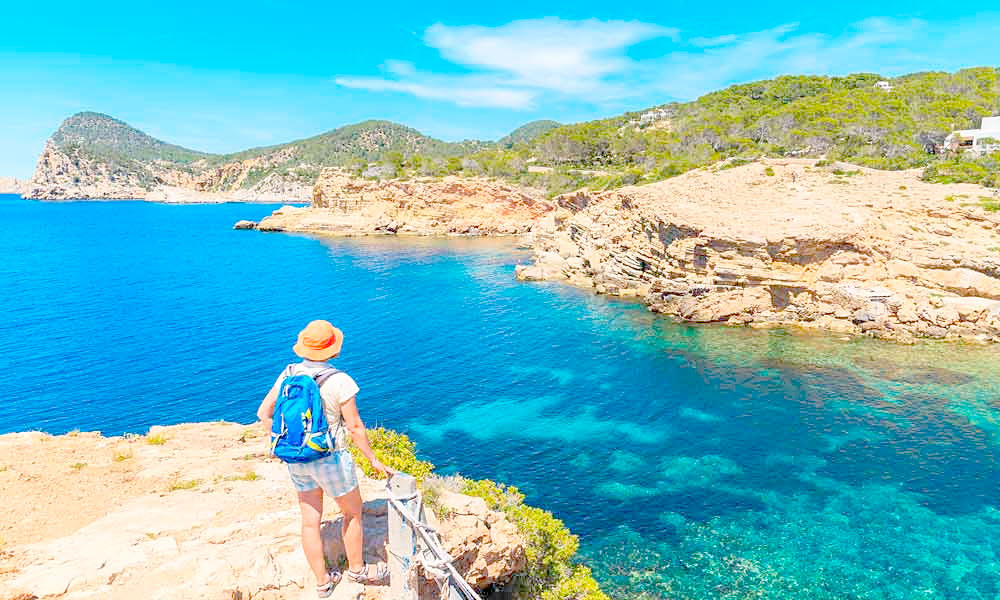 Ibiza is not just sea and beaches. Several routes around San Antonio, such as the San Antonio-Cala Salada Route or the Sant Mateu-Torres d'en Lluc Route, are available for hiking enthusiasts. Whether walking along the coast or through inland nature, spectacular views are guaranteed.
25. A day of wine tourism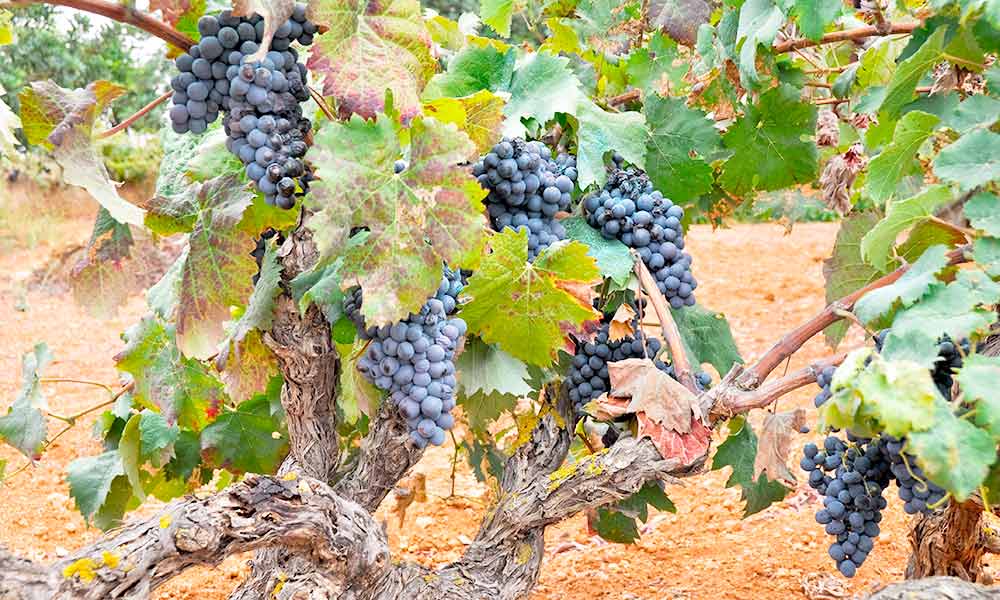 Wine enthusiasts have the chance to learn about the process of making this ancient drink in the vineyards near San Antonio. Some wineries offer guided tours, such as Sa Cova or Can Rich de Buscastell, where tastings and samplings of local products are organised.
26. A journey through Ibiza's past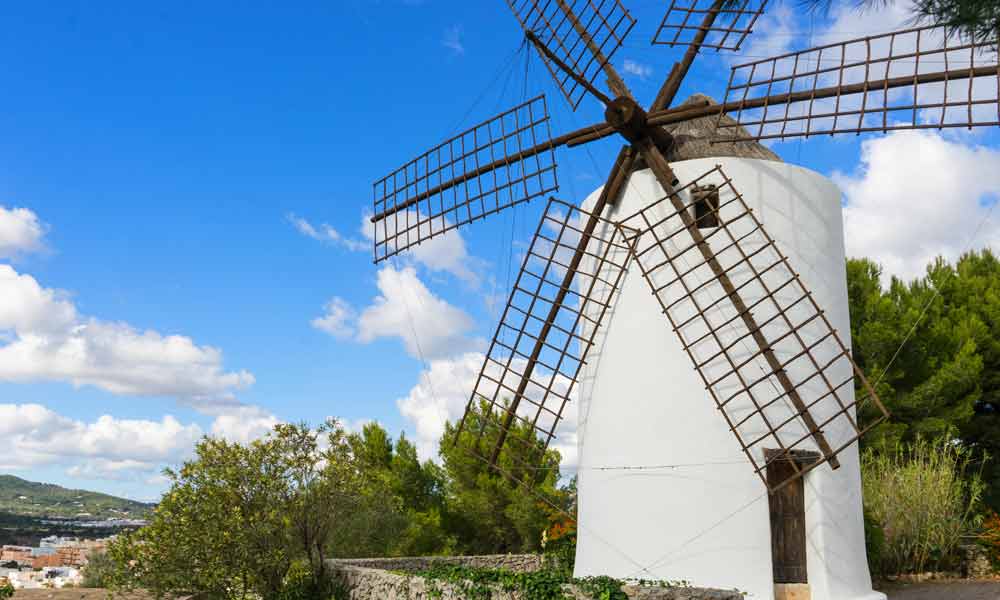 Very close to the city, in the bay of San Antonio, is Sa Punta des Molí, a historical-cultural enclave that is ideal for discovering the secrets of Ibiza two centuries ago. The Buenavista Mill, built in 1818, a waterwheel, an oil mill and a house where the former German philosopher Walter Benjamin lived are the main attractions in this complex.
27. An aquarium inside a cave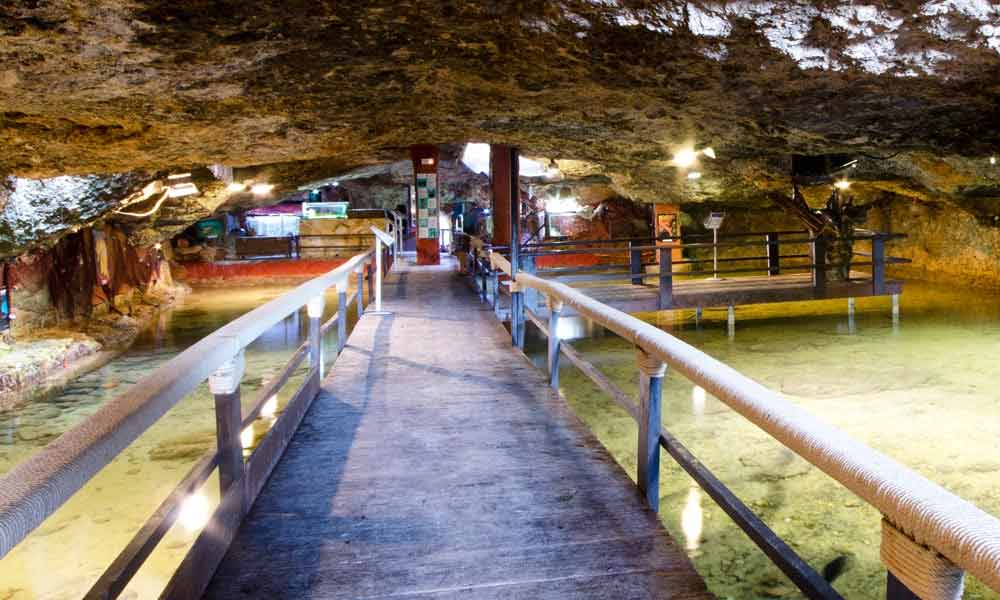 Just a five-minute drive from San Antonio you can visit Cap Blanc Aquarium, located inside a natural cave that was once used as a lobster farm. In the centre you can see the main species of the Ibizan Mediterranean.
28. Quad biking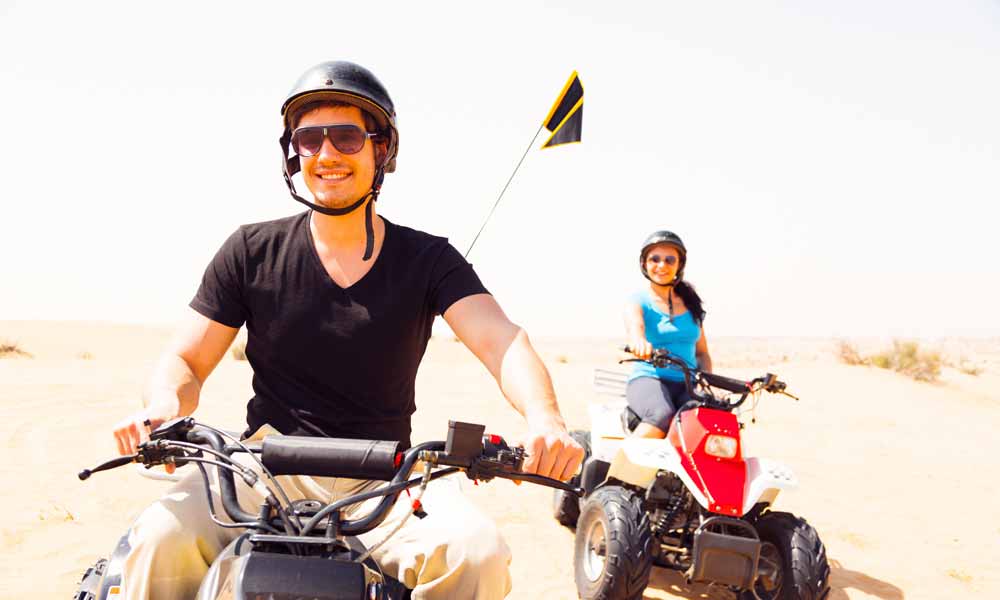 A different way to explore the valleys of Ibiza is on the four wheels of a quad. If your adventurous spirit urges you to drive through pine forests, vineyards, almond and fig trees, this activity will help you to release your adrenaline.
29. A glance between the gates of Cala Llentia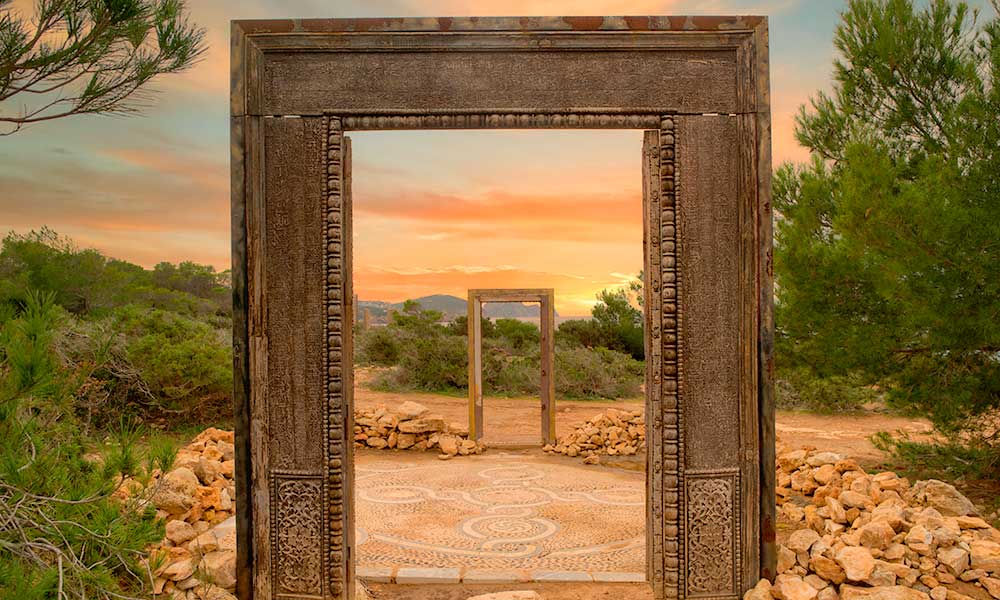 This is one of Ibiza's best kept secrets. The Doors of Can Soleil are a curious work of art in a charming enclave, between the coves of Codolar and Llentia. Decorated with engravings, Arabic motifs and a hamsa, it is a great attraction for photographers and tourists because of its stunning views.
About a 100 metres away stands another piece called Time and Space, a group of 13 columns or monoliths created by the artist Andrew Rodgers.
30. See Es Vedrà and the Pirate's Tower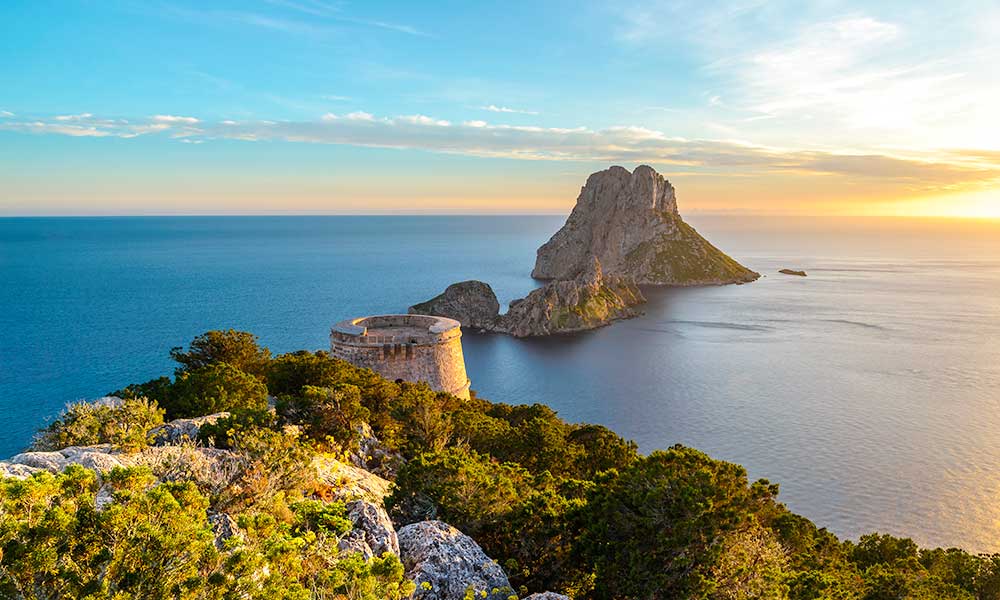 The islet of Es Vedrà is one of the island's icons. This majestic rock is located in front of Cala d'Hort. It is part of a Nature Reserve because of its high ecological value. The best places to admire Es Vedrà are the Cala d'Hort (the closest cove), the Torre de Es Savinar or Torre del Pirata, which probably has the best views, although you have to walk to get there, or the viewpoints located between the tower and the cove, which can also be reached on foot.
31. Climbing Puig de Missa mountain in Santa Eulalia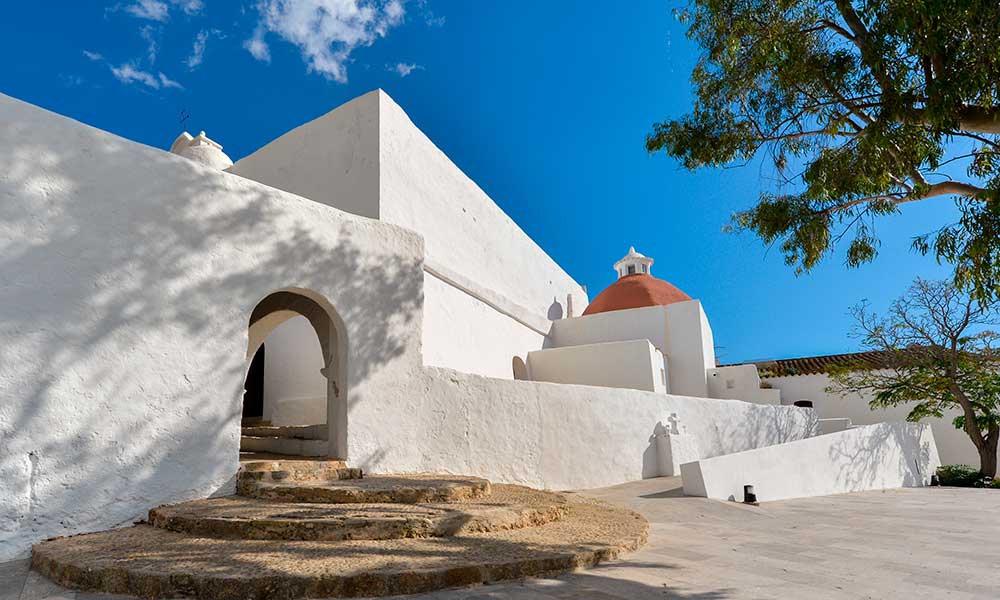 The Church of Santa Eulalia is a church that was built with fortress elements to defend against Berber attacks. It occupies the upper part of the municipality, on the Puig de Missa mountain. Near the church is the Can Ros Ethnographic Museum of Ibiza, housed in a country house that is an excellent example of traditional Ibizan architecture. We recommend a visit, and a stroll through the narrow streets leading up to the church.
32. Join the drumming party in Cala Benirràs
Held in recent years on Sunday afternoons during the summer, the Cala Benirrás drum festival has now become an unscheduled event, with no set date or day of the week. If you visit, you can enjoy the sunset to the rhythm of percussion and in a relaxed, hippy atmosphere.
33. A mud bath at Es Bol Nou cliffs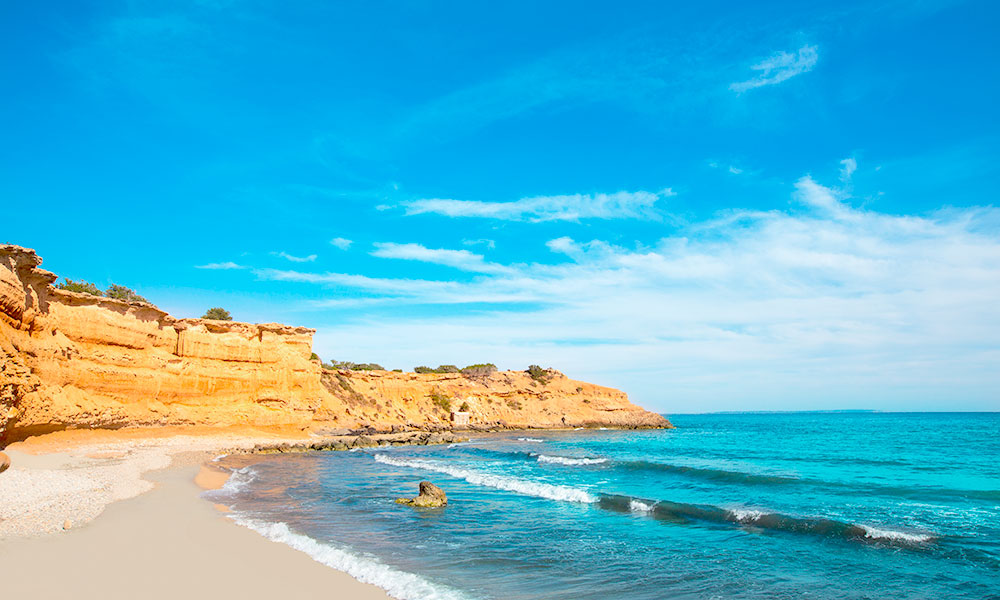 Close to Ibiza airport is the Cala de Es Bol Nou cove, which has an unusual beach flanked by red-coloured cliffs. You can watch planes fly past before landing in Ibiza, Formentera on the horizon and you can even smear your body and hair with the clayey mud of its rocks. And if you are looking for strategic places where you can get an amazing photo, we recommend you look for the gallery carved into the rock that goes all the way to the edge of the cliff. A special place!
34. See Ibiza on a hot-air balloon trip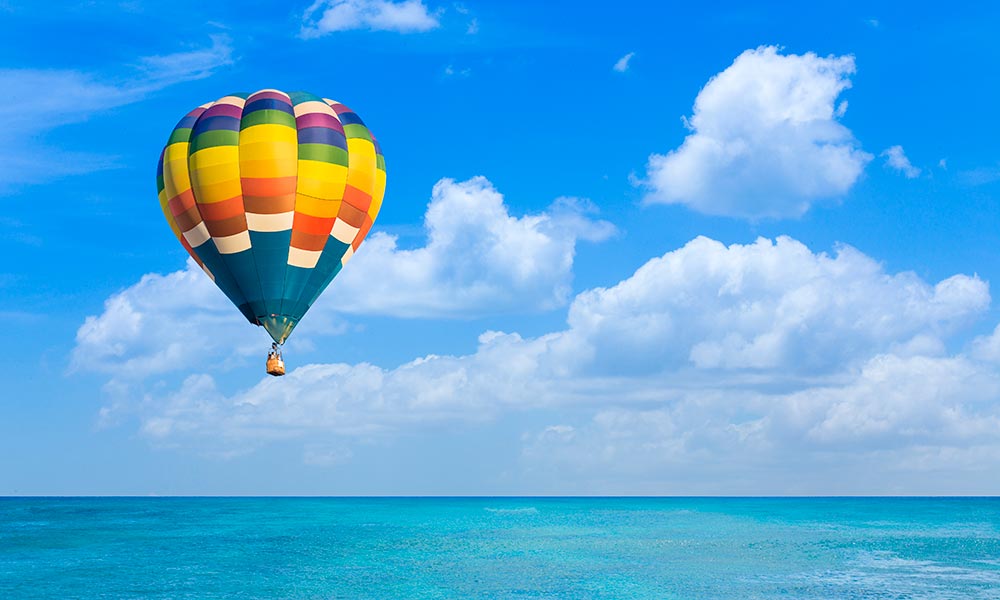 Would you like to see the island from a different perspective? On the White Island, anything is possible. Take a ride in a hot-air balloon for a few hours and see the island of Ibiza and Formentera from the air. It's sure to be one of the attractions and activities in Ibiza that you'll recommend to your friends!
35. Touring Ibiza on a moped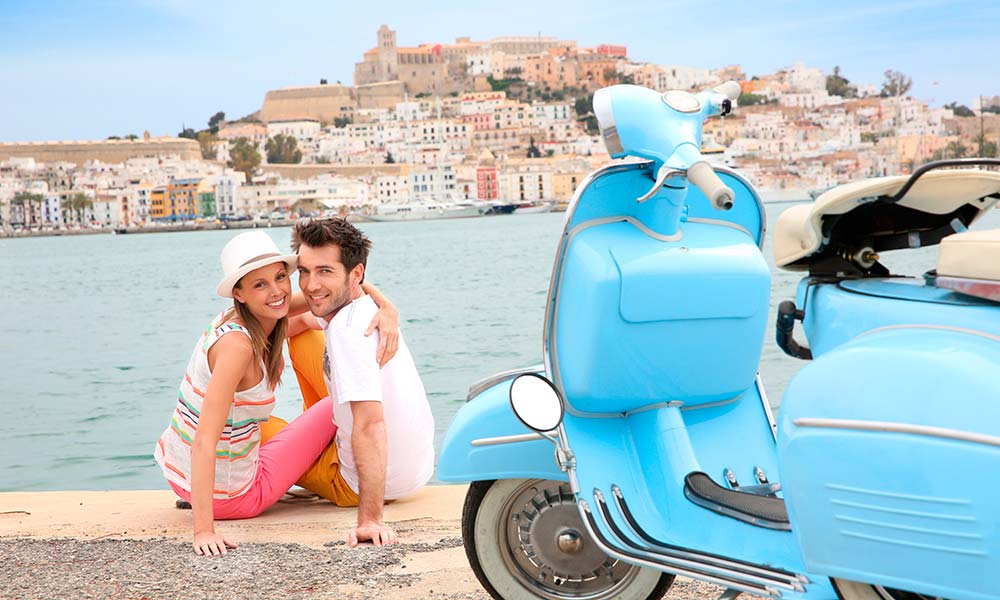 If you are comfortable riding a moped, we recommend that you choose this way of getting around the island, especially if you visit in the months with the best weather. Apart from the convenience of parking and being able to get to almost every hidden spot, there's nothing like feeling the sea breeze and enjoying the beautiful views on two wheels.
36. Discover Ses Salines Natural Park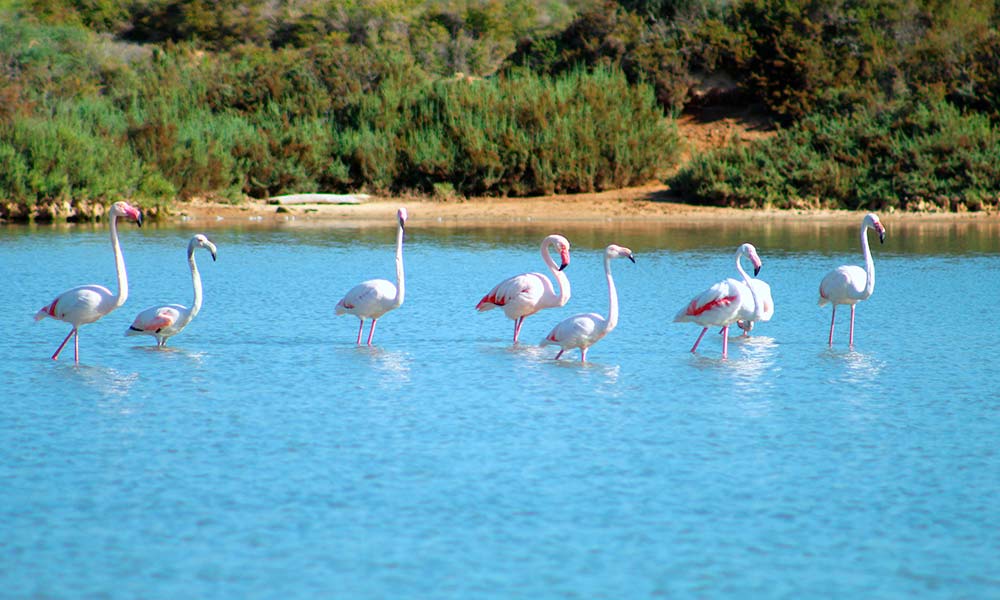 This protected natural area stretches across the south of Ibiza and the north of Formentera, and includes sandy and rocky beaches, cliffs, dune systems, marshes, lagoons and salt ponds. Not forgetting that within this area is located the most largest Posidonia oceanica (Mediterranean tapeweed seagrass) meadow in the world, declared a World Heritage Site. Guided tours are available by contacting the Natural Park.
37. In search of Atlantis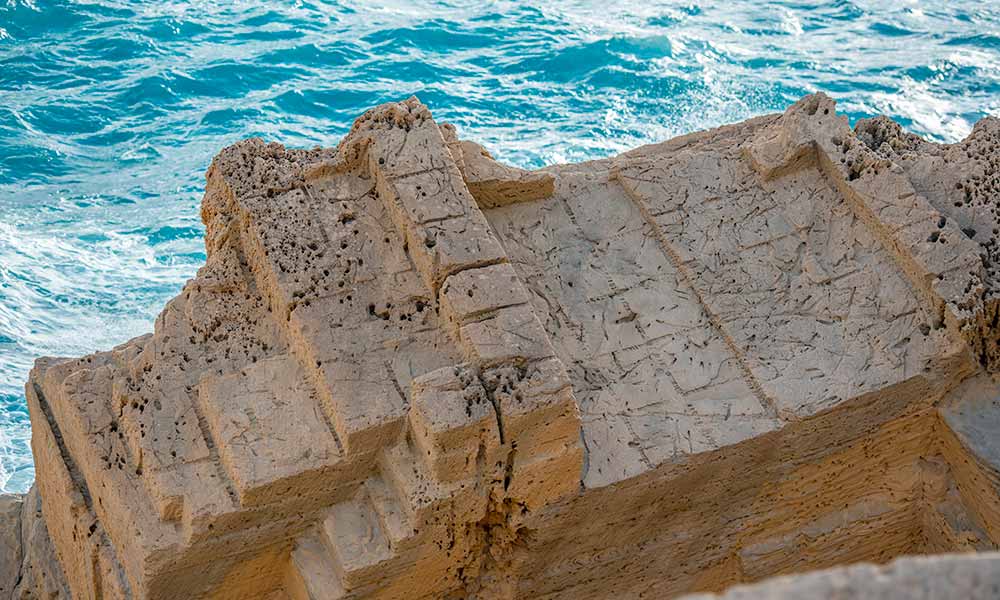 It is not a beach, nor is it a cove. The beauty of Atlantis, a rocky area located in Sa Pedrera de Cala d'Hort cove, lies in its jagged shapes due to its former use as a quarry. The diagonal cuts in the rocks create magical structures which, together with the extremely crystalline emerald waters, form a mystical landscape.
Some parts are decorated with carved figures and paintings, and it is a gathering place for hippies. Getting there involves a long hike along paths that are not very accessible and are steep, so it is not advisable to climb down without taking water or wearing suitable footwear (forget flip-flops).
38. Discover Formentera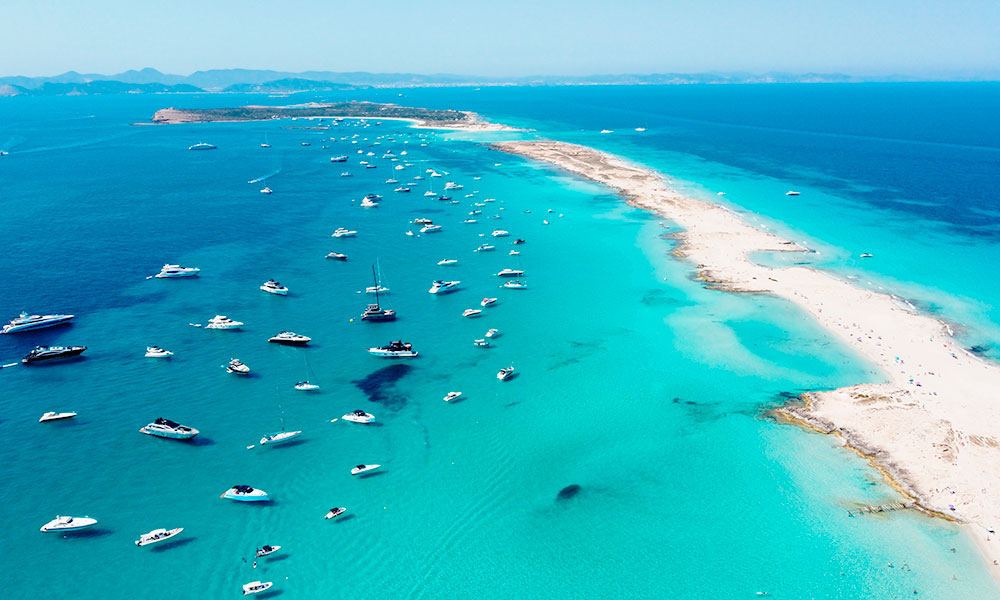 If you're spending a week in Ibiza, it's worth taking a day to visit Formentera, the neighbouring island. You won't have any trouble getting up early to discover its most beautiful beaches, including Illetes beach, one of the most famous in the world for the beauty of its landscape and its crystal-clear waters. Getting from Ibiza to Formentera on a ferry will take you less than an hour and you're sure to have a great time.
Things to do and see in Formentera, the neighbouring island of Ibiza
39. Touring the island by mountain bike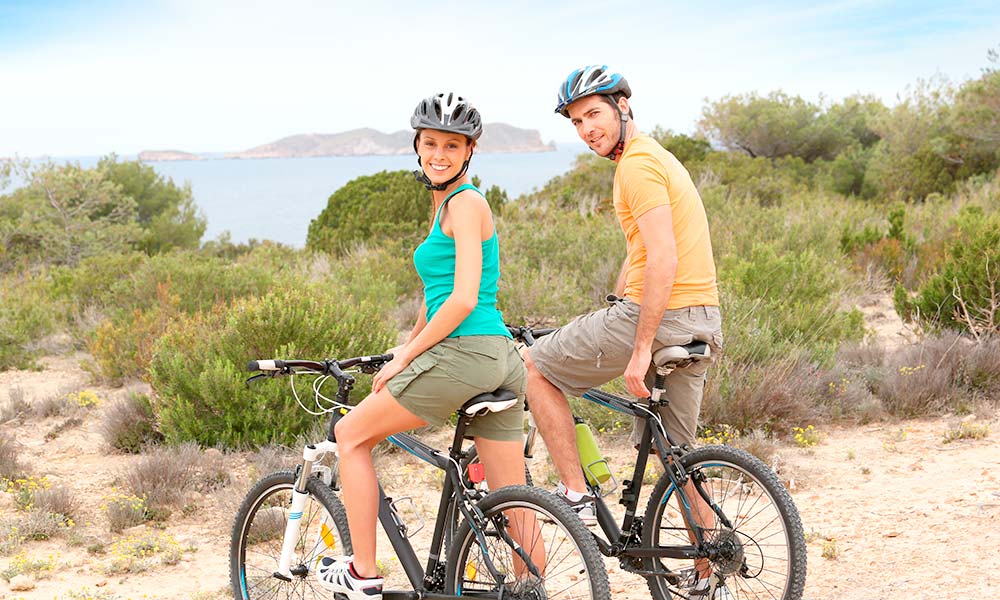 In San Antonio and other parts of Ibiza you can find specialist companies where you can rent mountain bikes and even book guided tours. The island has numerous cycle routes for low, medium and advanced levels, so you're sure to find the perfect route for you. A healthy way of sightseeing in Ibiza that will allow you to discover lots of secret spots.
40. Hide away from the world in agritourism accommodation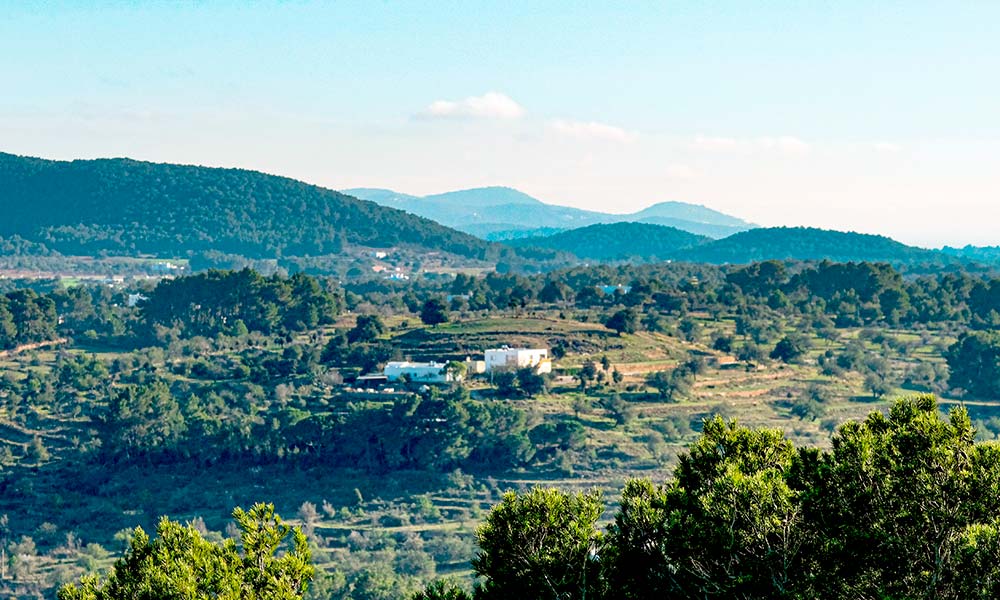 Ibiza can be as calm as you want it to be. So if you want to get away from the hustle and bustle and treat yourself to an exclusive stay in the countryside in the purest Mediterranean style, head for its agritourism accommodation. These establishments are usually housed in old traditional country houses and offer a very attentive service suitable for the most discerning travellers.
41. A journey to Phoenician Ibiza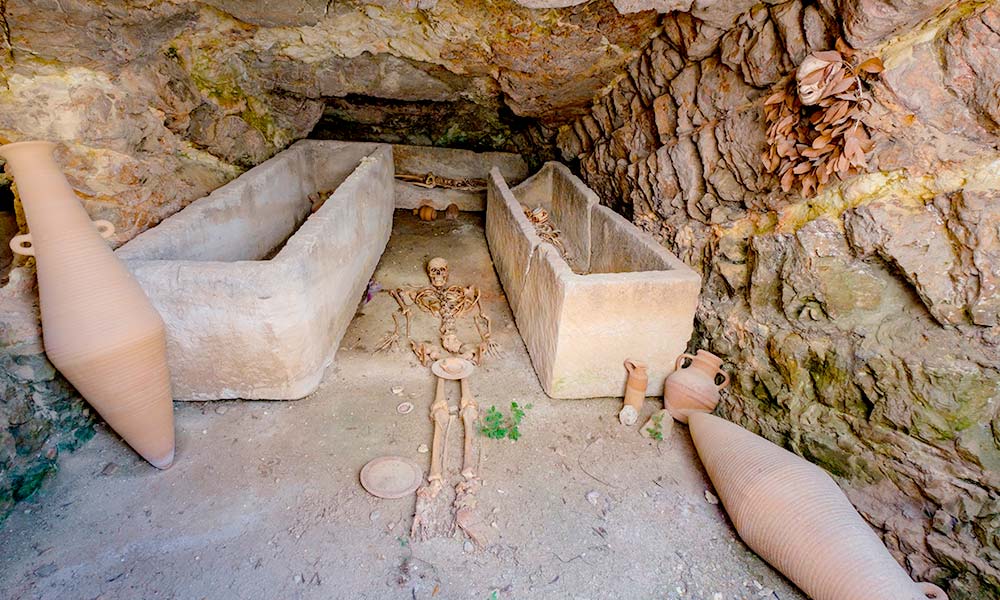 One of the things to see in Ibiza that you cannot miss if you want to discover its past is the Punic-Phoenician necropolis of Puig des Molins, located in the centre of the city. With over 3,000 hypogeum underground tombs, it is the best-preserved Punic necropolis in the Mediterranean. A visit to this historic site gives you access to a few tombs and the museum dedicated to this archaeological site, declared a World Heritage Site.
42. Visiting the Museum of Contemporary Art in Ibiza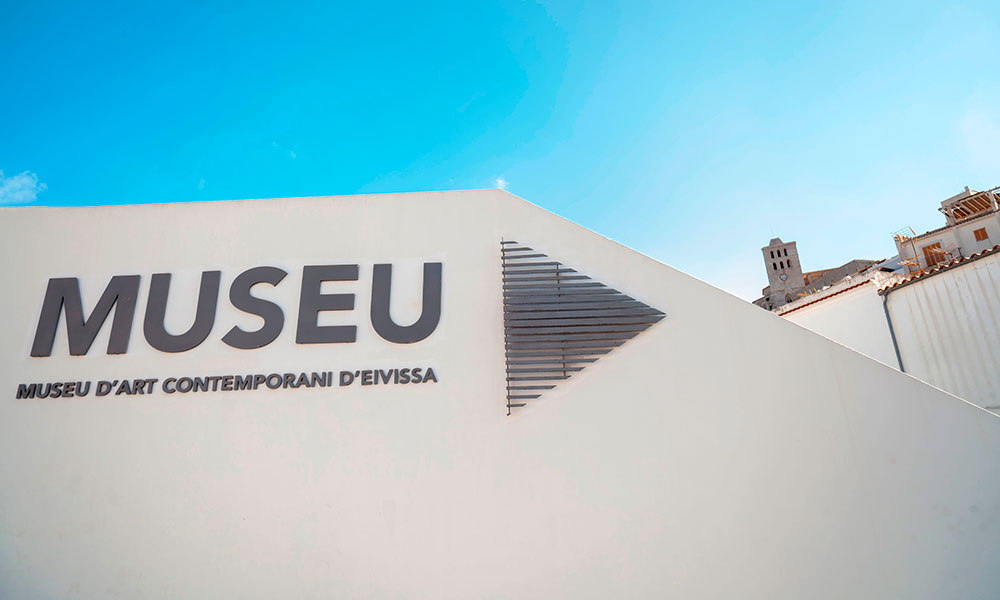 The island has been a meeting place for artists since the 1930s, so it is not surprising that one of Spain's first contemporary art museums was opened here. Opened in 1964, you can find abstract works by national and international artists, as well as an interesting collection of posters.  
43. Wine tasting at Can Rich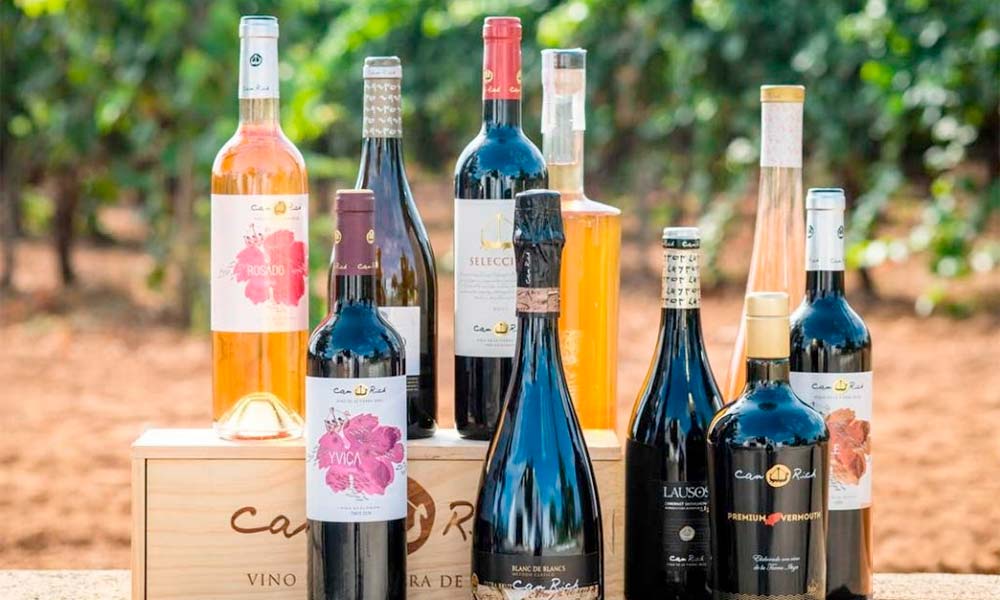 In this winery located near San Antonio you can try its organic wines, as well as learn about the island's wine-making history. You can also buy other gastronomic souvenirs to take home with you, such as liqueurs, Ibiza salt and oil. And after the visit, you can continue your route towards the valleys of Corona and Sant Mateu.
Ibiza clubs and bars: a guide to Ibiza nightlife
The 10 best beach clubs in San Antonio and surroundings
The towns and villages of Ibiza that you cannot miss
The best restaurants in San Antonio (Ibiza) and its surrounding area
Amàre Beach Hotel Ibiza, a hotel for adults in Sant Josep De Sa Talaia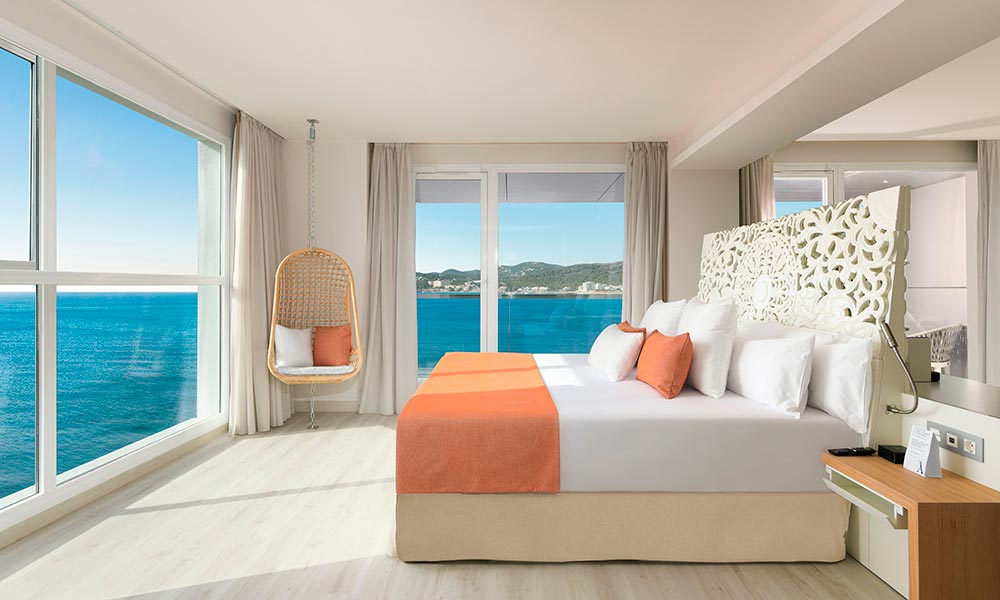 If you are looking for a good base from which to embark upon these plans for things to see and do in Ibiza, be sure to book your room today at Amàre Beach Hotel Ibiza, our 4-star hotel recommended for adults. Its excellent location in Bou Cove, not only places you a stone's throw from all these proposals, but also allows you to relax between each activity, whether at the Germaine de Capuccini wellness or on our roof with sunset views. Don't hold back, say it: #WhatAFeeling!