Marbella and Ibiza Blog
Amàre Beach Hotels
Tour Ibiza by boat: ports, coves and routes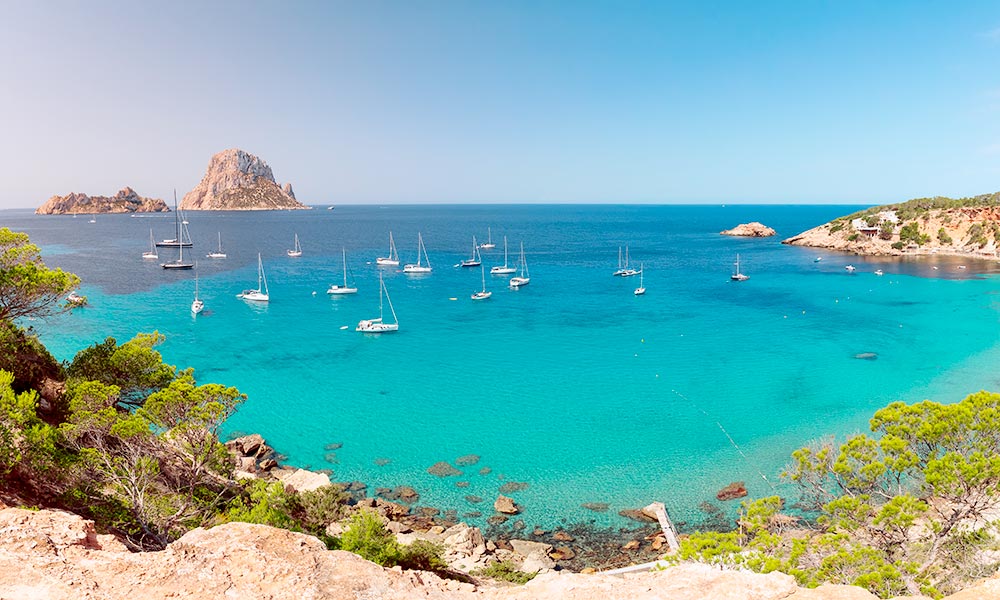 Tour Ibiza by boat: ports, coves and routes
The demand for boat rentals in Ibiza has increased during recent years, in addition to many tourists who come to the Isla Blanca in their own boats with a view to enjoying a wonderful boating holiday in Ibiza and Formentera.
If you're also thinking of exploring the Pityusic Islands by boat, get behind the helm and find out everything you need to know before you set sail.
You certainly won't be short of options when it comes to exploring Ibiza by boat: you'll be able to moor in any of the diverse ports on Ibiza, namely Sant Antoni de Portmany and Santa Eulària des Riu, or you can choose to spend the night moored in any of the calm and peaceful coves, where you'll be protected from the wind. You can holiday on your own boat or rent a boat for a day or for longer, in the morning or the afternoon, and you'll even find motorboats that don't require a skipper and can be sailed alone. Considering this array of options, you only need to keep your feet on dry land if you choose to do so!
Is it worth renting a boat in Ibiza?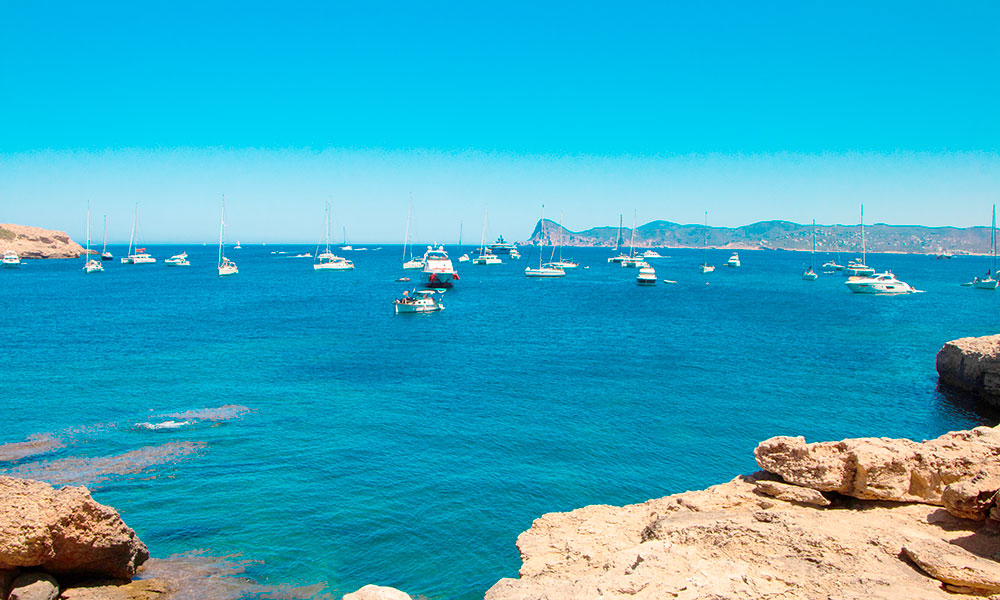 There's an endless list of reasons for exploring Ibiza on a boat. The island's coast is home to stunning spots whose beauty can only be fully soaked up from a boat or yacht, including stunning cliffs, islets and virgin coves that can only be reached by boat. And let's not forget the stunning crystal-clear waters found on Ibiza's most famous beaches which make the perfect setting to anchor and enjoy a relaxing swim, including locations like Cala Bassa, Cala Comte, Ses Salines and Cala d´Hort.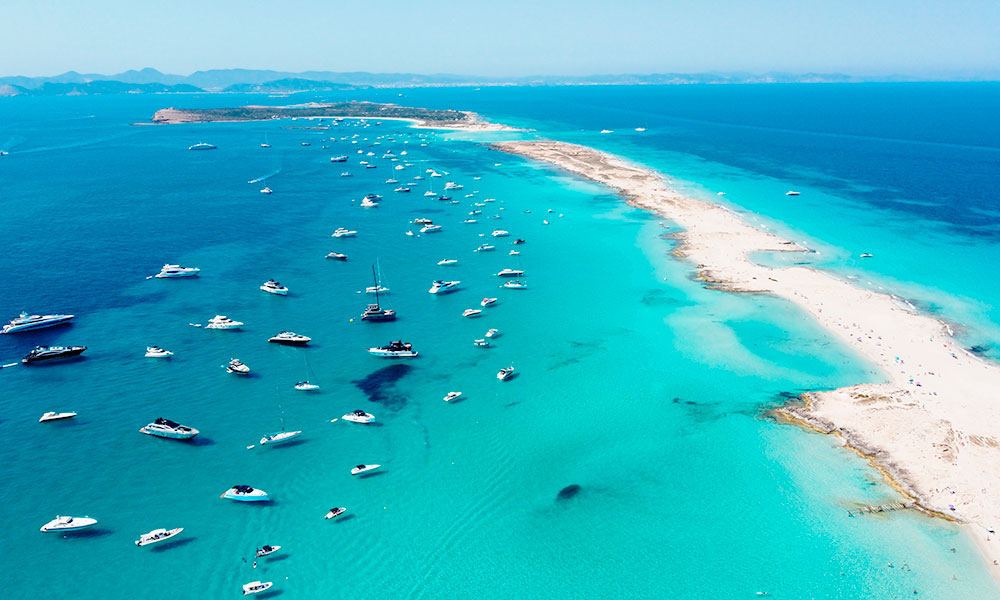 Exploring Ibiza by boat is a truly enjoyable activity that also allows visitors to discover islands and islets, go snorkelling, sunbathe on an unspoilt beach,  enjoy trips on a kayak and sail to Formentera to enjoy its fantastic beaches… All of this is possible while enjoying the island's agreeable climate which allows for smooth sailing and means that visitors can change the coast they decide to sail down depending on the intensity and direction of the wind.
Hiring boats in Ibiza with or without a skipper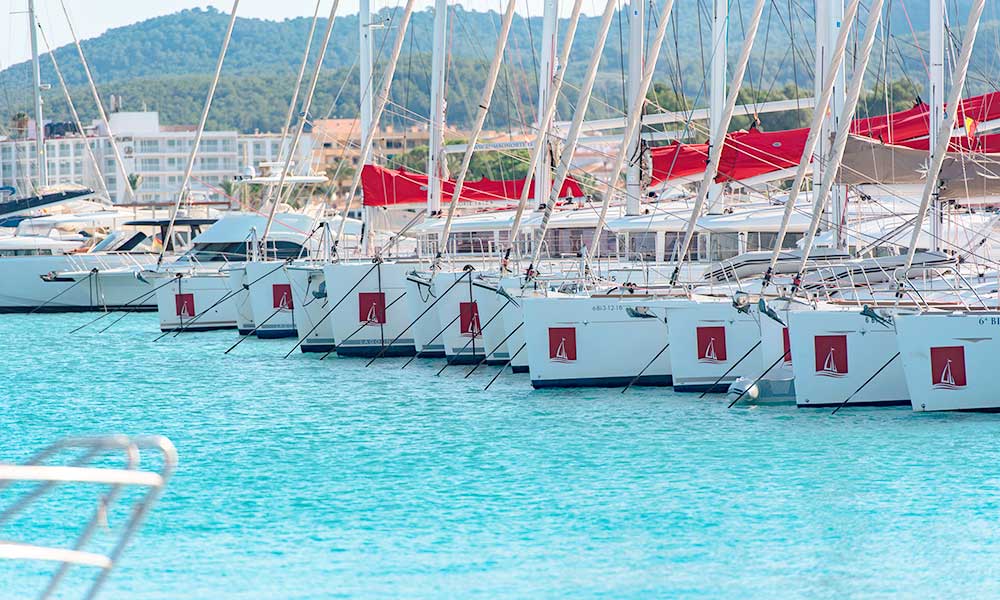 You'll find a huge range of boat rental companies on the island. You'll be able to rent a solar catamaran, motorboats for groups of up to 10 people, yachts that can accommodate medium and high capacities, sailboats, traditional llaüts and you'll even have the chance to rent small motorboats for up to 6 people that don't require a skipper or licence to explore Sant Antoni bay. You can also visit the official Ibiza Travel website to view all of the companies that offer boat rental in Ibiza. This is a useful resource for ensuring  you use a regulated boating company.
Where to rent a boat in Ibiza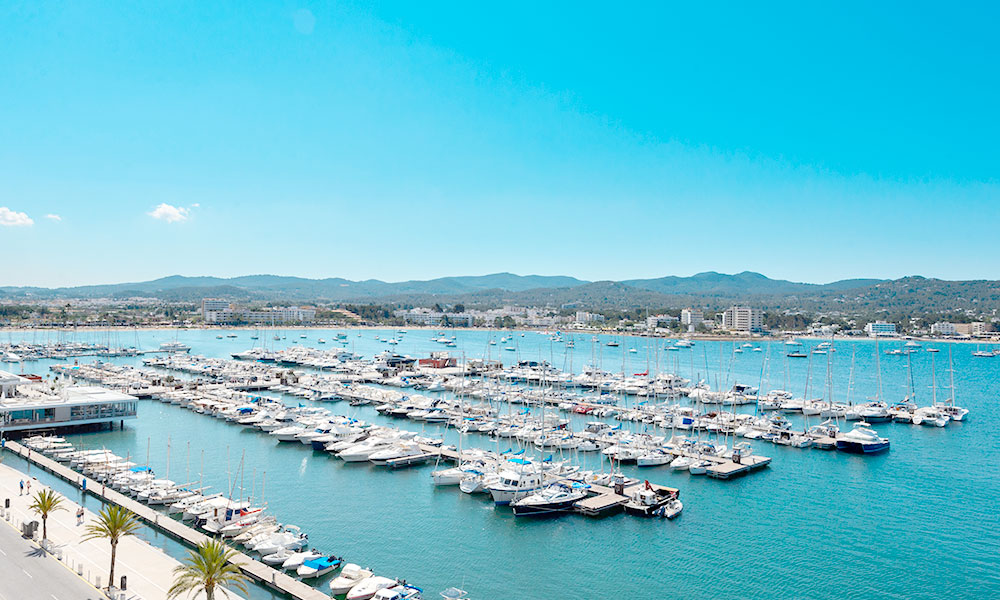 If you decide you'd like to explore the island by boat during your holiday at Amàre Beach Hotel Ibiza, get in touch and we'll help you find a good boat rental company in Ibiza  that allows you to set sail from Sant Antoni, Ibiza or Santa Eulària: we'll arrange the rental for you, make you a delicious picnic for your day at sea and give you all of the relevant information about renting boats without a skipper or licence … Don't hesitate to contact us!
Where to moor in Ibiza: marinas and anchoring buoys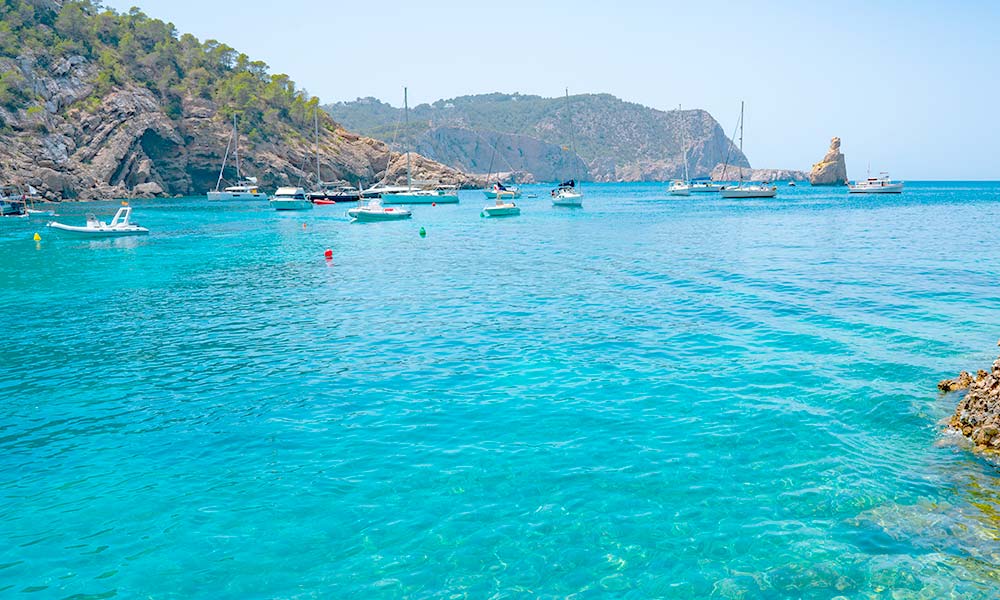 You'll find a huge range of coves around Ibiza, offering excellent shelter from the wind if you decide to anchor for the night. These include Cala Vedella, Cala Llonga, Port d'es Torrent, Porroig, playa des Jondal, Port Sant Miquel and Cala Benirrás. When anchoring in these coves or any other part of the Ibiza and Formentera coastlines, it's important to bear in mind the following regulation: never anchor in the beds of sea grass/flora. (known as Posidonia oceánica). If you come to Ibiza in your own boat, the  Atlas Posidonia website provides a guide to areas where it's forbidden to anchor as well as information about booking a buoy in case you choose to anchor in a more protected area.  These guides are an essential means of ensuring that your anchor doesn't damage the valuable natural heritage found in Ibiza y Formentera, which was recognised in 1999 by the UN World Heritage list.
Docks and ports in Ibiza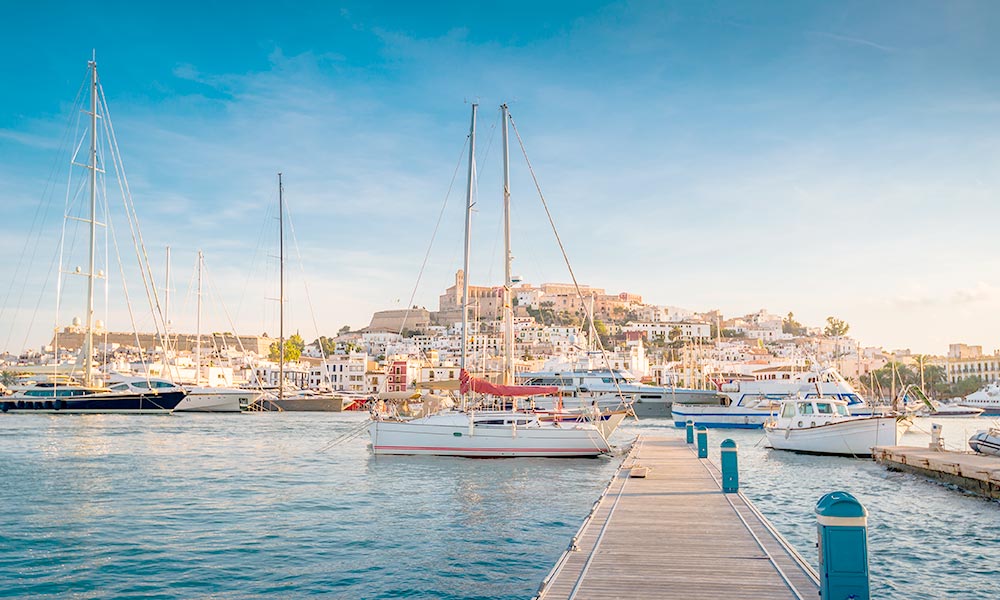 You'll find seven marinas in Ibiza with a wide range of moors depending on the length of your boat.
Santa Eulària Marina: you'll find spots to dock your boat, as well as boats owned by local sailing companies, should you wish to rent a boat.
Website
Club Nàutic Sant Antoni: located in Sant Antoni de Portmany, the club features 578 moorings of up to 50 metres in length. During the summer, the club opens 71 eco-friendly anchoring buoys in Portmany Bay. If you stay at Amàre Beach Hotel Ibiza, your boat trip around Ibiza will start at these docks, as most boat rental companies located on Ibiza's west coast that don't require a skipper licence use this port.
Website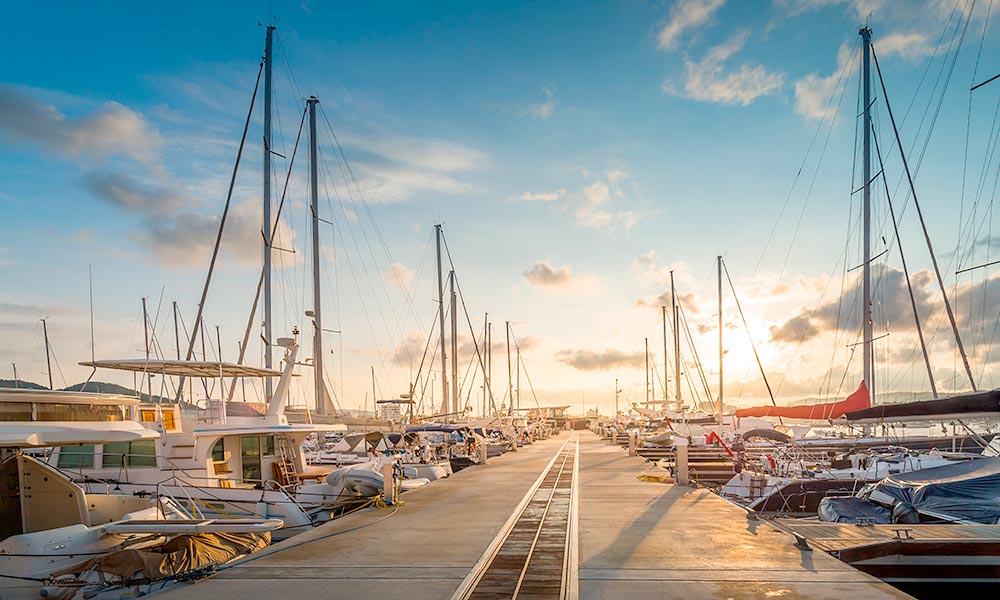 Port de Sant Antoni de Portmany: also located in Sant Antoni de Portmany, just along from the Club Nàutic. This port is managed directly by Ports de Illes Balears and features 245 berths, some of which are reserved for transportation vessels. Phone: +34 971 34 05 03
Website
Club Náutico de Ibiza: features a full range of services. It has 300 moorings, of which only 30 are reserved for transportation vessels. It enjoys a convenient location, a few metres from the trendy Passeig Maritim neighborhood and a short walk from the city centre.
Website
Marina Port Ibiza: located in Ibiza's old town, at the foot of the historic district of Dalt Vila, Marina Port Ibiza features 85 berths for boats up to 60 m long and 10 m deep. The best option if you want to dock right in the city centre and alongside the most breathtaking luxury yachts found anywhere in Ibiza.
Website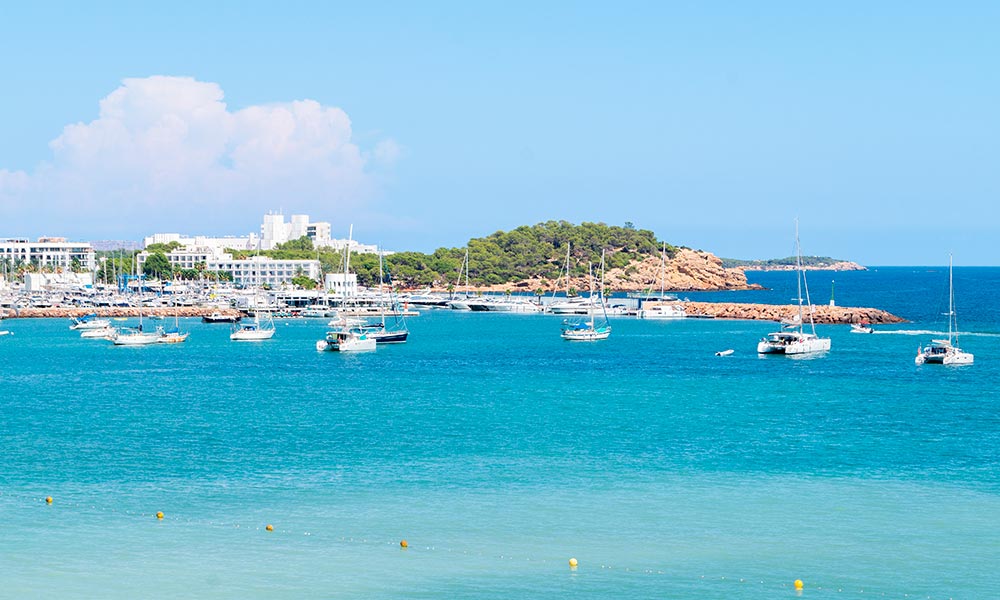 Puerto Deportivo Marina Botafoch: the Passeig Maritim neighborhood enjoys views over the bay and the neighborhoods of Dalt Vila and La Marina, as well as a lively and sophisticated nightlife. These are two attractions to bear in mind if you want to dock in this Ibiza Port featuring 430 moorings and the capacity to welcome vessels of up to 30 meters in length.
Website
Marina Ibiza: this Ibiza marina is located along from Marina Botafoc, offering the same views and leisure facilities. Featuring 394 moorings across 13 jetties, it welcomes yachts and sailboats up to 95 m in length.
Website
How many ports are there in Formentera?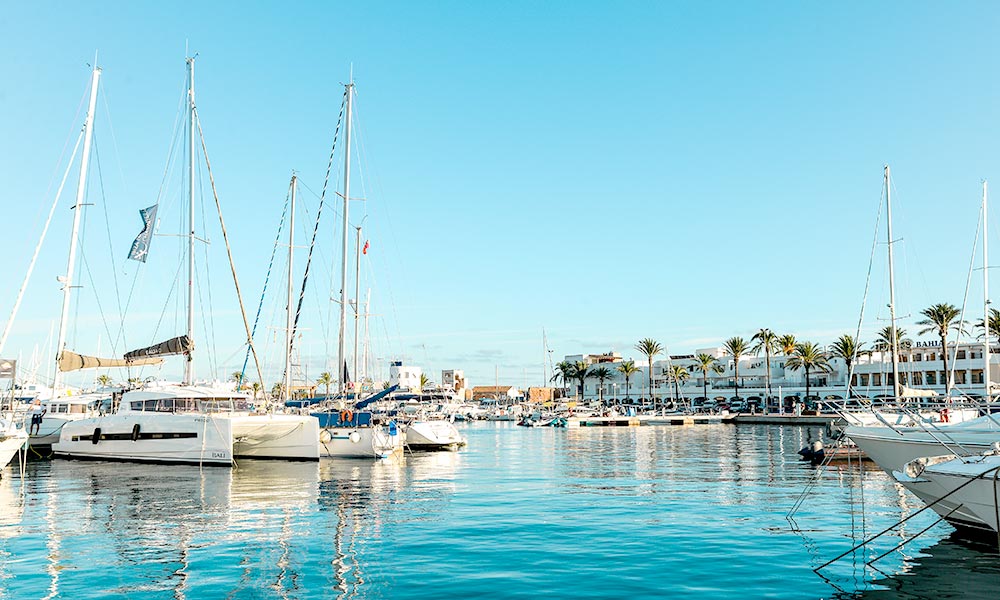 La Savina is the only port in Formentera, located on the north of the island. It has only 150 moorings, which are managed by two companies: Marina de Formentera and Nueva Formentera
How much does it cost to dock a boat in Ibiza?
During the summer months, Ibiza's ports are among the most expensive in the Mediterranean, with the most expensive choices being Marina Ibiza, Marina Botafoc and Marina Port Ibiza. Rates can be found using booking engines like Club Nàutic Sant Antoni, or by sending a request by mail, outlining your desired dates as well as your boat's length, beam and draft details.
How can I get from the airport to Ibiza's ports?
The ports found in Ibiza city are located just 10 km from the airport, meaning you'll be able to kickstart your holiday boating holiday in Ibiza in less than 15 minutes. Meanwhile, Sant Antoni port is just 19 km from the airport and the sports marina at Santa Eulària des Riu is just 22 km away.  You'll be able to get to both ports by taxi and bus.
Google Maps
The best boat trips around Ibiza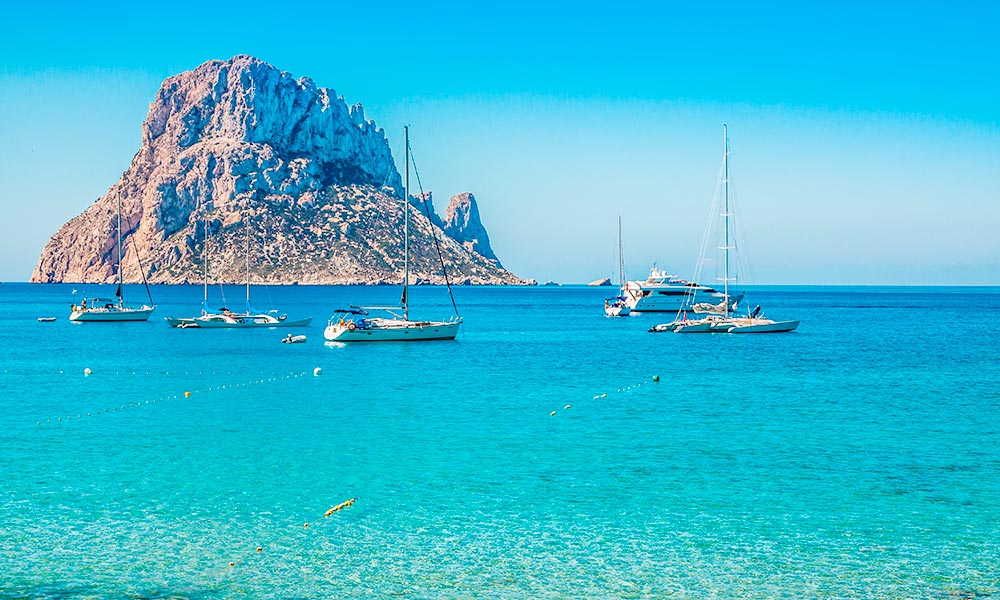 With more than fifty beaches and coves, stunning cliffs, numerous islets and other coastal attractions, Ibiza is home to a huge variety of boat trips you can enjoy during your stay on the island. These routes are perfect both for a day's sailing and for boat holidays in Ibiza lasting a number of days. Perfect for both a day's sailing or for those who prefer to sleep on dry land and enjoy their days out on the sea.
Route 1. The South
This route leaves Ibiza Port and is one of the most popular. You'll be able to set down your anchor at Cala Jondal, where you'll find the renowned Blue Marlin beach club, or you can opt for the famous Ses Salines and Cala d´Hort beaches, as well as sailing around the spectacular Es Vedrá islet.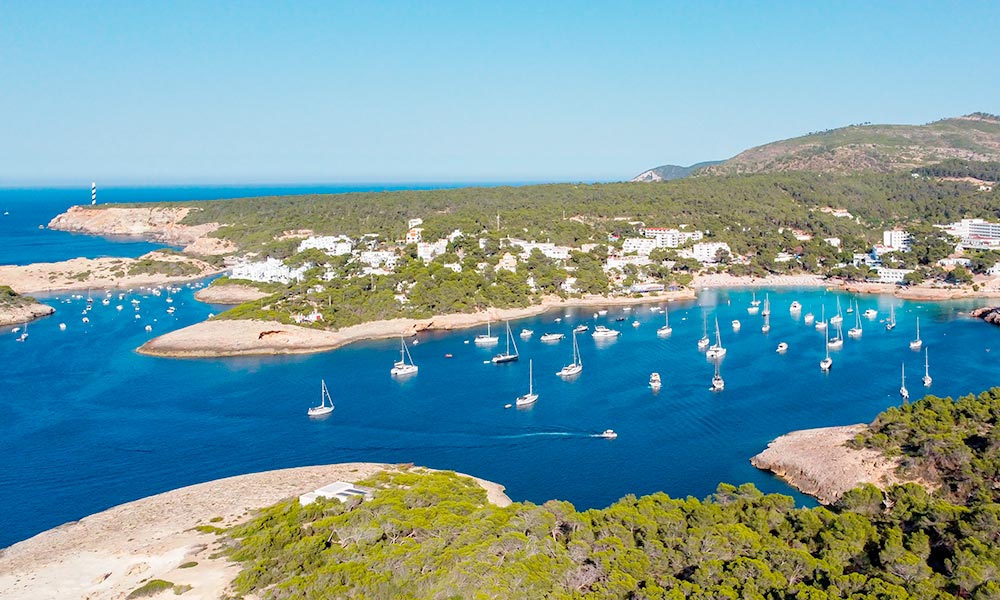 Route 2. The East Coast
This calm and family friendly route connects Santa Eulària to Cala Sant Vicent and doesn't tend to draw as many boats as other spots on the island, making it perfect for enjoying a few days of light easterly sea breeze. The route also takes in Tagomago Island, an excellent spot for anchoring your boat.
Route 3. The North
This part of Ibiza's coast takes in peaceful coves, cliffs and stunningly beautiful enclaves that include la punta des Moscarter, the Ses Caletes natural port, Es Portitxol, the Ses Formigues islets and the beaches of Portinatx, Sant Vicent, Aigües Blanques and des Figueral.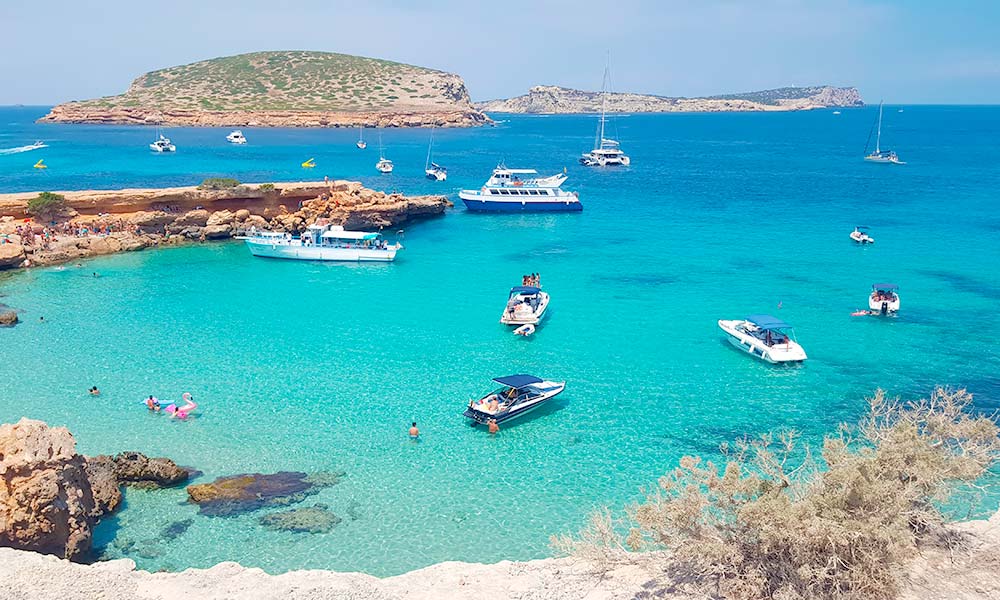 Route 4. The North-west
The northwesterly coast of Ibiza stands out for its beauty and striking landscapes. Setting sail from Sant Antoni port, this route takes in islets, stunning cliffs and gorgeous spots like Cala Salada, Punta Galera, Cala Xarraca and Cala Benirrás. All rounded off by Ibiza's stunning sunsets.
Route 5. The South-west
This boat route around Ibiza sails along the coastline of the Es Vedrá national park, Es Vedranell and the island's western islets, making it one of the most beautiful routes anywhere on the island. Leaving Sant Antoni, you'll sail past Cala Bassa, Cala Vedella, Cala Molí, Cala d'Hort and Cala Comte, as well as enjoying a stunning Ibiza sunset.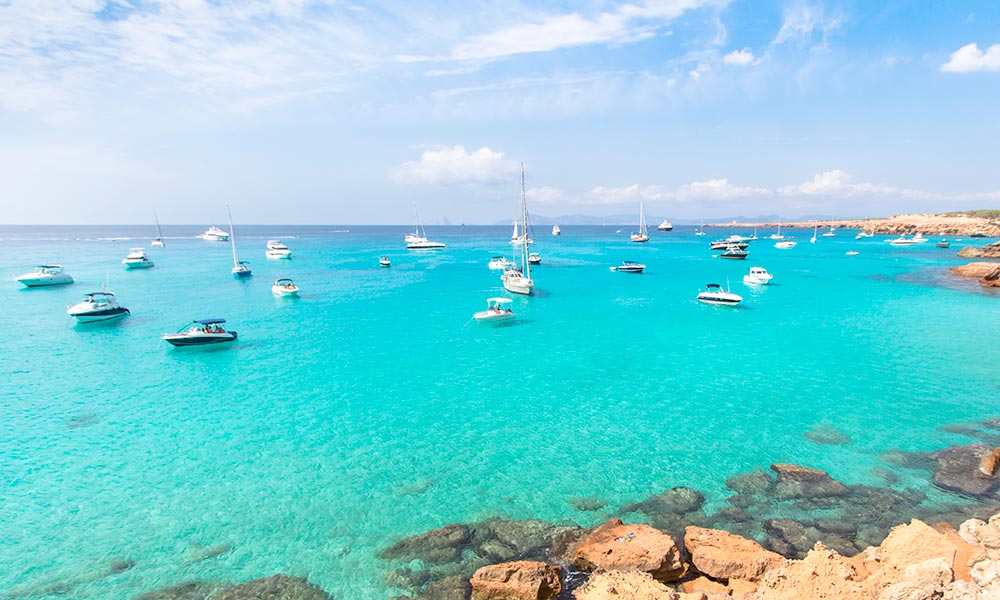 Route 6. Western Formentera
The beauty of Formentera's west coast has turned this route into one of the most popular for visitors to Ibiza. You'll enjoy the famous Ses Illetes beach, the S'Espalmador islet, Cala Saona and the beach at playa des Migjorn…
Route 7. Eastern Formentera
The Eastern face of Formentera is ideal for a more private boat trip and gives visitors the chance to discover the southern tip of the island, home to the spectacular La Mola cliffs.
The best beaches and coves in Ibiza
The 15 best Ibiza beach clubs to be seen
Amàre Beach Hotel Ibiza, a hotel for adults in Sant Josep De Sa Talaia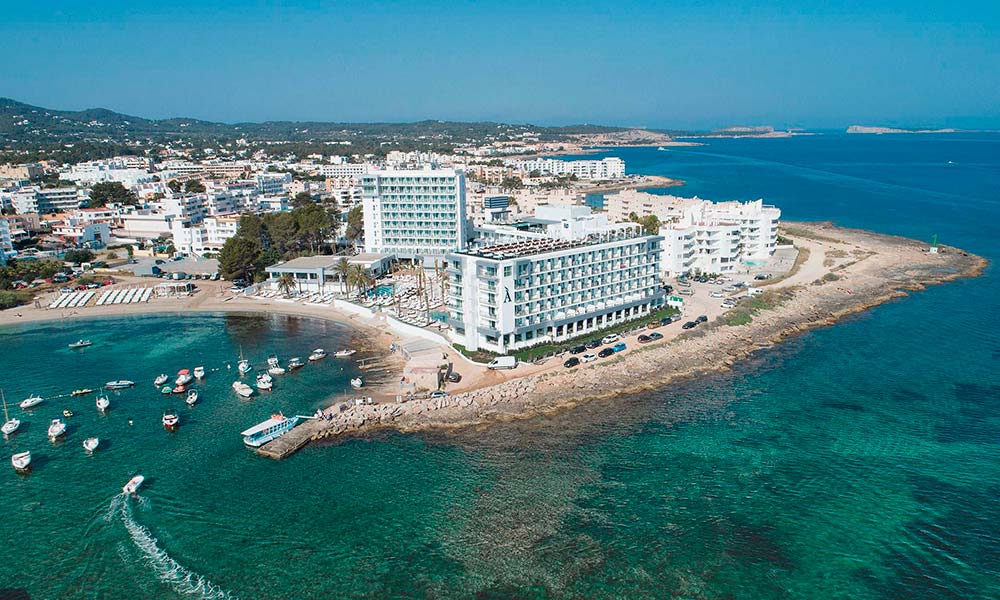 If you are looking for a good base from which to embark upon these plans for things to see and do in Ibiza, be sure to book your room today at Amàre Beach Hotel Ibiza, our 4-star hotel recommended for adults. Its excellent location in Bou Cove, not only places you a stone's throw from all these proposals, but also allows you to relax between each activity, whether at the Germaine de Capuccini wellness or on our roof with sunset views. Don't hold back, say it: #WhatAFeeling!.