Marbella and Ibiza Blog
Amàre Beach Hotels
The 15 best Ibiza beach clubs to be seen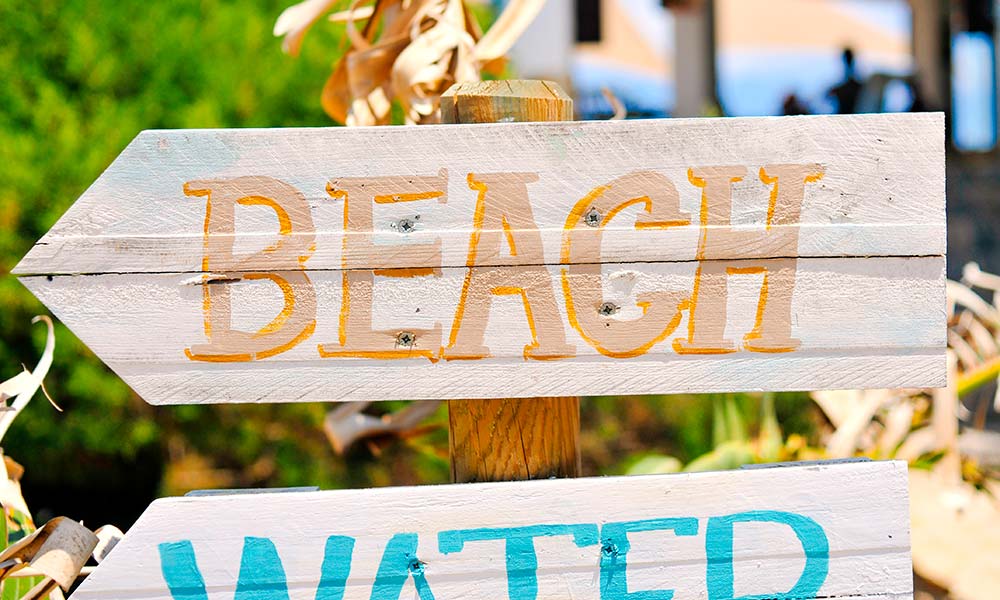 The 15 best Ibiza beach clubs to be seen
Finding beach clubs in Ibiza where you can give in to the most hedonistic summer pleasures is as simple as choosing a route and setting out on it. From San Antonio to the most hidden corner in the north of the island, Ibiza has no shortage of beach bars and restaurants for all tastes and budgets.
So if you don't like carrying a beach umbrella, or you're nobody without a cold cocktail in your hand, you're mad about summer partying and you want to see the sun set Ibiza style, don't miss our selection for touring Ibiza's beach bars.
Eat, sleep, swim, repeat…..
8 beach clubs in San Antonio and west Ibiza
San Antonio Bay is home to some of Ibiza's most famous beach restaurants and the best known beach clubs for seeing the sunset.
CBbC Cala Bassa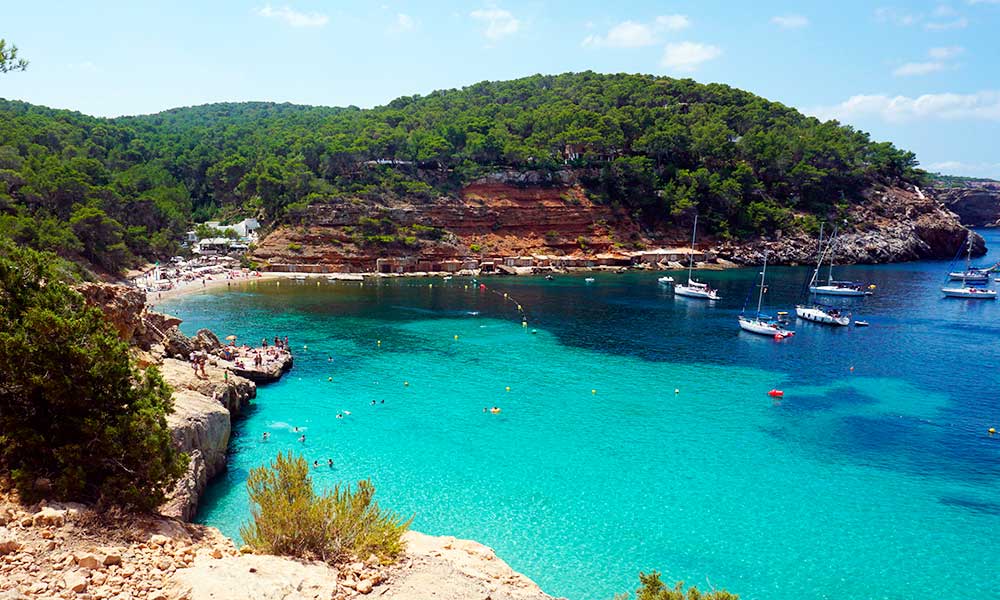 This is one of the most sophisticated Ibiza beach clubs with a privileged location at Cala Bassa, one of the island's prettiest and most popular beaches. The restaurant tables stand under the shade of pine and juniper trees, and if you want they also have luxurious hammocks where you can indulge yourself. As afternoon becomes evening, the DJ set increases in intensity.
Cala Bassa, Sant Josep de sa Talaia
Tel: +34 619 98 43 71
Web: www.calabassabeachclub.com
Google Maps
Kumharas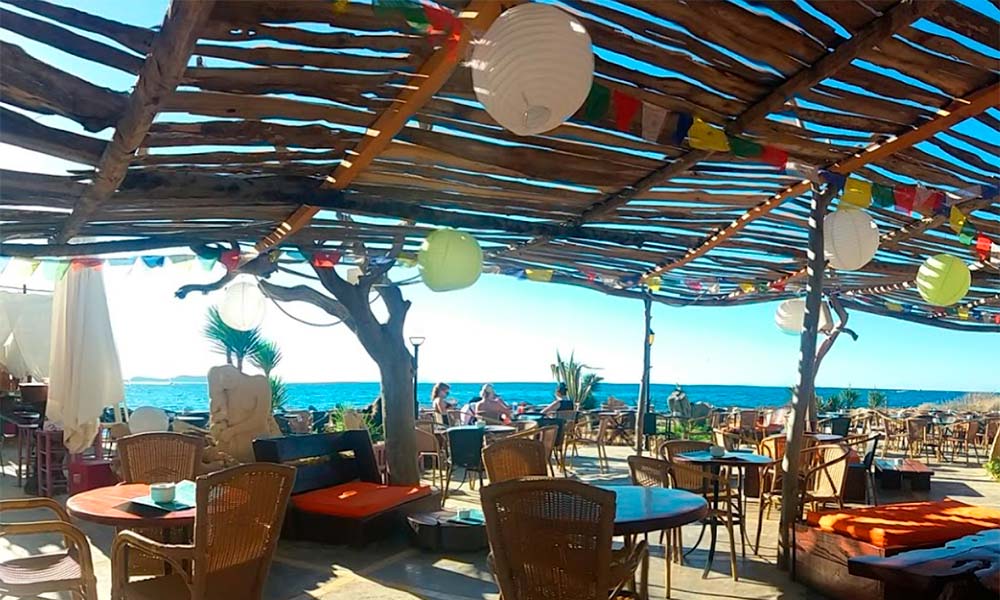 This San Antonio Bay beach bar has for years been one of the spots not to be missed on the west coast of Ibiza. People come here at dusk to enjoy its casual atmosphere, its music, its street food with world flavours and its fabulous sunsets. And the best thing is that it is a few minutes' walk from Amàre Beach Hotel Ibiza.
Carrer de Lugo, 2, Sant Josep de sa Talaia
Tel: +34 971 80 57 40
Web: www.kumharas.org/en-gb/
Google Maps
Café Mambo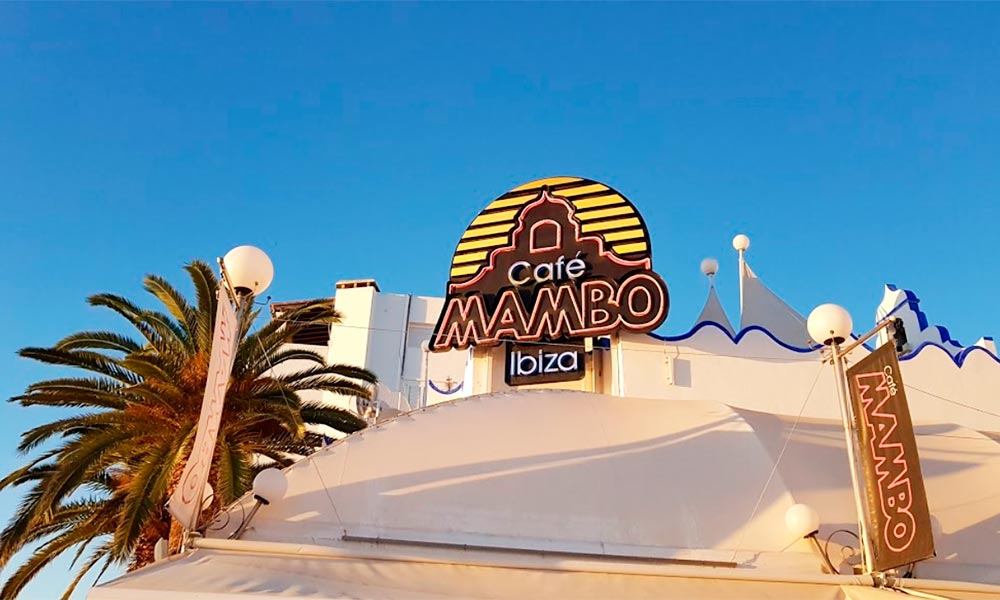 Situated on San Antonio promenade, it is undoubtedly one of Ibiza's summer hot spots. Open from the morning, the action starts with the arrival of sunset and its famous pre-party sets done by renowned DJs. If you want to watch the sunset from the tables of this famous San Antonio beach club café, you'd better book in advance.
Carrer Vara de Rey, 40, Sant Antoni de Portmany
Tel: +34 971 34 66 38
Web: www.cafemamboibiza.com
Google Maps
Café del Mar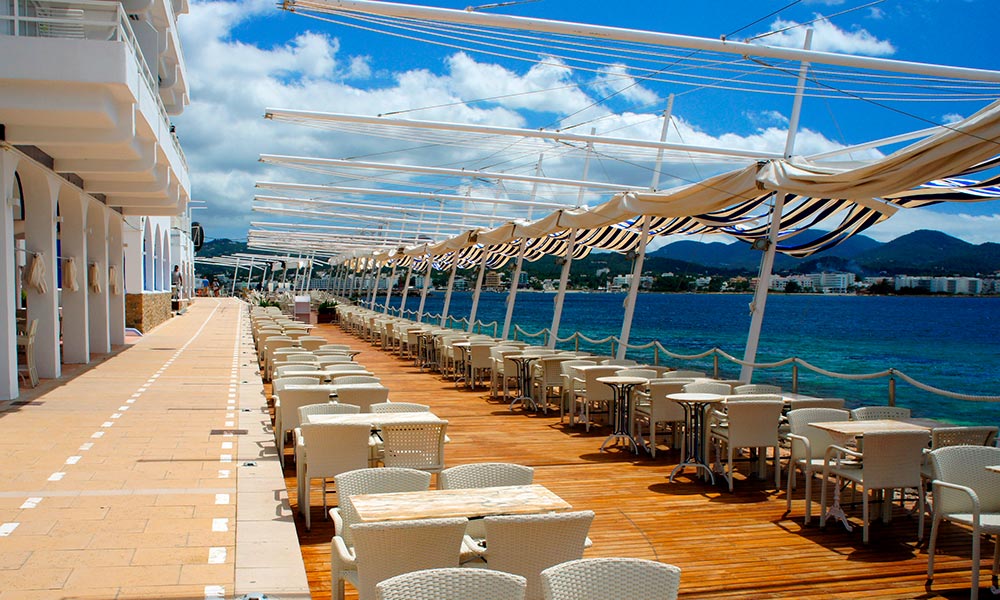 This San Antonio beach bar leapt to international fame thanks to the chillout music sets created at dusk by the mythical José Padilla. It is still a magnet today for the hundreds of travellers who come in summer to watch the sun set. After so many years, it is still one of the spots in Ibiza you must visit.
Calle Vara de Rey, 27, Sant Antoni Portmany
Tel: +34 689 00 84 94
Web: www.cafedelmaribiza.es
Google Maps
Amàre Ibiza Beach Club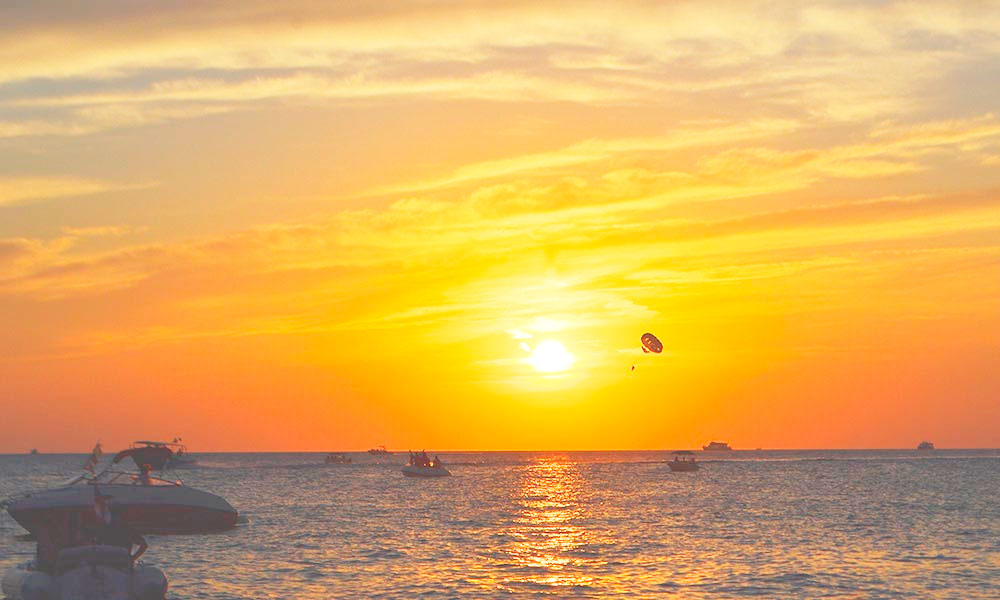 If you are looking for the perfect combination of pool, beach, good music and the best food, don't go too far and stay at Amàre Ibiza Beach Club. You will have the shore of cala de Bou at your feet and our best service. And when the sun starts to set, all you need to do is head up to the Belvue Rooftop Ibiza terrace. The best plan, don't you think?
Carrer La Rioja, 9, Sant Josep de sa Talaia
Tel: +34 951 56 20 83
Web: www.amarehotels.com/amare-ibiza/
Google Maps
Cotton Beach Club Ibiza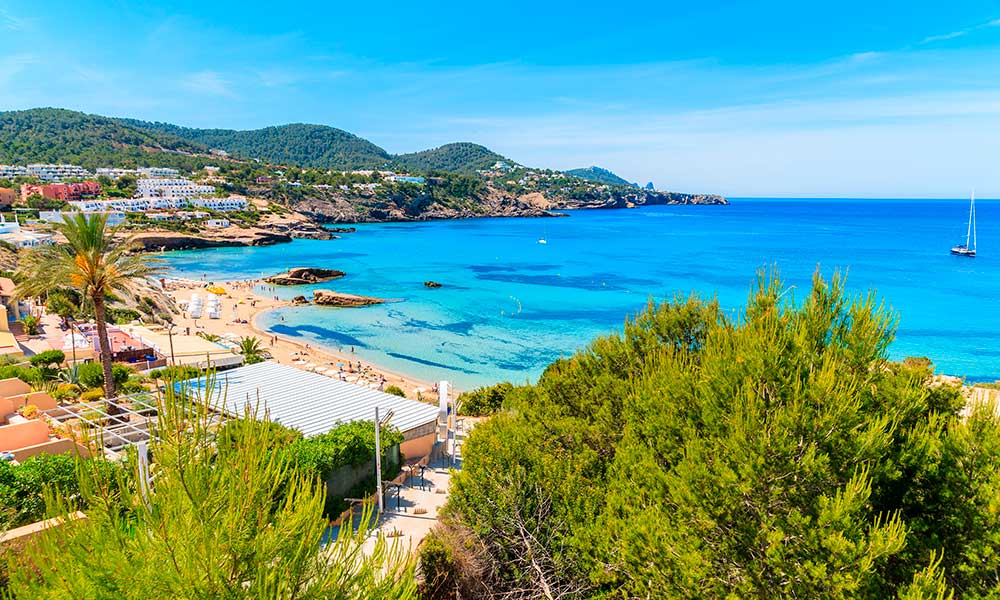 The photogenic cala Tarida stands out in the panoramic view that can be seen from the tables and loungers of Cotton Beach Club Ibiza, one of the most cosmopolitan Ibiza beach restaurants. You can choose from the offerings of its sushi bar and its menu of Mediterranean specialities. It is 15 minutes by car from cala de Bou and San Antonio Bay.
Carrer de Cala Tarida, 21, Sant Josep de sa Talaia
Tel: +34 971 80 61 80
Web: www.cottonbeachclub.com/
Google Maps
Sunset Ashram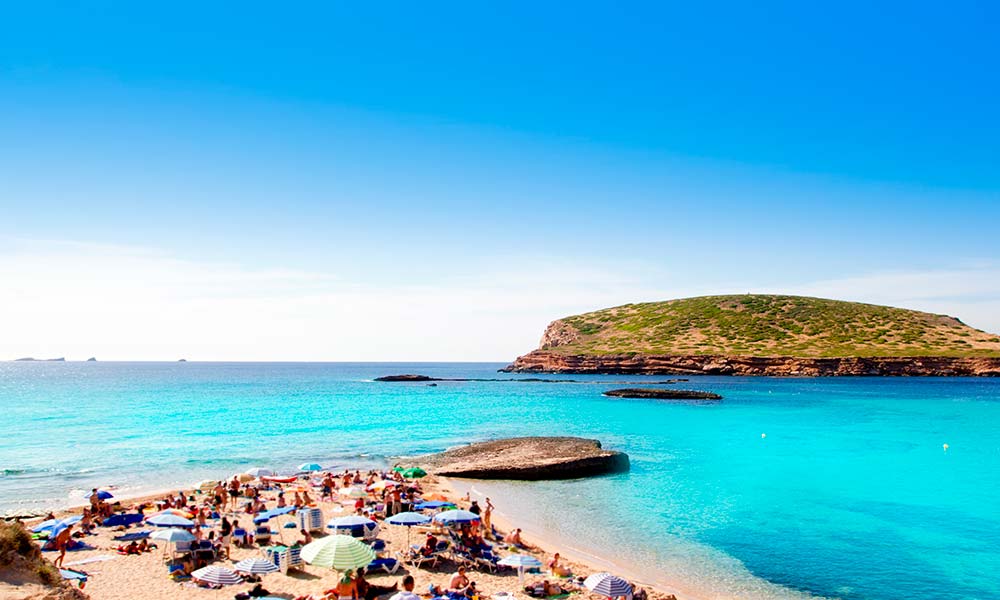 It is hard not to fall in love with the location of this Ibiza beach restaurant. Situated at the edge of one of the cliffs of Platges de Comte, its tables are the perfect vantage point to see the turquoise sea, the small islands and the sunset that have made this group of small coves one of the most photographed corners of Ibiza. Its appealing internacional cuisine includes a special sushi menu and another dedicated to Indian  specialities.
Cala Conta, Sant Josep de sa Talaia
Tel: +34 661 34 72 22
Web: www.sunsetashram.com
Google Maps
Alma Beach Ibiza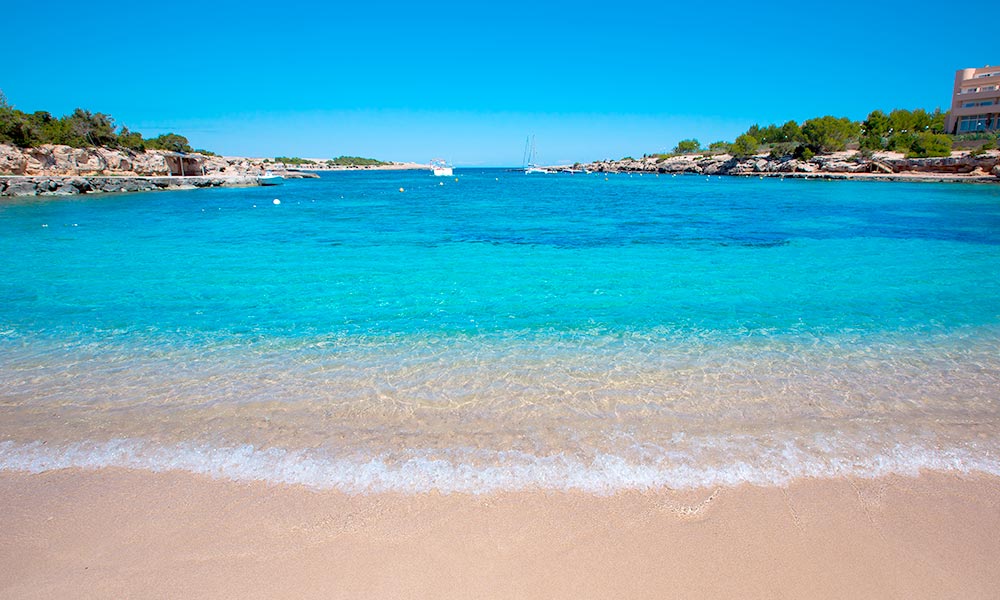 This beach restaurant is located in a quiet, family-friendly cove less than 5 minutes by car from Amàre Beach Hotel Ibiza. Another spot to bear in mind if you want to spend a relaxing day by the sea, take a stroll along the coast, set the sun set or dine with your feet on the sand.
Port des Torrent, Sant Josep de sa Talaia
Tel.: +34 871 00 08 88
Web: www.almabeachibiza.es
Google Maps
7 Ibiza beach restaurants and beach clubs
From north to south and from east to west, the White Island has no shortage of opportunities to live like kings and queens in Ibiza: delicious food, cosmopolitan atmosphere, good music, beautiful people and high doses of hedonism.
Elements Ibiza Beach Club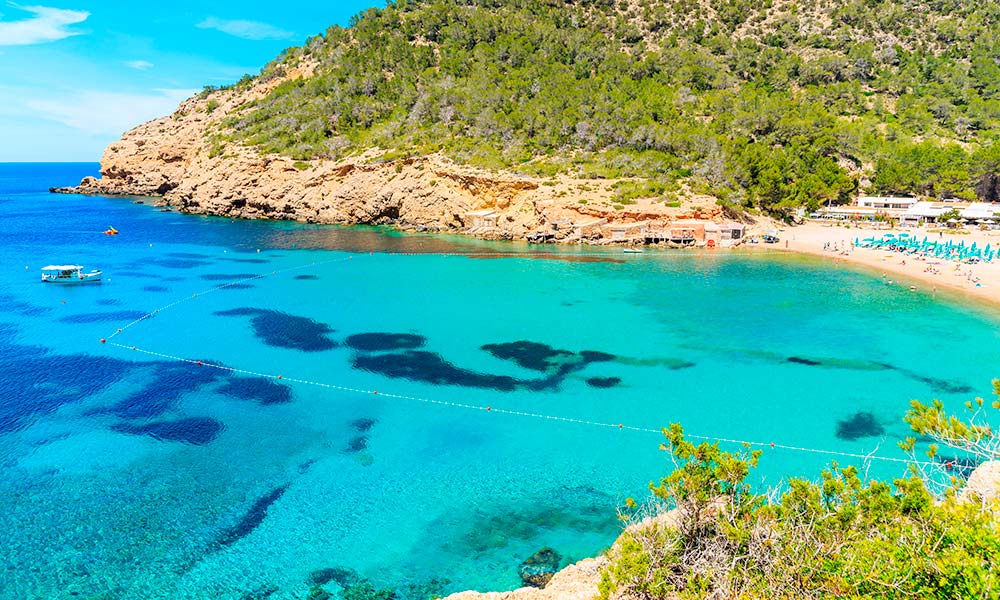 If you are looking for mythical hippy Ibiza, head to Cala Benirrás. This beach in the north, which during the day is home to some of the island's most authentic hippies, is the location of this hippy chic beach club, where you can savour Mediterranean cuisine, get a massage, shop in its boutique or have a cocktail at night.
Cala Benirrás, Sant Joan de Labritja
Tel.: + 34 663 67 86 39
Web: www.elements-ibiza.com
Google Maps
Blue Marlin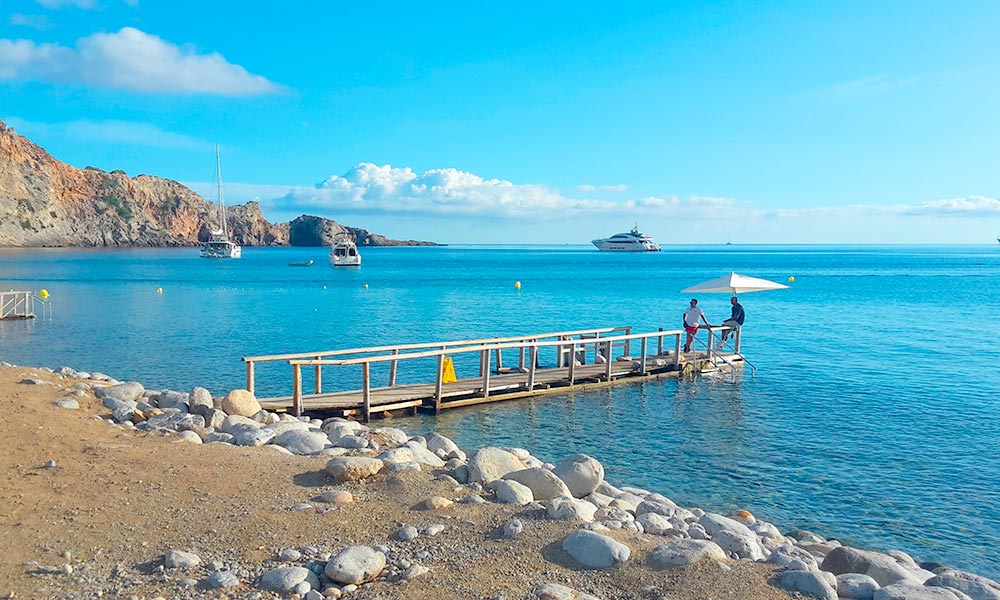 Music from day to night, VIP service, luxurious hammocks, international cuisine, cocktails, sculptural bodies and the unique landscape of Cala Jondal make up the exclusive experience of Blue Marlin Ibiza, possibly the most famous and most expensive beach club on the island.
Cala Jondal, Sant Josep de sa Talaia
Tel.: +34 971 41 01 17
Web: www.bluemarlinibiza.com
Google Maps
Sa Trinxa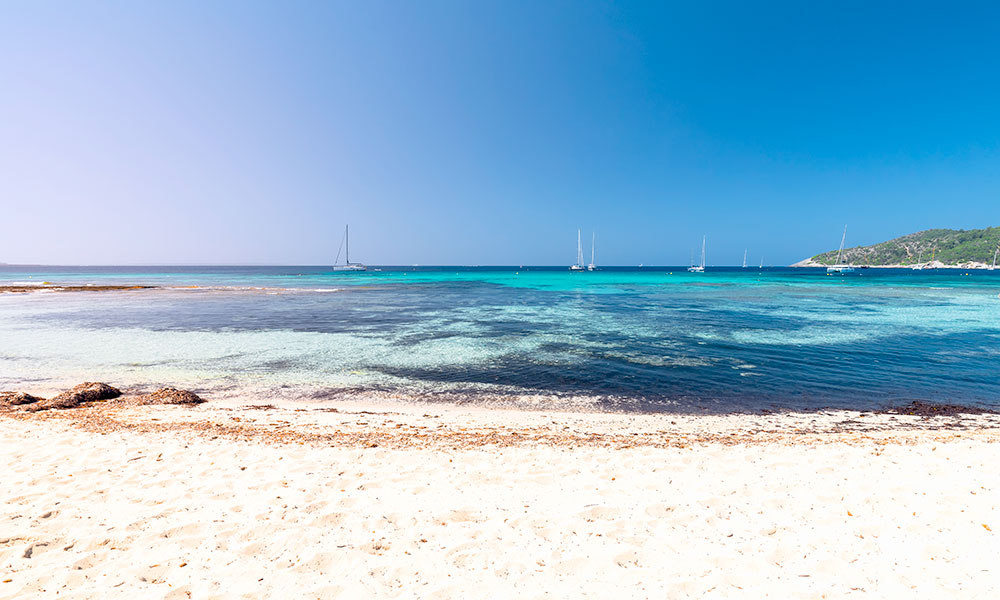 This classic venue at the northern end of Ses Salines Beach offers a casual, jovial and fun atmosphere, especially when night starts to fall. Don't expect a sophisticated beach bar, it's just a rustic refreshment stall with very good music where you will very quickly feel welcome.
Playa de Ses Salines, Sant Josep de sa Talaia
Tel.: +34 618 96 05 00
Web: www.satrinxa.com
Google Maps
Jockey Club Salinas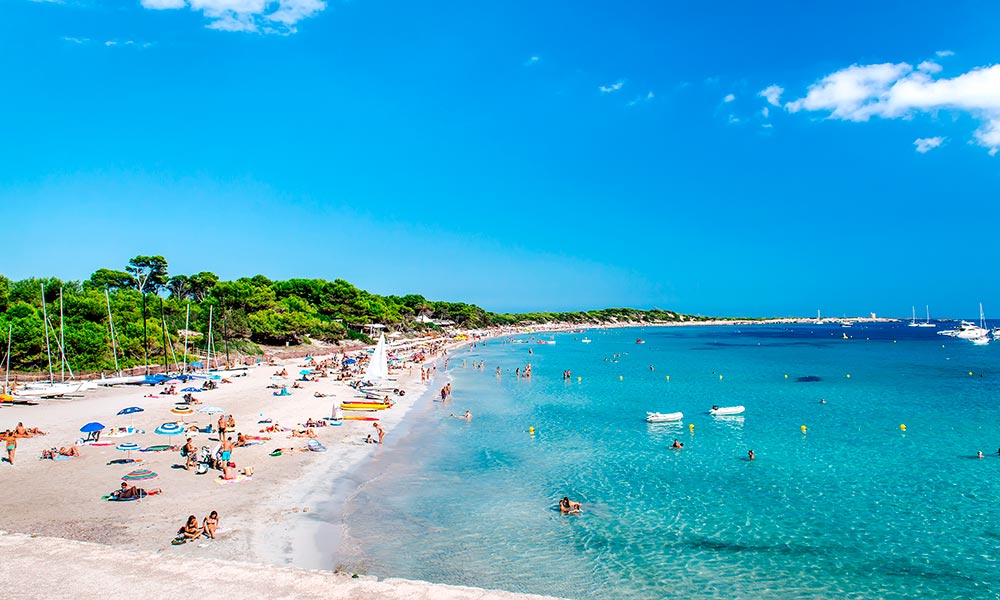 With three decades of history, it is one of the favourite beach clubs of footballers, actors and other famous people. It is located on Ses Salines Beach and stands out for its Mediterranean cuisine, its hammocks with waiter service, its good music and its cosmopolitan atmosphere. All this at one of the prettiest beaches in Ibiza.
Playa de Ses Salines, Sant Josep de sa Talaia
Tel.: +34 971 39 57 88
Web: www.jockeyclubibiza.com
Google Maps
Beachouse Ibiza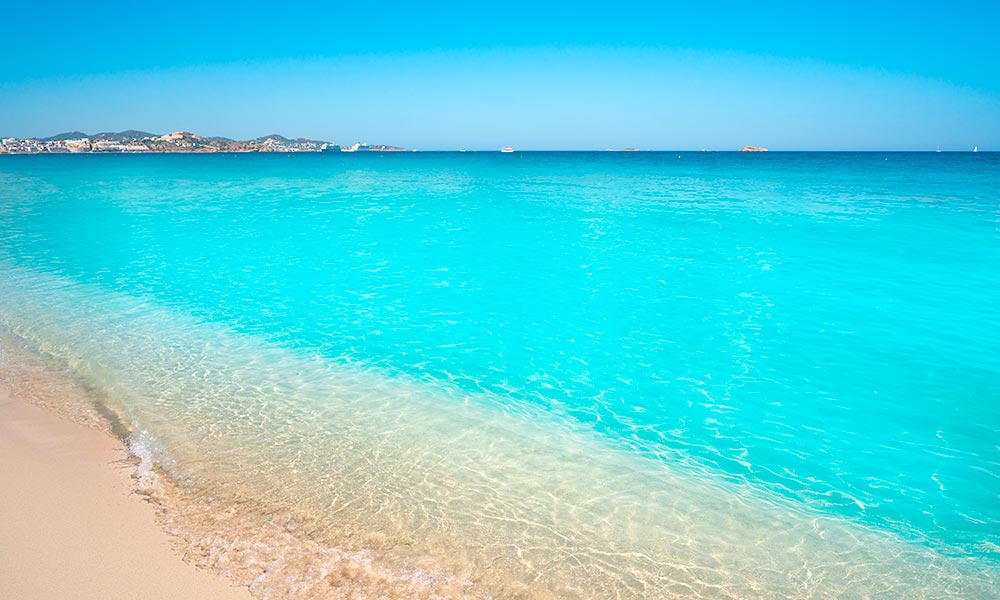 Thoughtfully prepared Mediterranean cuisine, cloakroom service, good music, exclusive Balinese beds and a vibrant nighttime atmosphere make this beach club one of the favourites at d'en Bossa Beach. Another spot to bear in mind if you are looking to indulge.
Playa d'en Bossa, Sant Josep de sa Talaia
Tel.: +34 971 39 68 58
Web: www.beachouseibiza.com
Google Maps
Amante Ibiza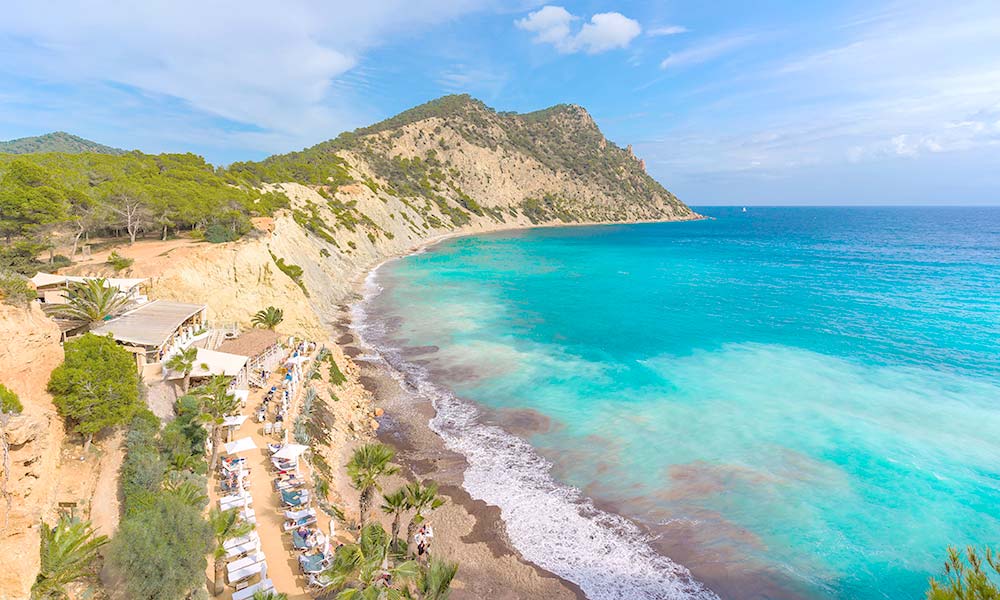 This beach restaurant situated on a cliff over a pebble cove, near to Cala Llonga on the east coast of the island, is one of those perfect corners for a holiday in Ibiza with your partner. You will find delicious Mediterranean cuisine, luxurious hammocks and a relaxed and cosmopolitan atmosphere.
Cala Sol d'en Serra, Santa Eularia des Riu
Tel.: +34 971 19 61 76
Web: www.amanteibiza.com
Google Maps
Chiringuito Blue Ibiza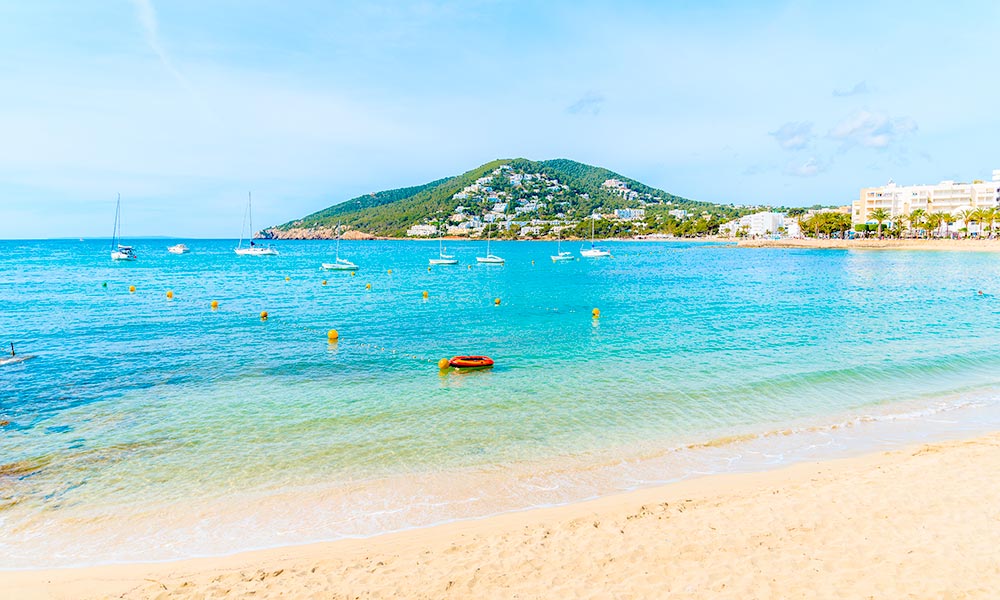 At this beach restaurant in Santa Eulalia you can enjoy a quiet day by the sea in the company of delicious cocktails, musical talent and cuisine that combines Ibizan produce with the aromas of the eastern Mediterranean shores.
Paseo Marítimo, 15, Santa Eulària des Riu
Tel.: +34 971 33 13 31
Web: www.chiringuitoblueibiza.com
Google Maps
Preparing your adult-only holiday in Ibiza?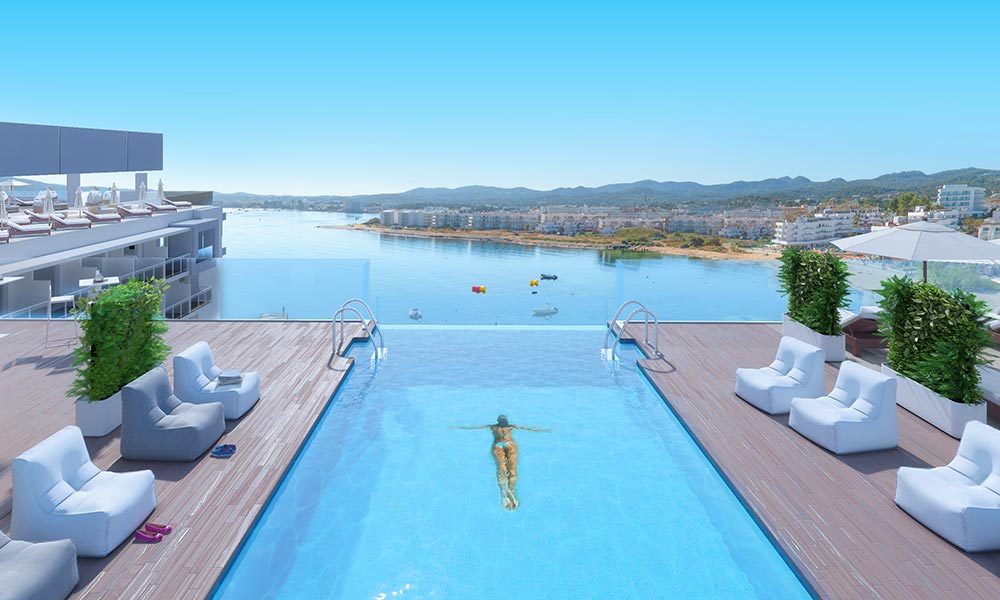 If you have been taking notes on our selection of Ibiza and San Antonio beach bars, beach restaurants and beach clubs, you will certainly be getting ready for your next holiday with your partner or friends. If this is the case and you still have not booked your stay, don't miss out on the fabulous rooms and suites of our 4-star hotel recommended for adults, located at cala de Bou in San Antonio Bay. Top-level accommodation with spa, two pools and a restaurant with a Michelin Star chef which is ideal for satisfying your more adult desires. #WhatAFeeling!
Ibiza clubs and bars: a guide to Ibiza nightlife
The best beaches and coves in San Antonio and surrounding areas
37 Things to see and do in Ibiza