Malaga Nightlife. Enjoy your night in the Costa del Sol capital
Malaga Nightlife. Enjoy your night in the Costa del Sol capital
Malaga is a city that enjoys its nightlife, not only in the Summer months, but throughout the year. There's a very active nightlife on the streets of downtown Malaga, as that's where Malaga's nightlife is experienced on every street. If you find that hard to believe, all you must do is wander into the city upon sunset. Streets and plazas are full of people moving from one bar to the other. And there is literally something for everyone in this city.
How to get there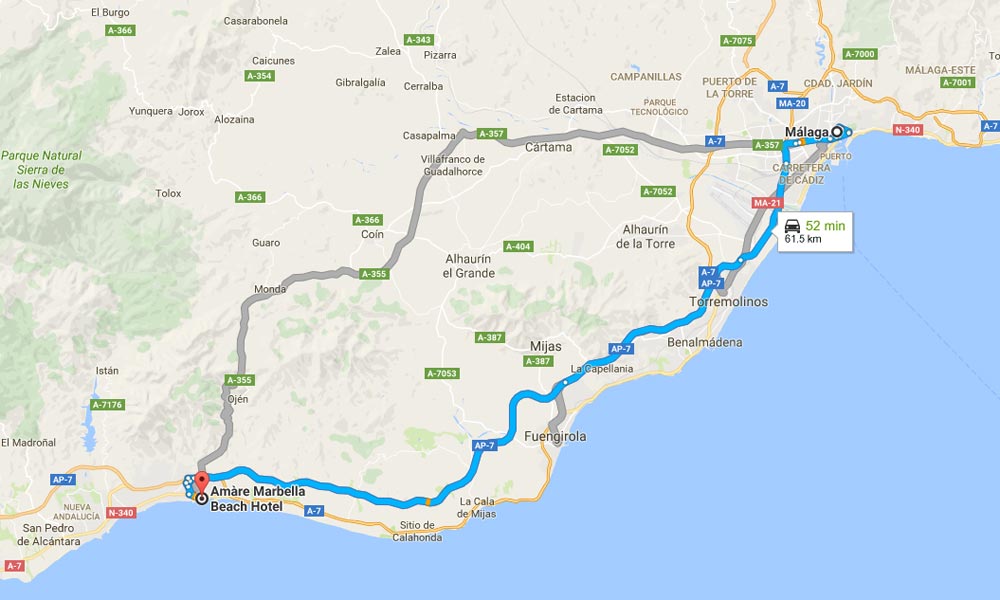 To go out partying in Malaga from Marbella, your best choice would be by taxi cab, even though it will cost you close to 60 euros. Taxis are the most advisable choice for two reasons: first, you'll be able to drink without having to worrying about driving later, and second, you won't have to worry about where to park.
Malaga's taxi services operate quite well and, if you intend to go out and about downtown, you'll have no trouble finding this service available 24-hours a day, as you'll find a taxi station on the corner of Larios street and Alameda Principal. Furthermore, if you don't feel like walking, you can call any of the following taxi services and they'll send a cab to wherever you are.
Driving directions from Amare Marbella Beach Hotel to Malaga
Where to park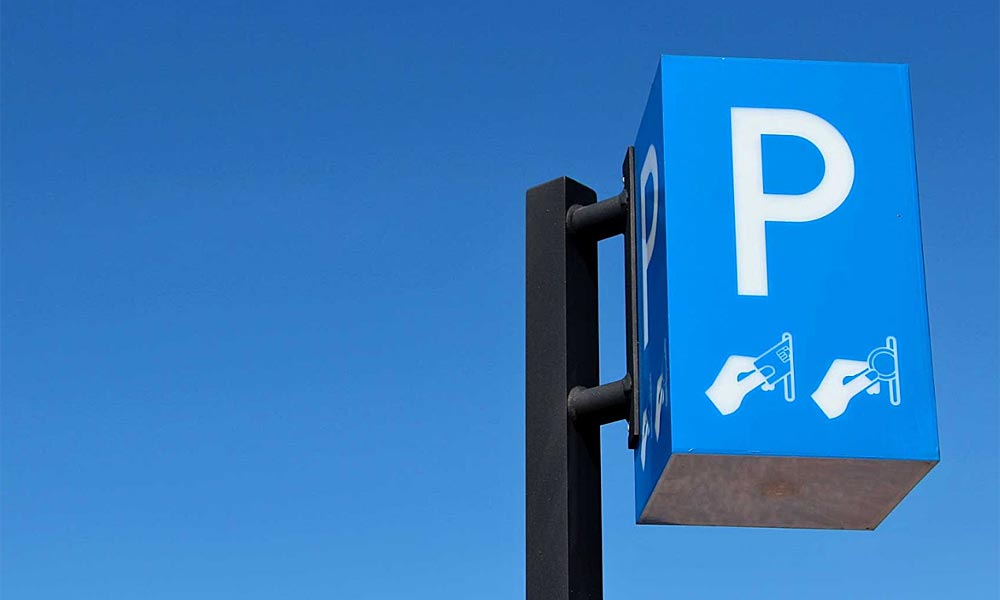 In Malaga, especially downtown, it's hard to park, so if you decide to drive your own car, we recommend using one of the many public parking lots located throughout and around downtown, as they are all open 24-hours a day.
Salitre
Address: Calle Salitre, 19, 29002 Málaga


Google Maps
Cervantes
Adderss: Calle Cervantes, 3, 29016 Málaga (Next to Plaza de Toros)


Google Maps
Av. Andalucia / Corte Ingles
Adderss: Av. de Andalucía, 6, 29007 Málaga (next to Corte Inglés)


Google Maps
Camas
Address: Calle Fernán González, 7, 29005 Málaga


Google Maps
Alcazaba
Address: Calle Muro de Sta Ana, 4, 29015 Málaga


Google Maps
Tejón
Address: Calle Tejón y Rodríguez, 9, 29008 Málaga


Google Maps
Central
Address: Plaza de la Marina, 5, 29001 Málaga


Google Maps
Where to dine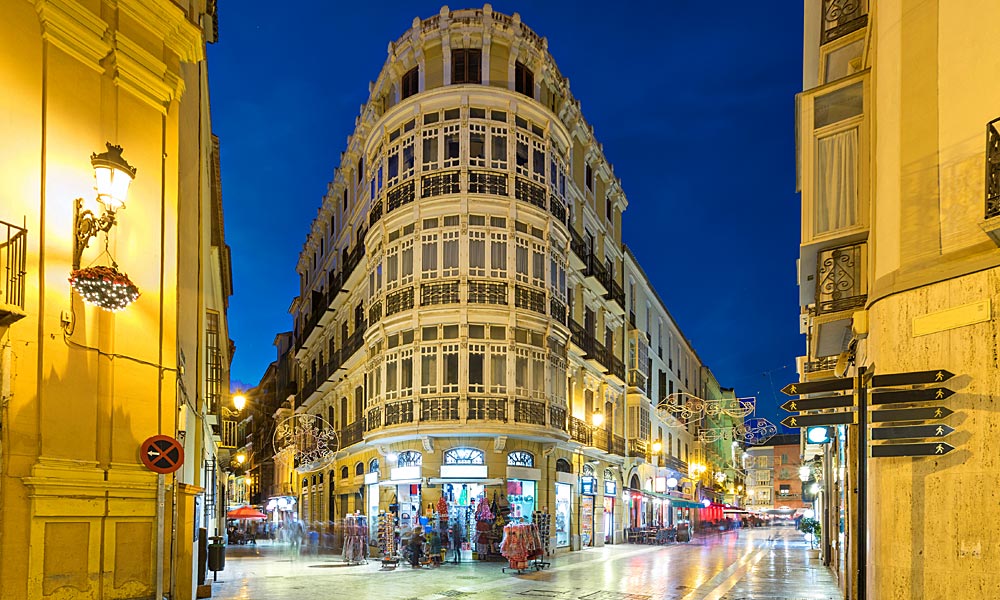 The best sites to visit in Malaga are at the city's historical centre. The ideal is to start at dusk with some tapas, before going out to enjoy the Malaga nightlife at its bars and clubs.
Azul Terraza Restaurant
This restaurant has an incredible terrace with a panoramic view of Malaga's cathedral that will surely amaze you. This must be added to the culinary offer founded on the union between Mediterranean, contemporary and Japanese cuisine. It also offers cafeteria and pub services.
Calle Marilyn Monroe, 0 S N 29004 Málaga,
Tel: +34 685 63 11 74


Google Maps
Zenart Japanese Restaurant
Zenart is a unique restaurant located downtown. Its menu has been designed to enjoy Japanese, creative and very fresh food within a unique environment, as if you choose to visit this venue, you'll enjoy spectacular views of Malaga.
Its culinary proposal is based on dishes with highly complex creations, and a vast gathering of Japanese delicatessen options.
Calle Mundo Nuevo, 4, 29012 Málaga
Tel: +34 952 06 00 79


Google Maps
Qundia Restaurant
Qundia is a small and minimalist restaurant you'll find right at the centre of Malaga. It's one of the best venues where to enjoy Malaga's haute cuisine. A true luxury for those who appreciate this kind of restaurants.
Calle San Rafael, 4, 29008 Málaga,
Tel: +34 951 100 165


Google Maps
Clubs and Bars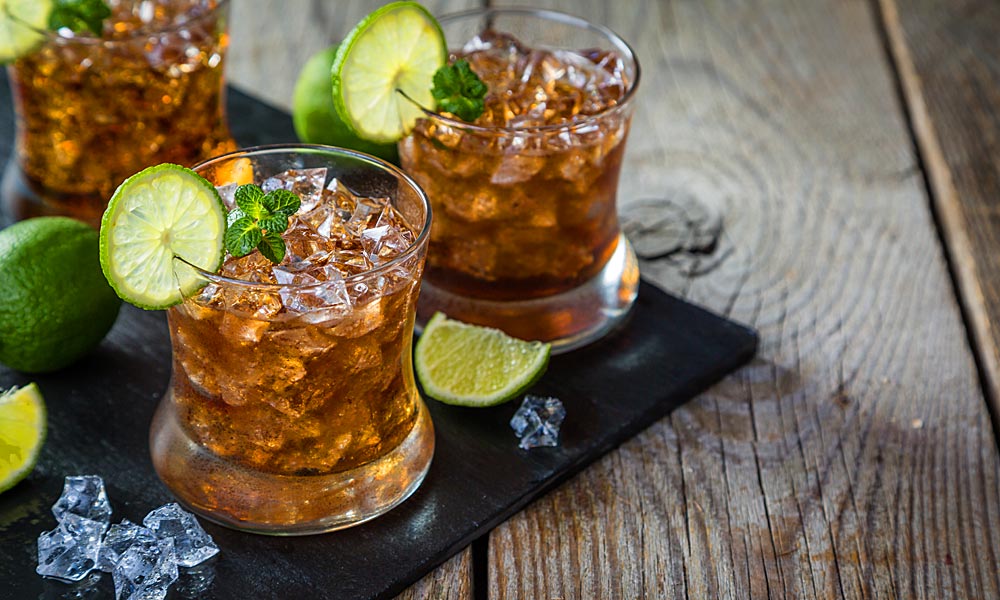 Boss Cocktail Bar
If you enjoy a dry Martini, you must visit this bar in Malaga. Enjoy a relaxed ambiance, while delighting in an expertly prepared gin & tonic and soft jazz melodies.
Calle Duque de la Victoria, 3, 29015
Tel: +34 600 00 59 19


Google Maps
Toulouse Club
Toulouse is one of the trending clubs. Beautifully decorated, it has become one of the preferred spots of Malaga in a very short time. Partly to blame is its incredible resident DJ, exclusive service, and VIP ambiance. Certainly, the perfect place for an unforgettable night out in Malaga.
Calle Echegaray, 9, 29015 Málaga
Tel: +34 637 58 15 92


Google Maps
Andén Night Club
Andén is one of the best places where to truly party in Malaga. Here you will find young people, good music and a pleasant atmosphere, making this the ideal night club where to party until dawn.
Plaza de Uncibay, 8, 29008 Málaga
Tel: +34 650 10 13 88


Google Maps
Sala Moliere
At Sala Moliere, you'll enjoy gogos, DJs, live shows, and some of the best house sessions. Furthermore, it has a spectacular VIP area plus valet parking. What more could you ask for?
Calle Horacio Quiroga, 25, 29004 Málaga
Tel: +34 652 57 38 18


Google Maps
Sala Wengé
Sala Wengé is a Malaga night club where to celebrate all types of good parties, plus concerts, fashion shows, and other live events. It has a VIP area for 25 guests, and a lighted ceiling that will leave you nothing short of amazed.
Calle Sta. Lucía, 11, 29008 Málaga
Tel: +34 670 09 87 49


Google Maps
Sala Gold
Sala Gold is an exclusive designer location where you'll enjoy the best of Malaga's leisure. This venue holds an Irish Sports Room where you can watch numerous sporting events, and try its truly vast international beers menu. Sala Gold is also the landmark for events in Malaga, as it has two video walls, 6 LED screens, and one giant screen.
Calle Luis de Velázquez, 5, 29008 Málaga
Tel: +34 670 09 87 49


Google Maps
Liceo
If you go out partying in Malaga, we suggest you have at least one drink at this location. Liceo is a 19th century palace located right in the heart of Malaga. It's the most iconic venue in the 'boquerona' night. It has two floors with different music each, a cocktail bar, three dance halls, laser beams, hidden RGB LED decorative lighting, five backlight bars, a dance floor, a stage, VIP areas, and a 450-people capacity.
Calle Beatas, 21, 29008 Málaga
Tel: +34 686 93 68 04


Google Maps
Theatro Club
Culture, leisure and shows is what you'll find at this night club. It stands out for the support it offers to all local artists, newcomers as well as renowned. It also has highly varied programs, ranging from monologues to concerts; which added to its excellent location, provide a truly festive location.
Calle Lazcano, 5, 29008 Málaga
Tel: +34 670 09 87 49


Google Maps
Related articles
Malaga, a great city: 11 places that make it the cultural capital of the Costa del Sol