Marbella and Ibiza Blog
Amàre Beach Hotels
Malaga Nightlife. Enjoy your night in the Costa del Sol capital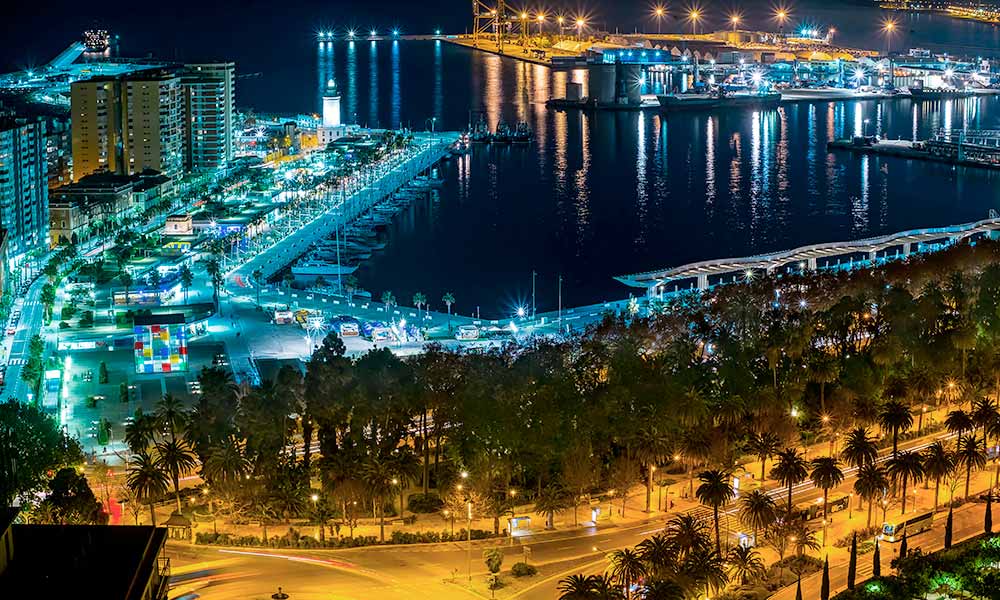 Malaga Nightlife. Enjoy your night in the Costa del Sol capital
Malaga is a city that likes enjoying its nightlife, not only in the summer months, but year round. So, if you are wondering where to go out in Malaga, we have to tell you that the provincial capital's nightlife is very active on the streets of the centre, since this is where most of the bars and nightclubs in Malaga are concentrated. If you are not convinced, all you have to do is go to the heart of the city when the sun goes down.
Whether you are looking for somewhere to have a tapa, dinner or go clubbing in Málaga centre or just go out at night, this city has all you need.
How to get there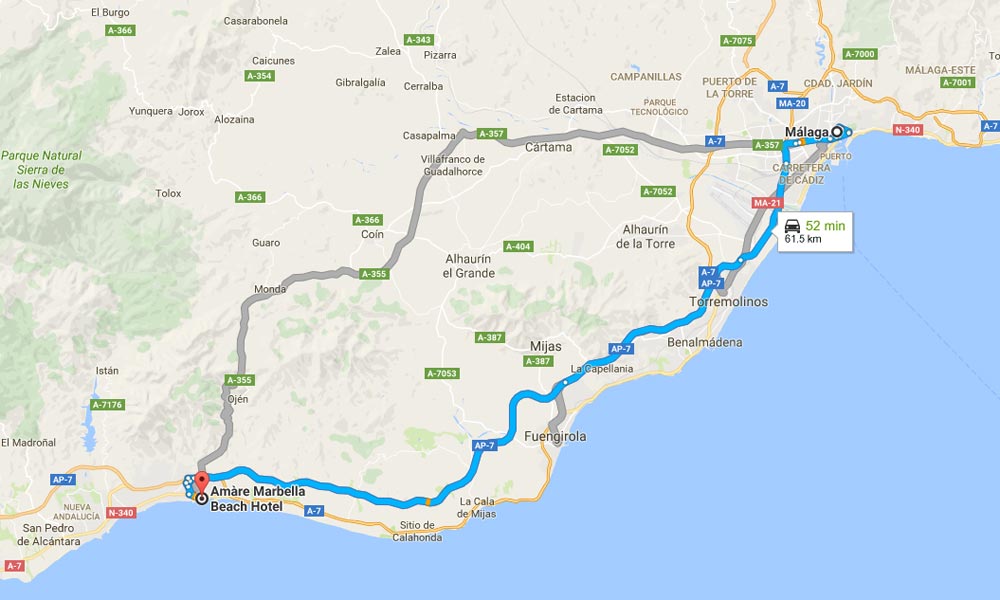 To go out partying in Malaga from Marbella, your best choice would be by taxi cab, even though it will cost you close to 60 euros. Taxis are the most advisable choice for two reasons: first, you'll be able to drink without having to worrying about driving later, and second, you won't have to worry about where to park.
Malaga's taxi services operate quite well and, if you intend to go out and about downtown, you'll have no trouble finding this service available 24-hours a day, as you'll find a taxi station on the corner of Larios street and Alameda Principal. Furthermore, if you don't feel like walking, you can call any of the following taxi services and they'll send a cab to wherever you are.
Driving directions from Amare Marbella Beach Hotel to Malaga
Where to park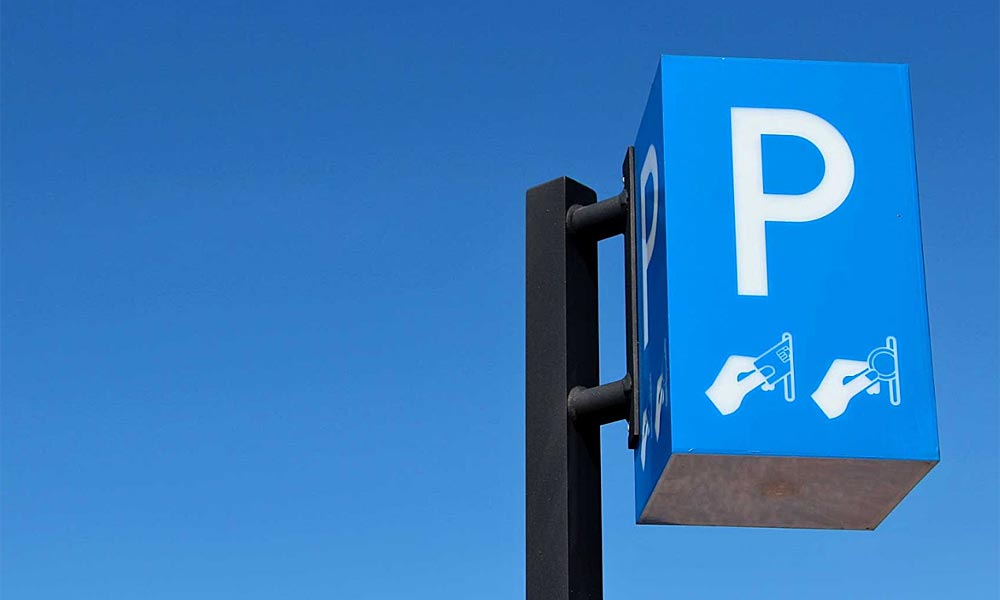 In Malaga, especially downtown, it's hard to park, so if you decide to drive your own car, we recommend using one of the many public parking lots located throughout and around downtown, as they are all open 24-hours a day.
Salitre
Address: Calle Salitre, 19, 29002 Málaga


Google Maps
Cervantes
Adderss: Calle Cervantes, 3, 29016 Málaga (Next to Plaza de Toros)


Google Maps
Av. Andalucia / Corte Ingles
Adderss: Av. de Andalucía, 6, 29007 Málaga (next to Corte Inglés)


Google Maps
Camas
Address: Calle Fernán González, 7, 29005 Málaga


Google Maps
Alcazaba
Address: Calle Muro de Sta Ana, 4, 29015 Málaga


Google Maps
Tejón
Address: Calle Tejón y Rodríguez, 9, 29008 Málaga


Google Maps
Central
Address: Plaza de la Marina, 5, 29001 Málaga


Google Maps
The best places to go out in Malaga are located in the city centre. Ideally, start at dusk with some tapas, before going to enjoy Malaga's nightlife in pubs and discos.
Where to have tapas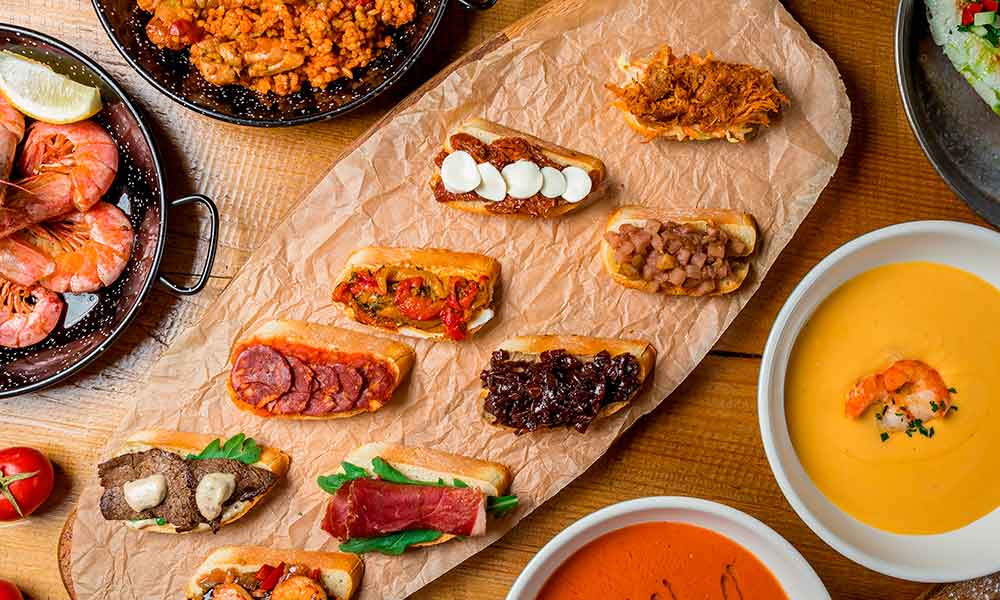 Taberna La Tranca
At La Tranca, vermouth or beer is what patrons drink to accompany tapas such as chori-torti, delicious avocado-topped toasts, meatballs, crayfish tapa, Argentine patties or broad beans with ham… An extensive menu of tapas that though traditional and somewhat simple, are actually very well made. Indeed, simple well-made food is twice as delicious.
Calle Carretería, 92, 29008 Málaga
Tel: +34 615 02 96 69


Google Maps
Casa de Botes
Casa de Botes is one of the Malagan places that no Malagan would recommended and is one of the city's best kept secrets so that it is not descended upon by tourists. So keep it to yourself! If you decide to visit this charming place located in the Soho district of Malaga, be sure to order its magnificent gazpachuelo.
Calle Casas de Campos, 23, 29001 Málaga
Tel: +34 687 81 44 22


Google Maps
Where to dine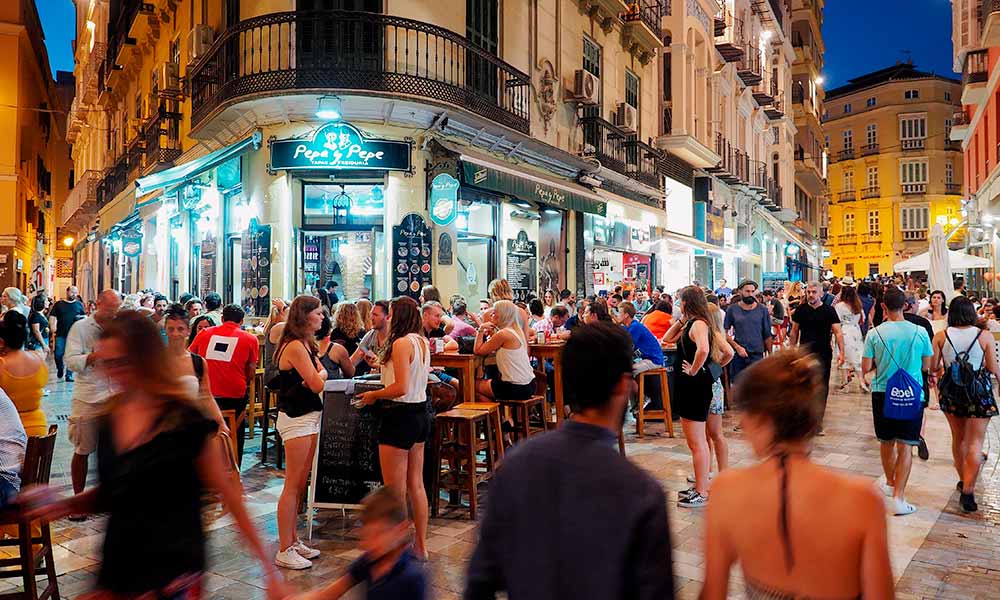 La Bahia
At Vinoteca La Bahía you will find a wide range of culinary proposals, from the most traditional to the most cutting-edge and innovative. This restaurant is located in the heart of the centre of La Malagueta. Its chef will delight you with his pea salad with razor clams and black pudding, cockles and top quality meats, or his excellent selection of national wines. What are you waiting for?
Calle Fernando Camino, 15, 29016 Málaga
Tel: +34 951 00 54 84


Google Maps
L'atelier Clandestino Gourmet
Clandestino is the ideal restaurant to enjoy a magnificent gastronomic proposal with both Mediterranean and international dishes. One example of this is its Quercy salad, its delicious Tijuana tacos, the fresh salmon loin, its fantastic black rice with crayfish or tuna tataki. And to end with an even sweeter taste on the palate, we recommend you order the dark and orange Cointreau tiramisu. Delicious!
Calle Niño de Guevara, 3, 29008 Málaga
Tel: +34 951 15 23 91


Google Maps
Vino Mío
Located at the foot of the Cervantes Theatre, Vino Mío is a cosy restaurant with an exquisite kitchen which stands out for its fabulous meats, only here you can try meat as exotic as kangaroo meat. This restaurant is also a venue dedicated to art, since you can enjoy live flamenco shows.
Plaza de Jerónimo Cuervo, 2, 29012 Málaga
Tel: +34 952 60 90 93


Google Maps
Clubs and Bars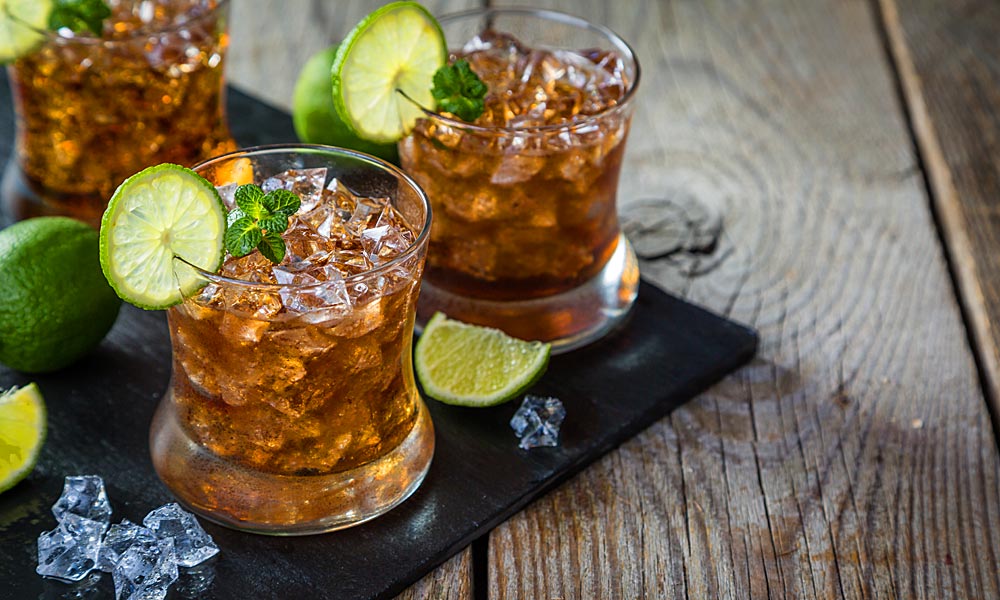 Malafama
This is a very famous club, where entertainment is more than guaranteed. Enjoy a fun setting while you sip a gin and tonic prepared by experts and enjoy the best music and its exclusive service. Ultimately, the perfect place for an unforgettable night out in Malaga.
Pje. Mitjana, 1, 29008 Málaga
Tel: +34 652 79 50 60


Google Maps
Andén Night Club
Andén is one of the best places where to truly party in Malaga. Here you will find young people, good music and a pleasant atmosphere, making this the ideal night club where to party until dawn.
Plaza de Uncibay, 8, 29008 Málaga
Tel: +34 650 10 13 88


Google Maps
Sala Moliere
At Sala Moliere, you'll enjoy gogos, DJs, live shows, and some of the best house sessions. Furthermore, it has a spectacular VIP area plus valet parking. What more could you ask for?
Calle Horacio Quiroga, 25, 29004 Málaga
Tel: +34 652 57 38 18


Google Maps
Sala Wengé
Sala Wengé is a Malaga night club where to celebrate all types of good parties, plus concerts, fashion shows, and other live events. It has a VIP area for 25 guests, and a lighted ceiling that will leave you nothing short of amazed.
Calle Sta. Lucía, 11, 29008 Málaga
Tel: +34 670 09 87 49


Google Maps
Sala Gold
Sala Gold is an exclusive designer location where you'll enjoy the best of Malaga's leisure. This venue holds an Irish Sports Room where you can watch numerous sporting events, and try its truly vast international beers menu. Sala Gold is also the landmark for events in Malaga, as it has two video walls, 6 LED screens, and one giant screen.
Calle Luis de Velázquez, 5, 29008 Málaga
Tel: +34 670 09 87 49


Google Maps
Liceo
If you go out partying in Malaga, we suggest you have at least one drink at this location. Liceo is a 19th century palace located right in the heart of Malaga. It's the most iconic venue in the 'boquerona' night. It has two floors with different music each, a cocktail bar, three dance halls, laser beams, hidden RGB LED decorative lighting, five backlight bars, a dance floor, a stage, VIP areas, and a 450-people capacity.
Calle Beatas, 21, 29008 Málaga
Tel: +34 686 93 68 04


Google Maps
Theatro Club
Culture, leisure and shows is what you'll find at this night club. It stands out for the support it offers to all local artists, newcomers as well as renowned. It also has highly varied programs, ranging from monologues to concerts; which added to its excellent location, provide a truly festive location.
Calle Lazcano, 5, 29008 Málaga
Tel: +34 670 09 87 49


Google Maps
The theatres and cinemas in Malaga you must visit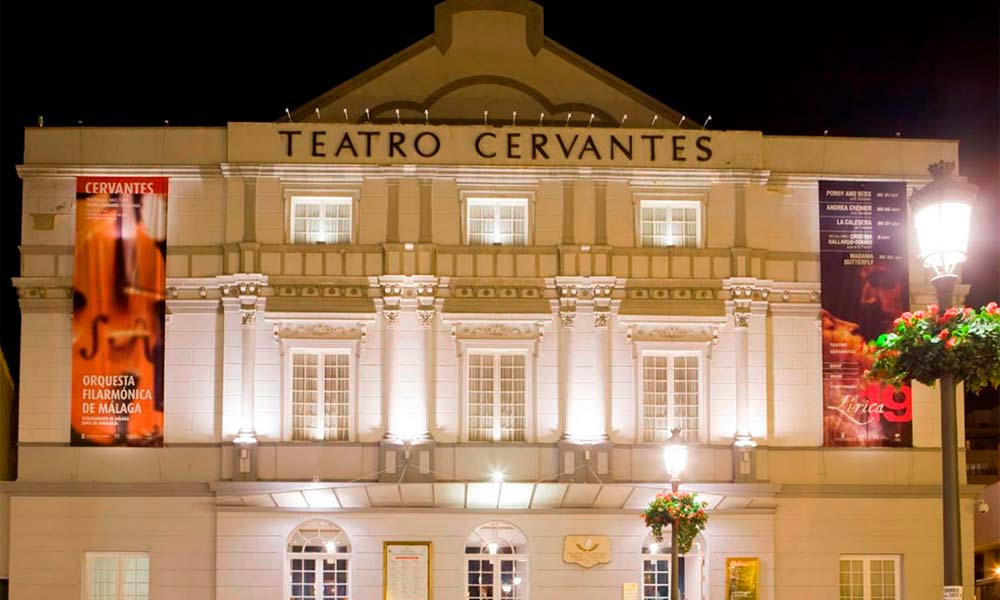 Miguel de Cervantes Municipal Theatre
Cervantes Theatre is one of the main theatres in Malaga. In addition to being the oldest performance space in the capital, it is also the main headquarters of the famous Malaga Festival. At this theatre you can enjoy the performance genres of singing, music, theatre and dance, in turn split into a multitude of variants.
Calle Ramos Marín, 1, 29012 Málaga
Tel: +34 952 22 41 09


Google Maps
Echegaray Theatre
Echegaray Theatre is a performance space owned by Malaga Town Hall that is managed by Cervantes Theatre. It was built in 1932 and renovated in 2009 as a multi-disciplinary room with capacity for dance, theatre and music shows, among others.
Calle Echegaray, 6, 29015 Málaga
Tel: +34 952 22 41 09


Google Maps
Cánovas Theatre
Cánovas Theatre is located on the hill of El Ejido and was opened in 1991. Since 2005 it has been managed by the Autonomous Government of Andalusia.
Plaza del Ejido, 5, 29013 Málaga
Tel: +34 951 30 89 02


Google Maps
Soho Theatre
Since its foundation in the early 1960s, Soho Theatre has aimed to be a company committed to Malagan society. Our vocation is understood from a double perspective: cultural and social, from which we seek to do our bit to ultimately foster a better Malaga.
Calle Córdoba, 13, 29001 Málaga
Tel: +34 952 22 95 29


Google Maps
Yelmo Plaza Mayor and Yelmo Cines Vialia Malaga
Yelmo Plaza Mayor offers its clients 3D technology and UHD screens, and adapts to people with functional diversity. In Malaga there are three different buildings. Conversely, Vialia has 13 screens and is one of the most innovative complexes.
Yelmo Cines Plaza Mayor
Plaza Mayor, Calle Alfonso Ponce de León, 3, 2, 29004 Málaga
Tel: +34 902 22 09 22


Google Maps
Yelmo Cines Vialia
C.C. Vialia, Calle Explanada de la Estación, s/n, 29002 Málaga
Tel: +34 902 22 09 22


Google Maps
Cinesur Málaga Nostrum
The Málaga Nostrum leisure centre offers activities ranging from digital films and plays to sports events. It also has facilities where you can enjoy games rooms, karts and restaurants.
Calle Jaén, 1, 29004 Málaga
Tel: +34 952 17 63 18


Google Maps
Albéniz Multicines
Albéniz Multicines offers both commercial films from all over the world and films that are considered more auteur, in addition to having a film festival and club. With 3D technology and a special service for people with functional diversity.
Calle Alcazabilla, 4, 29015 Málaga
Tel: +34 951 57 11 15


Google Maps
Multicines Rosaleda
This large cinema tucked away inside a shopping centre has 14 screens, some with 3D technology.
Av. Simón Bolívar, s/n, 29011 Málaga
Tel: +34 952 39 47 08


Google Maps
Related articles
Malaga, a great city: 11 places that make it the cultural capital of the Costa del Sol
Guide to enjoy and experience the Málaga fair (feria de Málaga)
Málaga, the jewel to discover by wine lovers
5 white wines from Málaga that cure the soul and bring joy to the heart