Marbella and Ibiza Blog
Amàre Beach Hotels
Jump from the hammock! Water sports and beach activities in Ibiza
Jump from the hammock! Water sports and beach activities in Ibiza
We know that the hammock of the pool is the best, but beyond the hotel there are numerous water sports and beach activities in Ibiza. Put down your mobile, stop giving hearts to what others do and make the most of the most animated island in the Mediterranean. Because the most active holidays in Ibiza, the more you enjoy yourself. It's summer, do you feel it?
Is Ibiza a good destination for water sports?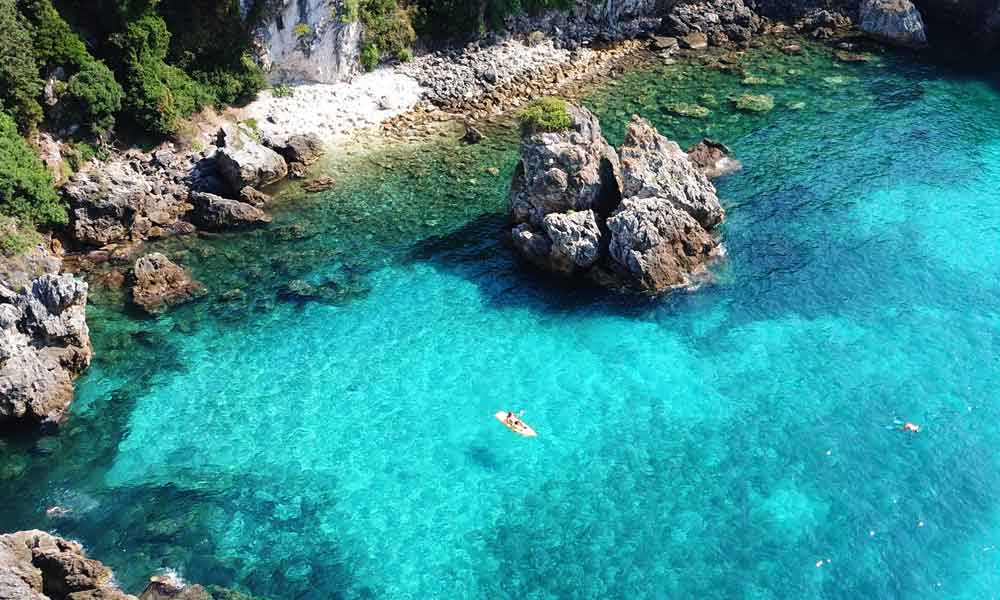 The pleasant temperatures of Ibiza make it an ideal destination for water sports and baeach activities throughout the summer, including the months of May and October. The average sea temperature reaches 20 º in May, 22 º in June and October, 25 º in July and September, and 26 º in August.
These pleasant temperatures favour water sports in Ibiza, especially in the Bay of San Antonio, which is sheltered from the easterly winds, which are the predominant during this season. And if we add to this the transparency and safety of its beaches and coves, we already have enough reasons to get up from the towel and put a little water action on our vacations on Isla Blanca.
The San Antonio Bay: the best base for water activities in Ibiza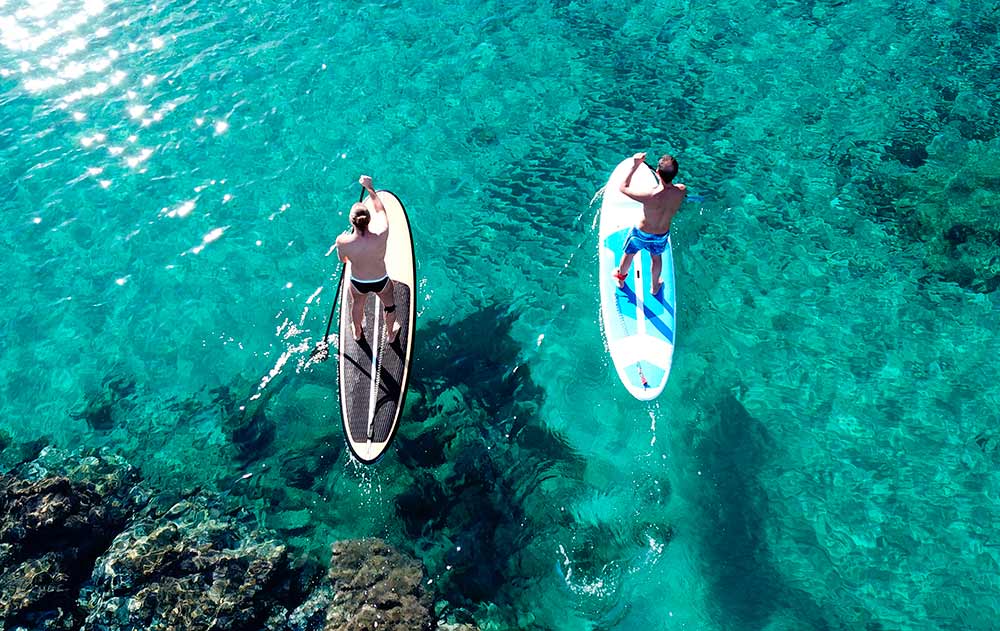 When the Romans arrived in Ibiza they baptized San Antonio Bay as Portus Magnus due to its size and its importance as a strategic enclave. Today, the bay is still one of the biggest attractions of San Antonio for its wide range of water sports and beach activities, which includes proposals for both calm travellers and those seeking high doses of adrenaline.
What water sports can you enjoy in Sant Antoni de Portmany?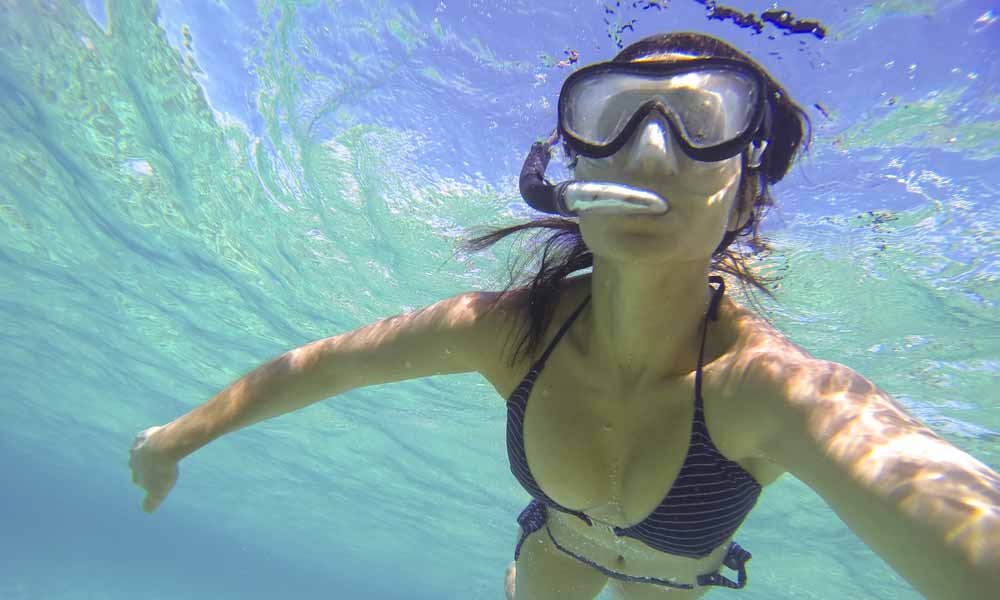 In the bay of San Antonio you will find so many aquatic and nautical offers that you will surely not miss the activities that best suit your tastes and interests. Below, we show you a selection of the most interesting proposals.
Paddle surf
A perfect sport to practice in the surroundings of Caló des Moro, Cala Gració, Cala Bassa, Port des Torrent and the bay of San Antonio.
Diving
The waters of Ibiza are excellent for diving, since the luminosity of its waters allows a visibility that reaches 40 meters. In addition, the sea temperature oscillates between 18 and 26 degrees, so the 5 mm neoprene is enough for the summer season.
Kayak
Kayaking enthusiasts find various routes around Amáre Ibiza and on the west coast of the island to practice this sport, such as the Cala Salada – Ses Balandres route. You can check all the itineraries catalogued by Ibiza Tourism in Ibiza.travel.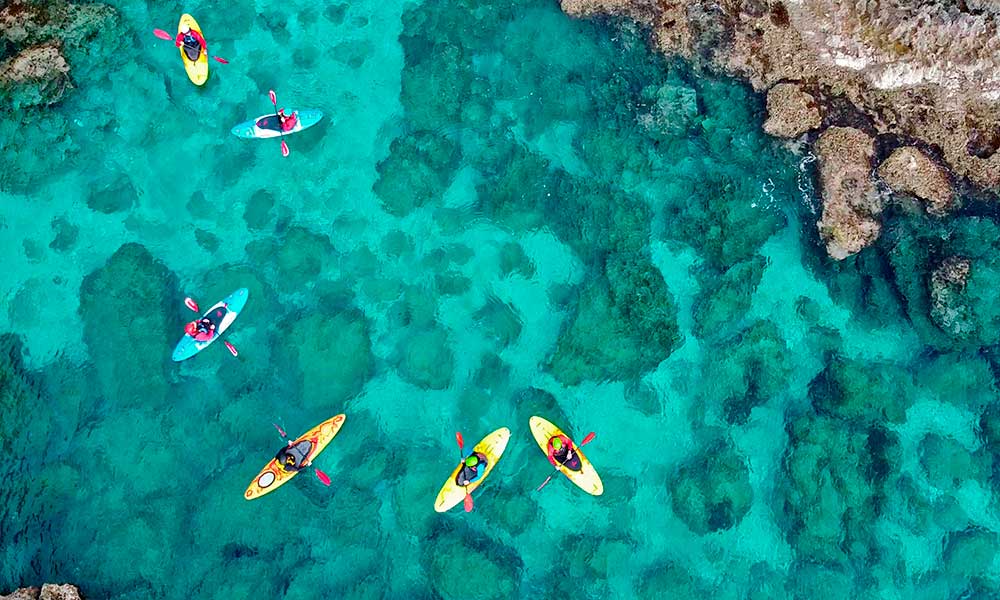 Seabob
This aquatic activity is perfect for adrenaline junkies: hold on to your handlebars, lie down and get ready to put on speed. You will feel the fastest fish in the world. You can rent this addictive water vehicle at the company Take Off Ibiza, also located in the bay of San Antonio.
Flyboard
Climb onto a snowboard-type board with two powerful jet jets and get ready to literally fly over the water. Does not require physical strength, although balance and self-confidence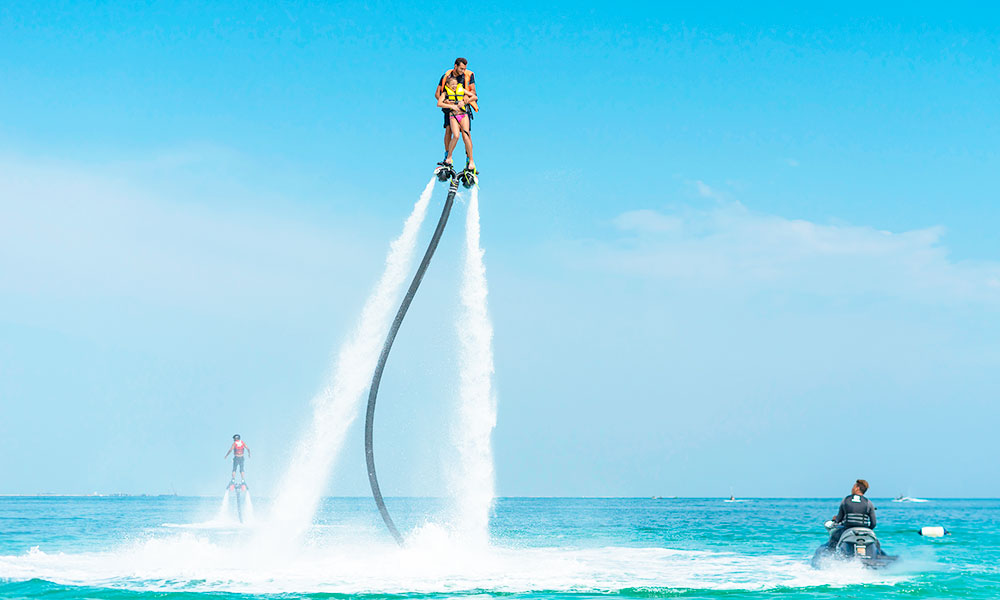 Surf
The Bay of San Antonio is interesting for windsurfing in the windy days of winter, but in summer you can surf thanks to the only continuous artificial wave of Ibiza, which is located in Surf Lounge, on the same promenade of San Antonio a very fun plan to go with friends, don't you think?
Boat trips
You can explore the west coast of Ibiza even if you do not have a master's degree thanks to the unlicensed boats and catamarans that you will find available for hire at the pontoons of the port of San Antonio. Motonáutica Ibiza  and Ibiza Winds  are some of the companies that offer this service….
And much more: balloon rides at dusk over the bay, jet ski, tube diving, water bike, jet boards, jet boat, parasailing … If you like emotions, you will have days to enjoy them all!
What companies offer water activities in San Antonio Bay?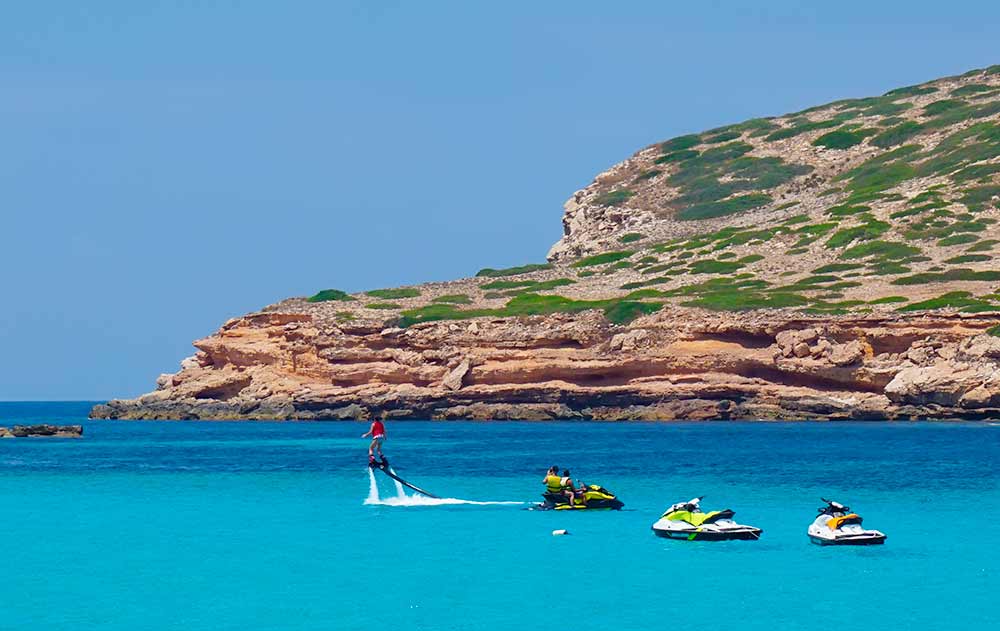 And after the action … relax at Amàre Hotel Ibiza!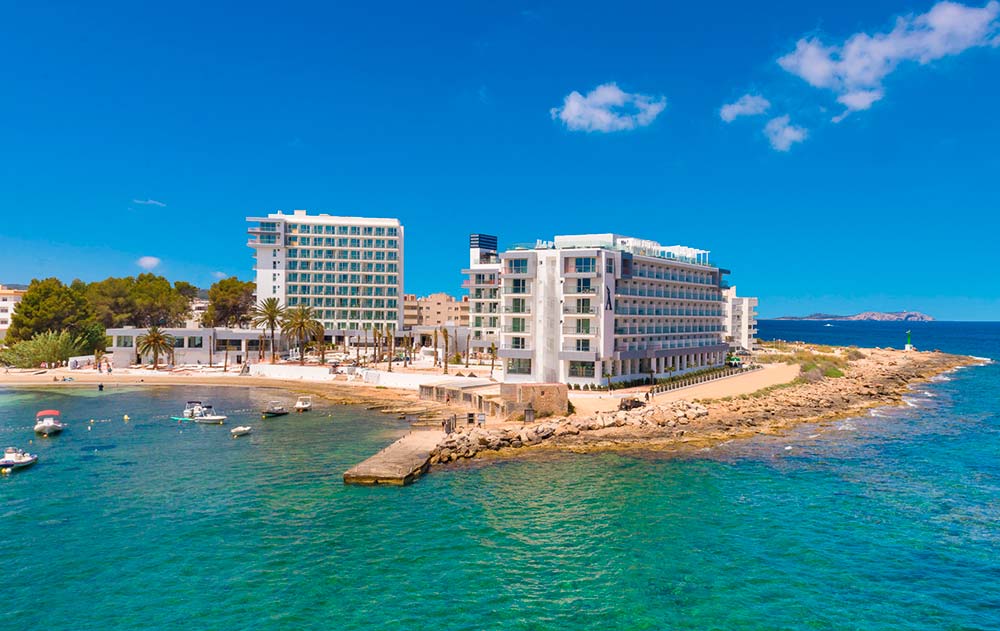 Did you have fun? Well then you have to end the day in a big way. For this we propose a relaxing massage in our Wellness by Germaine de Capuccini, a drink watching sunset at Belvue Rooftop Bar or an exquisite dinner at Hayaca, the new restaurant in Ibiza by Chef Mauricio Giovanni, who treasures a Michelin star for his restaurant Messina. Difficult choice, don't you think? #WhatAFeeling!
Ibiza clubs and bars: a guide to Ibiza nightlife
The best beaches and coves in Ibiza
37 Things to see and do in Ibiza
The 10 best beach clubs in San Antonio and surroundings