Marbella and Ibiza Blog
Amàre Beach Hotels
Activities and water sports in Ibiza: get off the hammock!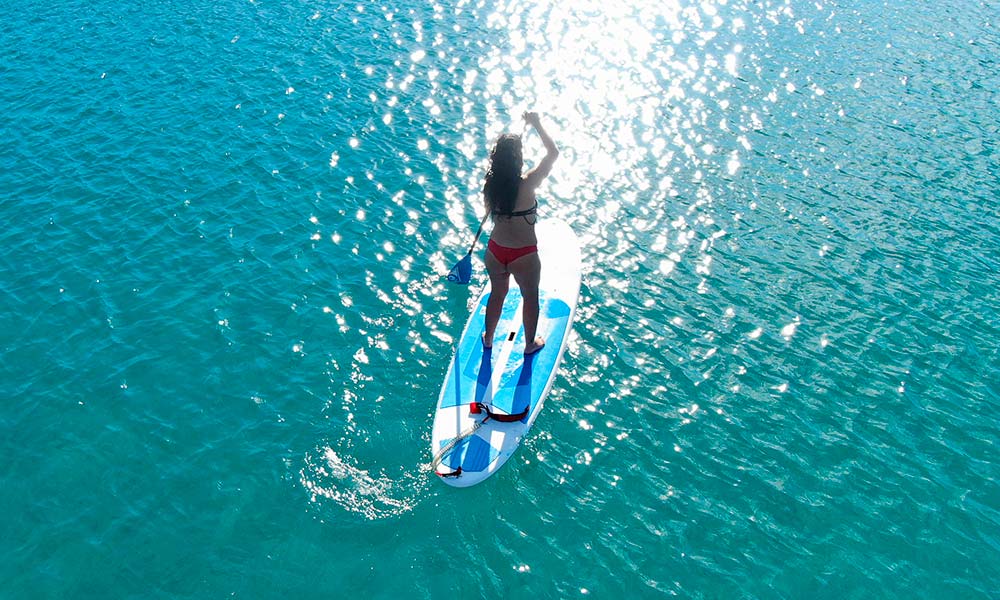 Activities and water sports in Ibiza: get off the hammock!
We know that lying on a hammock by the pool is addictive, but beyond the hotel, numerous water sports in Ibiza that you can do on your holiday await. Put your mobile away, stop liking what others are doing on social media and make the most of the most exciting island in the Mediterranean. Because when it comes to holidays in Ibiza, the more active they are, the more you enjoy them. It's summer, do you feel it?
It's not that we don't want you to relax as you sunbathe by our pools, but there's time for everything, isn't there? Especially if we consider that in Ibiza, and particularly around San Antonio Bay, you will find a wide range of sports activities for all tastes. In fact, you can choose from the most exciting water sports for adrenalin addicts to relaxing activities perfect for all profiles. Furthermore and thanks to the fact that companies specialising in water sports in Ibiza offer many activities, it is very easy to learn a new activity with an instructor, sign up for an intensive course, join group activities or do your favourite sport even if you don't have your gear with you.
Must-do water activities in Ibiza include kayaking, paddle boarding, snorkelling and boat trips, since they allow you to do sport while enjoying the beauty and singularity of the beaches and coves of Ibiza, as well as the secret corners of the coast which can only be accessed in this way. So, don't forget to include them in your Ibiza holiday checklist. Now that's been said …: let's get off the hammock!
Is Ibiza a good destination for doing activities in the sea?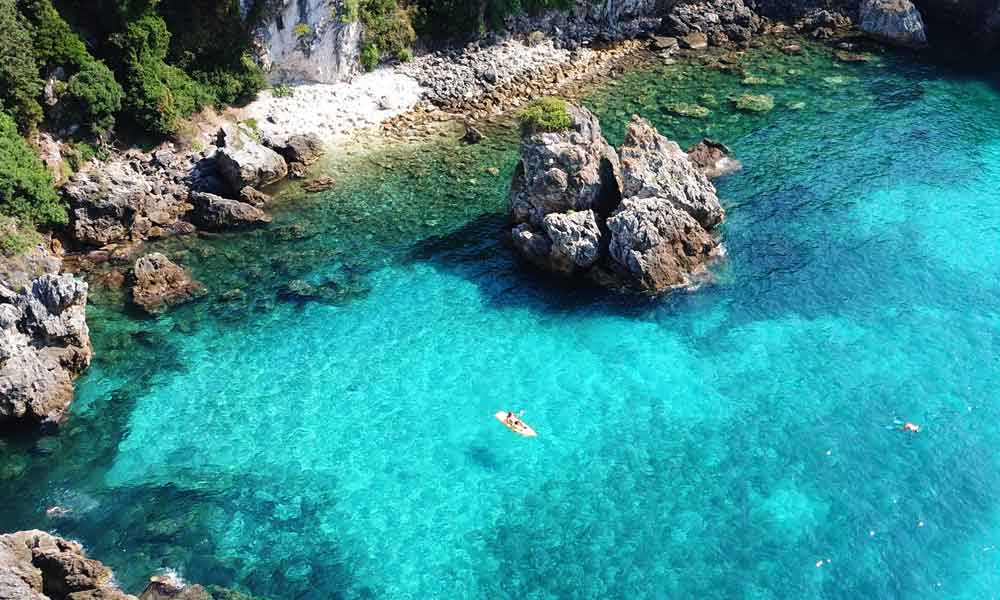 Ibiza's pleasant temperatures make it an ideal destination for doing water and sailing sports all summer long, including May and October. The average sea temperature reaches 20ºC in May, 22ºC in June and October, 25ºC in July and September, and 26ºC in August.
And if we add to this the clear waters and safety of its beaches and coves, we already have enough reasons to get up off our towel and add a little water action to our holiday on the White Island. Considering all this, there is no doubt that it will be very easy to enjoy all the water action you want on your holiday.
The bay and water sports in Sant Antoni de Portmany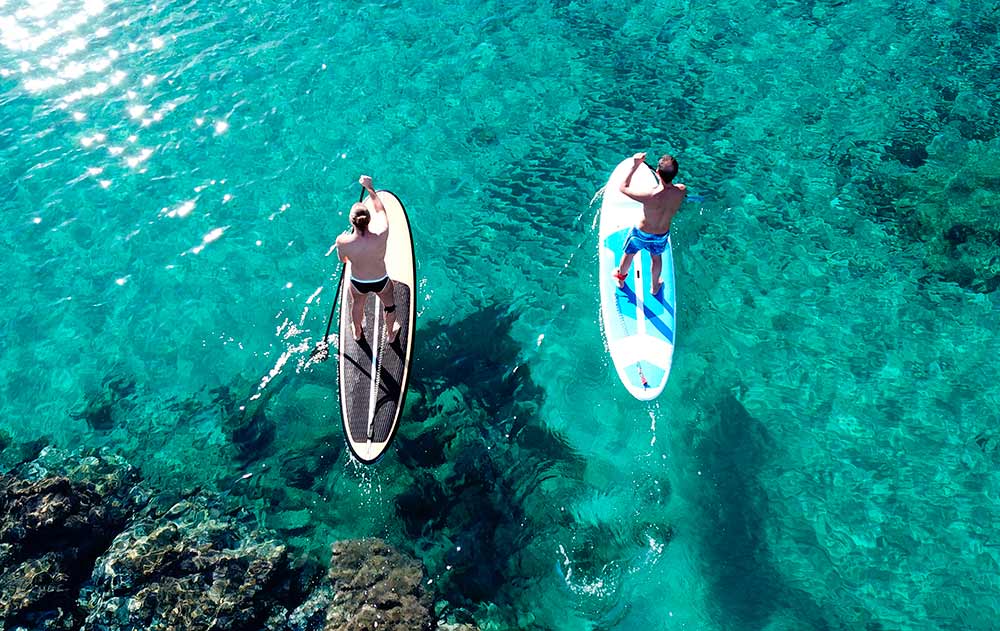 The best place to do sailing and water sports in Ibiza is San Antonio Bay, which in the 2nd century BC was valued by the Romans for its size, security and protection. Portus Magnus Bay, as it was christened them, stands out for being protected from the easterly winds that dominate in summer. This makes it the ideal destination for travellers wishing to do a water activity for the first time that needs a little expertise, like paddle boarding, or those wishing to learn windsurfing.
But in addition to enjoying any water sport that can be done in Ibiza, at San Antonio Bay you can also do boat trips along the west coast of Ibiza, private tours or visit the coves on board the boats that offer regular trips in summer. You can also sail by yourself around the bay in a small catamaran without needing a license (those that do not require a skipper) thanks to the rental companies you will find in San Antonio Bay and Marina.
All the water sports you can do in Ibiza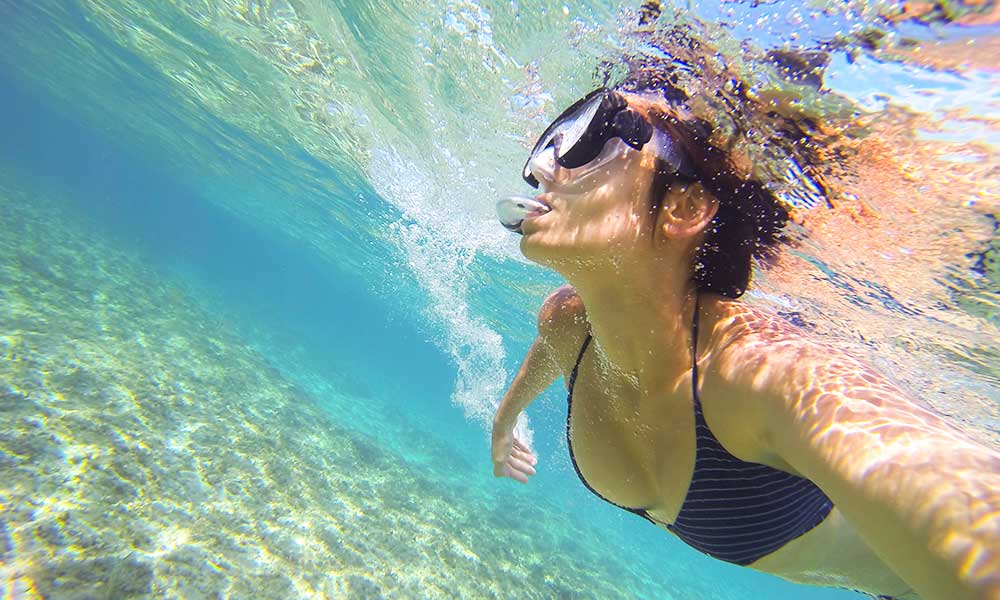 Paddle boarding
A perfect sport to do in many coves in Ibiza, such as Cala Llonga, Cala Gració and Cala Gracioneta, Cala Bassa, Port des Torrent, Cala Tarida, Cala Vedella, Playa des Figueral and Portinatx, among other beaches.
Scuba diving
Ibiza's waters are excellent for scuba diving, since the luminosity of its waters allows visibility of up to 130 feet. Furthermore, the sea temperature fluctuates between 18 and 26 degrees, so 5 mm neoprene is enough for the summer season.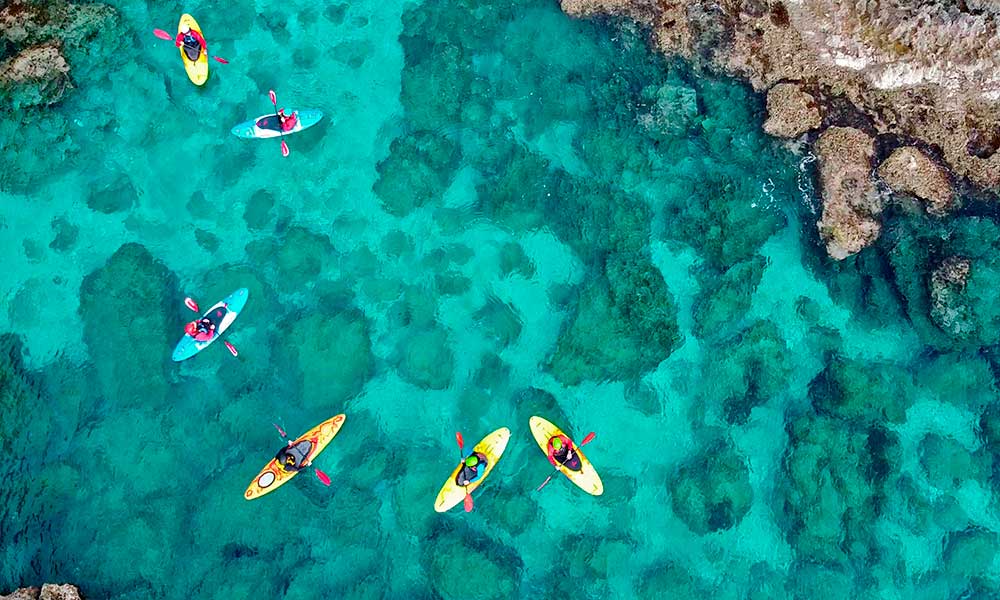 Kayaking
Kayaking lovers will find in the vicinity of Amàre Ibiza and on the west coast of the island different routes for this sport, such as the Cala Salada route – Ses Balandres. But there are many more routes across the entire island and for all levels of experience. You can find the most attractive route for you in the itineraries catalogued by Ibiza Tourism on Ibiza.travel.
Seabobbing
This water activity is perfect for adrenaline addicts: hold onto its handlebar, lie down and get ready to speed off. You'll feel like the fastest fish in the world. You can rent this addictive water sports craft at the company Take Off Ibiza, also located in San Antonio Bay.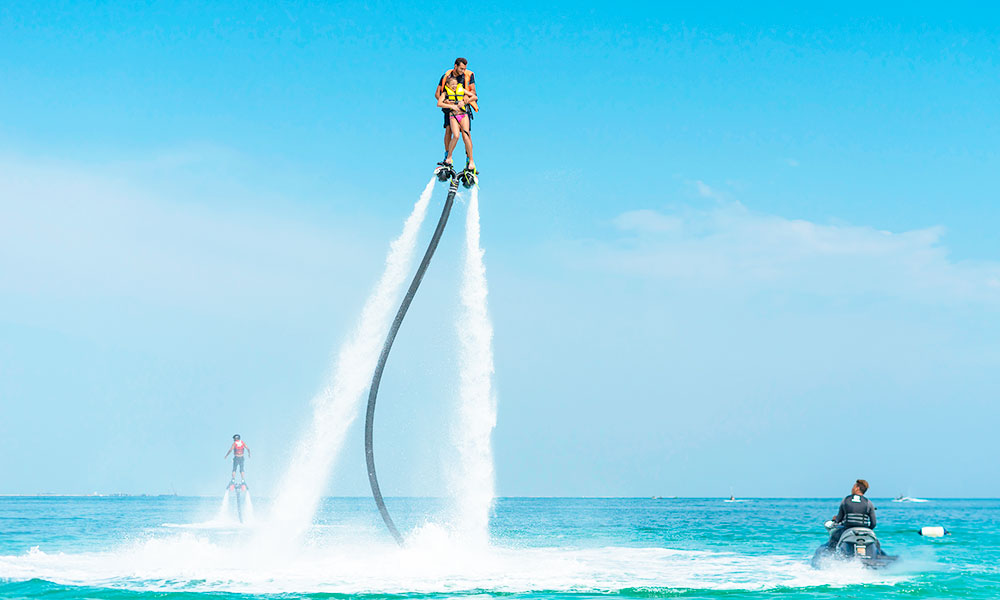 Flyboarding
Get on a snowboard style board with two powerful jet motors and get ready to literally fly over the water. You don't need physical strength, although you do need balance and self-assurance. If you're up for it, the company Ibiza Watersports will sort you out.
Jetboarding
If you are not convinced by paddle surfing, your thing will definitely be this type of surfing where you move along the sea on an electric board. You don't need much board experience, since Take Off Ibiza has expert instructors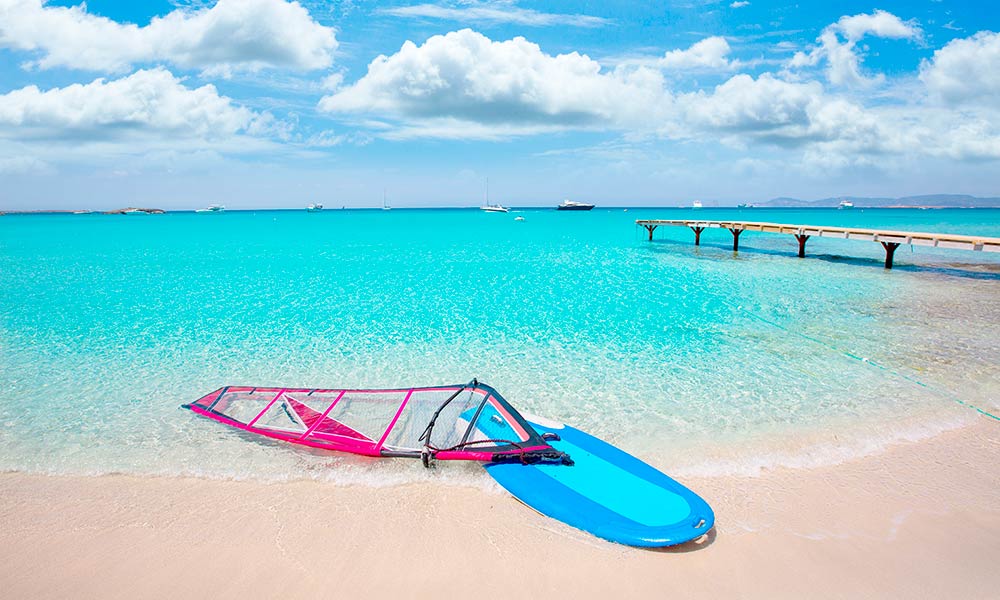 Surfing and windsurfing
In summer, if you like surfing or windsurfing, you must go to the beaches of east and southeast Ibiza, like Cala Nova, Aigües Blanques, Es Cavallet, Cala Jondal and playa d'en Bossa. And if your thing is kitesurfing, you'll need to hire a company to take you out to sea, since in summer this water sport is not permitted on the beaches.
Other water and sailing activities in Ibiza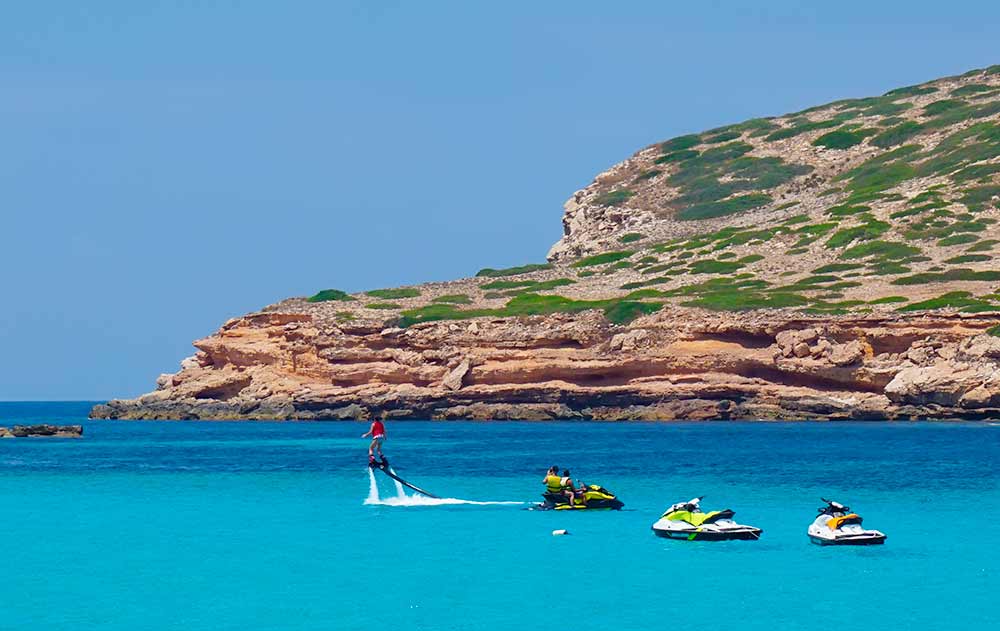 And if these were not enough options, you can also do parasailing at dusk, water skiing, get on a jet ski or a water bike, go snorkelling, fly over the water on a jetboat… If you like excitement, you'll need more days to enjoy them all!
Which companies offer water activities in Ibiza?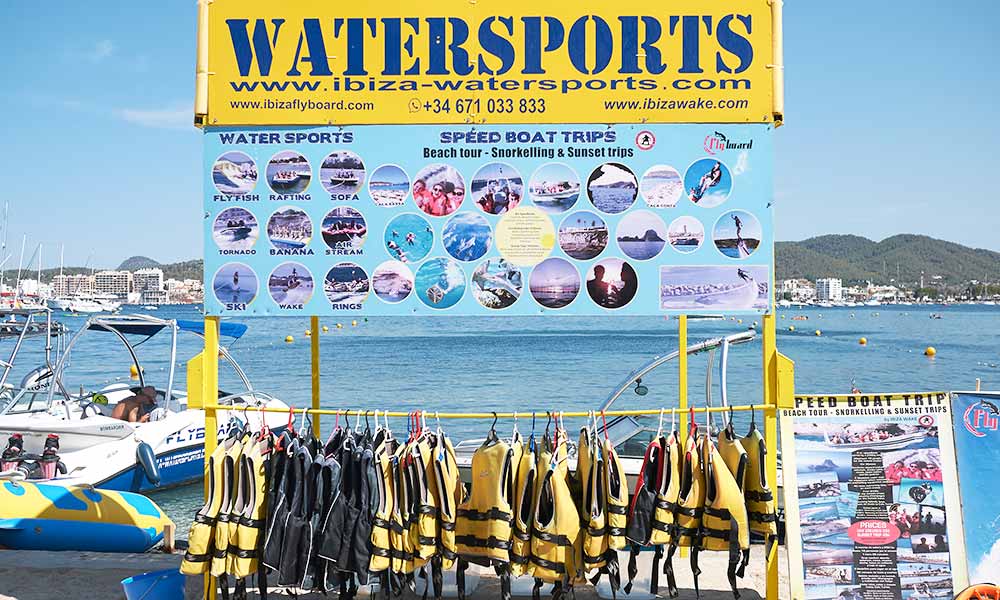 – Aloha Paddle Surf Ibiza
– Arenal Diving
– Take Off Ibiza
– Ibiza Watersports
– Yacht Watersports
– Kayak Ibiza
Tips and suggestions for doing sport in the sea in Ibiza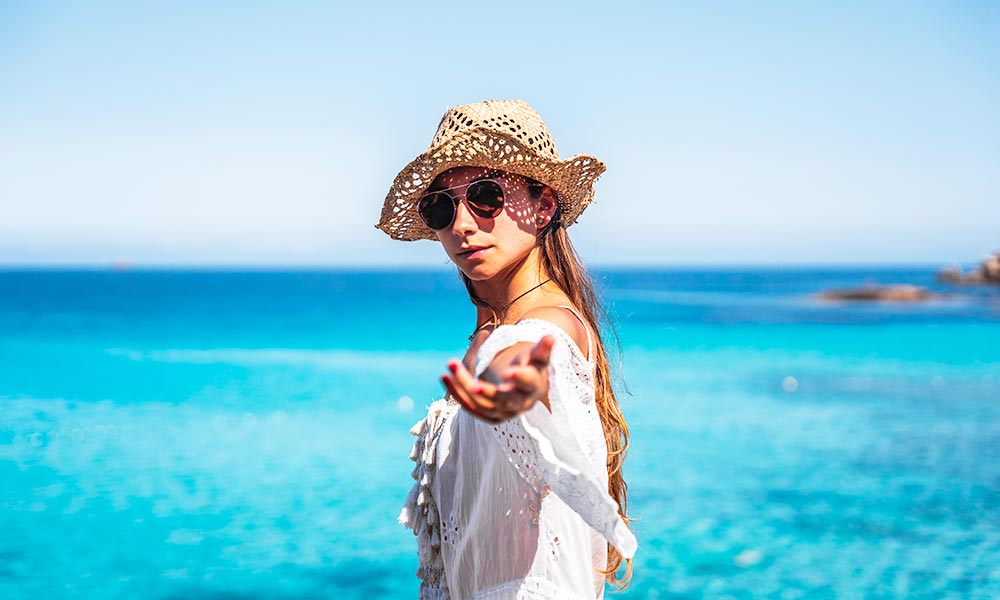 – Protect your face and body with sunblock and cover your head with a scarf, hat or cap if you are going to do a kayaking trip to the Ibiza coves.
– Book your favourite water activity in advance.
– Do these activities according to your experience and if you have any questions, always ask the expert staff.
– Check our extensive offering in water sports in Ibiza and plan your holiday to make the most of it.
Ibiza clubs and bars: a guide to Ibiza nightlife
The best beaches and coves in Ibiza
37 Things to see and do in Ibiza
The best beach clubs in San Antonio and surroundings
And after the action … relax at Amàre Hotel Ibiza!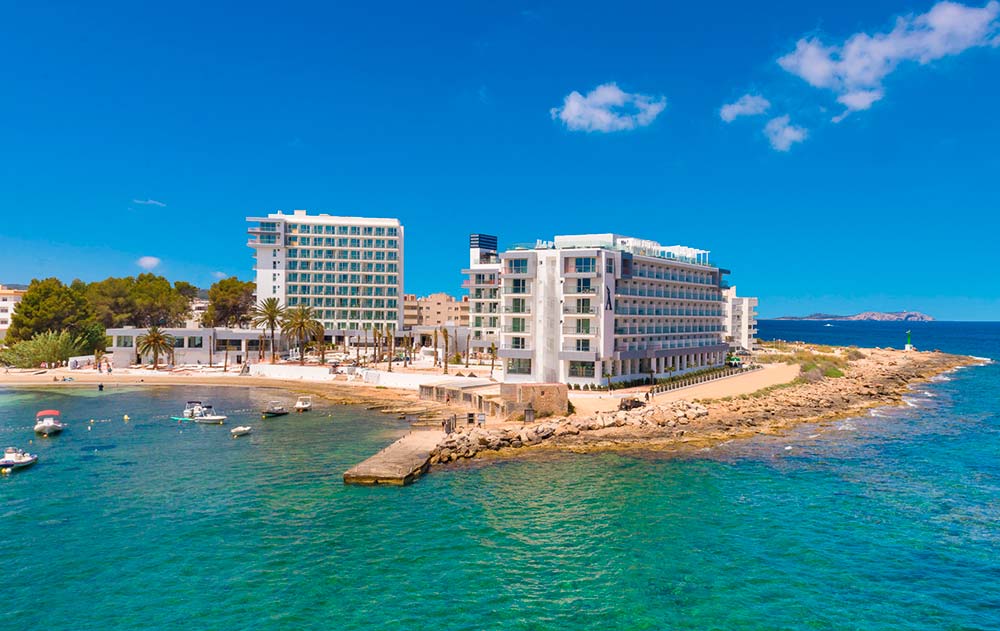 Did you have a good time? Then you should end the day in style. For this we suggest a relaxing massage at our spa Wellness by Germaine de Capuccini, a drink as you watch the sunset at Belvue Rooftop Bar or an exquisite dinner at Hayaca. Tough choice, don't you think? #lovingamare!