Marbella and Ibiza Blog
Amàre Beach Hotels
Dinner with a view: the best gourmet restaurants overlooking the Costa del Sol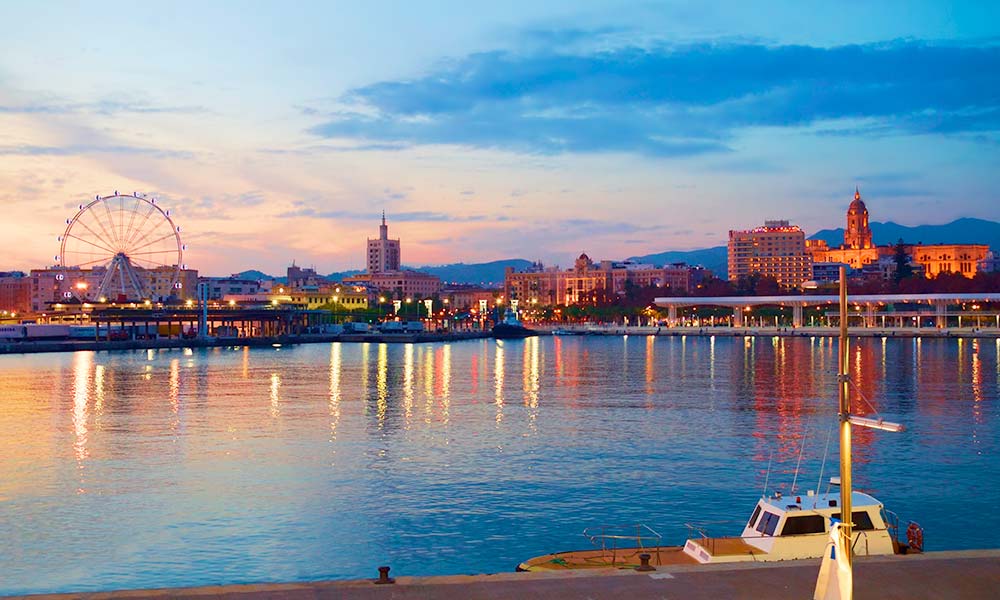 Dinner with a view: the best gourmet restaurants overlooking the Costa del Sol
Views, views and more views: that's what we want, ask for and almost demand or beg for when we come to one of these restaurants with amazing locations. Everyone loves a romantic candlelit dinner or a meal with a view of the sea. The Costa del Sol gives us all sorts of possibilities. Good food and good views never been so close!
Here is a list of the  restaurants with the best views, where you will certainly want to have dinner, travel along the coast and see other wonderful parts of the Costa del Sol. Discover what they are.
El Campanario restaurant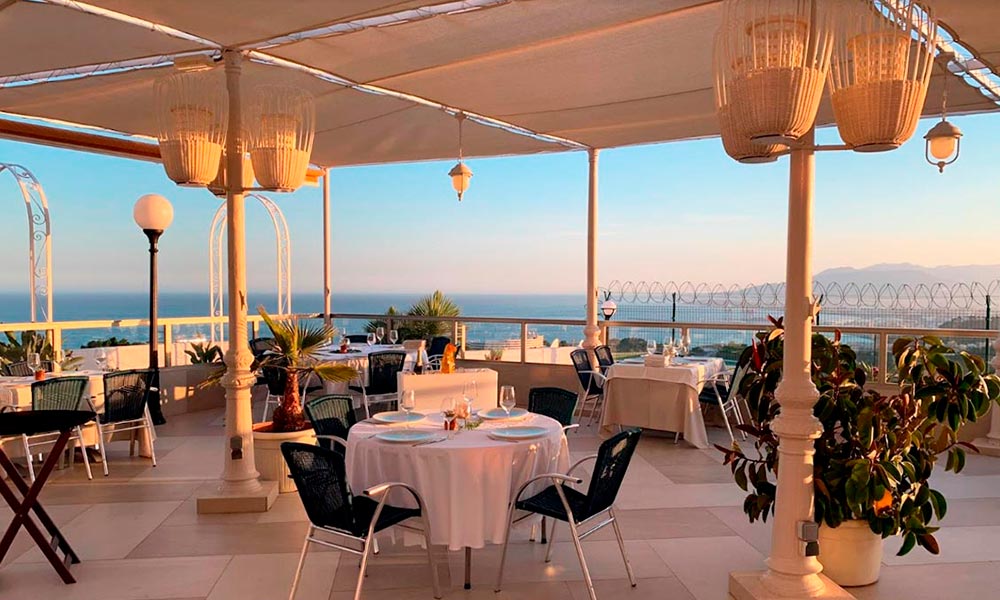 The Refectorium el Campanario restaurant is located in Cerrado de Calderón, one of the nicest residential areas in Málaga. It may seem difficult to find this remote temple to good cooking, but it is worth losing yourself in within these streets.
This restaurant, despite being small, has views which will leave you speechless, especially in the summer when they open the outdoor terrace. If you like good Mediterranean food with subtle touches of modern cooking and a rather generous wine menu, make sure you come to visit.
Paseo de la Sierra 36, Urb. Cerrado de Calderón, 29018 Málaga
Tel: +34 952 20 39 35
Web: www.elrefectorium.net
Google Maps
Parador de Gibralfaro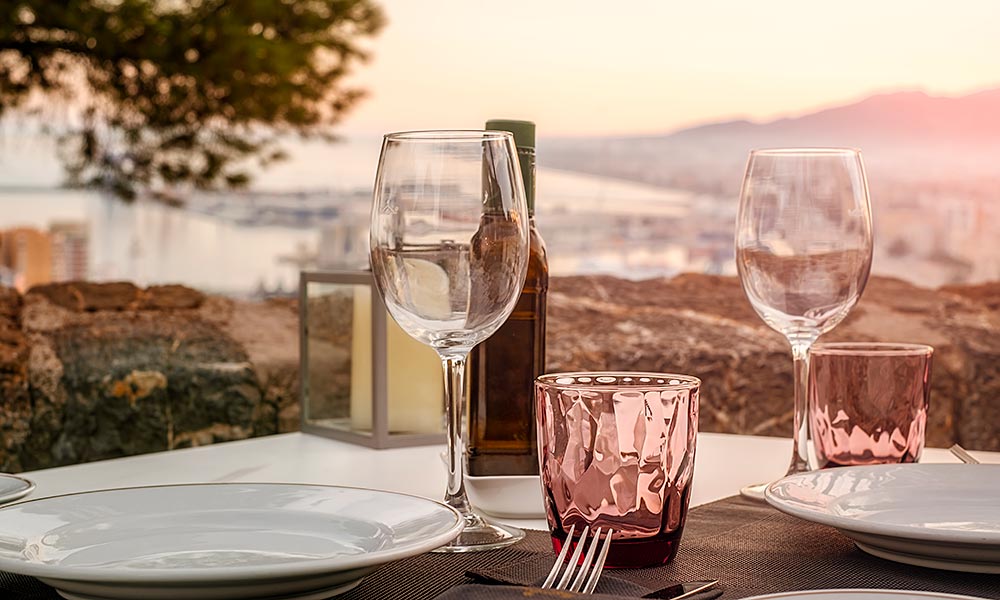 If you're looking for a place to enjoy a most romantic night, we recommend this restaurant located between pine trees and ancient stone. It is undoubtedly one of the most beautiful and most-visited places in Málaga, from which you can enjoy spectacular views of the bay.
The Gibralfaro restaurant offers a menu full of tasty food with its roots firmly in Analusian cooking, emphasising fresh products from the local area.
Camino de Gibralfaro S/N, 29016 Málaga
Tel: +34 952 22 19 02
Web: www.parador.es
Google Maps
El Higuerón Restaurant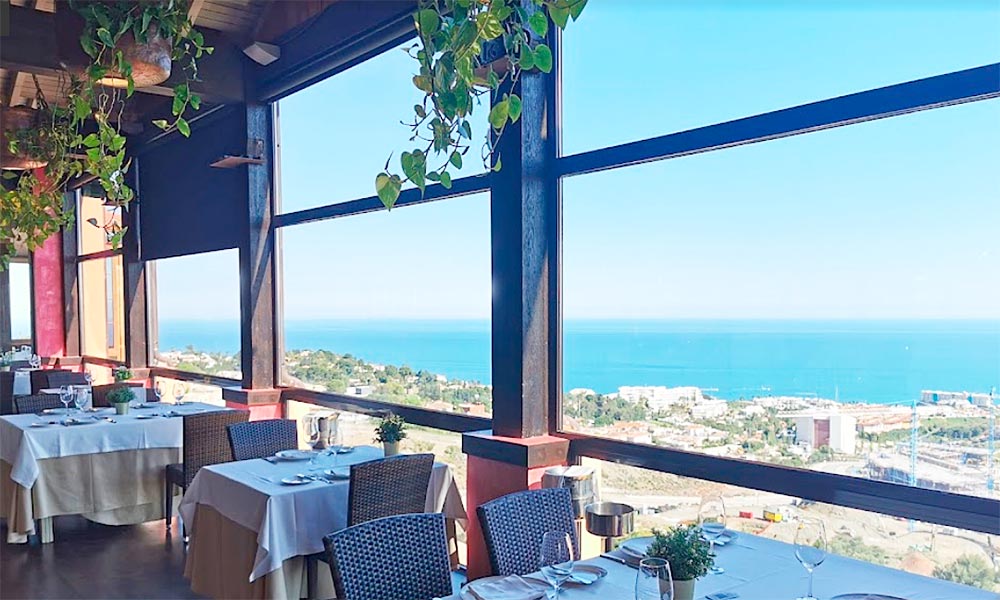 The restaurant El Higuerón in Fuengirola comes with excellent signature cuisine and some perfect views of Málaga. Its decor is elegant, somewhere between rustic and modern, and you can enjoy a fusion of the Andalusian and Asturian cuisine.
Carretera Benalmádena a Mijas, Km 3.1, 29640 Fuengirola, Málaga
Tel: +34 952 11 91 63
Web: www.elhigueron.com
Google Maps
Toro Muelle Uno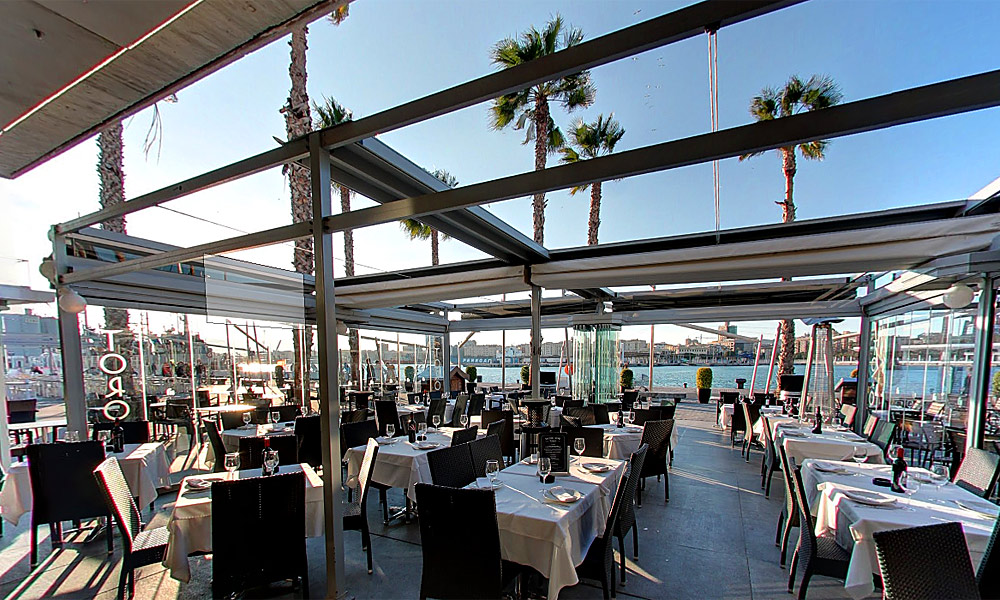 Back to Málaga and specifically the spectacular Muelle Uno. This restaurant is located in front of the harboir and its terrace offers great views of the truly beautiful Málaga sea. At night, the walls of the Castle of Gibralfaro and la Alcazaba dominate the landscape, filling the Málaga air with colour and magic. All that's left is for you to enjoy traditional Spanish cuisine in a pleasant avant-garde atmosphere.
Paseo de la Farola, Muelle Uno, Local 65, 29001 Málaga
Tel: +34 951 10 92 09
Web: www.toromuelleuno.com
Google Maps
The Caleta Beach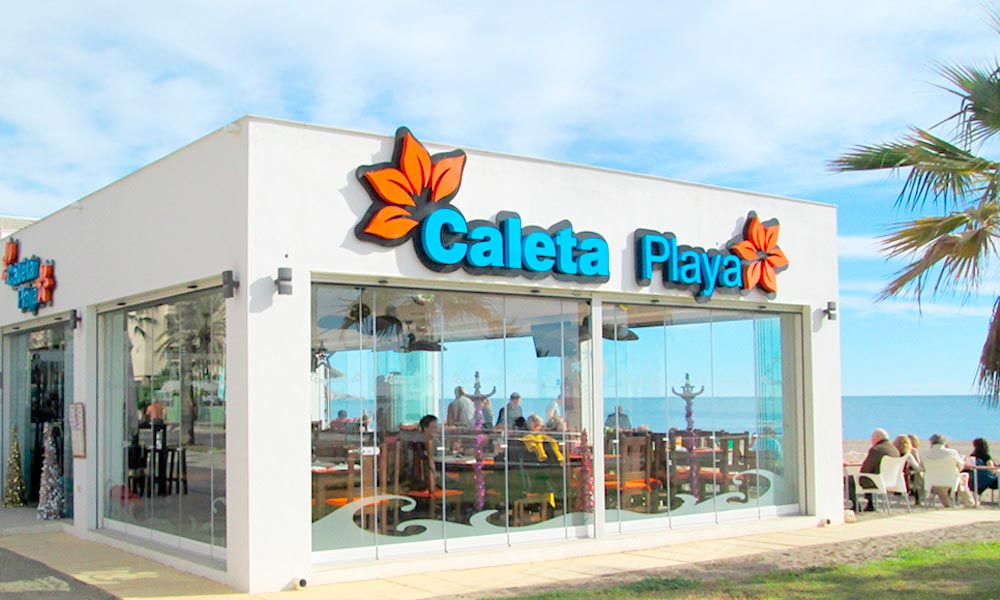 After a good day at the beach, make yourself comfortable and go out for a traditional seafood meal. If you prefer a more informal meal, the beach bar La Caleta is a great choice. It has been in the capital of Málaga since 1983 offering the best local fried fish. You can also try fresh anchovies, sardines, clams and other local delicacies. This renovated beach bar surrounded by palm trees, grass, sand and sea is just over 5 minutes from the historic city centre.
Paseo Marítimo Pablo Ruiz Picasso 23, 29016 Málaga
Tel: +34 952 11 08 48
Web: www.caletaplaya.com
Google Maps
L'Expérience restaurant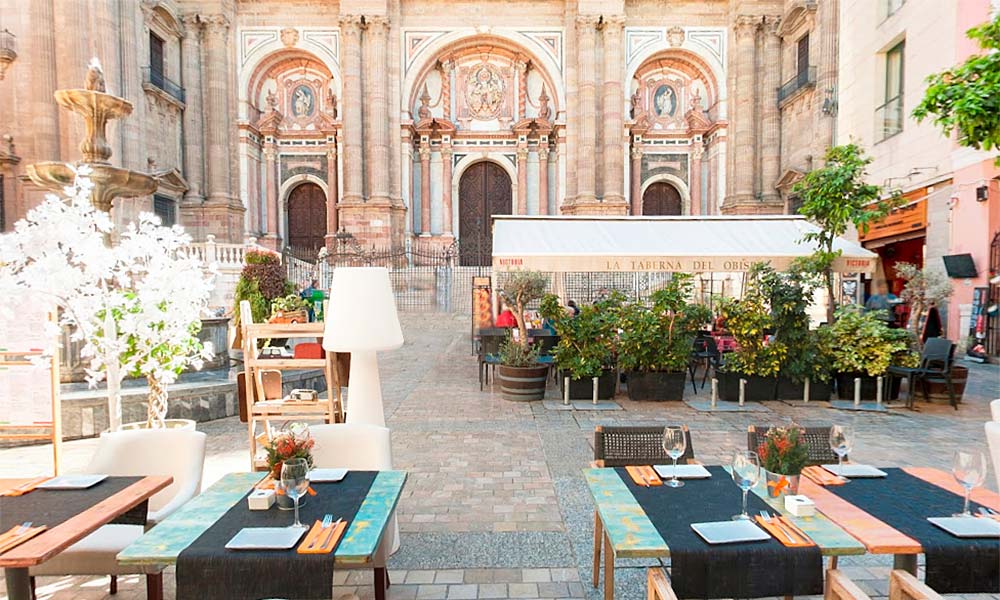 The spectacular Plaza del Obispo hides the small and charming restaurant L 'Experience in the historic centre of Málaga. It may be the last stop after an afternoon of shopping and long walks around the city.
In L'Experience, you will find Mediterranean cuisine with fresh products, so make sure you book a table on the terrace and enjoy the outdoors with views of the colossal cathedral of Málaga known as the "Manquita".
Plaza Obispo 4, 29015 Málaga
Tel: +34 952 60 87 84
Web: www.plazadelobispo.com
Google Maps
La Piscina Lounge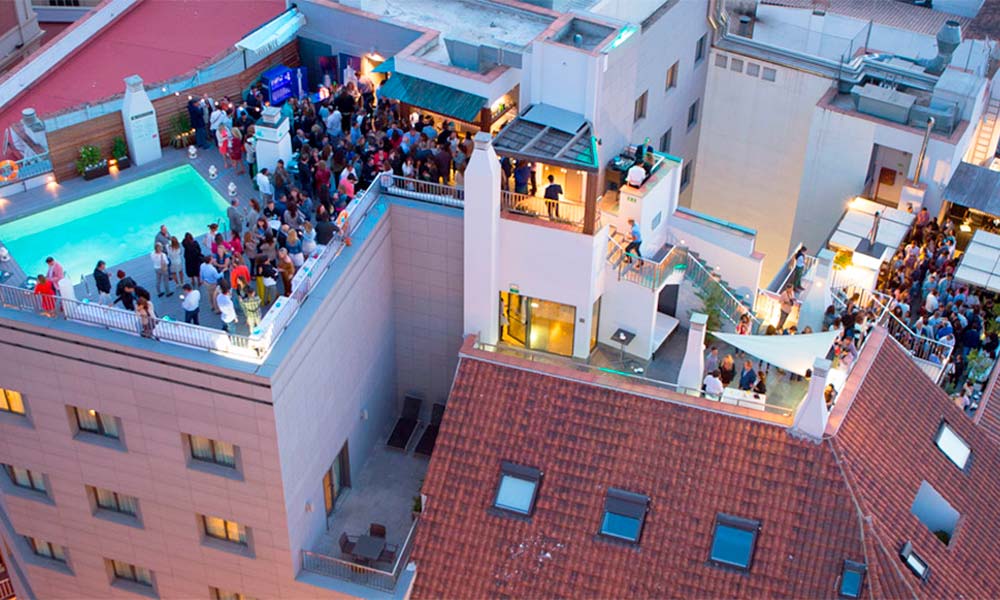 I love these small charming spaces where you can let your imagination run wild with 360º views of the city of Málaga. The terrace of the Hotel Molina Lario, also knows as"La Piscina Lounge" is one of them, one of those sites in which you can chill out and relax for a while, one of the coolest places in the city. 
This terrace offers the possibility to try a different and daring menu, whether you want a full meal or just nibbles. When we take into account the fact that the kitchen is run by the young chef Marcos Granados success is assured.
Calle Molina Lario 20, 29015 Málaga
Tel: +34 952 06 20 02
Web: www.hotelmolinalario.com
Google Maps
Candado beach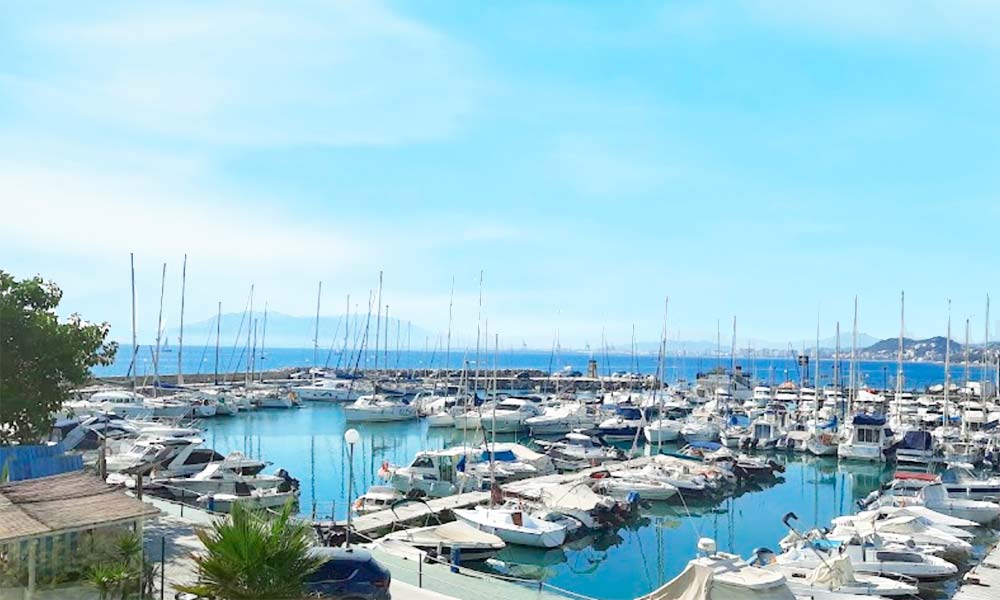 This time we're going to the Candado Yacht Club where we can enjoy the views of the Candado Beach located in the east of Málaga. Its prime location rewards us with a picture of the Mediterranean sea bathing its small cove and the comings and goings of small pleasure yachts waiting for the time to go to sea.
Club Náutico El Candado, Carretera de Almeria, 29018 El Palo, Málaga
Tel: +34 952 20 63 46
Web: www.candadobeach.es
Google Maps
Blankko restaurant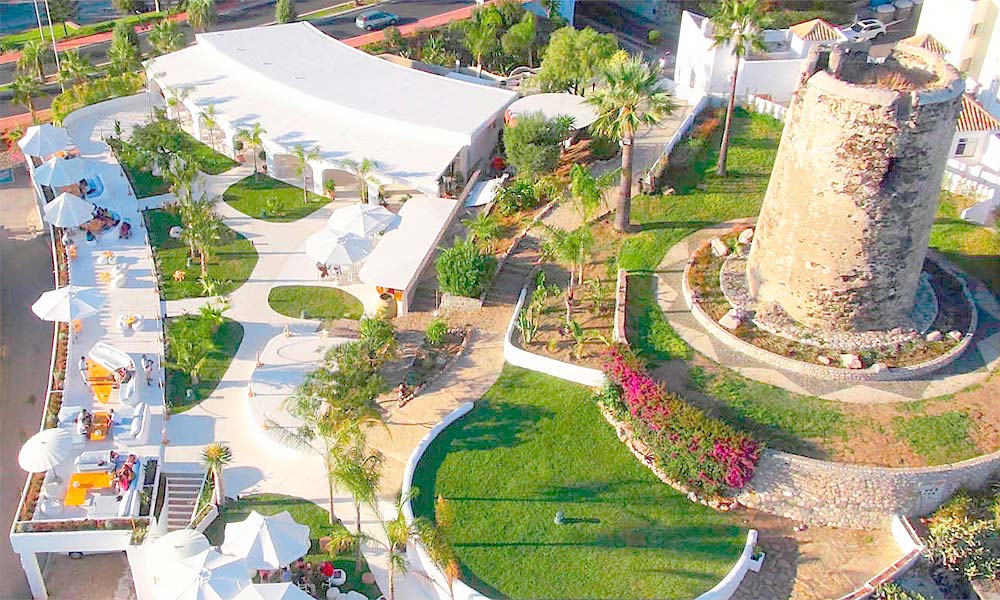 Blankko is a lounge-bar located on the Benalmádena Coast, where you can enjoy a relaxing and youthful atmosphere in a pure Ibizan environement, the best DJs, amazing live performances and major events.
The cuisine is young and seductive with Mediterranean touches. If you like gin and tonics, make sure you check out its extensive menu.
Urbanización Torremuelle, Paseo de Bellavista 7, 29630 Benalmádena, Málaga
Tel: +34 952 44 33 98
Web: www.blankko.es
Google Maps
El Lago restaurant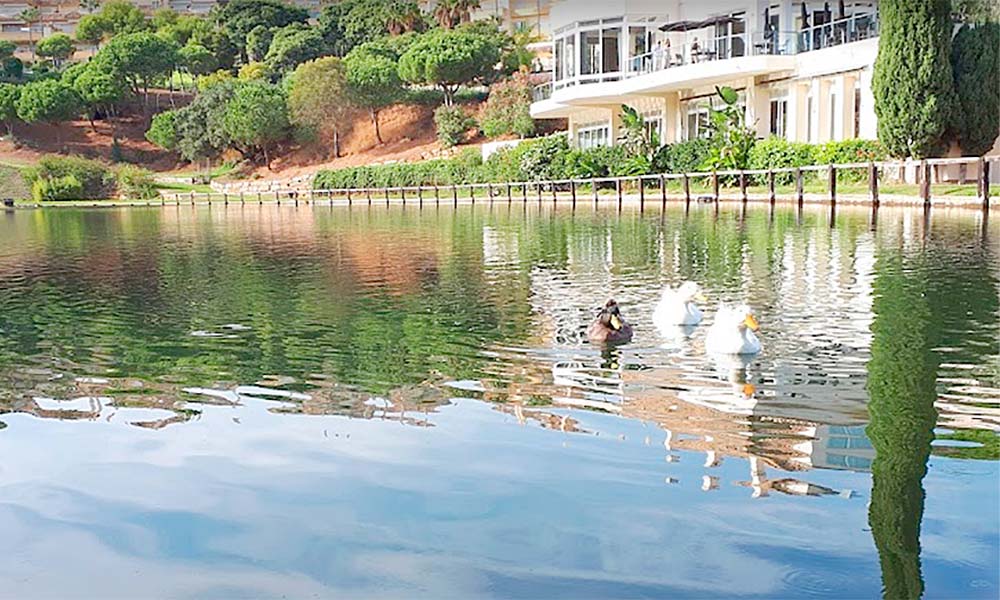 If we're looking for a restaurant with two suns in the Repsol guide and one Michelin star in Málaga we're looking for  el Lago restaurant. Its location is beautiful, surrounded by green streets, trees and a lake within a beautiful golf course in the area of ​​Elviria.
The Chef Diego del Rio offers cuisine with products from the local area or the city centre. The dishes may seem simple but they are an explosion of incredible tastes and textures which are the result of hours and hours of experience. It is only open at night where outdoor lighting merges with this young chef's minimalist dishes, an authentic culinary experience for the senses.
Urb. Elviria Hills, Avda. Las Cumbres s/n, 29600 Marbella, Málaga
Tel: +34 952 83 23 71
Web: www.restauranteellago.com
Google Maps
Where to eat tapas? Some of the best unmissable tapas bars and restaurants in Marbella
Discover the most luxurious restaurants in Marbella and relish in their Michelin stars
Top seafood restaurants in Marbella
Coffee shops, bakeries and ice-cream parlours in Marbella.