Marbella and Ibiza Blog
Amàre Beach Hotels
What to see and do between Puerto Banús and Marbella, route along the Promenade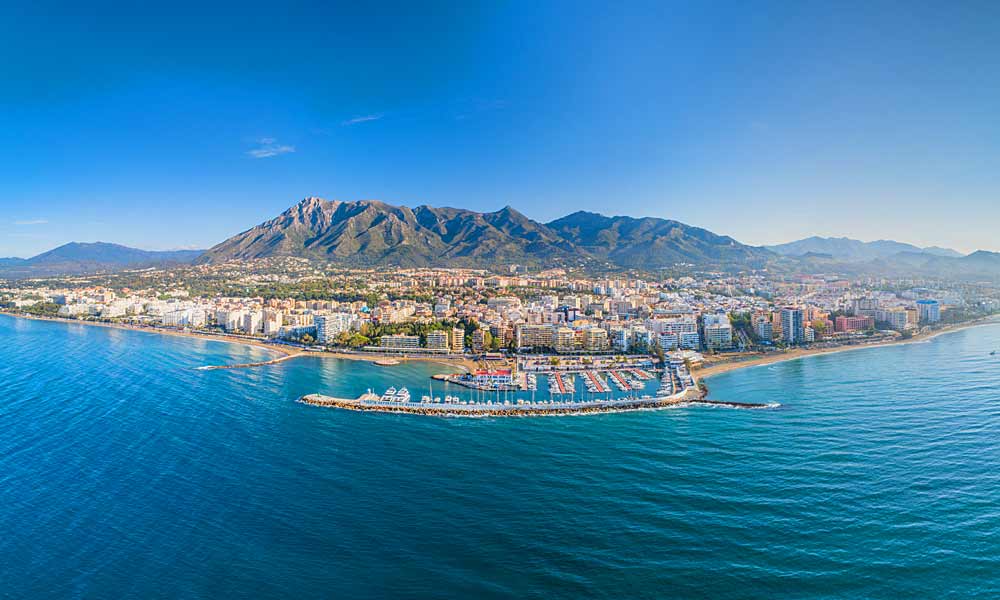 What to see and do between Puerto Banús and Marbella, route along the Promenade
The Maritime Promenade of Marbella is the pride and joy of the capital of Costa del Sol. It is considered one of the most beautiful tours along the coast, making it the ideal hiking route as, besides being pedestrian, you can travel it by bicycle (you can rent one in the same hotel), and it has the advantage of being only a few minutes' walk from the centre of the city. It covers about 4.3 miles and during your journey from Marbella to Puerto Banús you can find restaurants, bars, exclusive shops and crafts.
Strolling along the beautiful promenade from Marbella to Puerto Banus is a delight as it flanked by palm trees and overlooking the Mediterranean and the Rif mountain range of Morocco, offering the opportunity to exercise with style. The route will last depending on the rhythm of the step or the pedalling, in case you are encouraged to do it by bike.
Puerto Banus (west beaches)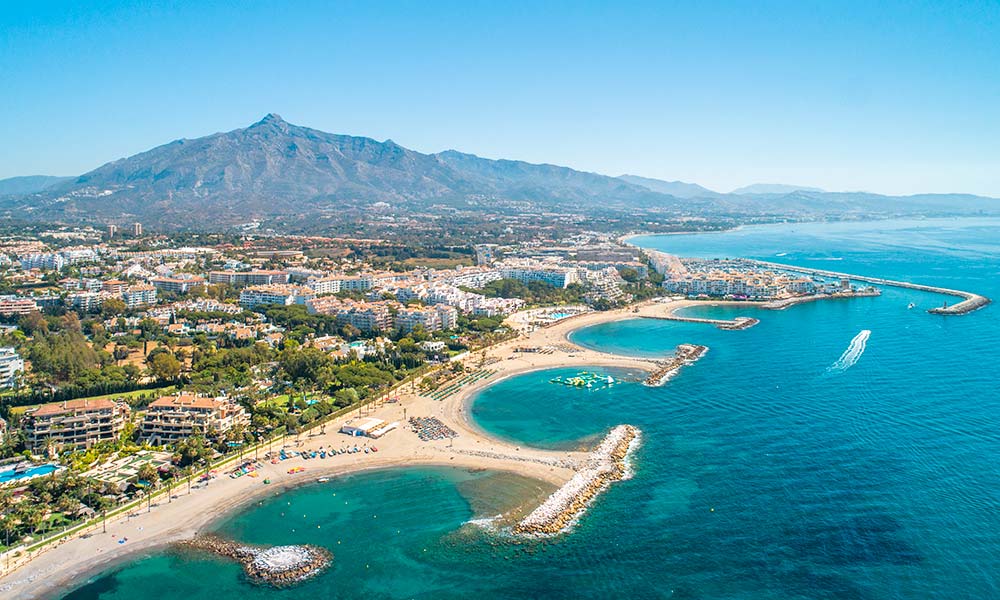 We start our tour a little before arriving at the beaches in west Puerto Banús. We begin here to show you a walkway constructed over white rocks (ideal for bikes). The walkway is recently built and legend has it that 007 himself, Sean Connery, had a house on the plot of land now occupied by the houses there today, where he stayed when he was in town.
These beaches are small fine sandy coves where the water becomes deep and is fabulous for taking a dip, since it is not as cold as in the open sea and the waves and small. The only downside point is that they are usually packed in summer, but in autumn, winter and spring, they are very quiet.
Puerto Banús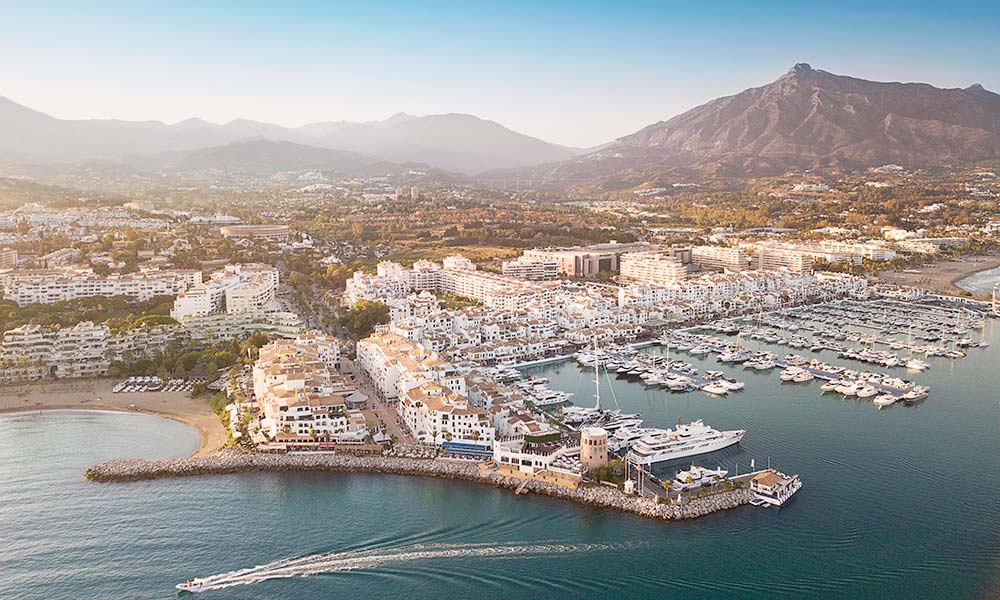 Puerto Banús is part of Marbella's centre of leisure and nightlife, and especially in summer. In this area you have many leisure options that are focused for different tastes and ages. In the same pier of this port, you can rent a boat, as well as hire a fishing trip, an exclusive Puerto Banús whim is at your disposal.
Similarly, only here you can walk through its streets and find exclusive stores like Dior, Gucci, Dolce & Gabana, Michael Kors, Cartier or Swarovski and all with the Mediterranean as a backdrop. Also, if you want and can afford it, in Puerto Banús you can have personal shoppers. After going shopping, you can recover energy in some of the restaurants in the area, such as Restaurante Los Bandidos, where you can try international dishes with Scandinavian touches while you enjoy watching their walls covered with film photos or you can go to Havana Lounge a restaurant Mediterranean style with high quality products and an incredibly good service.
Much of the leisure offer in Puerto Banus is at night, especially in the high season months when all bars and clubs are open. In Puerto Banús you will not be bored, you will always find something to do during your holidays, there is something for everyone depending a little on your plan during your holidays, so enjoy!
Puerto Banus (east beaches)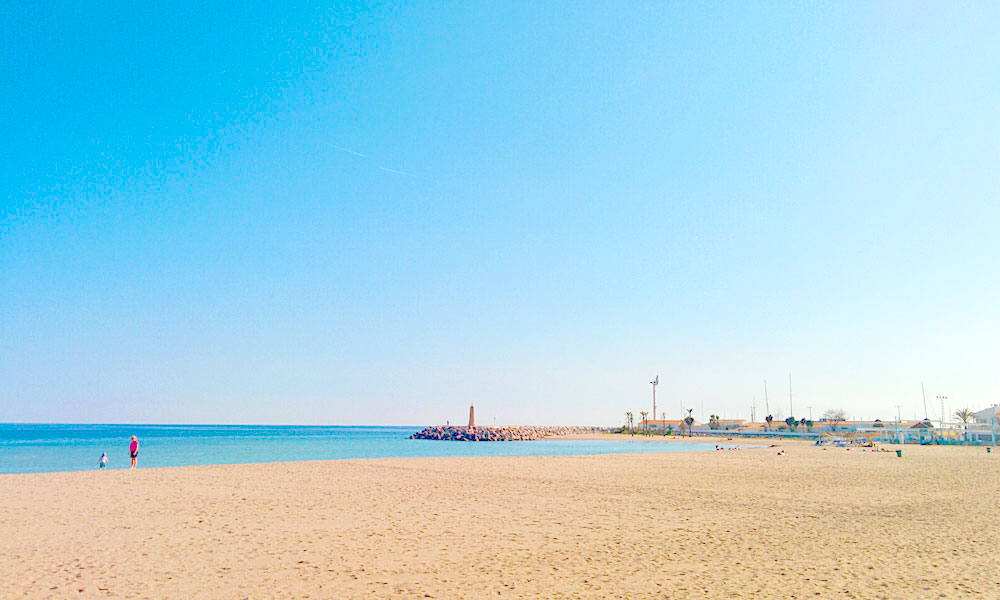 This promenade is beautiful and made from flagstones and cobblestones, with palm trees, gardens and some excellent views, and there is also parking for bikes and information maps.
Here you can enjoy the most prestigious international designer brands. With the Mediterranean Sea in the background, you can stroll along this beautiful and popular promenade while you enjoy some the window displays of brands such as Dolce&Gabanna, Versace, Dior, Gucci, Cartier and Swarovski.
After enjoying a shopping stroll, you can take a break at one of the amazing restaurants nearby. We recommend you visit Marisquería Pepe, a true point of reference in Marbella. Here you can enjoy the delicious traditional Malagan fried fish while you take in the amazing panoramic view of the marina. An experience you certainly won't forget.
Bridge on Rio Verde River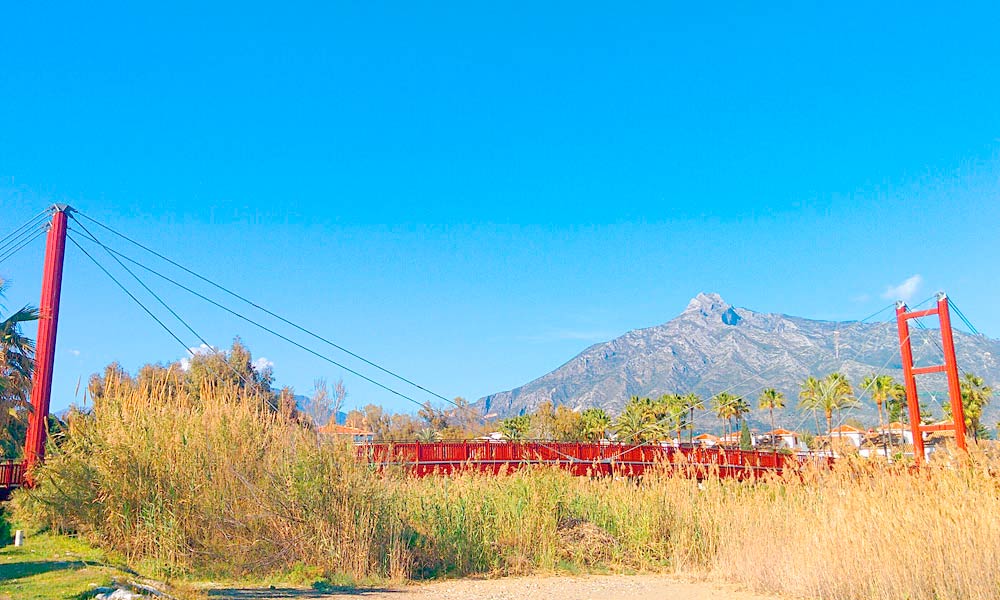 Once you have crossed the Puerto Banús promenade, you will reach the pedestrian bridge over Río Verde, the longest pedestrian walkway in Spain, since it is almost 10 feet wide and 30 feet long, and  is not supported by the river bed. This bridge, recently built, facilitates getting to De Las Cuchis Beach from Puerto Banús.
Once we have passed the walkway, we arrive at one of the zones with the greatest artistic and historic value of the entire surrounding area, since it is located at the mouth of the river. We can find the Río Verde Roman Villa, a large villa dating from between the 1st and 2nd century. This villa is in an acceptable state of preservation, since you can still enjoy the peristyle (a beautiful courtyard surrounded by columns) and some rooms. This building is famous, not only for its historical value, but also for its mosaics, especially the one representing the head of Medusa, which is very unique. The villa, in addition to serving as accommodation to the ruling class of the era, was a production centre and trading exchange.
Playa Fántastica, Las Cuchis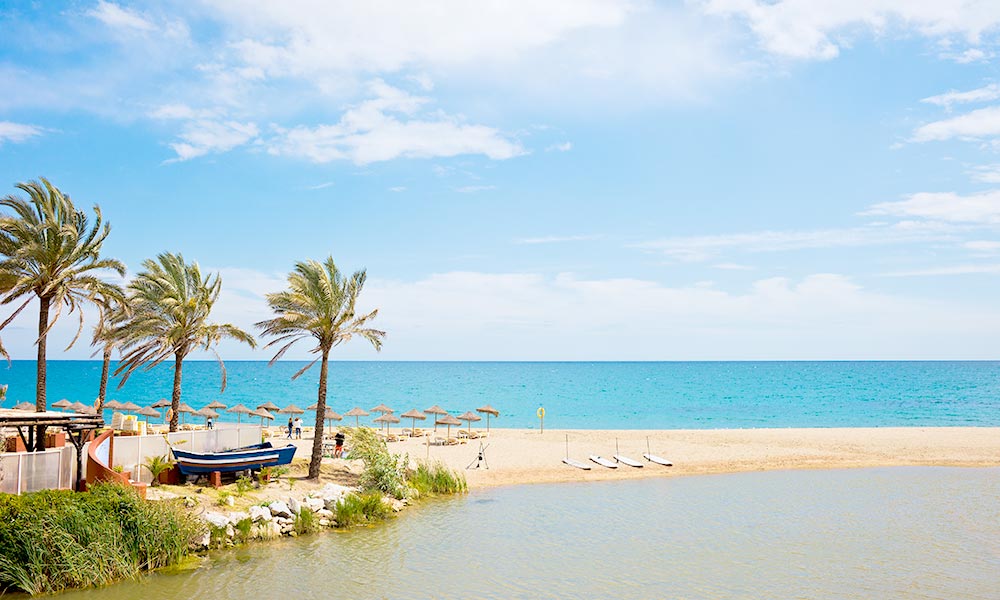 Once here, we come to the oldest and chicest refreshment stall in all of Marbella: Las Cuchis. The name of this place comes from the nickname of two businesswomen who in the 1970s opened the city's first refreshment stall. It is one of the most traditional places on the Costa del Sol. At Las Cuchis, the beach will obviously be amazing if you are brought the food and drinks you want to your hammock. But also, if you have a boat, they will prepare your order and bring it right there to you.
Puente Romano beaches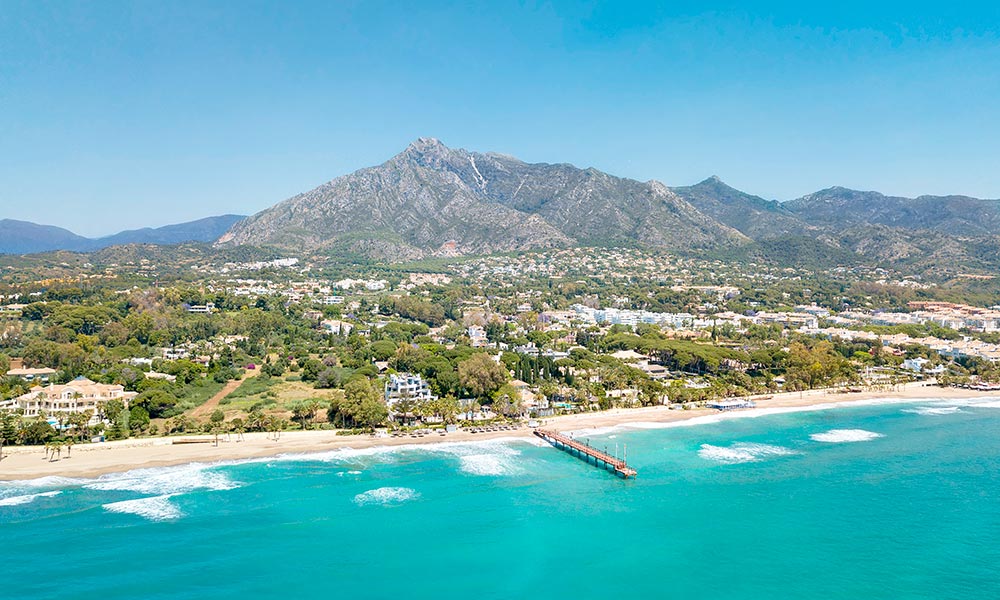 Once you have passed Las Cuchis, the beach stretches out and the promenade is increasingly on the shore, since it was built as a stone pier to prevent the tide washing it away when the Costa del Sol is visited by storms.
Then we come to the Hotel Puente Romano which takes its name from the very 1st century Roman bridge that stands on the property. It is not unusual that around half a mile from the Río Verde Roman Villa there is a Roman bridge from the same era. If your curiosity is peaked, you may be able to enter the Del Mar restaurant to eat. This beach club is decorated with elements chosen from nature, so it is entirely open to the sea. If you decide to have something, here, bear in mind that you will enjoy a very exclusive and quiet ambience, ideal for its delicate cuisine. This restaurant is famous for its preparations with fresh seasonal fish and we recommend you try its ceviche and tartare, which are exquisite.
Marbella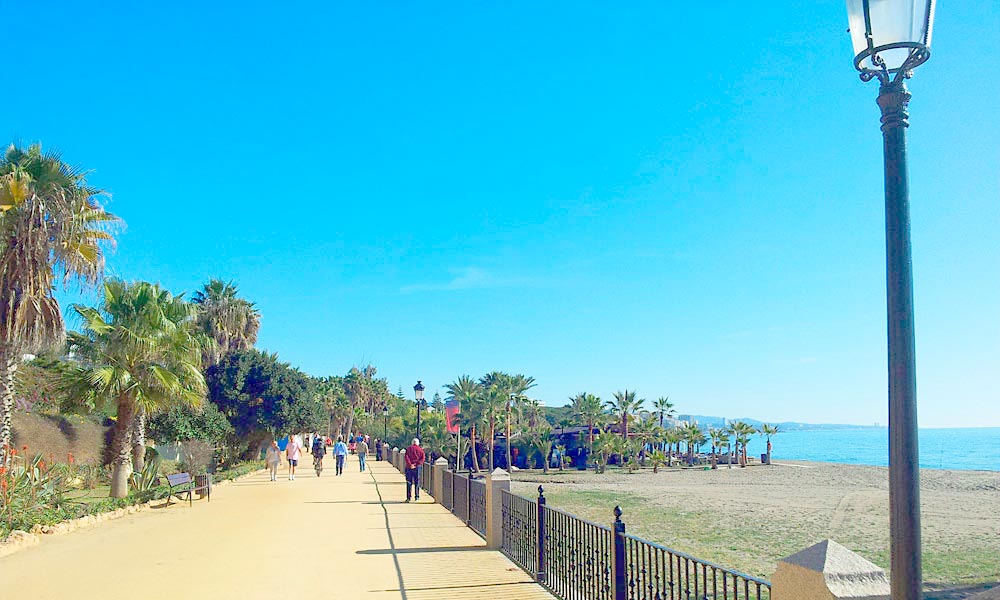 If you decide to keep walking along the promenade, you will soon reach west Marbella, where the beaches are wide and have fine sand. At this part of the promenade you will find exercise machines, palm trees and showers, refreshment stalls, hammocks, parasols, stalls and Café Cappuccino, a necessary stop where, among other things, you can enjoy breakfasts with amazing composition, variety, quality and presentation,  from the Mediterranean to the full breakfast called London, via the Light, Berlin or Fruit breakfast. If you keep walking in the direction of Marbella, you will see that the ground starts gradually changing, meaning that you are in Marbella. After you have passed the Playas del Don Pepe, you will be closer to Marbella marina.
You will certainly be a little tired at this stage and maybe hungry, so why not take a breather by sitting on one of the benches on the promenade or looking for a place for a snack or lunch and then a drink.
During this tour, we have shown you many places to stop, rest and have a drink, but there are many more such as Victors Beach refreshment stall, which is located on Del Ancón Beach, Marbella between Puerto Banús and Marbella Club, opposite Marbella Mosque, and specialises in grilled meat and fish. Its kebabs are the best there is, but if you fancy something else, don't worry as they have an extensive menu.
Port of Marbella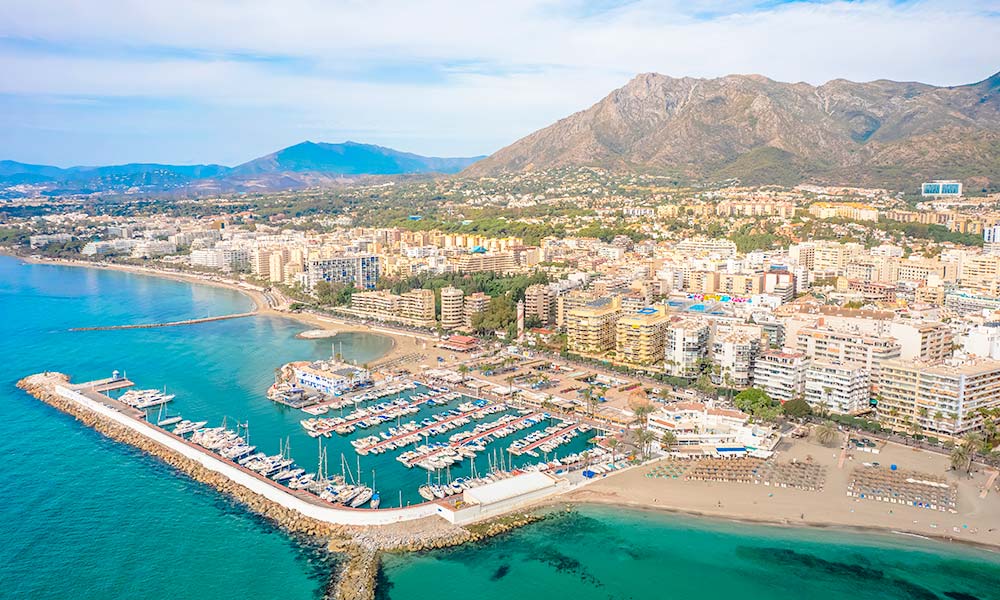 Because of its location in the heart of the city, the Port of Marbella is very well travelled both by the Marbella's people and by tourists. It is one of the four marinas that are located in the city of Marbella and last year was awarded a Blue Flag.
The marina offers many places to "go for tapas" and eat well, an example is Restaurant Canalla where you can enjoy a wide variety of fish, meat, salads and hamburgers on your terrace, with your feet in the sand or your interior dining room If you want to go drinking here there is a bit of everything, although the chill out/lounge atmosphere of places like Maya Marbella, Lemmon or Seven, among others, predominates. We also recommend Punto Faro a great place to relax and have a couple of cocktails and cocktails.
In addition, and as a curiosity, on Sundays, a small market of handicrafts and rarities is set up on the first line of the port.
Amare Beach and Belvue Rooftop Bar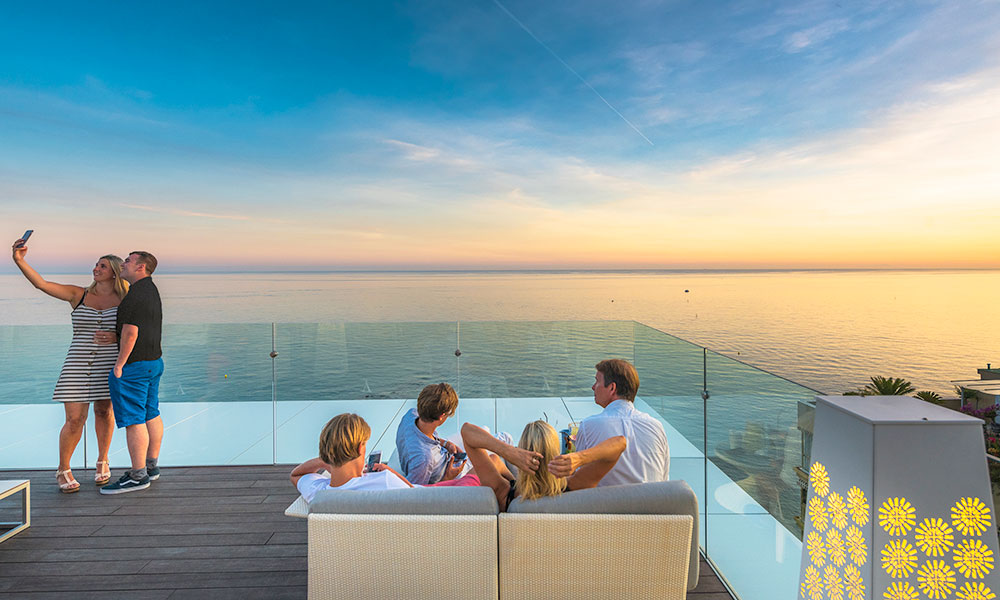 At Amare you will find spacious Balinese beds and amazing music, so you can end your day walking along the Marbella promenade in the most relaxed way possible.
This beach club's gastronomic offering is based on careful cooking using seasonal produce with a marked Mediterranean inspiration. You can order almost whatever you want, from creative tapas, rich dishes, the best seafood… or even stylish pizzas and delicious hamburgers… Amare Beach is the perfect place to savour the Mediterranean essence in its place of origin, one of the best places to eat in Marbella.
To end the day and celebrate having finished this promenade walk or take a selfie that will make all your social media followers green with envy, we recommend the Belvue Rooftop Bar. Here you can enjoy the best cocktails while you gaze at the view, a 360º panoramic vista to enjoy the Mediterranean, Marbella's old quarter and the amazing and beautiful Sierra Blanca.
Marbella a 5 star destination full of history and curiosities
Marbella: a tour of its old town