Marbella and Ibiza Blog
Amàre Beach Hotels
Vegetarian food: Vegan and vegetarian restaurant tour in Marbella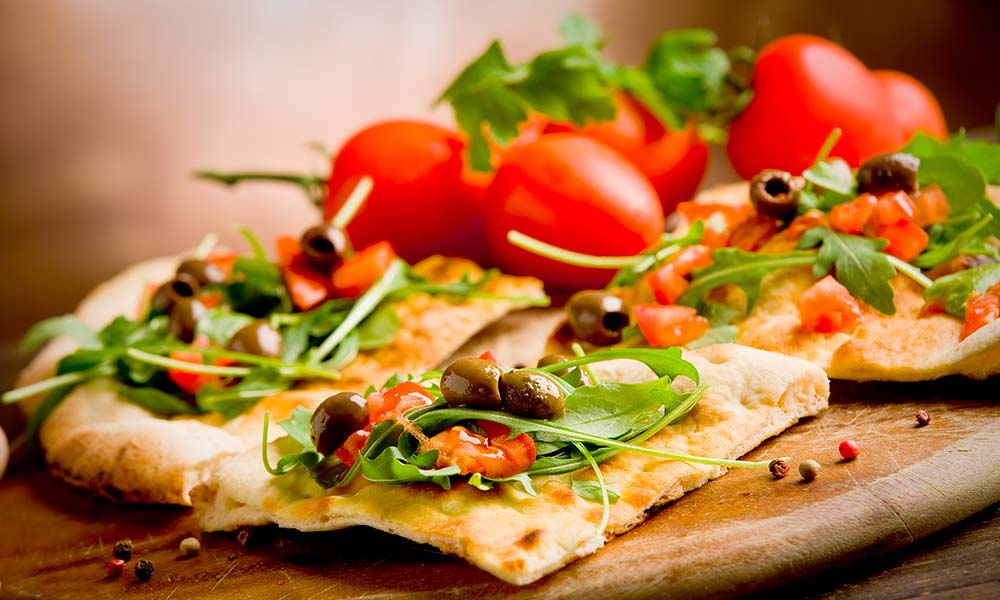 Vegetarian food: Vegan and vegetarian restaurant tour in Marbella
Being a vegan or vegetarian is much more than a trend, it's a life choice. However, they also face problems. One of the most recurrent ones is feeling lost when eating in an establishment that does not meet their needs. However, the capital of the Costa del Sol is aware of this and many vegan and vegetarian restaurants are popping up in Marbella. Establishments with vegan or vegetarian food in Marbella are already well positioned on the city's gastronomic scene and whether because you have welcomed the vegan or vegetarian lifestyle, are reconsidering the relationship you want to have with animals or you just want to try to be part of one of today's strongest culinary trends, Marbella is a tremendously attractive option for both vegans and vegetarians or raw vegans.
Here is a list of vegan restaurants, many of which are also organic, with macrobiotic or raw vegan influences, where you can eat as deliciously and healthily as possible.
The Farmacy Marbella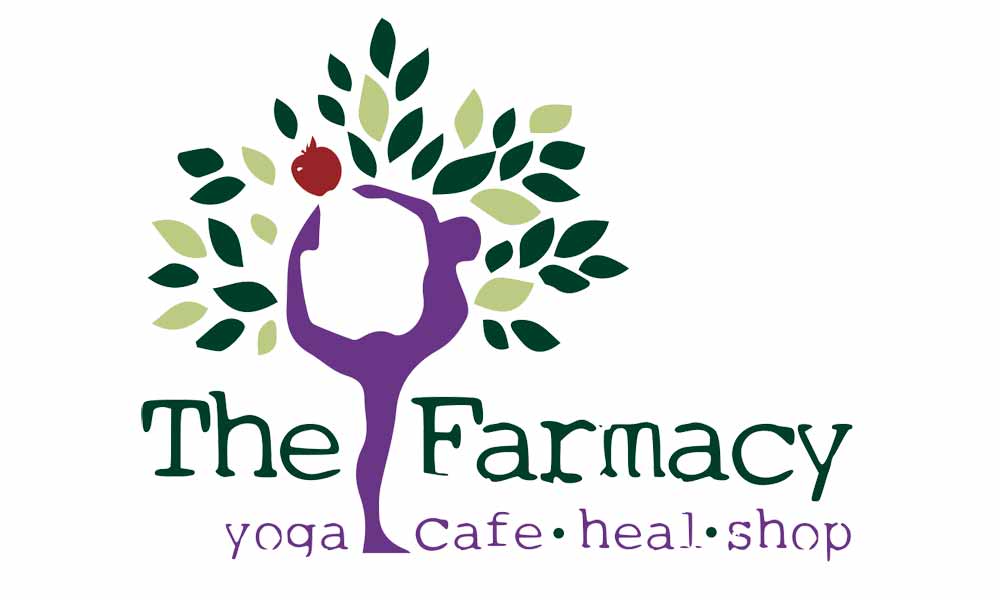 The Farmacy Marbella – Photo courtesy www.farmacymarbella.com
This vegan restaurant has combined two very interesting ideas, the concept of body and mind. Farmacy is both a yoga studio and a vegan café with a totally ethnic look that will win you over from the moment you set foot on the premises.
Farmacy is a unique and magical place located in the heart of Marbella, with a fantastic terrace that invites you to enjoy the relaxing setting and a good vegan meal with no additives that is 100% home-made. An added plus, it should be said, is that celiacs are welcome, since the entire menu is wheat-free. Here you can enjoy the best soups, salads, hummus, pasta, vegan burgers, and also international food such as beans, rice or smoked tofu and vegetables.
The Farmacy Marbella
Tel: +34 952 77 14 11
Web: www.farmacymarbella.com


Google Maps
Organic With Love (OWL)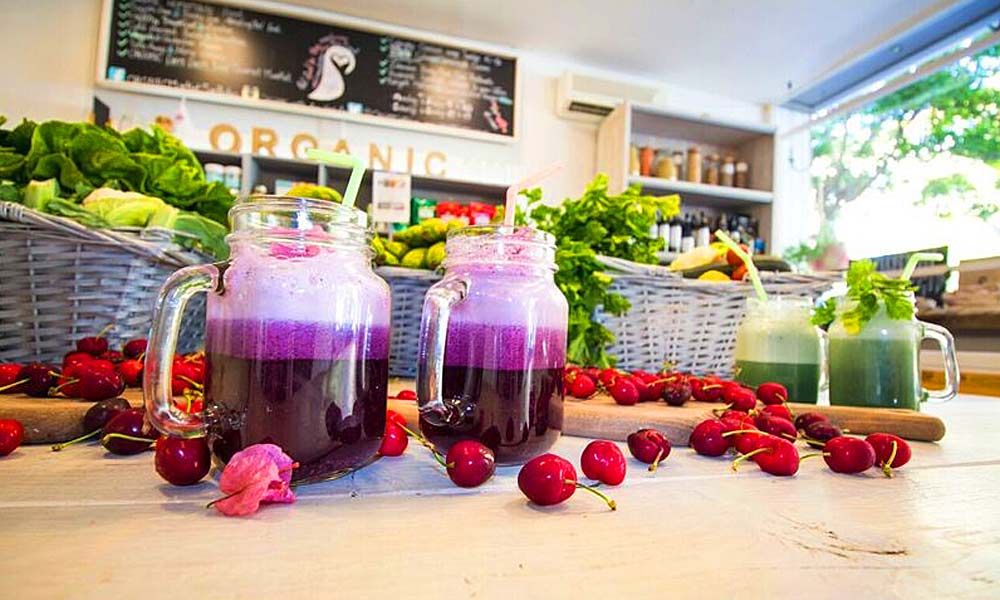 Owl Organic is a truly vegan establishment offering delicious and tasty food that will delight all. Its menu is very varied, ranging from quinoa burgers to vegetable sandwiches by way of croquettes and home-made ravioli. It also offers tapas at midday.
You can't go to Owl Organic without trying its desserts; choose from biscuits, cakes or fairy cakes.
Organic With Love (OWL)
Tel: +34 952 92 77 19
Web: www.organicwithlove.es


Google Maps
Gioia Plant-Based Cuisine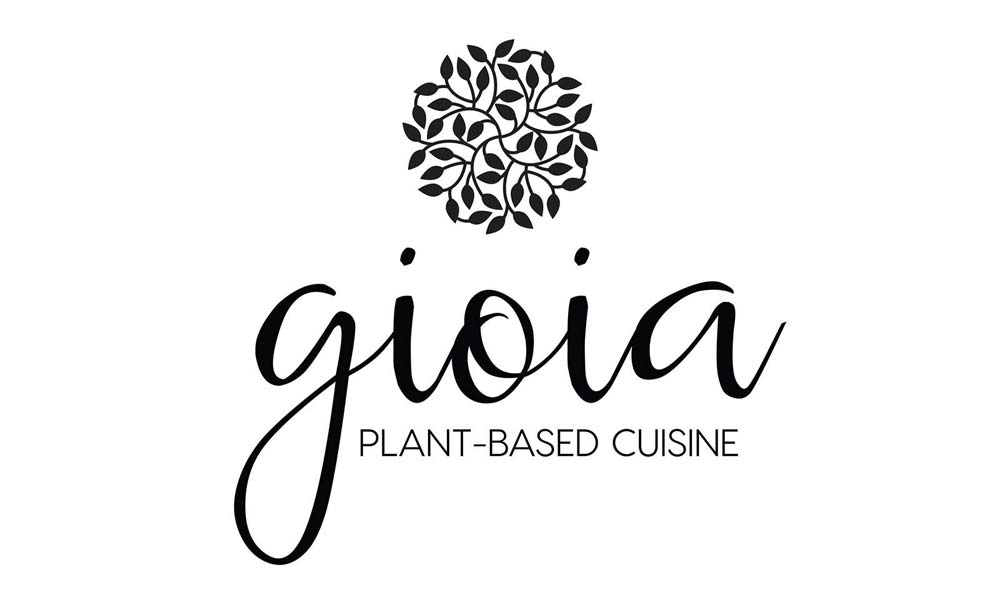 Gioia Plant-Based Cuisine Marbella – Photo courtesy Gioia Plant-Based Cuisine
Here you will enjoy veganicious cuisine. Its menu is based on simple, traditional cuisine, offering dishes from brown basmati rice, grilled courgette and tofu to aubergine meatballs or its famous chick pea burger.
Gioia Plant-Based Cuisine
Tel: +34 630 44 18 34
Web: www.gioiaplantbasedcuisine.com


Google Maps
Manuka – Plaza del Mar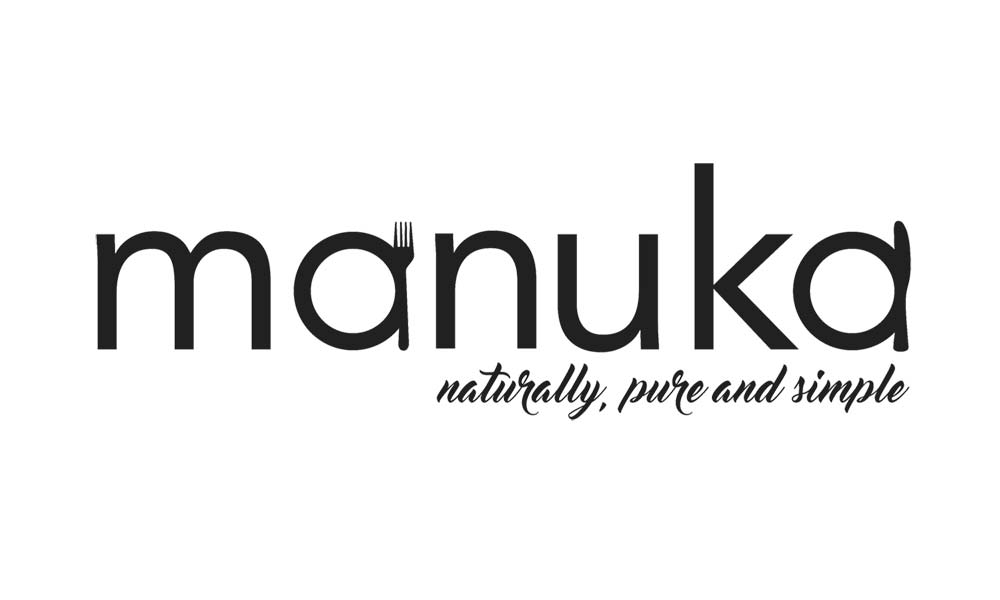 Manuka Marbella – Photo courtesy www.manukamarbella.com
Manuka is a very pretty and peaceful restaurant, where you can enjoy healthy, natural and additive-free food. It also only uses local producers with no refined sugars. The menu itself explains how it acquires its produce. This restaurant has a wide range of dishes for vegans and vegetarians, and there is also an option for raw vegans and celiacs.
If you're looking for a place to eat vegan food in Marbella, Manuka is for you.
Manuka – Plaza del Mar
Tel: +34 952 77 26 86
Web: www.manukamarbella.com


Google Maps
Rachel's eco love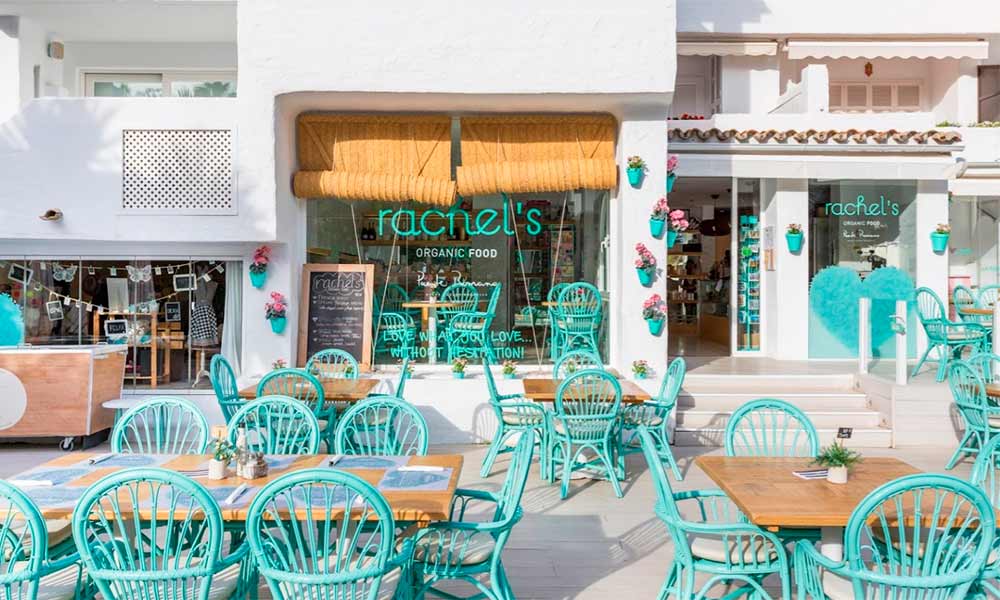 Rachel's eco love is an ideal spot to have breakfast, lunch or simply enjoy a good mid-afternoon cup of coffee. This place is quite magical, since times stops when you enter and the daily bustle disappears. Plus you can enjoy its street-level organic kitchen garden, its sweet little shop that sells organic products and treasures of the world, and its very sunny terrace.
Dishes such as aubergines with yogurt and pomegranate sauce, Castellucio lentils with tomatoes and gorgonzola or the "wake up" salad are just some of the gastronomic proposals offered by this restaurant on its menu.
Rachel´s Eco Love
Tel: +34 952 86 56 17
Web: www.rachelsecolove.com


Google Maps
Fresh Food Cafe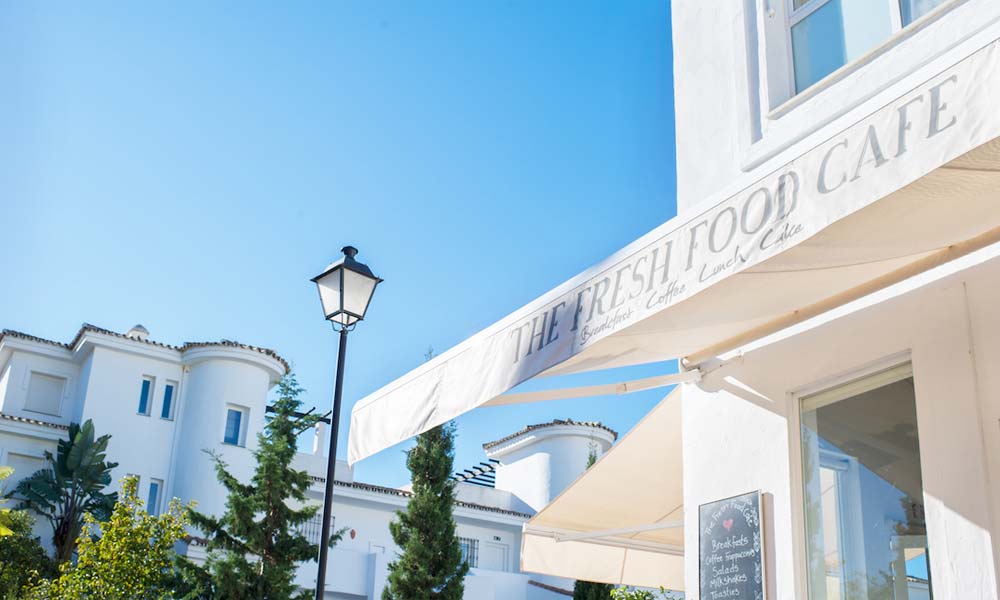 The Fresh Food Cafe – Photo courtesy www.freshfoodcafe.es
This restaurant is a jewel and while its menu includes meat and fish, it also has vegetarian and vegan options. The dishes are very elaborate, ingenious and delicious. This bar is the place to enjoy well-known dishes served in a totally new way.
Fresh Food Cafe
Tel: +34 952 90 73 64
Web: www.freshfoodcafe.es


Google Maps
Terra Sana Marina Banús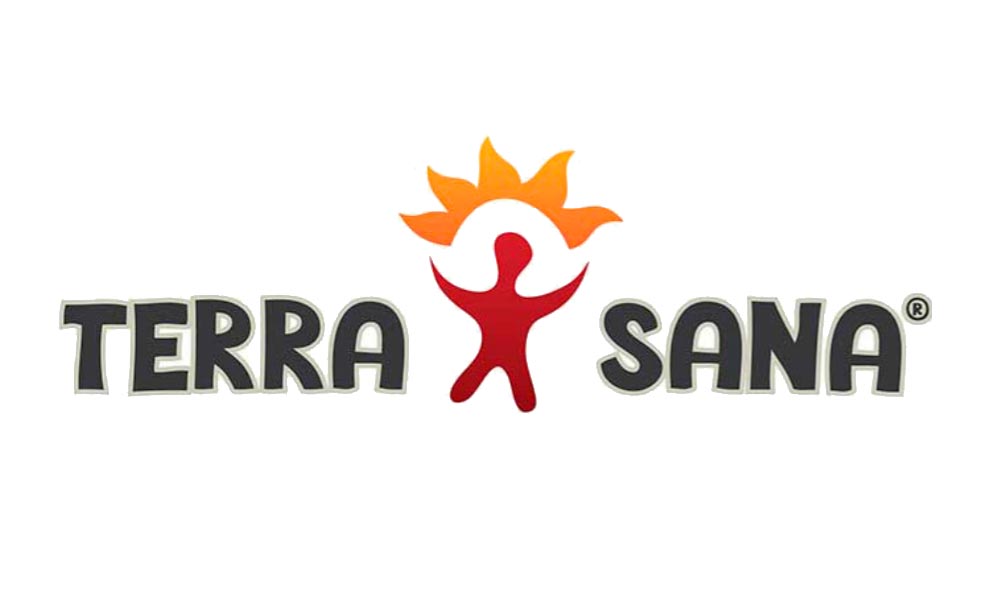 Terra Sana is a restaurant located in Puerto Banús, more specifically in the Banús Marina Shopping Centre opposite El Corte Inglés. It must be said that it is not a 100% vegetarian restaurant, but it has a variety of options on its menu, which are indicated with their respective symbols. Its culinary proposal is to make food that is enjoyable, healthy and always done in an eco-friendly way.
Terra Sana-Puerto Banus
Tel: +34 952 81 79 77
Web: www.terrasanapuertomarina.wordpress.com


Google Maps
Dezentral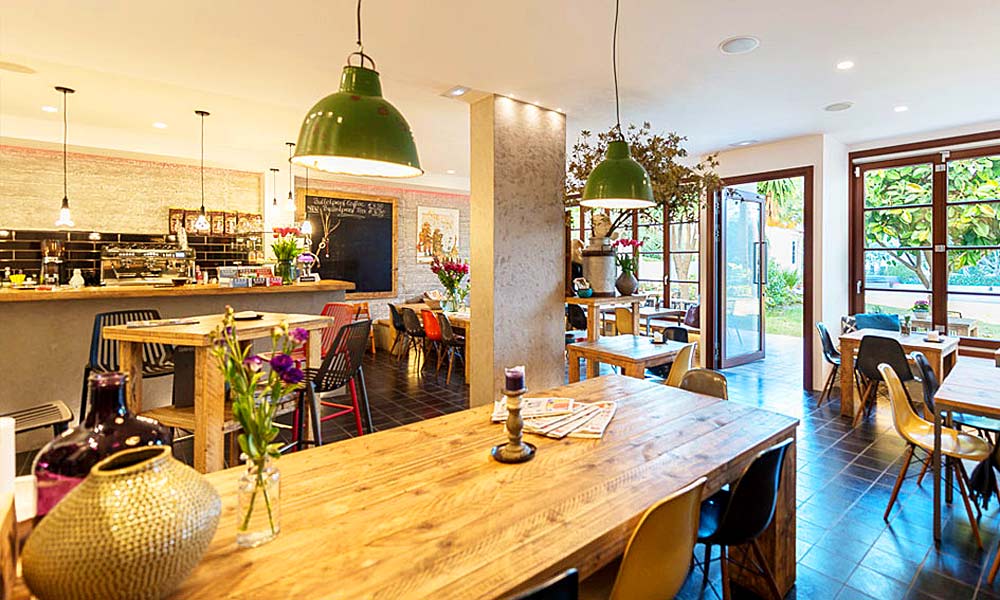 Dezentral is a pioneer within organic restaurants in Marbella. This restaurant is primarily characterised by two things, the first being that its food, in addition to being delicious is very innovative, and the second and even more important is its professional service. The waiters are charming and talk several languages with no problem, which is a point in their favour, since the establishment is located in such a touristy place.
Something worth mentioning is that it is totally dog friendly. Dogs are absolutely welcome. Not only are they given water, but they also enjoy treats.
Dezentral
Tel: +34 661 50 97 29
Web: www.dezentral-marbella.com


Google Maps
Pasión Poké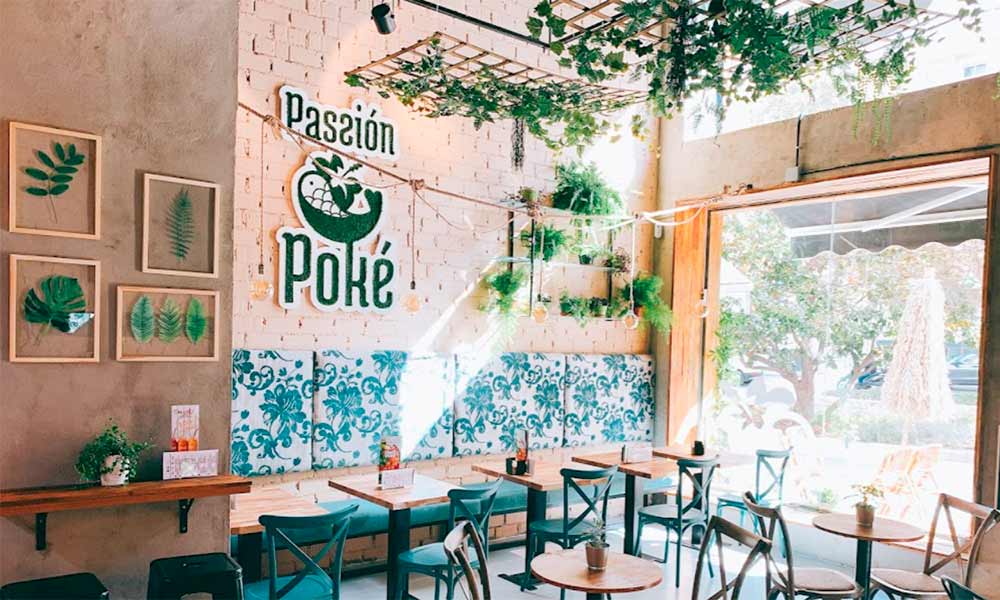 This restaurant is the first poké bar established in Marbella. Here you can enjoy a dish of Hawaiian origin with Japanese touches, making it a very healthy and nutritional option due to the wide range of healthy productos it contains. Poké is taking the world by storm, since it is a quick, simple and particularly delicious dish. It has to be said that this restaurant is not only vegetarian, since some of its dishes contain animal ingredients, however its menu lists the ingredients in each dish and also lets you create your own.
Pasión Poké
Tel: +34 951 90 76 58
Web: www.passionpoke.com


Google Maps
Tempora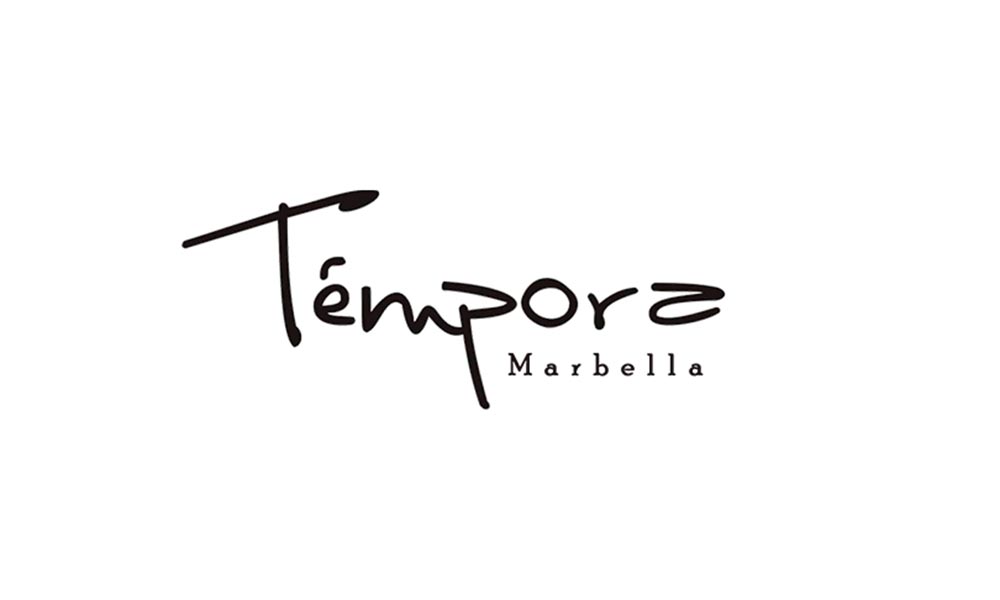 With an internationally inspired cuisine that only uses local ingredients, Tempora is an establishment located very near to the Alameda, almost on the Mediterranean shore. This restaurant is not totally vegetarian, since it offers all kinds of dishes, but its menu highlights the vegan friendly products, so whether or not you are a meat eater, you can indulge yourself with mouth-wateringly delicious, varied and innovative dishes.
Tempora
Tel: +34 952 85 79 33
Web: www.temporarestaurant.com


Google Maps
Il Cantuccio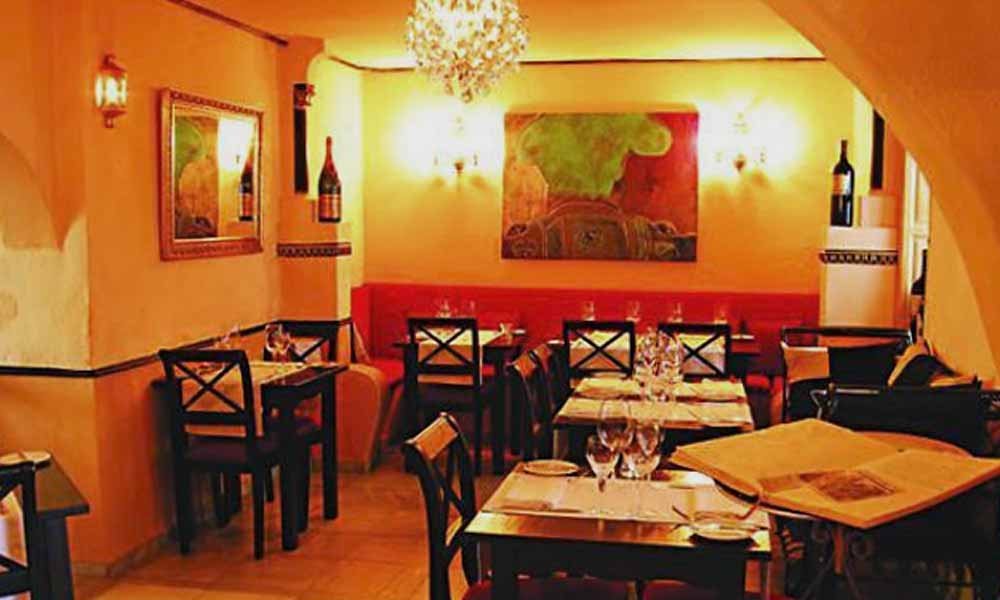 In the heart of Marbella is where you will find Il Cantuccio, a restaurant that brings you the best Mediterranean cuisine via the most delicious vegetarian dishes
This restaurant only uses biological products to prepare its dishes, so its menu only contains vegetables, fresh pasta and greens. It has to be said that some dishes do contain animal products, but only from those that are not endangered.
Here you can enjoy the healthiest, most organic and environmentally responsible food. You won't regret it!
Il Cantuccio
Tel: +34 616 59 95 33


Google Maps
Organic Marbella: organic restaurants where healthy eating is a pleasure