Marbella and Ibiza Blog
Amàre Beach Hotels
The towns and villages of Ibiza that you cannot miss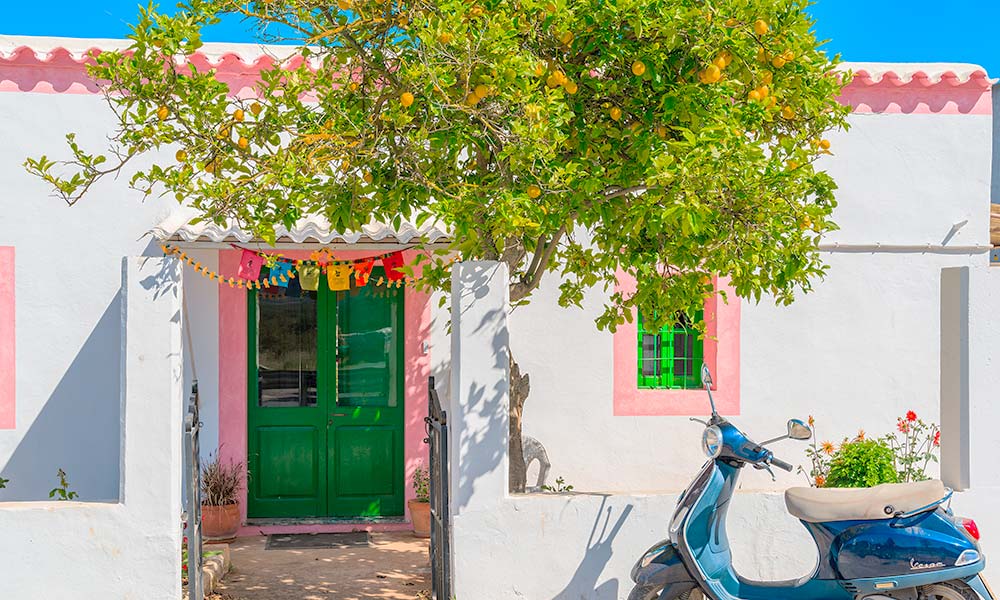 The towns and villages of Ibiza that you cannot miss
We know that the beach is very tempting in summer, but it would also be a shame to go home after your holiday without visiting the prettiest towns and villages of Ibiza and without finding out why it is called "the white island". What's more, your excursions will also include visits to markets, boutique shops, mythical bars, cute corners and photogenic churches. Get up from your hammock let's hit the road!
Why are Ibiza's towns and villages pretty?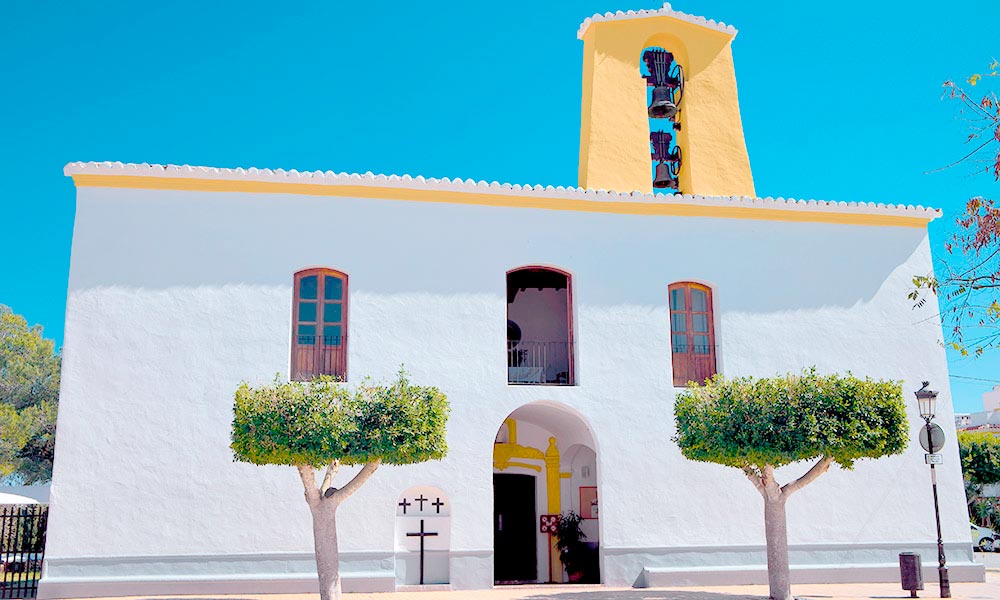 Santa Gertrudis, Ibiza
One of the island's unique features lies in the fact that up to the middle of the last century, most of the towns and villages of Ibiza comprised just one church, one shop that also served as a bar and post office, and a few houses around this enclave. Its inhabitants lived spread out over the territory on self-sufficient estates that worked until Sunday came, when they would meet at church and socialise under their porch. The only towns and villages that were more developed were Sant Antoni de Portmany and Santa Eulària des Riu, which ended up becoming Ibiza's main tourist centres.
What are the most authentic towns and villages in Ibiza?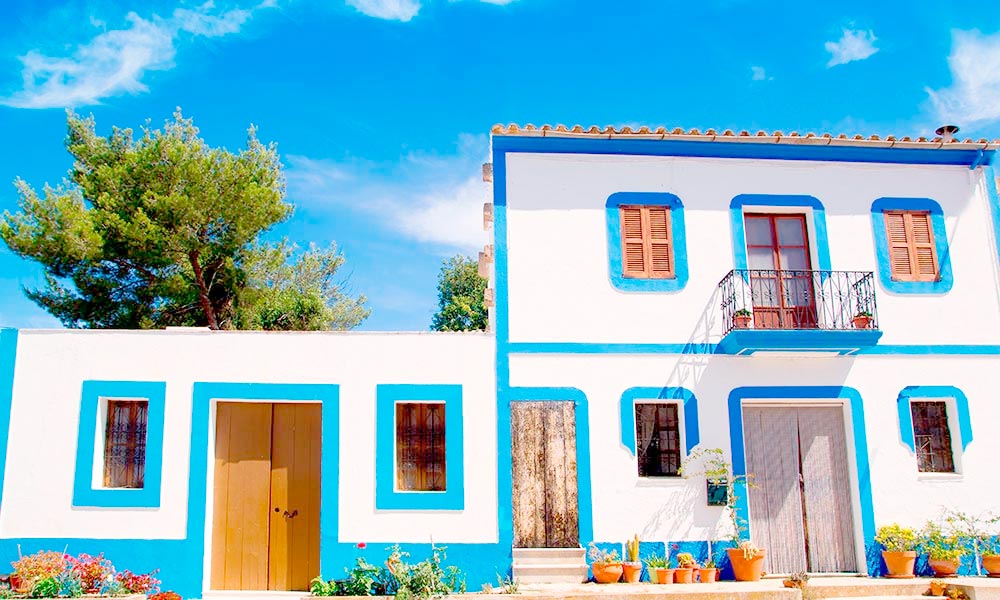 Sant Miquel de Balansat, Ibiza
In total, Ibiza has 15 towns and villages on its territory, some of which remain practically identical to a century ago. If you want to know what the island's towns and villages were like in times gone by, you need to include the following stops in your route of towns and villages of Ibiza:
Santa Agnès de Corona
It is located less than 9 miles from Amàre Beach Hotel Ibiza, in a pretty valley dotted with almond trees. Its church has two access doors, which is interesting because the temple is small. The reason? in 1870, a crime occurred next to the then main door, which is located under the arcade, and the congregation refused to use this door, so the one facing the road was opened.
Sant Mateu d'Albarca
The wine making valley of Sant Mateu is home to this tiny village comprising the church, two houses and two restaurants. We recommend you arrive from the road that runs behind the Santa Agnès Church, which provides a pretty view of Sant Mateu Church appearing in the distance.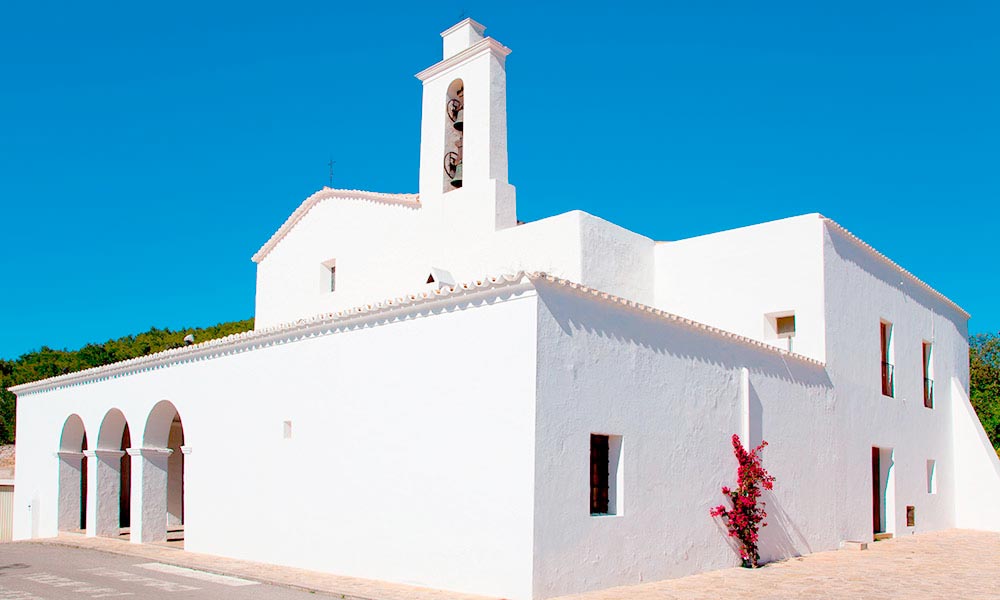 Sant Mateu d'Albarca
Sant Agustí des Vedrà
Less than 3 miles separate our 4-star hotel in Bou Cove from one of the most charming villages in Ibiza, a pretty architectural site situated above a hill that also has two very special restaurants: Can Berri Vell and Bar Can Berri.
Es Cubells
When you travel through southern Ibiza, be sure to make a detour to visit this small village whose church looks out to the cliffs of Es Cubells and is the only one located by the sea (apart from the Cathedral).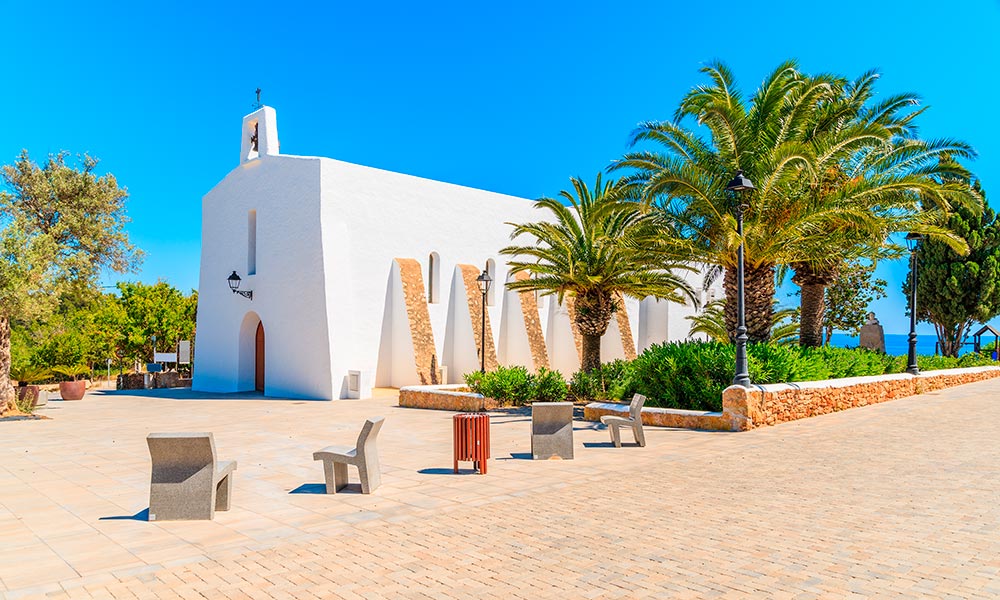 Es Cubells, Ibiza
Sant Vicent de sa Cala
The most remote village on the island comprises just its church, the priory and a restaurant situated behind the temple. The road that reaches this point runs through the Mala Costa Sierra, showcasing excellent examples of traditional houses.
The other charming towns and villages of Ibiza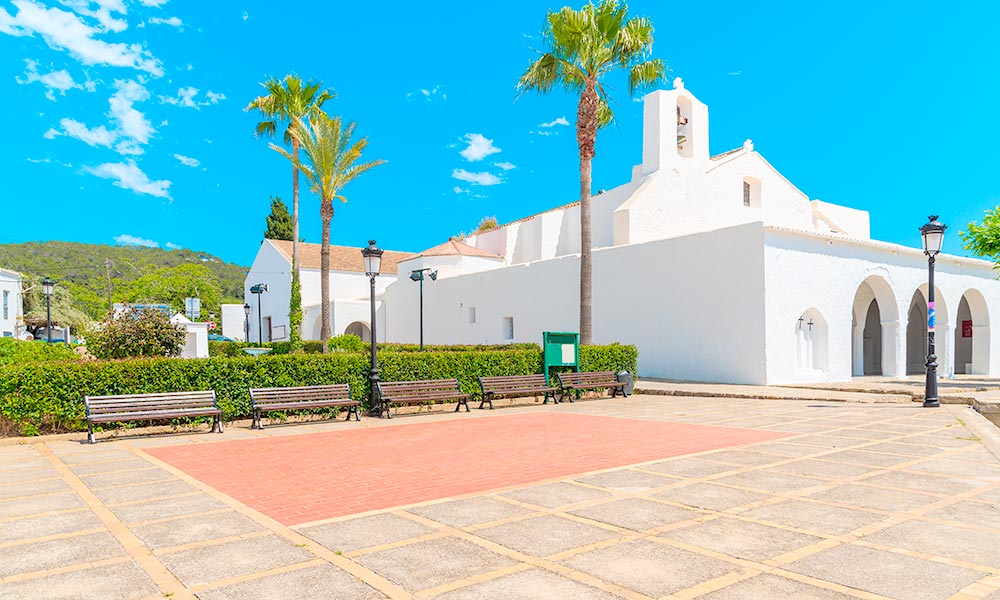 Sant Carles de Peralta, Ibiza
There are still many more must-see towns and villages of Ibiza that you must include on your routes in northern, eastern and southern Ibiza.
Santa Gertrudis de Fruitera
It has become the chicest town in Ibiza thanks to its cosmopolitan ambience, boutiques and restaurants. Be sure to enjoy a ham sandwich in the mythical Bar Costa, whose interior is decorated with dozens of paintings done by hippy artists who came to Ibiza in the 1960s and 1970s.
Sant Miquel de Balansat
Its beautiful fortified church is a must-see. We recommend you visit on Thursday afternoon, when representations of ball pagès, Ibiza's traditional dance, are held in its courtyard.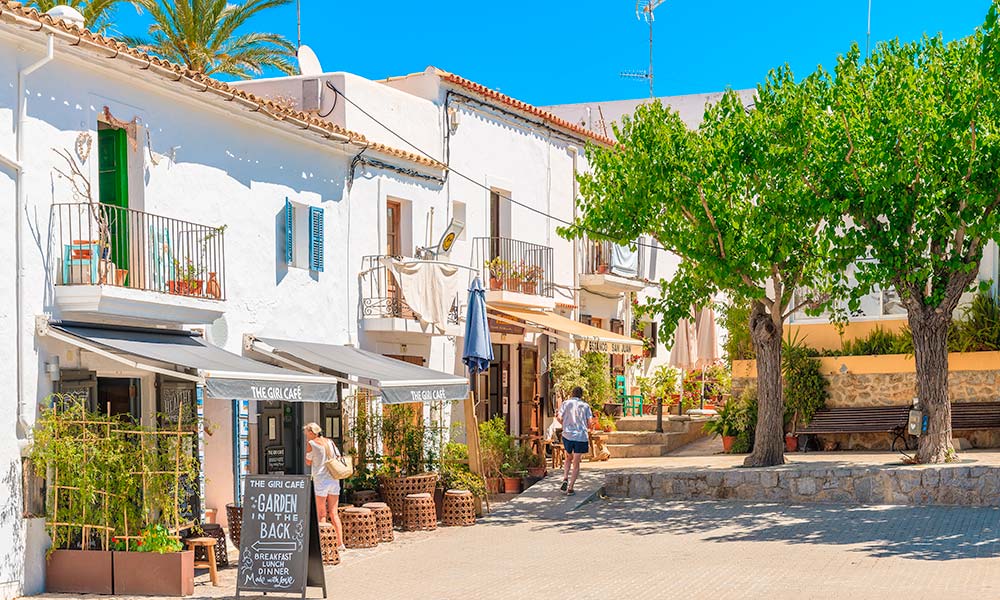 Sant Joan de Labritja, Ibiza
Sant Joan de Labritja
This charming town in northern Ibiza is located on the way to Benirrás Cove, one of Ibiza's most famous beaches. If you visit on Sunday morning, you will find a charming market selling arts and crafts, and organic products.
Sant Carles de Peralta
A must-see thanks to the Las Dalias Hippy Market that is held in the outskirts and the bar Casa Anita, one of the enclaves of hippy Ibiza that is still preserved (check out the post boxes and its old telephone box).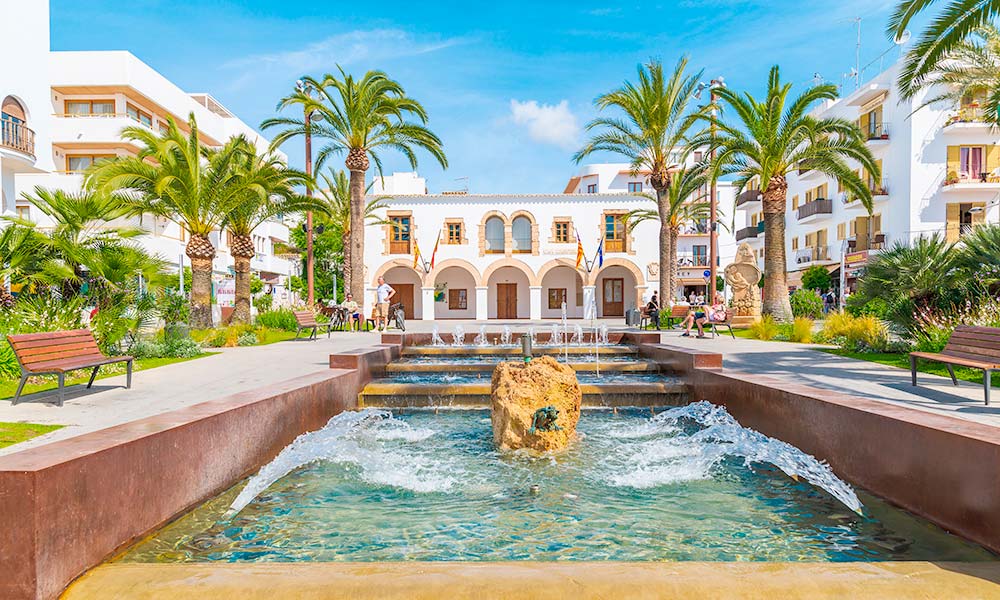 Santa Eulària des Riu, Ibiza
Santa Eulària des Riu
It is undoubtedly one of the towns in Ibiza that you cannot miss, since it is the home of Puig de Missa, an excellent example of an Ibizan fortified church. The houses that swirl around the temple constitute the town's historic site.
Sant Josep de sa Talaia, Sant Rafel de sa Creu, Jesús y Sant Jordi de Ses Salines
During your travels around the island, do not miss the chance to visit the churches of these villages. In Jesús you will find a Gothic altarpiece that is the most valuable work on the island, and in Sant Jordi, the only temple in Ibiza that preserves its parapets.
Discover the best coves and beaches in Ibiza
Ibiza clubs and bars: a guide to Ibiza nightlife
The 10 best beach clubs in San Antonio and surroundings
Amàre Beach Hotel Ibiza, one step from the town of Sant Antoni de Portmany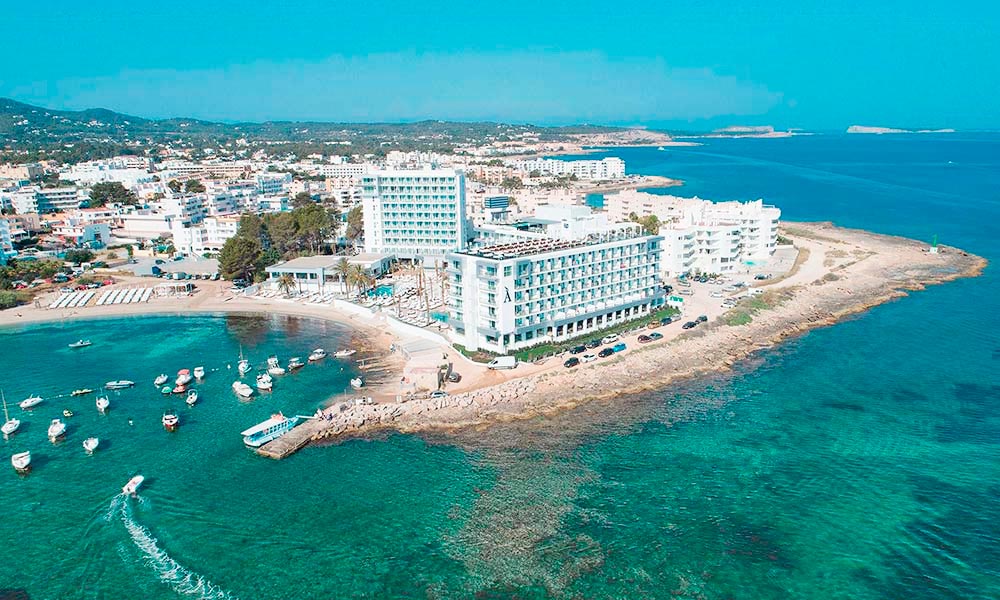 The tourist town of Sant Antoni is located less than 3 miles from Amàre Beach Hotel Ibiza, our 4-star hotel recommended for adults. After a short journey by boat, bus or motorbike, you can discover its church, one of the best examples of an Ibizan fortress-church, or its pretty promenade, and enjoy its terraces or do some of the things we recommended in our article 37 Things to see and do in Ibiza. And after all that activity, our gastronomic and wellbeing proposals await so that you can end the day in a deserving manner: with the best.
Long live the Mediterranean!