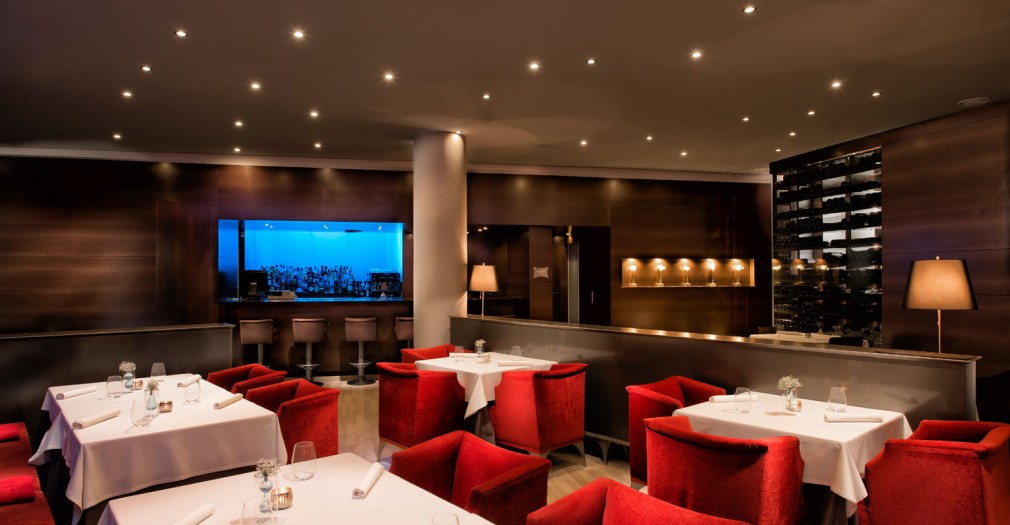 Messina Restaurant
(Michelin Star)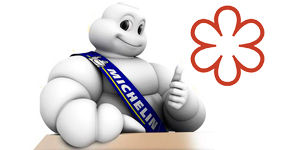 Messina Restaurant won its first Michelin star in the most recent 2016 edition of the awards, as well as the "Restaurant of the Year" prize, given by the Marbella Academy of Gastronomy. In 2014 it was awarded the "2014 ABC Chile Sauce" prize for the best restaurant of 2014, and was judged as the 10th best restaurant in Spain for creative cuisine at Madrid Fusión's Gastronomy 100s awards. Mauricio was recognised as the "Best Chef 2013″ and Messina as the "Best Restaurant 2012″ by the Marbella Academy of Gastronomy.
Messina restaurant has a track record dating back 13 years and it has put down deep roots as one of the Costa del Sol's best culinary offerings. Elaborate dishes that combine high quality products – most of which are local such as Malaga Goat and fish and shellfish from Marbella's coast – with excellent technique and simple and elegant presentation. The two tasting menus are without a doubt the best way to discover the personal cuisine of chef Mauricio Giovanini's, whose work has been recognised on many different occasions.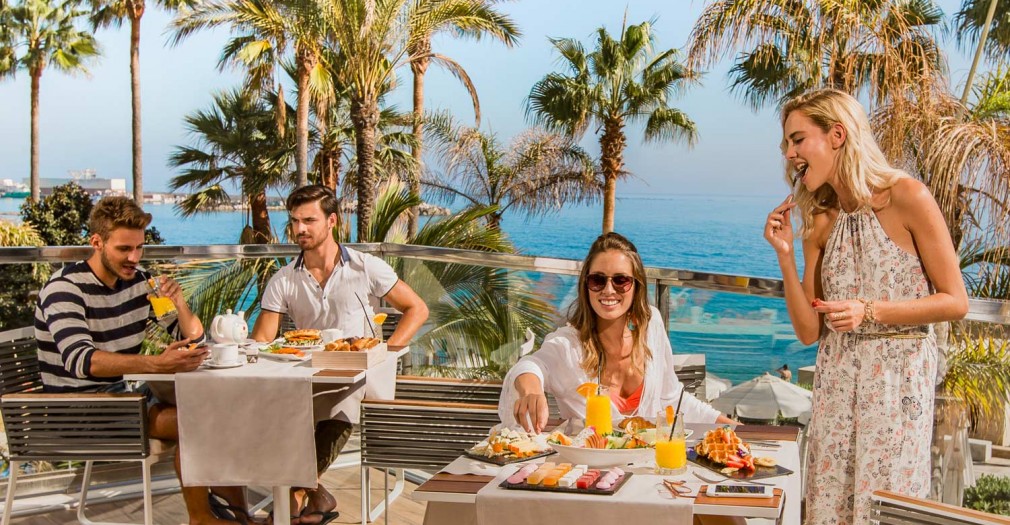 Mare Nostrum Restaurant
Our Sea. This is the meaning of Mare Nostrum and this is our leitmotiv: we want to make the Mediterranean Sea yours. This is the reason why everything in the Mare Nostrum Restaurant is to remind you of the sea, not only its fresh cuisine but also its decor.
There's no better way to start your day than having a buffet breakfast on the Mare Nostrum terrace bar gazing at the sea. Even in the indoor restaurant you'll feel like you are outdoors, because nothing obstructs your beach view.
The healthiest and most appetising ingredients of Mediterranean diet stand out in traditional recipes and the innovative chef's creations. Take delight in them not only for breakfast, we highly recommend you Mare Nostrum dinners.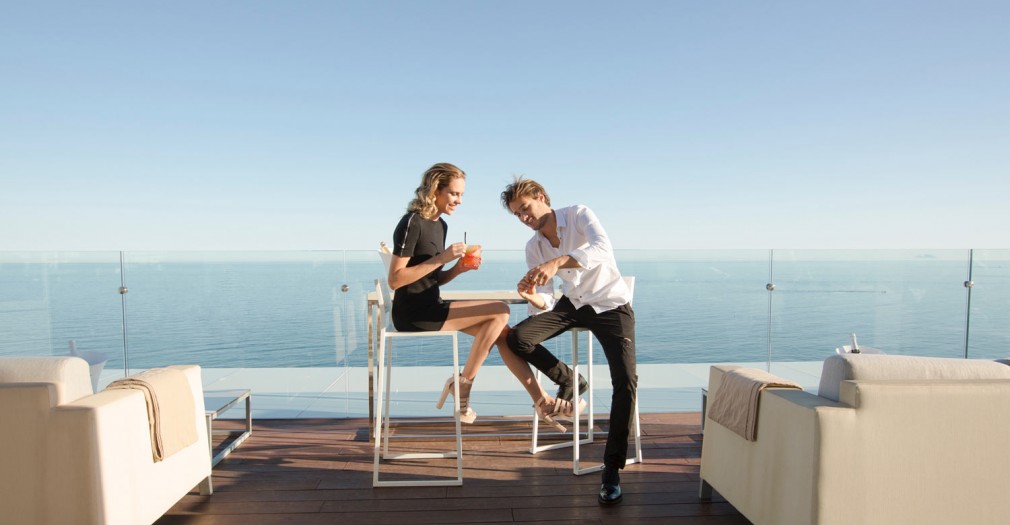 Belvue Rooftop Bar
From Marbella to the heavens. From our rooftop bar you can enjoy infinity 360º views over the Mediterranean Sea, Marbella's old town and the majestic Sierra Blanca. It's the perfect place to enjoy a few drinks, a snack and great music while watching a spectacular sunset, or for relaxing in the evening. Don't miss the after-work event on Friday afternoons; cocktails, a live DJ and a great atmosphere all spice up our incredible views.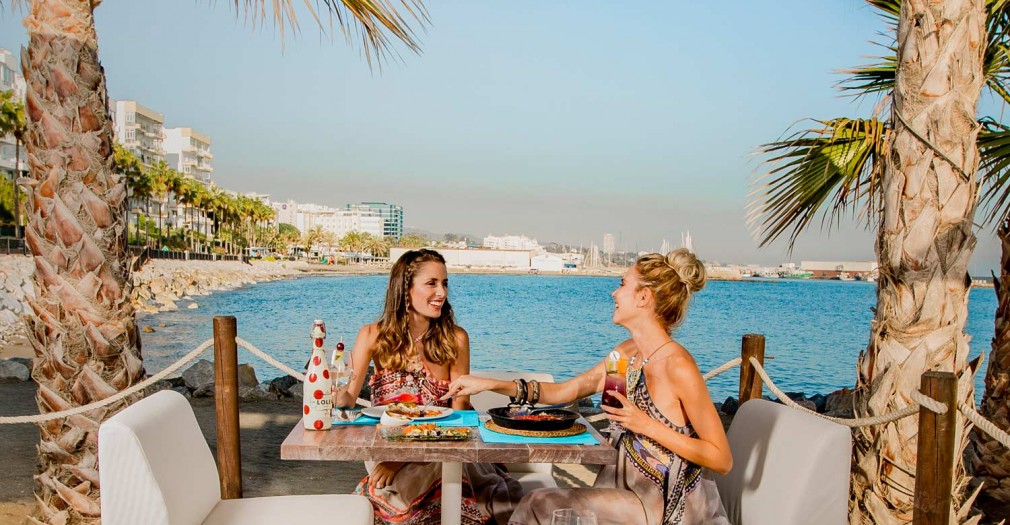 Amàre Beach Restaurant
The Mediterranean culture has its own mood and taste, with autochthonous products and a charismatic blend of spices. This is the base of the fusion cuisine that you'll find in the Amàre Beach Restaurant, for sure one of the best places to eat in Marbella.
The beach embraces this outdoor restaurant, where only a wooden deck separates you from the sand and you can smell the sea breeze. Tasty "tapas", the freshest seafood, rice recipes, Iberian ham, salads, even pizzas and burgers served with a touch of style… are only some examples of all you will savour in Amàre Beach Restaurant.
If you are looking for something different in Marbella restaurants' offer, you don't need to go any further. Come to Amàre Beach and enjoy two guilty pleasures at once: sunbathing and making the most of a delicious lunch or dinner.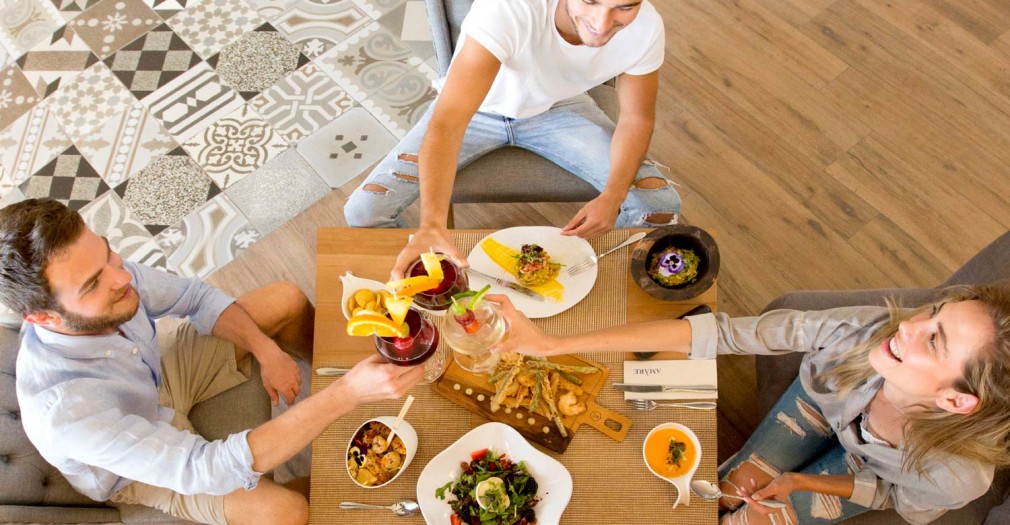 Amàre Lounge
You will fall in love with this contemporary and eclectic leisure and dining space, with pool and sea views. Perfect for enjoying a wide range of Mediterranean cuisine, as well as more international dishes.
During the evening, get carried away and sample one of our cocktails. Do you like the classics, or would you prefer some new flavours? We have a acclaimed barman who has created a special cocktail for your holidays in Marbella.
Dance to fusion flamenco rhythms, take part in our themed dinners and don't miss the best sporting events. Amàre Lounge has all the ingredients you need to switch off.