Marbella and Ibiza Blog
Amàre Beach Hotels
Marbella getaway: what to see and do in the Jewel of Costa del Sol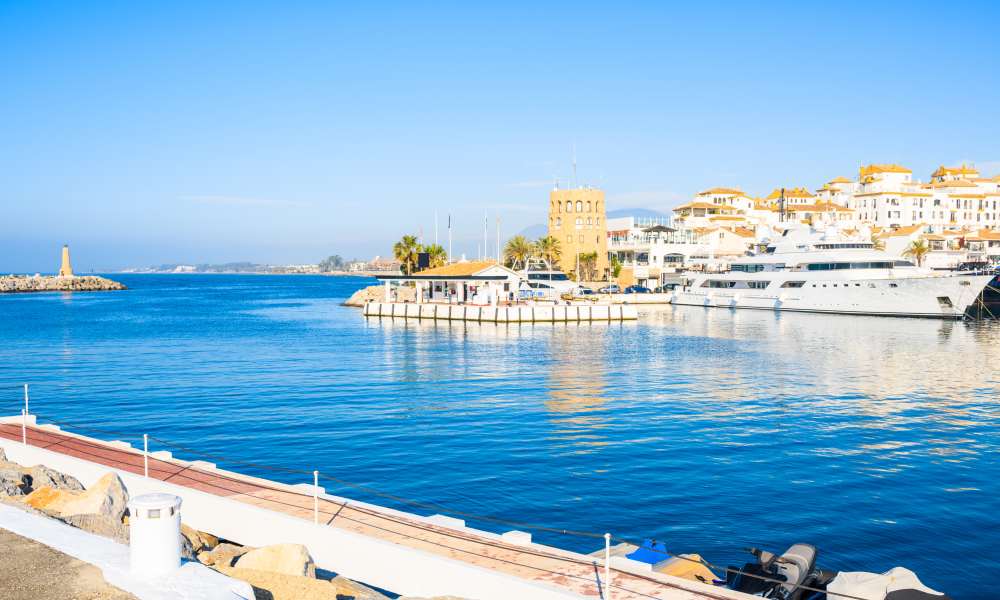 Marbella getaway: what to see and do in the Jewel of Costa del Sol
A weekend is not enough time, especially if the weekend getaway is to Marbella, a city with so many facets, where besides glamor, luxury and celebrities, you will find a city of customs and history to discover and that will make you fall in love.
There is much to see and do in Marbella, an example of this is its old town, its walls, as well as its cuisine. Enjoy what its beaches and nightlife offers, a weekend in Marbella offers a multitude of complementary activities such as markets, excursions or cultural events such as festivals or concerts ranging from jazz or motown to modern music, going through opera and even reggae. You can also enjoy theatrical performances and, if it matches your getaway, the international film festival
For all this, don't think too much choose a getaway to Marbella and discover the true essence of the city, will you join us?
The best Marbella weekend breaks
How to get there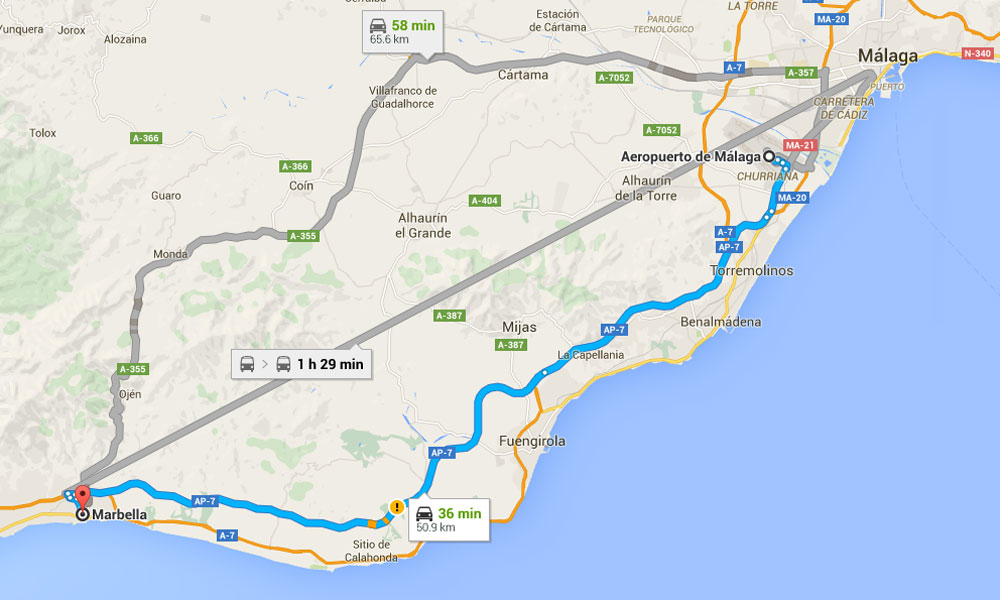 Getting to Marbella is easy as the city is well connected to the rest of the region by a good network. Here we tell you about all the possibilities that you have to arrive to Marbella:
The airport Pablo Ruiz Picasso de Málaga is the main reference both for national and international flights: it is less than an 60 km away from Marbella, and there's a direct bus from the Airport to Marbella which leaves from Terminal 3.
In addition to the taxis located at the airport, there are other companies specializing which you can hire before arriving and they will be waiting for you upon your arrival. If you prefer it, you can also rent vehicles near the airport. Here are some of them:
Taxi transfers
Car rental
However if you are going to Marbella by bus do not worry because you have many routes from the different cities that make up Costa del Sol as well as Andalusia and Spain.
If you are driving, the reference is the A-7 motorway, which runs this entire coastline and interconnects Costa del Sol. There are sections with tolls(AP-7), which will save you some time, especially in summer when there is more intense traffic in the area.
Marbella can also be reached by boat, but only from private boats. The nearest port for passengers in the port of Malaga, where ferries and cruises dock coming from different parts of the world.
Getting around Marbella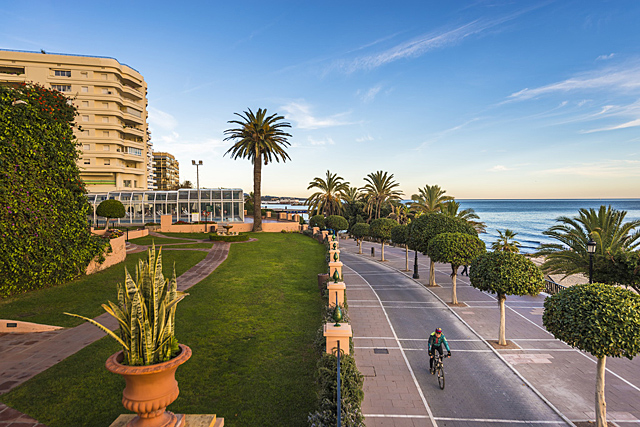 Marbella is not a city in which it is exceedingly difficult to get around on foot, but there are some places you will want to go to where you will need transport. If you have your own vehicle it will not be difficult to move through the streets, but if your own vehicle is available, the most feasible solution is to use the bus network of the town which runs through 7 day and 1 night line:
L1: La Cañada – Centro – Puerto Banús – El Ángel
L2: Las Albarizas – Centro – Xarblanca
L3. Plaza de Toros – Miraflores – Centro
L4: San Pedro – Nueva Andalucía – El Ángel – Puerto Banús
L5: El Salto – San Pedro – Centro de Salud
L6: Circunvalación – Centro Marbella
L7: Estación de Autobuses – Centro – Las Chapas
Nocturnal: The same route as the L1
Then we have the interurban lines L25 (Nueva Andalucía-Marbella) and L54 (Costa del Sol Hospital-San Pedro.
Marbella weekend breaks – Going shopping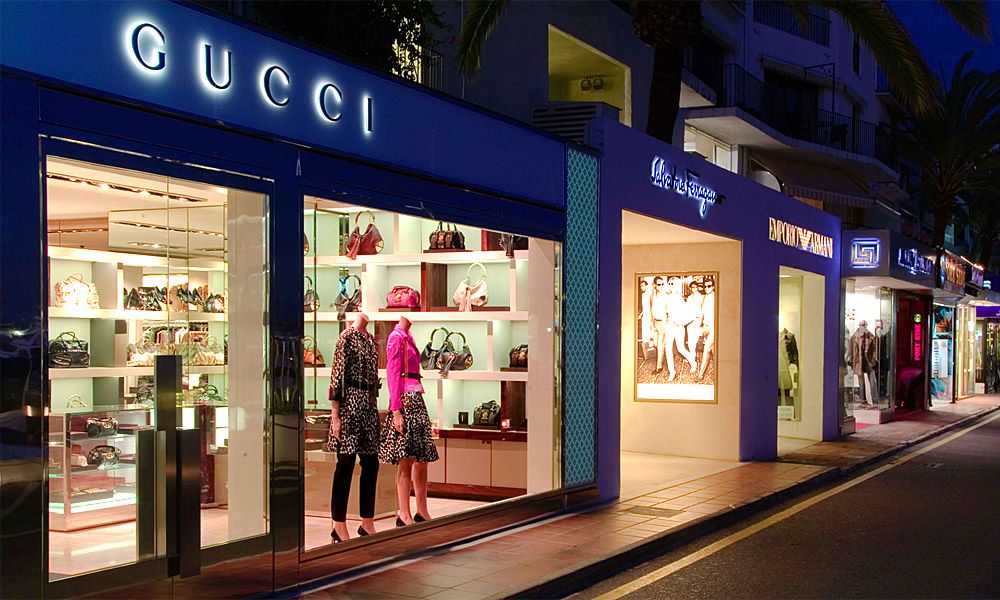 Marbella is ideal for shopping, you can find all kinds of stores and products, from traditional to exclusive items. It has shopping centres, such as La Cañada which has become a tourist reference, as well as the traditional shops in the old town, which are more focused on people who are looking for something more exclusive. But we can not forget the markets of Marbella, where there is always a treasure waiting to be rescued.
However we would like to give you some clues about the best stores where you can go 'shopping' in Marbella.
Puerto Banús
Puerto Banus is where luxury is lodged and if you love shopping, look no further, this is your place. In Puerto Banus most of the most exclusive stores are located on the docks of the marina because as soon as you pass the access barrier you can see shops of leading brands such as Versace or jewellers like Cartier, all with private security at the door.
There are also much more exclusive stores where you can rent or even buy high-end cars, yachts or anything else that you can think of, here the limit is set by your pocket.
Hermès
Hermès is the ideal union between elegance and comfort, because in its stores you will find luxurious contemporary clothes but without losing its craft tradition.
Bajo Casa E Puerto Banus, Calle Ribera, 11, 29600 Marbella, Málaga
Web: www.hermes.com
Tel: +34 952 81 71 25


Google Maps
Jimmy Choo
Jimmy Choo is the brand preferred by celebrities because their designs stand out for their glamor and their daring character. Although this brand became famous for its shoes and handbags, it also offers glasses, handkerchiefs, perfumes and belts.
Muelle Ribera, local 5-6, Edificio Casa N, 29600 Puerto Banús, Málaga
Web: www.jimmychoo.com
Tel: +34 952 90 80 43


Google Maps
Louis Vuitton
The brand Louis Vuitton and the famous LV monogram are among the most valuable brands in the world, so if your goal is to renew the purse or suitcase, then you are in the right place. Louis Vuitton in Marbella is based in a luxurious shop on Muelle Ribera (Casa N Marbella, Puerto Banus 29660). In the world of fashion their handbags are extremelly popular, the skin the products are made of come together in an extraordinary way in every seam.
Muelle Ribera, Casa N,29660 Puerto Banús,Málaga
Web: es.louisvuitton.com
Tel: +34 952 90 81 90


Google Maps
Violeta by Mango
You might think that Mango is not a very exclusive brand, but the reason we include this store in this list is because it is in Marbella where we can find one of the few Violeta shops that exist in Spain. We find it on  Carretera de Ojén, S/N, 29600 Marbella, Málaga. This offers a very youthful line and clothes up to size 52.
Parque Comercial la Cañada, Carretera de Ojén, S/N, 29600 Marbella, Málaga
Web: http://www.parquecomercial-lacanada.com
Tel: +34 952 85 70 06


Google Maps
Gucci
Influential, innovative and avant-garde, this Italian company has redefined luxury in the XXI century, further strengthening its position as one of the most desired brands in the fashion world. Gucci has a wide selection of luxury items for both men and women in the exclusive Puerto Banus store: Muelle Rivera Local 15-16 29660 Marbella, Malaga. It also has a line of perfumes.
Muelle Ribera 15-16, Puerto Banus, 29660 Marbella
Web: http://www.gucci.com
Tel: +34 952 90 87 55


Google Maps
Escada
Elegance, glamour and sensuality, these are the characteristics that perfectly define this signature luxury eveningwear brand. Come and buy some of their products, with plunging necklines, tailored to the figure and made with high quality fabrics.
Muelle Ribera, Casa J, Local 10,  29660 Marbella
Web: http://es.escada.com/
Tel: +34 952004020


Google Maps
Burberry
Burberry is a tradition that combines craftsmanship, design and innovation. In its stores in Calle de Ramón Areces, S / N and Muelle Local Ribera 53, Casa H Puerto Banus, you will find the trench coats, exclusive items, exclusive handbags, handkerchiefs, scarves and British style accessories that have made this brand famous throughout the world in addition to its well-known line of coats.
El Corte Ingles, Calle Ramon Arecece S/N, Calle Puerto Banús Casa J, 29660 Marbella
Web: http://es.burberry.com
Tel: +34 610 20 56 00


Google Maps
Lacoste
Watches, perfumes, shoes, belts and bags and many other items make up the catalogue of this brand, which also has a broad clothing line with their colourful poles standing out, making athletes and golf enthusiasts crazy.
Muelle Ribera, Local Q-4, 29660 Marbella
Web: http://http://www.lacoste.es/
Tel: +34 952 815 998


Google Maps
Centro Comercial Costa Marbella
The Costa Marbella Shopping Center is located in the heart of Puerto Banus and is the best option to enjoy a great day of shopping in Marbella, as it has everything you need to go out with a new wardrobe and with all the gifts and souvenirs to take back home. The first option is the ground floor where the souvenirs, perfumery and cosmetics sections, shoe store and even a post office are located.
On the first floor you will find the fashion section and the sports section, in case you want to buy something to do some outdoor activities. On the top floor you can buy electronic products, telephone, books or music.
The Costa Marbella Shopping Center is the ideal place if you don't have much time to do shopping during your vacations in Marbella.
Calle Ramón Areces, s/n, 29660 Marbella
Web: http://www.elcorteingles.es
Tel: +34 952 90 99 90


Google Maps
Nueva Andalucía street market
The market of Nueva Andalucia, takes place every Saturday in the surroundings of the Bullring, 5 minutes walking from Puerto Banús. In Marbella this market is an institution for that reason it is of those that more influx of public has, especially during the summer.
Visiting this market is the perfect option to do something different during your holidays if you want to find an item at a good price as there is everything here: souvenirs, clothes, spices, footwear, fruit…
We should also mention that on the first Saturdays of the month, the Asociación Guadalhorce Ecológico holds a market in Elviria where they offer 100% Málaga products.

Google Maps
Eating in Marbella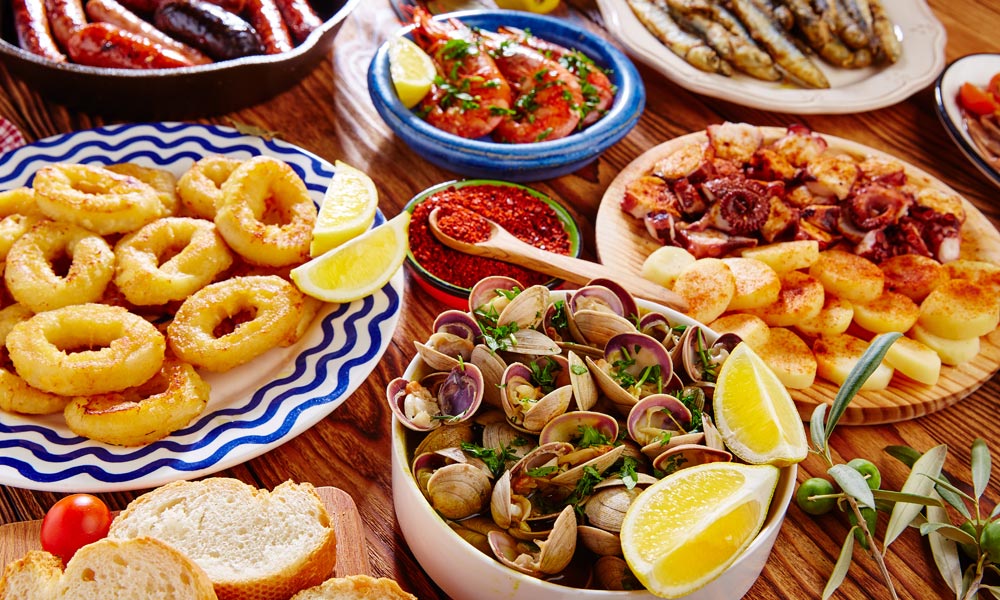 As the saying goes, 'variety is in good taste', which is why having breakfast, lunch or dinner in Marbella can be very rewarding if you know where to go. As in many other cities, in Marbella there are distinct areas with a great variety of options, there are 3 areas that can satisfy different tastes and needs:
The old town of Marbella is the best place to find traditional bars or restaurant at any price and which offer varied products.
The promenade is ideal for those seeking the coolest local, with a young atmosphere for people who prefer having the sea close while dining or having a drink.
Puerto Banus, Milla de Oro is the is visited by those who have no problems with money and want to enjoy an exclusive atmosphere.
However we recommend that if you are on vacation or just for the weekend, you come to visit one of these places
Restaurante El Lago
El Lago is an exclusive restaurant that takes its name from the great lake on which it sits. In El Lago they will offer you an author's kitchen without great artifices but rest assured that you will taste delights made with the best local products, not for nothing has a Michelin star. We recommend that if you ask for the semidry tomato with goat cheese or the tuna tartar with kimch white garlic, they are exquisite.
Urb. Elviria Hills, Avda. Las Cumbres, s/n, 29600 Marbella, Málaga
Web: www.restauranteellago.com
Tel: +34 952 83 23 71


Google Maps
Soliluna
The Soliluna Restaurant is one of the most charming in the city and it is one of the most famous ones because of its reputation for reliability and exclusivity. This restaurant is known for its relaxed atmosphere and delicious authentic Mediterranean food. Besides, they organise fun theme nights with shows of Flamenco, Tango and live music that will make you enjoy the night.
Urbanización Ancon Sierra, Calle Sierra Bermeja s/n, 9602 Marbella
Web: http://www.restaurantsoliluna.com
Tel: +34 952 86 66 27


Google Maps
Restaurant Momo Marbella
At the heart of Marbella, near the Plaza de los Naranjos, we find a romantic gastrobar offering excellent cuisine dishes prepared with love and care and different styles: Oriental, Japanese or Spanish. Its romantic and welcoming atmosphere, its geographic location, careful staging and the professionalism of its staff make it a must-go. Try it!
Calle Tetuán  7, 29601 Marbella
Web: http://www.momomarbella.es
Tel: +34 952 77 15 60


Google Maps
Garnacha
Grenacha is a small restaurant that is located in the heart of Marbella, in Plaza de los Olivos, defining itself as a  gastronomic tapería. This establishment has the approval of all the residents of Marbella, one of the most effective mouth to mouth of Costa del Sol.
The wine list is excellent and in its dishes you will see the modern and Mediterranean essence of each of them. A simple space with capacity for few people where you can enjoy privacy while you give a treat to your palate.
Plaza De Los Olivos  S/n, 29601 Marbella
Web: http://www.garnachamarbella.es/
Tel: +34 951 968870


Google Maps
Bibo
Bibo restaurant could not be absent from this lis, the restaurant belonging to the wizard of Andalusian restauration, Dani García. BiBo is a space that contains different environments in which we live the most varied experiences: from a quiet conversation in the corner of Grandma to a fun gathering at the cocktail bar.
A creative cuisine restaurant that will surprise you, as the menu proposes Andalusian roots and classic dishes of international recipes based on local product with technical and international nuances.
Hotel Puente Romano, 29602 Marbella
Web: http://www.grupodanigarcia.com
Tel: +34 951 60 70 11


Google Maps
Ta-Kumi
This restaurant is located on the Marbella promenade, within the Plaza del Mar shopping center. Ta-Kumi is a gastronomic center whose proposal is the fusion of the Japanese and Spanish culinary tradition, creating delicious dishes such as the avocado futomaki, sea bass teppanyaki or white fish sashimi.
This marvelous temple of Marbella´s cuisine is an experience since you will enjoy a cozy but distinguished atmosphere.
Calle Gregorio Marañón, 4, 29602 Marbella
Web: http://www.restaurantetakumi.com
Tel: +34 952 77 08 39


Google Maps
Restaurante Santiago 
The Santiago restaurant has been a benchmark in Marbella for fifty years. This temple of local cuisine is located in front of the sports marina of the city. Its culinary style offers a Mediterranean taste. Here you will find the best Andalusian and Galician fish and seafood and all of them watered with an exquisite wine list specially chosen to combine this experience.
Av. Duque de Ahumada, 5, 29602 Marbella
Web: http://www.restaurantesantiago.com
Tel: +34 952 77 00 78


Google Maps
What to see during your Marbella getaway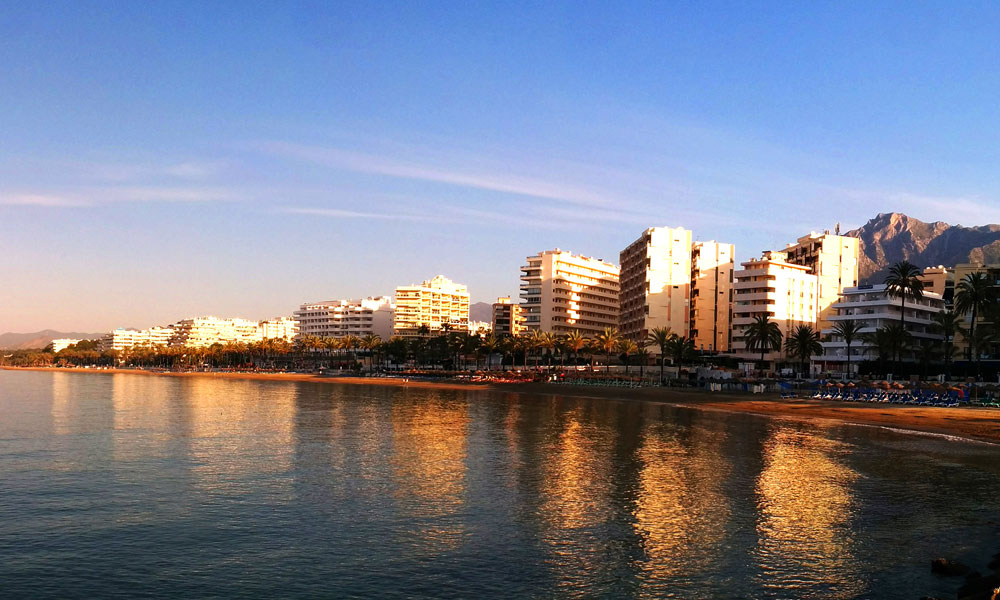 The visitor walking around the new area of ​​Marbella may think that it is a modern city, but the truth is that it is not. Marbella also has traces of other civilizations, which have previously passed through its lands, places that should not be left unseen on a weekend getaway to Marbella.
Old town
We recommend you start this route by the Marbella Old Town along Alameda Park, one of the liveliest places in Marbella. It is a small park, but it is also the oldest in the city, as the first species were planted there in the eighteenth century.
After seeing the Alameda, you should go directly to the Plaza de los Naranjo, one of the most emblematic and central places in the area. If you have not had lunch yet, this is a good place to do it or at least to have a drink under the orange blossoms.
From here you can admire the Town Hall, the historical fountain, the bust of King Juan Carlos and the chapel of Santiago. At this point we suggest that you walk through the narrow streets and lose yourself in them while watching the courtyards filled with geraniums, flowerpots and other natural decorations. You can also go to the main church, Iglesia Mayor de la Encarnación and its cobblestone square. Take a quick look at this simple but charming church built in the sixteenth century.
The Promenade
The promenade of Marbella is one of the liveliest places in the city and where tourists feel more comfortable because they see what holidays are all about: an attractive place
by the sea, with many people wanting to have fun at bars and restaurants, and enough space for walks and the freedom to choose whether to have a tapa here, chat there or watching the sunset while Marbella prepares for its lively nightlife to start.
Puerto Banus
On a weekend visit in Marbella you are fully obliged to stop at this important port. Puerto Banus is the most famous southern European nautical and tourist enclave, but this port is much more than that, it is really is a city within a big city like Marbella. It is the meeting point of numerous characters of public life, it is estimated that it is visited by more than 4,400,000 people per year.
Located just west of Marbella and before reaching the town of San Pedro de Alcantara, is the Crown Jewel of Marbella. Yachts, cars, luxury are there to see and be seen, certainly a corner worth visiting.
Beaches in Marbella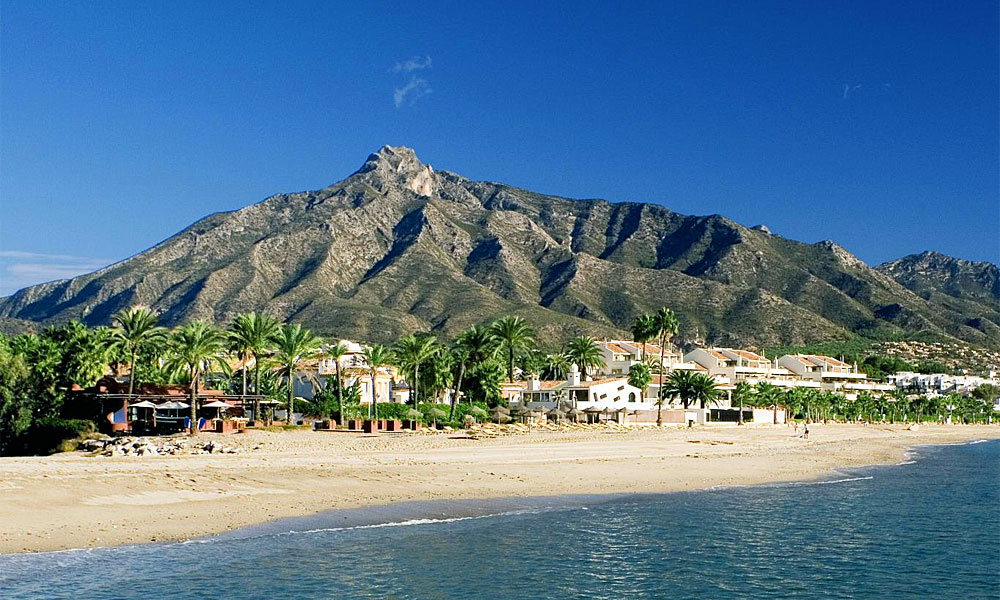 Marbella has nothing more and nothing less than 26 beaches, which include El Pinillo and Fontanilla.
Fontanilla beach
This beach is located next to Puerto Banus, it is 1 km long with an average width of 30 m, is the most central beach in Marbella making it one of the most popular. It is an urban beach
which runs parallel to the promenade. Being in the same area, Fontanilla beach offers everything one may need: a tourist office, showers, telephone, cleaning service, access gateways, rental umbrellas, hammocks and water sports.


Google Maps
The beaches of Pinillo
The beach El Pinillo in Marbella is the continuation of El Cable, towards Malaga: It extends over 1.5 km, passing in front of Funny Beach, and ending around Trocadero Arena, on the border with the beach of Rio Real. This beach has fine sand and dune formations1,650 m length and an average width of 15 meters. It has an average occupation and moderate waves.
This beach is also one of the best spots of Marbella for windsurfing and kite surfing: if you want to learn, here you will find the Windsurf School Marbella Beach.


Google Maps
Playa de la Venus
La Venus is one of the most popular beaches in Marbella since it is located next to the urban center of Marbella, between Puerto Deportivo Marina – La Bajadilla, and the Sports Marina of Marbella and its golden sand and calm waters.
Thanks to its location, you will enjoy a very complete service, like bars and other services, including access for people with reduced mobility.
Venus beach is about 400 meters from Marbella's promenade, and the average width of its sandy beach is approximately 40 meters.

Google Maps
Playa del Faro
Playa del Faro is one of the most well-known and visited beached of Marbella since it offers all the necessary services to spend a great day. One of its strongest points is that it is located less than 5 minutes walking from several luxury shops and the best terraces of the locality.
Also in front of this beach is located the Parque de la Constitution, a beautiful garden where you will find an auditorium to enjoy a multitude of recreational and cultural activities.

Google Maps
Nightlife in Marbella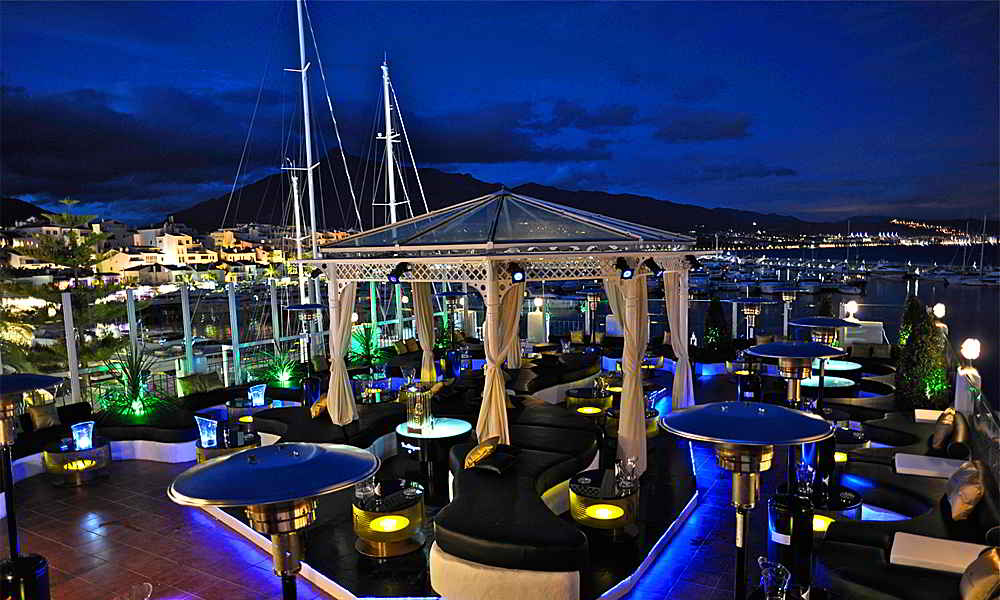 Nightlife and leisure are the purest essence of Marbella, because this city offers many beach clubs, discos, bars and beach stands and pubs; if you get bored in Marbella is because you want to. The nightclubs in Marbella generally open shortly before 12 pm and usually close between 6 and 7 am. Here are some of the main pubs and clubs in Marbella divided into type of environment and location:
Discoteca Olivia Valère
One of the most famous nightclubs in Marbella, located just before reaching Puerto Banus. It is a sophisticated dance club with a large capacity, normally frequented by well-known personalities. Many singers and DJs perform in this nightclub. In addition, Olivia Valere Babilonia features a restaurant where you can taste delicious food before going out.
Carretera de Istán, Km 0.8, 29600 Marbella
Web: http://www.oliviavalere.com
Tel: +34 658 58 15 85


Google Maps
Nikki Beach Marbella
The Nikki Beach is another world: a VIP beach club imported from Miami  that will wrap you in a cool, sexy and glamorous seaside environment. The perfect place to enjoy an unforgettable holiday in Marbella since it is a busy venue, visited by famous national and international celebrities.
Nikki Beach has the best professionals available, ensuring full VIP service (massage, reserved area, transfer maritime, towels …). Entertainment until morning is assured. Parties under the stars in an elegant setting. A must on your visit to Marbella!
Playa Hotel Don Carlos, Carretera de Cádiz, Km 192, 29600 Marbella
Web: http://www.nikkibeach.com
Tel: +34 952 83 62 39


Google Maps
Linekers
If you want to enjoy a night of unforgettable fun, this is your place. Linekers is ideal to meet the most attractive coastal people and, of course, for those who enjoy a high purchasing power and do not hesitate to enjoy the electrifying atmosphere. Also if you want to take a break, you can climb to the top floor where you will find a bar, a pool table and a quieter atmosphere.
Muelle Ribera 9,  29660 Marbella
Web: http://www.linekersgroup.com/linekers-bar.php
Tel: +34 952 81 09 18


Google Maps
La Suite
La Suite is a hilarious and exclusive nightclub where you can spend a different night full of experiences. This new club of Milla de Oro is the construction of a new concept of provocative and sophisticated night-time entertainment that with "a thousand and one nights" style is animated by different and well known DJs that prick all kinds of music.
In this place you can also enjoy the restaurant service, as they have a wide gastronomic offer. Basically, organizing a night of fun and party here is a real treat.
Av. Bulevar Príncipe Alfonso de Hohenlohe, 1, 29602 Marbella,
Web: http://www.suiteclubs.com
Tel: +34 952 82 09 00


Google Maps
TIBU
This exclusive nightclub is located right in the luxury heart of Puerto Banus. If you decide to visit them, you are sure to spend a magnificent night, you will dance to the rhythm of the gogos that occupy the podiums while local DJs play music to the rhythm of fashionable songs.
We recommend you to enjoy the VIP areas offered by this club as they are perfect to escape the hustle and bustle of the dance halls and relax while having a drink with someone special or with friends.
Plaza Antonio Banderas, Av. Julio Iglesias, 103, 29660 Marbella
Web: http://www.tibubanus.com
Tel: +34 952 81 12 71


Google Maps
Bars  and Nightclubs in Puerto Banús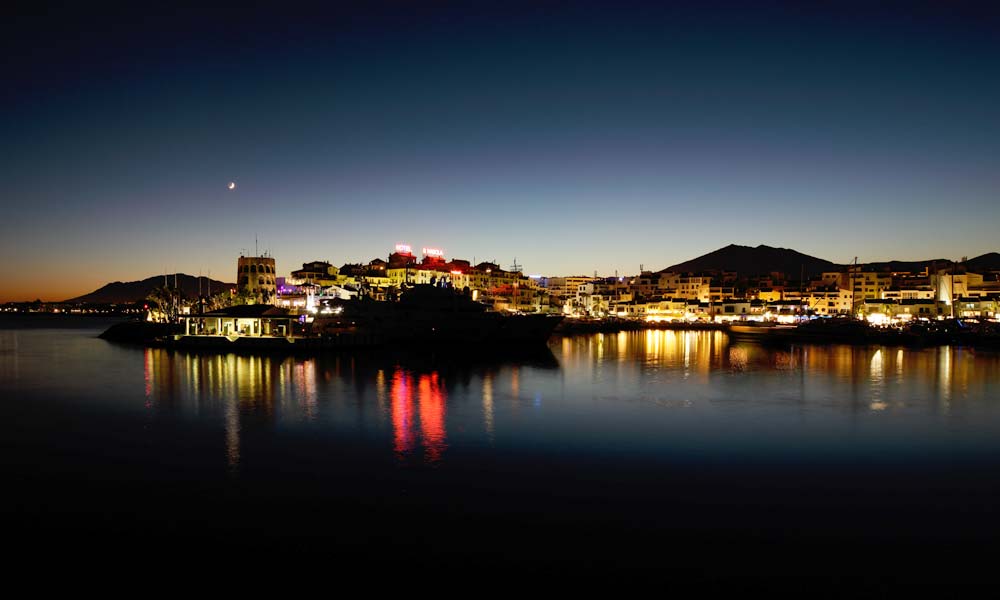 Puerto Banús is not only an open shopping centre full of luxury but here you will also find one of the great nightlife centres of the Costa del Sol. And since the shops, nightclubs and pubs are equally exclusive, the prices are usually as high as the glamor of the guests who tend to frequent these places. This causes that in most clubs and pubs a certain etiquette is required in the way of dressing for both boys and girls.
In Puerto Banús the premises close at 7 in the morning, so if you are able to hold until that time, we have to tell you that it is also the approximate time when the bars open so you can go to bed after taking a drink. Delicious breakfast.
Discover our Amàre Events